A unique gaming bed from Japan has been designed specifically for gaming fans who prefer to remain in bed for extended gaming sessions.
| Product | Brand | Name | Price |
| --- | --- | --- | --- |
| | X Rocker | X Rocker I Basecamp Bed with TV Mount I Rotating TV Mount Mechanism I Metal Mesh Frame I Black | Check Price on Amazon |
* If you buy through links on our site, we may earn an affiliate commission. For more details, please visit our Privacy policy page.
Japanese furniture maker Bauhutte has recently introduced the ultimate gaming bed, which includes all the necessities for gamers from the moment they wake up until they fall asleep.
Bauhutte Gaming Bed Pros:
Space-saving: The Gaming Bed by Bauhütte combines two pieces of furniture into one, which makes it an excellent space-saving solution for gamers who don't have enough room for a separate bed and desk.
Convenience: With the Gaming Bed, everything you need for gaming, sleeping, and other activities is right there within reach, eliminating the need to get up and move around.
Versatility: The adjustable headboard and bed desk make the Gaming Bed a versatile piece of furniture that can be customized to fit your specific needs and preferences.
Bauhutte Gaming Bed Cons:
Limited bed size options: The Gaming Bed is designed to fit a single-sized bed, which may not be suitable for everyone, especially those who prefer larger beds.
Limited mobility: While the Gaming Bed is designed for convenience, it may limit mobility as you are confined to one location in the room. This could be an issue for those who need to move around often, such as during exercise or when rearranging furniture.
This bed features everything a gamer could desire, such as built-in screens, storage for gaming equipment, food, beverages, and other essentials needed while defeating opponents.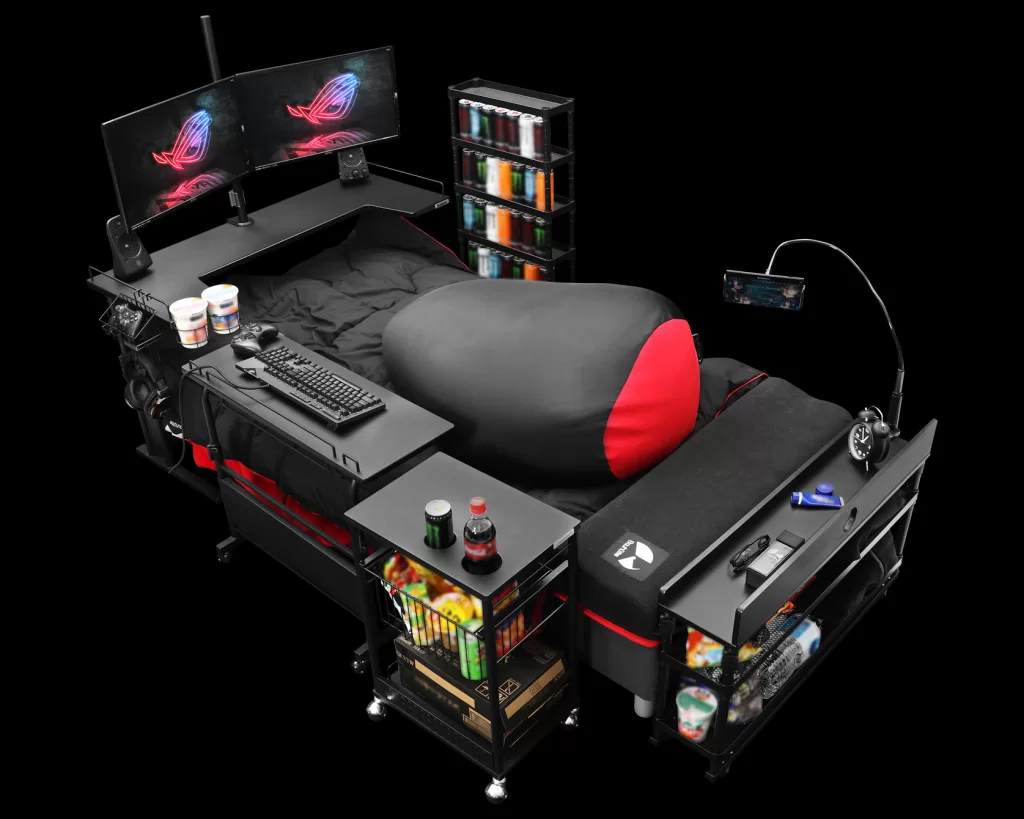 The designers of this bed aimed to ensure that the only reason to leave the gaming bed would be for restroom breaks.
A table connected to the end of the bed frame provides support for two monitors, speaker systems, and more.