Students Can Send SOS Over Bullying On Tablets in Central Japan
As part of the education ministry's "GIGA School Program," the municipal education board in this region has introduced an SOS bullying consultation form utilizing tablets given to students in elementary and middle schools.
Students can submit the details of their consultations on the SOS form by just checking the appropriate boxes without having to write any sentences. The Nisshin Municipal Board of Education strives to identify bullying early and take fast action against it.
They can access the input from the screen by tapping the "Ijime SOS" symbol on the tablet's home screen. There are three different forms. One for every grade level (the primary grades (i.e., First to third graders), secondary graders (i.e., Fourth to sixth graders), and junior high).
For the one intended for students in first through third grades, the students must first choose the appropriate response from the options "I observed someone treated badly" and "I don't want to go to school, or I am having a hard time." Kids then pick the accused bullies from "other grades," "the same class," and so forth. They also choose the incidents of "being punched or kicked," "being told bad things," and so forth. Children who struggle with writing or face-to-face communication can ask for assistance in this way with ease.
The options on the forms for the counselling party for fourth to sixth graders as well as junior high school students are "homeroom teacher," "non-homeroom teacher," "school nurse," and "school counsellor."
The education board, the principal, the vice principal, and two other administrators of the involved school receive the data from the form, and the principal provides directions on how to respond to each situation.
Since the system's introduction, there have reportedly been several claims of "badmouthing" and "being hit," in addition to worries about circumstances involving friends.
An employee of the education board observed, "What may not initially seem to be bullying frequently worsens over time. With the implementation of the SOS form, we anticipate being able to respond more quickly and earlier." 
Study About Bullying in Japanese Highschool
A study by the authors Takashi Naito and Uwe Gielen about bullying and Ijime in Japanese schools released and 2006 June gives a detail analysis. An interview with bullies showed that most of them were doing so because they were 'having fun' in the dull environment and some replied that they just followed others even if they felt guilty about the behavior.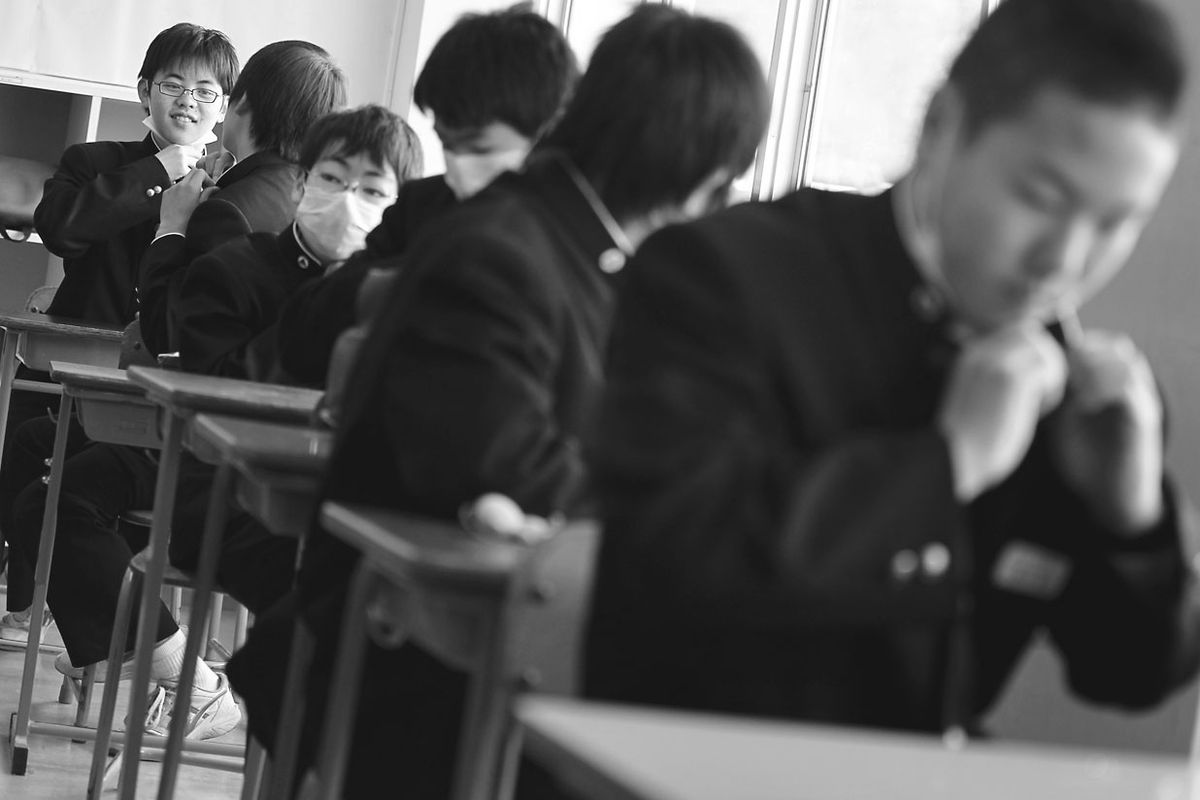 Japanese phycologists also think that bullying is directly related to students not being able to do good in school environment that's influenced by having poor guidance from parents and weak relationship. This ultimately leads to kids refusing to go to schools, having irritable and conflictual personalities, or being a simple bystander audience to bullying. 
But such analysis should not distract our viewpoint from the education system itself. Bullying is sometimes ingrained into peer culture and can induce stressful and punishing school environments. The most agreed form of bullying was teasing or saying bad things about an individual. Studies showed that more than 60% of the students didn't complain to the bullying and just ignored it and 53% of students didn't want to make it public that they were bullied. Similarly, male students(54%) were likely to be hit while bullying rather than female victims(20%) where they generally resorted to saying mean things. One thing to note is that it was extremely rare to see opposite genders bullying each other. 
Bullying should not be ignored and we all should stand up against it. If ignored they can lead to a traumatic future of the victim and affect their mental wellbeing for forever. 
Source: The Mainichi
Also read about 13 Japanese Schools Rules You Probably Didn't Know