Japan offers a plethora of stunning locales to explore, and with Kyoto as your home base, an array of intriguing destinations lies within arm's reach. Kyoto is connected to major cities in Japan like Tokyo and Osaka and is a gateway to ancient capitals, famous castles, serene gardens, and much more. Here are some of the best day trips you can undertake from Kyoto.
Best Day Trips from Kyoto
Hiroshima
One day trip from Kyoto that you shouldn't miss is Hiroshima, a city in Japan that wears its history on its sleeve. This A-Bomb victim city is now a UNESCO World Heritage site and is home to the Peace Memorial Park and Museum. It takes a little over 2 hours by Shinkansen from Kyoto Station, making for an easy day out in one of the most well-known places in Japan.
Back in Kyoto, after spending the day absorbing the poignant history of Hiroshima, you can reflect on all you've seen while enjoying peace and tranquility.
---
Nara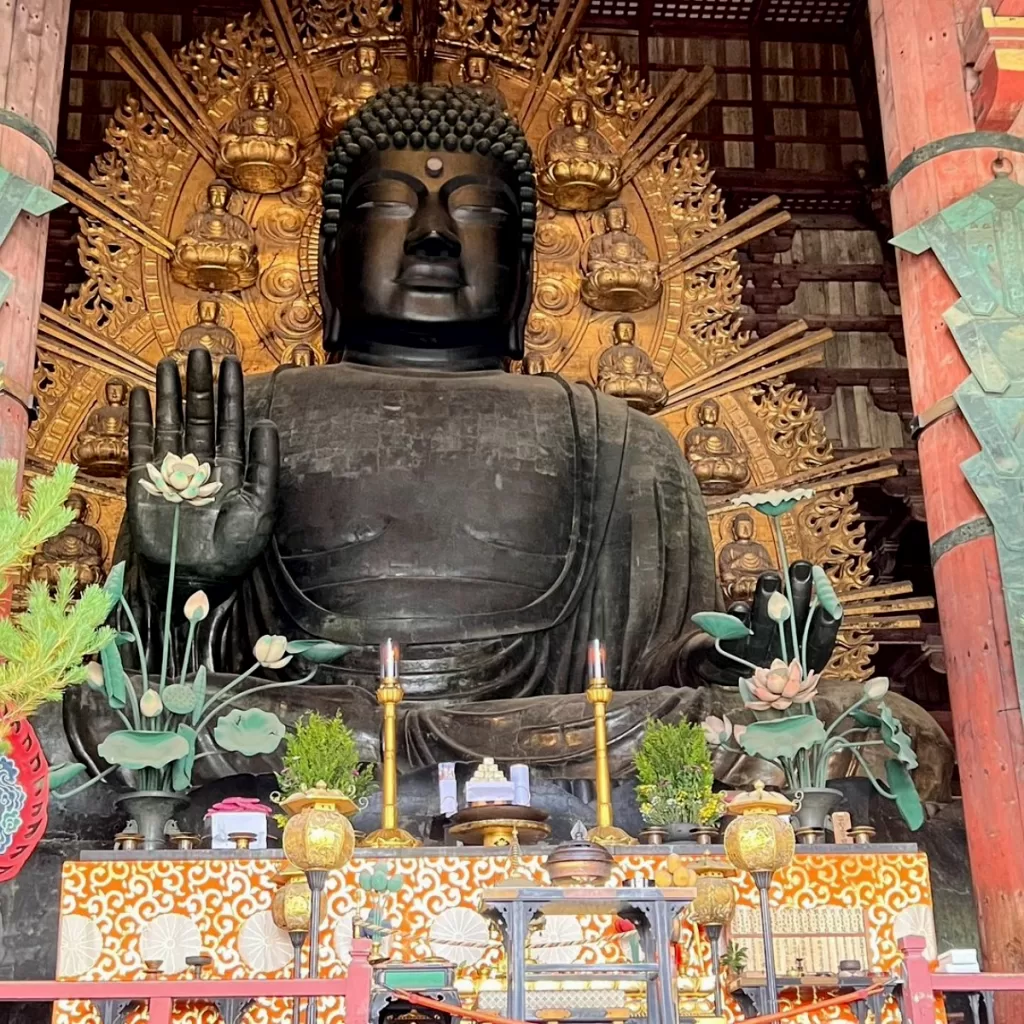 Another great day trip destination just an hour from Kyoto is Nara, the ancient capital of Japan. Home to one of Japan's largest statues of Buddha and scenic Nara Park, famed for its free-roaming deer, this city provides an idyllic change of pace. Enjoy a quick express train from Kyoto Station, where you will be greeted by Nara's unique blend of tradition and nature.
Nara is one of the top day trips from Kyoto, located less than an hour away by train. This first permanent capital of Japan is home to several historic sites, including Todaiji Temple, which houses the Great Buddha statue, the largest bronze statue in the world. Other popular sites are Nara Park, where over 1,000 wild deer roam freely, Kofukuji Temple with its beautiful five-story pagoda, and Kasuga Taisha, a shrine famous for its numerous lanterns. With so many temples and shrines to explore and great shopping and dining, Nara makes for an easy and enjoyable day trip from Kyoto.
---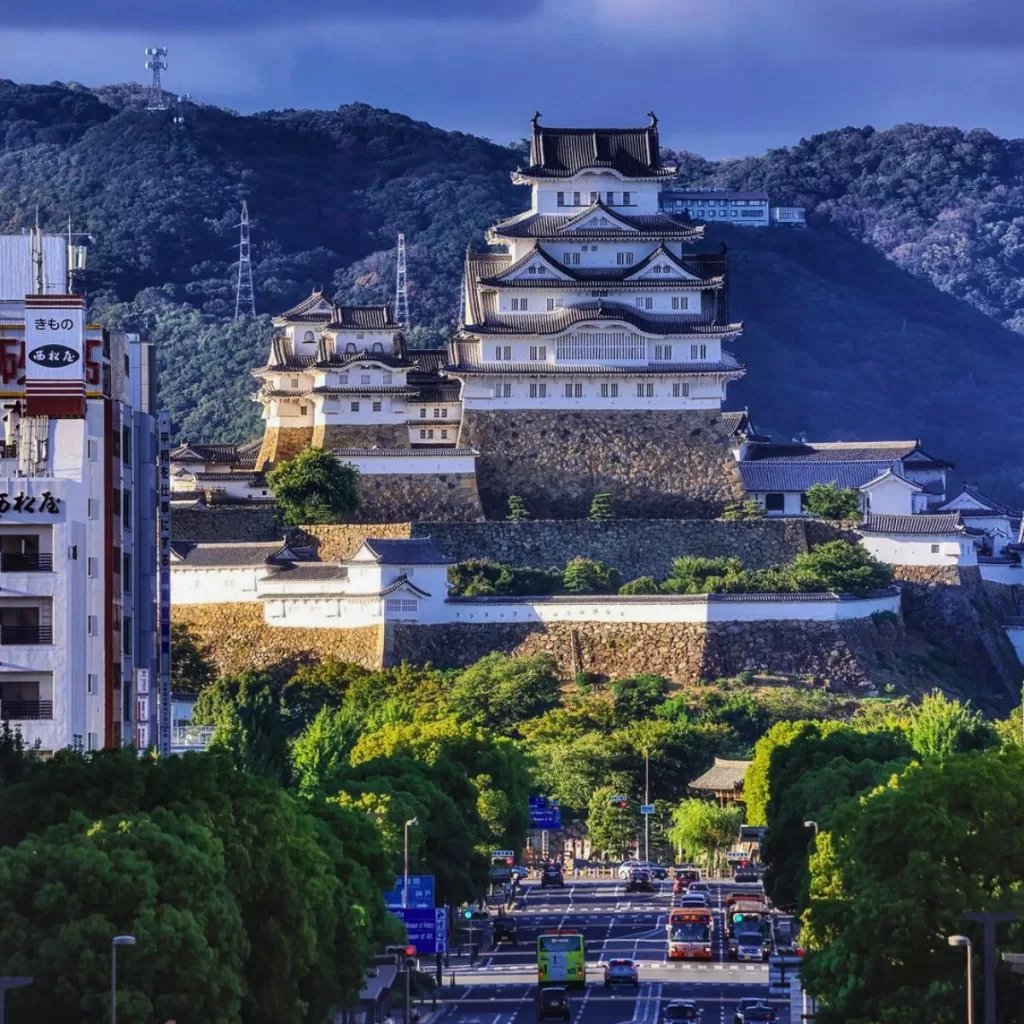 Himeji Castle, located one hour from Kyoto by bullet train, is considered one of Japan's greatest surviving feudal castles. With its bright white exterior and majestic hilltop position, this UNESCO World Heritage Site is impressive and picturesque. Nicknamed the "White Heron Castle" for its elegant, bird-like shape, Himeji Castle consists of 83 buildings spread across multiple baileys and towers.
Visitors can walk along the winding routes connecting each section of the castle complex. You'll find fascinating displays of samurai weaponry and centuries-old defensive systems inside. The castle grounds also feature expansive gardens that explode with vibrant cherry blossoms in spring. For an unforgettable day trip, visit Himeji to explore this magnificent and historic castle.
---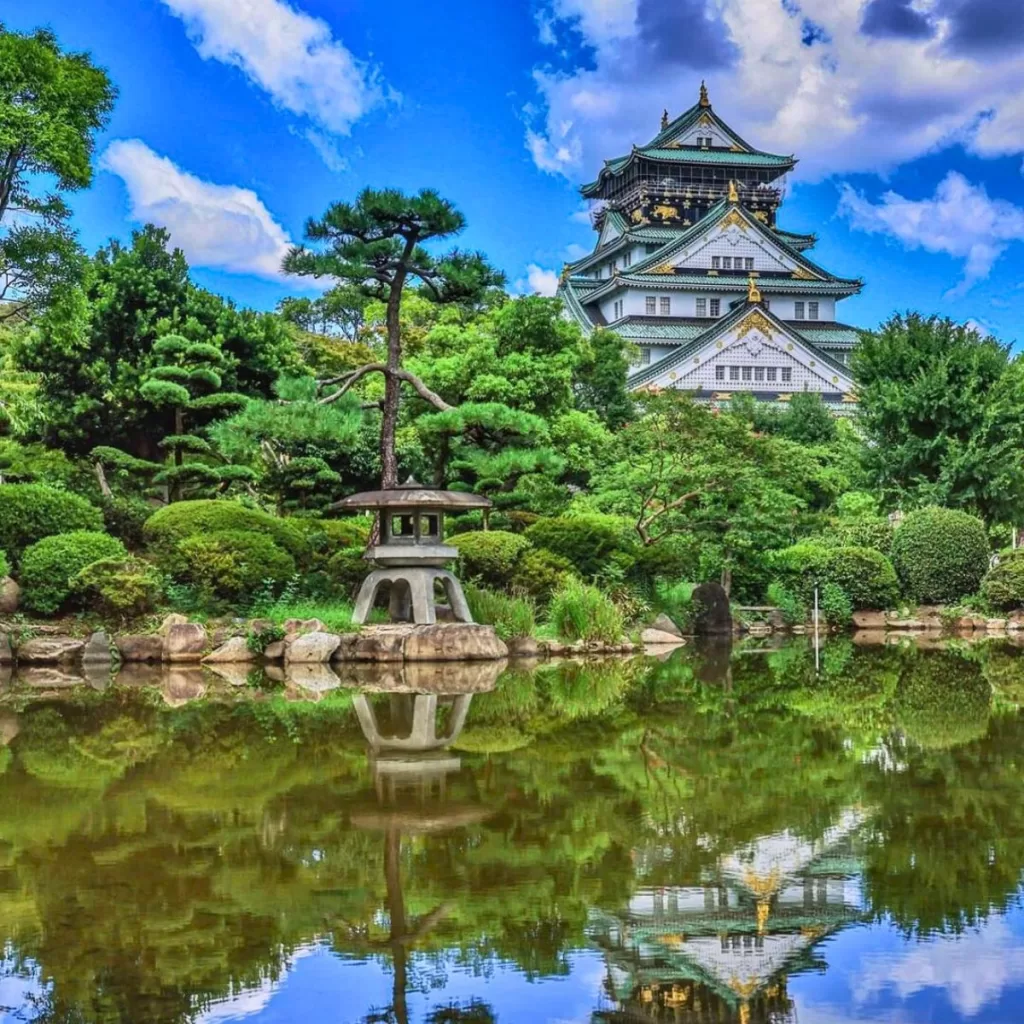 If exploring castles is on your Japan itinerary, take the JR line from Kyoto Station to Osaka –under an hour– to visit Osaka Castle. One of the original Castles in Japan, it provides panoramic vistas of the surrounding cityscape, especially during cherry blossom season. The castle grounds consist of 13 structures, all recognized as Important Cultural Property by the Japanese government, contributing to the tourist appeal of this site.
---
Arashiyama Bamboo Forest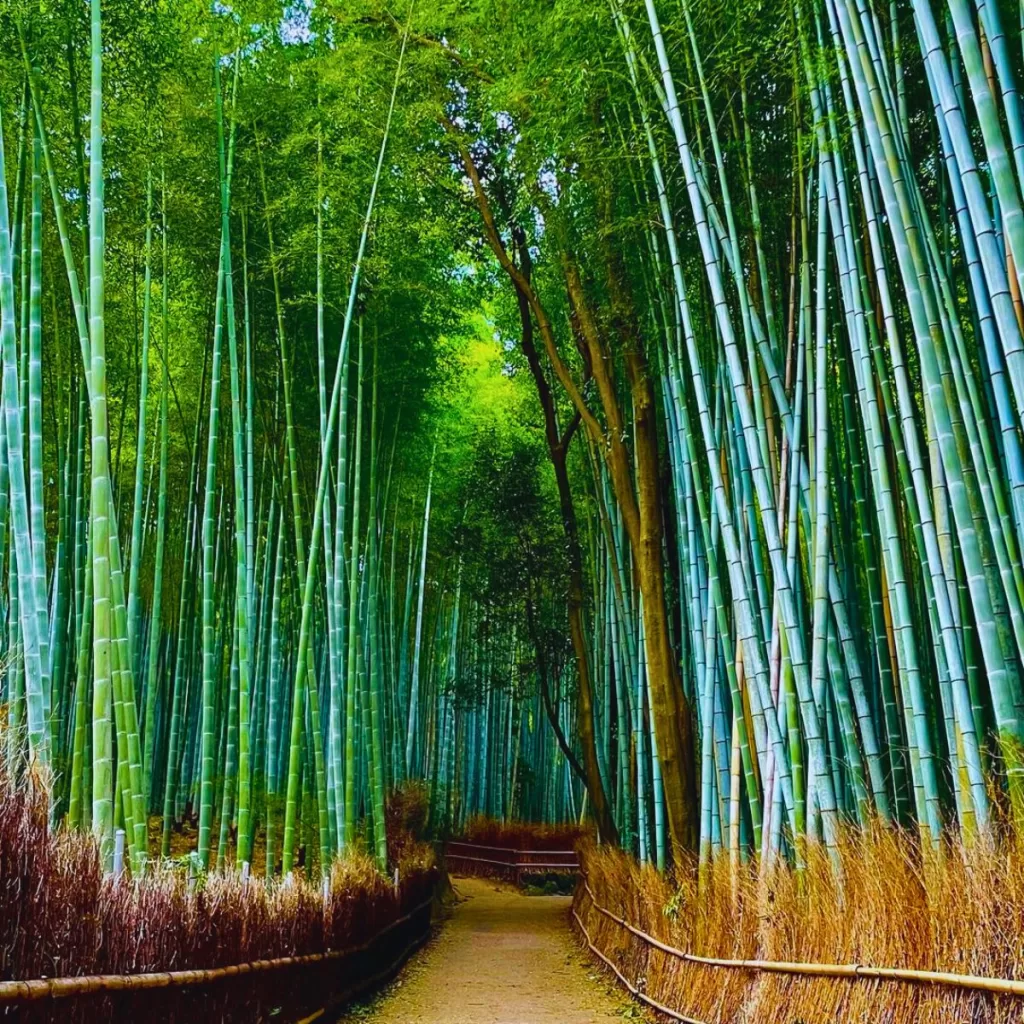 The Arashiyama Bamboo Forest is one of Kyoto's most iconic sights, making for a relaxing, zen-like day trip. The endless rows of soaring bamboo stalks create a peaceful oasis just a short train ride from the city center. As you stroll along the gravel paths cutting through the dense bamboo groves, you'll understand why Arashiyama means "storm mountain" – the creaking bamboo stalks sway together in the wind.
Cross the Togetsukyo Bridge, an elegant wooden bridge dating back to the Heian period, for panoramic views over the lush bamboo forest. You can also ride a rickshaw through the grove for a relaxing tour. Stop by Tenryuji Temple to stroll through traditional Zen gardens and sip matcha tea. Hike to the Monkey Park on the mountainside for more immersion in nature.
---
Kinosaki Onsen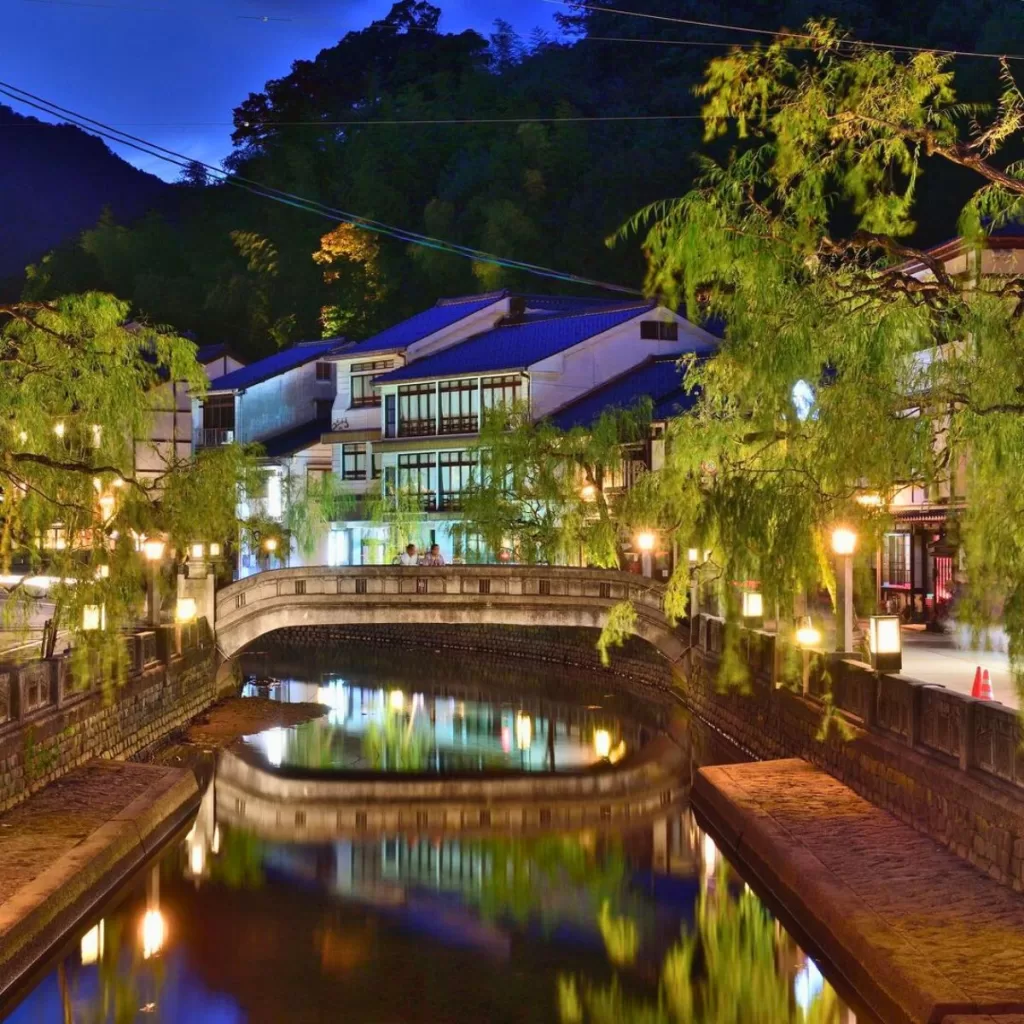 Kinosaki Onsen offers a peaceful retreat from city life with its tranquil onsen (hot spring) experience. This town by the Sea of Japan takes you back in time with its traditional ryokan inns, public hot springs, and an inviting willow-lined canal. Getting there is easy: a two-and-a-half hour direct limited express train from Kyoto Station is the best place to try local seafood delicacies.
---
Hakone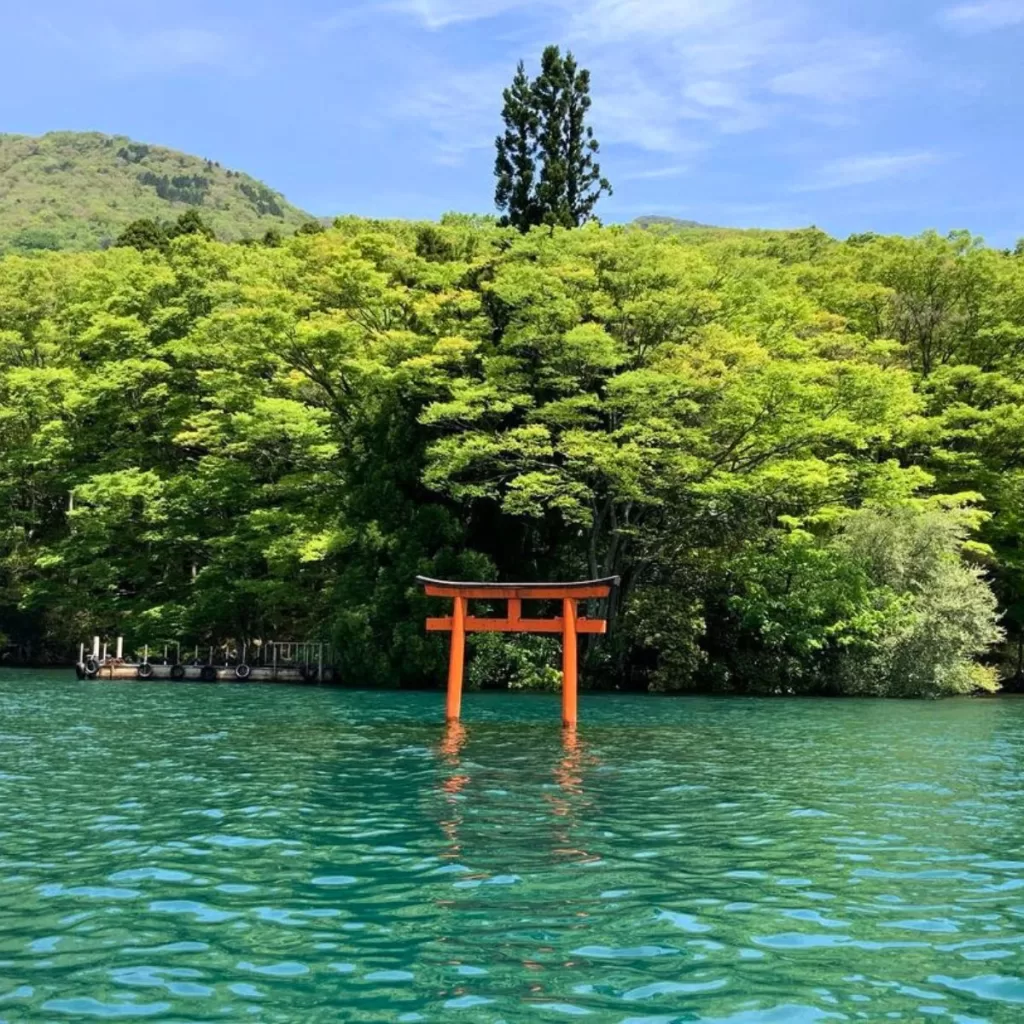 Nestled in the mountains south of Tokyo, Hakone makes for a rejuvenating day trip from Kyoto. Escape the summer heat by taking the mountain trains and cable cars through its scenic valleys and hills.
One of the most popular stops is Owakudani, an active volcanic zone where sulfurous fumes rise from vents and hot springs dot the landscape. Continue and relax aboard a sightseeing cruise on Lake Ashi, which offers sweeping views of the surrounding mountains. Hakone is also home to historic shrines like Hakone Jinja, set amidst towering cedar trees.
Treat yourself to relaxing in the sulfurous onsen baths at one of Hakone's many traditional inns, like the luxurious Rizonare Hakone Hotel. With abundant natural beauty, hot springs, and epic scenery, Hakone is a wonderful getaway, just a short trip from Kyoto.
---
A Journey Into the Mountains: Takao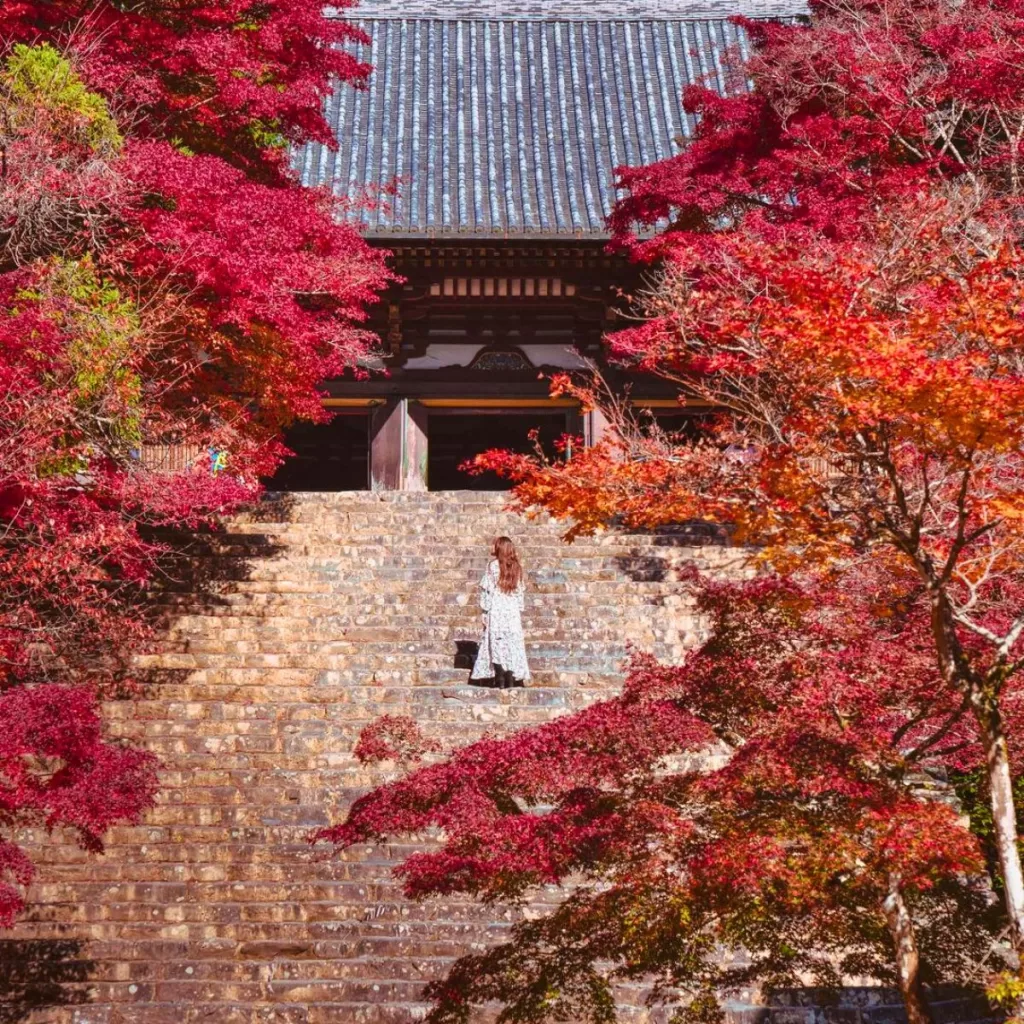 The small town of Takao is a mere hour from Kyoto but is amidst mountainous nature. Visit Jingoji Temple for tranquility among stunning nature bursting with autumn colors, which make for a great day trip from Kyoto in November.
---
Takayama
Journey to the charming mountain town of Takayama, tucked within the Japan Alps just over 3 hours from Kyoto by express train.
Known as "Little Kyoto," Takayama enchants visitors with its beautifully preserved wooden buildings, floating down little rivers and floating little rivers. Wander past the traditional homes and shops of the old town area before browsing the morning farmer's market. Visit the intricately sculpted floats at the Takayama Matsuri Yatai Kaikan Museum.
At the folkcrafts village of Hida no Sato, see traditional houses and craftspeople practicing woodworking, pottery making, and more. After all that walking, unwind at one of Takayama's tranquil temples, like the UNESCO-listed Shorenin Temple and its ancient wooden meditation hall. With its scenic mountain setting, historic charm, and laidback vibe, Takayama feels nostalgic and rejuvenating.
---
Kanazawa
The charming city of Kanazawa, located 2.5 hours from Kyoto by bullet train, offers incredible history, artistry, and natural beauty. Start exploring Kenrokuen, one of Japan's "three great gardens" with sprawling ponds, sculptures, and landscapes.
Wander through the geisha district of Higashi Chaya, lined with wooden teahouses, before visiting the 21st Century Museum of Contemporary Art's creative exhibitions. Next, dive into the city's rich history at Kanazawa Castle ruins and the well-preserved samurai and geisha quarters.
Stay until evening to see Kenrokuen lit up at night – a stunning illumination display bringing the garden's beauty to life after dark. Savor the fresh sushi at Omicho Market or indulge in Kanazawa's famous seafood before returning to Kyoto. Kanazawa is an unforgettable day trip destination with its rich culture, scenery, and cuisine.
---
Okayama
Okayama makes for an enjoyable day trip from Kyoto, offering an appealing blend of gardens, historic sites, and local crafts. Located just over 2 hours away by bullet train, Okayama was once a prosperous castle town and remains full of cultural attractions today. Start your visit at Korakuen Garden, one of Japan's Three Great Gardens, and stroll along paths past miniature lakes, hills, teahouses, and plum orchards. Next, explore Okayama Castle, dubbed "crow castle" for its black exterior, and gaze over the city from its viewing platforms. Walk through the traditional village of Kogein, showcasing Edo-period architecture, tea houses, and gardens. Later, visit a studio to see Yuda paper-making, a traditional handicraft invented in Okayama using fibers from the Yuda bush. Okayama makes for an engaging day trip from Kyoto with its natural beauty and cultural landmarks.
With bullet train access bringing Okayama within close reach, this cultural city surrounded by orchards and vineyards makes an appealing side trip from Kyoto. Stroll through historic gardens and sites before indulging in delicious local produce and cuisine. Okayama offers the chance to experience a more relaxed, rural side of Japan featuring natural beauty and warm hospitality.
---
Nikko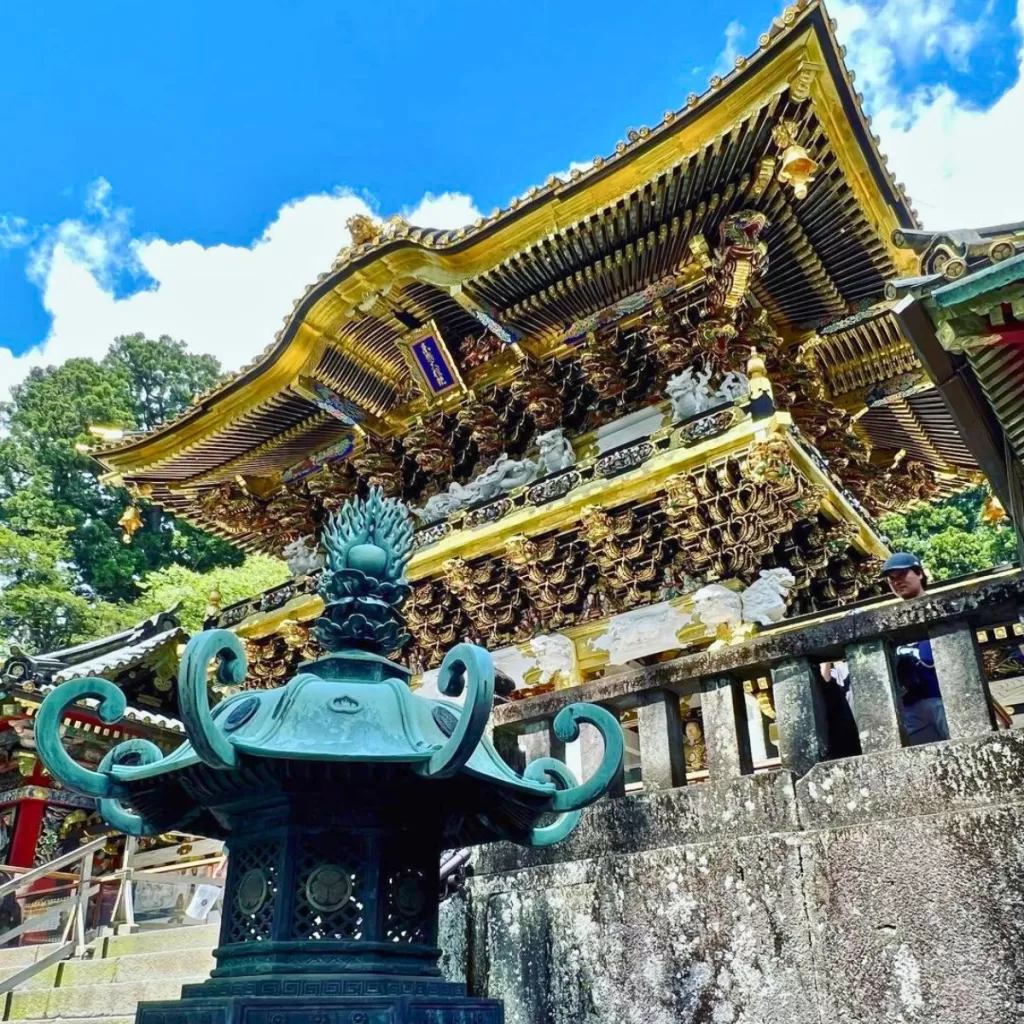 The holy town of Nikko, located about 2.5 hours north of Tokyo, makes for an inspiring day trip from Kyoto. As an important center of Shinto and Buddhism, Nikko contains lofty temples and shrines set within misty, cedar-covered mountains. The lavishly decorated Toshogu Shrine complex is the main draw, with its vividly painted and ornately carved buildings. Nearby, walk across the red lacquer bridge at Shinkyo Bridge, a sacred Shinto shrine set along the Daiya River bounded by mountain forests. 
Another highlight is Lake Chuzenji, created by an erupting volcano, where you can take a boat cruise or hike around. With its sacred shrines, the pristine lake surrounded by soaring mountains, and peaceful cedar forests, Nikko offers spiritual rejuvenation and closeness with nature just a train ride away from Kyoto.
---
Kurama Onsen
Escape the crowds and unwind at the natural hot springs of Kurama Onsen, nestled in the mountain forests north of Kyoto. This charming rural village has been a secluded hot spring retreat for over 1,000 years. Spend a relaxing day soaking in the healing mineral waters of the open-air baths at Kurama Onsen Koen, overlooking the steamy hills and forests. Or book a private open-air bath at one of the traditional ryokan inns, like the luxurious Yumura Onsen. After soaking, take a scenic hike through the surrounding cedar forests up to the revered Kurama-dera Temple.
Dating to 770 AD, this temple houses sacred artifacts, artwork, and a meditation garden. End your day trip with a locally sourced vegetarian meal at Yoshimura restaurant before taking the train back down the mountain to Kyoto.
---
Kobe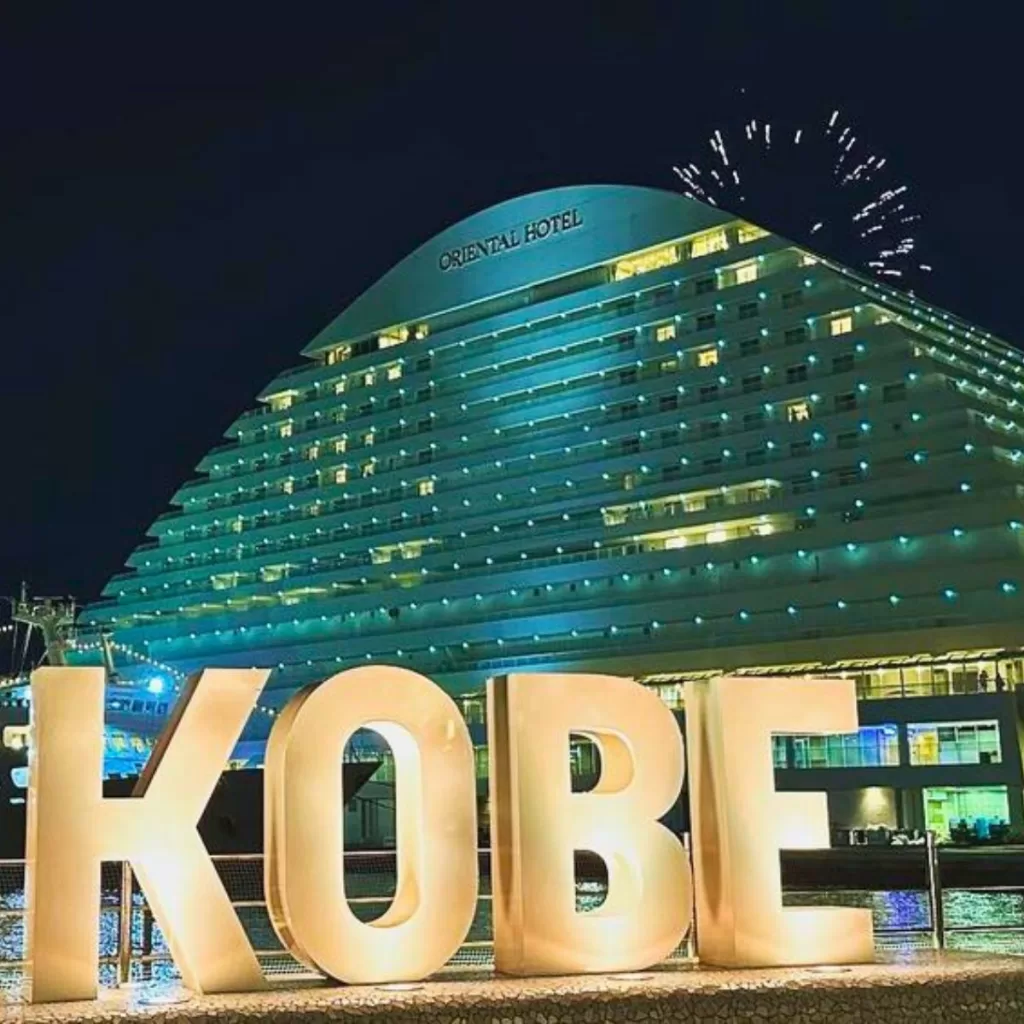 Just a train ride away, Kobe is another of the great day trips from Kyoto or Osaka. This city is known for its fashion, gorgeous views of towering mountains, and sea views. It is also where you will find one of Japan's most famous beef dishes – Kobe Beef. Are you looking for the best day-trip food destination? Here you have it!
Located less than an hour away from Kyoto by bullet train, Kobe makes for a lively day trip to enjoy waterfront views, historic sites, and delicious cuisine. Start off your explorations at Meriken Park, home to Kobe's iconic red steel Harbor Bridge, as well as museums and gardens. From there, amble through Kitano Ijinkan, a neighborhood of intricate foreign residences displaying unique architectural fusions between Japanese and Western styles.
Next, visit the Earthquake Memorial Museum to learn about Kobe's devastating 1995 earthquake and the city's incredible recovery. Of course, no trip to Kobe is complete without indulging in its famed Kobe beef and excellent sake. Treat yourself to the mouthwatering, beautifully marbled beef at a traditional steakhouse like Wakkoqu. After all the walking and eating, relax by soaking your feet at an Oceanview onsen before heading back to Kyoto.
---
Mystical Mt. Koya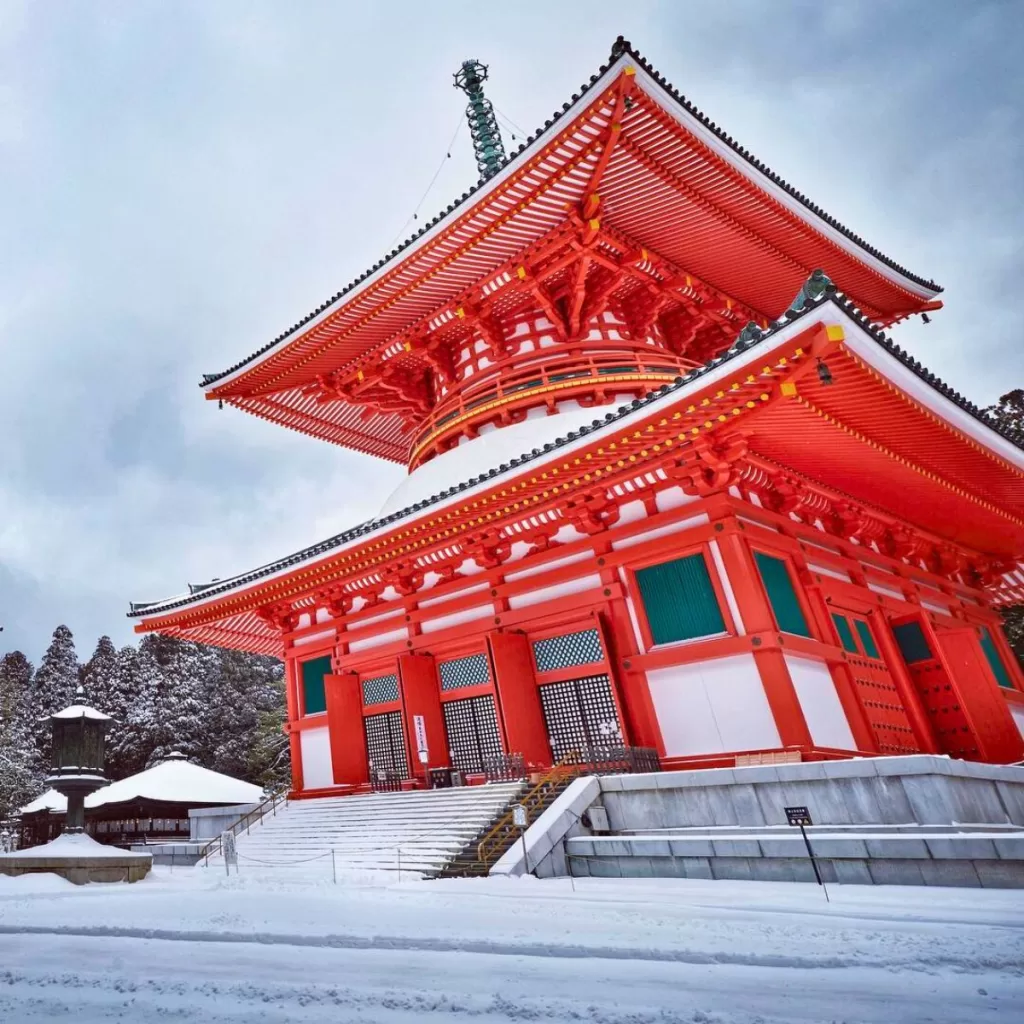 High in the mountains of Wakayama Prefecture, southwest of Kyoto and Osaka, lies Mount Koya (Koyasan). Here stands one of Japan's most important religious sites: a secluded temple town featuring over 100 temples. This serene place in Japan makes for an interesting side trip from Kyoto or Osaka.
For a trip combining spiritual symbolism, ancient history, and natural splendor, visit Mount Koya, just 2 hours from Kyoto. Start your day hiking up to Koyasan's sprawling temple complexes established over 1200 years ago in the forested mountains. Over 100 temples remain, offering the chance to experience a monk's life and develop your own meditation practice. One standout is Okunoin, the largest cemetery in Japan, with thousands of stone stupas and mausoleums hugging wooded paths.
Enjoy a shojin ryori Buddhist vegetarian meal before wandering the old pilgrimage trails winding through ancient cedar groves. Stay overnight at one of the monasteries to experience morning prayer rituals with the monks and a soothing soak in the hot spring baths beneath starry skies. For an enlightening glimpse into tradition, nature, and spirituality, make a day trip to the sacred mountain site of Koya.
---
Naoshima Art Island
For art lovers, a day trip to Naoshima Art Island is a must when visiting Kyoto. This tiny island in the Seto Inland Sea has become one of the world's great contemporary art destinations, hosting installations from renowned artists like Yayoi Kusama. Many exhibits are integrated right into Naoshima's natural and architectural settings, like Yayoi Kusama's giant polka-dotted pumpkin along the waterfront. Visit the world-class Benesse House Museum showcasing artworks by Andy Warhol, Jackson Pollock, and Japanese artists.
The Tadao Ando-designed Chichu Art Museum within a hillside also impresses with Monet and Walter De Maria installations. For outdoor art, stroll through the dotted pumpkin sculpture garden at Benesse House Hotel. With its mix of natural beauty and boundary-pushing art, Naoshima makes for an inspirational escape from Kyoto that stimulates the senses.
---
Iya Valley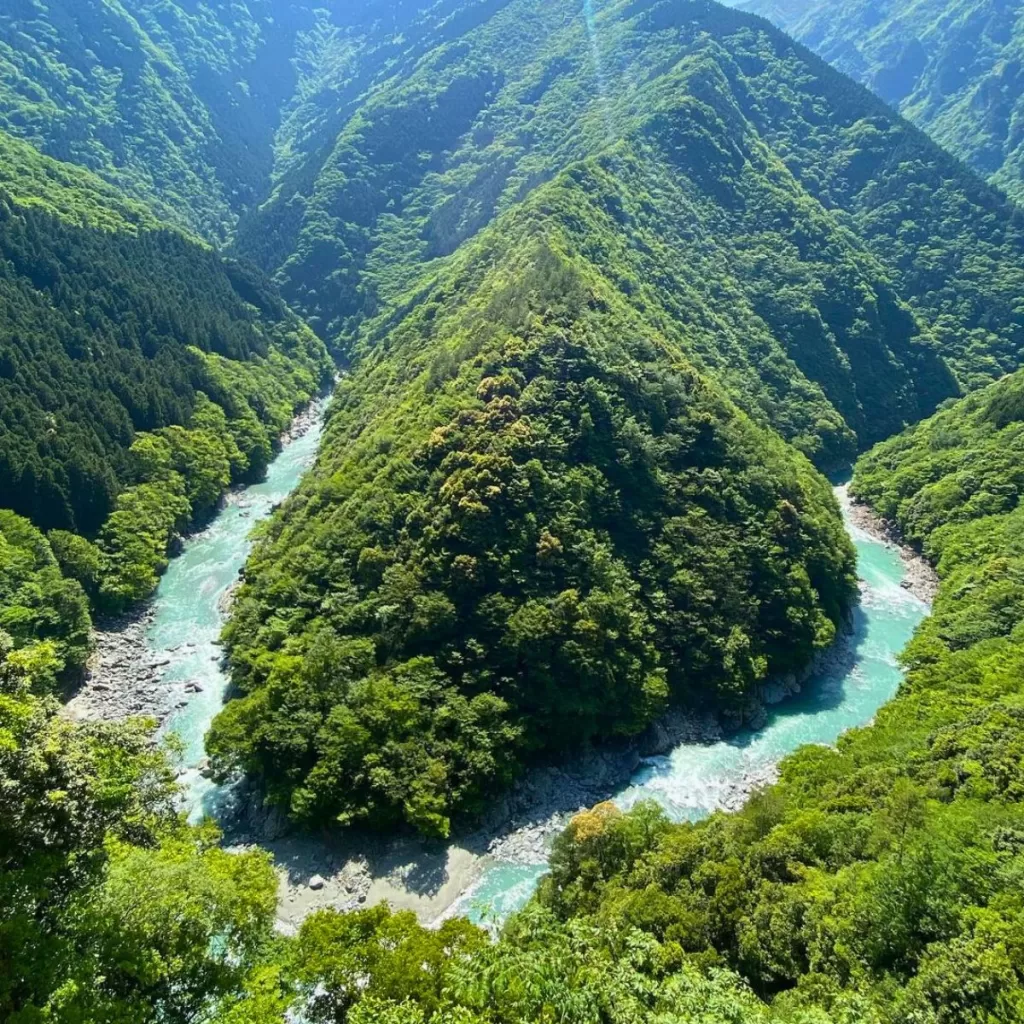 The remote Iya Valley delivers some of Japan's most breathtaking scenery, making it a fantastic day trip from Kyoto. Journey by train and bus to arrive at this pristine land of forested gorges, dramatic cliffs, and rushing blue waters. One of the highlights here is the vine bridge of Kazurabashi, strung along thick cables high over the Iya River.
Walking across this bridge while admiring the verdant views is an unforgettable experience! Hike through the lush greenery to reach scenic waterfalls and secluded mountain shrines tucked within the wilderness. Or white water raft down the thrilling rapids of the Iya River for an adventurous ride through towering gorges. At the end of an active day, unwind in the open-air hot springs overlooking the wooded hillsides of the peaceful Iya Valley.
---
Ise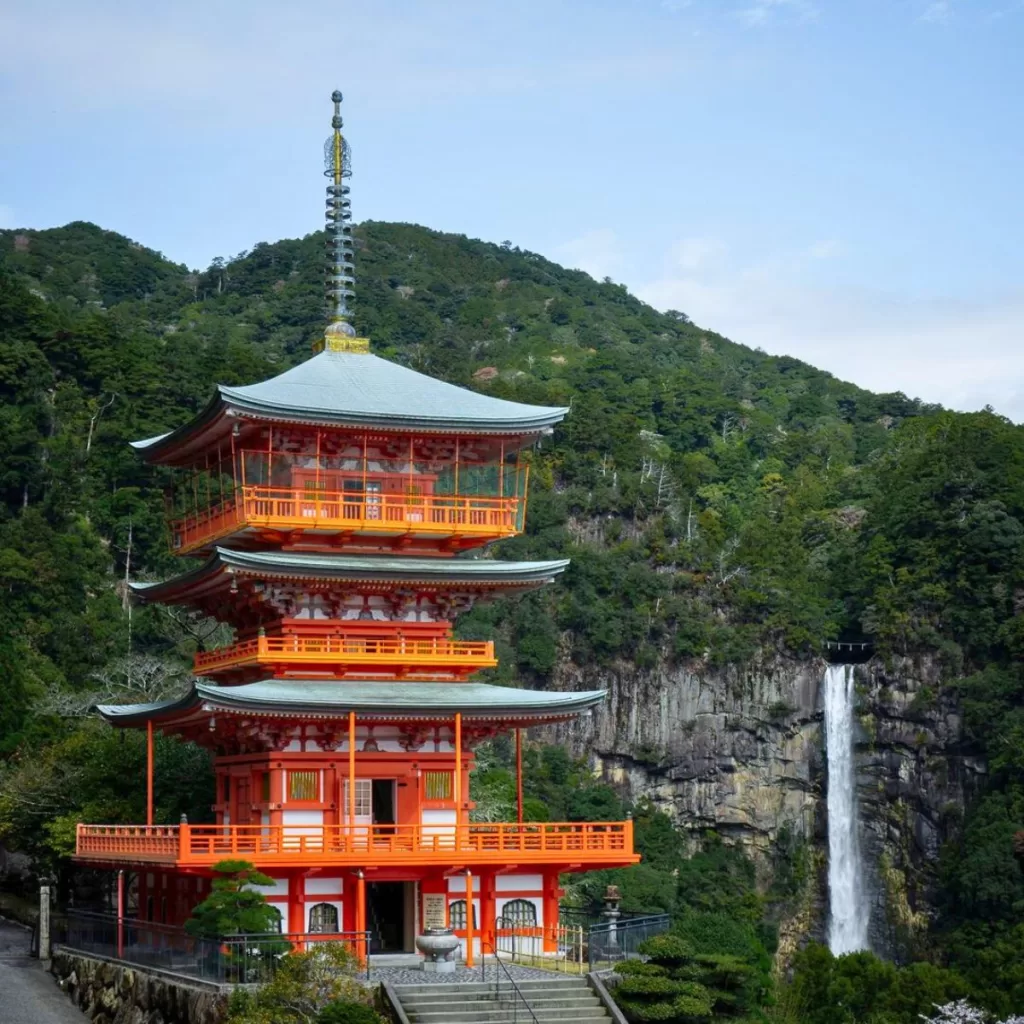 Ise is home to the most sacred Shinto shrine in Japan—the Ise Jingu—and hence remains a significant city in Japan religiously. The Ise Grand Shrine hosts various festivals throughout the year, attracting visitors from all parts of the country and beyond. At just over two hours away by train from Kyoto Station, Ise offers another fascinating insight into Japanese culture.
---
Amanohashidate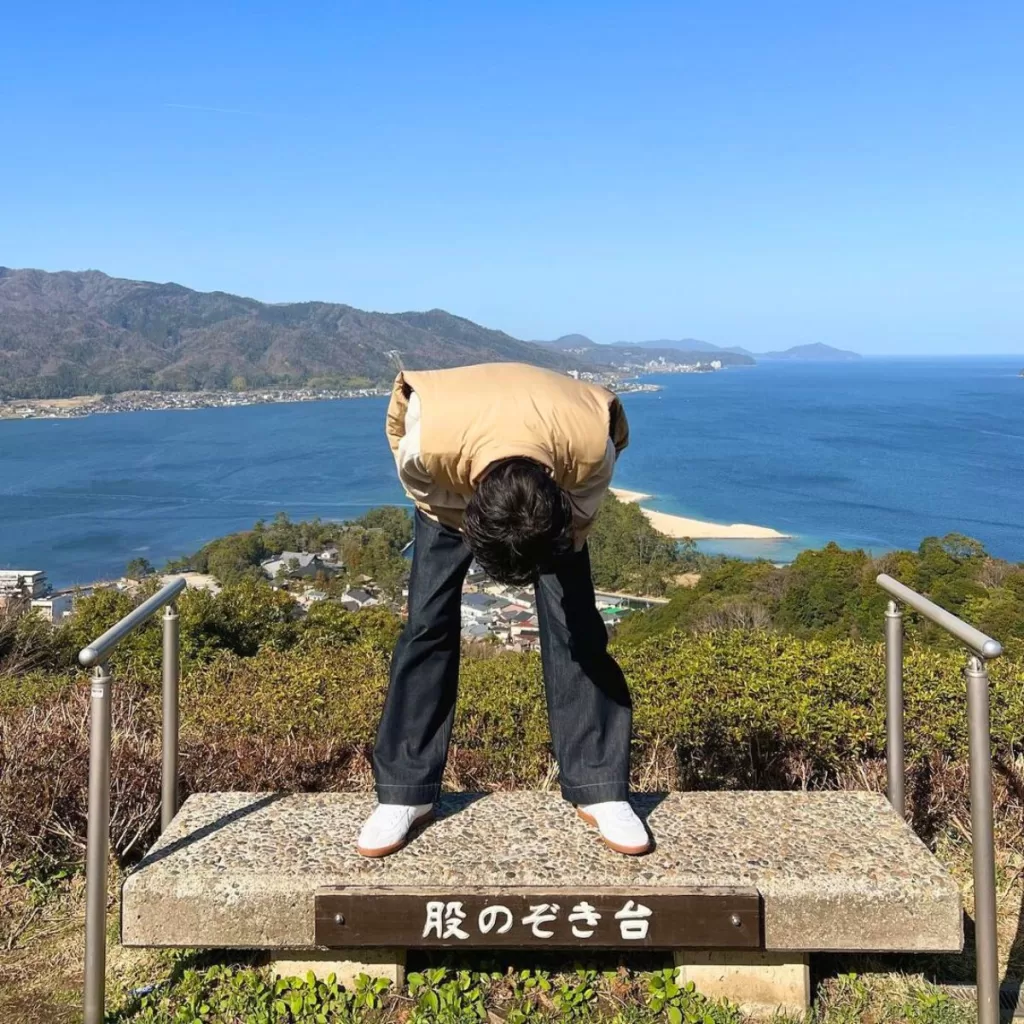 Located on the northern coastline of Kyoto, Amanohashidate is considered one of Japan's three most scenic views, making it a dreamy day trip destination. Meaning "bridge to heaven", this sandbar seems to float gracefully across Miyazu Bay, lined with thousands of pine trees.
To appreciate the beauty of this natural wonder, do as the locals do and turn your back towards the bay, bending over to view the sandbar framed between your legs upside down. This perspective condenses the view into a picturesque, painting-like composition. You can also get overhead views by taking the chairlift up Mount Monju. After appreciating nature's work of art, relax at one of the town's seaside hot spring baths or traditional Japanese inns. With its peaceful seaside setting, scenic landscapes, and unique perspectives, Amanohashidate is a heavenly escape from bustling Kyoto.