The Best Ski Resorts in Japan provide unforgettable experiences for all levels of winter sports enthusiasts, making them a must-visit destination for snow enthusiasts, skiers and snowboarders. There are many ski resorts in Japan, and it is home to some of the Best Ski Resorts in the world, offering pristine slopes, breathtaking scenery, and top-notch facilities. Here are 12 of the best ski resorts to check out for your Japan ski trip.
Niseko Ski Resort, Hokkaido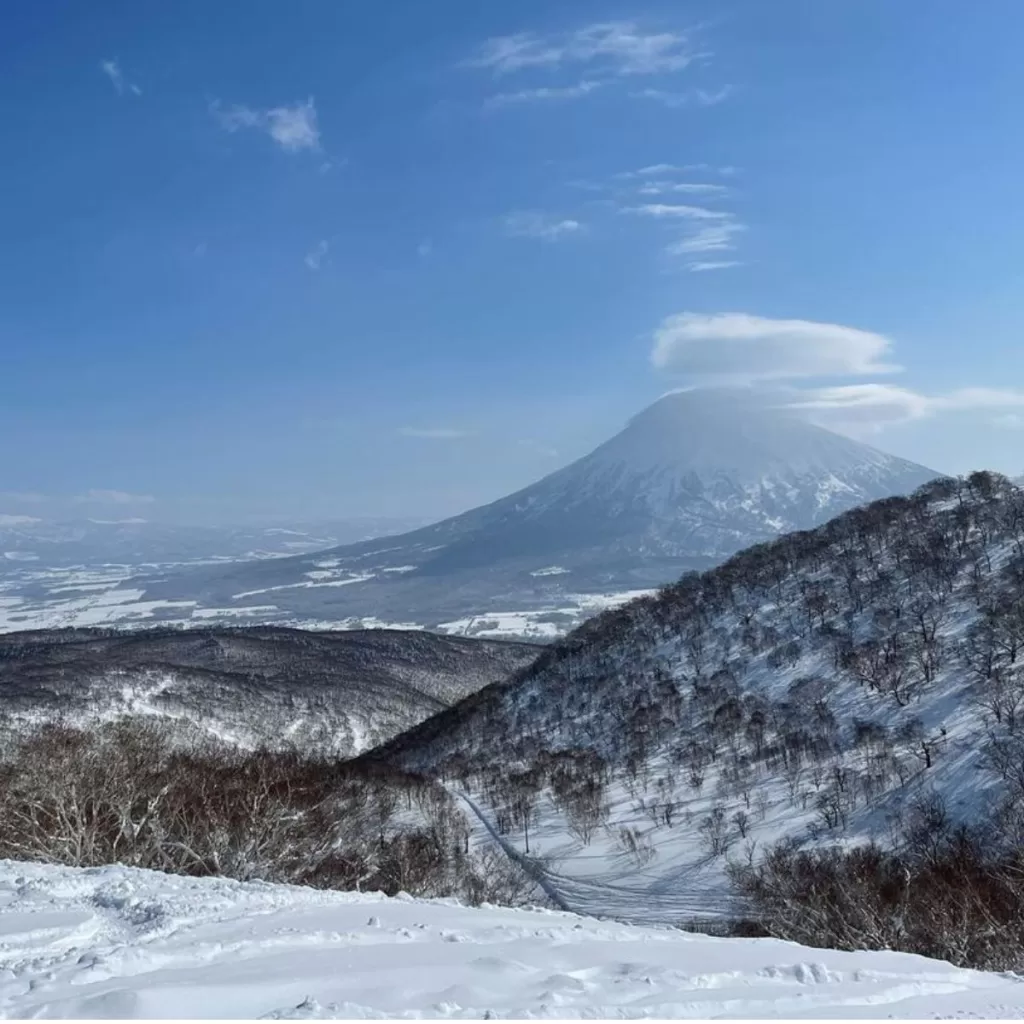 Niseko in Hokkaido, is one of the best Japan ski resorts, renowned for having some of the best powder snow conditions on earth. This huge resort spans four interconnected areas – Niseko Annupuri, Niseko Village, Grand Hirafu, and Hanazono – giving access to over 800 skiable acres of terrain.
Niseko is known for its excellent tree skiing and backcountry options. The varied terrain caters well to all skill levels. In addition to skiing and snowboarding, Niseko offers winter activities like snowmobiling, snowshoeing, and indulging in hot spring onsens.
Furthermore, Niseko is famous for its vibrant après-ski scene and welcoming atmosphere. The resort offers a wide range of accommodation options, from luxury hotels to cozy lodges, along with numerous restaurants, bars, and hot springs to relax in after a day on the slopes.
---
Shiga Kogen, Nagano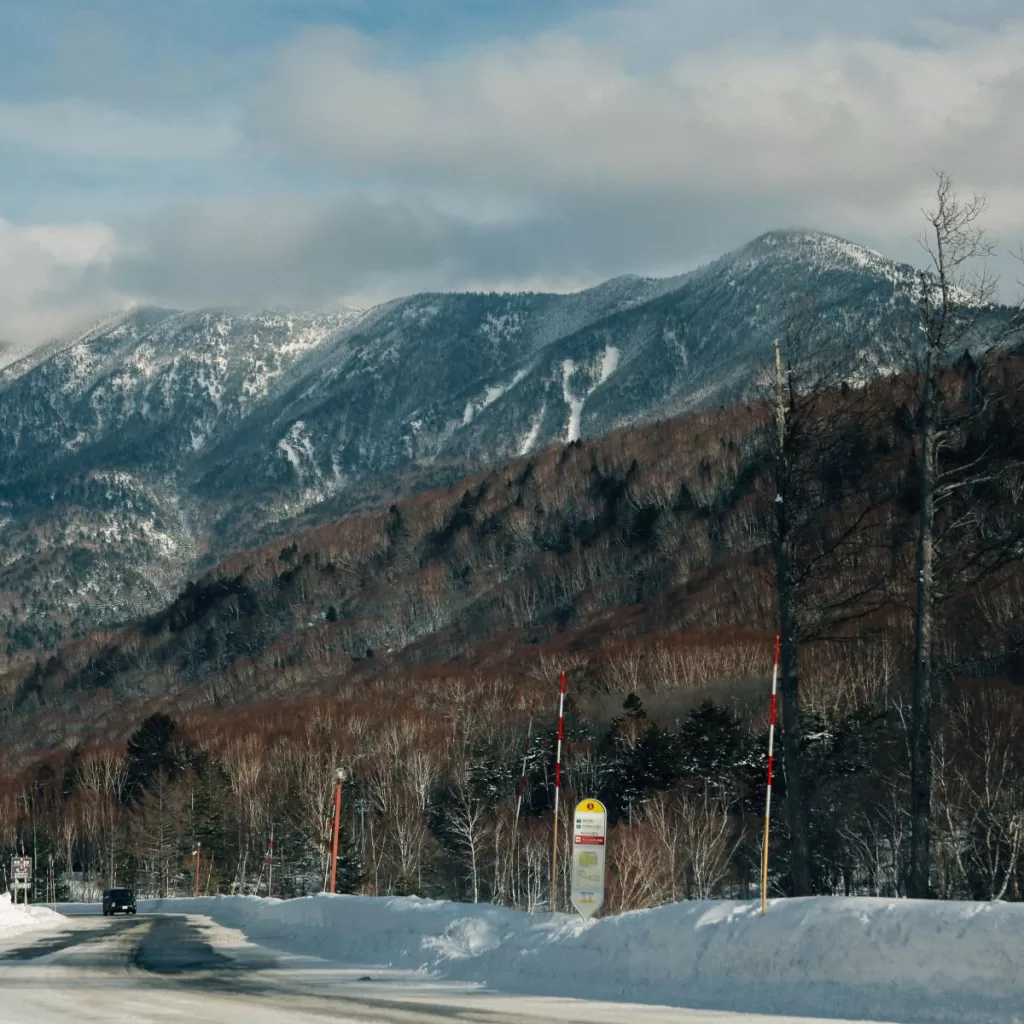 Another nice place to ski in Japan is Shiga Kogen. This Japanese ski resort is one of the largest ski areas in Japan, with an incredible 21 interconnected ski areas and over 500 ski runs. With so much terrain, you can spend days exploring the slopes. There are long cruisers, mogul runs, terrain parks, and off-piste powder stashes.
The ski resort spans the mountains between Yokote and Yomase, and is conveniently located near the famous Jigokudani Snow Monkey Park. The resort offers great skiing for all skill levels from beginner to advanced. English speaking ski and snowboard lessons are available.
Beyond the exhilarating skiing opportunities, Shiga Kogen offers a distinctive charm with its traditional Japanese architecture, cozy lodges, and natural hot springs known as onsens. Visitors can indulge in the tranquil relaxation of these rejuvenating onsens after a day on the slopes, immersing themselves in the rich cultural experience of Japan.
Shiga Kogen ski resort is not only a winter paradise but also a gateway to the stunning Joshinetsu Kogen National Park, allowing visitors to enjoy the pristine natural beauty of the surrounding area. With its picturesque landscapes, thrilling slopes, and immersive cultural experiences, Shiga Kogen is an ideal destination for winter sports enthusiasts seeking an unforgettable skiing adventure in Japan.
---
Nozawa Onsen, Nagano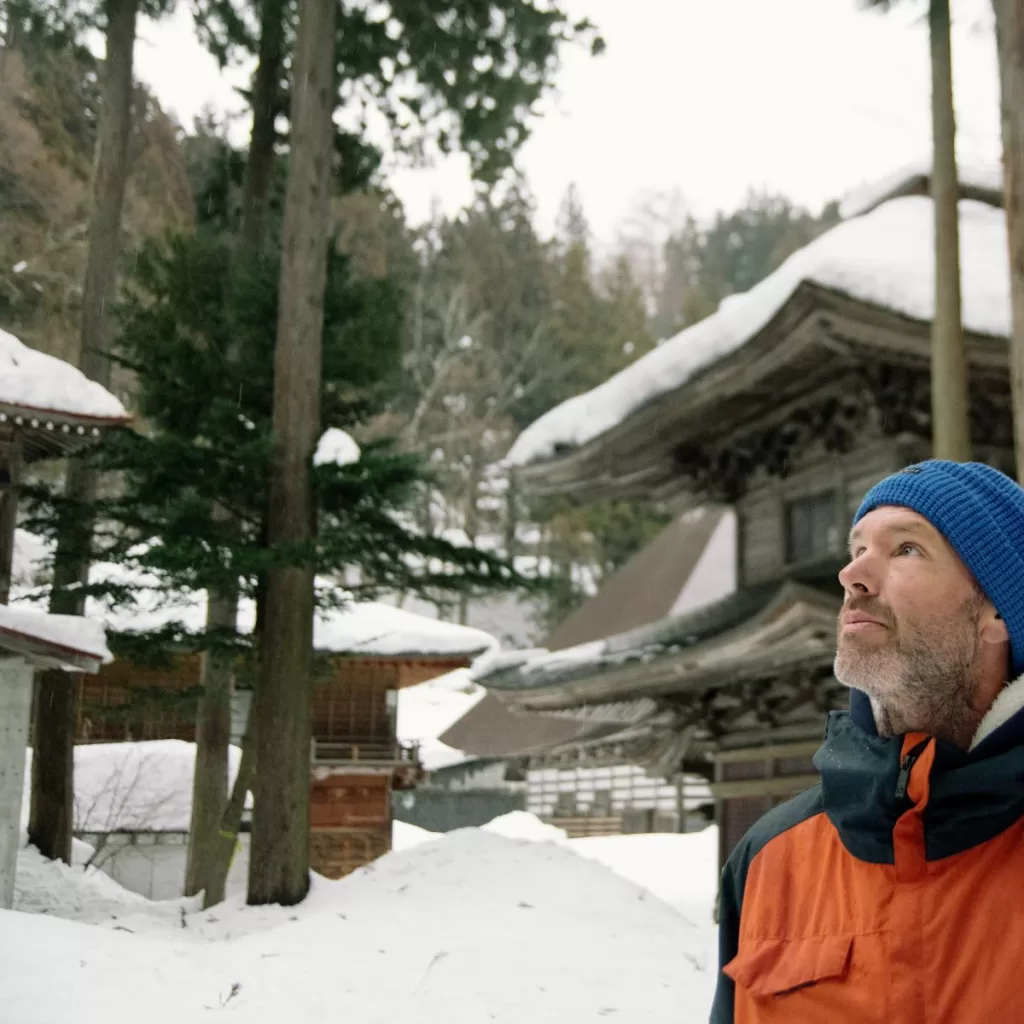 Nozawa Onsen, one of the top ski resorts in Japan, has been a popular ski destination since the early 1900s. This charming traditional village has quaint lodges, hot spring onsens, and excellent ski terrain. Nozawa Onsen has one of the longest ski seasons in Japan, from December through May.
One of the ski resort features is its abundant supply of natural hot springs or onsens. It has a relaxed atmosphere than other resorts. After a day on the slopes, visitors can enjoy the therapeutic benefits of these soothing baths, immersing themselves in relaxation while surrounded by picturesque snowy landscapes.
The resort has a good mix of terrain for all abilities. Tree skiing here is a special treat after heavy snowfalls. Nozawa is also known for its lively festival scene and nightlife. The unique Dosojin Fire Festival is a highlight in January.
---
Hakuba Ski Resort, Nagano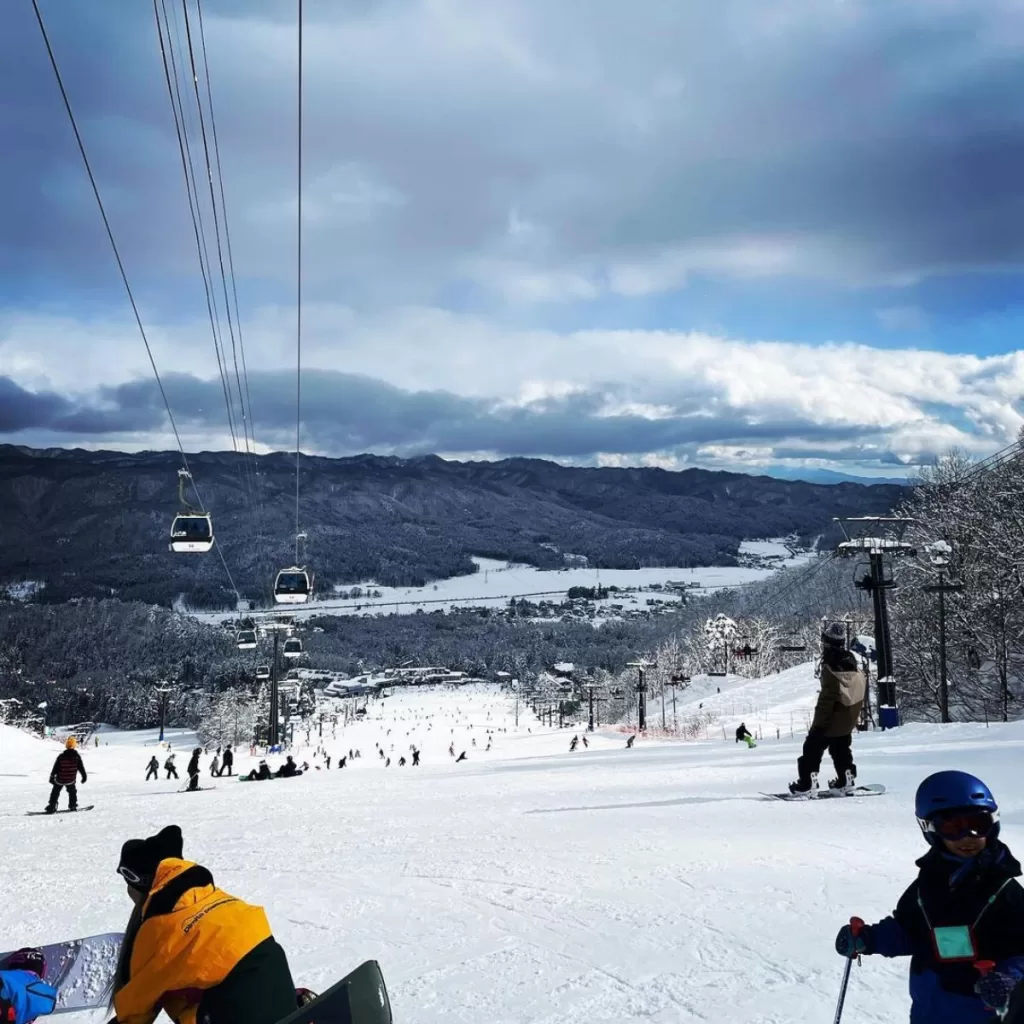 Part of the Jigokudani valley near Nagano City, Hakuba is one of the top Japan ski resorts. Hakuba hosted events during the 1998 Nagano Winter Olympic games. Today, it offers great skiing and snowboarding at 10 interconnected resorts.
With over 200 runs, extensive backcountry, and diverse terrain, Hakuba has options for all skill levels. Hakuba 47 and Happo One are the main resorts. The lovely mountain village setting and hot springs make Hakuba an appealing ski destination.
Hakuba ski resort's combination of world-class skiing, awe-inspiring views, and cultural experiences make it a sought-after destination for winter sports enthusiasts from around the world. The resort is ideal for beginners. Whether you're a seasoned pro or a first-time skier, Hakuba promises an exhilarating and unforgettable winter adventure.
---
Myoko Ski Resort, Niigata
Myoko Kogen is a highland area home to several excellent interconnected ski resorts in Niigata Prefecture. Akakura Onsen, Ikenotaira Onsen, Suginohara, and Seki Onsen are the main ski areas. It's one of the best places to go skiing.
With around 50 courses spanning 42 kilometers, Myoko Kogen offers diverse ski terrain for all levels. The resort is especially known for its abundant powder snow – 11 meters annually on average! Backcountry skiing, snowboarding, and lovely hot spring onsens round out the attractions.
Beyond the skiing and snowboarding, Myoko Kogen provides a unique cultural experience. The resort is known for its traditional Japanese villages, where visitors can immerse themselves in the local atmosphere, sample delicious regional cuisine, and relax in hot springs known as onsens.
---
Appi Kogen Ski Resort, Iwate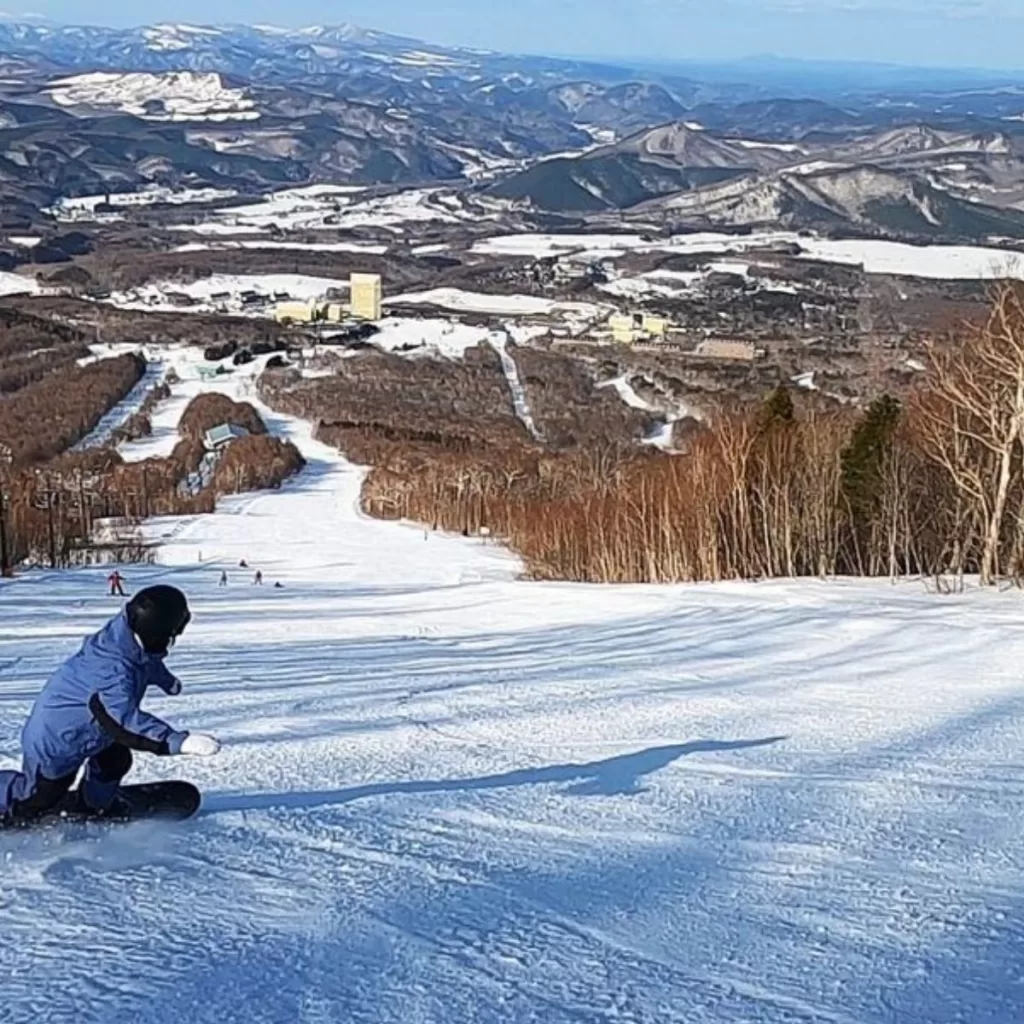 Another ski and snowboard destination is Appi Kogen. It is the largest ski resort in the Tohoku region of northern Honshu. Just a 3-hour bullet train ride from Tokyo, Appi has over 500 hectares of skiable terrain to explore. There aregroomed cruisers for all levels as well as great tree skiing and backcountry options.
The resort has a relaxed, family-friendly atmosphere. Skiing here is slightly less expensive than at major resorts like Niseko. The Appi Kogen ski area connects to the smaller Iwate Kogen resort for even more terrain.
In addition to its exceptional skiing opportunities, Appi Kogen provides top-notch amenities and services. The resort offers a range of accommodations, from luxurious hotels to cozy lodges, along with numerous dining options and après-ski activities to enhance the overall experience.
---
Zao Onsen, Yamagata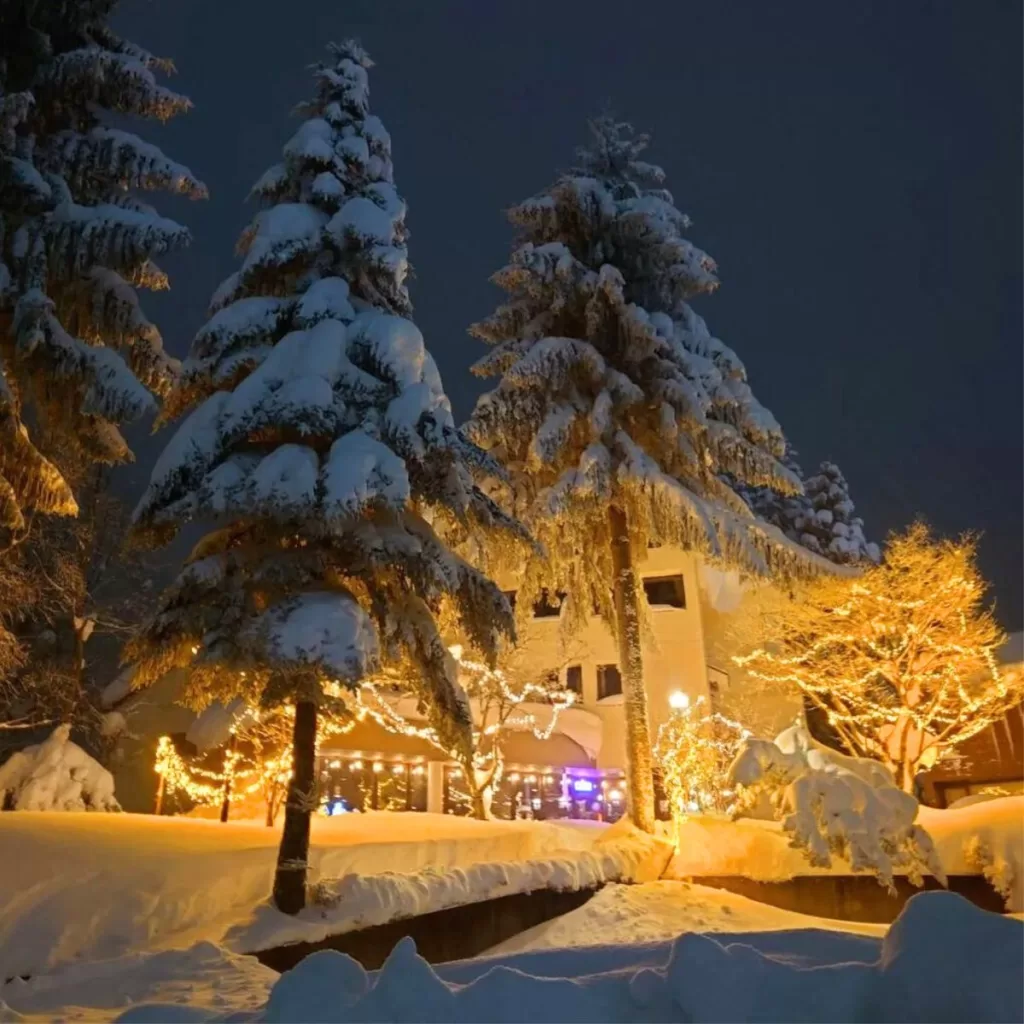 Zao Onsen is a highland ski area stretched along the border between Yamagata and Miyagi prefectures. Known for abundant snowfall, the resort has the unique "snow monsters" – snow-covered pine trees – to ski among.
With over 40 courses, Zao caters well to beginners and intermediate skiers. The groomed cruisers and gentle slopes are great for families. There are also steep advanced runs, tree skiing, and backcountry terrain for experts. Soak in the hot springs and savor seafood after a day on the slopes.
Immersed in traditional Japanese culture, Zao Onsen also offers a variety of traditional inns, charming streets lined with shops and restaurants, and opportunities to experience local traditions such as traditional tea ceremonies and performances of Kagura, a local traditional dance.
Zao Onsen ski resort offers a unique blend of natural beauty, world-class skiing, and cultural immersion. It is an enchanting destination that promises an unforgettable winter escape for both skiing enthusiasts and those seeking a serene mountain retreat.
---
Shiga Kogen Yakebitaiyama, Nagano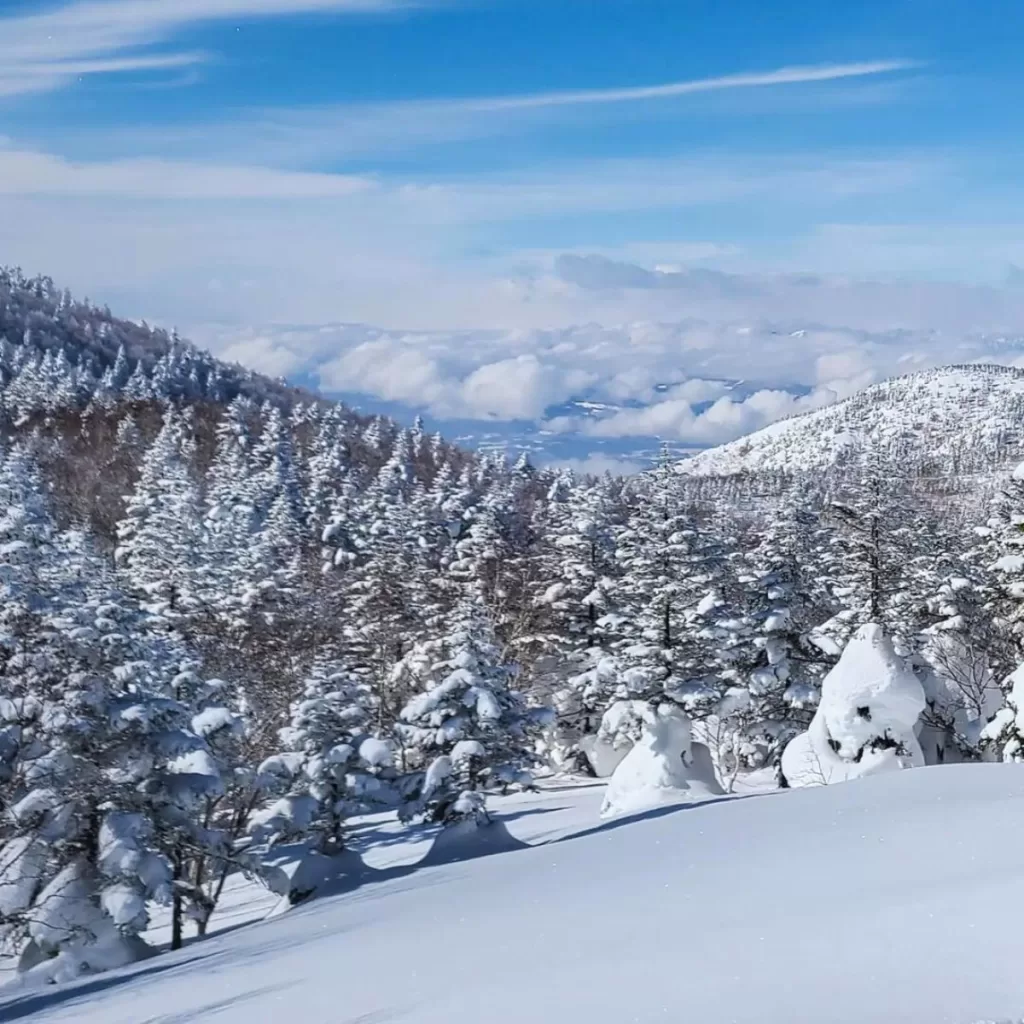 The Yakebitaiyama zone of the massive Shiga Kogen resort is renowned for having some of Japan's best groomed terrain for cruisers. Wide boulevards through pine trees ensure excellent skiing for intermediate and advanced skiers.
Yakebitaiyama has long runs up to 10 kilometers in length. The area has a vertical drop of 849 meters. In addition to cruising, the resort offers terrain parks, moguls, tree skiing, and backcountry options for powder hounds. English speaking ski and snowboard lessons are offered.
In addition to its superb skiing opportunities, Yakebitaiyama offers a cozy and welcoming atmosphere. The resort features a variety of accommodations, from cozy lodges to upscale hotels. After a day on the slopes, visitors can relax and recharge in the local hot springs, known as onsens, rejuvenating their bodies and enjoying a quintessential Japanese cultural experience.
---
Rusutsu Ski Resort, Hokkaido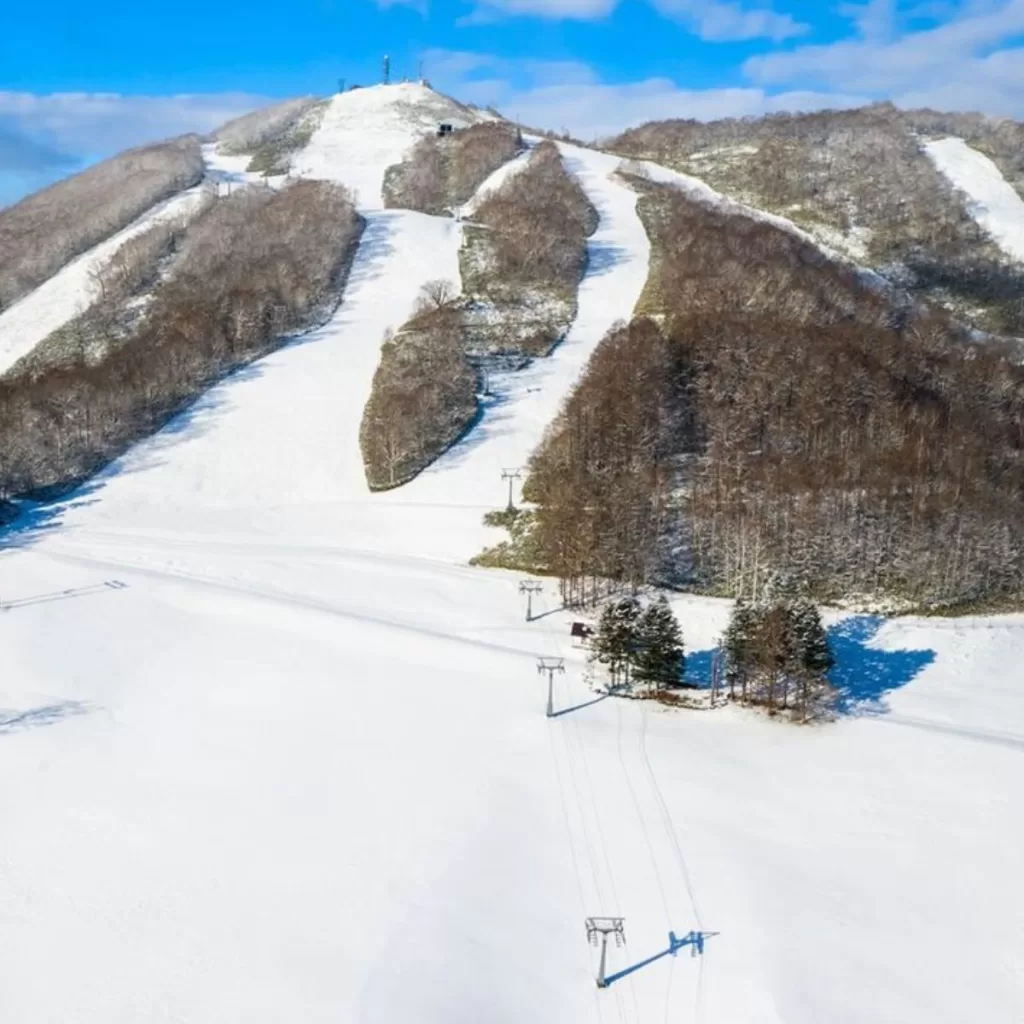 Rusutsu is one of Japan's largest ski resorts located in the mountains of western Hokkaido. Two large interconnected zones – East Mountain and West Mountain – give access to over 42 kilometers of varied terrain.
From wide groomed runs to steep tree slopes, Rusutsu has terrain for all abilities. The resort has an impressive vertical drop of 787 meters. Rusutsu is known for dry champagne powder and excellent ski-in/ski-out accommodation. The resort offers night skiing on select runs.
After a day on the slopes, visitors can relax and unwind in the resort's charming village. The area offers a variety of accommodation options, including comfortable hotels and cozy lodges, along with a selection of restaurants and shops where visitors can sample delicious local cuisine and purchase souvenirs.
Rusutsu Ski Resort truly captures the magic of winter in Hokkaido, offering exceptional skiing, picturesque landscapes, and a warm and welcoming atmosphere. Whether you're a seasoned skier, a beginner, or simply seeking a memorable winter getaway for the whole family, Rusutsu promises an unforgettable experience.
---
Furano Ski Resort, Hokkaido
Furano is a charming ski town nestled in the countryside of Central Hokkaido. The ski resort has 24 courses and reliably excellent dry powder snow throughout winter. Furano hosted alpine skiing and Nordic events during the 1992 Albertville Winter Olympic games.
The majority of terrain caters to beginners and intermediates, with wide groomed runs perfect for cruising. Steeper advanced terrain and tree/backcountry skiing options also exist. In addition to skiing and snowboarding, Furano offers other winter activities like snow tubing, snowmobiling, and ice skating.
Furano ski resort is a must-visit destination for snow sports enthusiasts and nature lovers alike. With its amazing snow quality, breathtaking scenery, and welcoming atmosphere, Furano promises an unforgettable winter experience in the heart of Hokkaido, Japan.
---
Kagura Ski Resort, Tohoku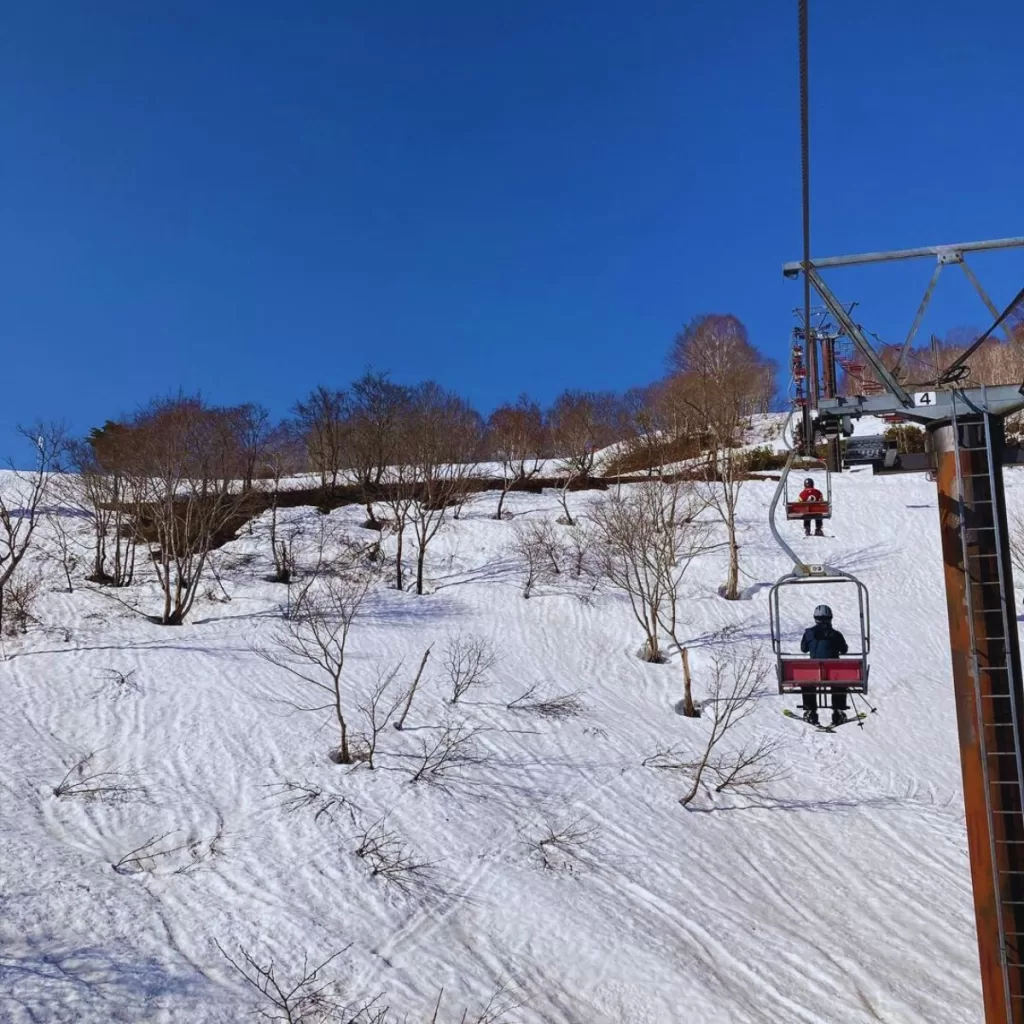 Kagura ski resort offers a high quality ski experience without the crowds and expense of places like Niseko. Located in Tohoku's Mogami River valley, Kagura has 30 runs spanning 1,650 vertical meters.
The ski slopes face north to preserve dry snow conditions. Groomed cruisers, mogul runs, and snow parks cater to all levels. Steep off-piste terrain provides a challenge for experts. Kagura has night skiing, ski-in/ski-out lodging, and hot spring baths to soak in after skiing.
Beyond its excellent skiing opportunities, Kagura is also famous for its natural beauty. The resort offers stunning panoramic views of the surrounding mountains, including the majestic Mount Naeba. Visitors can experience the peaceful atmosphere as they carve through the powder-covered slopes.
---
Gala Yuzawa Ski Resort, Niigata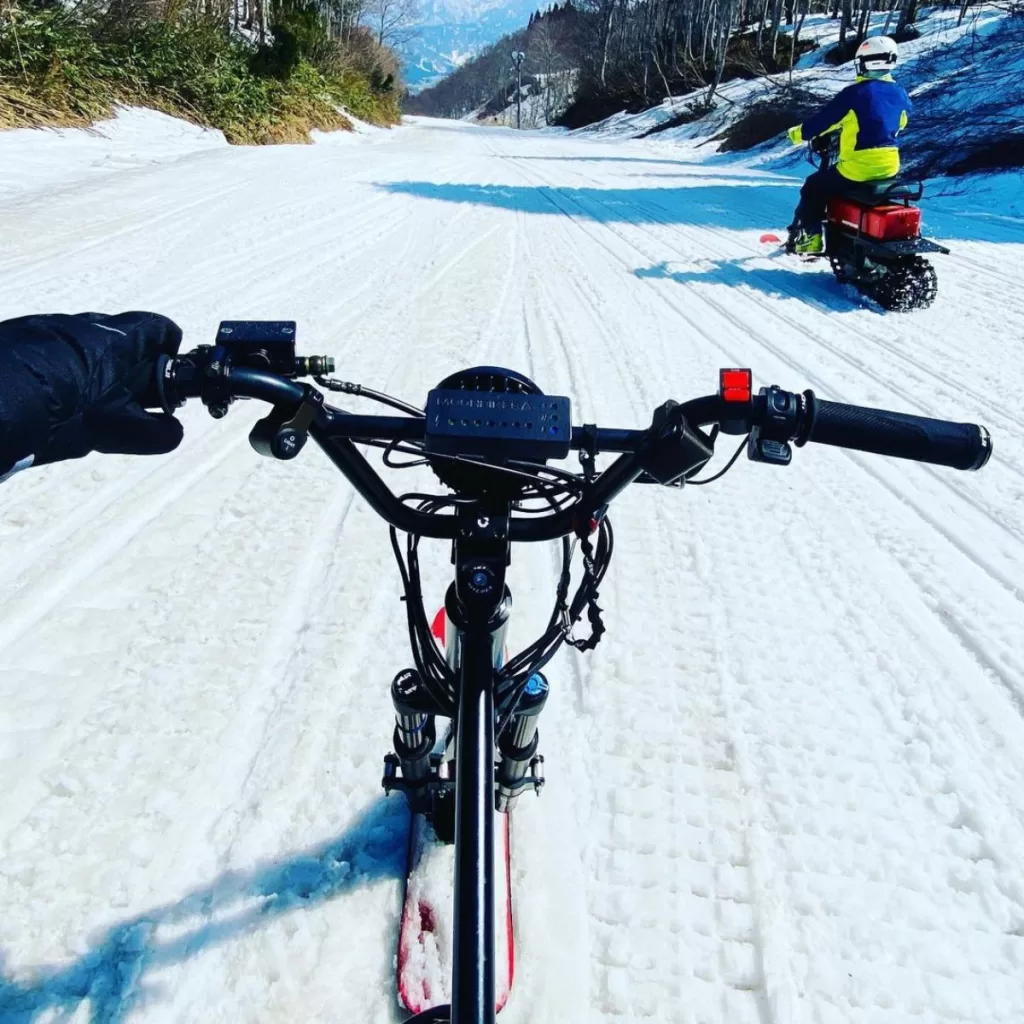 Gala Yuzawa is conveniently located just a 75 minute train ride from Tokyo in Niigata Prefecture. The resort offers ski-in/ski-out access right at the train station, making this a very accessible day trip or weekend getaway from Tokyo.
With 17 runs, Gala Yuzawa is on the smaller side but suitable for all skill levels. The resort benefits from the heavy snowfall of Niigata's Sea of Japan coast. Night skiing is available on weekends and peak periods. Soak in the hot springs at the Gala Yuzawa hot spring village after skiing.
The resort also offers a wide range of amenities to enhance visitors' experiences. After an exhilarating day on the slopes, guests can relax and recharge at the resort's facilities, including restaurants, cafes, and relaxation areas. There are also options for hot spring bathing, offering a soothing and rejuvenating experience.