Discover the Best Things to Do in Nikko, a picturesque town nestled in the mountains of Tochigi Prefecture, Japan. Nikko is renowned for its rich cultural heritage, stunning natural landscapes, and serene spirituality. Whether you are seeking historical landmarks, breathtaking scenery, or a peaceful retreat, Nikko offers a wide array of experiences that will captivate and inspire you. Here are the 21 best things to do in Nikko:
1. Visit Toshogu Shrine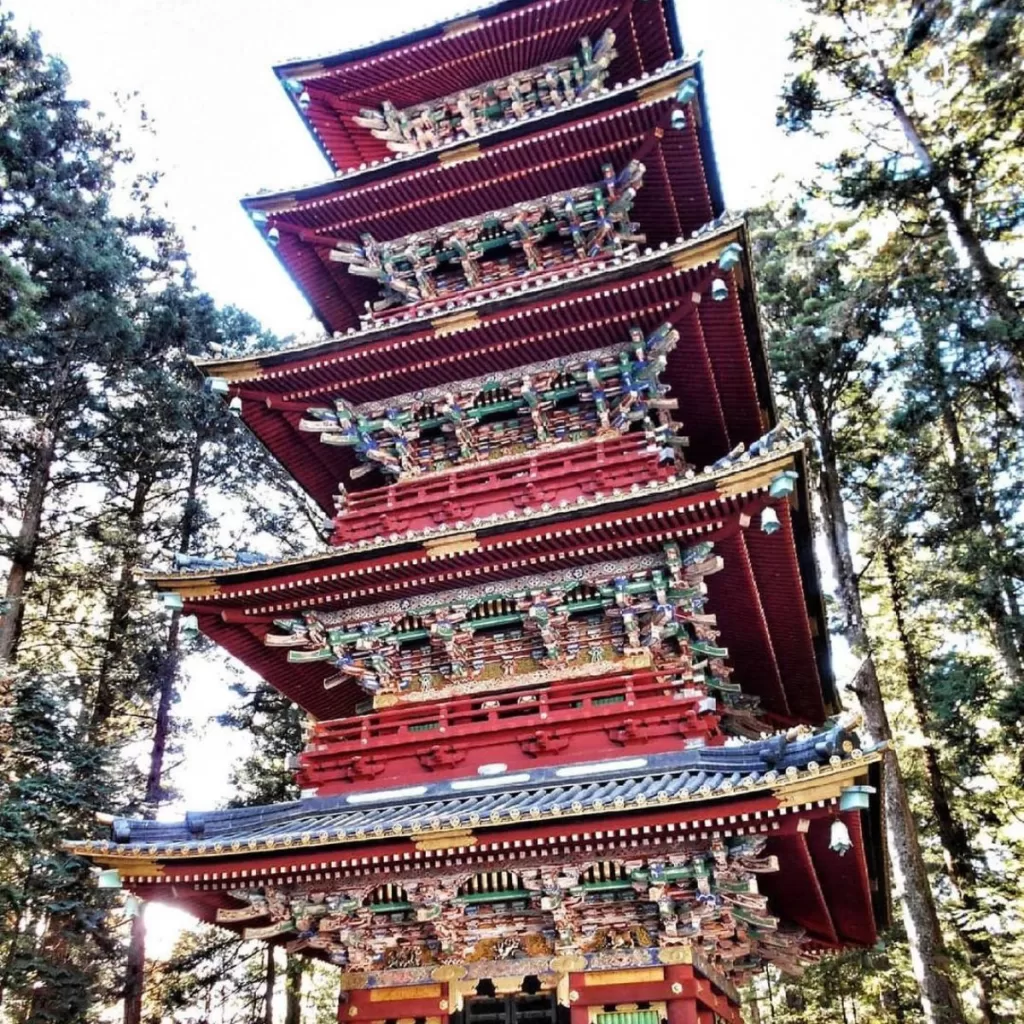 If you visit Nikko, one attraction that should be at the top of your list is the Toshogu Shrine.
One of Nikko's most famous sites is Toshogu Shrine, a UNESCO World Heritage Site. Dedicated to Tokugawa Ieyasu, the founder of the Tokugawa Shogunate, the lavishly decorated shrine complex consists of over a dozen buildings set amongst beautiful cedar trees. Don't miss the sleeping cat carved on the walls, which is said to bring good luck if you find it.
Inside Nikko Toshogu Shrine, you'll find beautiful gardens, tranquil ponds, and stone lanterns that add an air of serenity to the surroundings. The Shrine is also home to the famous "see no evil, hear no evil, speak no evil" monkeys, a popular feature that symbolizes the importance of moral conduct.
---
2. Cross the Shinkyo Bridge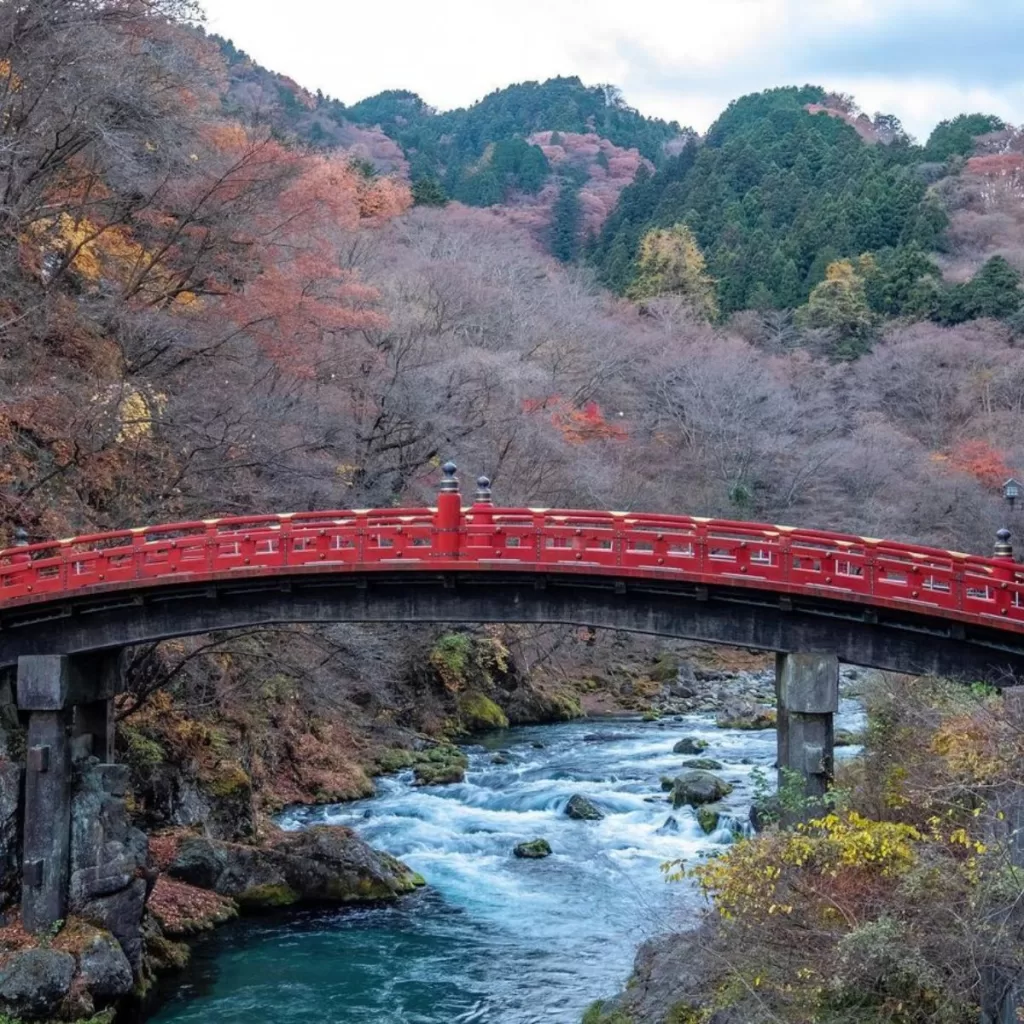 When planning a trip to Nikko, crossing the Shinkyo Bridge is one of the essential experiences that should not be missed. Located in the picturesque Nikko area of Japan, the Shinkyo Bridge offers a stunning view of the Daiya River and the surrounding natural beauty.
The bright red lacquered Shinkyo Bridge over the Daiya River is one of Nikko's most iconic sights. Meaning "Sacred Bridge", this arched bridge was originally built in 1636 and leads to the entrance of Nikko's shrines and temples. Be sure to get that perfect photo of the bridge with Mt. Nantai in the background.
This bridge has been an essential pathway for visitors to reach the shrine for centuries, symbolizing the entrance to the cultural and spiritual heart of Nikko. Crossing the bridge is like stepping into a different world, immersing yourself in the rich history and tradition that the area has to offer.
---
3. Hike to Kegon Falls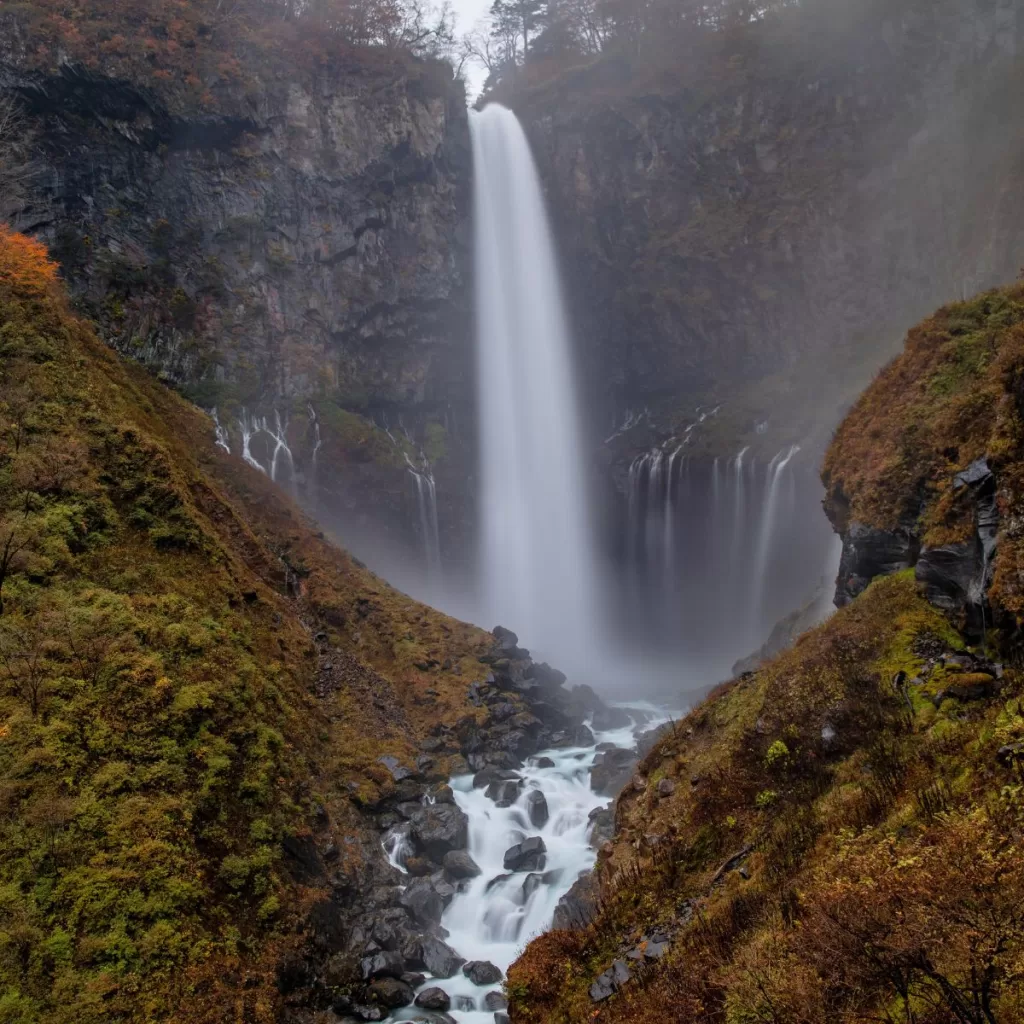 To get to Nikko and embark on this adventure, you can make use of various transportation options. Whether you choose to take a train, bus, or drive, the journey to Nikko is part of the excitement. Once you arrive, exploring the natural wonders of the area, such as Kegon Falls, will be one of the top things on your list.
When exploring the Nikko area, a hike to Kegon Falls is an experience that is worth a visit. View Japan's third tallest waterfall, Kegon Falls, by taking a 30-minute hike from Lake Chuzenji. The almost 100 meter tall waterfall dramatically gushes down into a misty gorge.
For the best views, take the elevator down to the waterfall's observation deck. The sight of the water cascading down the rock face is awe-inspiring, making it one of the must-see places in Nikko.
Allow yourself ample time in Nikko to fully enjoy all the fun things it has to offer, with a hike to Kegon Falls high on the list of places to visit. Whether you're an avid hiker or simply enjoy a leisurely stroll in nature, this experience will leave a lasting impression. Take your time, savor the sights, and let the beauty of Kegon Falls take your breath away during your time in Nikko. It's definitely one of the best waterfalls in Japan.
---
4. Stroll Around Lake Chuzenji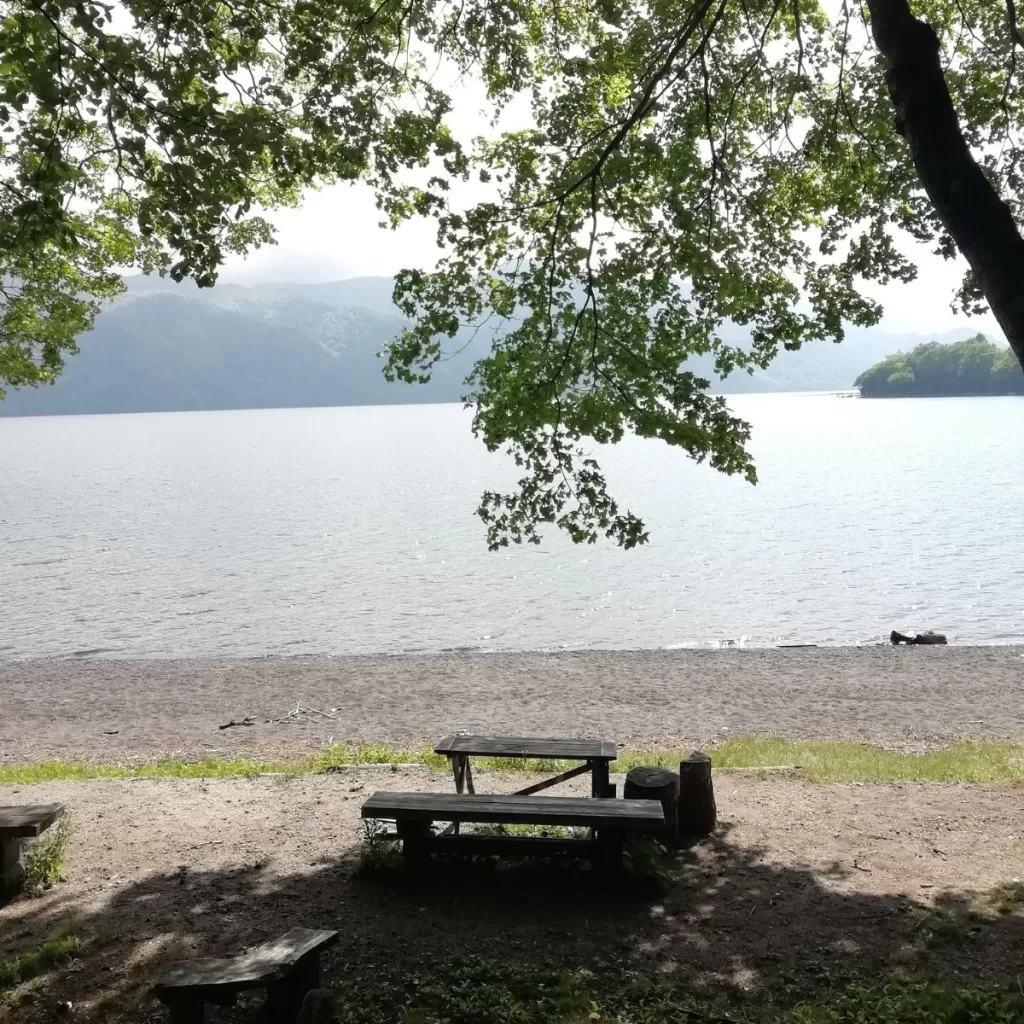 A visit to Lake Chuzenji is a must for anyone embarking on a Nikko travel adventure or a trip to Japan. Nestled in the breathtaking natural beauty of Nikko, Lake Chuzenji offers a picturesque setting that is perfect for relaxation and exploration. Known as one of the most stunning lakes in Japan, it is no wonder that Lake Chuzenji attracts visitors from all over the world.
When planning your trip to Japan, Lake Chuzenji should be high on your list of places to see in Nikko. Surrounded by lush forests and scenic mountains, the lake provides a serene and tranquil atmosphere that serves as a perfect weekend escape from Tokyo. This beautiful blue lake at the foot of Mt. Nantai provides plenty of scenic strolling and boating opportunities. Visit the Italian-inspired Chuzenji Temple on the lakeshores or take a boat cruise across the lake for great views.
Nikko boasts not only the natural beauty of Lake Chuzenji but also a range of recreational activities. During your stroll around the lake, you can indulge in various outdoor adventures such as hiking, fishing, and taking in the mesmerizing views of the nearby Kegon Falls.
---
5. Relax in an Onsen Hot Spring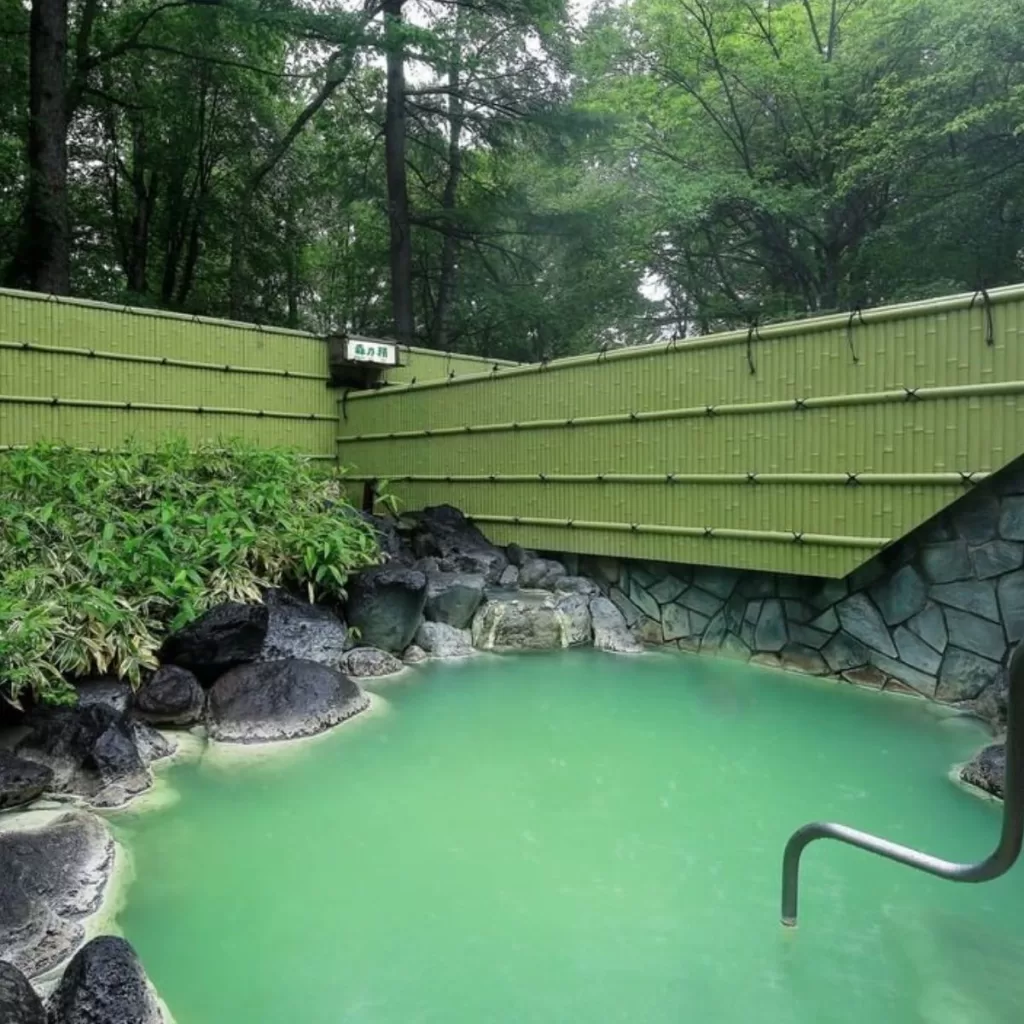 When looking for a truly rejuvenating experience during your visit in Japan, indulging in an onsen hot spring in Nikko should also be at the top of your list. Known for its serene beauty and natural wonders, Nikko town is home to some of the best onsen hot springs in Japan.
There are several onsen hot spring resort towns around Nikko to relax those sore muscles after a day of sightseeing. Soak in the alkaline waters of Yumoto Onsen or radon-infused Kinugawa Onsen. Nyorai-no-yu near Lake Chuzenji is also a good option. Nikko is one of the best hot spring towns in Japan.
Set aside some time to unwind and appreciate the healing powers of these hot springs, and you'll find yourself leaving Nikko with a renewed sense of well-being.
---
6. Explore Edo Wonderland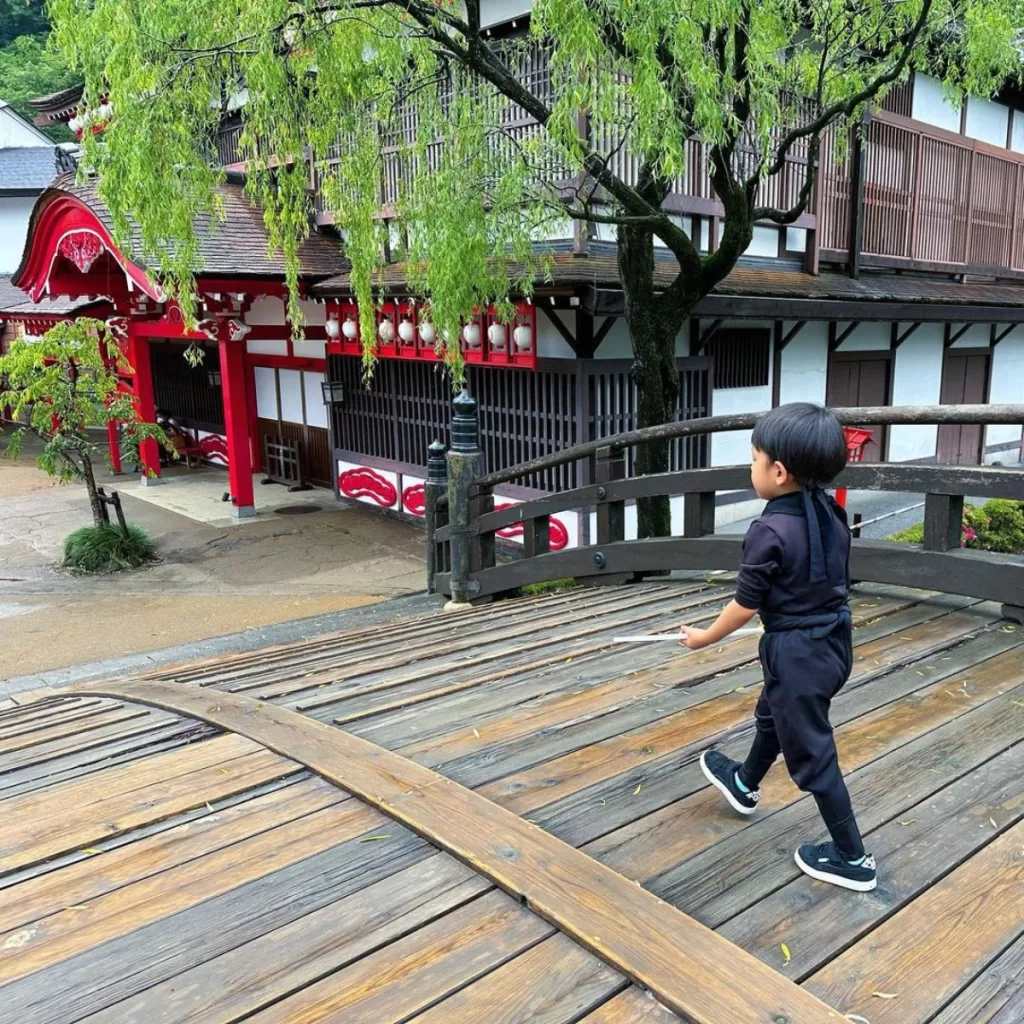 When exploring the area of Nikko, one of the key attractions that should not be missed is Edo Wonderland. This unique theme park offers a glimpse into the Edo period of Japanese history. Edo Wonderland Nikko Edomura is a living museum that recreates Japan's Edo period (1603-1868). Here you can watch ninja shows, participate in traditional games, dress up in samurai armor, and watch plays at the kabuki theater.
Edo Wonderland is a must-visit destination for history enthusiasts and those looking to step back in time during their Japan travel. Exploring Edo Wonderland provides a unique opportunity to immerse yourself in Japanese history, culture, and traditions. Engage in activities such as trying on traditional samurai armor, partaking in traditional crafts, and enjoying local cuisine at one of the themed restaurants.
You can also witness and participate in various cultural demonstrations, including sword fighting, archery, and theatrical performances. Edo Wonderland offers a fun and educational experience for visitors of all ages.
---
7. See the Fall Colors
If you are fortunate enough to spend time in Japan during autumn, a trip to Nikko to see the fall colors is an absolute must. The vibrant hues of red, orange, and yellow that blanket Nikko during this season create a mesmerizing landscape that is truly breathtaking.
Nikko is gorgeous year-round, but particularly stunning in autumn as the leaves change colors. The best time to see the fall foliage is generally late October to early November. Popular leaf peeping spots include Kegon Falls and along Kanmangafuchi Abyss.
Witnessing the fall colors in Nikko is an experience that should not be missed if you want to fully immerse yourself in the beauty of nature.
---
8. Visit Taiyuinbyo Temple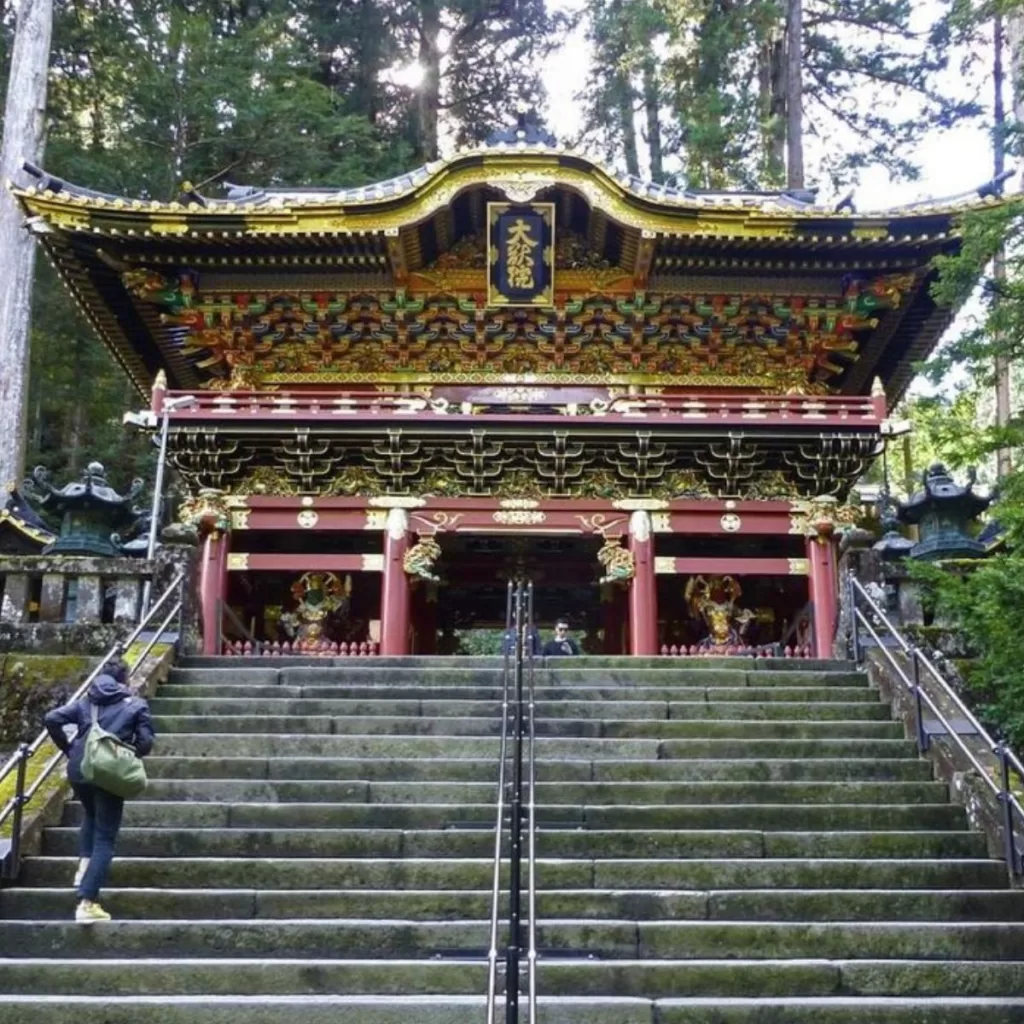 When exploring the shrines and temples of Nikko, a visit to Taiyuinbyo Temple is an essential experience. Located in Nikko's sacred complex, Taiyuinbyo Temple is a mausoleum dedicated to Tokugawa Iemitsu, the third shogun of the Tokugawa dynasty.
This temple in Nikko has intricate carvings, paintings, and gold leaf accents throughout the various temple buildings and gates. As you explore the temple grounds, you will find a peaceful setting surrounded by lush greenery, creating a tranquil oasis amidst the bustling tourist attractions of Nikko.
---
9. Hike Mt. Nantai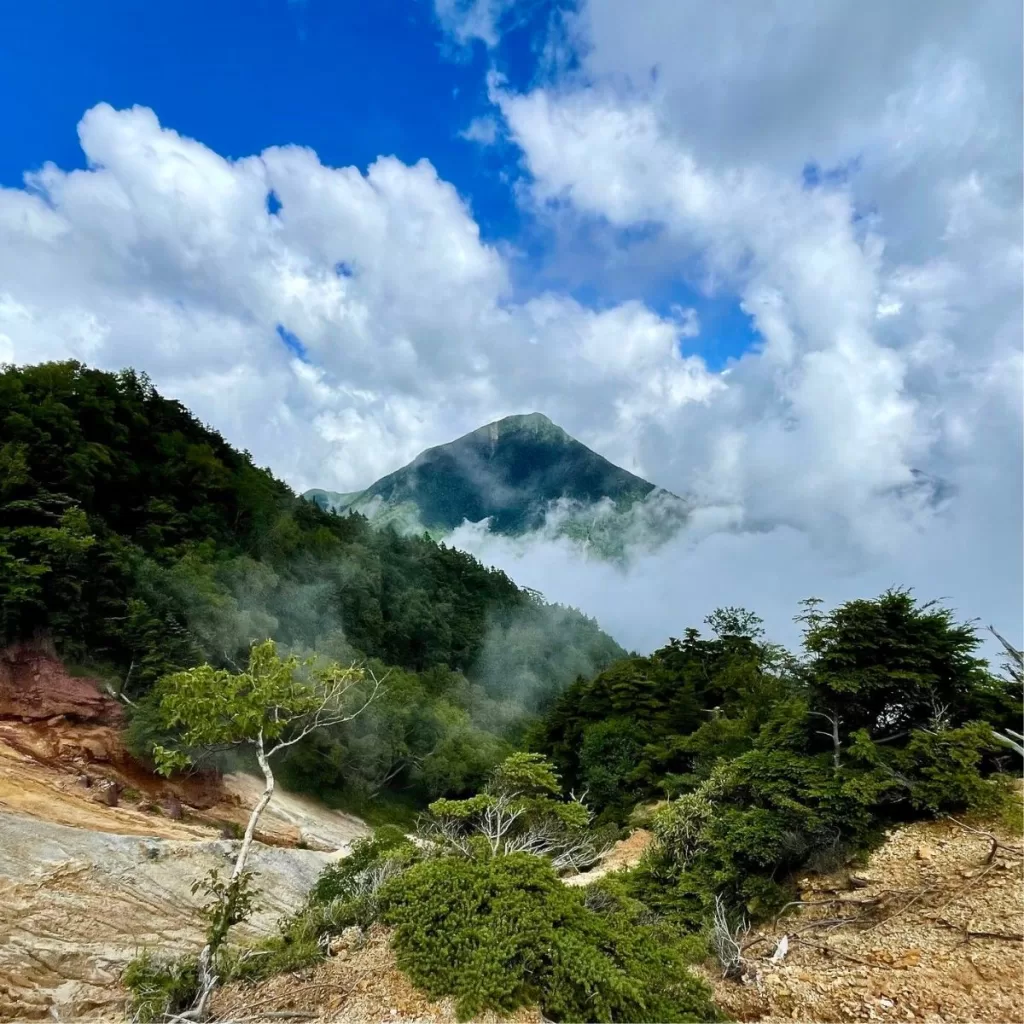 If you're a nature enthusiast or an avid hiker, a visit to Mt. Nantai should be on your itinerary when exploring around Japan. Situated in Nikko, Mt. Nantai is a magnificent volcanic peak that offers breathtaking views and an exhilarating hiking experience.
For panoramic views over Nikko, climb this 2,486 meter high volcano. A 4-5 hour hiking trail leads past waterfalls and through forests before reaching the summit. Or for an easier option, take the ropeway directly to the top.
---
10. See Futarasan Shrine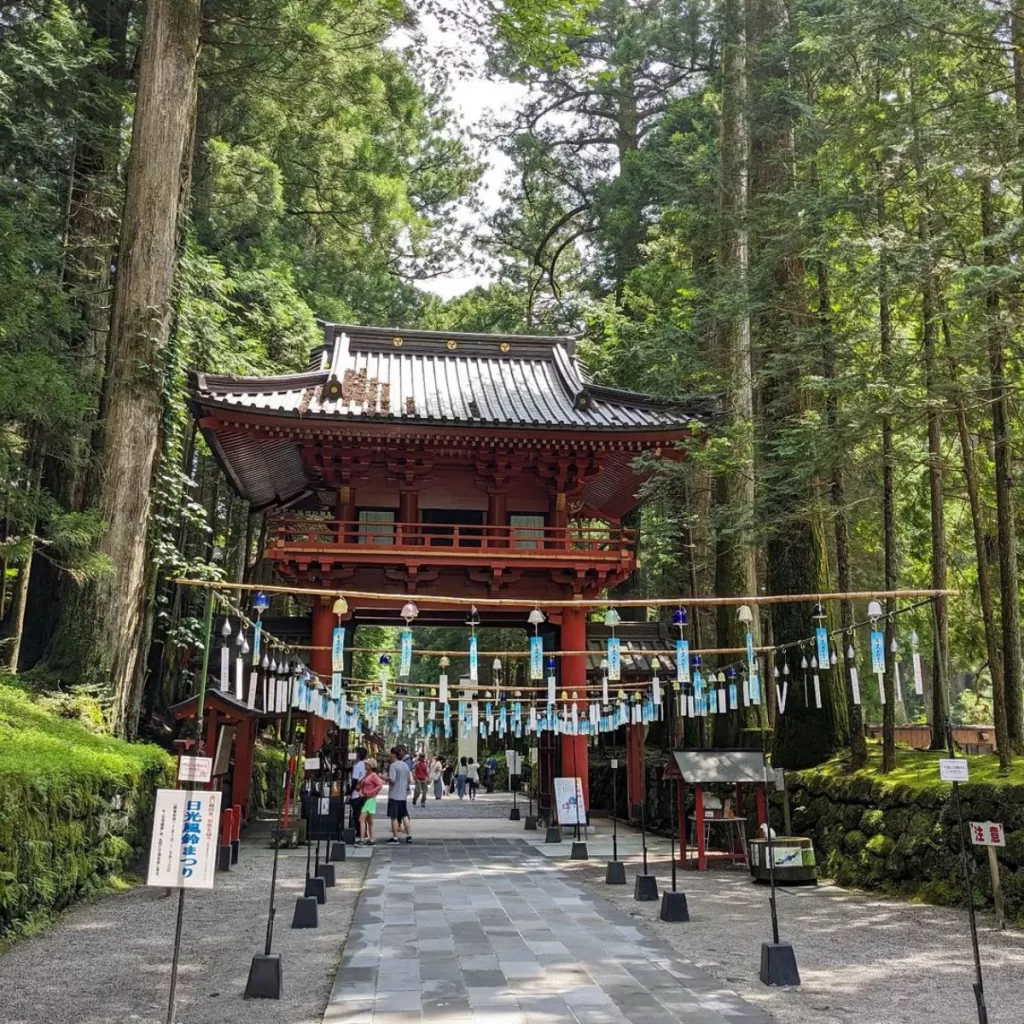 When exploring the top attractions in Nikko, a visit to Futarasan Shrine is a must. This sacred Shinto shrine holds great historical and cultural significance, making it a must-see destination for those interested in Japanese spirituality and architecture. It's also one of the best shrines of Nikko.
Futarasan Shrine, founded in 767 AD, is Nikko's most important shrine. Set within a beautiful forest, the shrine complex consists of several buildings housing the deities of Mt. Nantai. Walk across the sacred bridge overlooking a waterfall.
---
11. Visit Tamozawa Imperial Villa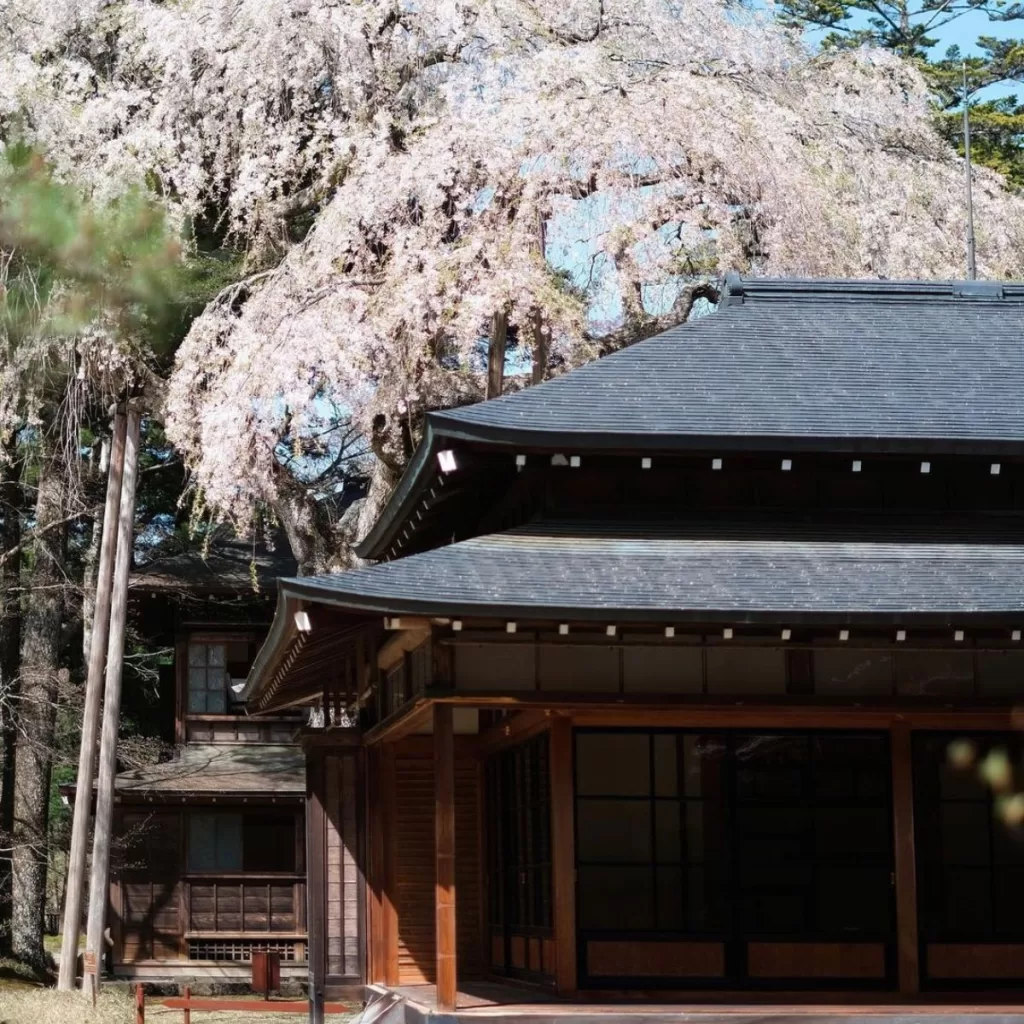 Located in Nikko, Tamozawa Imperial Villa is a well-preserved architectural masterpiece that once served as the summer residence of the Imperial Family. Exploring this majestic villa provides a unique glimpse into the traditional Japanese lifestyle and offers a serene and captivating experience.
This historic site lets you explore a summer vacation villa complex used by the Imperial Family until 1947. Wander through the 106 buildings perfectly preserved amidst landscaped gardens representing Japanese architecture of the late 19th century.
As you stroll through the villa's spacious rooms and corridors, you'll be able to appreciate the intricate details of the architecture and the exquisite craftsmanship. The villa showcases a blend of Japanese and Western design elements, incorporating elements of the Meiji era. From the traditional tatami mat rooms to the Western-style drawing rooms, each space offers a unique glimpse into the lifestyle of the Imperial Family.
---
12. Visit Rinno-ji Temple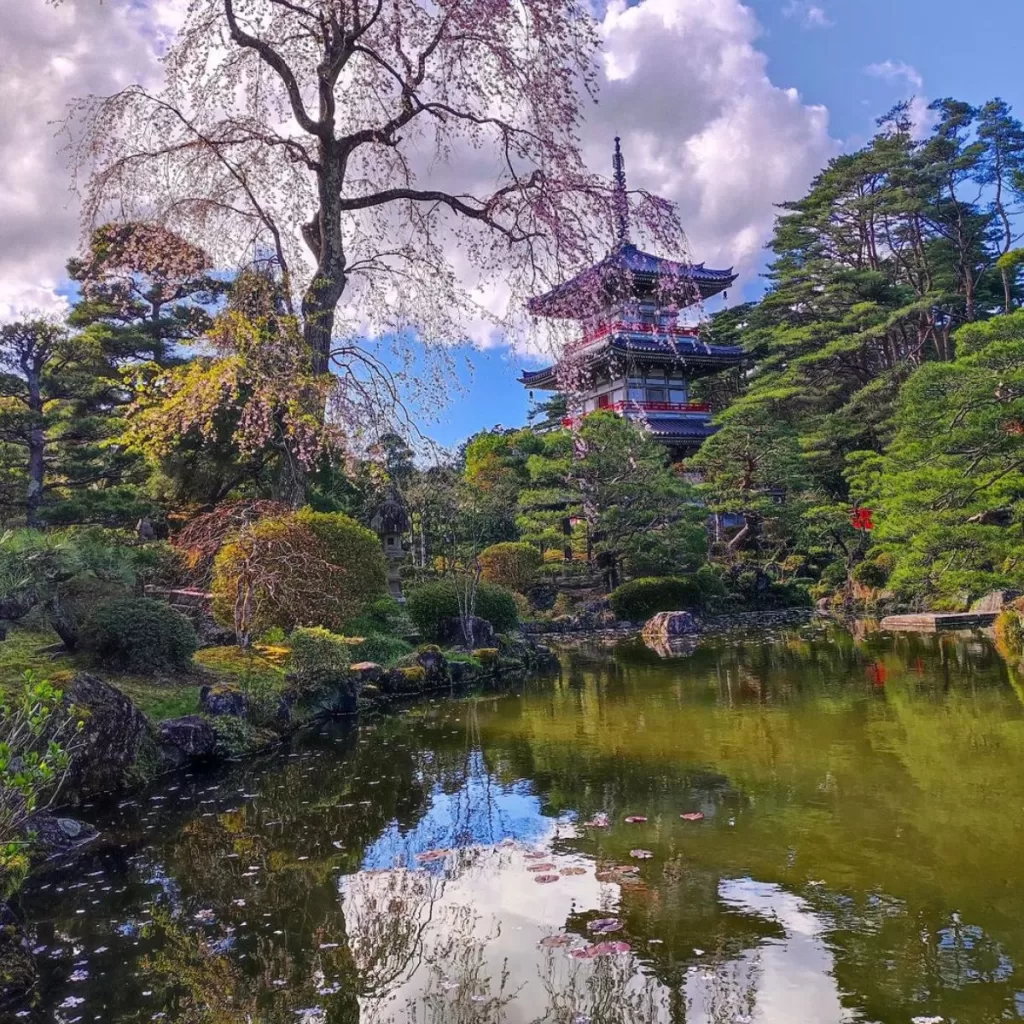 When exploring throughout Nikko, a visit to Rinno-ji Temple is a must. As one of the most significant Buddhist temples in Japan, Rinno-ji Temple offers a remarkable glimpse into the country's religious and cultural heritage. Whether you're a history enthusiast or a spiritual seeker, this temple provides a serene and enriching experience.
One of the best times to visit Rinno-ji Temple is during the blooming season of cherry blossoms in spring or the breathtaking autumn foliage. The temple's beautifully landscaped grounds, adorned with cherry blossom trees or vibrant autumn colors, create a picturesque setting that adds to the serene ambiance of the temple. Strolling through the temple grounds during these seasons is an immersive experience that allows you to fully appreciate the beauty of nature and the spiritual atmosphere.
---
13. Explore Nikko Botanical Garden
If you're a nature lover, exploring the Nikko Botanical Garden is an absolute must during your visit to Nikko. Over 1,300 different alpine plants from around the world are cultivated across this huge botanical garden near Lake Chuzenji. Relax amidst the vibrant floral displays and see rare species you won't find elsewhere in Japan.
From vibrant spring flowers to colorful autumn foliage, the garden offers a constantly changing scenery throughout the year. Exploring the garden allows you to witness the beauty of native Japanese plants, such as cherry blossoms, azaleas, and maple trees, as well as unique alpine and subalpine species.
In addition to its natural beauty, the Nikko Botanical Garden also educates visitors about Japan's plant life and conservation efforts. The garden features informative exhibits, interpretation boards, and guided tours that offer insights into the flora of Japan and the importance of preserving native plant species. It's an opportunity to learn and appreciate the ecological significance of the region and engage in sustainable practices.
---
14. Hike Along the Kanmangafuchi Abyss
The Kanmangafuchi Abyss is a scenic gorge located just a short distance from Toshogu Shrine. This natural wonder offers captivating views, picturesque walking trails, and a glimpse into the mystical beauty of Japan's landscapes.
One of the important things about hiking along the Kanmangafuchi Abyss is the opportunity to witness the awe-inspiring sight of the stone Jizo statues that line the trail. These statues, believed to protect travelers and guide the souls of the deceased, stand silently along the gorge, creating a meditative and spiritual atmosphere. Walking amidst these ancient statues is a unique and humbling experience, allowing you to connect with the traditions and beliefs of the local culture. It's especially lovely during autumn when the leaves change color around the statues.
The trail is relatively easy to navigate and is suitable for all levels of hikers, making it accessible to those seeking a leisurely stroll or a more challenging adventure.
---
15. Go Strawberry Picking at Nikko Strawberry Park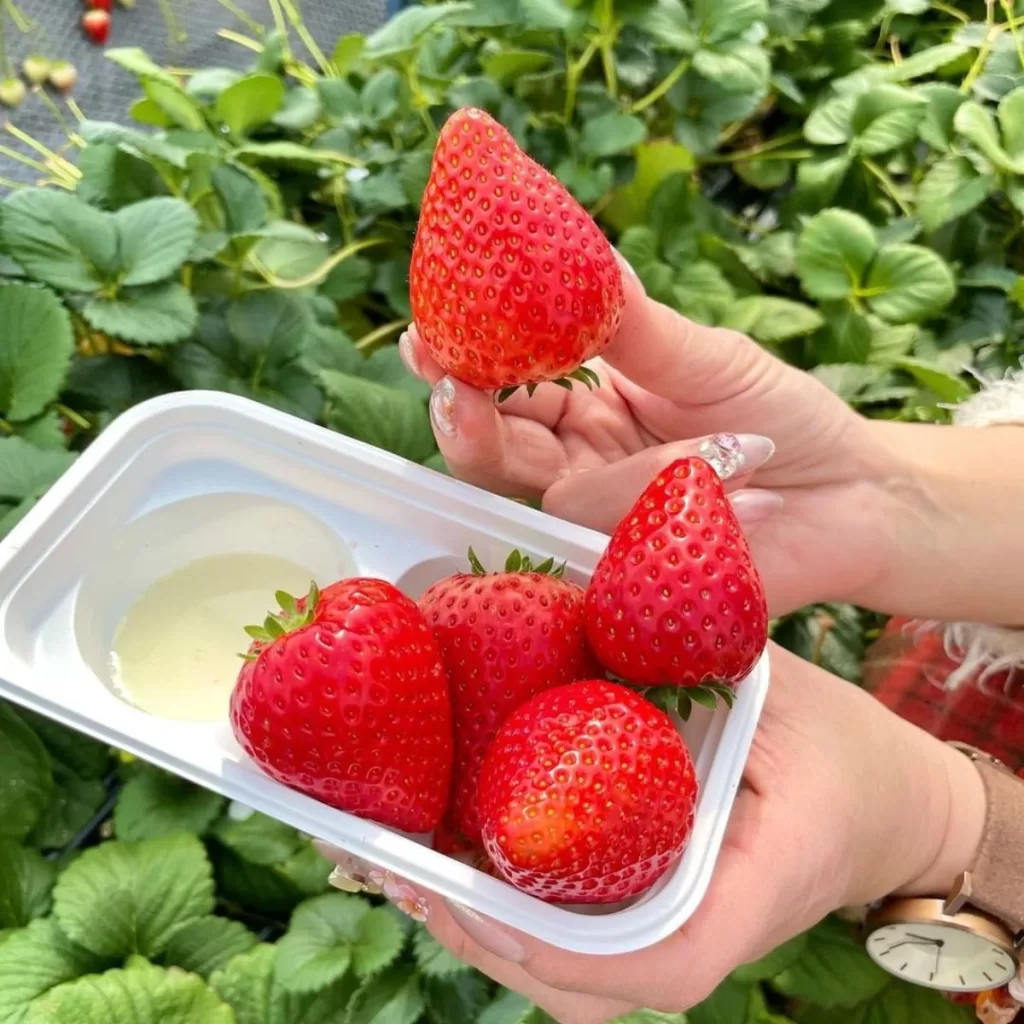 If you're a fan of fresh and delicious fruit, going strawberry picking in Nikko is a delightful experience that should not be missed. Nikko is known for its fertile soil and favorable climate, making it an ideal region for growing strawberries.
From January to early June you can pick juicy ripe strawberries at the farms around Nikko. Nothing beats snacking on freshly picked berries as you take in the mountain views.
Visitors can pick their own strawberries right from the plants, savoring the joy of harvesting their own fruit while basking in the fresh air and picturesque surroundings. It's a hands-on experience that is both enjoyable and rewarding.
---
16. Visit Narabi-jizo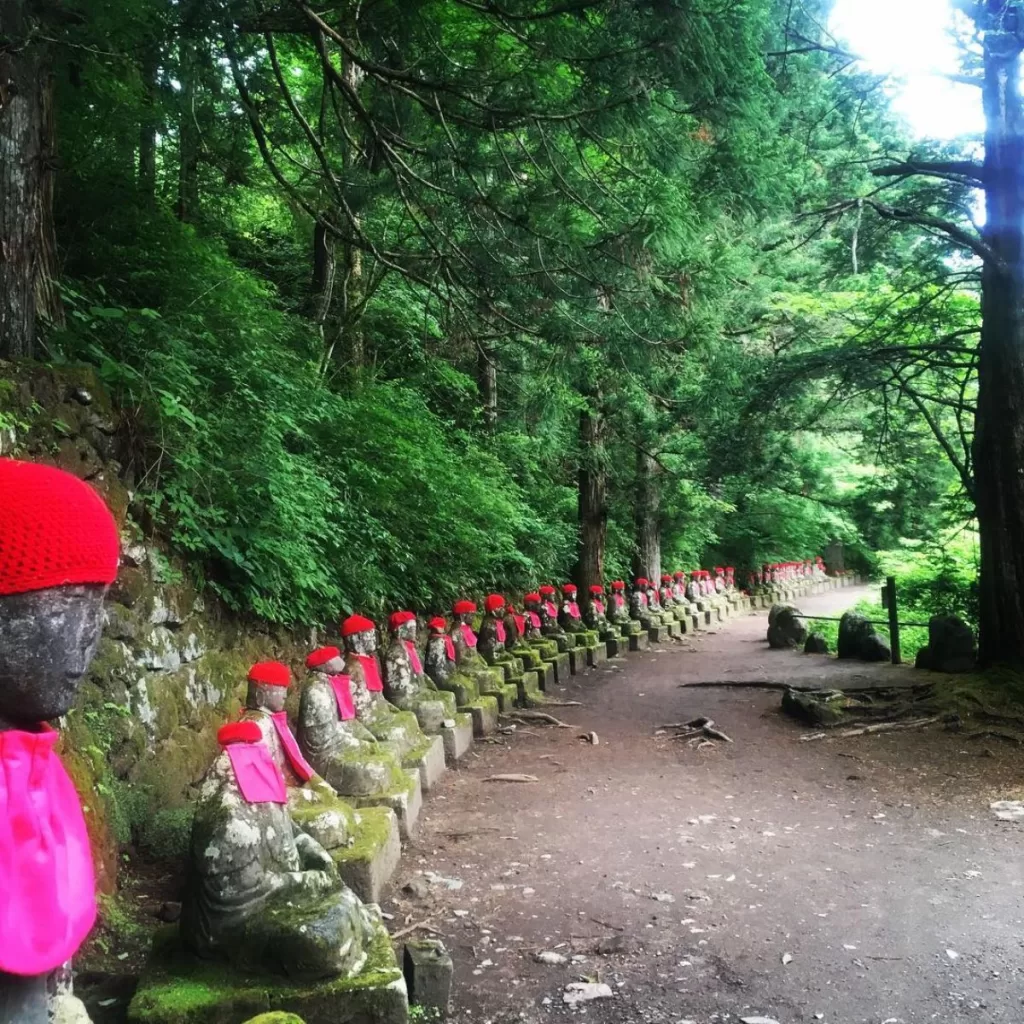 Along the trail to Mt. Nantai you'll find this unique display of over 20 stone Jizo statues lined up in a row. They make for an interesting photo and represent the deity guardians believe to protect the nearby village.
Narabi-jizo, which translates to "lined-up jizo," is a collection of stone Jizo statues aligned along a winding path. These statues, each adorned with a red bib and cap, are believed to protect travelers and guide the souls of deceased children. As you stroll along the path and observe the row of Jizo statues, you can't help but feel a sense of tranquility and reverence.
One of the important things about visiting Narabi-jizo is the historical and cultural significance of these statues. They have a deep-rooted connection to Japanese folklore and Buddhist traditions. The statues serve as protective deities, offering solace and compassion to those who encounter them. Many visitors take a moment to pay their respects, leaving offerings, such as small toys or coins, as a gesture of gratitude or to pray for the well-being of loved ones. It's a beautiful demonstration of the spiritual and cultural customs within Japan.
---
17. Visit Chuzen-ji Temple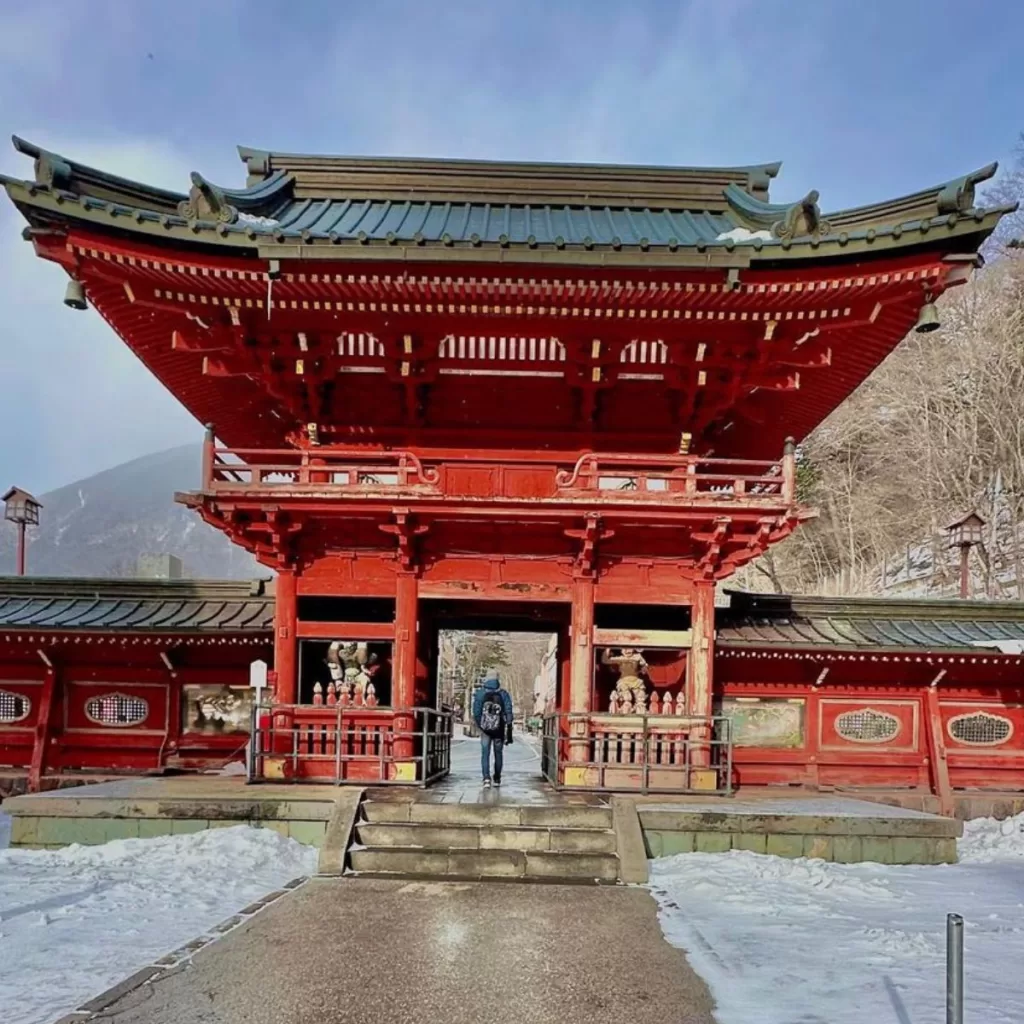 Situated on the shores of Lake Chuzen-ji, this serene temple offers a peaceful and picturesque setting that is perfect for those seeking tranquility and spiritual reflection. Chuzen-ji Temple holds great historical and cultural significance, making it a fascinating destination to explore.
The temple's main hall, known as Kassen-do, is an impressive wooden structure that boasts intricate carvings and beautiful craftsmanship. The blending of Buddhist and Shinto elements in the design reflects the syncretic nature of religious practices in Japan.
Walking through the temple grounds allows visitors to appreciate the architectural beauty and gain a deeper understanding of Japan's religious and cultural traditions.
---
18. Sample Yuba Cuisine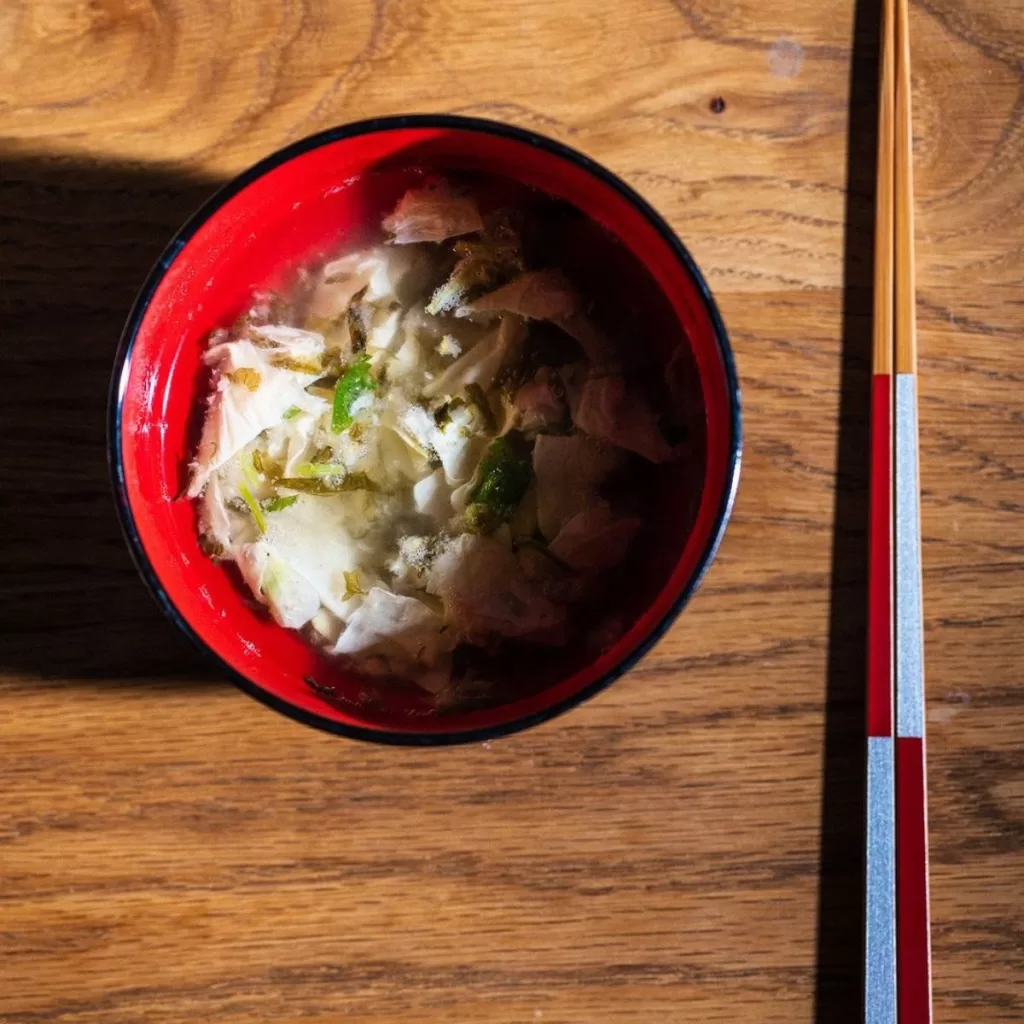 Nikko has a long tradition of vegetarian Buddhist temple food. Try some yuba, a soy-based product made by coagulating soy milk, at one of Nikko's shojin-ryori style restaurants. Delicious and healthy!
Sampling Yuba vegetarian cuisine offers a unique culinary experience that showcases the versatility and flavors of this plant-based ingredient. Yuba has a subtle taste that absorbs the flavors of the dishes it is prepared with. From savory stews and soups to grilled Yuba rolls and Yuba-based sushi, the variety of dishes available allows you to explore the incredible range of flavors Yuba can bring to vegetarian cuisine. The emphasis on fresh, seasonal ingredients ensures that Yuba dishes are not only delicious but also nutritious and visually appealing.
---
19. Explore the Ryuzu Falls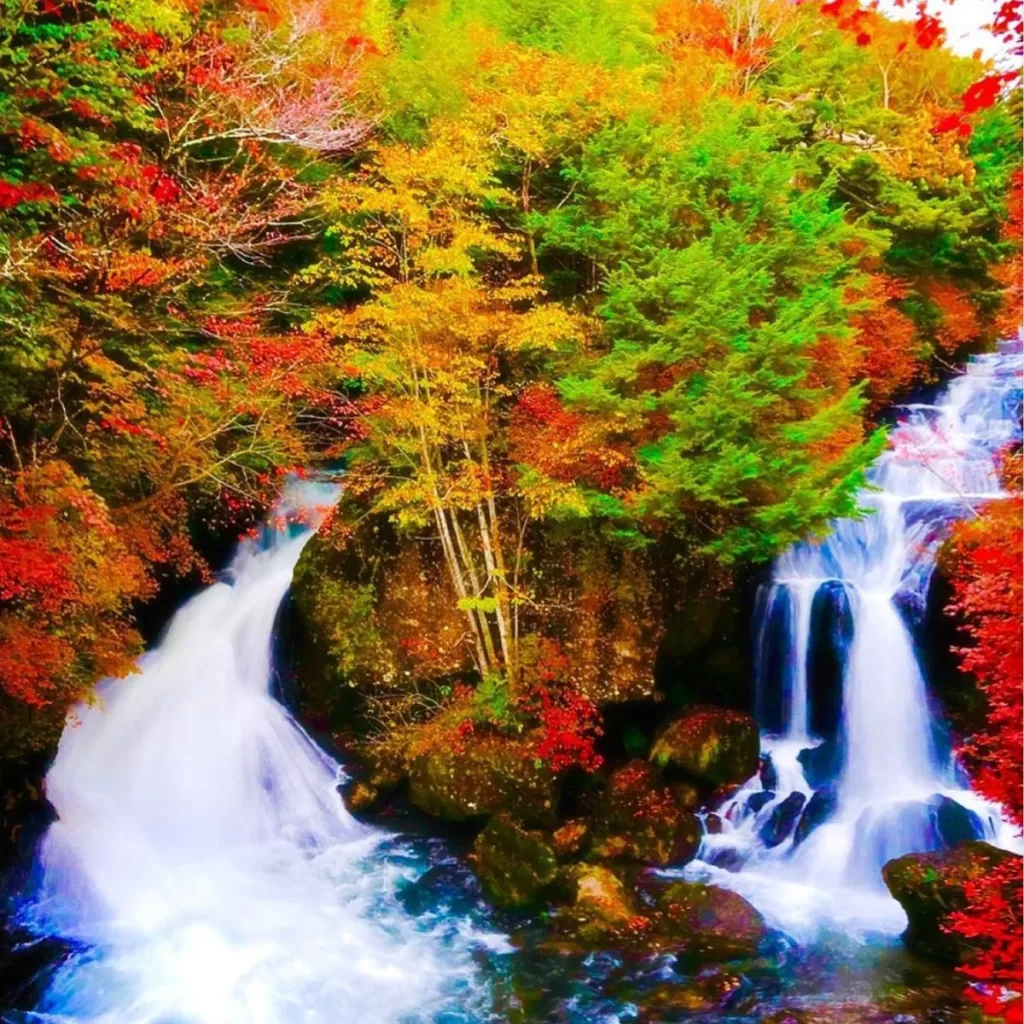 Ryuzu Falls, which translates to "Dragon's Head Falls," is a picturesque waterfall located in the northern part of Nikko. Its beauty and unique shape make it a popular attraction for nature lovers and photographers alike.
The waterfall cascades down a series of rocky steps, resembling the shape of a dragon's head. The rushing water against the backdrop of lush greenery creates a mesmerizing scene that captivates visitors. Whether you choose to admire the falls from a distance or get closer for a more immersive experience, Ryuzu Falls is a natural wonder that showcases the power and beauty of nature.
The area surrounding Ryuzu Falls is also known for its vibrant autumn colors, making it an ideal destination for seasonal foliage enthusiasts.
---
20. Relax in Kirifuri Waterfall's Mist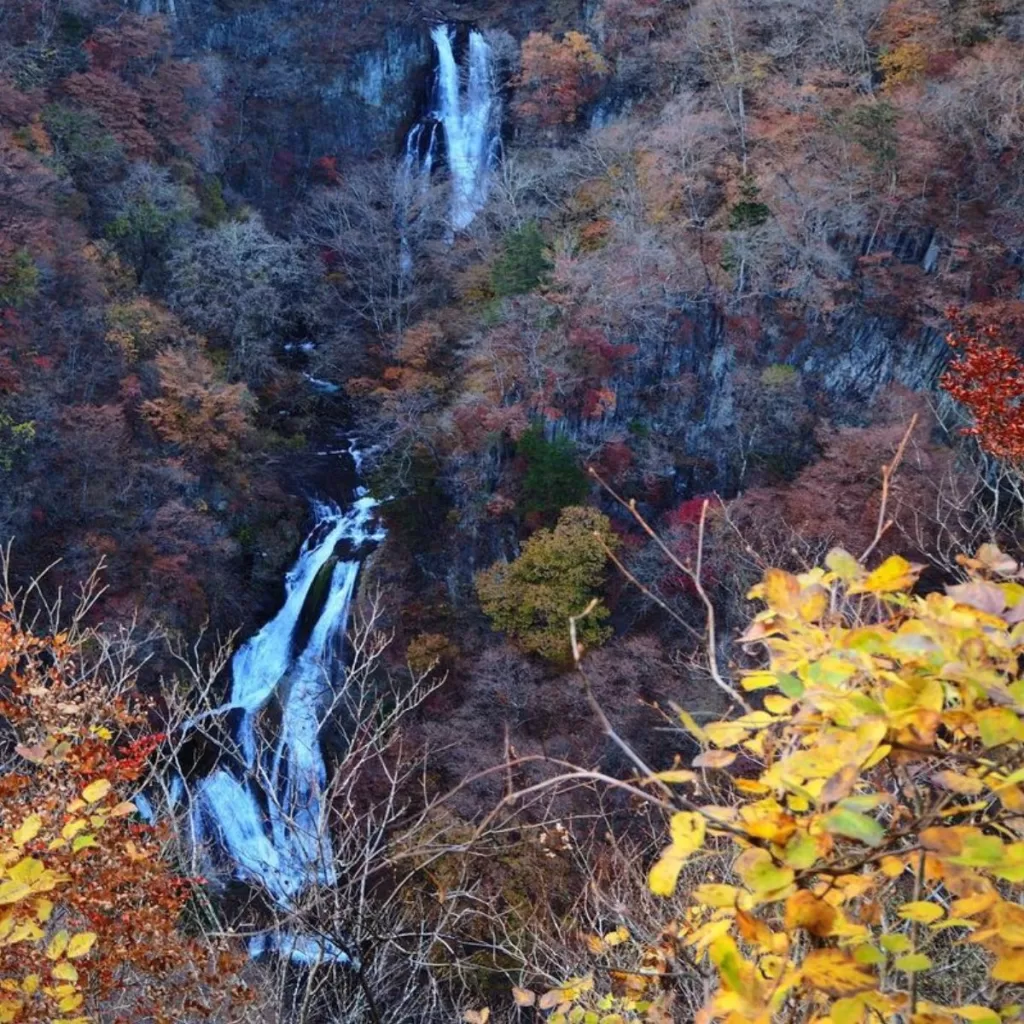 Get in close to feel the mist from the pounding waters at Kirifuri Waterfall. Located just to the north of Nikko's shrine area, the observation deck provides excellent views of the 73 meter tall waterfall.
This mist acts as a natural air freshener, revitalizing the senses and providing a respite from the heat and humidity. As you stand near the waterfall and let the mist gently touch your skin, you'll feel a sense of tranquility and calm wash over you.
The sound of the waterfall creates a soothing soundtrack as you relax and take in the scenic surroundings. Visitors have the option to find a rock or bench nearby, or even sit under designated areas where the mist is particularly intense, allowing them to truly unwind and connect with nature.
---
21. Plan an Overnight Stay in Nikko-Yumoto Onsen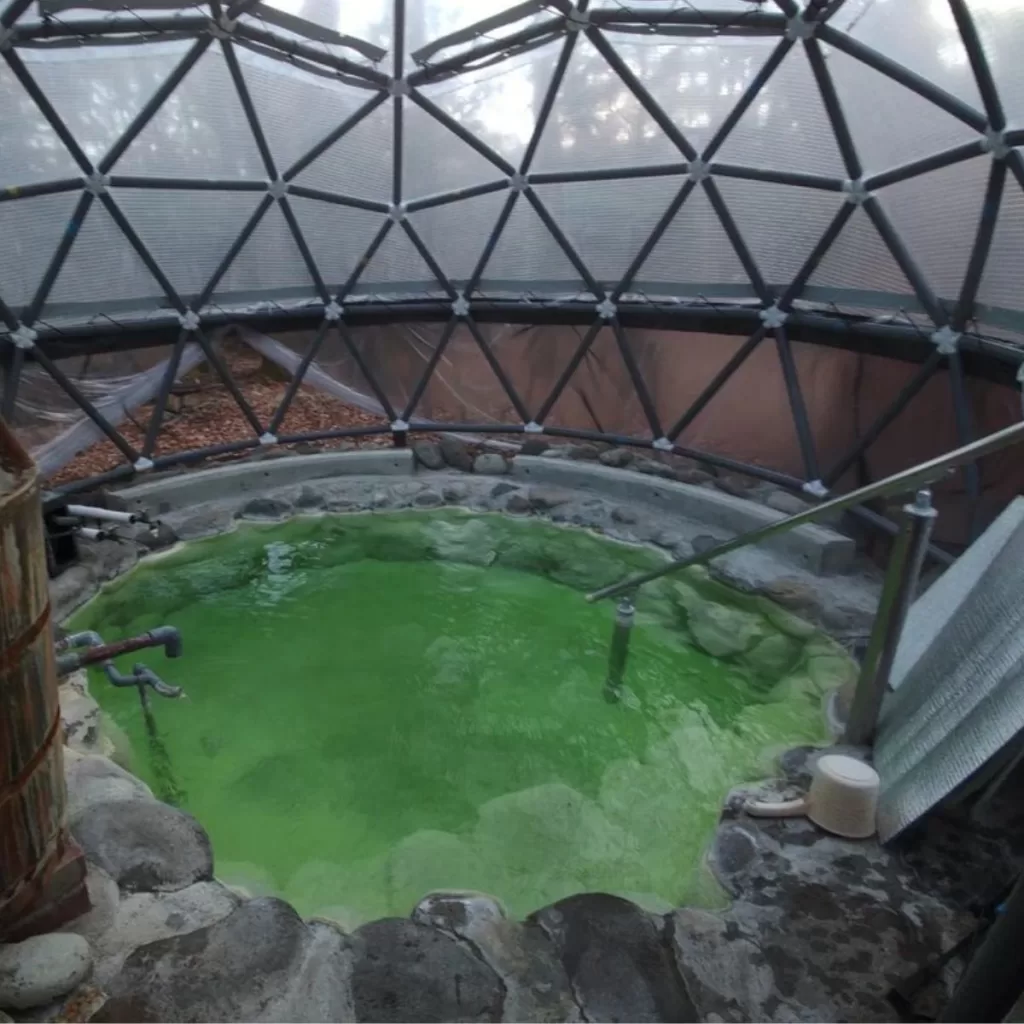 While Nikko can be done as a day trip from Tokyo, spending a night or two allows for a more relaxed visit. That way, you can enjoy Nikko's peaceful atmosphere after the crowds have left. The town offers excellent ryokan and onsen hot spring hotels to unwind.
Nikko-Yumoto Onsen is a charming hot spring resort nestled in the mountains of Nikko. Known for its natural hot springs and serene surroundings, it offers a perfect opportunity to relax and rejuvenate while immersing yourself in the traditional Japanese onsen culture.