In an attempt to alleviate the capital's population density, the Japanese government previously incentivized families to move from Tokyo to rural regions. Eligible couples with children aged 18 or younger were offered about one million yen ($7,700) per child for relocation. However, many parents rejected the offer, arguing that the money wasn't enough to compensate for the inconvenience of moving.
Table of Contents
Demographic Crisis and Shrinking Rural Towns
The relocation fee, more generous than the 300,000 yen (around $2,240) per child offered earlier, was part of the government's effort to rejuvenate rural areas. Tokyo's population swelled significantly over the years, with thousands migrating to the capital annually in search of better job opportunities and higher pay. This migration pattern, combined with Japan's rapidly aging and declining population, left rural towns empty.
Affordable Old Houses in Japan: A Solution to Population Imbalance?
With the ongoing population imbalance, an increasing number of old houses in Japan's rural areas are being sold for low prices or even given away for free. These affordable old houses may offer a more compelling incentive for families considering relocation.
Some cities like Tochigi and Nagano have "akiya banks." These websites, developed by the city or municipal governments, list abandoned homes. Some of them are available for as little as 50,000 yen ($455).
Such websites include Miyoshi Style (appears to be an official government website) or Akiya Banks (an aggregating website), which are resources and services for global citizens looking to stake their claim to a piece of rural Japan. JapanInsides.com is not affiliated with these companies in any way, and we cannot vouch for their services. But they appear to be one of the "akiya banks" you want to search for.
What Types of Akiya Houses are Available?
Here's two examples of the Akiya houses located in Hiroshima
Miyoshi, Hiroshima / 広島県三次市
House #1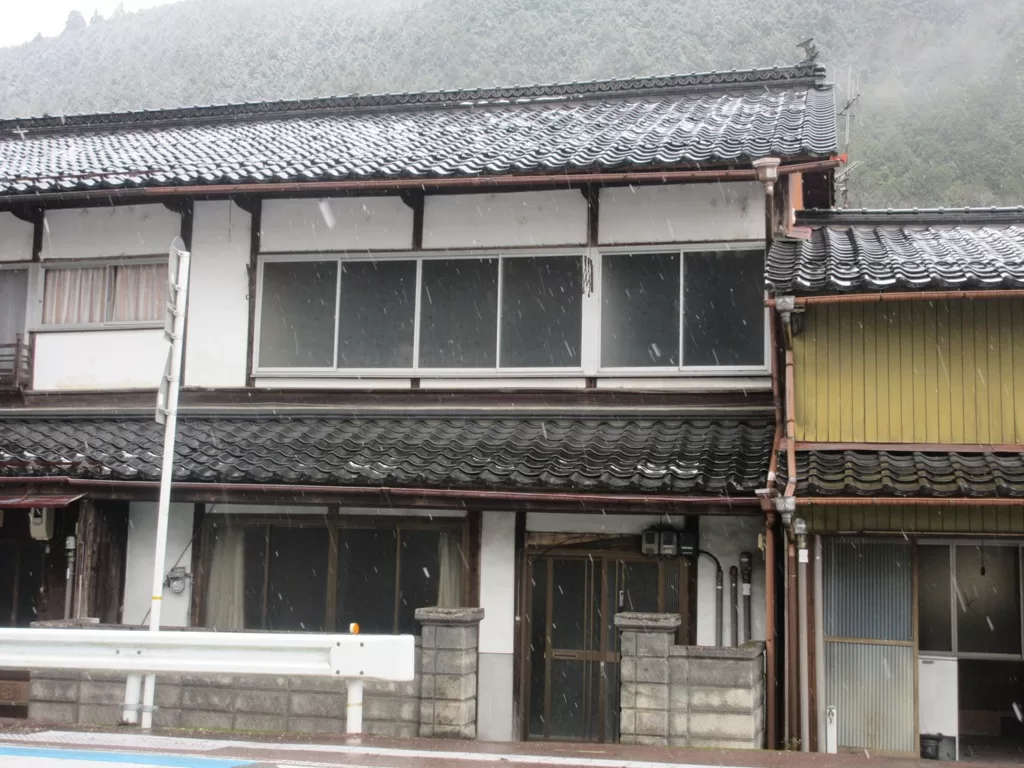 Features of the house at Miyoshi Town (No. 128) | Miyoshi STYLE Tsunagu:
List Price: ~$3700 USD / 500,000 yen (negotiable)
Can be sold as a set with the house next door (No. 75) (Price negotiable)
House appears to be available for sale as of time we publisehd this article
Machiya-style house
Beautiful view of the Saijo River in the back
Residential land area: 84㎡ (900 sqft)
Total floor area: 146㎡ (1570 sqft)
Floor plan: 4K
Building date: 1932
Structure: Two-story wooden building
Traffic: 1.5 km to Geibi Line Miyoshi Station, 4.7 km to Chugoku Jukan Expressway Miyoshi IC
School district: 1.2 kilometers to Tokaichi Elementary School, 1.3 kilometers to Tokaichi Junior High School
Water/Gas/Toilet: Water supply/propane gas/septic tank
Incidental property: None
Remarks: No household goods. The information is based on the application form.
Pros:
Beautiful view of the Saijo River in the back.
Machiya-style house adds character and charm to the property.
Can be sold as a set with the house next door, providing the opportunity for expansion or investment.
Cons:
No parking space.
The house is an older wooden building and may require maintenance and repairs.
House #2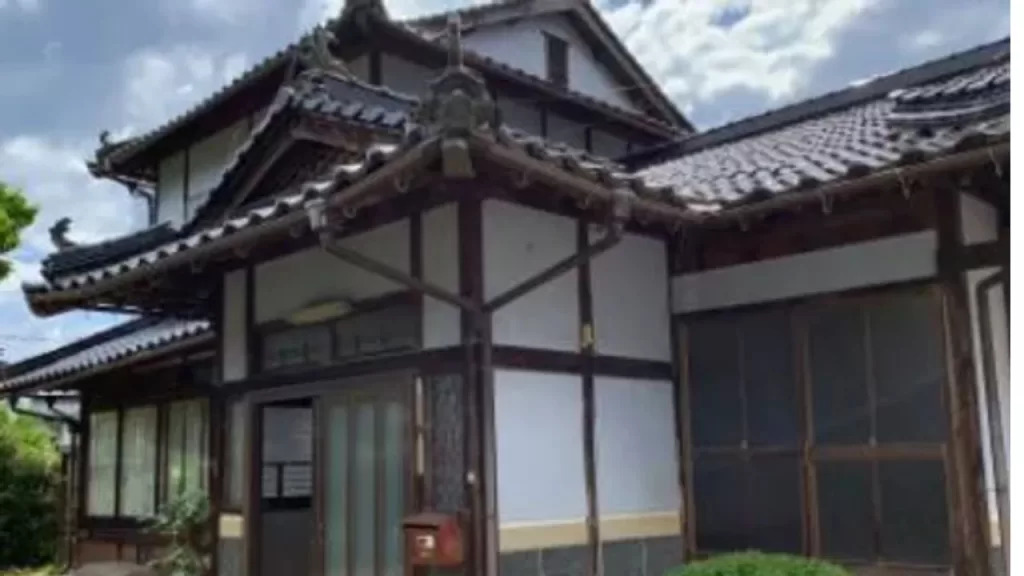 Features:
Location: Miyoshi, Hiroshima
Listing price: ~$2,200 USD / 300,000 Yen
Akiya (empty house)
Opportunity for renovation
Note: this unit is just for reference, it appears no longer available for sale
Pros:
Affordable price: At $2,200 / 300,000 円, this house listing in Miyoshi, Hiroshima is relatively cheap compared to other real estate options in the area.
Location: The house is located in a desirable location which is known for its beautiful scenery and peaceful atmosphere.
Opportunity for renovation: This property is an akiya, which means it is an empty house that needs renovation. For buyers interested in renovating a property, this could be a great opportunity to create a unique living space.
Cons:
Renovation costs: While the price of the property is low, buyers should consider the additional costs of renovating the house to make it livable.
Limited information: The listing does not provide a lot of details about the property, such as the size of the house, the number of rooms, and the condition of the plumbing and electrical systems.
What About Non-Akiya Houses For Sale?
Here are three examples of houses for resale on suumo.jp website.
Osaka House #1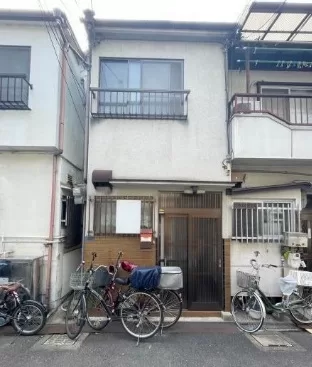 List Price
Price: The listed price for the house is 280万円, which is approximately USD $20,700 (assuming 135 JPY to 1 USD exchange rate).
Features of the house:
Location: The house is located in Sata Nakamachi 4, in the city of Moriguchi, Osaka, Japan. It is within walking distance (approximately 16 minutes) from the Dai-nichi subway station.
Room layout: The house has a 3DK room layout, meaning that it has three rooms, a dining room, and a kitchen.
Surrounding environment: The house is located in a convenient and comfortable living environment. It is within walking distance of several shopping facilities, including Lawson, a drug store, and a supermarket.
Building specifications: The house is a 2-story wooden structure built in 1968, with a total floor area of approximately 32.15 square meters and a land area of approximately 22.75 square meters.
House is listed for sale here
Pros:
The house is located in a convenient and comfortable living environment, with several shopping facilities within walking distance.
The listed price for the house is relatively affordable, making it a good option for those looking for a reasonably priced home.
The house has a 3DK room layout, which provides ample space for a small family.
Cons:
The house is relatively small, with a total floor area of only 32.15 square meters.
The house is an older wooden structure built in 1968, which may require additional maintenance and upkeep compared to newer homes.
Osaka House #2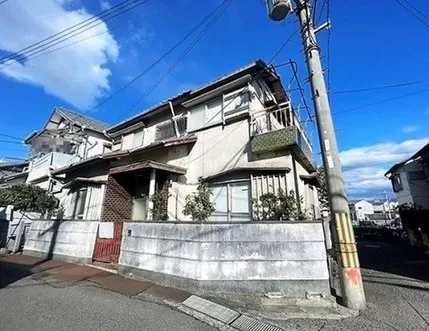 List Price:
Listed price of 250万円 (approximately $18,500 USD at an exchange rate of 135 JPY to 1 USD).
Features of the House:
Located in Osaka, Japan, in the Tsuruhara area of Izumisano city.
3LDK (3 bedrooms, a living room, dining room, and a kitchen) layout.
Land area of 69.2 square meters (20.93 tsubo) and a building area of 71.21 square meters (21.54 tsubo).
Close to two train stations, JR Hanwa Line "Higashi-Sano" Station and Nankai Main Line "Tsuruhara" Station.
House is listed for sale here
Pros:
Located near two train stations, making commuting convenient.
South-west facing balcony provides good sunlight exposure.
Reasonably priced, making it an affordable option for those looking to buy a house in Osaka.
Cons:
Built in 1974, the house may require some renovation or maintenance.
The land area is relatively small, which may not be ideal for those looking for a larger outdoor space.
Osaka House #3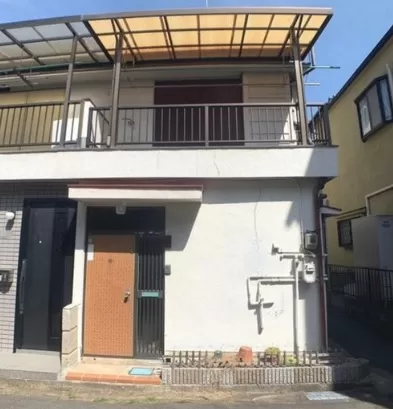 List Price:
JPY 240 万円 (Approximately USD $17,700 based on an exchange rate of 135 JPY to 1 USD)
Features of the House:
3DK layout with all rooms being 6 tatami mats or more
Built-in storage space for ample storage
Balcony with a roof for added convenience
Floor ventilation fan for improved indoor air quality
Located within walking distance to shopping facilities
House is listed for sale here
Pros:
The 3DK layout and ample storage space can provide comfortable living for a small family or a couple.
The balcony with a roof can be a great spot to relax outdoors, even during rainy days.
The location within walking distance to shopping facilities can provide convenience for daily living.
Cons:
The house was built in 1971 and may require maintenance and updates.
The property is located a 20-minute walk from the nearest train station, which may not be ideal for those who rely on public transportation.
What to Expect When Buying an Old House in Japan
While it's true that some old houses in Japan can be purchased for as little as $500 or even for free, potential buyers should be aware of the challenges that come with these properties. Many of these houses have been abandoned for years and are in need of extensive renovations, including repairs for mold, water damage, and dilapidated structures.
Increasing Your Budget for Better Options
Raising the budget to around $5,000 can yield better options. For example, a 60m2, 3DK bungalow in Oita Prefecture's Motosaru coastal area could be purchased for approximately ¥800,000 ($5,800). However, properties like these may still require light repairs and are often located far from public transportation and amenities, making owning a car essential.
Finding Affordable Houses in Japan
Various websites list affordable and free houses in Japan. These properties are mostly located in rural areas, so those interested in a quieter lifestyle away from urban centers may find them appealing. However, it's crucial to consider additional costs associated with owning and renovating these properties.
Government Financial Support for Home Renovations
The Japanese government offers funding for residents to support relocation to the countryside and home renovations. The nationwide "Long-life quality housing remodeling" scheme provides up to ¥2.5 million (about $17k) for disaster-proofing and energy efficiency improvements, prioritizing young people under 40 and young families. Local authorities also run similar schemes, but they may be less well-publicized and require research.
The Affordability of Buying a House in Japan
Japan is gradually gaining attention as one of the most affordable places to own a vacation home. Compared to other popular tourist destinations like Europe and the US, real estate prices in Japan are considerably lower. Furthermore, property taxes are also remarkably low, which makes owning a house in Japan more attractive.
Real Estate Prices in Japan
The cost of buying a house in Japan varies depending on factors like location, size, and age of the property. Despite this, data from Numbeo shows that the average price per square meter for an apartment outside city centers lies between ¥250,000-¥300,000 (approximately $2,400-$2,900). In comparison to other global cities where prices range between $6,000-$15 000 per square meter getting a bargain vacation home significantly reduces your overheads.
Moreover, despite being among urbanite areas such as Tokyo's metropolitan region or Kyoto's historical sites have relatively affordable properties. It's not just locals who enjoy this luxury; foreigners can easily acquire these properties too.
The Process of Buying a House in Japan as a Non-resident
As we've established that buying property in Japan is very affordable; however , for non-residents it has its challenges such as language barriers and unfamiliarity with Japanese customs surrounding property purchasing. It may be daunting for foreigners looking to purchase houses; nonetheless acquiring property ownership rights has been made easy through legal means.
Legal Requirements
The good news for non-resident buyers is that you can even buy a house on a tourist visa and have full property ownership rights recognized under Japanese law with only two prerequisites: having physically viewed the residence you intend to buy; ensuring that there isn't any illegal activity linked to it.
Once these requirements are met you will need:
Get your residency documents registered at your nearest embassy.
Obtain certification from your ward office verifying whether you intend to reside in the house.
and finally register your property with the local government.
As pointed out by Japan Property Central, It's recommended that you hire a lawyer or real estate specialist who is bilingual, which removes the language barrier but also helps guide you on legal matters.