In a quiet corner of the Ginza subway station in Tokyo, there is an unassuming door bearing only a modest wooden sign. Behind this door lies Sukiyabashi Jiro, a tiny 10-seat sushi counter run by legendary chef Jiro Ono. Despite its humble appearance, this tiny restaurant held the coveted 3 Michelin stars until 2019, and is renowned as one of the greatest sushi establishments on the planet. The man behind it all is Jiro Ono, the world's oldest triple Michelin star chef.
Inheriting a Tradition of Excellence
Jiro grew up during a time of great hardship and food scarcity in Japan. His father worked at a local railway company, which allowed Jiro exposure to the fine dining served on the trains. At age 9, Jiro started work at a local sushi restaurant. After over a decade of training, he opened his own small sushi bar in 1965, later moving to the current location in Ginza.
From the start, Jiro focused intensely on perfecting every single component of the sushi making process, from sourcing the finest ingredients to refining the rice vinegar blend. He shattered conventions, reinventing sushi culture with innovations like massaging octopus for 45 minutes to achieve the ideal tenderness. This unrelenting pursuit of excellence led to Michelin recognizing Sukiyabashi Jiro with 3 stars in 2007.
Serving the World's Elite
Given its tiny size and pricey meals (about $300 per person), Sukiyabashi Jiro is exceptionally exclusive. Reservations often book out months in advance. Yet the world's top leaders and celebrities have managed to experience Jiro's artistry.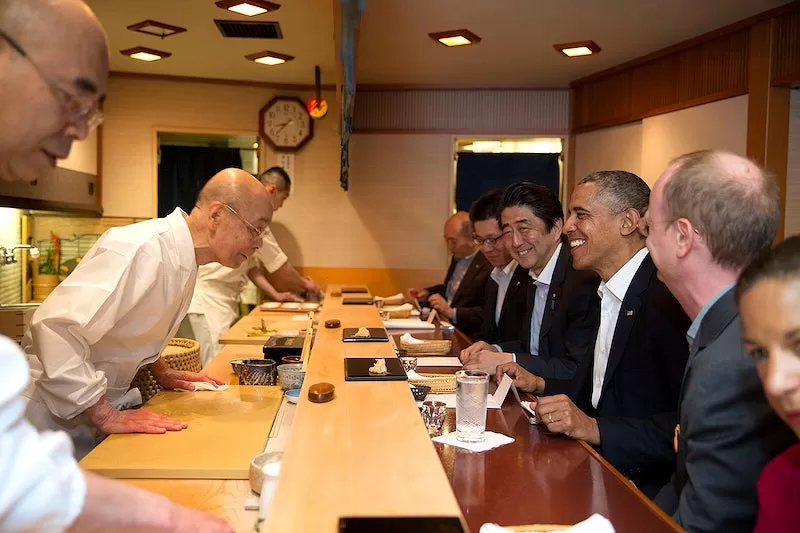 Former U.S. President Barack Obama dined at Sukiyabashi Jiro during a 2014 trip to Tokyo. Other famous patrons include professional golfer Adam Scott, renowned fashion designer Tommy Hilfiger, and Katy Perry.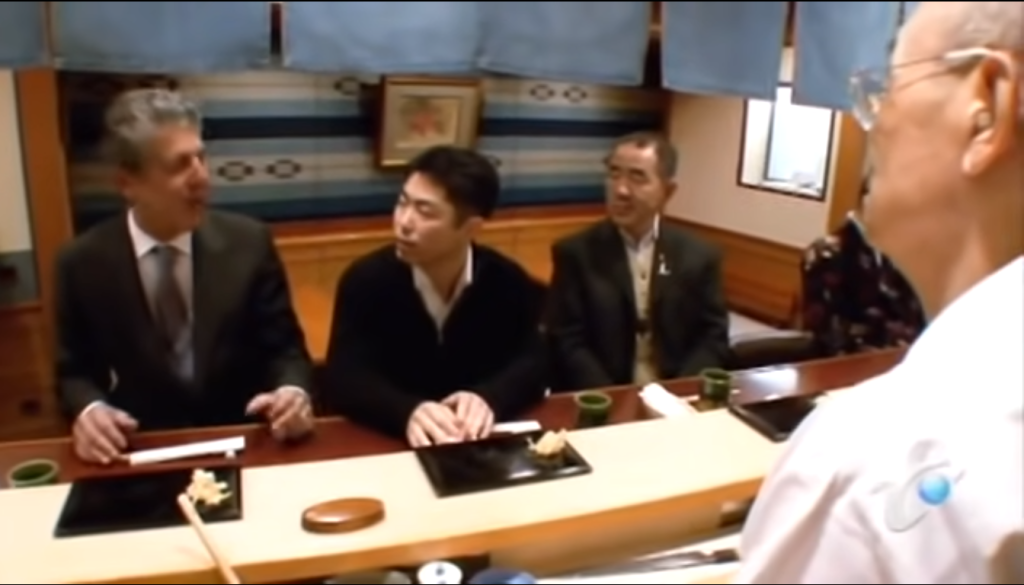 The late Anthony Bourdain featured Jiro's restaurant on his show Parts Unknown, calling the sushi "the perfection of the experience."
For many top tastemakers, dining at this hidden Ginza gem offers a once-in-a-lifetime experience.
Passing the Torch to the Next Generation
Now in his 90s, Jiro has reached the twilight of his long career. His eldest son Yoshikazu largely runs daily operations today, having trained under his father for decades. The 2011 documentary Jiro Dreams of Sushi captured their meticulous preparation rituals and close working relationship.
The younger Ono upholds his father's exacting standards, from polishing eachpiece of fatty tuna to achieving the ideal temperature for the rice. He inherited Jiro's relentless work ethic too, maintaining the tiny restaurant with only a handful of staff.
When the elder Jiro ultimately retires, Yoshikazu will continue the family legacy, ensuring Sukiyabashi Jiro remains a pinnacle of sushi excellence.
Jiro's Secrets to Perfection
So what exactly makes this hidden 10-seat restaurant the holy grail of sushi? Jiro attributes his success to a lifelong commitment to learning and improvement. Some of his secrets include:
Using rice blended with the perfect level of vinegar
Massaging octopus for 45 minutes to achieve supreme tenderness
Aging fish like tuna and yellowtail to optimize flavor
Cooking the rice at precise temperatures adjusted daily
Using only the finest and freshest seafood sourced from trusted suppliers
By fixating on every minute detail, Jiro has made an artform out of molding rice and fish into edible perfection. Even at 90 years old, he maintains a creative passion for sushi that remains undimmed by time.
Jiro Ono represents the pinnacle of sushi mastery. His modest 10-seat restaurant has earned global renown by elevating simple ingredients into transcendent works of art. Through decades of rigor and innovation, Jiro has created a sushi experience like no other. As long as the Ono family tradition continues, foodies will keep flocking to this hidden corner of Ginza in hopes of glimpsing genius at work.