As autumn descends on the former imperial capital of Kyoto, the city transforms into a kaleidoscope of brilliant fall colors. And there is no better place to experience the dazzling beauty of Japan's fall foliage season than at the iconic Kiyomizudera Temple, especially during the special nighttime illuminations.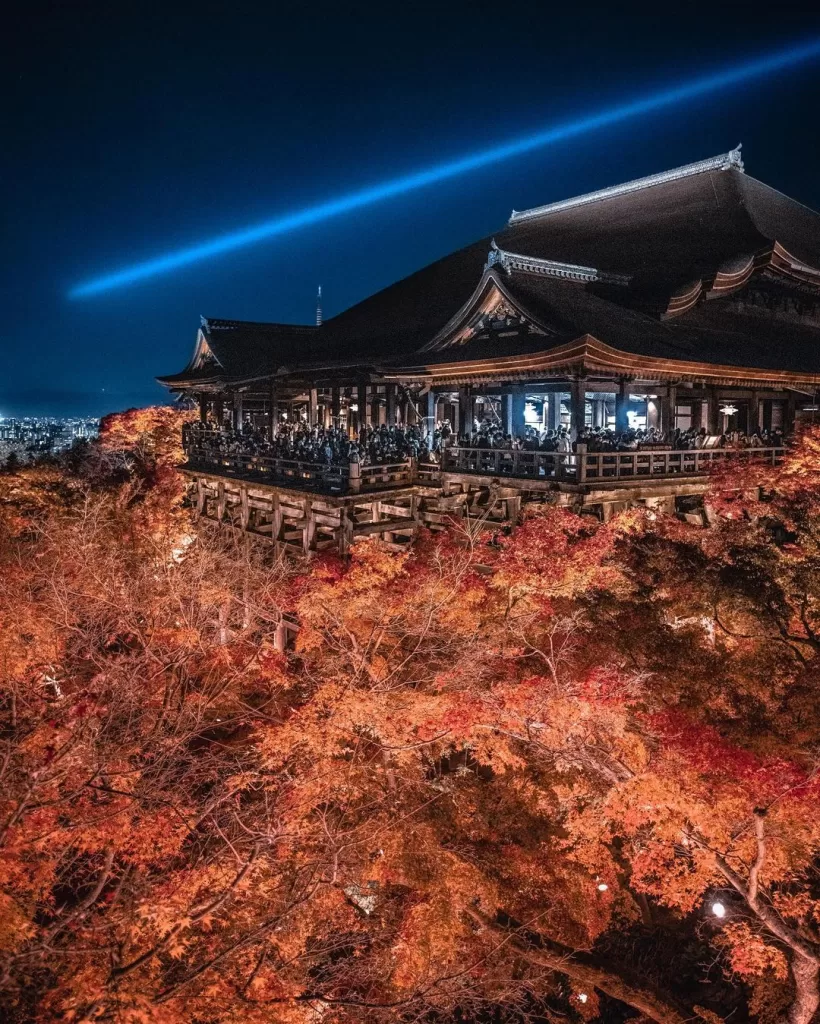 Perched on a hillside overlooking Kyoto, Kiyomizudera Temple is one of the most celebrated temples in Japan. Since 1994, it has been designated a UNESCO World Heritage Site. But what makes a visit during fall so magical are the approximately 1,000 maples trees surrounding the temple, forming a sea of vibrant red leaves.
From November 18 to 30 this year, Kiyomizudera will light up its grounds after dark, allowing visitors to see the autumn colors glowing under the night sky. The temple's main hall, a national treasure known as "Kiyomizu no Butai," is illuminated in ethereal lights. The effect is mesmerizing as you walk under the canopy of maples bathed in an otherworldly glow.
In the darkness, the temple almost seems suspended in air, just as its name Kiyomizudera – meaning "pure water temple" – implies. Adding to the atmosphere is the sound of the cascading Otowa waterfall in the background. Visitors can drink from the fall's waters, said to have purifying properties and health benefits.
The night illuminations usually draw huge crowds, but they are well worth braving. There are few sights in Japan as magical as Kiyomizudera during fall. As the leaves change and transform the temple grounds into a kaleidoscope of color, the maples appear ablaze under the gentle lights, creating picture-perfect scenes. Visitors are recommended to arrive near closing time at 8:55 pm when the crowds thin out. Photographers should come earlier to allow time to compose that iconic shot.
As Kyoto's famous fall foliage season continues, be sure not to miss the illuminations at Kiyomizudera Temple. Experience the stunning beauty of Japan's autumn colors glowing like a sea of fire under the night sky. Let the magnificent maples at Kiyomizudera leave you spellbound.