This August 2-3, head to the city of Noshiro in Akita Prefecture to experience a one-of-a-kind Tanabata festival. The Noshiro Tenku no Fuyajo showcases towering lantern floats reaching over 24 meters tall as they gloriously parade through the streets at night.
When and Where is the Festival?
The 2023 festival will take place on August 2nd and 3rd from 6:30pm to 9:00pm along Route 101 in central Noshiro. The procession runs between City Hall and Torimachi intersection, about a 15 minute walk from JR Noshiro Station. Roads will be closed during the festival hours so driving visitors should take the detour on Hatacho Highway to avoid delays.
Marvel at Japan's Tallest Lanterns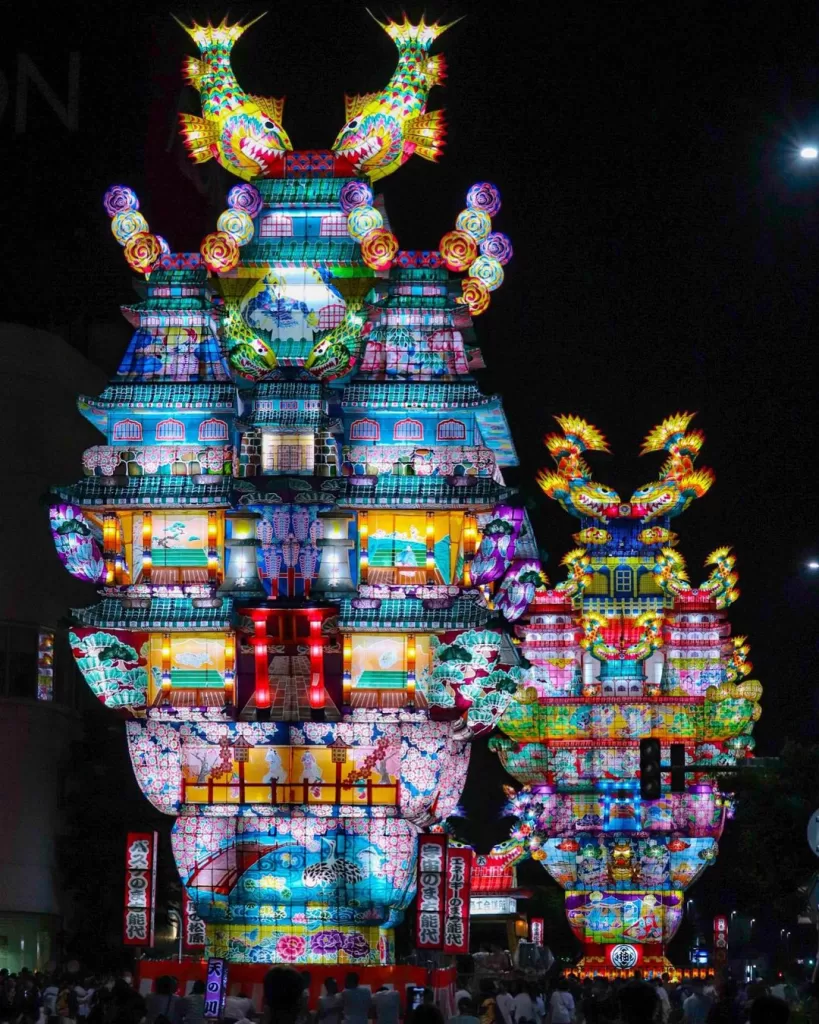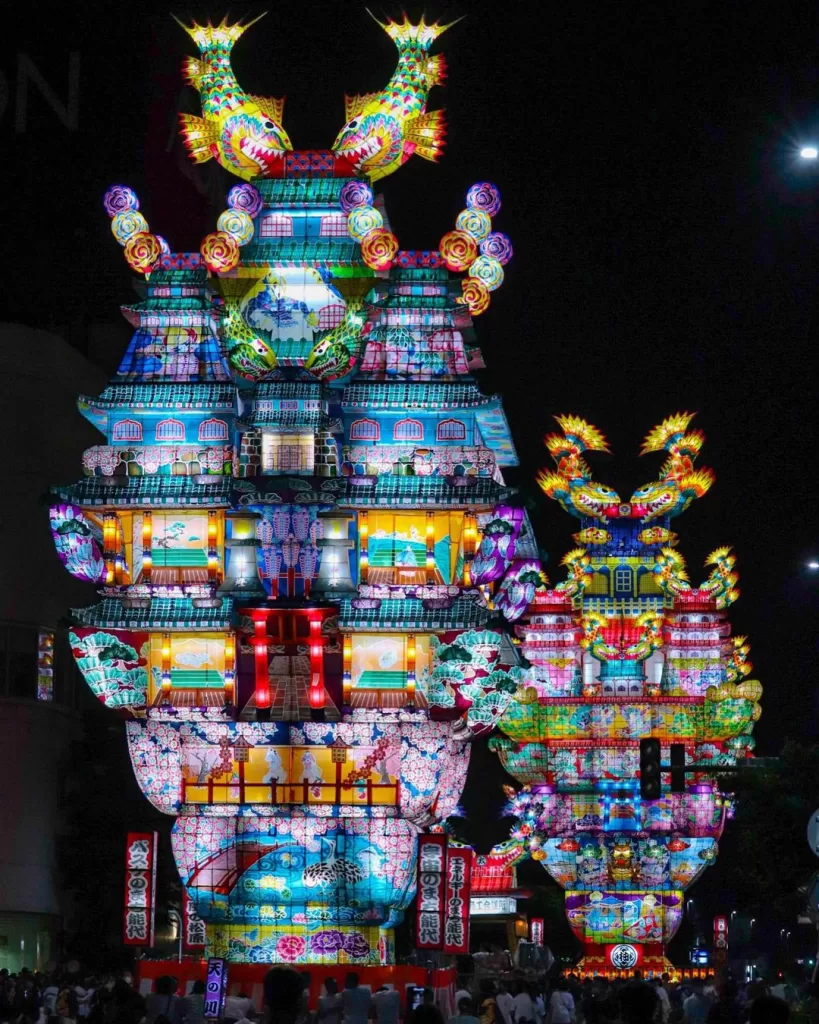 The stars of the festival are the colossal lantern floats named Chikasue and Karoku. Standing at 24.1 meters (79 ft) tall, Chikasue is the tallest Tanabata lantern in Japan. Meanwhile, Karoku towers over the crowd at 17.6 meters (58 ft) high. That's as tall as a 6-story building!
These structures are intricately designed with motifs from Japanese history and mythology. Chikasue depicts a towering castle and warriors paying homage to Noshiro's samurai legacy. Karoku replicates Nagoya Castle with playful details like swimming koi fish and dancing cranes. Over 50 artisans work for 2 months to construct these technical masterpieces.
When lit up, the golden glow of Chikasue and Karoku captivates spectators as they slowly weave through the streets accompanied by drums, flutes, and cheers. Seeing the sheer size and artistry of these floats in motion is an unforgettable sight.
History Behind the Lantern Floats
Noshiro's giant lantern tradition dates back to the Edo period when even taller 18 meter floats were created. However, after WWII overhead power lines forced a downsizing.
In 2012, a project began to resurrect the mammoth floats after utility wires were undergrounded. Karoku revived the 17 meter floats from historic photos, while Chikasue took it further to become Japan's new number one. This restoration enabled Noshiro to reclaim its spectacular legacy.
Celebrating Local Culture and Community
The Noshiro Tenku no Fuyajo is a source of great pride and excitement for the region. Residents eagerly gather to not only view the floats, but also actively participate in their operation. Junior high students are invited to help carry and build smaller lanterns, passing on traditions to the next generation.
Visitors can witness and share in the community spirit as locals unite to showcase their impressive history and skills. The festival highlights regional identity and cultural heritage through the labor of love behind these lantern masterpieces.
Enjoy Akita's Summer Festivities
Noshiro provides a more relaxed Tanabata experience compared to other major festivals. After seeing the floats, stroll food stalls serving up local Akita delights like craft beer, sake, and noodles.
The famous Akita Kanto Festival is also held in early August just a short train ride away in Akita City. With its own epic 12 meter lantern poles, it makes for a perfect companion festival to Noshiro's Tenku no Fuyajo.
Tips for Attending
Reserve paid seats online for the best front row views of the procession. Same-day tickets may also be available.
Check the website or ask staff for an English pamphlet and festival details.
Bring a light jacket and mosquito spray during summer evenings.
Arrive early to wander food stalls before the floats start.
Don't miss this summer's Noshiro Tenku no Fuyajo for a glowingly gorgeous spectacle like no other! As the colossal Chikasue and Karoku lanterns glide through the streets accompanied by merry song and dance, you'll be swept up in an enchanting festival atmosphere.