The wabi-sabi interior design trend from Japan has been gaining popularity in recent years. Embracing imperfection and simplicity, wabi-sabi creates a warm, natural, and peaceful ambiance in the home. If you're not familiar with this trend, here are the best ways to bring wabi-sabi elements into your space.
1. Choose Natural Materials
Living Room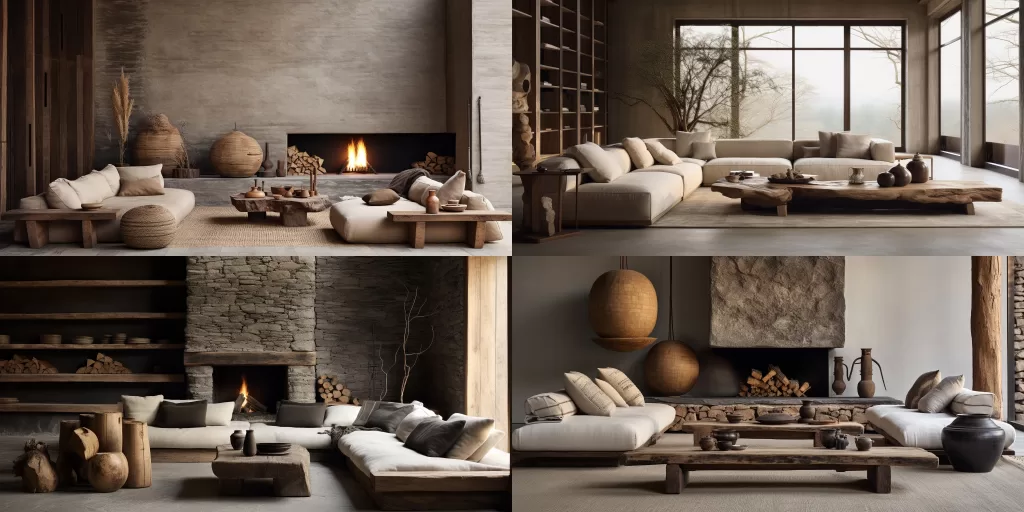 Bedroom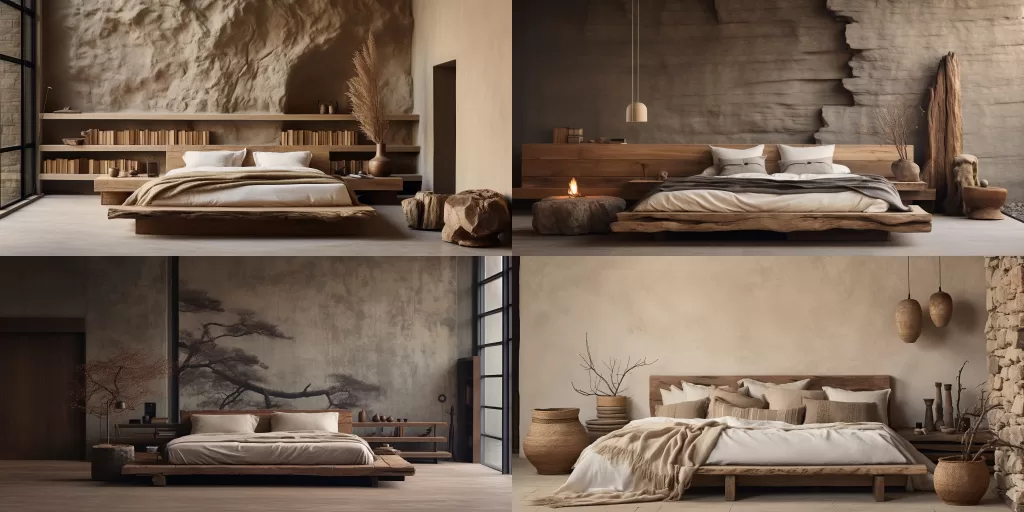 Bathroom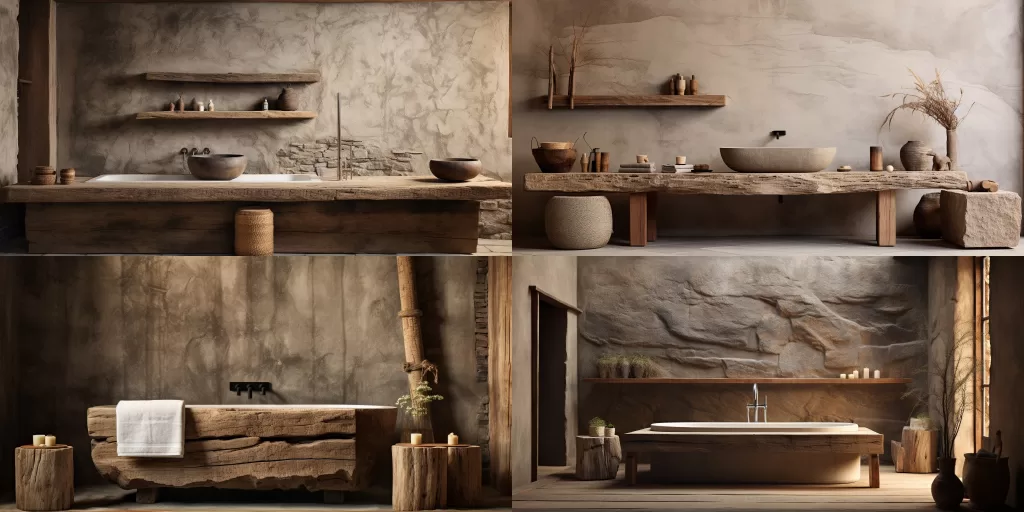 Natural materials like wood, stone, clay, and fiber textiles are commonly used in wabi-sabi interiors. Opt for unfinished, raw, or distressed materials to embrace imperfection. Natural materials add organic textures and help connect the home to nature.
Wood surfaces in light stains, unfinished concrete, rattan furniture, and woven wool rugs all fit within the wabi-sabi aesthetic. Imperfections in the materials, like knots in wood, chips in stone, or uneven surfaces add character and depth. Avoid synthetic materials that look artificial or overly processed.
2. Incorporate Greenery
Living Room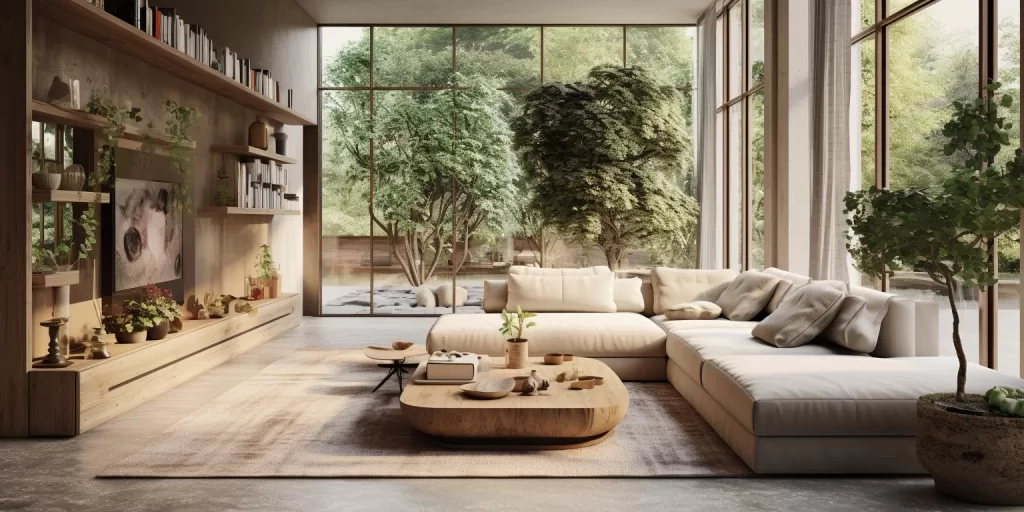 Bedroom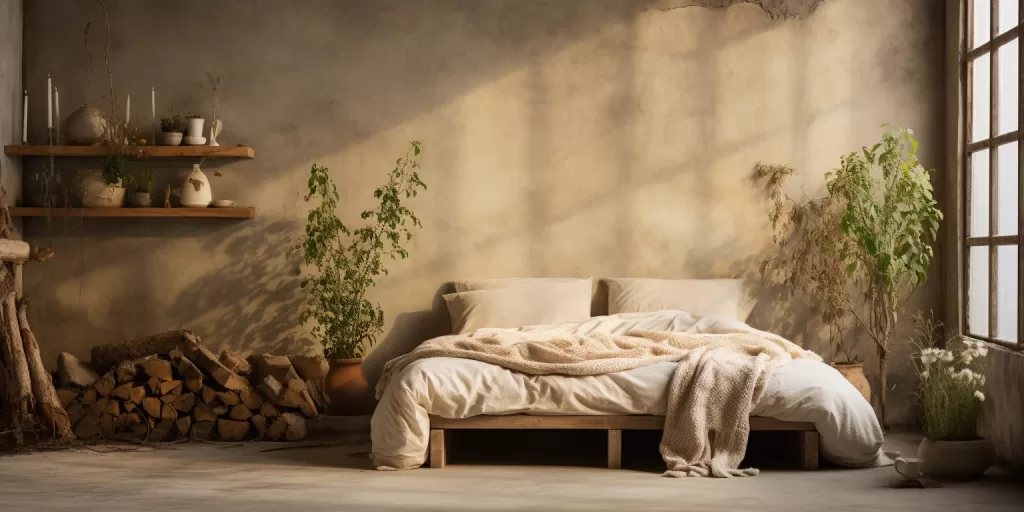 Bathroom
Plants, fresh flowers, and dried botanicals complement the natural wabi-sabi aesthetic. Greenery brings life into the home. Fill your home with lush potted plants, fresh-cut blooms, and dried grasses or flowers. The organic shapes and connection to nature are key.
Place plants in natural terracotta pots or vintage containers. Opt for trailing vines, large leafy fronds, and garden varieties over perfect, ornamental plants. Let your plants grow freely rather than trying to control their shape. The imperfect abundance of plants enlivens the wabi-sabi interior.
3. Display Natural Textures
Living Room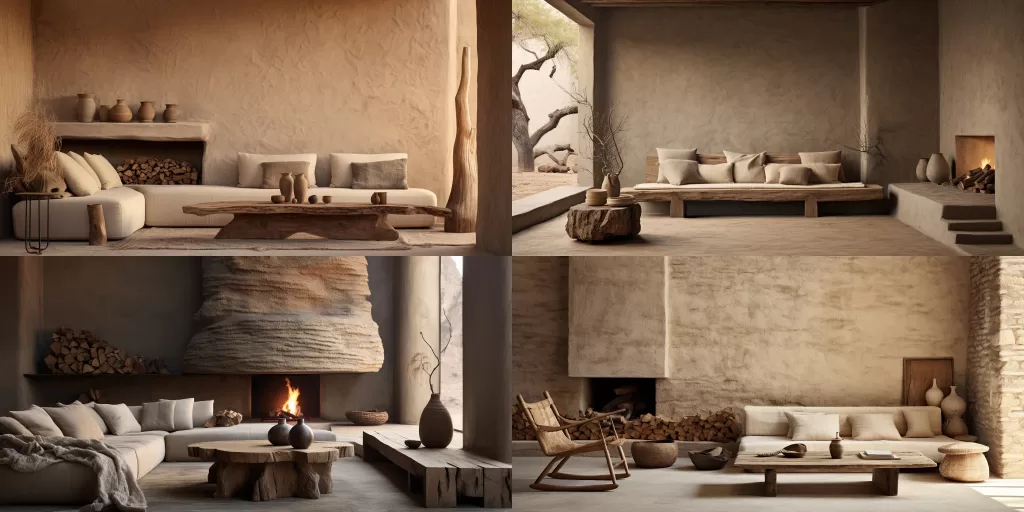 Bedroom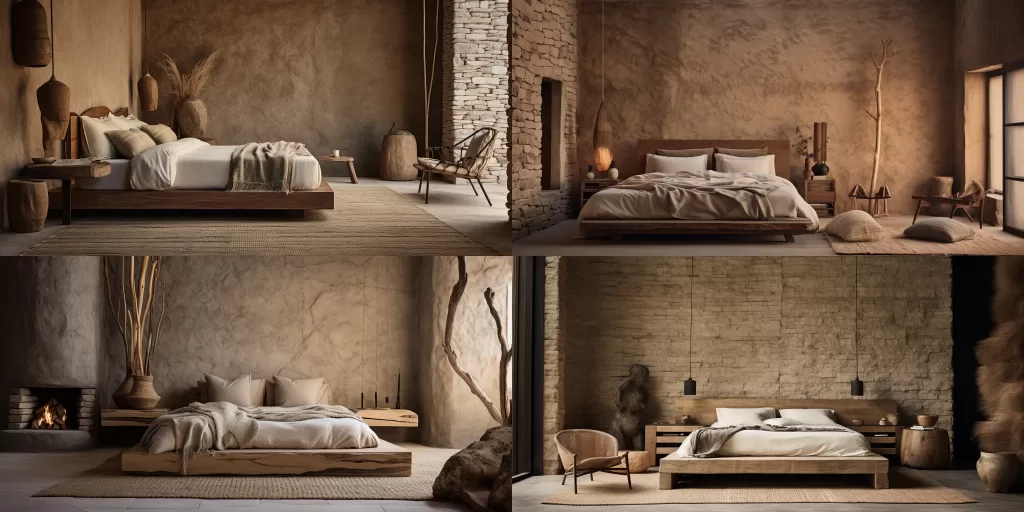 Bathroom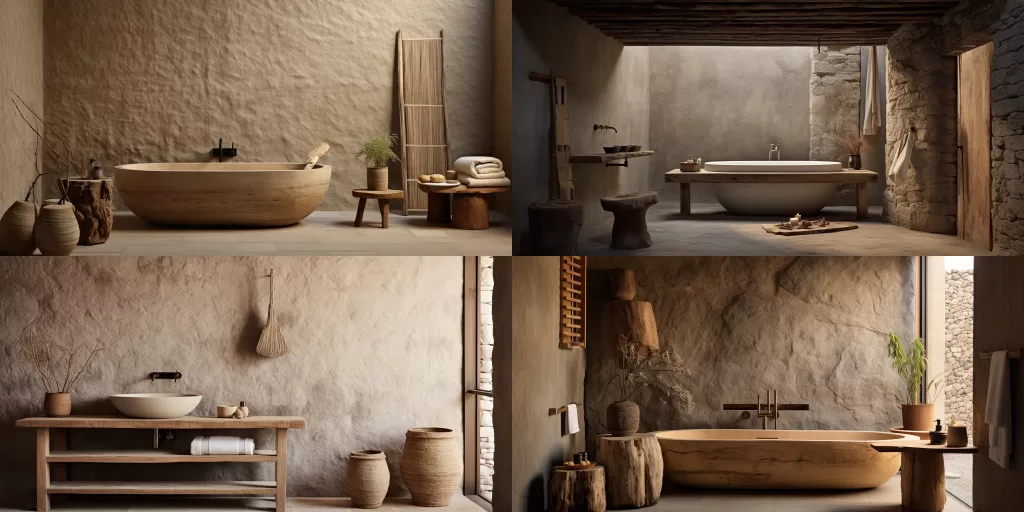 Look for organic shapes and unfinished textures. Unpolished wood, natural stone, rough plaster walls, and woven fibers have an earthy, wholesome quality. Rough, organic textures are an essential part of the wabi-sabi look.
Stone surfaces that are unpolished and show their natural pits and grooves, textured plaster walls, rustic wood finishes, and nubby woven rugs all display the beauty in imperfection. The more natural texture, the better, while glossy lacquered surfaces are too slick and refined. Natural fibers like cotton, wool, linen and silk have an organic feel as well.
4. Use Neutral Tones
Living Room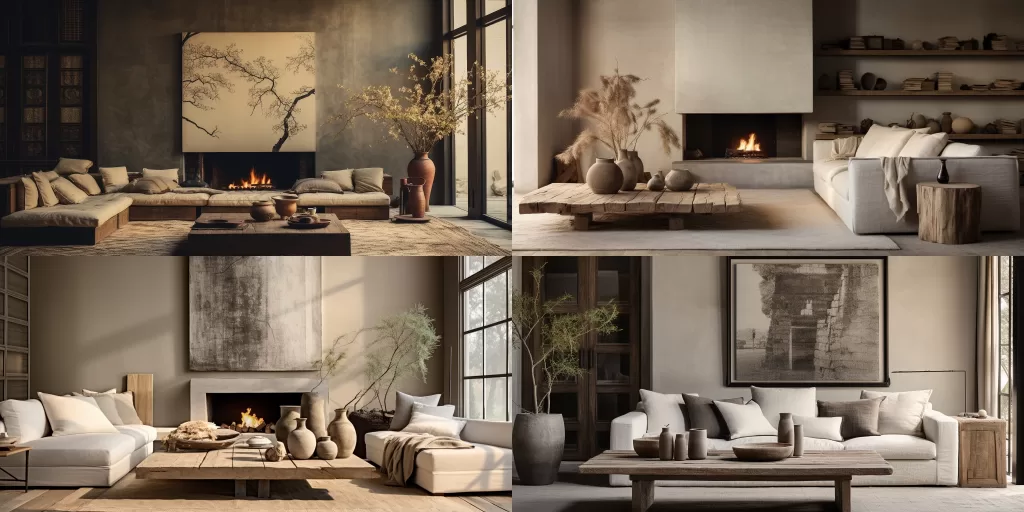 Bedroom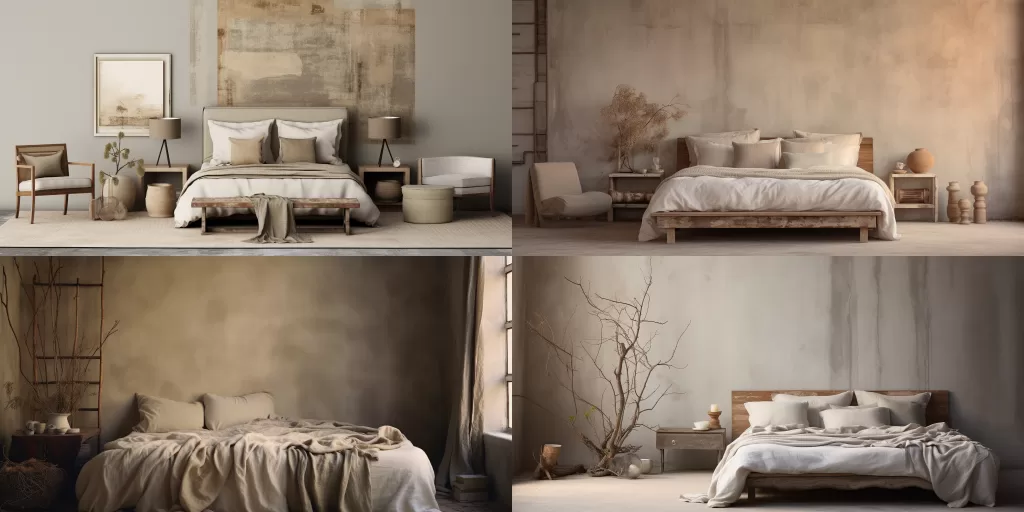 Bathroom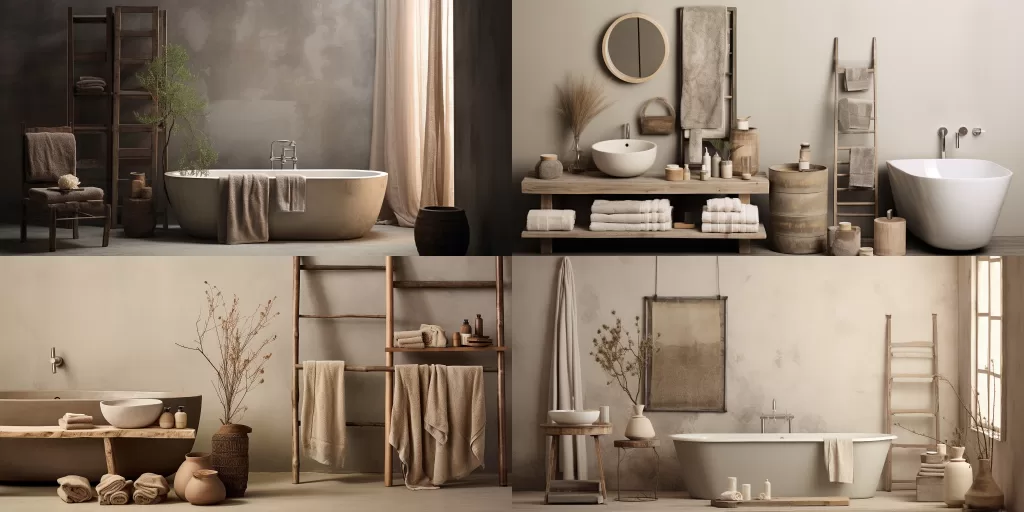 Stick to soft, muted, earthy color palettes. Creams, browns, grays, and greens create a calm, grounded look. Avoid bright, bold colors. Neutral, earth-inspired color palettes align with the wabi-sabi philosophy of simplicity and imperfection. Soothing creams, taupes, warm grays, weathered woods, and organic greens help evoke nature.
Soft, faded hues like the patina on aged metal or oxidized stone also fit the aesthetic. Steer clear of bright, vibrant colors and opt for muted, dusty versions instead. Monochromatic, minimal palettes keep the focus on materials and forms.
5. Choose Imperfect Objects
Living Room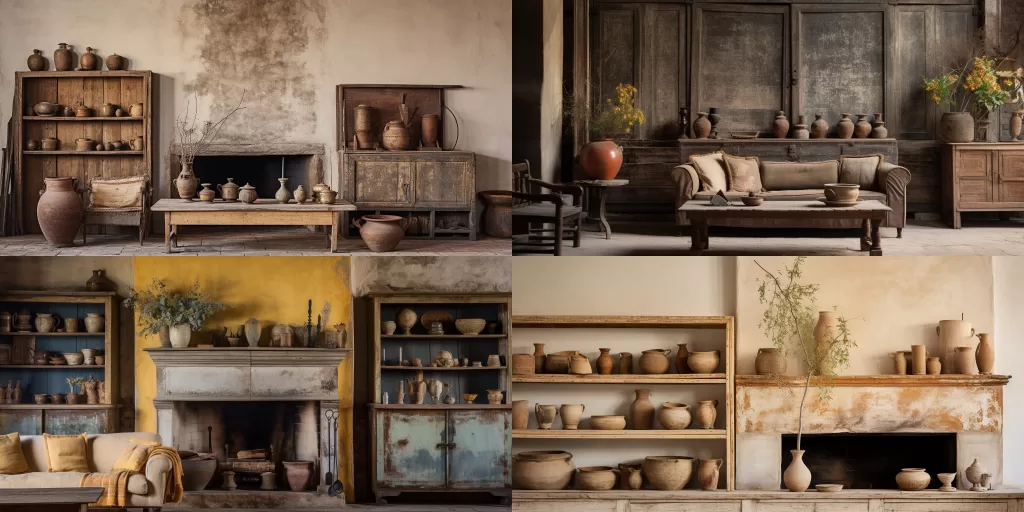 Bedroom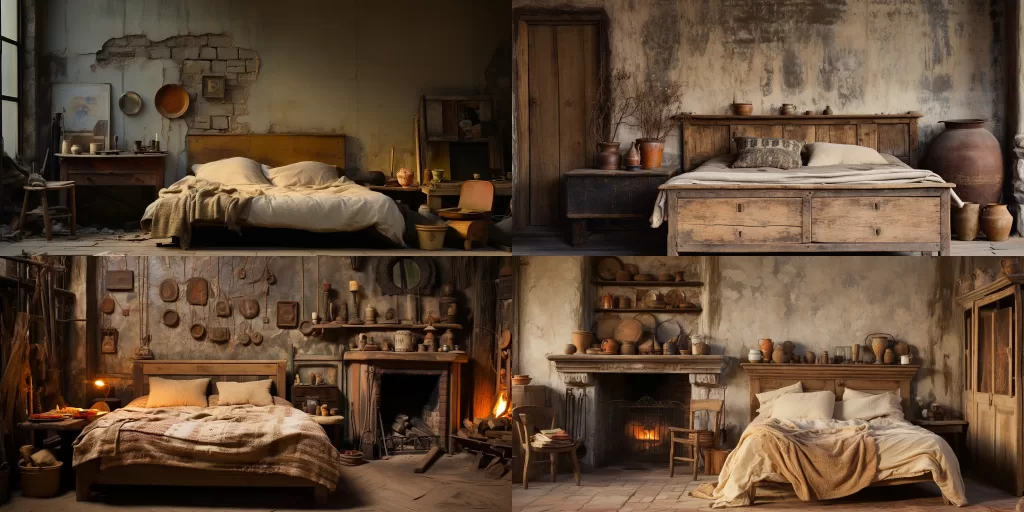 Bathroom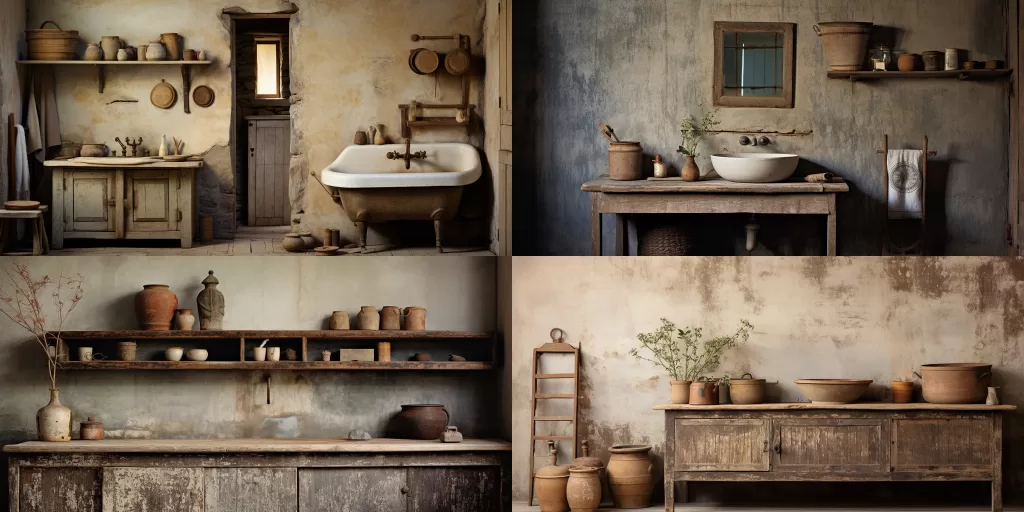 Chipped pottery, worn antiques, and salvaged materials add character. Imperfections and flaws give objects depth. Instead of seeking out pristine furnishings, choose items that proudly display their flaws and imperfections.
An antique cabinet with chipped paint, a ceramic vase with cracks sealed in gold, a set of mismatched vintage chairs, or a scratched but beloved side table all have a story to tell. Their imperfections give them more character. Salvaged barn wood, peeling paint, and other signs of wear add depth.
6. Embrace Asymmetry
Living Room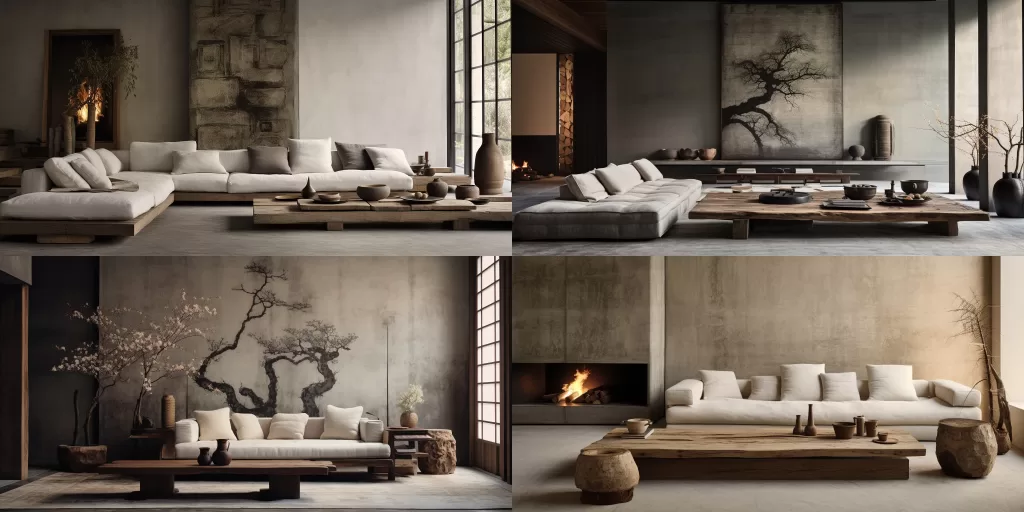 Bedroom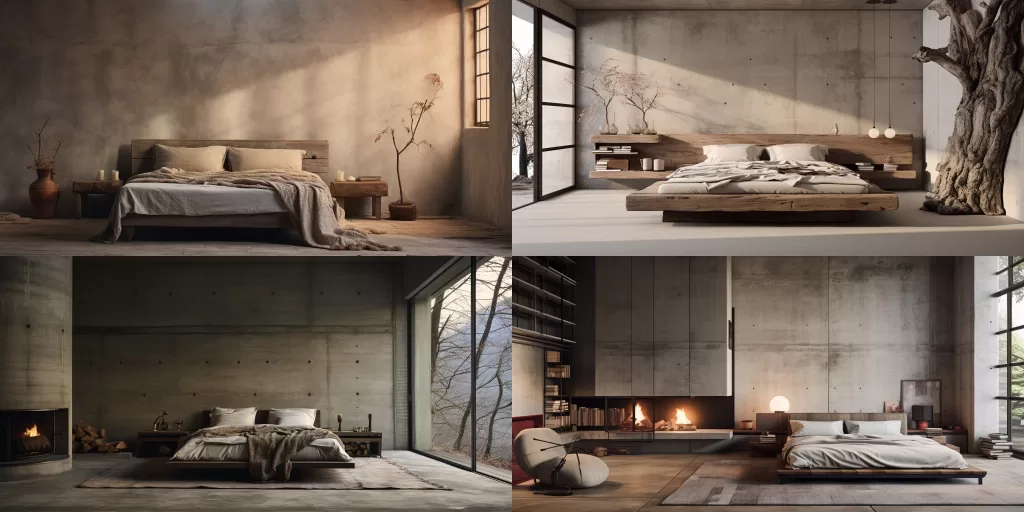 Bathroom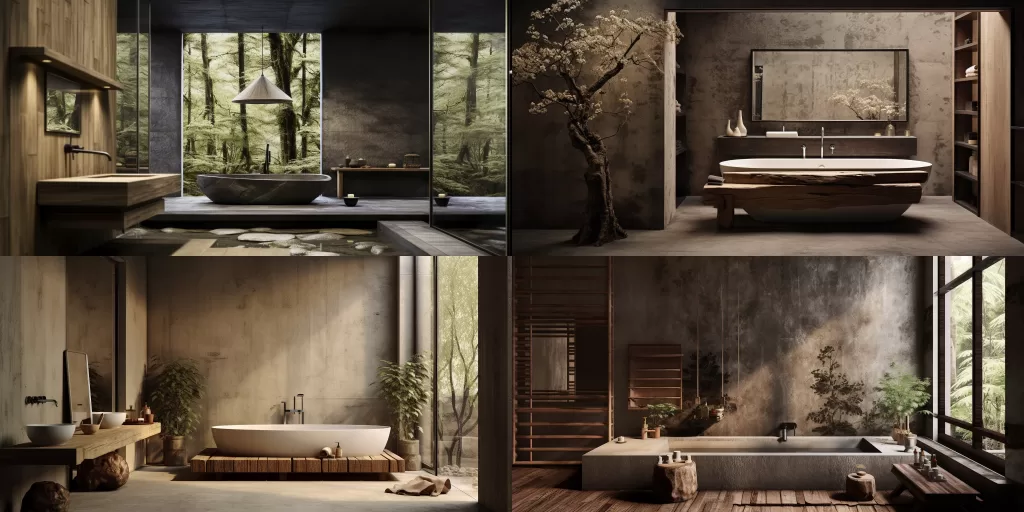 Asymmetrical, imperfect balance aligns with wabi-sabi principles. Avoid rigid symmetry and order. While most design styles embrace symmetry and orderly compositions, wabi-sabi takes the opposite approach.
Asymmetrical and imperfect arrangements feel organic and reflect life's realities better than forced order. Cluster items asymmetrically on shelves, style furniture at odd angles, and art on the wall doesn't have to be perfectly straight. Things don't have to match or make sense—it's about embracing imperfection.
7. Incorporate Handcrafted Pieces
Living Room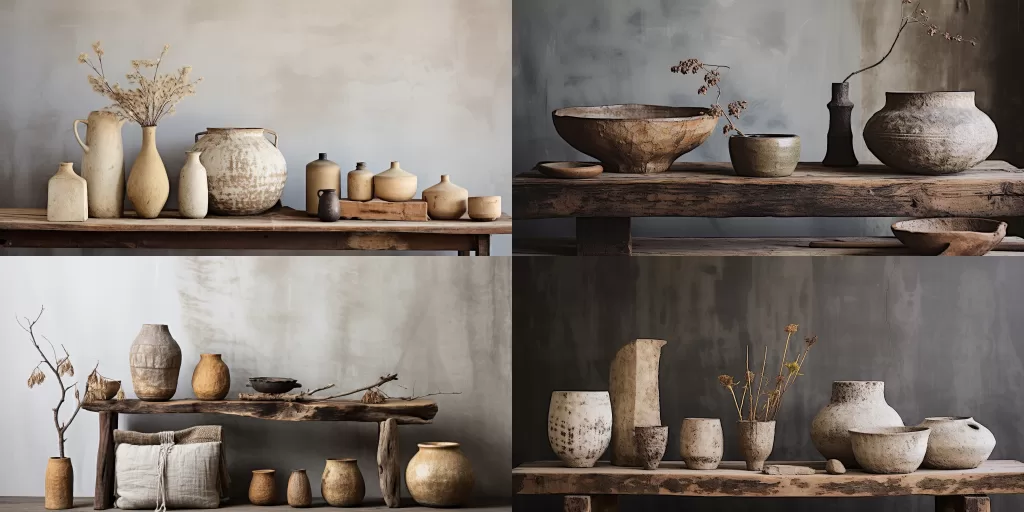 Bedroom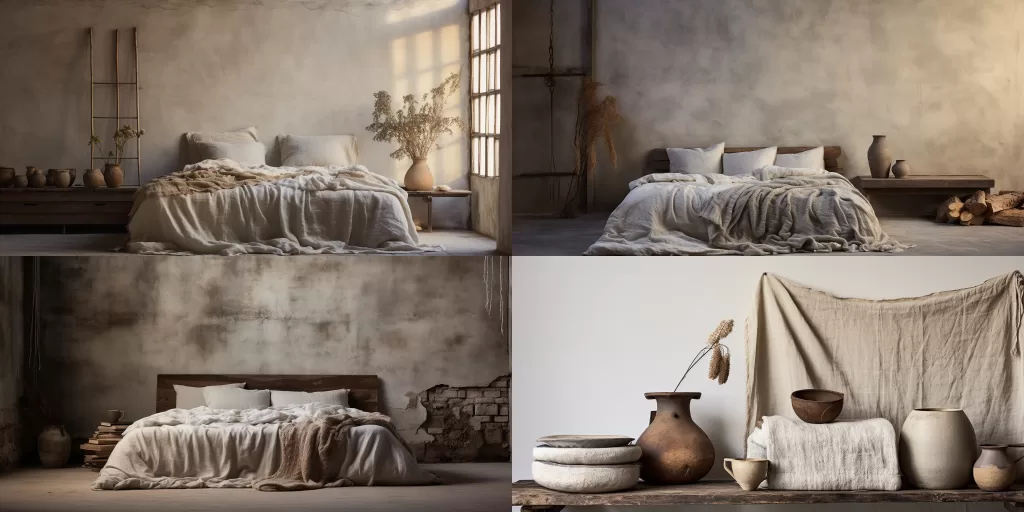 Bathroom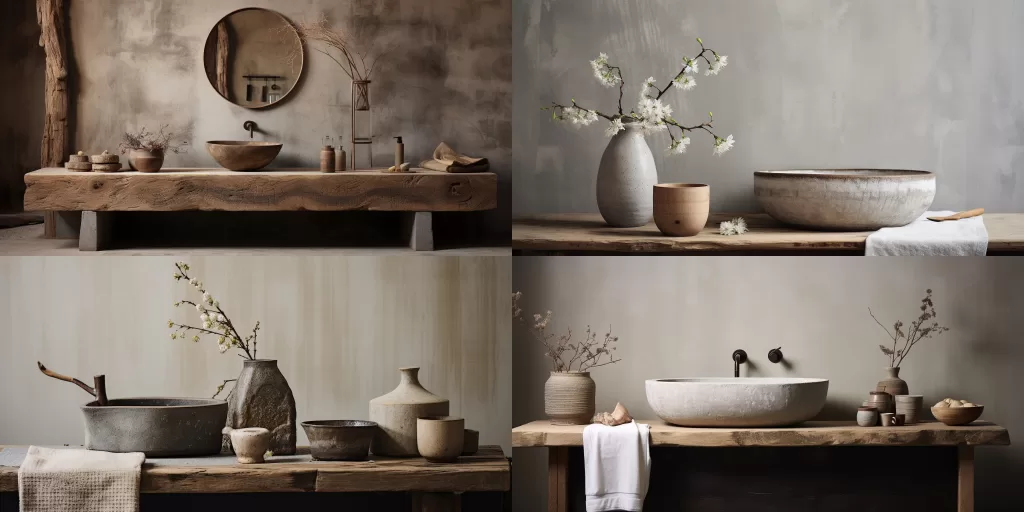 Handmade ceramics, textiles, furniture, and art have a unique, organic beauty. The imperfections make them special. Seek out handcrafted goods to add to your wabi-sabi space. Support local artists and craftspeople by purchasing their one-of-a-kind creations.
Handmade ceramics like plates, mugs, and vases bring functional art into the home. Fiber wall hangings, pillows, and rugs add warmth. Handcrafted furniture and decor lends character you can't get from mass-produced pieces. The flaws and inconsistencies are precisely what give handmade items their appeal.
8. Display Natural Light
Living Room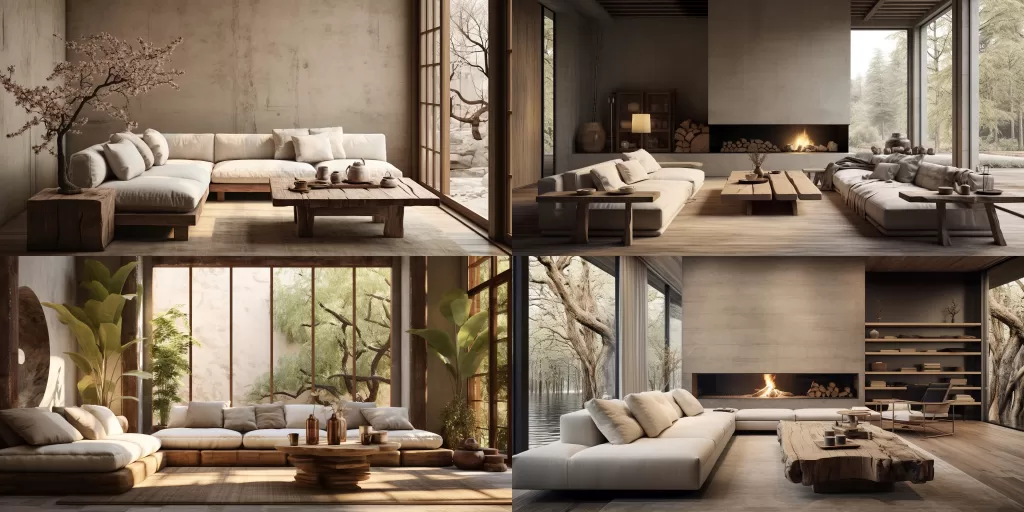 Bedroom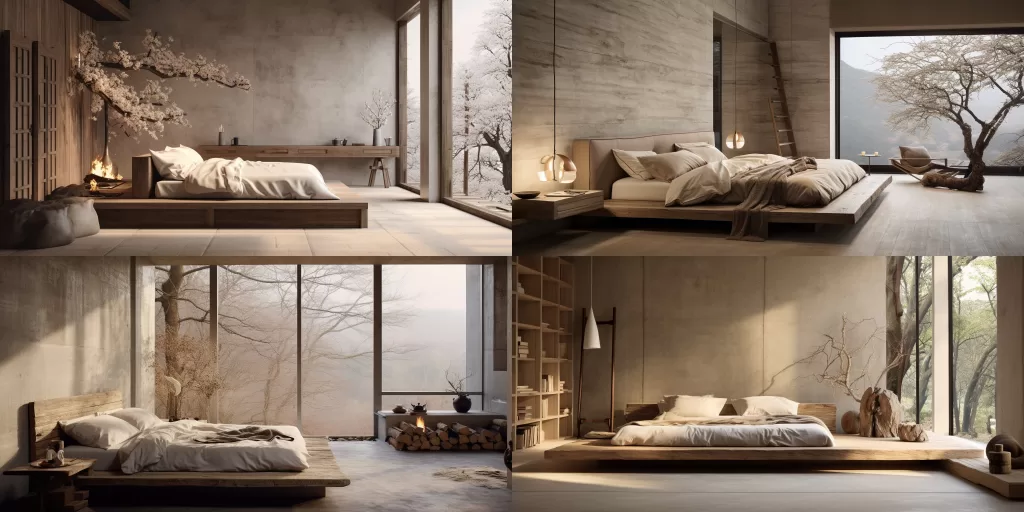 Bathroom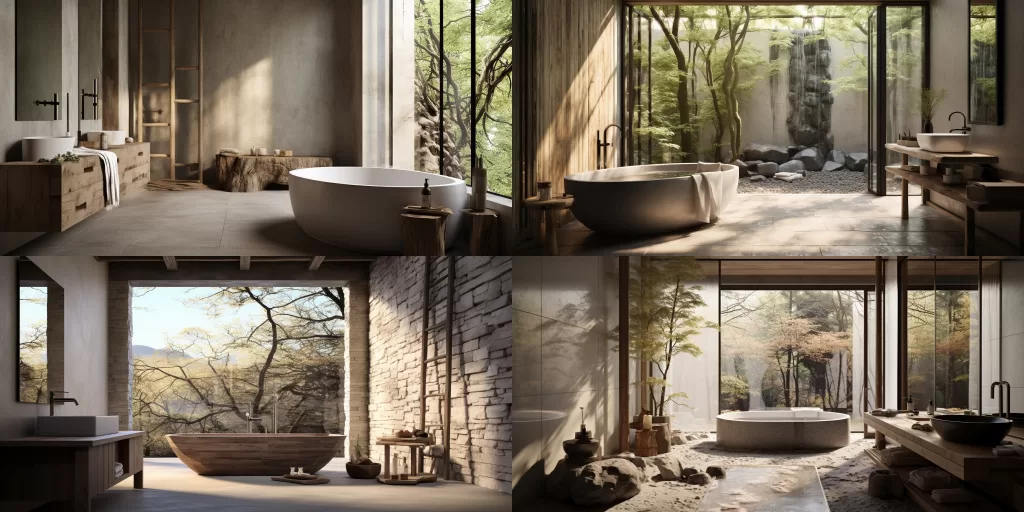 Wabi-sabi interiors feel tranquil and peaceful. Maximizing soft, natural light helps create this ambiance. Natural light aligns perfectly with the wabi-sabi love of organic forms and nature. Open up your space and welcome in natural light to create a calming atmosphere.
Strategically place windows, skylights, and lighting to complement the sun's rays. Use curtains and shades to diffuse the light for a soft, hazy glow. Sunbeams streaming through windows and the gentle light of dusk evoke wabi-sabi sensibilities.
9. Add Layers of Textures
Living Room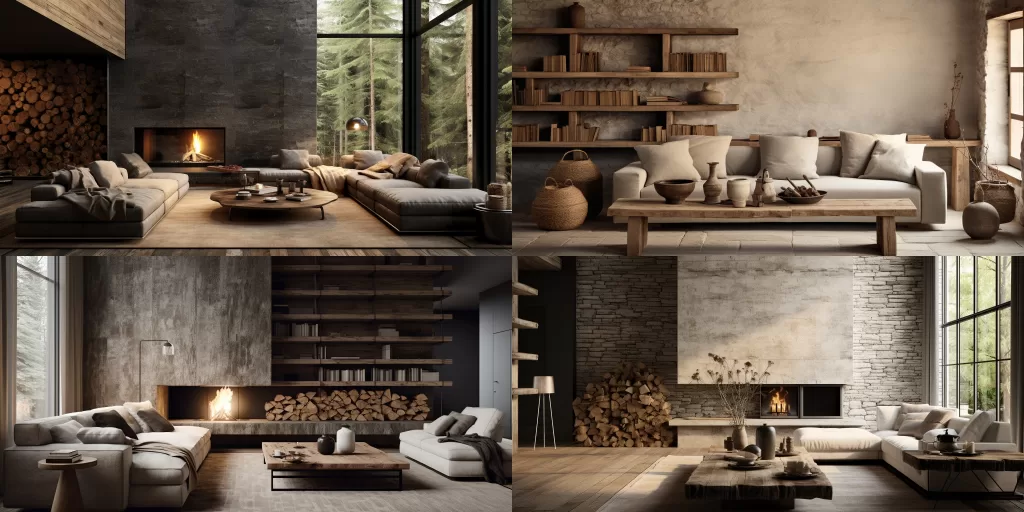 Bedroom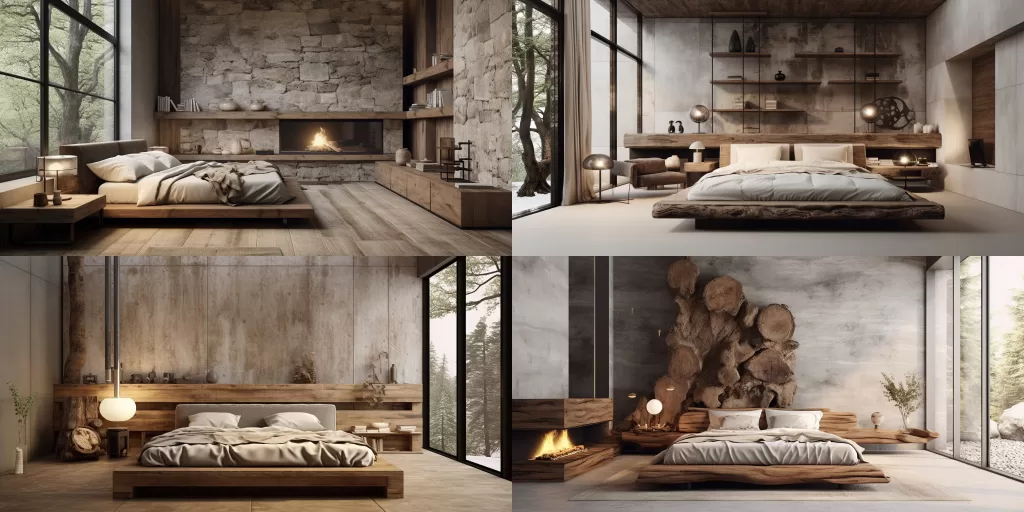 Bathroom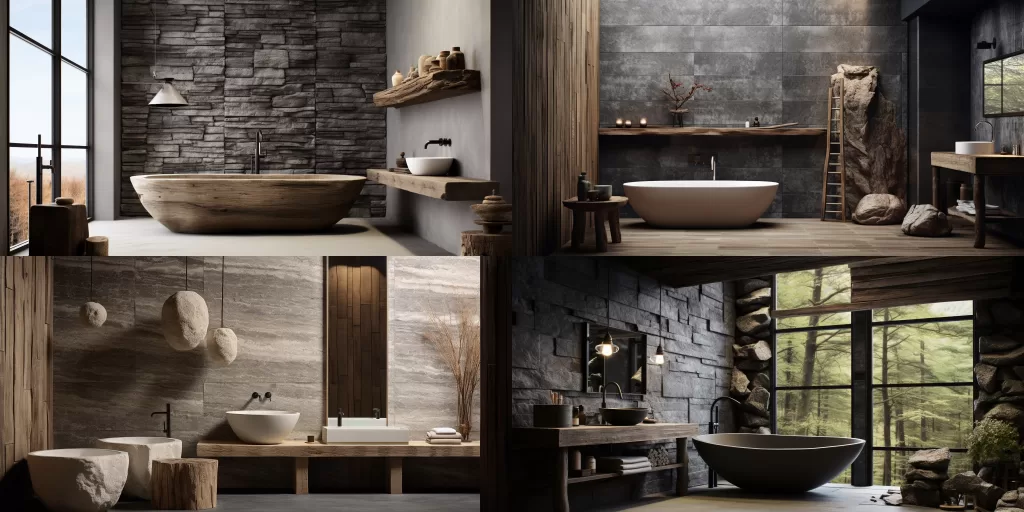 Mix up the textures in your space for visual interest. Try wood, stone, ceramic, glass, fiber, metal, and more. Wabi-sabi interiors incorporate a variety of organic textures, rather than sleek uniformity. Play with different tactile elements to make spaces intriguing.
For example, balance the softness of an upholstered chair with the solidness of a wooden table. Set a ceramic vase on a rattan side table to combine smooth and woven textures. Layer natural linens, nubby wool throws, and faux fur pillows on a bed. The more diverse textures, the better.
10. Keep Decor Simple
Living Room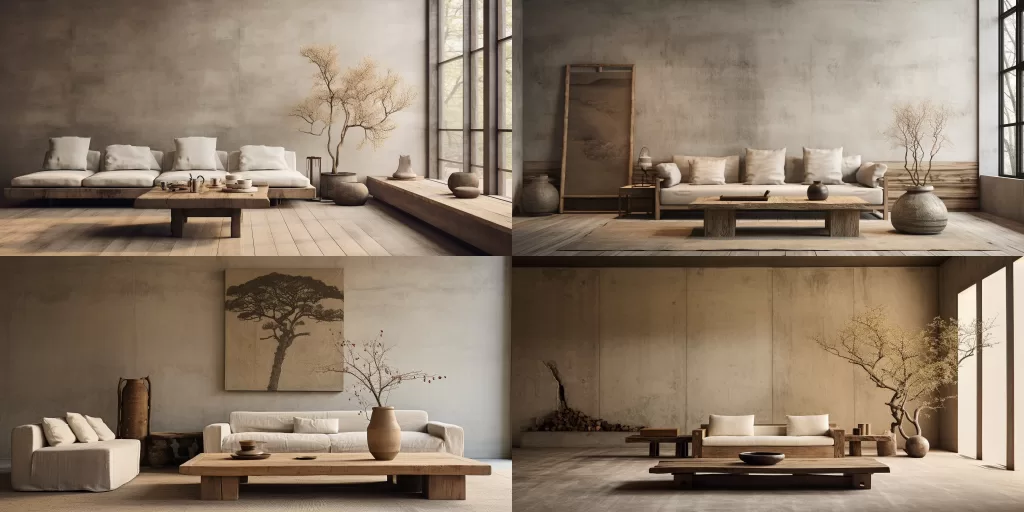 Bedroom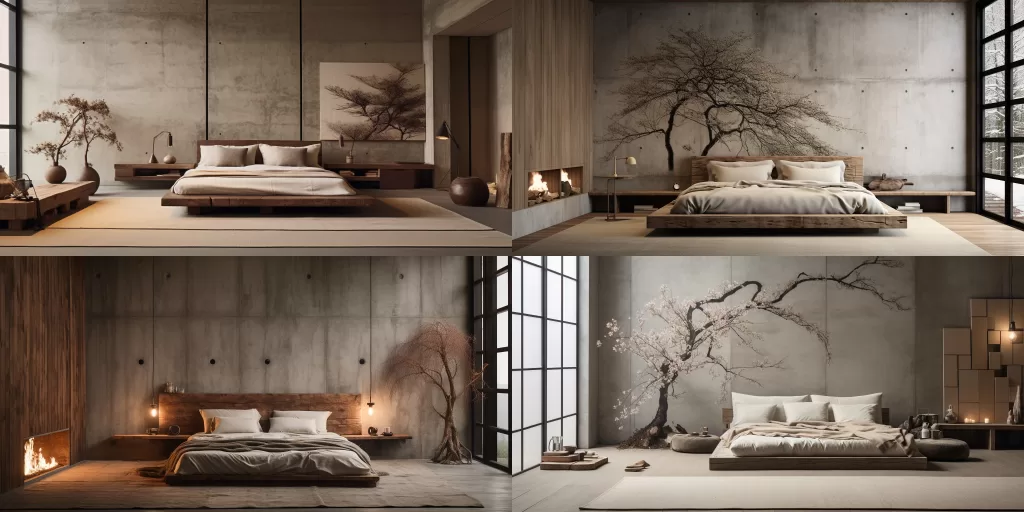 Bathroom
Practice restraint and keep decor simple. Empty space is celebrated in wabi-sabi style. Wabi-sabi prescribes simplicity in decor. Carefully curate just a few meaningful pieces to display instead of filling up every surface. Allow empty space around objects to let them breathe.
For example, place just one exquisite vase on an entryway table rather than lining it with severalecorative pieces. Or hang a solitary print on a wall. This minimalism keeps the focus on beauty in emptiness and imperfection.
11. Use Raw Finishes
Living Room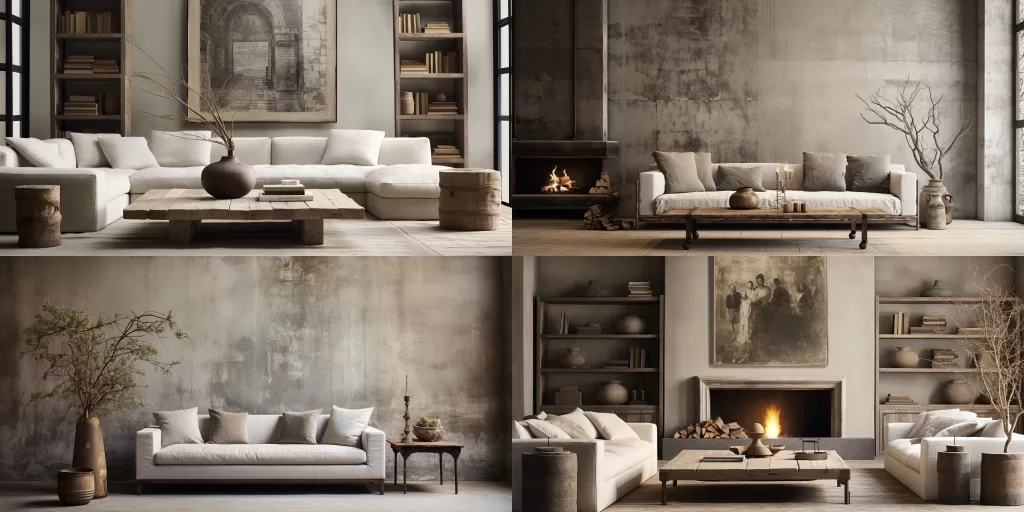 Bedroom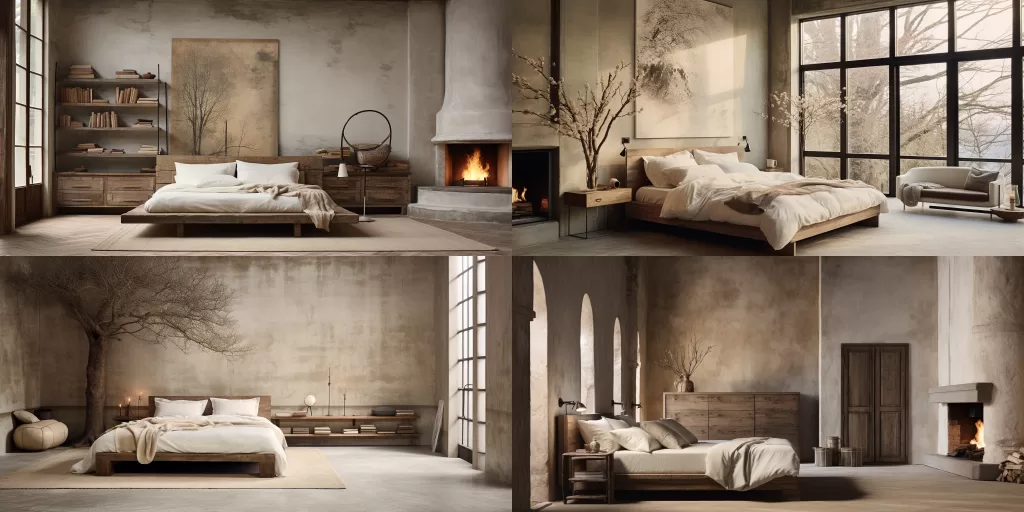 Bathroom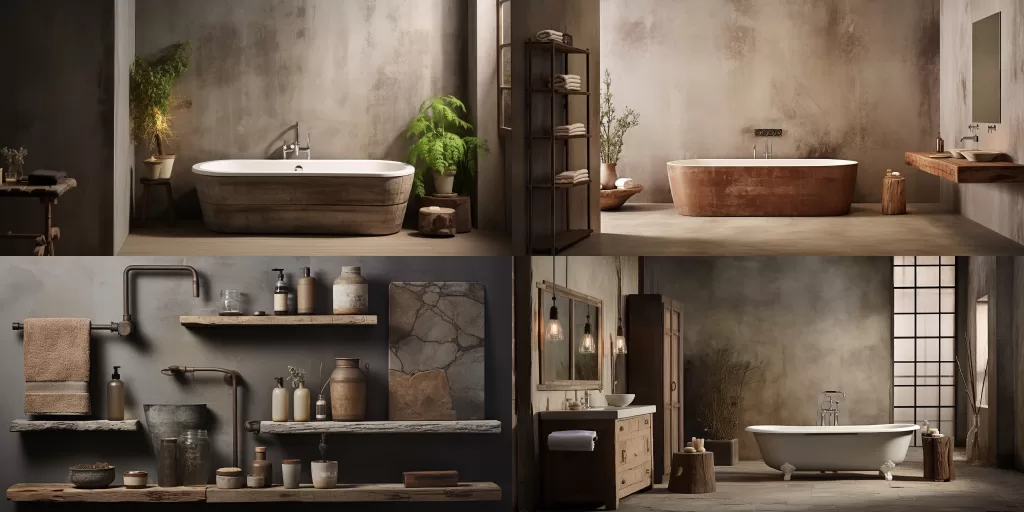 Unrefined, aged finishes like limewash walls or oxidized metals have an organic look. Avoid glossy, perfect finishes. Surfaces that are raw, aged, or weathered align with wabi-sabi's affection for imperfections that come with age.
Unrefined wood, naturally oxidized metals, chalky limewashed walls, and concrete's cracks all display flawed beauty. Polished, lacquered, and glossy finishes appear too slick and mask the allure of natural imperfections. The more original patina or signs of aging, the better.
12. Repurpose Found Objects
Living Room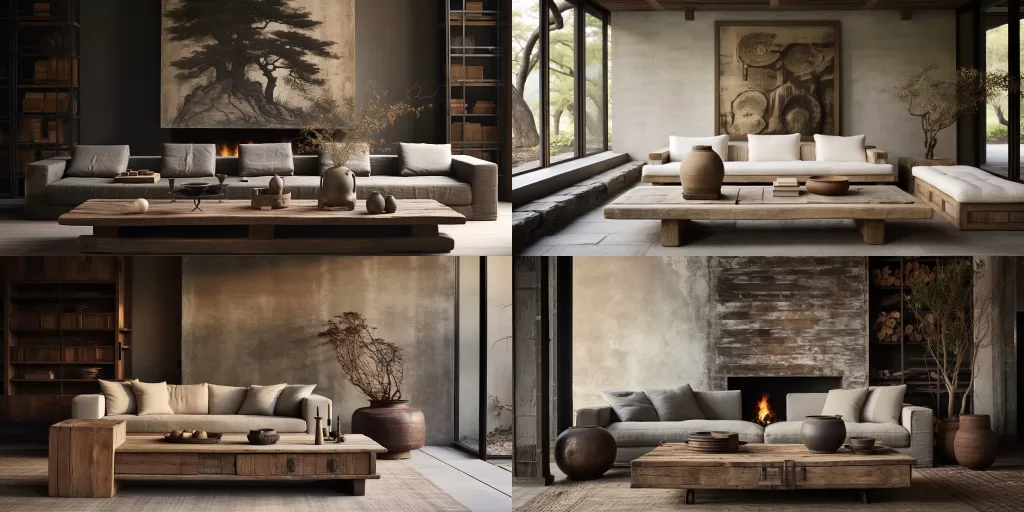 Bedroom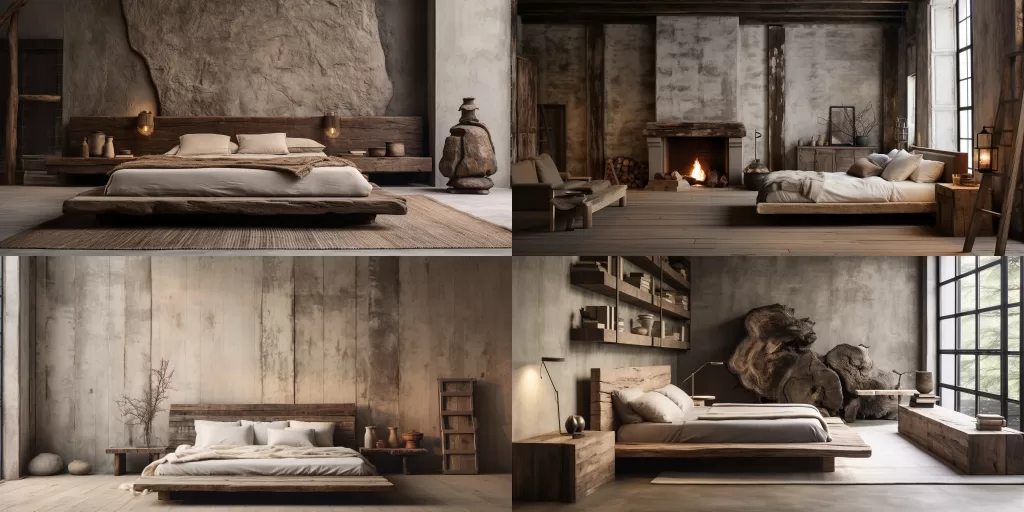 Bathroom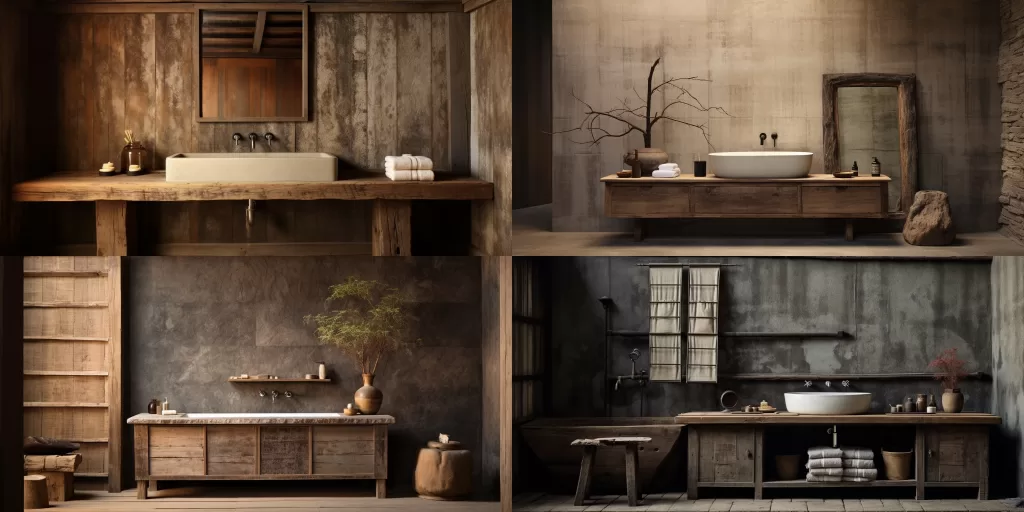 Give new life to salvaged materials. This ties into appreciating age and imperfection. Incorporate old or discarded items into your decor to embrace wabi-sabi ideals. Maybe turn an antique door into a coffee table or use tarnished silver platters to display decorative objects.
Old wood from barns or fencing can be repurposed as wall panels or shelves. Repurposing salvaged goods respects their history while allowing their intrinsic beauty to shine through.
13. Incorporate Natural Shapes
Living Room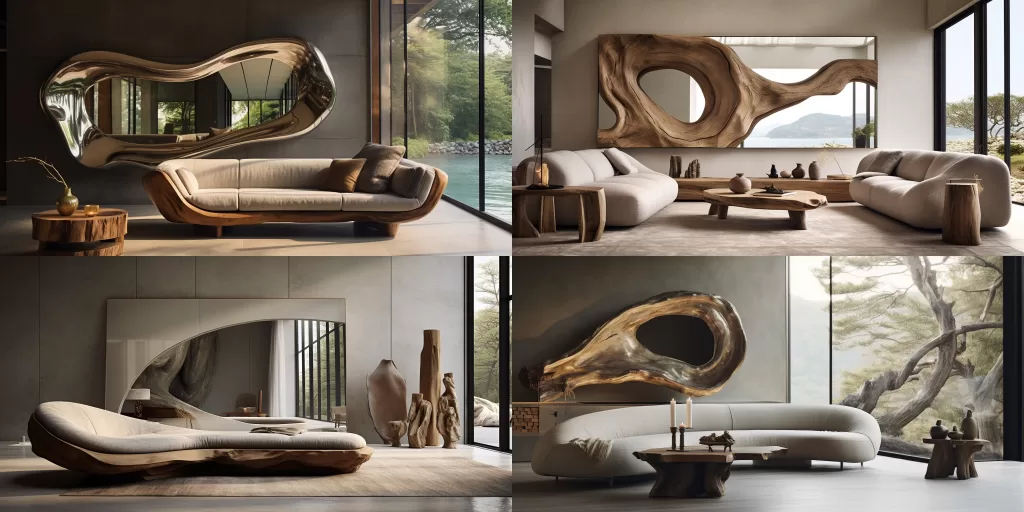 Bedroom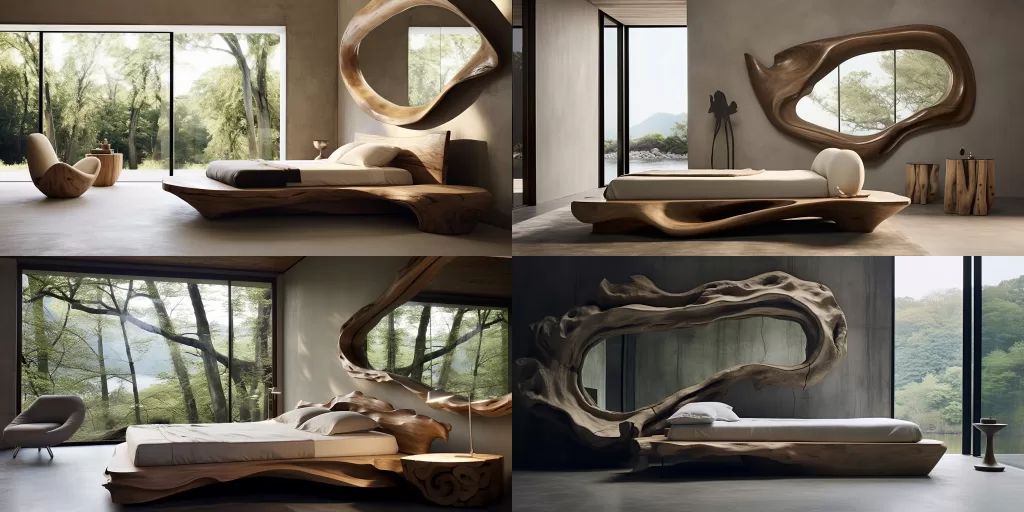 Bathroom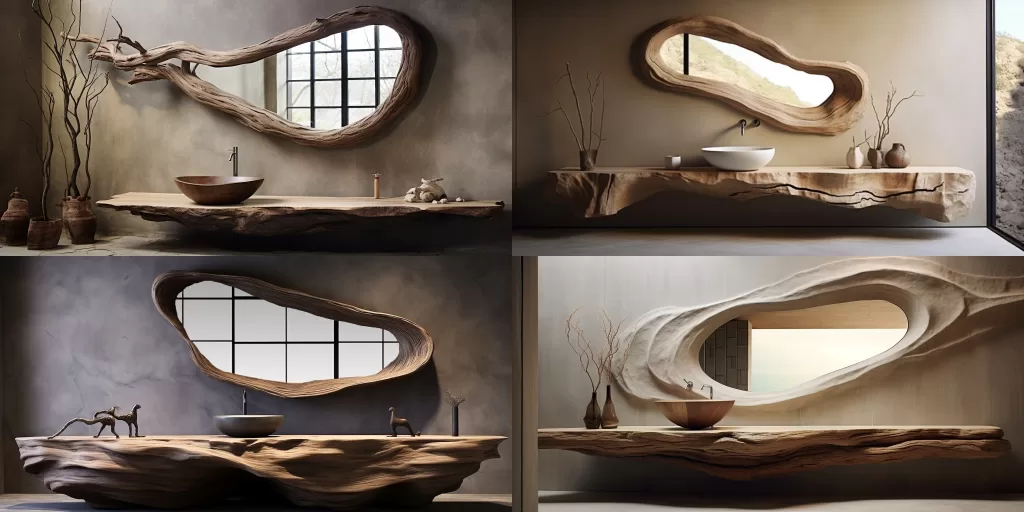 Flowing, asymmetrical shapes mirror nature. Avoid hard lines and artificial-looking forms. Seek out furniture, lighting, decor, and architectural details with natural curves and silhouettes reminiscent of nature.
Round tables, curved chairs, egg-shaped hanging lights, wave-edged ceramics, and organic shapes feel wholesome and sensory. Angular, rigid forms feel too stiff and corporate. Instead, think smooth, flowing, and asymmetric like forms seen in forests, rivers, and oceans.
14. Add Warm Lighting
Living Room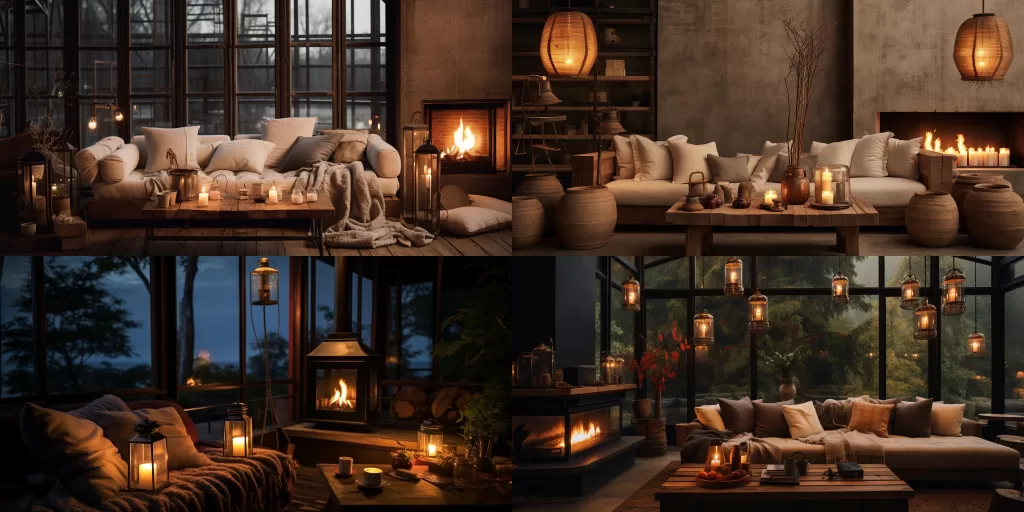 Bedroom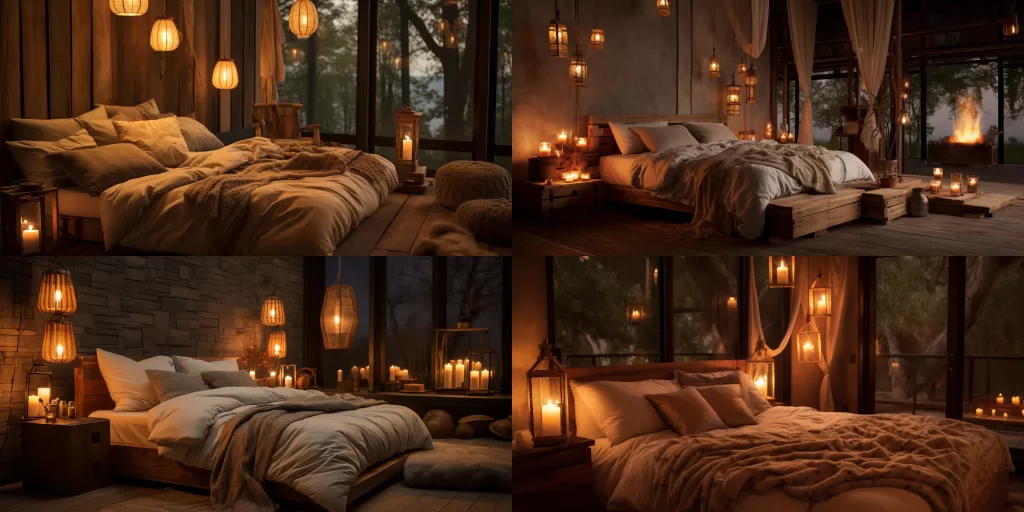 Bathroom
Candlelight, lanterns, and Edison bulbs create cozy ambient lighting. This encourages relaxation. Lighting plays a big role in crafting a wabi-sabi interior. Warm, flickering light from candles or a fireplaceinvite relaxation. Use natural materials like wood, linen, paper, and brass for lampshades and fixtures.
Edison bulbs, pendulum lights, and wall sconces give off a soft, welcoming glow. Avoid harsh, clinical lighting like fluorescent or LEDs. Instead opt for lighting ambiance that feels organic.
15. Celebrate Age
Living Room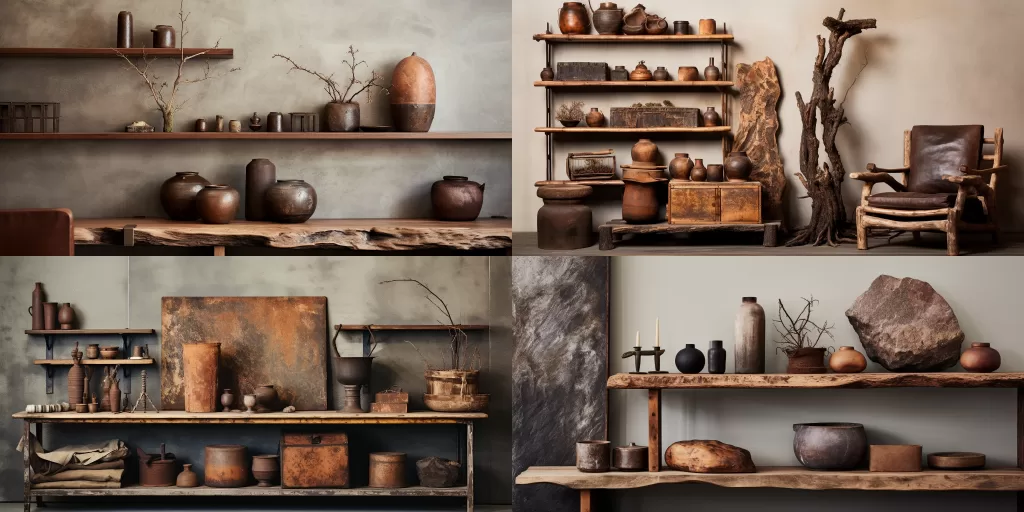 Bedroom
Bathroom
Display items that grow more beautiful with age like wood, leather, and copper. Signs of wear tell a story. Finally, choose furnishings and objects that improve with time, not those that look best when brand new. Natural materials like wood, leather, and metals age gracefully.
Signs of wear like cracked leather, warped tabletops, or patinated metals aren't flaws but rather markers of time that add personality. Scuffs and scratches prove that furnishings have been loved. Their imperfections make antiques more, not less, desirable.
Bringing the wabi-sabi concept into your home creates a welcoming space emphasizing natural simplicity and beauty. Follow these tips to embrace imperfection and create a peaceful retreat.