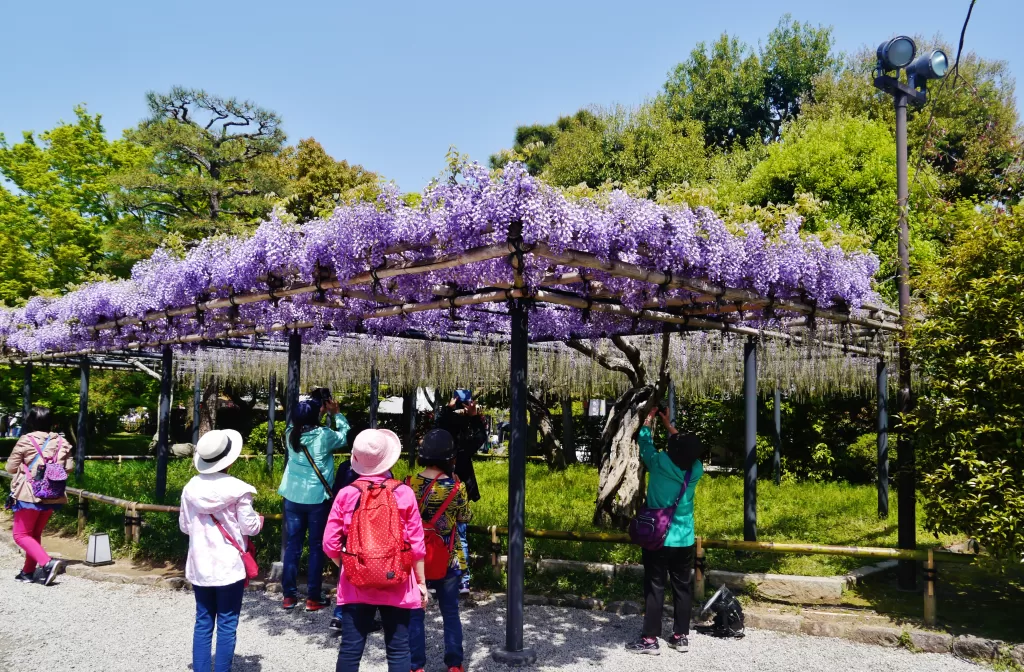 One unique way to experience the tranquility of nature while in Kyoto is through a walk down the famed wisteria tunnels. Wisteria, traditionally called fuji in Japanese, transforms many gardens in the culturally-rich city of Kyoto into places of sheer beauty.
You should include this on your list of must-do Kyoto events in May because it is one of the city's most fascinating views.
Toba Water Treatment Plant
An unexpected yet delightful venue to appreciate wisteria is the Toba Water Treatment Plant. This plant, surprisingly, opens its doors to the public every spring season. It is during these times one can have an enchanting walk beneath a 120-meter long wisteria trellis.
Byōdō-in Temple
The Byōdō-in Temple located on the southeastern side of Kyoto City also boasts charming wisteria displays. The temple is famous for its Buddhist Pure Land (Jodo) architecture that sets a charming backdrop for vibrant, drooping clusters of wisteria flowers hanging from a massive 400m2 trellis.
Golden phoenixes roof this historical place and lend an additional charm when viewed through the curtain of purple wisteria flowers. Getting to this site takes just a 10-minute walk from both Keihan Uji Station and JR Uji Station.
Sentō Gosho – Kyoto Sentō Imperial Palace Grounds
The once majestic Kyoto Sentō Imperial Palace has been transformed over time into an intriguing garden. Although it was destroyed by a fire in 1854 and not rebuilt, its palace grounds have become some of Kyoto's premium gardens. Particularly captivating is the Yatsuhashi Bridge with its wisteria trellis, providing an awe-inspiring vista in late spring.
To access this attraction which runs approximately within one hour, you can register online or reserve on-site for a free tour at Kyoto Imperial Park's office. For non-Japanese speakers, audio guides in various languages are available.
Jōnangū Shrine
Prominent for its weeping plum trees and camellias, Jōnangū Shrine sways to the rhythm of wisteria each spring. One of its five gardens dating back to the Muromachi Period embraces a quaint but gorgeous wisteria trellis radiating amidst azaleas.
Unlike other busy tourist venues, Jōnangū has maintained relative calmness making it an ideal location for tranquil reflection and photo shoots. Accessing this site requires a mere 15-minutes stroll from Takeda Station on the Kyoto City Subway Karasuma Line and a small entrance fee.
Ryōan-ji Temple
Renowned for hosting one of the best rock gardens in Japan — so extraordinary it has UNESCO World Heritage designation — Ryōan-ji Temple offers more than zen rocks. Spectacular landscapes across Kyoyochi Pond are amplified by drooping white and purple wisterias perched on trellises adorning this space.
Tourists visit this temple not only for its renowned garden but also to relish in the view of magnificent wisterias reflecting off Kyoyochi Pond's surface during late spring. Just 30-minutes by bus from JR Kyoto Station gets you into these serene surroundings laden with floral splendor.
Another fun event in Kyoto is Kamogawa Odori. If you're looking for a unique and beautiful celebration of traditional Japanese dance and music, Kamogawa Odori is an event you will want to attend. Kamogawa Odori is a traditional Japanese dance festival every May in Kyoto. It features the Geisha and Maiko of the Pontocho district of Kyoto, famous for their extensive use of hand fans in their dances.