If you're looking for the best beaches to relax on in Okinawa, you've come to the right place. Okinawa, a prefecture in the southernmost part of Japan, is renowned for its stunning tropical landscapes and crystal-clear waters. With its idyllic beaches and tranquil atmosphere, Okinawa Island offers the ideal retreat for those seeking relaxation and rejuvenation. Below is our compilation of the top 16 best beaches in Okinawa prefecture, where you can enjoy a tranquil and rejuvenating experience.
👉 Summary Best Hotels in Okinawa Beach area:
Mibaru Beach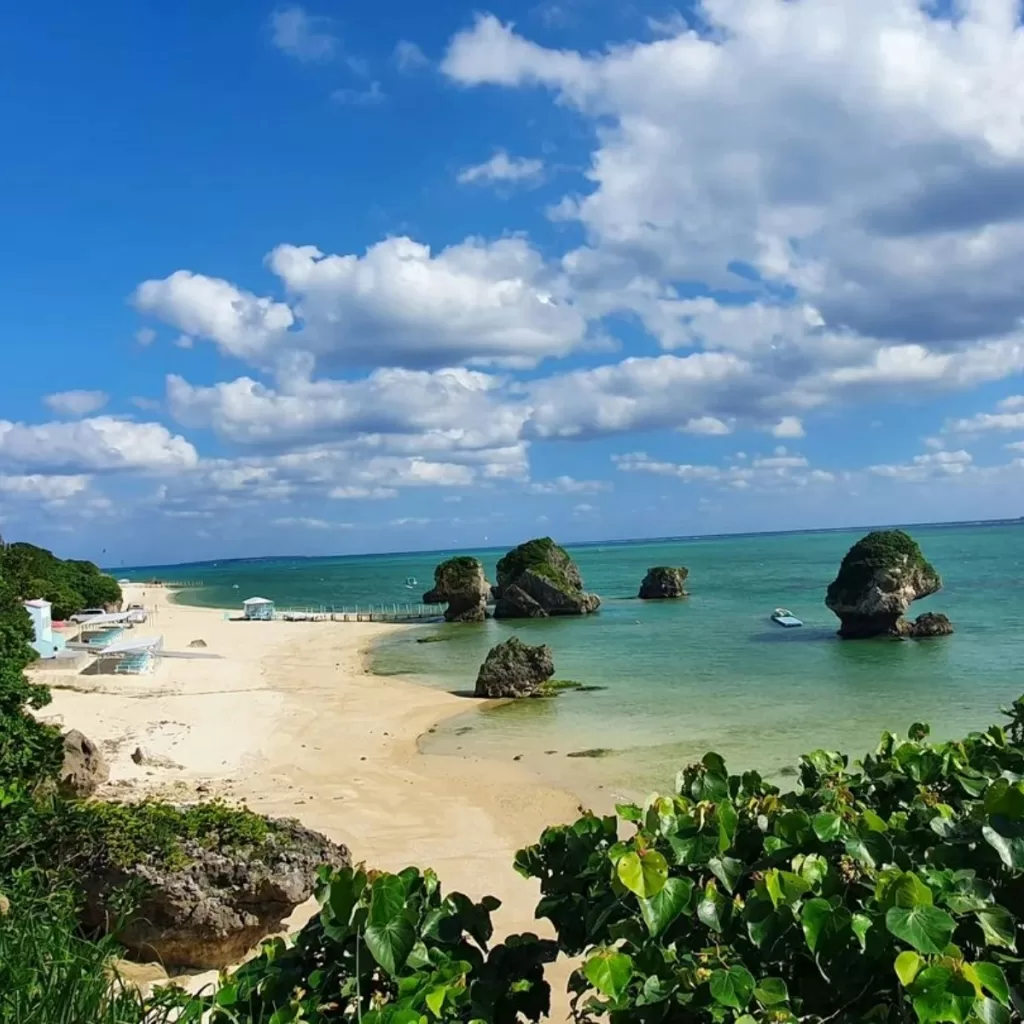 Mibaru Beach in Okinawa is truly one of the best places to visit and experience the beauty of a pristine and picturesque beach. With its soft white sands and crystal-clear turquoise waters, Mibaru Beach offers a stunning tropical escape.
Located on the main island of Okinawa Honto, Mibaru Beach is one of the most popular Okinawa beaches. The beach stretches along the coastline, providing ample space for sunbathing, beachcombing, and enjoying water activities.
Snorkeling and diving are excellent here, thanks to the healthy coral reef located just offshore. At low tide, the shallow waters are perfect for swimming and playing. Tourists can also enjoy stunning sunsets over the East China Sea from Mibaru Beach.
The breathtaking scenery and tranquil atmosphere make this beautiful beach one of the best places to relax and unwind amidst the natural beauty of Okinawa.
---
Emerald Beach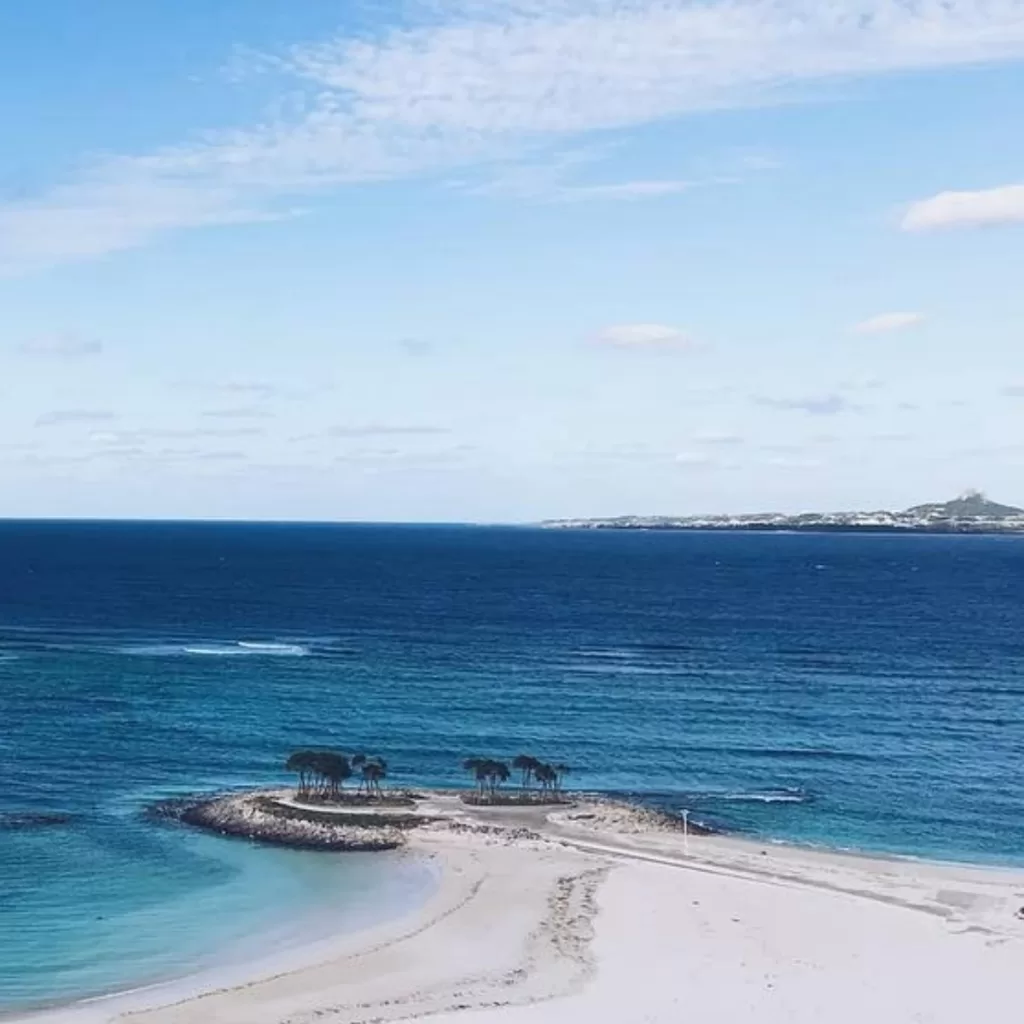 Emerald Beach is best known as a top Okinawa destination and a must-visit beach for swimming enthusiasts. With its clear emerald waters and pristine white sands, this beach offers a perfect spot to enjoy a refreshing swim and bask in the tropical beauty of Okinawa.
True to its name, Emerald Beach lives up to its beautiful blue-green waters. The white sand beach is surrounded by picturesque green cliffs. Located on Okinawa Honto's west coast in the village of Mihama, Emerald Beach is an ideal spot for snorkeling, swimming, and plenty of opportunities for relaxation. It's one of the best spots on the island to watch the beautiful sunset.
From its breathtaking beauty to its inviting waters, Emerald Beach stands out as one of the top beaches to visit in Okinawa.
---
Okuma Beach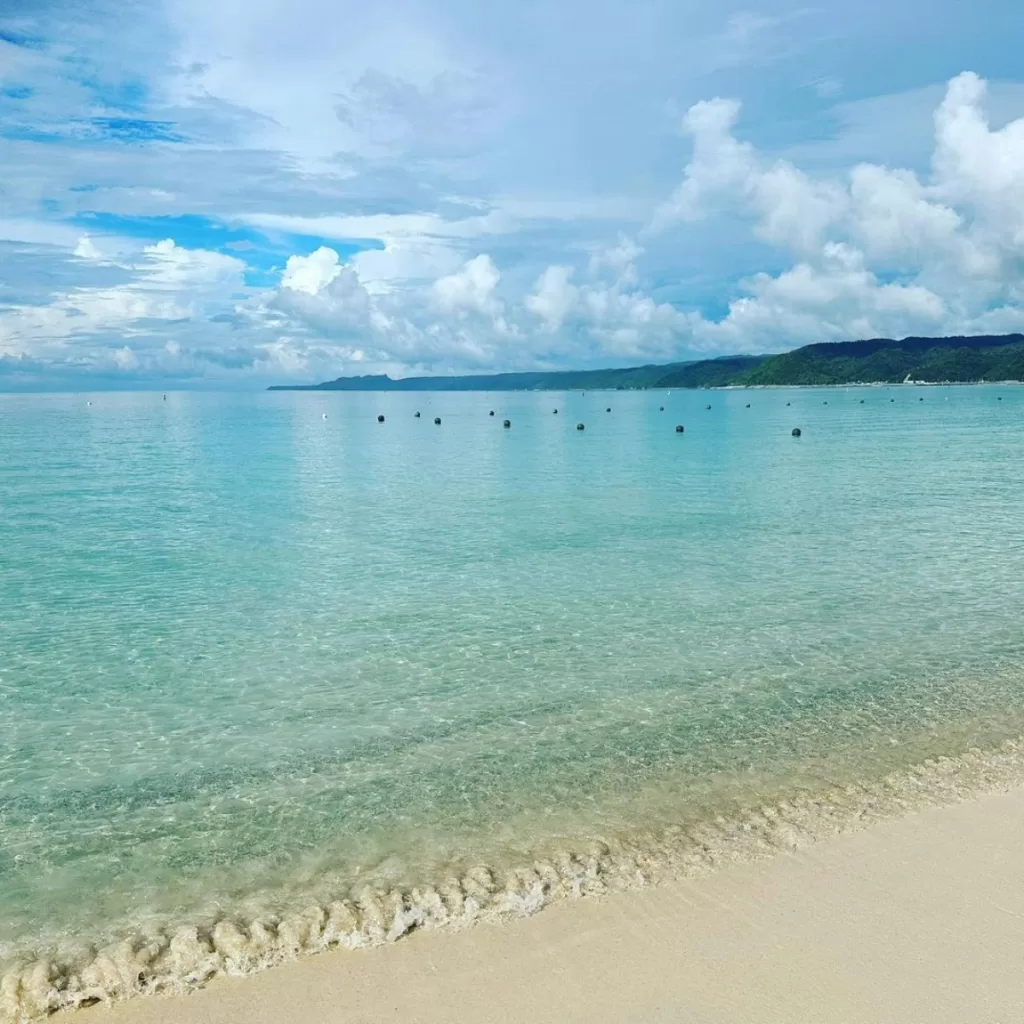 Okuma Beach is a gem among Okinawa's beaches and the perfect place to stay in Okinawa for a truly memorable beach getaway.
Found within the Okuma Beach Resort on Okinawa Honto, Okuma Beach provides visitors with a luxurious beach experience. The natural white sand beach slopes gently into vibrant blue waters, perfect for swimming. Snorkeling equipment is available for rent. At one end, tropical fish can be seen swimming close to shore. The beach also offers beachfront accommodation, delicious dining, and evening entertainment at its beachside restaurant and bar.
Whether you're looking to unwind on the beach, take a dip in the inviting waters, or participate in thrilling water sports, Okuma Beach has something for everyone. From paddleboarding and kayaking to jet skiing and banana boat rides, adventure enthusiasts will find plenty of options to keep themselves entertained.
In addition to the beach itself, Okuma Beach also gives a wide range of amenities and facilities to enhance your stay. There are beachside cafes and restaurants where you can enjoy delicious local cuisine while taking in the panoramic views of the ocean. The beach is equipped with clean restrooms and shower facilities, making it convenient for visitors to freshen up after a day in the sun.
---
Furuzamami Beach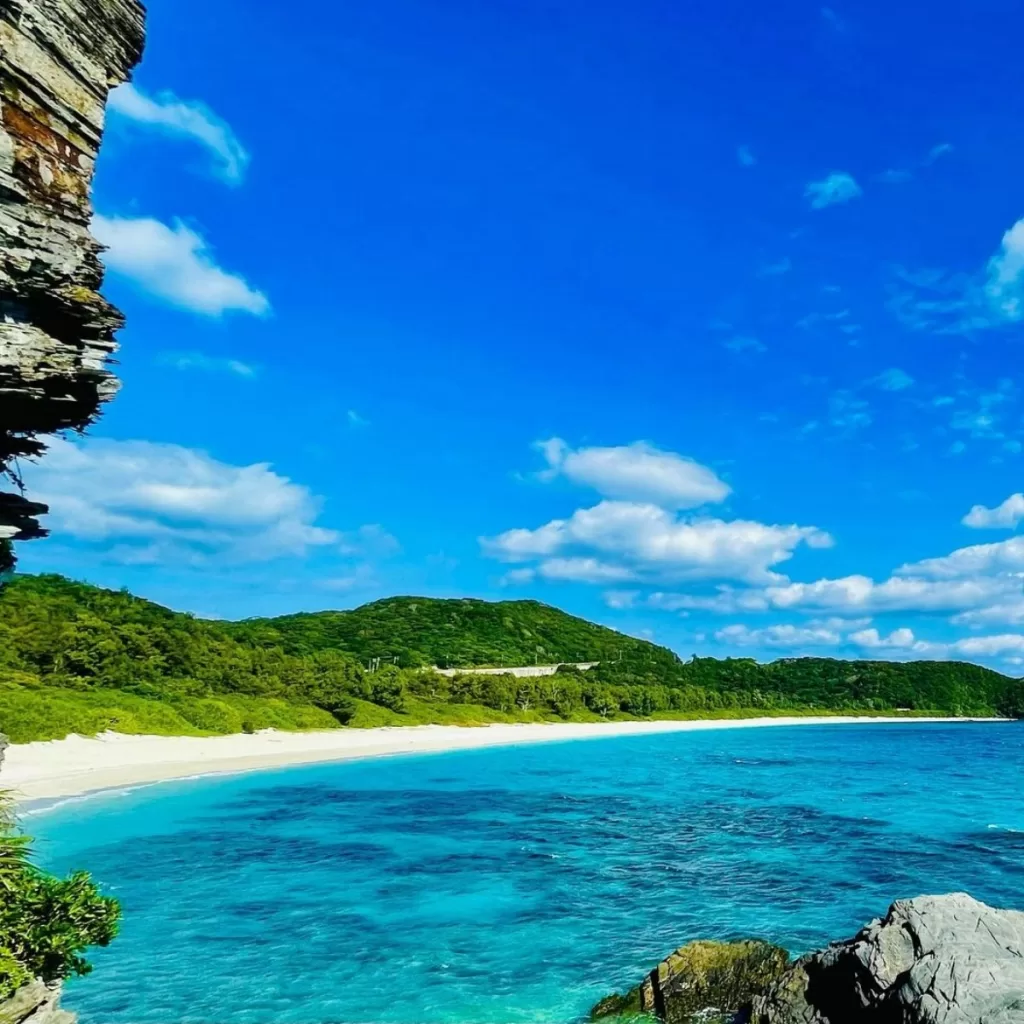 Furuzamami Beach in Okinawa is best known for its pristine white sands and stunning turquoise waters, making it an absolute must-visit destination for beach lovers.
Furuzamami Beach, located in central Okinawa Honto, is a quiet and picturesque beach getaway. It is one of the best beaches with crystal clear water. Ideal for swimming and snorkeling. Coral growing close to shore provides a fun area for young ones to splash and play. Located adjacent to Ocean Expo Park, Furuzamami Beach also allows visitors to enjoy the park's numerous attractions.
Snorkelers and divers can explore the colorful underwater world, witnessing the beauty of tropical fish, sea turtles, and fascinating coral formations. Whether you choose to simply relax on the soft sands, take a refreshing dip in the azure waters, or explore the rich marine life, Furuzamami Beach offers a little slice of paradise. Embrace the serenity and beauty of this popular beach, and let it leave you with lasting memories of Okinawa's coastal charm.
---
Zanpa Beach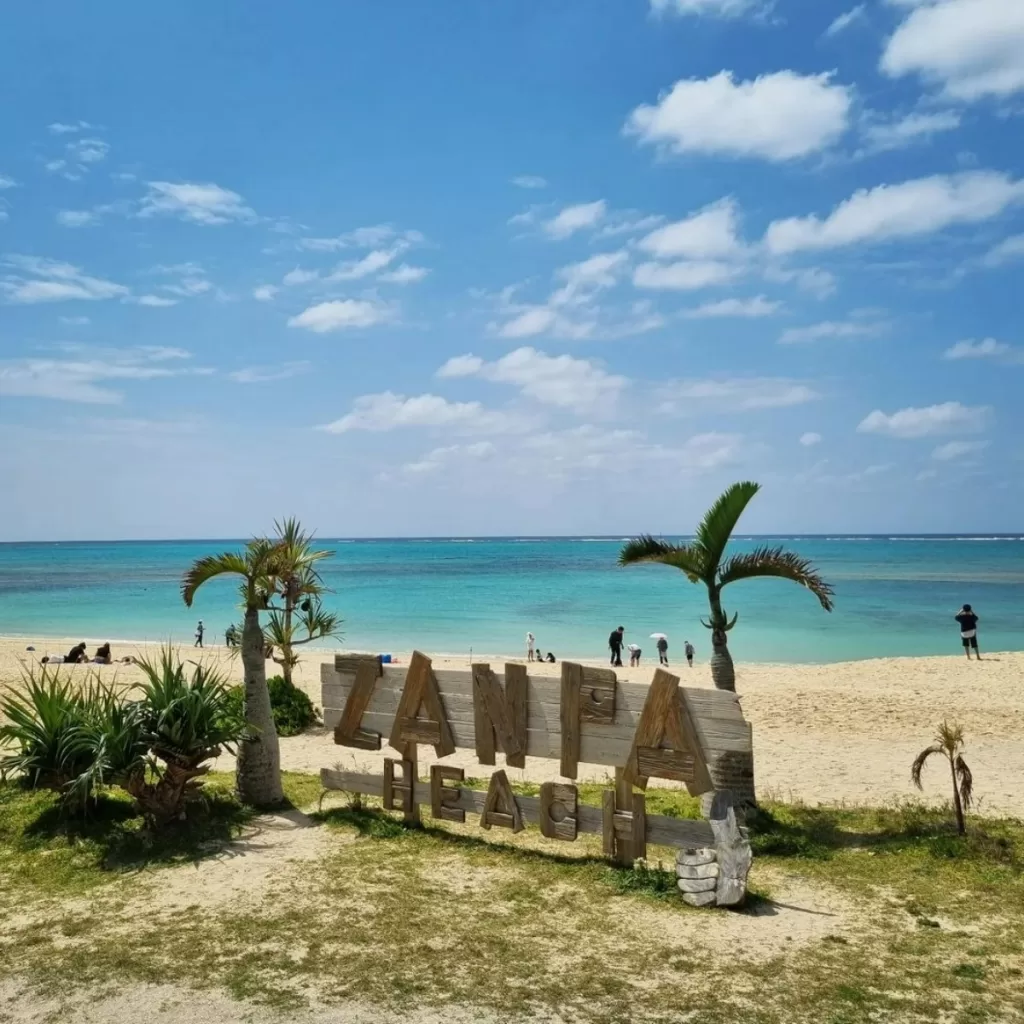 Zanpa Beach, on Okinawa Honto's west coast, is a scenic beach popular for swimming and snorkeling. Visitors can also explore the interesting geological formations located along the beach.
Watching the breathtaking sunset is another favorite activity. The beach contains a mix of sand, pebbles, and rocky areas. Swimming is best during high tide when the rocks are covered with water. Public facilities include showers, restrooms, and food vendors.
One of the main attractions of Zanpa Beach is its natural beauty. The pristine waters and soft sandy shore create a perfect spot for sunbathing, picnicking, and enjoying water activities. Visitors can indulge in leisurely beach walks, build sandcastles, or simply relax under the shade of umbrellas while basking in the gentle ocean breeze. The clear waters are also suitable for swimming and snorkeling, allowing visitors to explore the vibrant marine life and coral formations.
---
Nishihara Kira Kira Beach
Nishihara Kira Kira Beach, located north of Naha in Okinawa Honto, gets its name from the way the water sparkles under the sun. The spacious beach contains both rocky areas and soft white sand. Pine trees provide shade.
The beach is perfect for swimming, thanks to its calm and gentle waves. The tranquil waters create a safe and inviting environment for visitors of all ages to take a dip and cool off in the ocean.
Swimming areas are sectioned off with safety buoys. Kira Kira Beach is surrounded by park facilities, shops, and restaurants. It also hosts events and festivals throughout the year.
Overall, Nishihara Kira Kira Beach in Okinawa embodies the essence of a perfect beach getaway. Its crystal-clear waters, sandy shores, and scenic surroundings make it an irresistible destination for those seeking a refreshing swim and a picturesque setting.
---
Sun Beach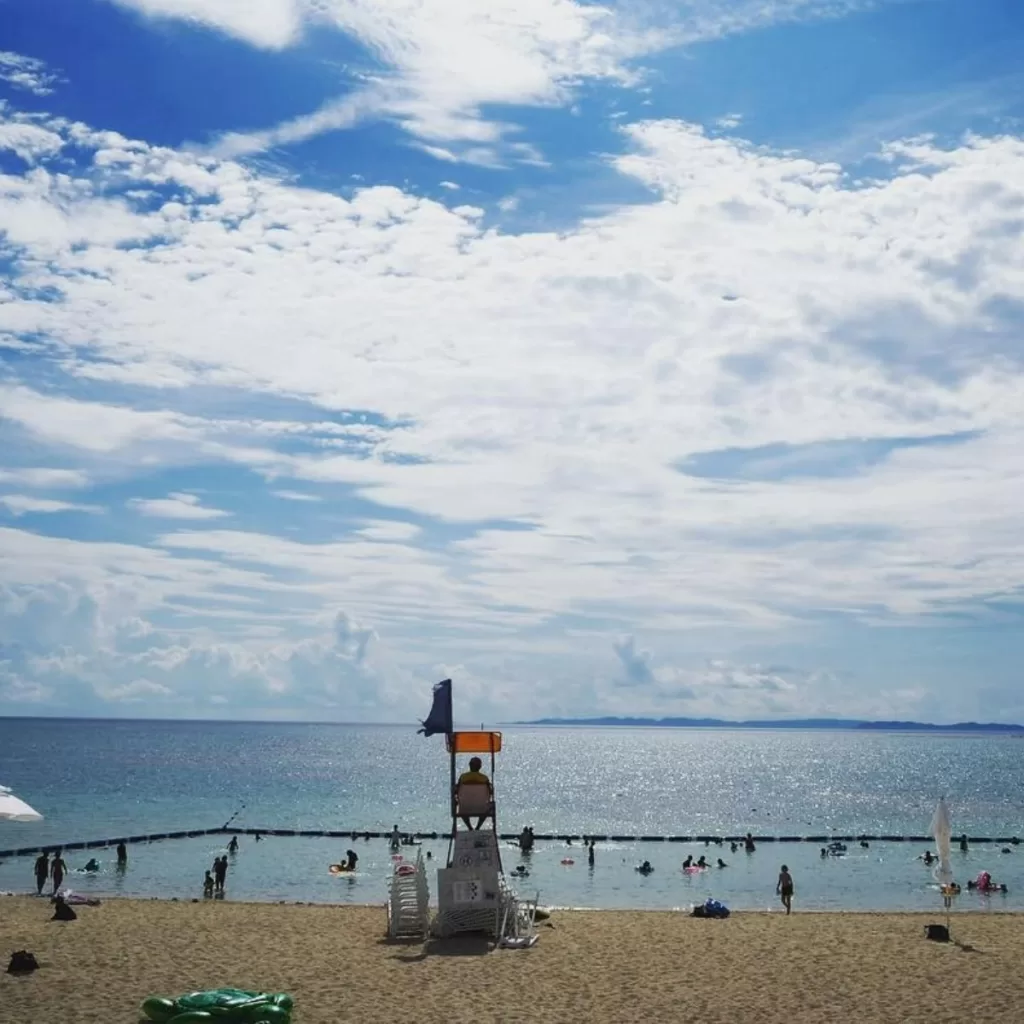 This beach is popular among locals and tourists alike, attracting visitors with its inviting white sands and crystal-clear waters. The beach provides a peaceful and serene atmosphere, making it a perfect spot for relaxation and rejuvenation.
For a lively beach scene, head to Sun Beach along the Mid-Sea Road on Okinawa Honto. The spacious beach contains plenty of entertainment, like beach volleyball, marine sports, and live music.
Visitors can rent water equipment like parasails, banana boats, and snorkeling gear. Sun Beach also contains cafes and restaurants. Due to the strong currents offshore, swimming is not recommended. Instead, enjoy beachside fun and amazing sunset views.
---
Naminoue Beach
Located in Naha City next to Naminoue Shrine, Naminoue Beach has cultural significance in addition to being a popular beach destination. According to legend, a giant, moss-covered rock on the beach is imbued with supernatural powers.
Swimming here is discouraged due to strong currents, but the beach is great for a sunny stroll. Visitors can also enjoy the shrine festival held every May. Naminoue Beach boasts stunning views of the crystal-clear turquoise waters and soft sandy shores that are characteristic of the region. It is a favorite destination for beach lovers seeking relaxation and scenic beauty.
Naminoue Beach is not only admired for its natural beauty but also holds cultural significance. The Naminoue Shrine, located nearby, adds a touch of spirituality and history to the beach. Towering above the beach on a cliffside, the shrine offers striking views of the ocean and serves as a place of worship for locals and visitors alike.
---
Maehama Beach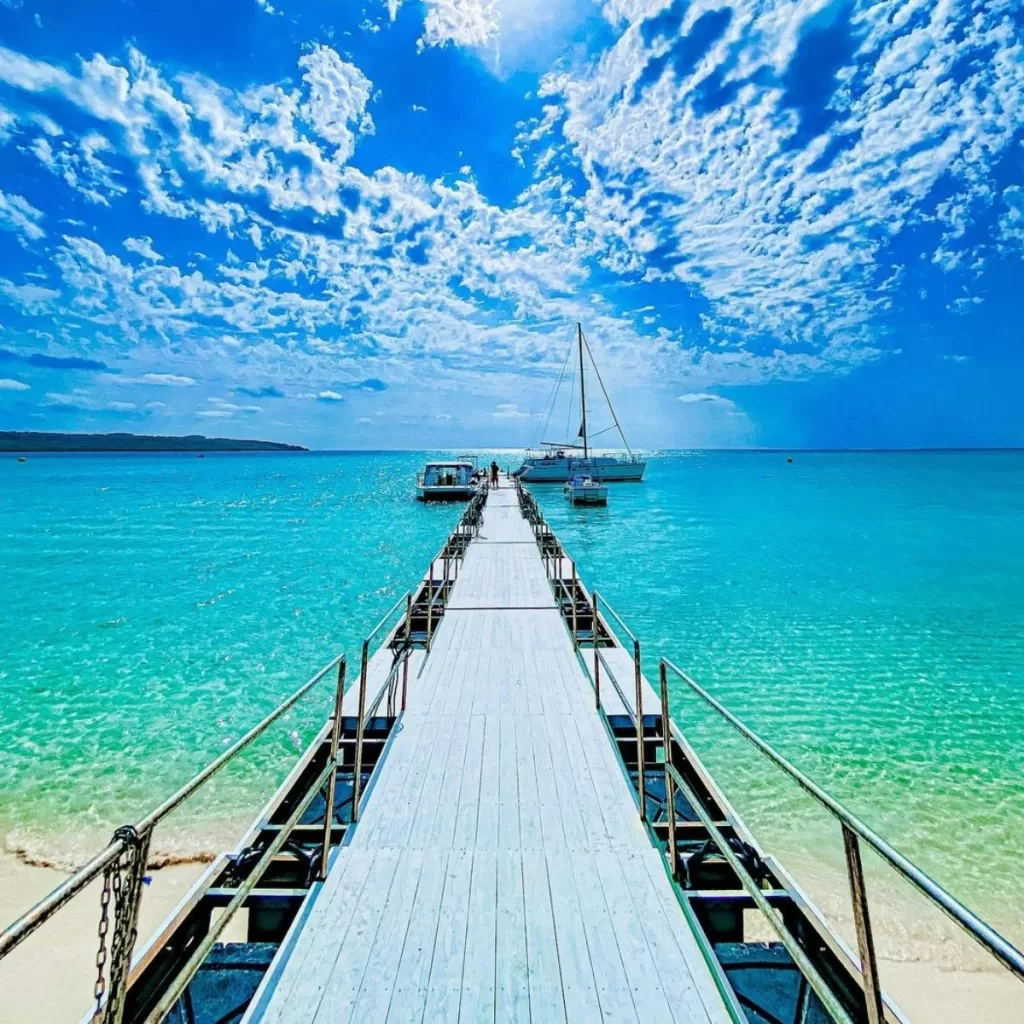 The beach with natural white sand creates a picturesque backdrop against the vibrant hues of the ocean, creating a paradise-like setting that is perfect for beach lovers.
On the north coast of Okinawa Honto lies Maehama Beach, popular among locals for its long stretch of white sand and calm swimming area. Snorkeling gear and aquatic equipment rentals are available in the area.
Nearby attractions include the Churaumi Aquarium and the Ocean Expo Park. Transportation to Maehama Beach from Naha Airport takes around 2 hours by car or public transportation.
---
Azama Sun Sun Beach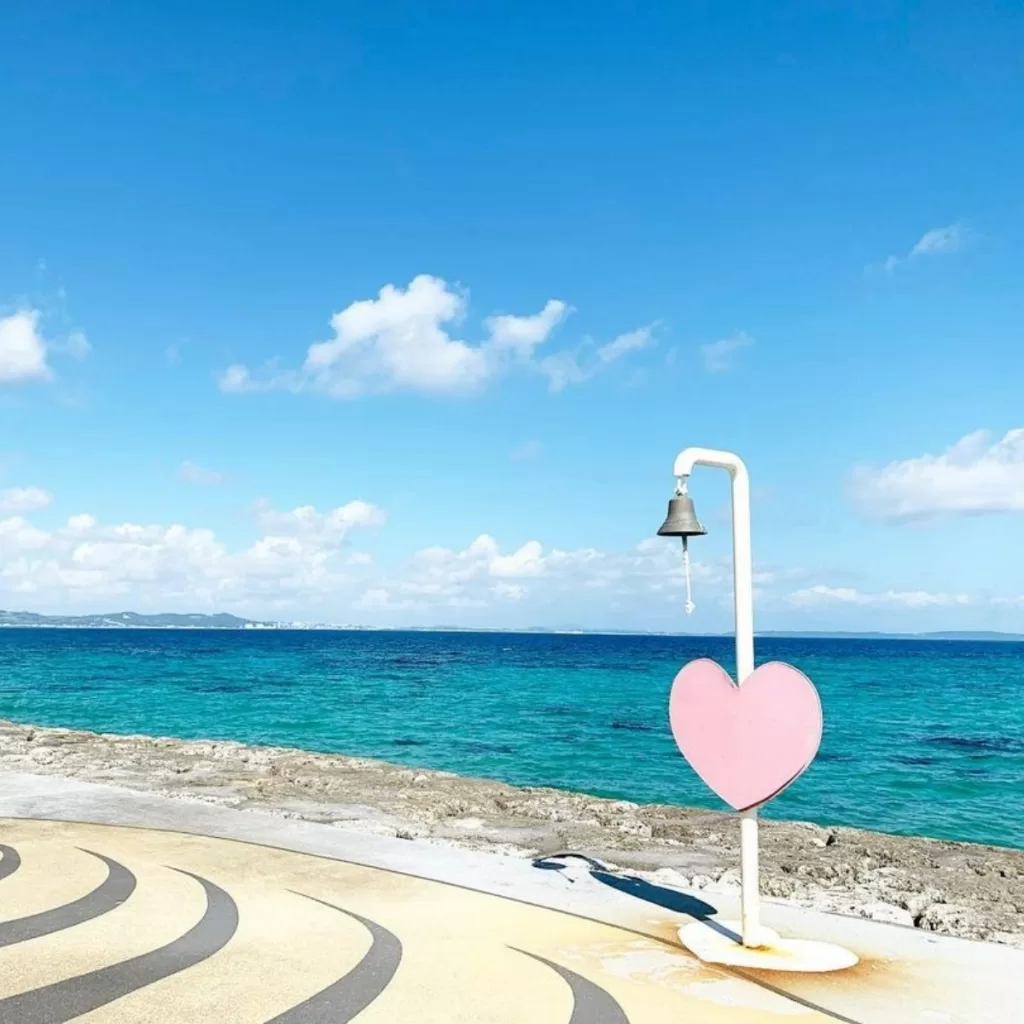 Azama Sun Sun Beach is located on the west coast of Okinawa Honto near Nago. The spacious beach contains plenty of entertainment, like aqua scooters, banana boats, and marine sports equipment rentals.
As you stroll along the beach, you'll be amazed by the breathtaking views of the surrounding landscape. The lush greenery, towering cliffs, and distant islands create a stunning backdrop, adding to the overall beauty and charm of the beach.
Visitors can also enjoy swimming, snorkeling, and diving. Azuma Sun Sun Beach provides lockers, showers, food stalls, and beach gear rentals. It's an excellent option for people looking for an active beach day.
---
Kondoi Beach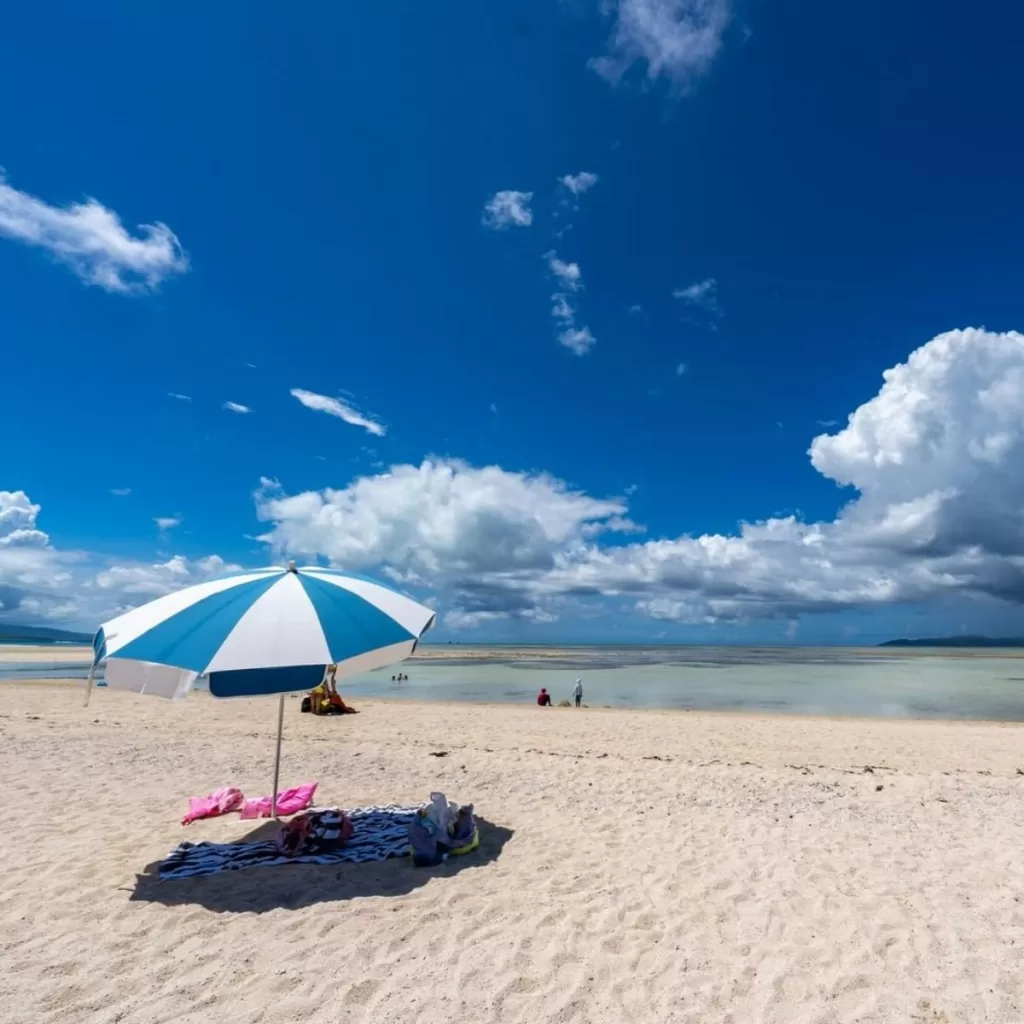 The beach's location on Taketomi Island adds to its allure. The little island exudes a charming and laid-back atmosphere that transports visitors to a simpler and slower way of life. Kondoi Beach perfectly embodies this island charm, making it a popular choice among those seeking an escape from the bustling city life.
Despite its unspoiled nature, Kondoi Beach still provides essential facilities for visitors' comfort. Beach huts and rental services are available, offering shade and beach equipment for a day of relaxation. There are also showers, restrooms, and changing rooms where visitors can freshen up after a swim in the invigorating waters.
Lifeguards are on duty in the roped off swimming area. Kondoi Beach also contains public restrooms, showers, food stalls, and equipment rentals. After sunset, visitors can enjoy breathtaking views of the starry night sky over the beach.
---
Nishibama Beach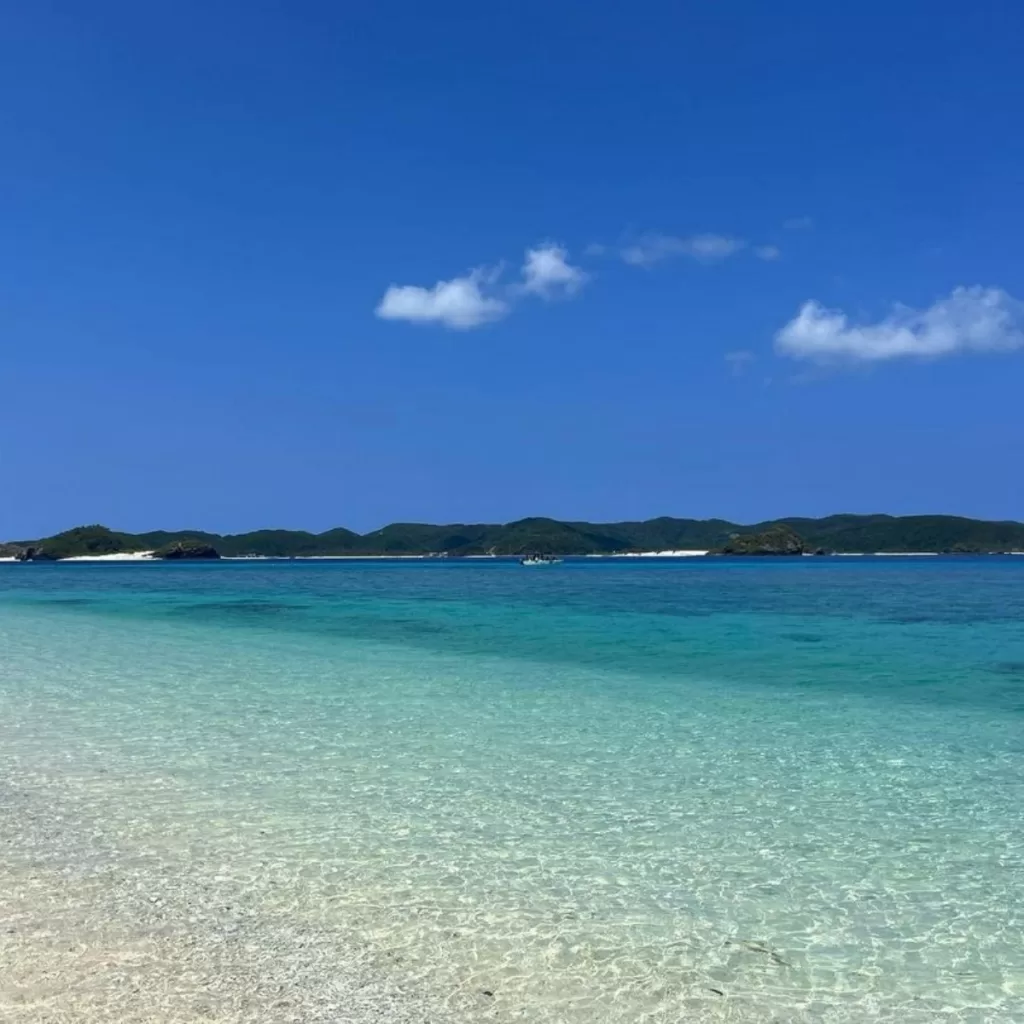 With its sparkling blue waters, fine white sand, and stunning natural surroundings, Nishibama Beach is often considered one of the most beautiful beaches in Okinawa.

Nishibama Beach is known for its tranquil and secluded setting. Situated away from the bustling tourist areas, it provides a serene escape where visitors can relax and rejuvenate amidst the unspoiled beauty of nature.
The soft and powdery texture makes it a pleasure to walk on and is ideal for beach activities. Visitors can enjoy sunbathing, building sandcastles, or simply taking a stroll along the shoreline, embracing the beauty and serenity of the beach.
---
Sunayama Beach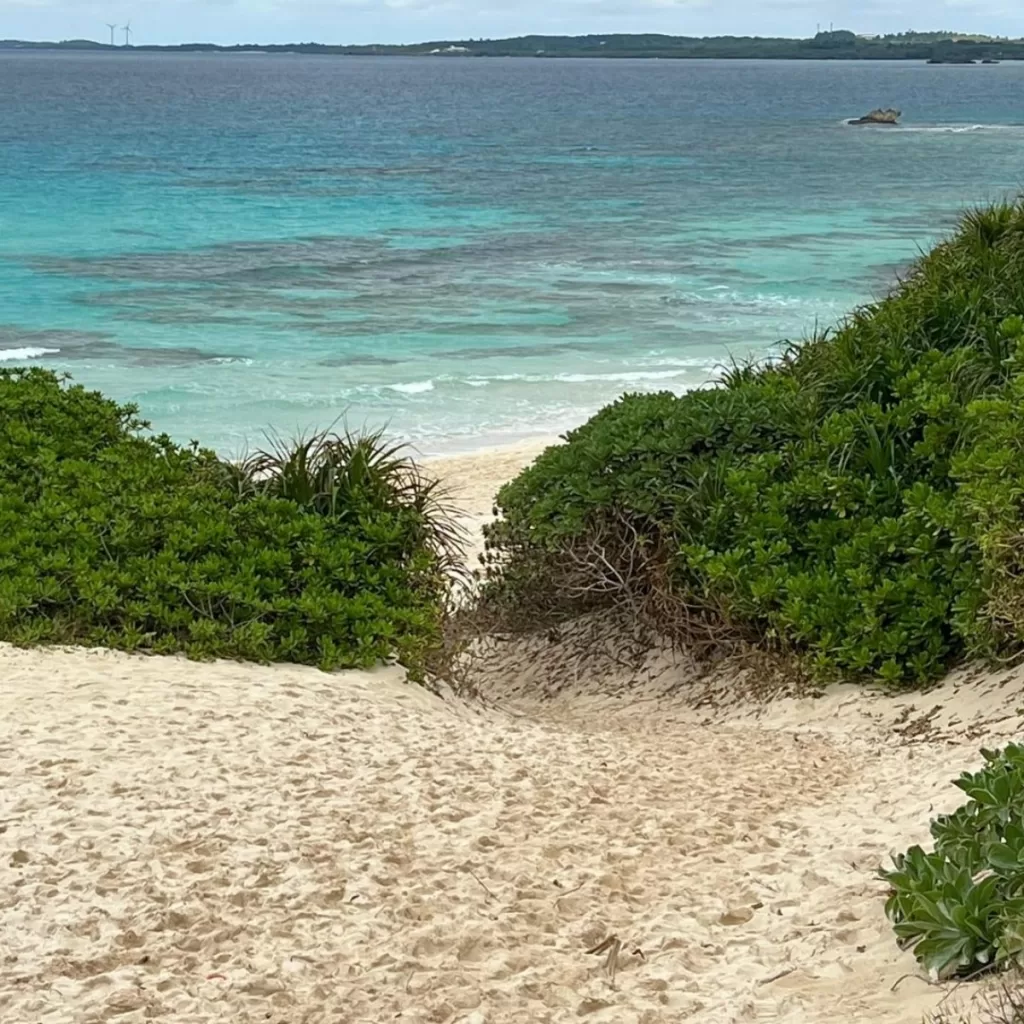 Sunayama Beach is renowned for its unique rocky cliffs that line the coast, creating a dramatic backdrop for the glistening sands and azure waters. These rugged cliffs add a touch of grandeur to the beach, giving it a sense of seclusion and natural beauty. Visitors can explore the area by climbing the cliffs or admire their awe-inspiring beauty from the beach.
The beach also offers spectacular panoramic views, especially during sunrise and sunset. As the sun casts its golden rays over the beach, the landscape comes alive with vibrant colors and breathtaking vistas.
Whether capturing the beauty with your camera or simply immersing yourself in the mesmerizing scenery, Sunayama Beach provides a magical and unforgettable experience.
---
Sunset Beach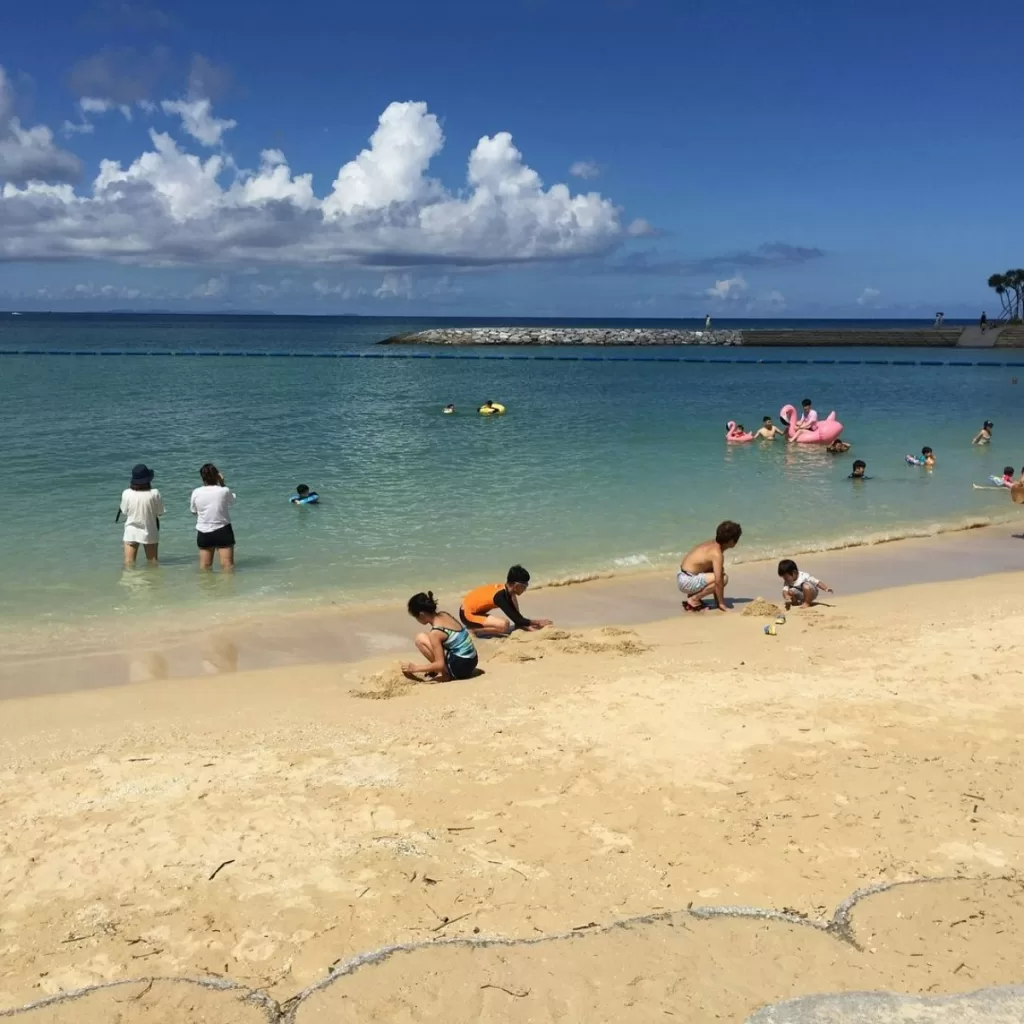 With its golden sand, turquoise waters, and vibrant atmosphere, it offers the perfect setting to unwind and enjoy the splendor of nature.
The beach's name is derived from the breathtaking sunsets that fill the sky with a colorful array of hues. As the sun sets on the horizon, the beach transforms into a magical haven where visitors can witness the awe-inspiring beauty of nature. The combination of the golden hues reflecting on the calm waters creates a truly enchanting experience.
In addition to its natural beauty, Sunset Beach offers a lively and vibrant atmosphere. The beach has bustling cafés, bars, and restaurants, offering various dining and entertainment options. Tourists can indulge in delicious local cuisine while enjoying the beach's stunning views and soothing ocean sounds.
---
Manza Beach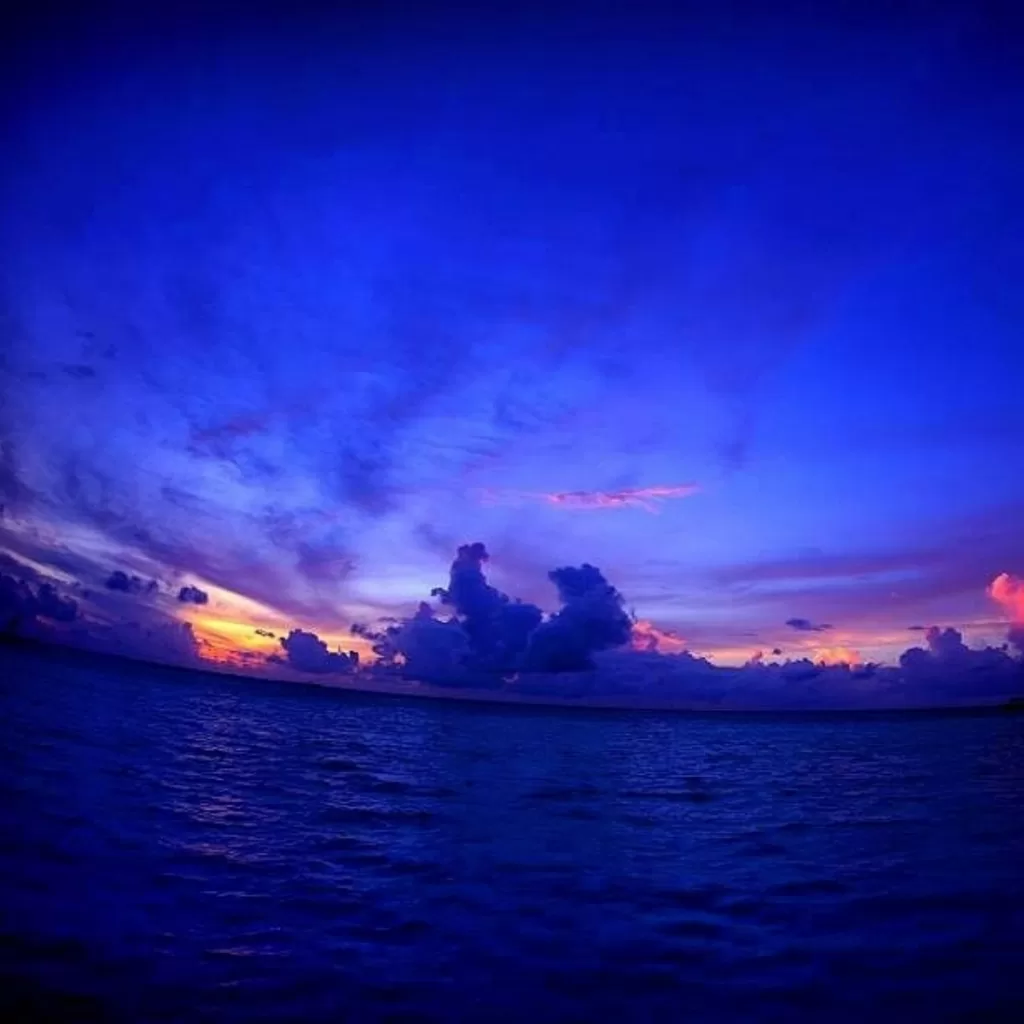 Manza Beach in Okinawa is a beautiful and enchanting destination that offers a pristine beach experience. With its soft white sand, clear azure waters, dramatic surroundings, and captivating sunsets, this beach is a haven for beach and nature lovers.
One of the highlights of Manza Beach is its breathtaking sunsets. The sky is set ablaze with vibrant orange, pink, and purple hues as the sun starts to go down, casting a magical glow over the beach. Watching the sunset at Manza Beach is a mesmerizing experience that embodies the beauty and tranquility of nature, leaving visitors in awe of its splendor.
Whether you're seeking relaxation, adventure, or simply a place to unwind amidst the stunning beauty of nature, Manza Beach is the perfect choice.
---
Tinu Beach
The beach boasts stunning golden sand that stretches as far as the eye can see. Its velvety texture and warm hues create a captivating backdrop against the turquoise waters. Whether you're sunbathing under the clear blue sky or taking long walks along the shore, the beauty of Tinu Beach will transport you to blissful relaxation.
One of the highlights of Tinu Beach is its sense of seclusion and tranquility. There is also a secluded spot to enjoy the sounds of the gentle waves and the song of the birds, immersing yourself in the serenity of this hidden oasis.
Tinu Beach also offers breathtaking views that are postcard-worthy. From the beach, you can marvel at the vast expanse of the ocean, the distant islands, and the beauty of the natural surroundings. Watching the sunset paint the sky with vibrant colors or gazing at the starry night sky are lovely experiences that will leave a lasting impression on your heart and soul.