Want to attend the Best Festivals and Events to Experience in Japan? This vibrant country is known for its lively and colorful festivals that showcase the nation's rich cultural traditions.
Attending Japanese festivals and events allows visitors to immerse themselves in Japanese culture while enjoying the vibrant and festive atmosphere that defines this incredible country. Take a look at the top 18 festivals and events worth experiencing in Japan in 2023.
Gion Matsuri (Kyoto)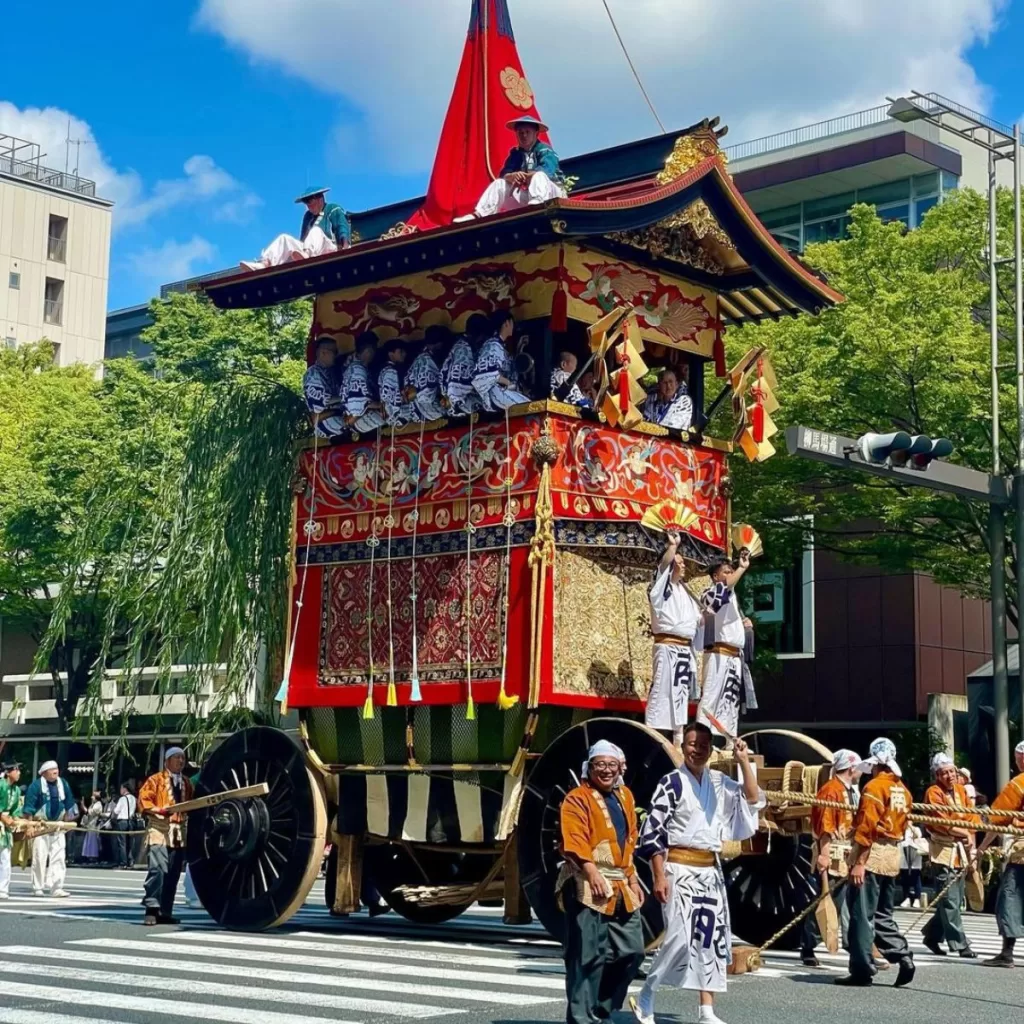 Date: July 1st- 31st
The Gion Festival, held in Kyoto, is one of Japan's biggest and most famous festivals. Dating back over 1000 years, it began as a religious festival to appease the gods during outbreaks of plague. Today, the festivities last the entire month of July, with the main events taking place over two days in July.
The highlight is the grand parade on July 17, featuring over 30 elaborate floats called yama and hoko that are up to 25 meters tall and weigh around 12 tons each. These floats were originally used solely for the festival but are now designated as UNESCO Intangible Cultural Heritage.
Over a million people attend with many wearing traditional Japanese yukata or summer kimono. With its long history and huge attendance, Gion Matsuri in Japan gives visitors a chance to experience one of Japan's most important festivals. It's definitely one of the best festivals in Japan.
---
Sapporo Snow Festival (Hokkaido)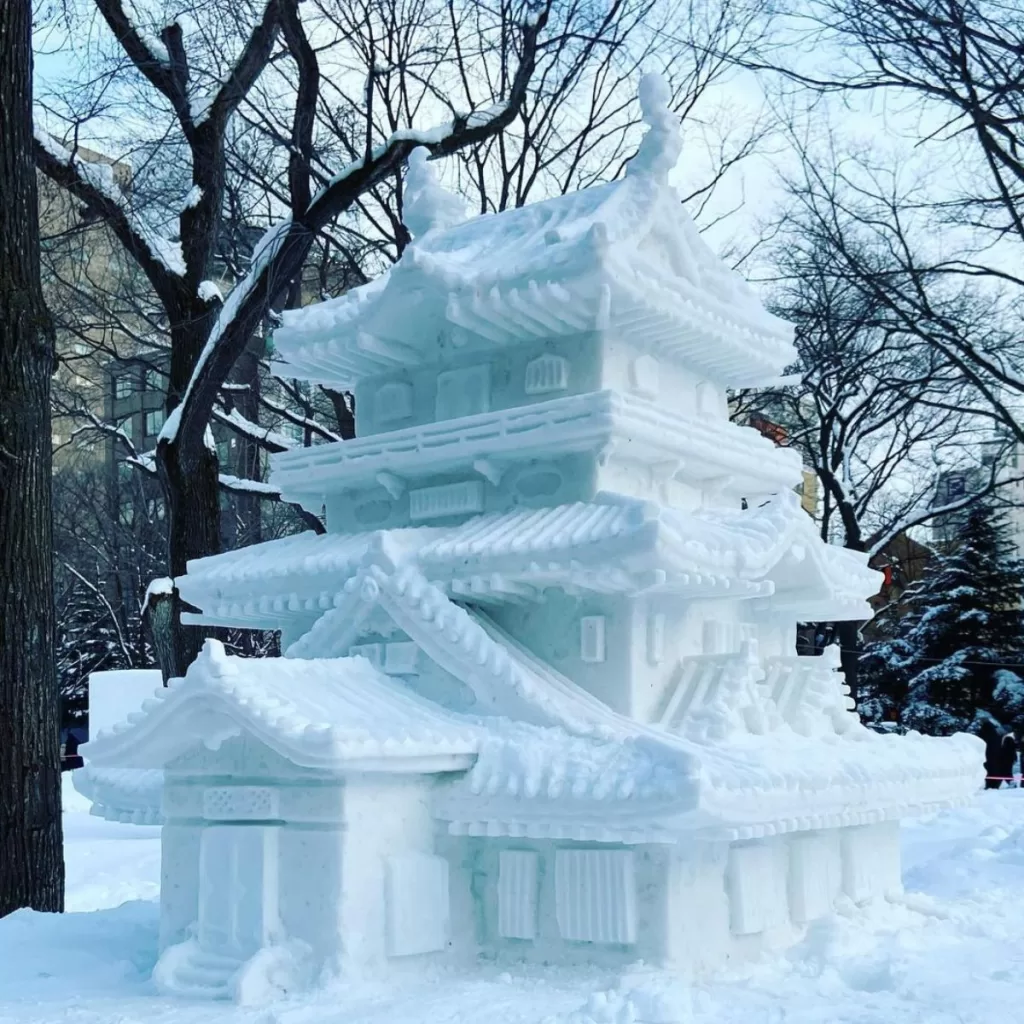 Date: Early February
One of Japan's Biggest Snow and Ice Festivals. The Sapporo Snow Festival held annually in February is one of Japan's largest and most famous snow and ice festivals. Held in Sapporo on the northern island of Hokkaido, this weeklong event draws over 2 million visitors to see the incredible snow and ice sculptures covering Odori Park and other sites throughout the city.
An international snow sculpture contest takes place along with exhibitions, musical performances, and local food vendors. At night the sculptures are beautifully illuminated, creating a magical atmosphere.
The festival began in 1950 as a way to promote tourism to Sapporo. Today it attracts visitors from all over Japan and around the world. Sapporo Snow Festival is definitely one of the best and most interesting festivals in Japan to experience in winter.
---
Aomori Nebuta Festival
Date: August 2nd-7th
Famous for Its Lantern Floats. The Aomori Nebuta Festival takes place every August in the northern city of Aomori. One of Tohoku region's most famous festivals, it draws over 3 million visitors. The festival includes parades of massive lantern floats called nebuta that are carried through the streets accompanied by dancers known as haneto.
The elaborate floats are constructed of wood and paper and illustrate fanciful images from Japanese legends and history. Warriors known as hetai clash spears during the parades, and taiko drummers provide musical accompaniment. Fireworks also light up Aomori Bay during the festival.
Visitors can enjoy local cuisine such as grilled squid at stands throughout the city. The Aomori Nebuta Festival's vibrant floats and lively dancers and music make it one of Japan's most entertaining events.
---
Tenjin Matsuri (Osaka)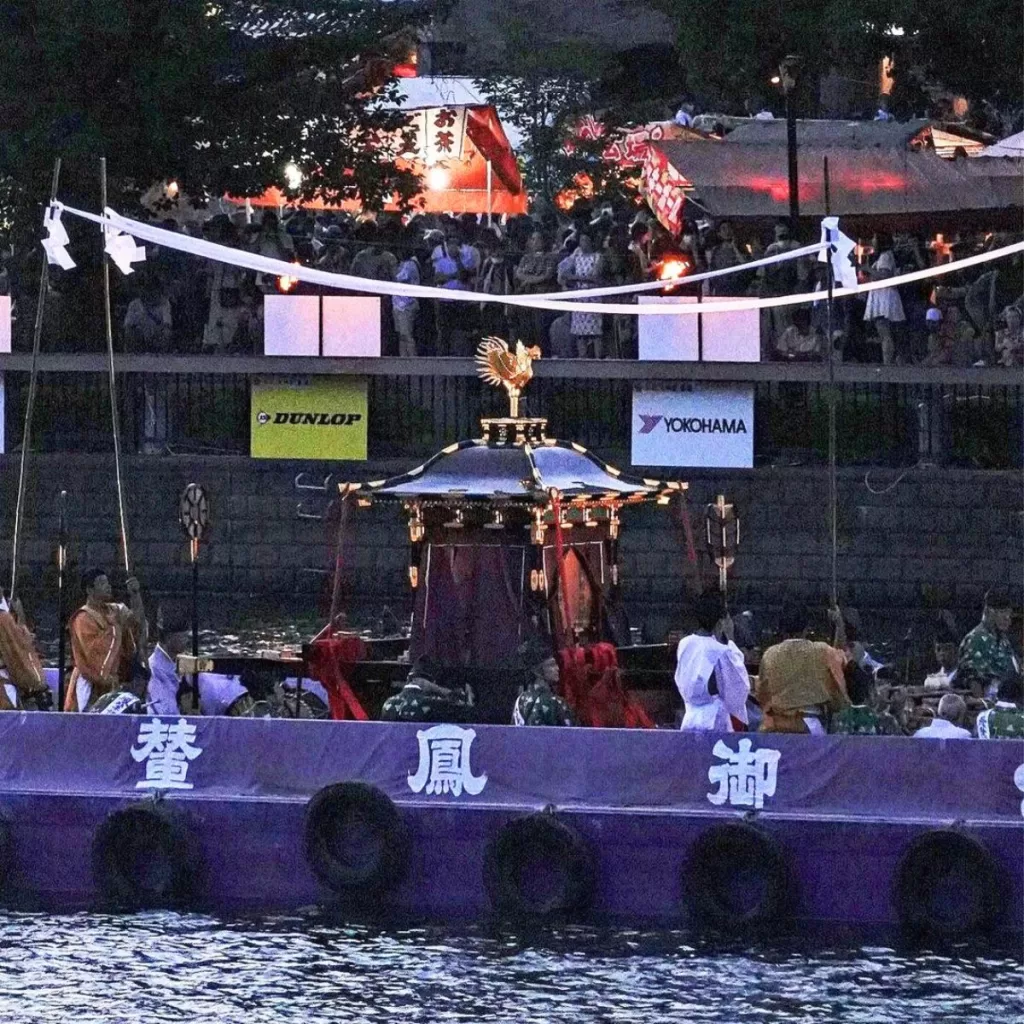 Date: July 24th-25th
Osaka hosts the Tenjin Matsuri every July, one of Japan's Three Great Festivals. As with the Gion Matsuri, the origins of the festival date back over 1000 years. The festivities center around the Tenmangu Shrine.
The main event is the land procession featuring over 3000 participants dressed in traditional attire who parade through the streets carrying ornate mikoshi (portable shrines). A highlight is the parade of red-capped drummers. The festival culminates with the boat procession down the Okawa River featuring boats illuminated with torches and paper lanterns in an impressive spectacle. Musicians and performers entertain crowds along the riverbanks.
Visitors can also try local cuisine at food stalls set up near the shrine grounds. Tenjin Matsuri gives attendees the opportunity to witness one of Japan's grandest historical festivals.
---
Kanda Matsuri (Tokyo)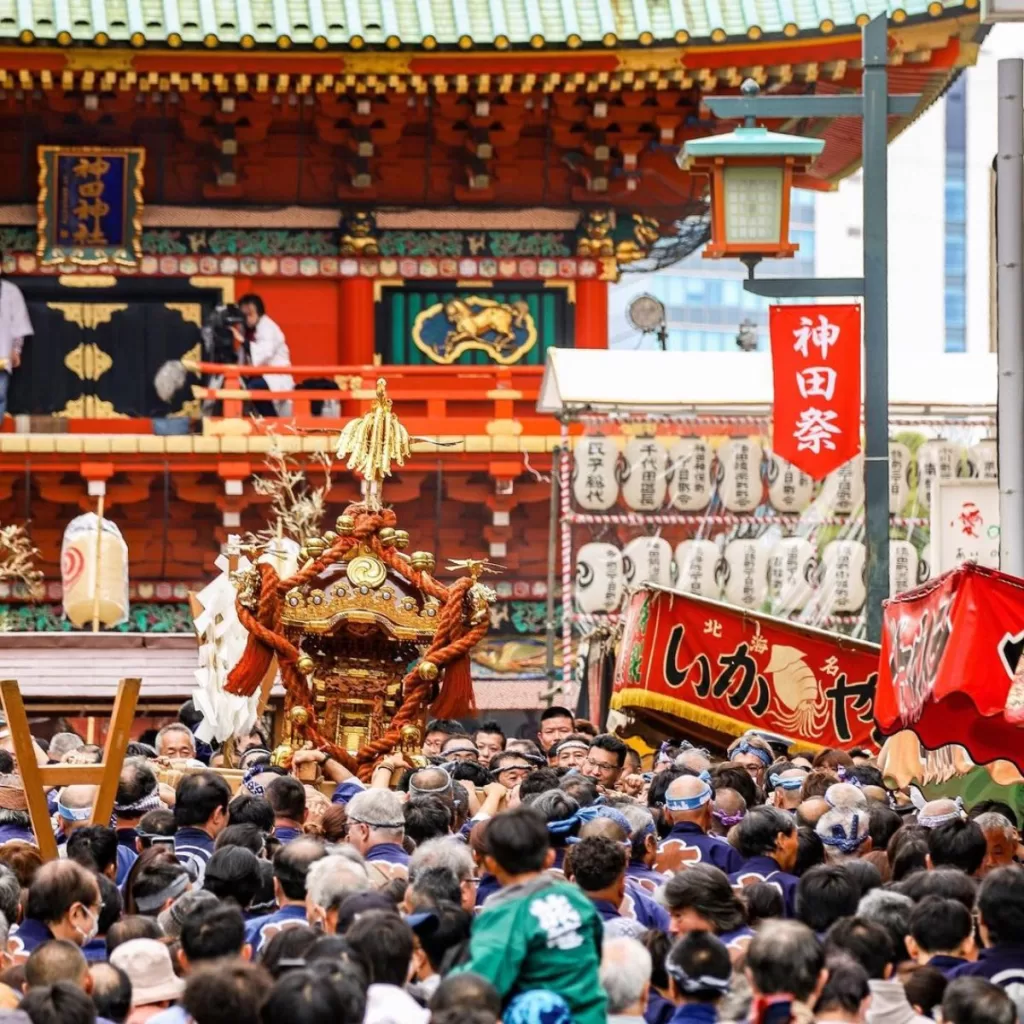 Date: Saturday and Sunday closest to May 15th
Famous for Its Mikoshi Parade. Held every two years in May, the Kanda Matsuri in Tokyo is one of Japan's biggest and most famous festivals. This Shinto festival honors the Kanda Myojin shrine, first built in the year 730.
The highlight is a boisterous parade of up to 100 mikoshi carried by groups of men through the streets as they shout, "Wasshoi, wasshoi!". After the parade, food stalls open at the shrine selling traditional Japanese street food.
Events also include a costumed horseback archery ritual. As one of Japan's wildest and loudest matsuri, the Kanda Matsuri is a fantastic way to witness traditional matsuri atmosphere.
---
Nagasaki Lantern Festival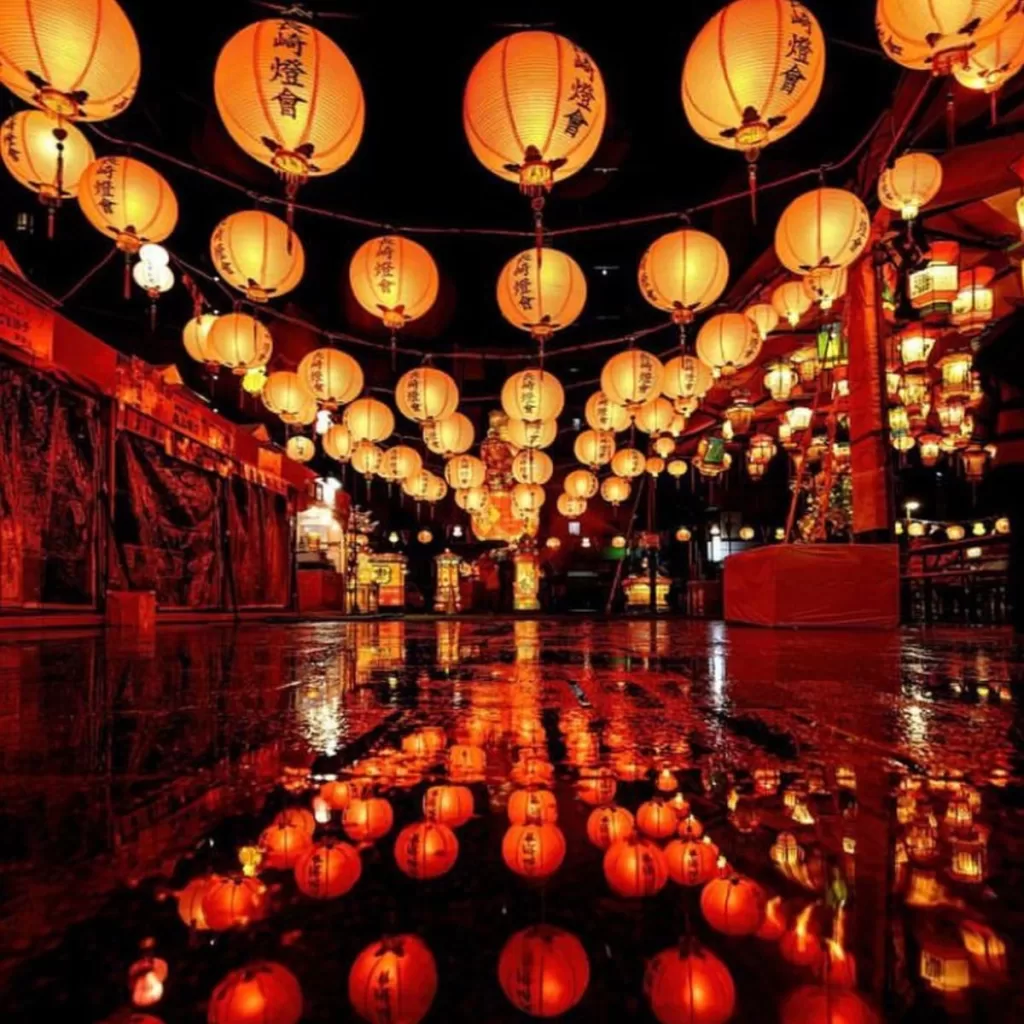 Date: Mid to Late February
One of the most famous and beautiful festivals in Japan. The Nagasaki Lantern Festival is held every February to mark the end of the Lunar New Year period. Over 15,000 handmade lanterns made of paper and bamboo beautifully illuminate Nagasaki's Chinatown.
The lamps come in a vibrant array of colors, shapes and sizes. In addition to the stunning lantern displays, visitors can enjoy Chinese street food, lion dances, and a parade. Originating in China, lantern festivals were introduced to Nagasaki's Chinatown by Chinese immigrants centuries ago.
Today the festival attracts over 1 million visitors, making it one of the biggest lantern festivals in Japan and Asia. The Nagasaki Lantern Festival is considered one of Japan's most scenic events.
---
Takayama Festivals (Gifu)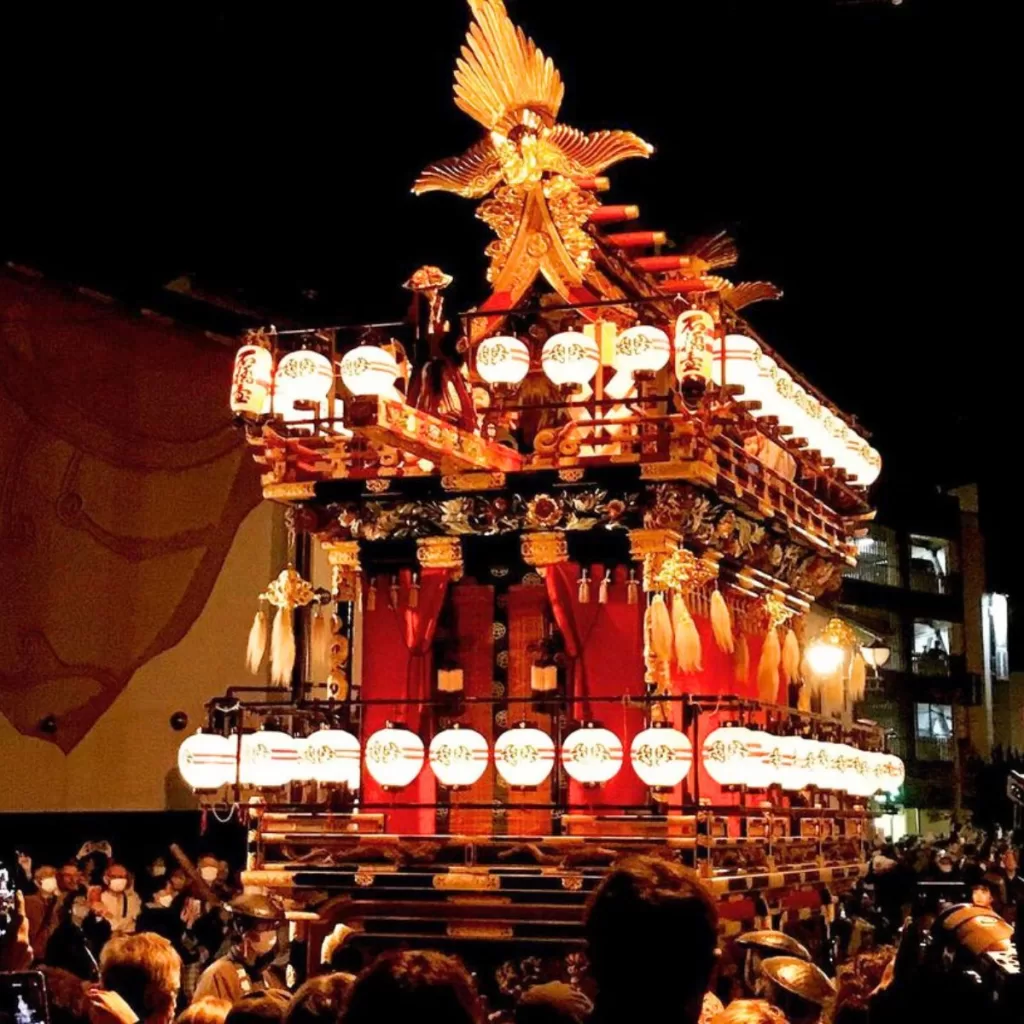 Date: One festival is held on April 14th and 15th, and the other on October 9th and 10th
Famous for Its Floats and Puppet Shows. The Takayama Festival held annually in the mountain town of Takayama in Gifu prefecture, is considered one of Japan's most beautiful festivals. Dating back over 400 years, it takes place in both spring and autumn, with spectacular floats called yatai as the main attraction.
There are 11 floats designed in intricately carved wood with metal ornamentation and tapestries. Four of them are several centuries old and protected by the Japanese government. Puppet shows known as karakuri ningyō are performed on the floats. Over 300,000 people attend the festival, with the best views along the main street where the floats are paraded.
Visitors can also browse the morning market in Takayama showcasing traditional crafts and foods. Takayama Festival in Gifu allows attendees to witness master craftsmanship through the floats.
---
Chichibu Night Festival (Tokyo)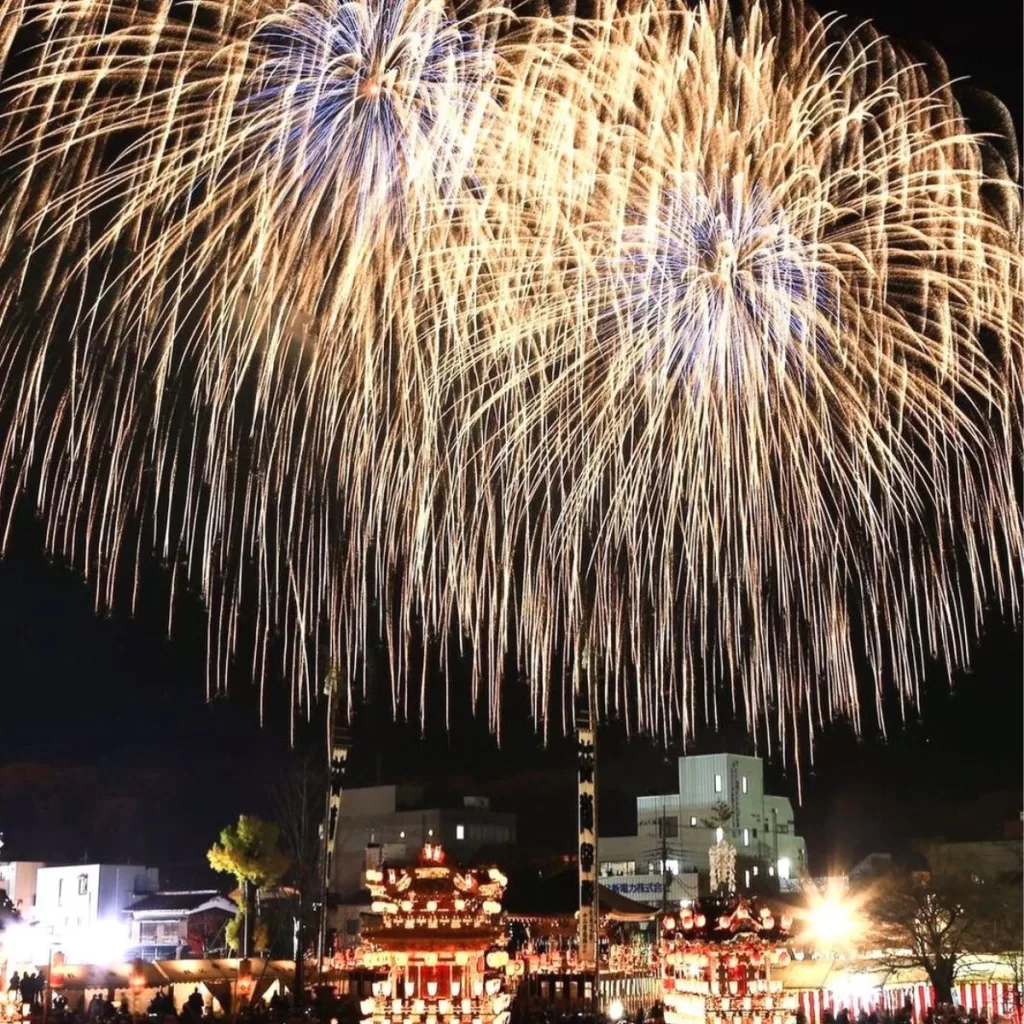 Date: December 2nd-3rd
Known for Its Unique Floats. The Chichibu Night Festival is held every December near Tokyo in Saitama prefecture. Dating back over 300 years, it's one of Japan's most famous night festivals. Six spectacular floats measuring up to 20 meters tall are paraded through the streets at night by locals in traditional costume.
Some floats have mechanical puppets that perform dramatic scenes accompanied by music and narration. Over 150,000 fireworks are also launched creating a dazzling spectacle. With all the festival excitement taking place after dark illuminated by the glow of lanterns and fireworks, Chichibu Night Festival offers a magical experience unlike any other Japanese matsuri.
With its abundance of unique, colorful and lively festivals steeped in tradition, Japan is one of the best places in the world to experience festivals. The festivals featured here represent some of the most famous matsuri and events held across Japan throughout the year. They give visitors the chance to witness stunning traditional parades, dances, music, food and more while immersed in Japanese culture.
Whether attending during spring cherry blossom season, summer beach days, fall foliage or winter snow, travelers of all kinds are sure to find an amazing festival in Japan to create wonderful memories.
---
Cherry Blossom Festivals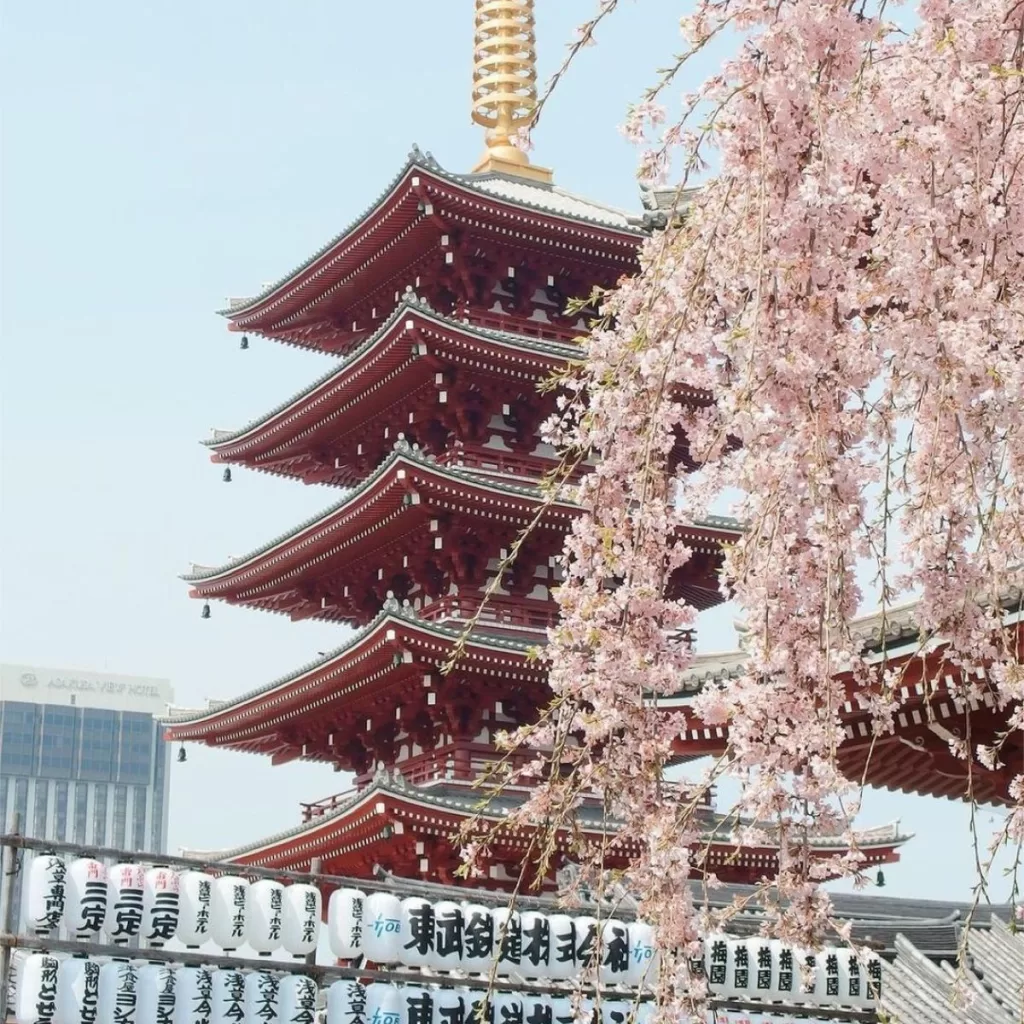 Date: late March to early April
Cherry Blossom Festivals, or Hanami, are eagerly awaited events in Japan that celebrate the blooming of cherry blossom trees. Taking place across the country from late March to early April, these festivals mark the arrival of spring and the stunning display of delicate pink and white sakura flowers. The festivals are highly anticipated and attract Japanese people and tourists who seek to immerse themselves in these blooming flowers' beauty and fleeting nature.
During the Cherry Blossom Festivals, parks, temples, and other public spaces become adorned with cherry blossom trees. People gather underneath the blooming trees with family and friends for picnics, strolls, and traditional celebrations.
One of the highlights of the festivals is the nighttime illuminations of cherry blossom trees, creating a magical ambiance. Parks and gardens transform into a wonderland of twinkling lights, enhancing the breathtaking beauty of the cherry blossoms. The illuminations offer a unique and enchanting experience, further intensifying the sense of wonder and delight.
---
Hakata Gion Yamakasa Festival (Fukuoka)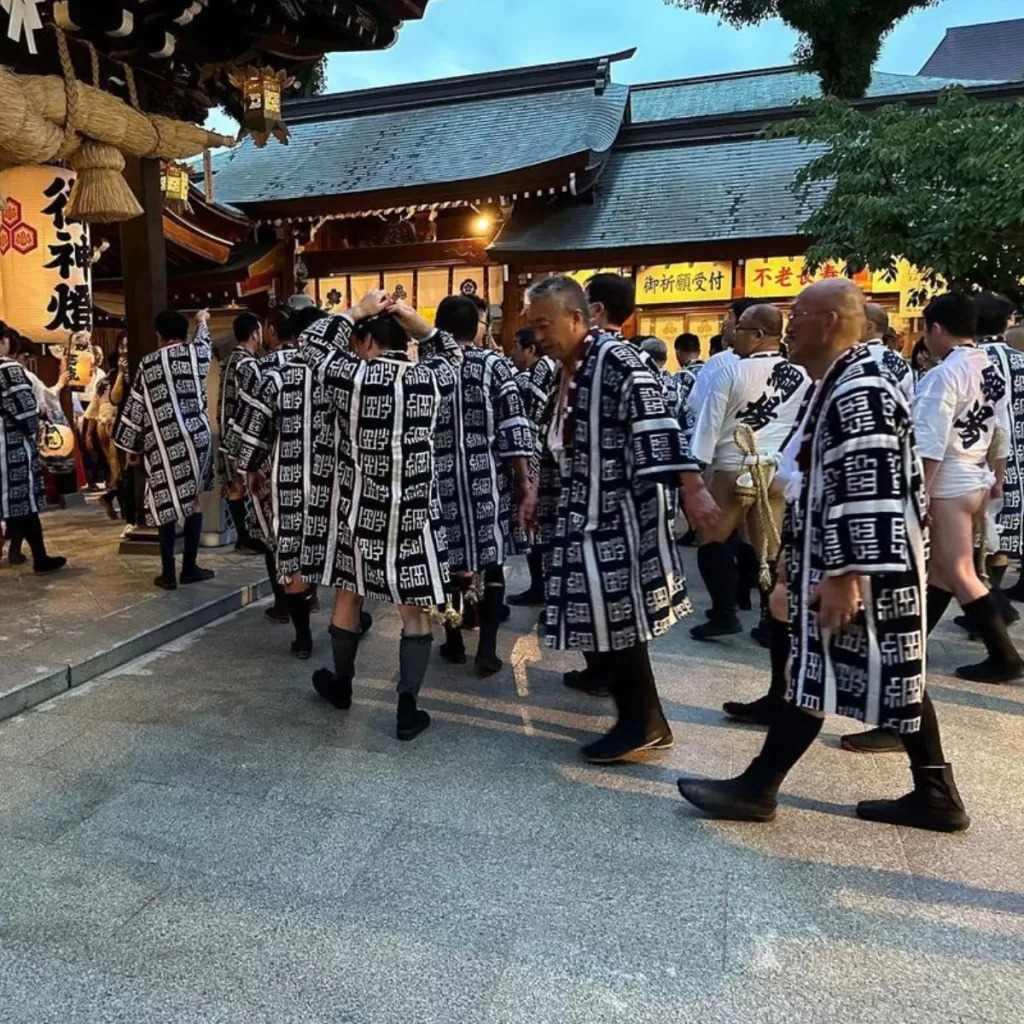 Date: July 1st- July 15th
The Hakata Gion Yamakasa Festival in Fukuoka is among Japan's best and most renowned festivals. The festival is a vibrant celebration that takes place every July, attracting both locals and visitors from around the world. It is a must-see event for anyone planning a trip to Japan.
This July festival has parades of massive 4-ton wood and iron floats called kakiyama raced through the streets by teams of men. They yell "Yoitosa!" while carrying the kakiyama on their shoulders.
The festival's main highlight is the breathtaking race known as the "yamakasa." Participants wearing traditional happi coats race through the streets carrying massive, towering wooden floats called "kazariyama." These floats are meticulously crafted and adorned with colorful imagery, making the spectacle truly awe-inspiring. Being one of Japan's best and most famous festivals, Hakata Gion Yamakasa is a truly unforgettable experience.
---
Sanja Matsuri (Tokyo)
Date: Third weekend of May
Sanja Matsuri is an annual festival held in Tokyo and is widely regarded as one of the best Japanese festivals. Taking place on the third weekend of May, Sanja Matsuri attracts thousands of visitors from around Japan and even around the world. The festival is a vibrant and lively celebration of the Shinto deities enshrined at Asakusa Shrine.
Over 100 mikoshi shrines are carried through the streets of Asakusa in May during this major Tokyo festival. The rowdy festival includes traditional music and dance.
During the three-day festival, participants enthusiastically carry portable shrines, known as mikoshi, through the streets of Asakusa. The mikoshi are lavishly adorned with intricate decorations and are believed to house the spirits of the deities. The energetic procession is accompanied by traditional music, including taiko drums and flutes, creating a lively and festive atmosphere.
---
Gujo Odori (Gifu)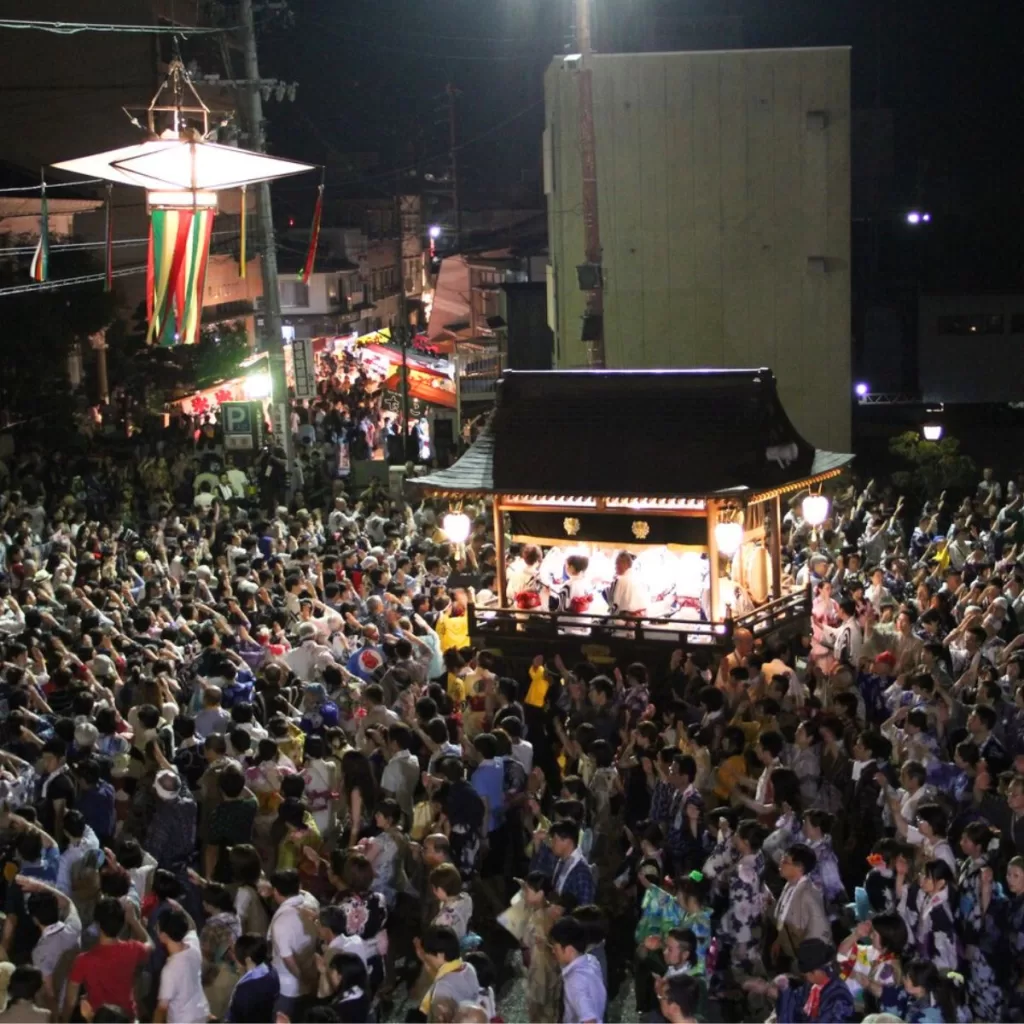 Date: mid-July to early September
Gujo Odori is a traditional famous summer festival that takes place in Gujo Hachiman, a small town in Gifu prefecture. Regarded as one of the most famous and cherished festivals in Japan, Gujo Odori is a celebration of dance and music.
The festival's main dance, the "Gujo Odori," is performed in the evening of the festival. Traditional music played by musicians using Japanese instruments accompanies the dancers as they move in graceful and synchronized formations. Lanterns and colorful yukatas fill the streets, creating a magical ambiance. The event peak occurs during the "All-Night Dance" held on specific nights, where participants dance until the early hours of the morning, fueling the festive energy.
Gujo Hachiman hosts this lively dance festival where participants wear yukata and dance Bon Odori folk dances to music all night long for over 30 nights.
---
Sendai Tanabata Festival (Miyagi)
Date: August 6th-8th
The Sendai Tanabata Festival is a vibrant and enchanting celebration held in the city of Sendai in Miyagi prefecture, Japan. Known as one of Japan's most famous festivals, Sendai Tanabata Festival takes place from August 6th to August 8th each year. The festival is a feast for the eyes, filled with colorful and elaborate decorations that adorn the streets of Sendai.
Colorful paper streamers decorate the streets of Sendai in August for this star festival based on the Chinese Qixi Festival. There are dances and a massive paper crane is displayed.
Visitors can marvel at the beautiful displays, which often feature various shapes and designs, including colorful paper lanterns, giant kites, and intricate handmade ornaments. The festival also showcases traditional dances, music performances, and delicious local food stalls, offering a multisensory experience of Japanese culture.
---
Setsubun Mantoro (Nara)
Date: February 3rd
Taking place on February 3rd each year, this festival is a cherished tradition that attracts both locals and tourists. Setsubun Mantoro is a captivating celebration, known for its mesmerizing display of thousands of lanterns illuminating the ancient temples and shrines of Nara.
As one of Nara's most important cultural festivals, Setsubun Mantoro holds great significance. It signifies the end of winter and the arrival of spring, symbolizing the transition from darkness to light. During the festival, the temples and shrines of Nara are adorned with numerous lanterns, casting a warm and mystical glow throughout the area. Thousands of lit papier-mâché lanterns line the path to Kasuga Taisha shrine for this lantern festival in February marking setsubun, the end of winter.
Setsubun Mantoro is a testament to the enduring traditions and spirituality of Japan. It allows visitors to connect with the cultural heritage of Nara and witness the beauty and tranquility of this remarkable festival.
---
Hadaka Matsuri (Okayama)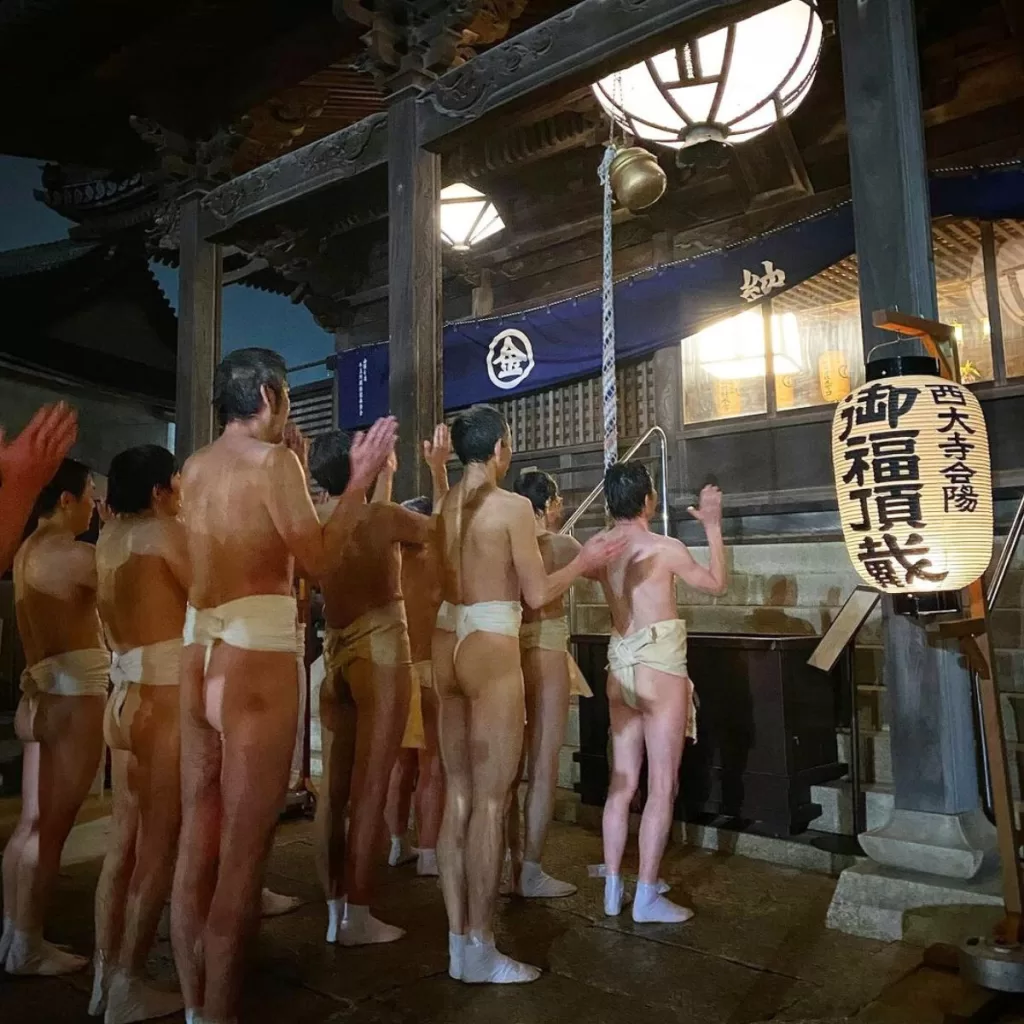 Date: Third Saturday of February
Hadaka Matsuri attracts thousands of brave participants and spectators from near and far. This festival is renowned for its daring and distinctive tradition of men wearing only loincloths as they compete for sacred objects.
Also called the Naked Man Festival, this eccentric February festival has men wearing just loincloths fight over sticks thrown by a priest said to bring good fortune.
Men of all ages gather at the Saidaiji Temple to participate in the Hadaka Matsuri. The atmosphere is electric, filled with the beats of drums and chants of encouragement. The sheer enthusiasm and energy of the participants and spectators create an unforgettable spectacle that captures the essence of Japanese culture and tradition.
Hadaka Matsuri is not only a thrilling event but also a testament to the resilience and spirit of the people of Okayama. It is a captivating and immersive experience, allowing visitors to witness a centuries-old tradition and feel the palpable excitement that surrounds the festival.
---
Sanno Festival (Tokyo)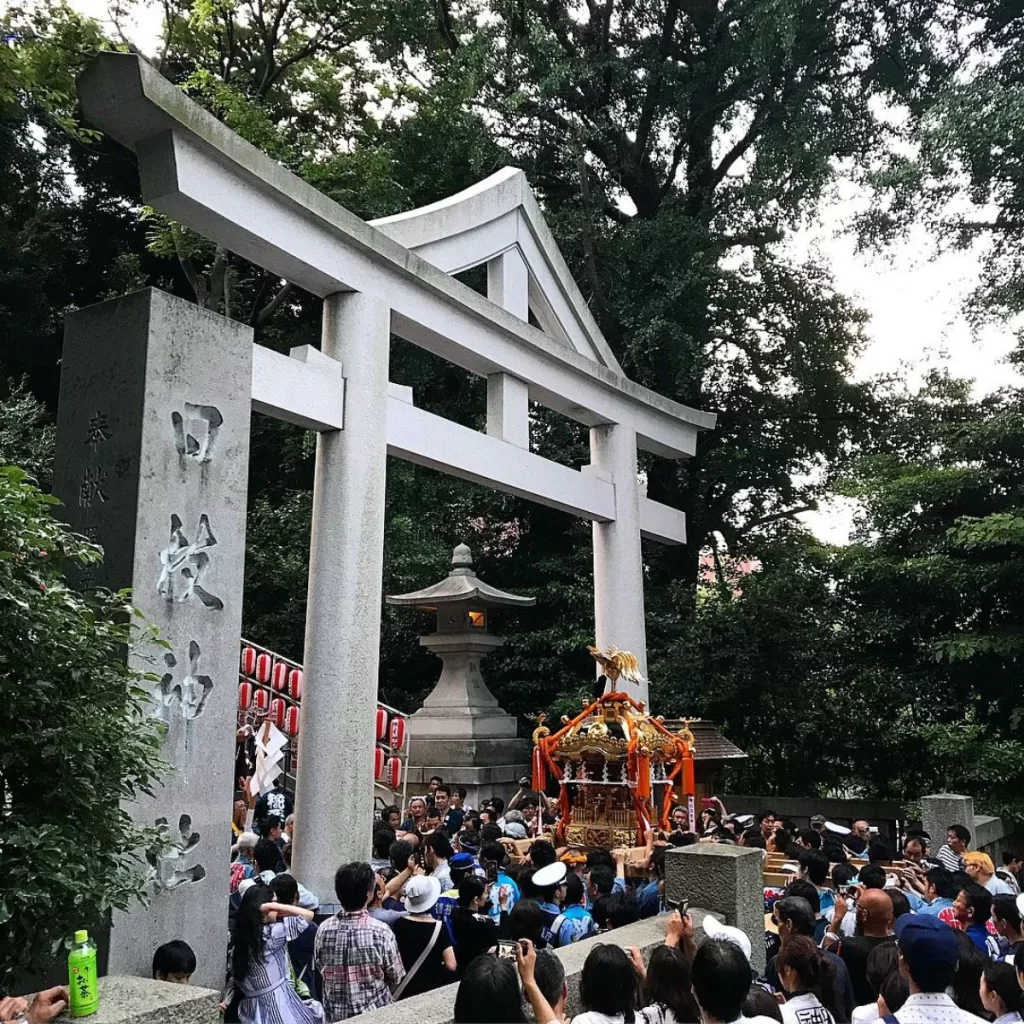 Date: mid June
This festival is one of the most anticipated annual cultural events in Japan. Taking place during even-numbered years in mid-June, the festival is a grand celebration of tradition, heritage, and spirituality. Known for its rich history and vibrant displays, the Sanno Festival draws locals and tourists alike to experience its festive atmosphere.
This festival is one of Tokyo's major cultural highlights, attracting participants and spectators throughout Japan. It is dedicated to the deity Sanno, who is believed to protect the city and its people. The festival is a showcase of traditional rituals, processions, and performances that reflect the deep respect and reverence for Japanese customs.
Throughout the Sanno Festival, various events and ceremonies are held in different areas of Tokyo, including floats parades, music performances, and religious rituals at important shrines. The highlight is the procession of beautifully decorated portable shrines, or mikoshi, carried by enthusiastic participants through the streets. The air is filled with vibrant energy, as spectators line the streets to catch a glimpse of these elaborate processions.
---
Tokyo Bay Fireworks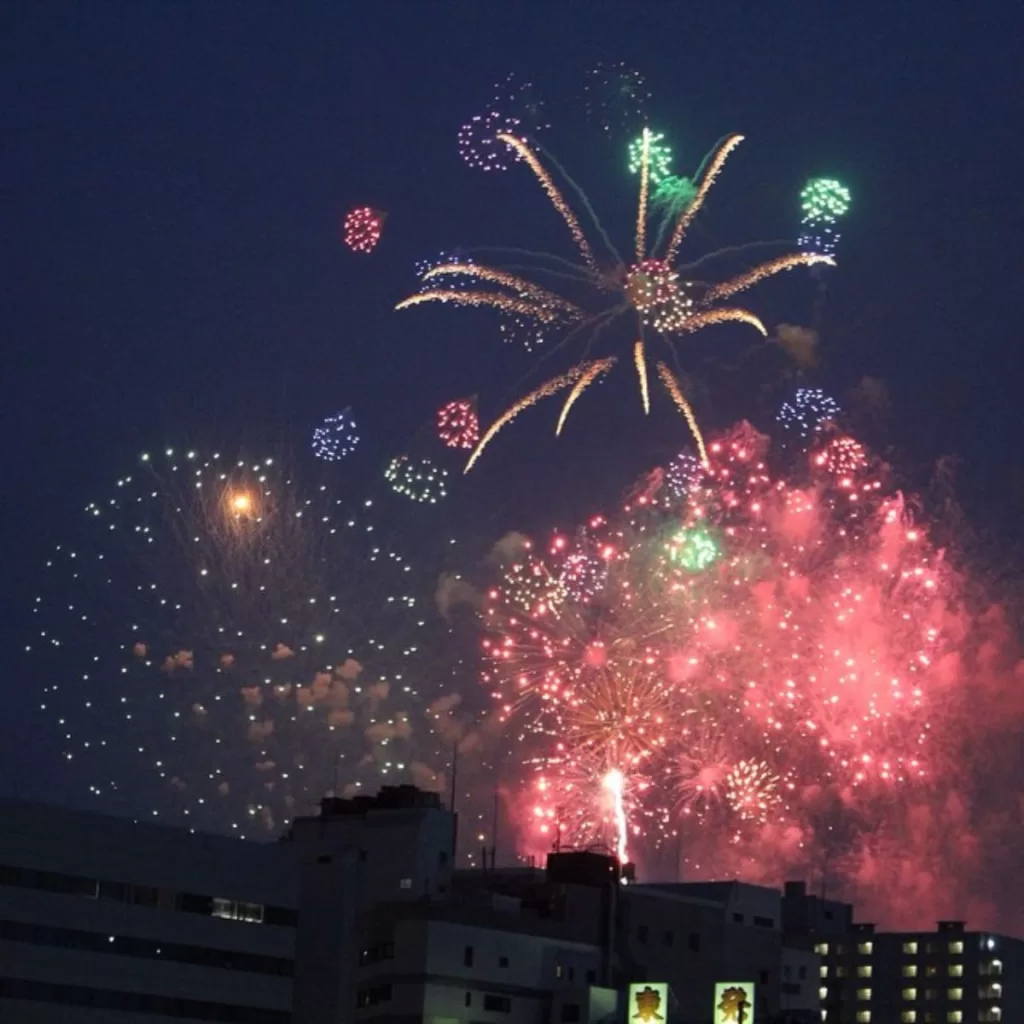 Date: July-August
The Tokyo Bay Fireworks is a spectacular annual event that illuminates the skies of Tokyo, Japan with a mesmerizing display of fireworks. Taking place on the last Saturday of July, this highly anticipated event attracts millions of spectators who gather along the waterfront to witness the breathtaking extravaganza. The Tokyo Bay Fireworks showcase is a testament to the artistry and grandeur of fireworks as an integral part of Japanese culture.
On the designated evening, the night sky above Tokyo Bay becomes a canvas for a dazzling array of colorful fireworks. The meticulously designed fireworks choreography, synchronized to music, captivates the audience with its beauty and precision. The sky is filled with cascading bursts of light, creating intricate patterns and mesmerizing displays that leave spectators in awe.
The Tokyo Bay Fireworks event is not limited to just the sky; it also features performances by skilled artists, live music, and food stalls offering a variety of delicious Japanese cuisine. The festive atmosphere is palpable, as families, friends, and visitors come together to enjoy the spectacle. The waterfront areas are bustling with excitement as people find the perfect spot to witness the visual symphony.
---
Shishi Matsuri/Lion Dance Festival (Tokyo)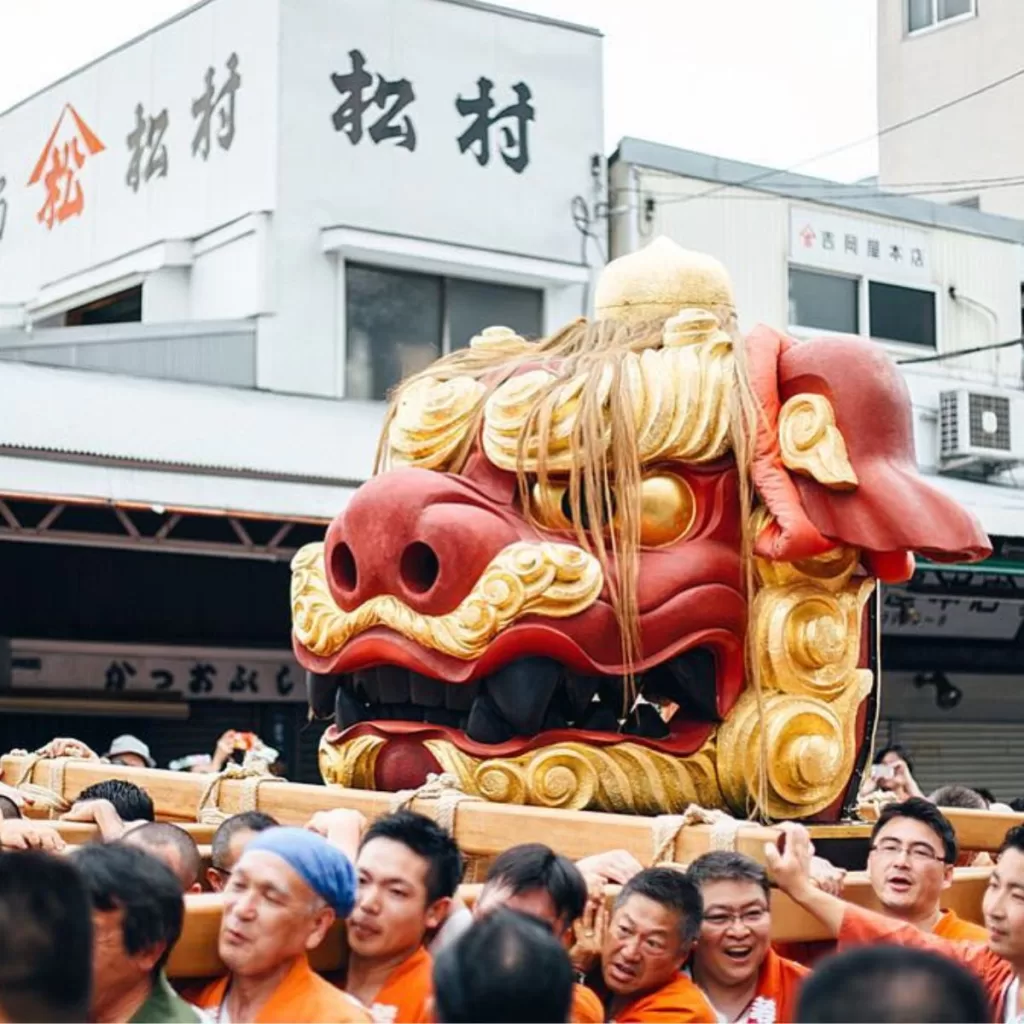 Date: Early-Mid June
Shishi Matsuri, also known as the Lion Dance Festival, is an exhilarating event held in Tokyo, Japan, showcasing lively lion dances and vibrant cultural performances. The festival takes place annually on the third Saturday and Sunday of November, attracting locals and visitors who gather to witness this captivating celebration of Japanese tradition.
During the Shishi Matsuri, the streets of Tokyo come alive with the rhythmic beat of taiko drums and the lively performances of lion dancers. The lion dance is believed to bring good luck and ward off evil spirits, making it an integral part of Japanese folklore and culture. Performers adorned in vibrant lion costumes dance and mimic the movements of the lion, captivating the audience with their agility and skill.
The procession of lion dancers through the streets, accompanied by the cheering of spectators, adds to the excitement and sense of community. It is a time when people come together to celebrate their heritage, appreciate the beauty of Japanese culture, and partake in the joyous festivities.