With excellent rail connections providing access from the capital, Japan offers some incredibly rewarding ski destinations near Tokyo. From world-class resorts hosting Olympic events to unspoiled powder runs through birch forests, skiing enthusiasts will be delighted with the options just a few hours away. Here are the top places to hit the slopes near Tokyo.
Best Places to Go Skiing Near Tokyo in Japan
Gala Yuzawa Ski Resort
Gala Yuzawa, a popular ski destination, is one of the top ski resorts near Tokyo and is incredibly easy to reach. The resort has a direct bullet train (Shinkansen) from Tokyo Station that takes just 77 minutes. Since the Gala Yuzawa station is located at the resort, skiers can rent their ski gear and descend the slope within minutes of disembarking.
The Gala Yuzawa Snow Resort caters to expert skiers and beginners, with many runs suitable for first-timers. Its location on the Sea of Japan side means it tends to get plenty of snow, making it one of Japan's best powder destinations.
---
Nozawa Onsen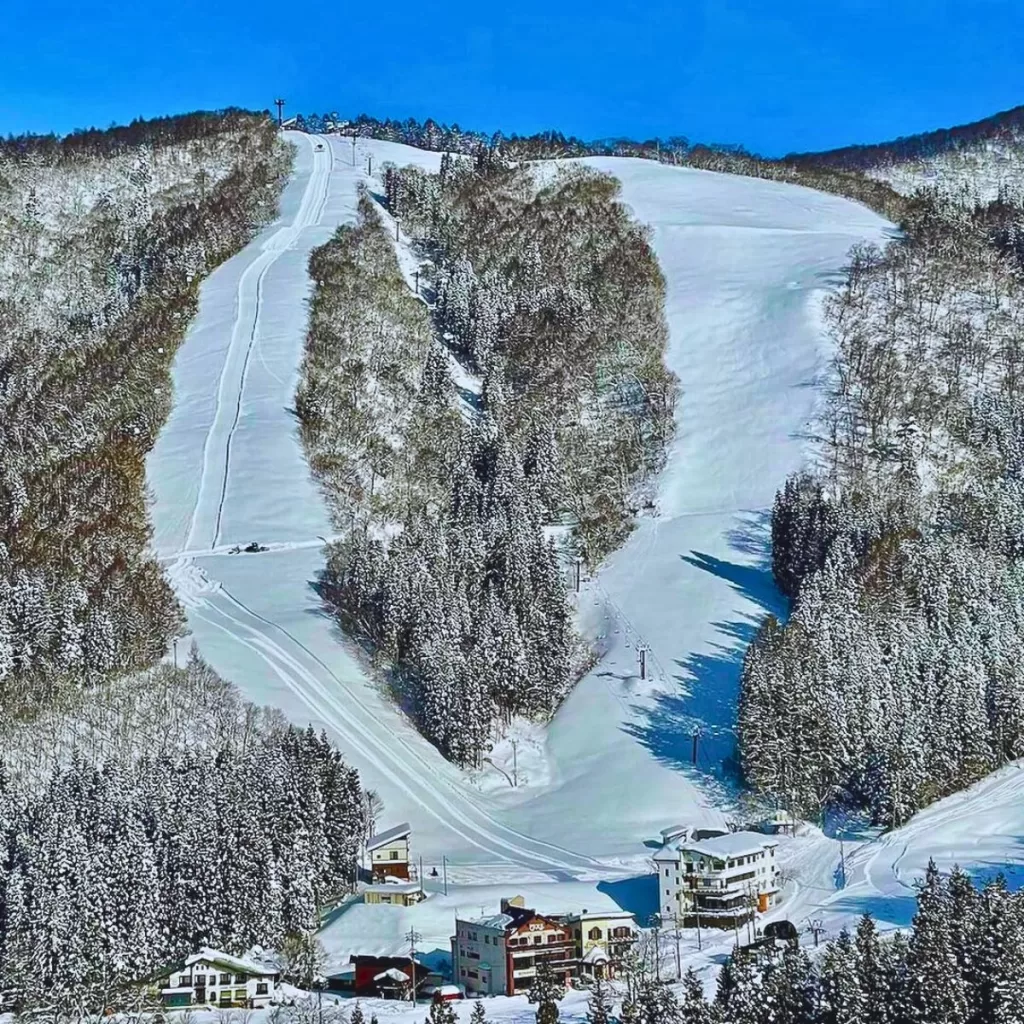 Another great day trip ski opportunity accessible from Tokyo is Nozawa Onsen, located in Nagano Prefecture. Along with its sprawling ski slopes suitable for beginners and advanced skiers alike, Nozawa Onsen boasts an impressive 13 natural hot springs perfect for unwinding after a long day on the slopes.
You can get there from Tokyo via Hokuriku Shinkansen from Tokyo Station to Nagano Station and then take a bus from Nagano Central Exit 3. It's a scenic journey that draws skiers into the heart of winter in Japan.
After a day skiing, relax sore muscles in soothing onsen baths.
---
Hakuba Valley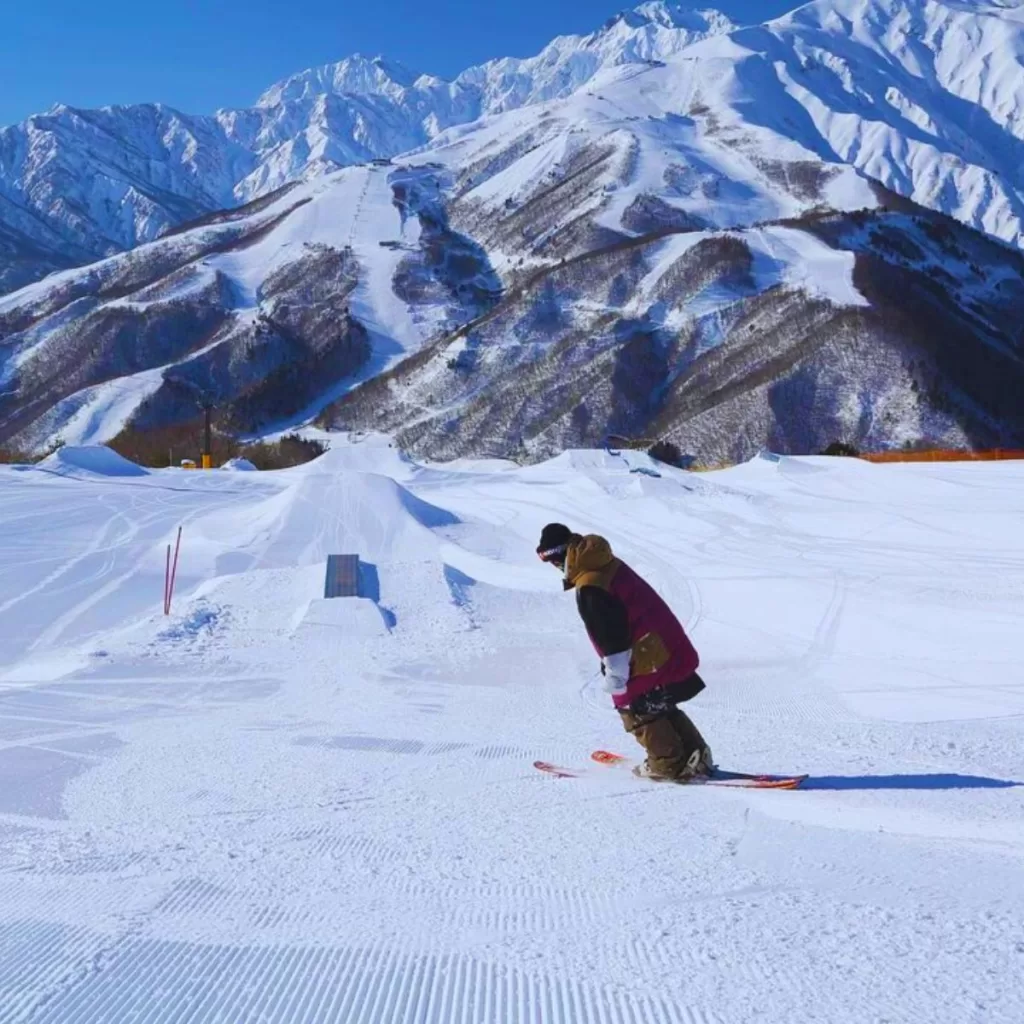 For those looking for multiple ski slopes to choose from, Hakuba Valley ticks all the boxes. Hakuba is one of Japan's largest and most renowned ski areas. It's home to ten different ski resorts, all close to each other and accessible through a common lift ticket system. Among these diverse options is Hakuba Happo-one Winter Resort, which hosted several Olympic events during the 1998 Winter Olympics.
Hakuba Valley is about three hours from Tokyo by Shinkansen and bus, making it a feasible day trip or overnight escape. Calgary-based enthusiasts often make a beeline here due to its FIS Alpine Ski World Cup history and consistently good snow coverage.
With a lively ski village atmosphere and peak elevations reaching over 7,000 feet, avid skiers flock to Hakuba for its renowned dry powder snow.
---
Naeba Ski Resort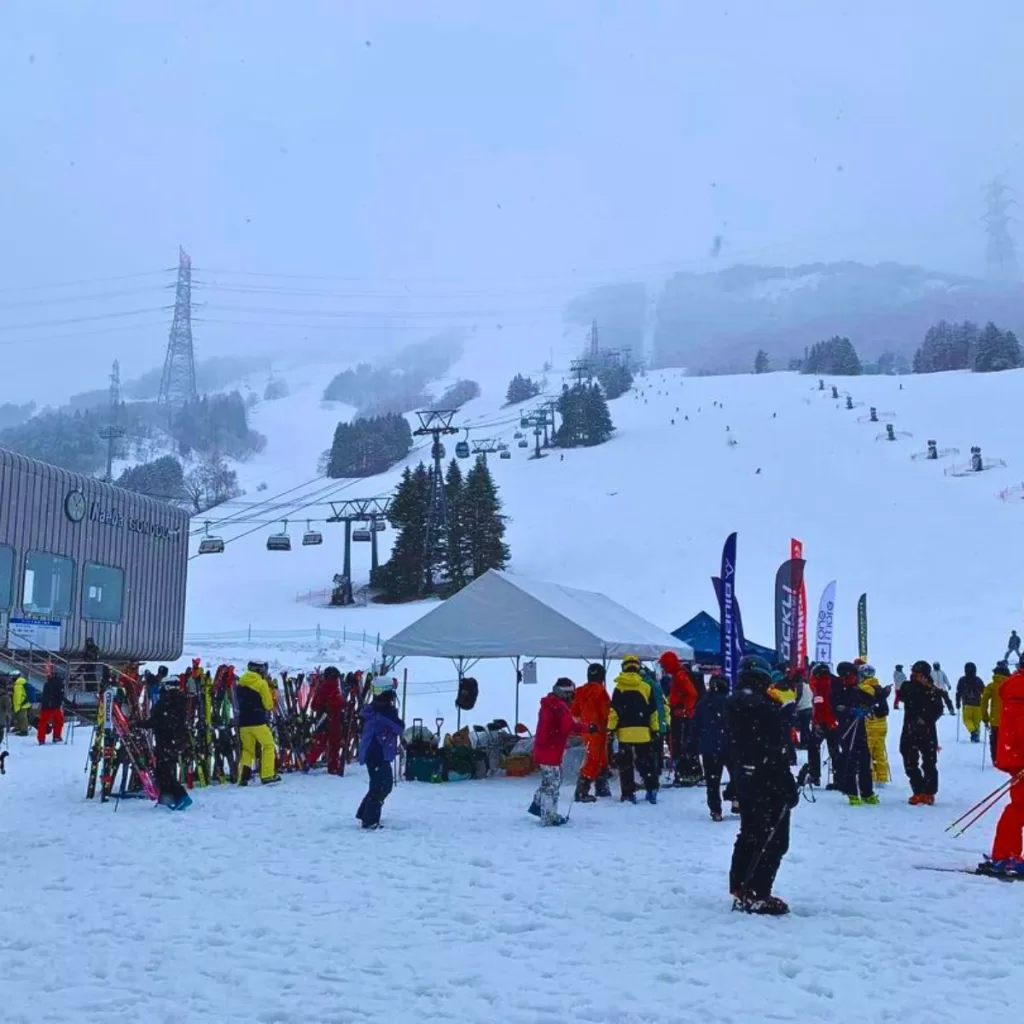 Naeba Ski Resort is another family-friendly ski destination accessible from Tokyo, but it leans towards more experienced riders. Joined with Kagura Ski Resort by the Dragondola gondola—the longest gondola ride in Japan—Naeba forms part of Mount Takenoko's ski resorts known for challenging terrains and spectacular panoramic views.
---
Karuizawa Prince Hotel Ski Resort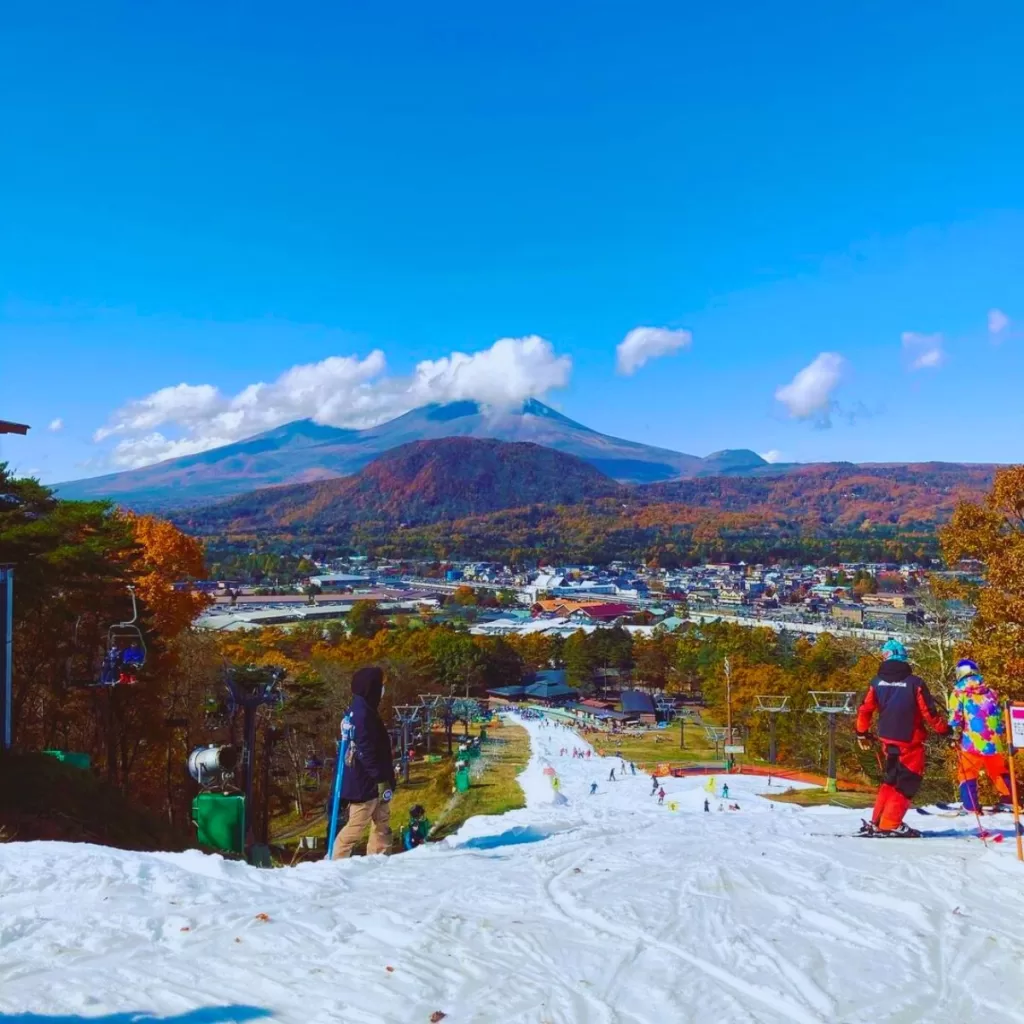 About an hour by bullet train from Tokyo Station is the Karuizawa Prince Hotel Ski Resort in Nagano Prefecture. Famous for its luxury accommodations, shopping outlets, and convenient location near Karuizawa Station, it's one of the most easily reached resorts and perfect for a day trip ski excursion from Tokyo.
This resort offers all levels of skiing and snowboarding slopes, enough rental equipment for visitors who need their gear, and evening illumination for nighttime skiing during peak season.
---
Maiko Snow Resort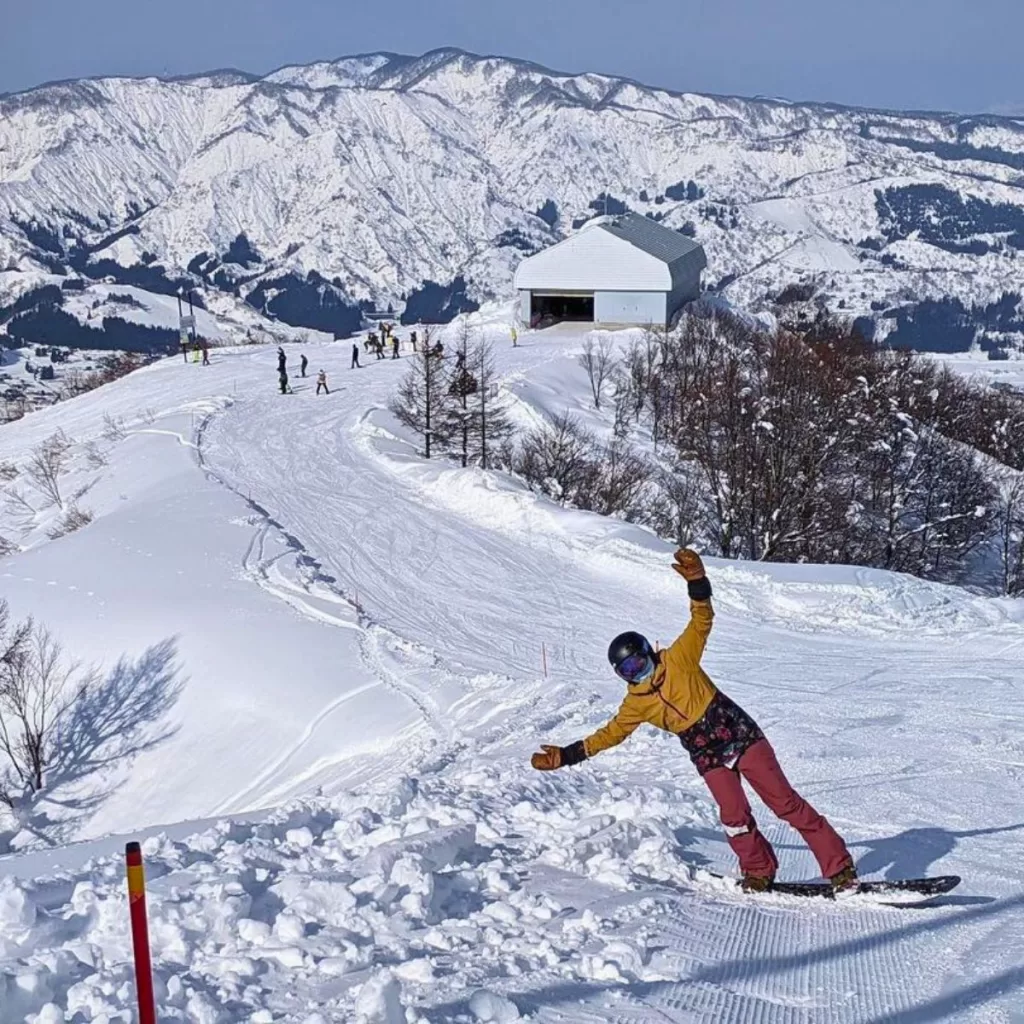 Mere minutes away from Echigo-Yuzawa Station (accessible by Shinkansen), Maiko Snow Resort features three separate areas and is regarded as Japan's largest ski resort area, perfect for beginners through advanced riders with its 26 courses spanning two mountains.
---
Fujiten Snow Resort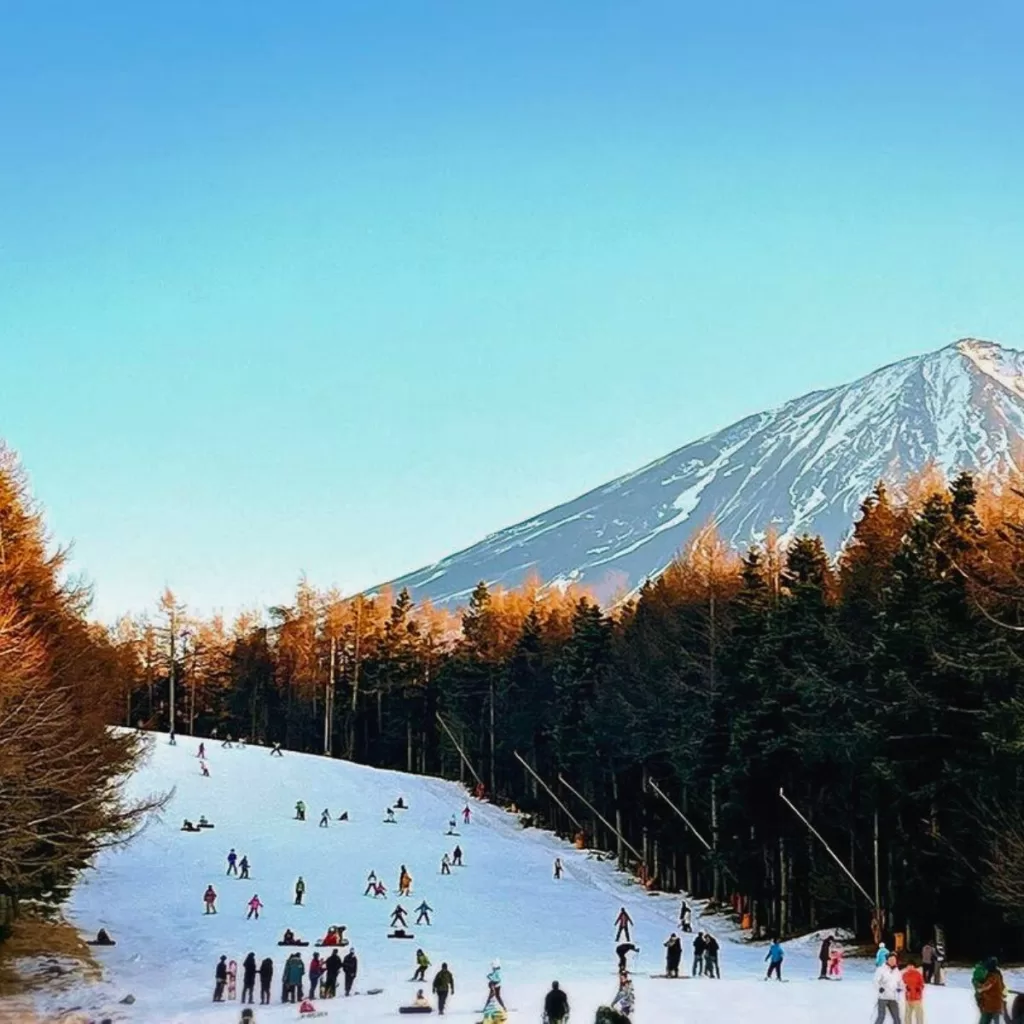 Fujiten Snow Resort in the Fuji Five Lakes area offers breathtaking views of Mt. Fuji. At the same time, you enjoy skis or snowboarding on well-groomed pistes or untouched backcountry routes, especially for snowboarders. Owing to its location close to Tokyo (a two-hour bus ride), it's great as either a day trip or a longer vacation.
---
Shiga Kogen
Also located in Nagano, Shiga Kogen is one of Japan's largest ski resort areas, with over 50 interconnected courses. It has a high altitude, which ensures quality powder snow.
Encompassing 21 interconnected ski areas, Shiga Kogen offers incredible ski-in/ski-out access and is one of Japan's largest resorts. With a high base elevation and mountainous topography, Shiga Kogen receives high-quality powder snow and runs up to 6,500 feet above sea level. Ski rental shops, restaurants, and accommodations dot the sprawling ski plateau area hosting Olympic snowboarding events.
Shiga Kogen is about 2.5-3 hours from Tokyo by bus or train.
---
Myoko Kogen
A highland ski resort in Niigata offered stunning mountain views and diverse terrain for all levels. Myoko Kogen is approximately 2.5-3 hours from Tokyo by Shinkansen and bus.
This highland skiing destination in Niigata boasts stunning mountain views and diverse terrain across its many ski areas. Myoko Kogen has long groomed runs plus steep backcountry trails accessed by chairlifts and gondolas. Highlights include the panoramic vista from Mt. Myoko and Akakura Onsen's hot springs village.
---
Choosing Among Many Options:
With so many choices available for skiing around Tokyo, considerations depend on skill level, budgetary constraints, trip duration preferences, or winter activity interests beyond just skiing or snowboarding.
Each has specific strengths —for example, Gala Yuzawa's location right next to its Shinkansen stop makes it extremely attractive; meanwhile, Hakuba offers arguably Japan's most extensive range of terrain within an easy commute from Tokyo; Nozawa Onsen combines excellent skiing with a uniquely Japanese hot spring experience; whereas Fujiten provides fabulous Mt Fuji vistas alongside winter sports offerings; Maiko Snow Resort gives a plenty choice owing to its sizeable scale; Karuizawa appeals often due to closeness plus overall luxury feel; finally Naeba stands out primarily among capable athletes relishing challenging trails and large-scale panoramas.
Regardless of your selection among these best places near Tokyo or Japan's varied other offerings–whichever direction your snowy adventure takes you–rest assured you'll find suitable mountainous thrill amid exquisite landscapes coupled with typical Japanese cordiality across this charming country's winter spots.