Honke Owariya is a hidden gem found in the heart of Kyoto, Japan. If you are planning to devour some authentic Japanese soba, there is no better place than this 540-year-old restaurant steeped in rich history. But before we dive deep into the world of soba and Honke Owariya's unique offerings, let us guide you on how to reach this culinary paradise using public transportation.
🍜🏮🇯🇵 – Honke Owariya is a hidden gem, serving authentic Japanese soba in Kyoto, Japan.
🕰️🎋👑 – This 540-year-old restaurant is steeped in history, with traditional Japanese charm in its wooden architecture and decor.
💰🎁👨‍🍳 – The menu offers a range of flavorful soba dishes at different price points, with the star attraction being their unique Hourai Soba.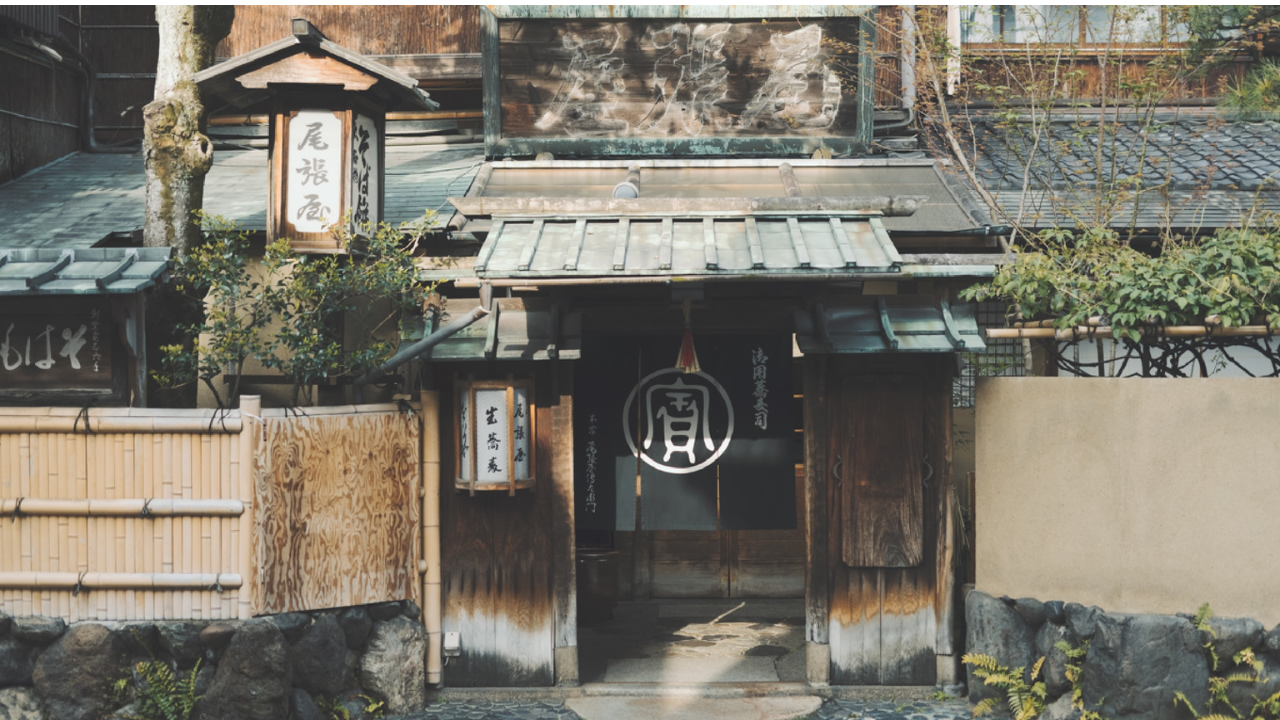 To get there, take the subway on the Karasuma Line and hop off at Karasuma Oike Station (Exit 4-2). From there, it's only a short and pleasant 8-minute walk east toward your destination. For those who prefer buses, Kyoto City Bus routes 201 or 203 will take you to either Horikawa Teranouchi or Nijo Horikawa bus stop – both just a couple blocks away from Honke Owariya.
Step Back in Time as You Enter the Enchanting World of Soba
As soon as you walk through its discrete entrance, be prepared for an enchanting experience that transports you back in time. The wooden architecture exudes an atmosphere infused with traditional Japanese charm that blends harmoniously with modern sensibilities. Throughout its existence since 1465, Honke Owariya has seen countless famous patrons grace their interiors – including emperors and celebrities seeking mouthwatering handcrafted soba dishes.
The walls are adorned with fascinating artifacts from bygone eras; they whisper tales about each person who visited here over centuries past. This exciting sojourn into Japan's history, coupled with alluring aromas wafting through every corner, creates an irreplaceable dining experience everyone should savor at least once during their stay in Kyoto.
Honke Owariya's Alluring Ambiance and Time-Honored Setting
As you find a seat inside the comforting warmth of Honke Owariya, take a moment to appreciate its classic setting. This multi-story building utilizes wooden panels and tatami mat flooring, maintaining an atmosphere true to old-world Japan. Traditional sliding doors can be opened or closed according to your desire for privacy.
Divided into various sections, the restaurant provides spaces for groups or families in need of larger dining areas. First-timers will notice that despite being centuries old, Honke Owariya continues evolving its features while placing immense importance on preserving its connection to history – evident through the antique décor elements lying amidst modern conveniences such as air conditioning and heating systems.
Indulge in Authentic Soba Delights Await You on the Menu
Now that we've acquainted ourselves with everything leading up to this moment… it's time for food! The menu at Honke Owariya is brimming with flavorsome options crafted lovingly by seasoned experts. As soon as you set eyes on their comprehensive selection containing cold and hot soba dishes, it's clear that there is something uniquely satisfying for everyone.
The star attraction here remains their "Hourai Soba" – a delicious medley of eight small plates accompanying various dipping sauces placed atop a magnificent tiered server. This dish does not only feast on your taste buds but also offers an unmatched aesthetically pleasing experience as well! If tempura catches your fancy alongside soba, then rest assured – they also feature flavorful tempura dishes begging you to try them out.
One of their off-the-menu selections worth sampling is the sukimi soba soup – a delightful mix of warm soft-boiled eggs delicately placed over steaming hot noodles in their signature broth. Be sure not to miss out on this unforgettable treat when visiting Kyoto's finest soba establishment!
Savory Soba Experience Within Your Budget
Another great aspect of Honke Owariya is that the prices cater to various budgets, keeping it accessible to everyone. While dishes like Hourai Soba can fall on the higher side (around 4,000 円), other affordable options start from as low as 1,100 円 for a tasty bowl of warm soba soup. Their tempura selection also covers diverse price points ranging from modest spending to more splurge-worthy choices.
Even amidst a competitive culinary scene in Kyoto brimming with delectable delights, this extraordinary establishment continues thriving thanks to its charming history-infused ambiance and exceptional fare crafted by skilled artisans who display nothing short of unwavering dedication towards complete customer satisfaction.
Remarkable Reputation Speaks for Itself
Honke Owariya is not just an ordinary restaurant but an establishment that boasts a remarkable reputation. Its exceptional culinary skills, commitment to tradition, and unmatched hospitality have garnered numerous awards and accolades over the years. Locals and tourists alike regard this centuries-old institution as one of the best places in Kyoto to savor authentic soba.
What truly sets this restaurant apart is its unique soba-making techniques. They utilize high-altitude mountain water filtered through traditional Japanese methods while kneading the dough, ensuring superior noodle qualities. The dedication Honke Owariya puts into each dish paves its way to providing its diners with distinct tastes, which many establishments find hard to replicate.
Interesting Stories and Anecdotes Surrounding Honke Owariya
As you dine at Honke Owariya, it might be fun for you to uncover some fascinating stories that have circulated throughout its long existence. Legends say that on several occasions, emperors of Japan would partake in their dishes – a testament to the extraordinary culinary finesse they possess.
Furthermore, amidst wars or political upheavals in the city of Kyoto, Honke Owariya never failed to keep its doors open. They've been diligently serving guests since 1465 with no closure history, even during Japan's most turbulent times – truly reflecting their unwavering devotion to hospitality!
Secrets abound at this time-honored establishment, like hidden nooks where celebrated figures would come and indulge undisturbed – making it one of the must-visit dining spots when exploring Kyoto.
Useful Tips for a Memorable Visit
To make your visit truly unforgettable at Honke Owariya, keep these essential tips handy:
Reservation Requirements: Even though walk-in diners are welcome, it's highly recommended that you reserve a table beforehand – especially during peak hours or weekends.
Dress Code: There isn't any strict dress code enforced here. However, it's always a good idea to wear neat and presentable attire when visiting traditional Japanese establishments.
Language Barrier: While some staff may not be fluent in English, the menu does come with English translations and pictures – making it easy for you to order without any language-related hiccups.
Nearby Attractions to Elevate Your Kyoto Experience
When you visit Honke Owariya, consider combining your dining experience with some exciting attractions nearby:
Nijo Castle – Located within walking distance from the restaurant, this historic site is home to sprawling gardens and impressive architectural structures.
Kyoto Imperial Palace – A mere 10-minute walk away will bring you face-to-face with Japan's sobering history at this grand palace surrounded by lush foliage.
Teramachi Shopping Street – Take a stroll down one of Kyoto's renowned shopping streets peppered with unique stores which offer numerous treasures waiting for you to explore.
Quirks and Features Worth Noting
Before ending our journey into the world of soba at Honke Owariya, let us shed light on a few captivating quirks and features that make this astounding eatery one-of-a-kind:
Special Buckwheat: One secret ingredient that makes their soba unmatched lies in their sourcing of high-quality buckwheat from an exclusive farmer who produces just enough grain supply for Honke Owariya every year.
Musical Connection: As proof of how versatile they can be in honoring both heritage and modernity, did you know that Honke Owariya even developed a catchy endearing theme song for their legendary Hourai Soba dish?
Learning Opportunity: Eager patrons can sign up for special workshops held here occasionally, where they teach about traditional Japanese customs, like how to properly savor a bowl of soba while respecting its etiquette.