Discover Japan's rich culinary history at 10 historic restaurants, including Sukiyabashi Jiro's world-renowned sushi & Kikunoi's exquisite kaiseki. Relish flavorful eel at Otafuku, Kyoto's oldest soba at Honke Owariya & tempura mastery at Tempura Kondo. Savor an authentic dining experience passed down through centuries at these iconic eateries.
Most Iconic and Famous Restaurants In Japan's History
Sukiyabashi Jiro: Opened in 1965, it has become a Tokyo landmark for its world-renowned sushi and celebrated chef Jiro Ono.
Kikunoi: 3-Michelin-starred Kyoto gem since 1912, is known for its exquisite kaiseki meals that showcase the season's finest ingredients.
Kyubey: Pioneering Tokyo's sushi scene since 1935, Kyubey delights with its masterfully prepared sushi creations – a true testament to Japan's longstanding culinary heritage.
Otafuku: Has been serving delicious eel dishes to Tokyo locals and travelers since 1702, making it one of Japan's oldest establishments specializing in eel cuisine.
Honke Owariya: Established in 1465, Honke Owariya is an iconic Kyoto soba restaurant with a rich history of crafting incredibly flavorful, handmade noodle dishes.
Ise Sueyoshi: Dating back to the Edo Period (1603-1868), invites guests on a culinary journey through traditional kaiseki cuisine steeped in Japanese culture and history.
Ippudo: Since 1985, Fukuoka-based Ippudo has gained immense popularity for its rich and flavorful ramen, earning it a place among Japan's top historic culinary destinations.
Tonki Meguro: Has been delighting Tokyo locals since 1939 with its crispy tonkatsu – breaded deep-fried pork expertly prepared using high-quality meats.
Hyotei: Founded in 1618 and boasting three Michelin stars, Hyotei offers an unforgettable experience of Kyoto kaiseki cuisine that transcends generations and honors Japanese tradition.
Tempura Kondo: Since opening its doors in 1967, Tempura Kondo in Tokyo continues to awe diners with its skillfully prepared tempura dishes that have earned it two Michelin stars.
Sukiyabashi Jiro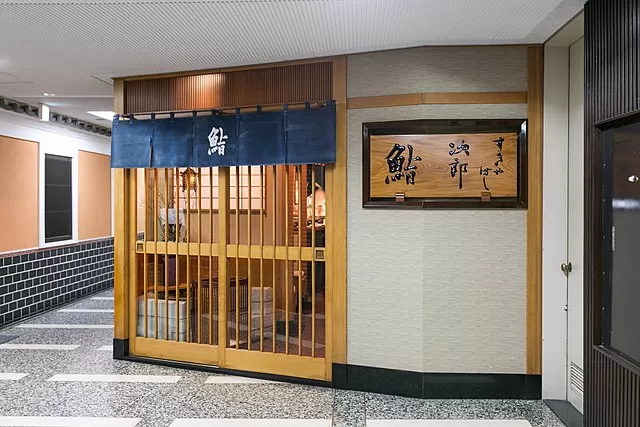 Year Opened: 1965
Michelin Stars: N/A (previously three stars, removed from the Michelin Guide in 2020 due to its exclusivity and not accepting reservations from the general public)
Famous people that have eaten here: President Barack Obama, Japanese Prime Minister Shinzo Abe, and celebrities such as Hugh Jackman and Katy Perry.
Sukiyabashi Jiro, located in the Ginza district of Tokyo, was founded in 1965 by master sushi chef Jiro Ono. This small restaurant became world-famous after the release of the documentary "Jiro Dreams of Sushi," which showcases the dedication and expertise of Chef Ono in creating some of the finest sushi in Japan. Although it's no longer listed in the Michelin Guide due to its exclusive nature, Sukiyabashi Jiro held an impressive three Michelin stars at one point.
The restaurant has only ten counter-seats, ensuring a private and intimate dining experience for guests. Seasonal ingredients are used in crafting the sushi, with each piece representing Chef Ono's lifelong dedication to his art. Every piece is carefully crafted through elaborate techniques honoring traditional sushi-making principles.
Over the years, Sukiyabashi Jiro has served numerous famous individuals, including President Barack Obama, who dined with Japanese Prime Minister Shinzo Abe during an official visit to Japan. Celebrity fans include Hugh Jackman and Katy Perry. These visits further cemented its reputation as one of Japan's top sushi establishments.
Jiro Ono's sons, Yoshikazu and Takashi, have both trained under their father's strict supervision and now play active roles in maintaining the high standards at Sukiyabashi Jiro. Chef Yoshikazu currently oversees operations at the famed Ginza location, while Chef Takashi manages a second branch in Roppongi Hills.
Sukiyabashi Jiro stands as a testament to Japan's culinary prowess and the dedication of one man to his craft. The restaurant remains the epitome of sushi artistry and has attracted visitors far and wide to experience a taste of this historic and legendary establishment.
Kikunoi
Year Opened: 1912
Michelin Stars: 3
Famous people that have eaten here: Martha Stewart, Chef Ferran Adrià, and Japanese novelist Jun'ichirō Tanizaki.
Kikunoi, a revered Kyoto restaurant founded in 1912, specializes in kaiseki cuisine – the traditional multi-course fine dining experience in Japan. With three Michelin stars under its belt, Kikunoi is renowned for its stunning dishes prepared with fresh, seasonal ingredients to showcase the best of Japan's culinary artistry.
The restaurant is helmed by Yoshimi Murata, who represents the third generation of his family to lead Kikunoi. He studied culinary arts not only in Japan but also in France, bringing a unique touch of international flair to traditional kaiseki cuisine. Under his guidance, Kikunoi continues to innovate and evolve while remaining true to its cultural roots.
Famous for providing an authentic Kyoto experience, Kikunoi has hosted several notable personalities like Martha Stewart, acclaimed avant-garde chef Ferran Adrià, and esteemed Japanese novelist Jun'ichirō Tanizaki. These visits have further cemented the restaurant's reputation as a premier kaiseki dining destination.
Kikunoi's menu changes every month, reflecting the beauty of each season while still maintaining synergy with time-honored traditions. From delicately arranged appetizers to sumptuous main courses and exquisite desserts, each dish is carefully curated to leave a lasting impression on guests' palates. The presentation and flavors pay homage to the ancient art of kaiseki as well as Kyoto's unique style.
The restaurant itself is housed in a beautiful traditional Japanese building surrounded by lush gardens. The serene atmosphere provides diners with an intimate and immersive experience meant to transport them through time and fully appreciate the rich culture behind this historic cuisine.
Kikunoi is a treasured Kyoto landmark that has been delighting diners for over a century with its artful presentation and unwavering commitment to quality. With a focus on tradition, while still embracing change, Kikunoi continues to be a symbol of excellence within Japan's culinary world.
Kyubey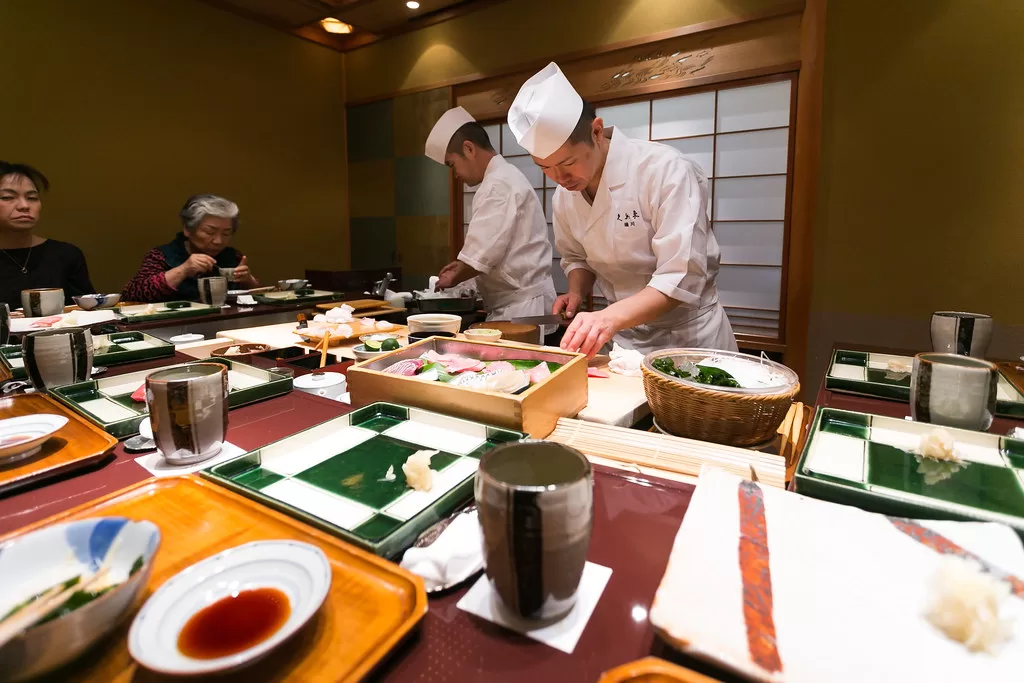 Year Opened: 1935
Famous people that have eaten here: Barack Obama, Shinzō Abe, Steven Spielberg, Anthony Bourdain, and fashion designer Jean Paul Gaultier.
Established in 1935, Kyubey is a celebrated sushi restaurant located in the heart of Tokyo's Ginza district. Pioneering the art of sushi-making – which at the time was a relatively new and rapidly evolving dining style – Kyubey has since captured the hearts and minds of sushi lovers around the world.
Though it hasn't received Michelin stars, Kyubey remains a leader in Tokyo's sushi scene thanks to both its steadfast commitment to quality and impeccable service. It has even attracted significant names such as film director Steven Spielberg, travel documentarian Anthony Bourdain, President Barack Obama, Japanese Prime Minister Shinzo Abe, and renowned fashion designer Jean Paul Gaultier.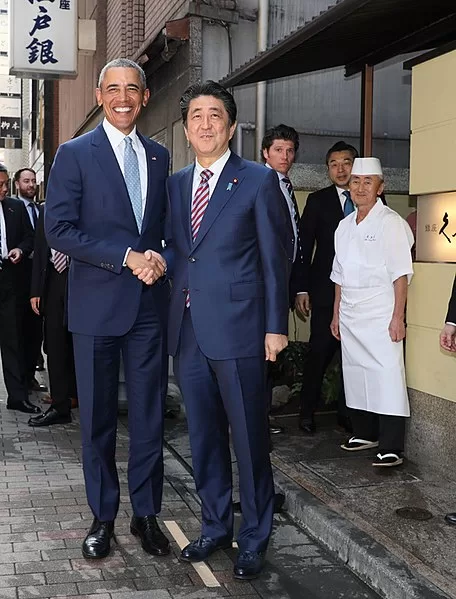 Kyubey endeavors to offer only the freshest fish sourced from local markets, adhering to the principles of Edomae-style sushi by emphasizing the natural flavors of seasonal seafood. In addition to traditional nigiri sushi, they also serve creative dishes that are often exclusive to their establishment.
Presiding over Kyubey is Chef Yosuke Imada, who began learning culinary techniques under his father's tutelage before honing his skills at other prominent sushi establishments. This diversity of experience has culminated in an unrivaled mastery of sushi craft – evident in every dish served at Kyubey.
The setting is quintessentially Japanese, featuring counter seating that allows for an immersive dining experience while showcasing chefs' expert skills firsthand. Guests are often enraptured by the deft precision employed in executing each piece of sushi – no doubt contributing to Kyubey's longstanding appeal.
Kyubey represents Japan's robust culinary heritage with its unwavering dedication to high-quality ingredients and expert craftsmanship. For eight decades and counting, this hallowed sushi institution has delighted patrons and left an indelible mark on Japan's renowned gastronomic landscape.
Otafuku
Established in 1702, Otafuku has been a longstanding purveyor of delicious eel dishes in Tokyo for over three centuries. This historic restaurant is highly respected and deeply rooted in Japanese culinary culture. While it hasn't received any Michelin stars, Otafuku stands out as a prime destination for both locals and tourists seeking a taste of traditional eel cuisine.
Otafuku is dedicated to using only the highest quality ingredients in its dishes, ensuring their freshness by catching the eels daily. Their secret sauce recipe has also been passed down for generations, infusing each dish with an authentic flavor that's attracted patrons from Japan's political and cultural spheres.
The centerpiece of Otafuku's menu is unagi kabayaki – a whole eel filleted and grilled over charcoal while being generously basted with their signature sauce. The result is tender, succulent meat with caramelized edges that perfectly balances sweetness and smokiness. Other offerings include their shirayaki (grilled eel without sauce) served alongside grated wasabi and soy sauce, as well as a range of side dishes representing traditional Japanese fare.
The restaurant's modest exterior belies its historical significance and culinary expertise. Inside, guests are greeted with warm hospitality, reminiscent of Japan's Edo period when Otafuku first opened its doors. The dining area's simplistic wooden interior further enhances the overall traditional ambiance.
Otafuku has cemented its place as one of Japan's most historic restaurants specializing in eel cuisine. With an unwavering commitment to quality ingredients and time-tested recipes spanning over three centuries, Otafuku continues to showcase the best of Japan's culinary heritage in each of its meticulously prepared dishes.
Honke Owariya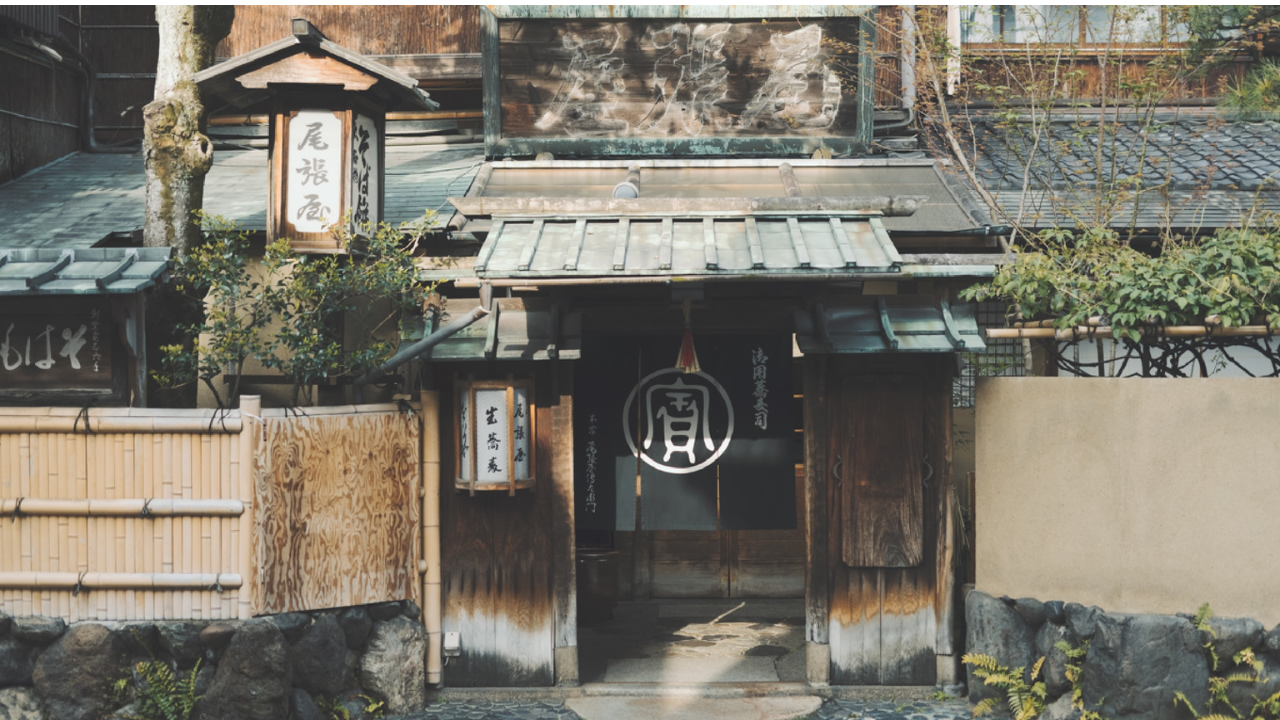 Year Opened: 1465
Famous people that have eaten here: Japanese Emperor Akihito, Prime Minister Shinzo Abe, and former Prime Minister Shigeru Yoshida.
With roots tracing back to 1465, Honke Owariya began its journey as a confectionery shop and later transitioned to become a beloved soba restaurant in Kyoto. Regarded as the oldest soba restaurant in the city, it has served generations of locals and tourists while preserving its cherished food preparation techniques and deeply rooted traditions.
Although not a Michelin-starred establishment, Honke Owariya has filled the stomachs of esteemed figures such as Japanese Emperor Akihito, Prime Minister Shinzo Abe, and influential former Prime Minister Shigeru Yoshida. The continued patronage of these icons attests to the exceptional quality and taste of the dishes served at this historic restaurant.
The expertise of Honke Owariya's chefs is evident in their skillful hand-making of soba noodles from freshly milled buckwheat flour. Prepared with utmost precision and revered techniques passed down through generations, these noodles are pleasantly chewy with a subtle nutty flavor. They can be enjoyed either hot or cold, with various toppings and delectable dipping sauces to suit each customer's preference.
In addition to soba noodles, the menu also features set meals that include tempura, grilled fish, or other traditional Japanese delicacies. Their kakiage-don – rice topped with vegetable tempura – is another popular dish worth trying for a truly authentic dining experience.
Housed in an old wooden building that retains its rustic charm and traditional Japanese architecture, Honke Owariya provides guests with a warm, inviting atmosphere as they savor delicious soba noodle dishes steeped in history. The calming environment further enhances the overall gustatory experience, immersing diners in a slice of Japanese culture that dates back several centuries.
Honke Owariya proudly encompasses over 550 years of culinary history, representing an essential part of Kyoto's rich cultural legacy. Visitors seeking an authentic taste of Japan will not be disappointed by the craftsmanship, and dedication poured into every hearty, satisfying meal at this revered soba institution.
Ise Sueyoshi
Year Opened: Edo Period (1603-1868, exact year unknown)
Ise Sueyoshi's history dates back to the Edo Period (1603-1868), making it a historic restaurant specializing in traditional kaiseki cuisine. Although the exact year it was established remains unknown, Ise Sueyoshi has consistently provided guests with a unique and authentic dining experience that highlights Japan's rich culinary culture.
Located in Tokyo, Ise Sueyoshi does not possess any Michelin stars at present. However, its reputation for offering exquisite kaiseki meals has made it an attractive destination for locals, tourists, and many famous patrons—though their identities remain undisclosed due to privacy concerns.
Chef Yuuki Tanaka helms the kitchen at Ise Sueyoshi, where he brings together the finest seasonal ingredients to create visually stunning and tantalizingly flavorful dishes. His passion for culinary arts drives him to continually evolve his techniques while respecting time-honored kaiseki traditions. Each multi-course meal crafted by Chef Tanaka is akin to an edible work of art that tells a story of Japan's culinary heritage and the chef's dedication.
Some of the restaurant's signature dishes include suimono (clear soup), hassun (assortment of appetizers), takiawase (simmered vegetables and meats), and mukōzuke (sashimi). Each dish reflects the subtle artistry of traditional kaiseki cuisine and showcases Chef Tanaka's singular craftsmanship.
The dining area at Ise Sueyoshi is intimate and cozy, adorned with traditional Japanese elements that create an optimal atmosphere for enjoying exceptional kaiseki cuisine. This modest setting allows guests to fully appreciate the flavors and artistry behind each dish while connecting to Japan's rich culinary past.
Ise Sueyoshi is a historic gem that transports diners on an unforgettable journey through Japanese culinary history. Its commitment to preserving kaiseki traditions and passion for showcasing the best of seasonal ingredients continue to make it a cherished dining destination in Tokyo, worthy of its centuries-old legacy.
Ippudo
Established in Fukuoka in 1985, Ippudo quickly gained a strong following for its delectable ramen offerings. Founded by Shigemi Kawahara, also known as the "Ramen King," Ippudo has grown from a small local eatery to an international chain with numerous locations worldwide. Although it hasn't earned any Michelin stars, Ippudo's commitment to quality and flavor keeps drawing crowds and has earned it a spot among Japan's most historic culinary destinations.
Ippudo is most famous for its tonkotsu ramen – rich, creamy broth made by simmering pork bones for hours, resulting in an incredibly flavorful base. In addition to their signature broth, Ippudo offers an array of ramen options with various toppings, such as succulent pork chashu, ajitama (flavored soft-boiled egg), and fragrant garlic oil. Each bowl of ramen is served with thin and springy noodles specially crafted to complement the broth's texture.
The restaurant takes pride in continually refining its recipes in response to customers' preferences and evolving trends while still staying true to its roots. Their dedication to the craft has attracted a wide array of clientele, including well-known Japanese actors and musicians, further solidifying their prominence within the culinary world.
In terms of aesthetics, Ippudo sports a contemporary design combined with traditional elements reflecting its connection to Japan's culinary heritage. This creates a welcoming atmosphere where diners can enjoy steaming bowls of flavorful ramen that showcase decades-long passion and expertise.
Ippudo has easily cemented itself as one of Japan's defining historic restaurants specializing in ramen. With an unwavering commitment to both tradition and innovation, Ippudo continues to delight patrons with its mouthwatering noodle dishes that have become synonymous with Japan's rich culinary landscape.
Tonki Meguro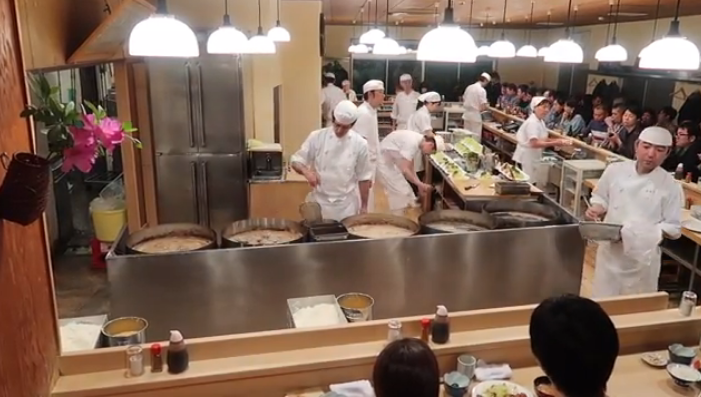 Year Opened: 1939
Famous people that have eaten here: Chef Alain Ducasse, fashion designer Issey Miyake, and various well-known Japanese celebrities.
Tonki Meguro has been serving delectable tonkatsu dishes to the people of Tokyo since its inception in 1939. With a history of more than eight decades, this iconic restaurant has grown from a small eatery to a beloved culinary destination for both locals and visitors alike. Though it has not received any Michelin stars, Tonki Meguro enjoys a reputation for its sublime tonkatsu – breaded and deep-fried pork – attracting renowned personalities like Chef Alain Ducasse, fashion designer Issey Miyake, and various Japanese celebrities.
Their commitment to using high-quality meats and maintaining traditional methods places Tonki Meguro's tonkatsu in a league of its own. Each cutlet is prepared by first coating the tender pork loin in fine breadcrumbs before being expertly deep-fried until golden brown and crispy on the outside while remaining tender and juicy inside. The result is an exquisitely balanced dish that showcases Japan's culinary prowess.
Tonki Meguro's tonkatsu can be enjoyed in several forms, including with fragrant steamed rice, shredded cabbage accompanied by tangy dressing, or as katsu-sando (tonkatsu sandwich). These meals come with delectable miso soup and pickled vegetables. Other scrumptious options include fried shrimp and chicken varieties.
The interior of the restaurant reflects the simplicity of traditional Japanese design while providing an enveloping warmth that resonates with diners upon arrival. The open-style kitchen allows guests to observe chefs at work, skillfully preparing each dish which adds to the overall experiential aspect of dining at Tonki Meguro.
Tonki Meguro remains a testament to Japan's dedication to perfecting the art of tonkatsu while paying homage to the country's culinary heritage. By upholding a commitment to quality, meticulous preparation, and traditional methods, Tonki Meguro continues to captivate diners seeking a taste of history through a simple yet satisfying meal.
Hyotei
Year Opened: 1618
Michelin Stars: 3
Famous people that have eaten here: Paulo Coelho, The Royal Family of Monaco, and Japanese musician Yōsui Inoue.
Established in 1618, Hyotei is a storied Kyoto restaurant that has been offering its diners tantalizing kaiseki cuisine for centuries. Originally founded as a teahouse near the gates of the famous Nanzen-ji Temple, Hyotei has evolved into a revered culinary institution boasting three Michelin stars.
Hyotei's impressive reputation extends to serving distinguished guests such as Brazilian novelist Paulo Coelho, The Royal Family of Monaco, and iconic Japanese musician Yōsui Inoue. These influential personalities' visits reflect the elevated level of skill, tradition, and artistry that define this historical restaurant.
The current chef-owner Eiichi Takahashi represents the thirteenth generation of his family to carry the torch at Hyotei. Implementing ancestral cooking techniques while continually improving upon them, Chef Takahashi creates exquisite kaiseki dishes that showcase the best seasonal ingredients Japan has to offer. Each meticulously curated multi-course meal demonstrates a profound appreciation for beauty, balance, and harmony – core tenets of traditional kaiseki cuisine.
Hyotei inhabits an enchanting centuries-old building surrounded by serene gardens with lush vegetation and tranquil water features. This idyllic setting provides a truly immersive experience that transports diners back in time to savor the finest flavors and sophisticated textures that embody Kyoto's rich culinary legacy.
Hyotei maintains an enduring commitment to upholding its ancestral culinary traditions while embracing evolution in its pursuit of kaiseki excellence. With more than 400 years of history enriching every dining experience at this esteemed establishment, those seeking a genuinely authentic taste of Japan will discover an unrivaled unforgettable culinary journey.
Tempura Kondo
Year Opened: 1967
Michelin Stars: 2
Famous people that have eaten here: MasterChef Australia judges Gary Mehigan, George Calombaris, Matt Preston, and actress Meryl Streep.
Since opening its doors in 1967, Tempura Kondo has captivated diners with its finely-crafted tempura dishes. Located in Tokyo, this esteemed eatery commanded the world's attention by earning two Michelin stars while mesmerizing taste buds with its skillfully prepared, mouthwatering fare.
Famed for his exquisite attention to detail, Chef Fumio Kondo brings over five decades of experience to the restaurant's namesake. He artfully balances flavors, textures, and temperatures in each dish, culminating in a dining experience befitting Japan's culinary heritage. Consequently, famous personalities like MasterChef Australia judges Gary Mehigan, George Calombaris, and Matt Preston, as well as Hollywood actress Meryl Streep have graced Tempura Kondo's tables.
In addition to offering an array of fresh seasonal vegetables and seafood like shrimp and squid, Tempura Kondo dazzles customers with unique options such as garland chrysanthemum wrapped in tofu skin or young corn wrapped in thin strips of yuba (tofu skin). Chef Kondo deftly oversees the frying process – ensuring each ingredient retains its vibrant flavor – while also preventing oily residues from lingering on the tempura.
The restaurant features an intimate L-shaped counter where guests can witness the maestro at work in real time. This simple yet elegant setting enables patrons to fully appreciate the skillful technique that contributed to Tempura Kondo's reputation as a standout dining destination.
Tempura Kondo encapsulates decades of dedication and artistry since its inception in 1967. Continuing to uphold Japan's fine culinary tradition while delighting palates and satisfying culinary desires, this restaurant remains an essential locale for indulging in remarkable tempura dishes.