An Overview of Kitano Odori
Kitano Odori dance, one of the most fascinating Kyoto events in March, is an annual springtime event performed by the geiko (the Kyoto word for geisha) and maiko (apprentice geiko) of the Kamishichen district. Instituted in 1952, this honorable tradition has been staged annually without fail. The unique ensemble dance marks the ushering in of spring, consistently drawing spectators from across the globe.
The momentous tradition is not just a popular tourist attraction but a poignant illustration of Kyoto's deep-rooted culture, unifying residents and visitors through their shared admiration of traditional music and dance.
The Kamishichiken Kaburenjo Theater
The geiko and maiko performances are held at the historic Kamishichiken Kaburenjo Theater, a treasured landmark in Kyoto city. Besides being home to this prestigious event, it also stands as an architectural testament to Kyoto's history and heritage.
Building on a Century-old Tradition
The cultural experience hosted by Kitano Odori is founded on centuries-old traditions dating back to the 10th century, with its recent inception happening in 1952. Initially launched as part of an anniversary celebration for the founding of nearby Kitano Tenmangū Shrine, it is now one of the mainstay events in Kyoto's cultural calendar.
The entire event revolves around intricately choreographed dances performed by geiko and maiko, making this event an enriching immersion into Kyoto's preserved customs.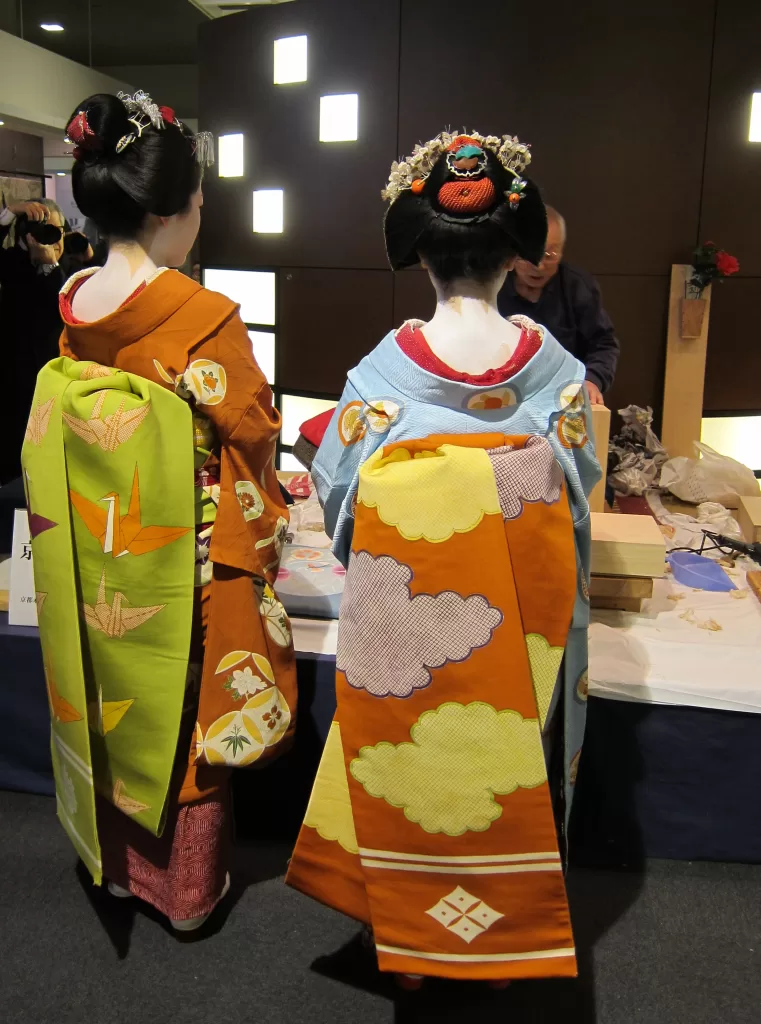 Program Highlights:
The Kitano Odori primarily comprises three sections: a multi-scene story play, a collection of themed dances and the last act tends to be the pivotal point – the Kamishichiken Serenade finale piece. Each segment offers distinctive experiences where spectators live through unfolding narratives enhanced by interpretative dances.
The Multi-Scene Story Play:
This act showcases different stories embodied in dance each year—a testament to their continuous innovation while solidly maintaining tradition at heart. Prior episodes encompassed forest creatures' drama around Kitano Tenmangu shrine, lovers' romantic endeavors, comic adaptations of classic tragedies, and even narratives about famed conventional theater.
Themed Dances:
Following the narrative drama comes thematic dances displaying elegance and skill—an unparalleled opportunity to marvel at traditional performing arts preserved over centuries.
Kamishichiken Serenade-Finale Piece:
Considered as a stand-out aspect in Kitano Odori performances, the grand finale integrates all geiko and maiko dancers on stage for a fascinating spectacle. Donned in strikingly contrasting kimonos – mature geiko wear black while youthful maiko dazzle in bright colors-their harmonized choreography culminates into an enthralling climax.
Acquire Your Tickets
Experiencing such a timeless tradition starts with securing your tickets early due to high demand. There are usually two daily shows, running from late March till early April at precise times – 2 pm and 04:30 pm, respectively. Tickets are priced at around 5,000 yen per person with an option for guests to enjoy green tea served with sweets before the play at an additional cost of around 500 yen; plus, you'll take home a commemorative plate as well!
Book yourselves into a timeless journey orchestrating Japan's rich culture through the ages for your next spring visit to Kyoto.
Another fun event in Kyoto is Hiinamatsuri. It is also known as Doll's Day or Girls' Day, a vibrant and culturally rich event celebrated in Kyoto on March 3rd each year.