In March 2024, Kyoto will be bustling with various festivals and events. March is a significant time to enjoy the natural beauty of Kyoto. The Plum Blossoms, which bloom from February to March, and the Cherry Blossoms, which typically appear in late March to April, are two of the most iconic and captivating sights.
| Date | Event | Category |
| --- | --- | --- |
| Mid March-Early April 2024 | Kitano Odori | Cultural Event |
| Early – Mid March 2024 | Higashiyama Hanatoro | Festival |
| Late March – Early April 2024 | Kiyomizu-dera Spring Illuminations | Illumination Event |
| Early March | Nagashibina | Ceremony |
| Early March | Hiinamatsuri | Festival |
| Mid March- Mid April | Okazaki Canal Boat Rides | Boat Ride |
| Mid March- Mid April | Nijo Castle Sakura Festival | Festival |
| Mid March- Early May 2024 | Ninnaji Flower Festival | Festival |
| Late March | Hanezu Odori | Cultural Event |
Nagashibina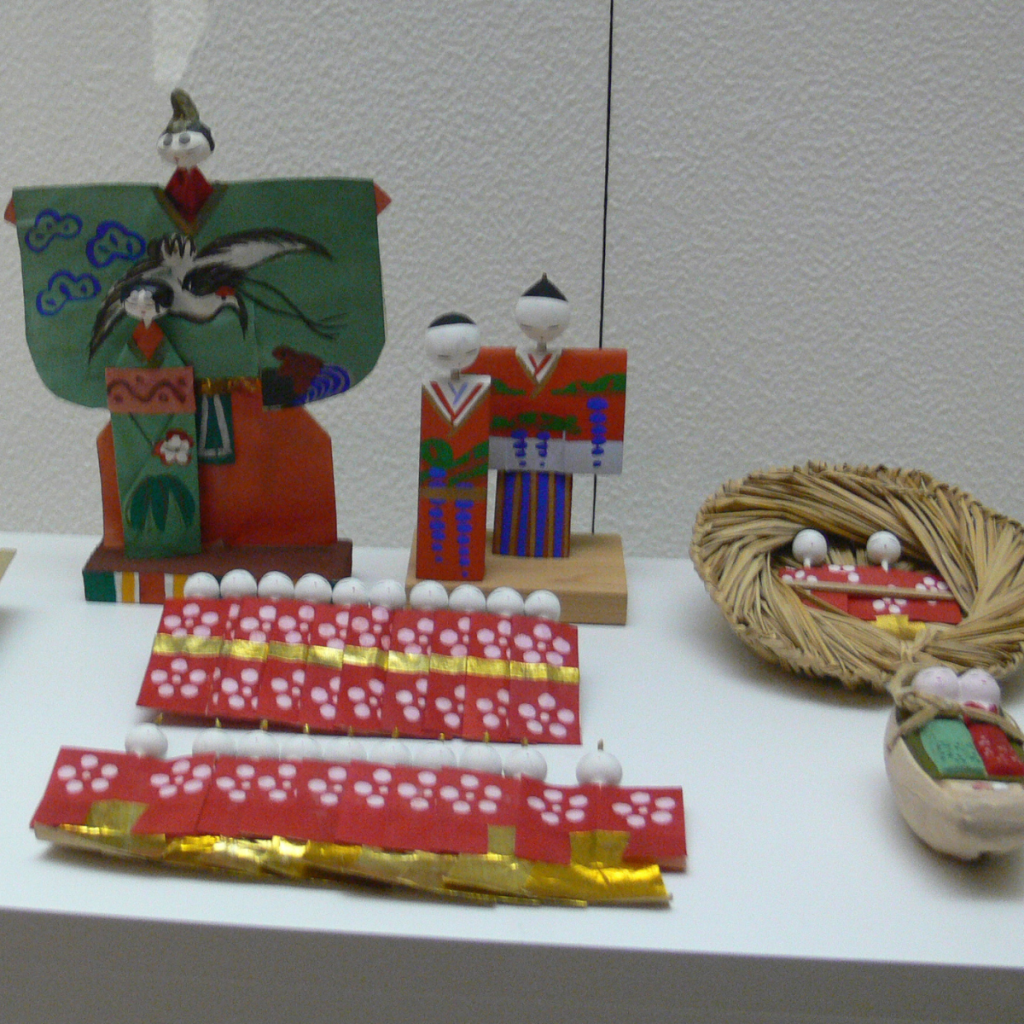 Date: Early March
The History of Nagashibina and Its Connection to Hina Matsuri
Every year on March 3, Hina Matsuri, also known as Girl's Day, is celebrated in Japan. This festival is held in honor of young girls and serves as a time when families pray for the health, happiness, and growth of their daughters. While many households display beautiful sets of Hina Ningyo dolls during this event, an older practice called Nagashibina takes place at the revered Shimogamo Shrine in Kyoto.
The Nagashibina ceremony traces its roots back to the Heian period from over eight hundred years ago. It is believed that these paper or straw dolls, when floated down rivers like the Takano River near Kyoto, carry away the misfortune and bad luck that would otherwise befall young girls. Despite dating back centuries, Nagashibina has largely fallen out of common practice – save for select locales like Kyoto's Shimogamo Shrine.
The Ceremony: From Traditional Garb to Floating Away Misfortune
As observers eagerly watch from the riverbank, a man and woman in traditional clothing conduct the first part of the ceremony by placing their own Nagashibina dolls in woven baskets and releasing them onto the Mitarashi River's gentle current.
Participants then offer prayers for health and growth – both for their own children and for all girls worldwide. Following this momentous action, esteemed members of the community – including Maiko (Geisha in training) – take turns floating more dolls upon the water. It should be noted that unlike modern Hina Matsuri celebrations which feature ornate Hina Ningyo dolls atop tiered podiums, Nagashibina calls for simple male and female dolls fashioned from colored paper.
Participation: Joining in the Tradition of Nagashibina
At 10 a.m., before the start of the ceremony, visitors have the opportunity to purchase their very own Nagashibina dolls. A small doll goes for aroung ¥500, while larger ones can be bought for around ¥1000. After the ritual's main proceedings conclude, attendees are encouraged to release their own paper effigies upon the river. This act not only honors tradition but also offers blessings and protection for young girls in each participant's family.
With its unique blend of history, tradition, and beauty, Nagashibina at Shimogamo Shrine offers a rare opportunity to experience an ancient practice that honors young girls' health and happiness. Whether observing or participating in this serene event, one cannot help but appreciate the power of spirituality and community woven into every aspect of this centuries-old ceremony.
---
Hiinamatsuri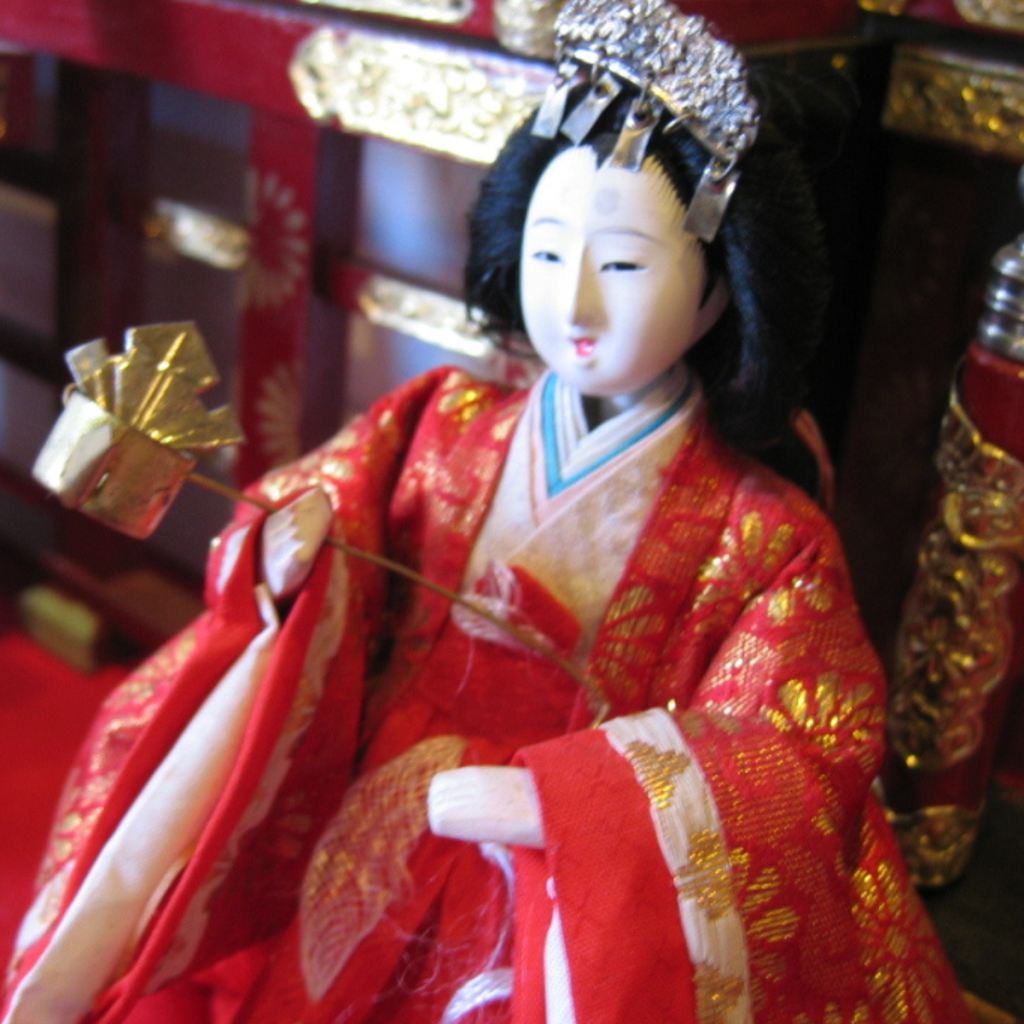 Date: Early March
Ichihime Shrine's Annual Doll Festival Transforms People into Life-Sized Hina-Ningyo Dolls
Every year on March 3rd, Japan celebrates a special festival called "Hinamatsuri" or Doll's Day. The event is held across the country to pray for the health, safety, and happiness of girls. One unique celebration of the festival takes place in Kyoto at the Ichihime Shrine, where real people transform into life-sized hina-ningyo dolls for an event known as "Hiinamatsuri."
Hiinamatsuri stands out from other Hinamatsuri celebrations because it incorporates an extra element – hito-bina, which are human dolls dressed in Heian period clothing like the junihitoe twelve-layered kimono. These human dolls recreate the aristocratic elegance of ancient Japan, allowing attendees to feel as if they have traveled back in time.
Hito-bina: Transforming Humans into Dolls
The individuals chosen to represent hito-bina are ordinary people without any specific background in dance or acting. Participants can witness the transformation process as they dress in junihitoe kimonos, which weigh around 20 kilos (44 pounds), and then take their positions on platforms, mimicking traditional hina-ningyo displays.
Once the hito-bina are in place, five musicians called "goninbayashi" perform Japanese court music on the lower platform while three court ladies dance on the middle platform. This immersive experience allows visitors to fully engage with a living recreation of ancient Japan.
Experiencing Ancient Games at Hiinamatsuri
Hiinamatsuri offers attendees opportunities to participate in games once enjoyed by aristocrats during the Heian period.
Kaiawase: The Art of Matching Shells
Kaiawase is a game where players attempt to find two shells that fit together, each painted with a picture that matches its counterpart. Playing this game transports participants back in time, allowing them to envision themselves as Heian period aristocrats.
Tosenkyo: Fan-Throwing Fun
Tosenkyo, another traditional game, involves throwing a folding fan at a target mounted on a stand and shaped like a gingko tree leaf from one meter away. The goal is to knock down the stand, leaf target, and fan – scoring points based on how they fall. This challenging activity can be compared to modern darts and evokes great joy when the target is successfully hit.
Hinamatsuri: A Brief Overview
Hinamatsuri originated in ancient China and evolved into its present-day form in Japan. It celebrates the healthy upbringing and happiness of girls by displaying hina dolls, dressed in elaborate costumes from 1,200 years ago. Families typically display one pair of dolls representing the emperor and empress, while others may incorporate ladies of the court or musicians into their shrine.
Traditional celebratory dishes served during Hinamatsuri include chirashizushi, an elaborate sushi made with assorted ingredients on white rice, and hina arare, sweet mochi coated in sugar with distinctive pink and yellow colors representing the seasons.
As Hiinamatsuri continues to captivate visitors with its living hina-ningyo displays and immersive experiences, it also serves as a powerful reminder of Japan's rich cultural history while securing happiness for the generations to come.
---
Kitano Odori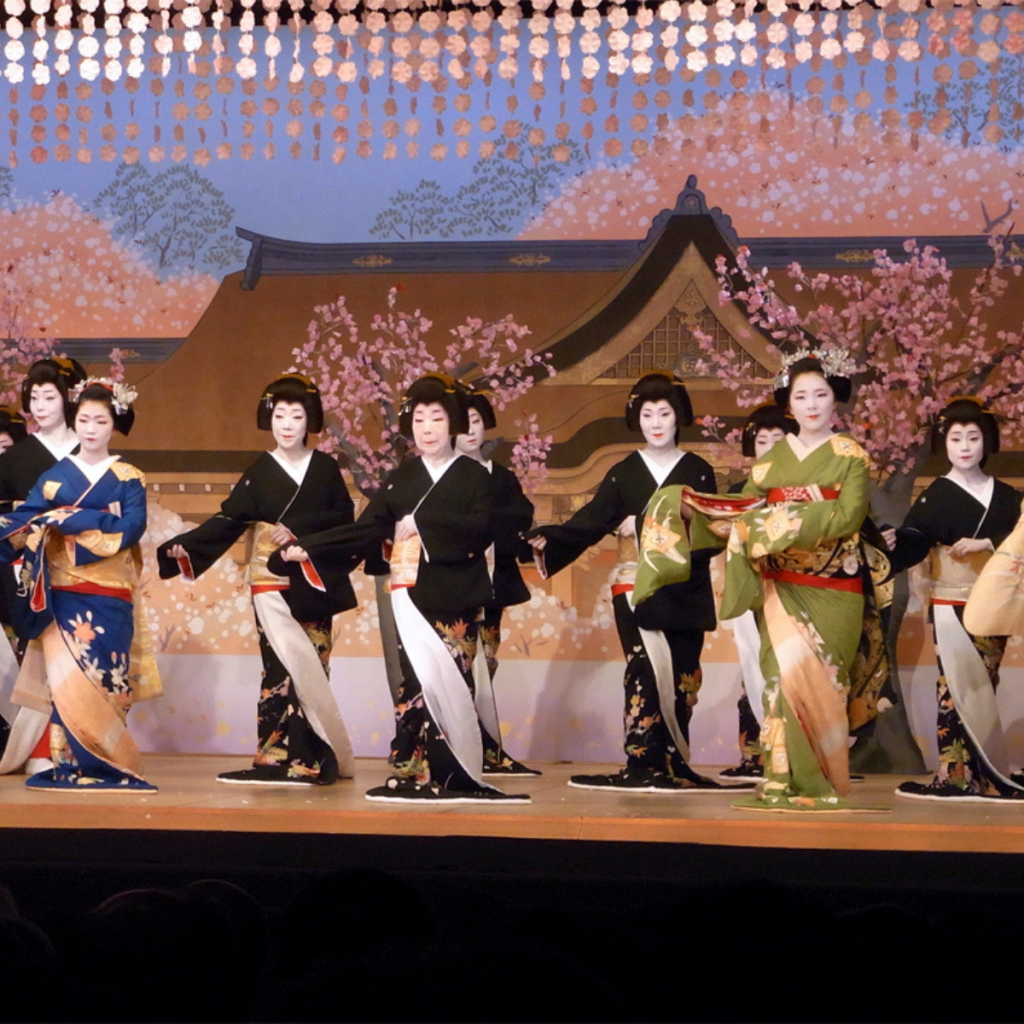 Date: Mid March-Early April 2024
The event features the geiko and maiko dancers of the Kamishichen district and is held to commemorate the founding of nearby Kitano Tenmangū Shrine.
Annual Spring Geisha Performances in Kyoto's Kamishichiken District
Kyoto, known for its cultural richness and ancient traditions, witnesses a mesmerizing event every spring. The much-awaited Kitano Odori, an annual geisha performance, consists of various dances and plays, enchanting audiences since its inception in 1952. Featuring talented geiko (the Kyoto term for geisha) and maiko (apprentice geiko), these performances offer a unique glimpse into the world of classical Japanese dance and music.
A Celebration of Kitsune Tenmangu Shrine's Founding
The premiere Kitano Odori took place as part of the anniversary celebration commemorating the founding of the nearby Kitano Tenmangu Shrine, established in the 10th century. Since then, it has been performed every year, continually capturing the hearts of visitors. The Kamishichiken Kaburenjo Theater is the main venue of this grand spectacle, where eager attendees gather to appreciate traditional Japanese performing arts.
Distinctive Features of the Performance
The performances are split into three parts: a short play, a series of dances, and the grand finale called the Kamishichiken Serenade. Each display highlights incredible talent from both geiko and maiko artists.
Engaging Dance Drama
The first program exhibits a dance drama brimming with rich stories enacted by intensively trained geikos and maikos. Using elements from classical dramas, these shows feature different themes every year. Some recent storylines include "Kitano no Mori no Monogatari," showcasing a tale about animals living near Kitano Tenmangu shrine; "Enishi no Miya," revealing a story about two lovers who must prove their bond; "Naniwa Utazaimon," offering comic relief through an adaptation; and "Shijō Kabuki," unravelling the dramatic tale behind the invention of kabuki theater.
Skilled Folk Song Dances
The second part emphasizes maikos' innocent charm and geikos' captivating expertise. Their distinct talents seamlessly blend together during these performances, creating an extraordinary atmosphere for the audience to fully relish the experience.
Kamishichiken Serenade
The most anticipated segment is undeniably the Kamishichiken Serenade. This ensemble unites all the geiko and maiko dancers on stage, bringing forth an unforgettable climax to the showcase. While geikos don stunning black kimonos, maikos contrast them with vivid, bold colors.
Ticket Information and Performance Schedule
The Kitano Odori takes place between late March and early April, providing visitors with breathtaking entertainment options during their spring trips to Kyoto. Visitors can relish in a serene pre-show tea ceremony accompanied by traditional sweets served by Maiko and Geiko themselves (this is with additional fee).
Tickets can be purchased online through Japanese credit cards or procured via travel agents. Assistance for reservations can also be found within the Tourist Information Center located in Kyoto Station.
An Opportunity not to be Missed
The Kitano Odori continues to honor its rich history by preserving the longstanding skills of geiko and maiko performers while mesmerizing audiences. Don't let this once-in-a-lifetime opportunity pass you by when visiting Kyoto during springtime!
---
Higashiyama Hanatoro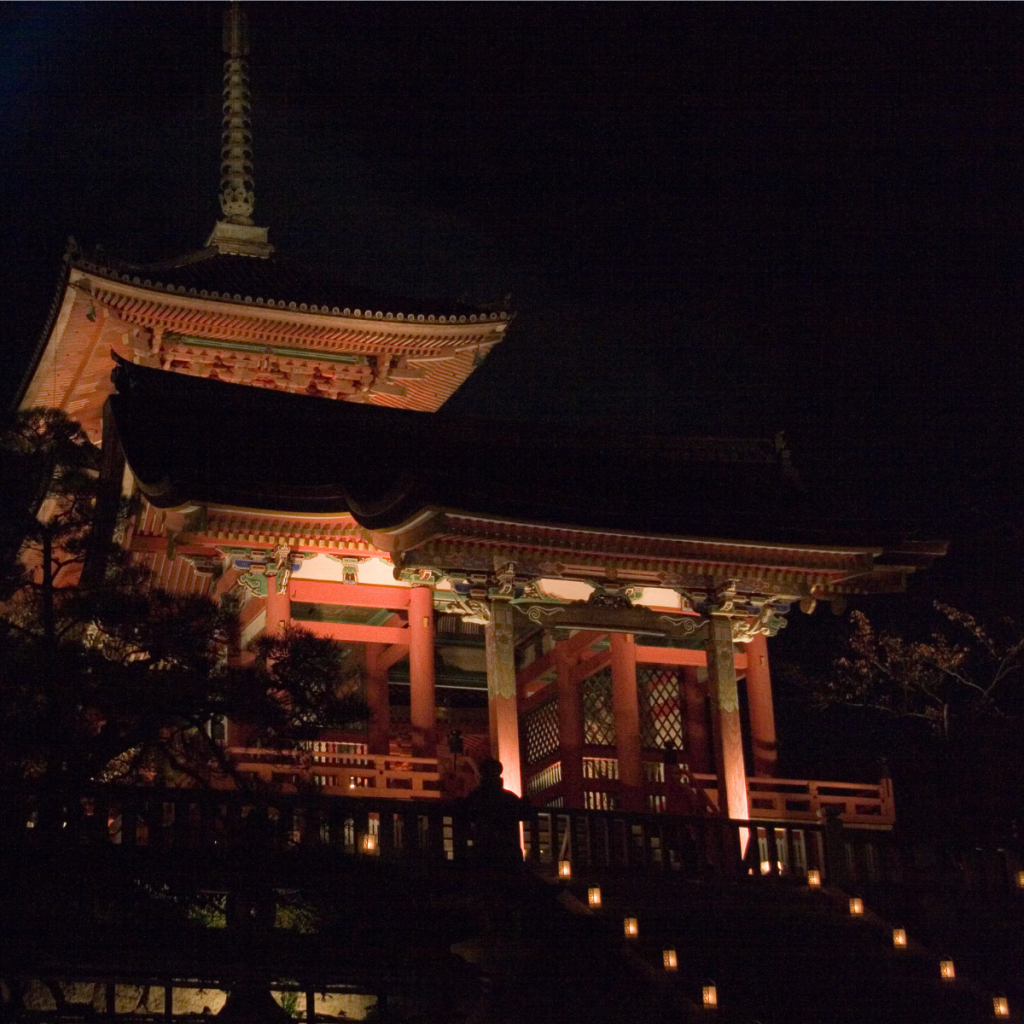 Date: Early – Mid Mar 2024
Thousands of Lanterns Guide Visitors Through Kyoto's Famous Neighborhood
Each March, the enchanting Higashiyama district of Kyoto is transformed by thousands of lanterns that light up its historical streets and temples. Known as the "Higashiyama Hanatoro," this annual event celebrates the arrival of spring and draws numerous visitors who wish to experience an unforgettable night walk through the ancient district.
Spring Graduation Celebrations Amidst a Touch of Magic
The Higashiyama Hanatoro coincides with the end of the school year, attracting many students – particularly girls – who come dressed in kimono to celebrate their graduation. The combination of traditional attire and the warm glow of lanterns creates a surreal and magical atmosphere, making their visit a memorable one.
Route Details: Passing Iconic Temples and Shrines Along The Way
The Higashiyama Hanatoro route takes visitors through illumination displays covering major temples and shrines within the district. Among those include Shoren-in Temple, Yasaka Shrine, Entoku-in Temple, Hokan-ji Temple, and Kiyomizu-dera Temple. Additionally, there are ten stops along the way featuring artistic seasonal flower arrangements as part of the Ikebana Promenade.
Preserving Tradition: Higashiyama District in Kyoto
As one of Kyoto's main attractions and best preserved areas, Higashiyama offers a genuine insight into traditional Japanese culture. Visitors can stroll through narrow lanes lined with wooden buildings, quaint shops, eateries, trinket shops, confectioneries, pickled food stands, crafts stores, and tea shops that have been attracting tourists for centuries.
The 1.5-mile (2-kilometer) walk from Kiyomizudera Temple to Yasaka Shrine showcases an authentic Kyoto experience. The local government has even undertaken un-modernization initiatives, such as removing telephone poles, to enhance the area's historic charm.
March Festival: Hanatoro Illumination Events Attract Many Visitors
Hanatoro, translating to "flower and light road," is a series of illumination events taking place in March across the Higashiyama District. Over 2,400 lanterns illuminate the streets, stretching from Shoren-in Temple to Kiyomizu-dera Temple. During this ten-day festival, popular temples and shrines are lit up with extended viewing hours.
The festival also features live and street performances on stages throughout the area, boasting a pleasant and unique atmosphere for visitors. Shops operating under extended opening hours contribute to an inviting evening ambiance in a location that is typically quiet during nighttime hours.
As a result of its enchanting backdrop and remarkable sensory experience, Higashiyama Hanatoro remains an unparalleled destination for those seeking a glimpse into Kyoto's traditional culture.
---
Okazaki Canal Boat Rides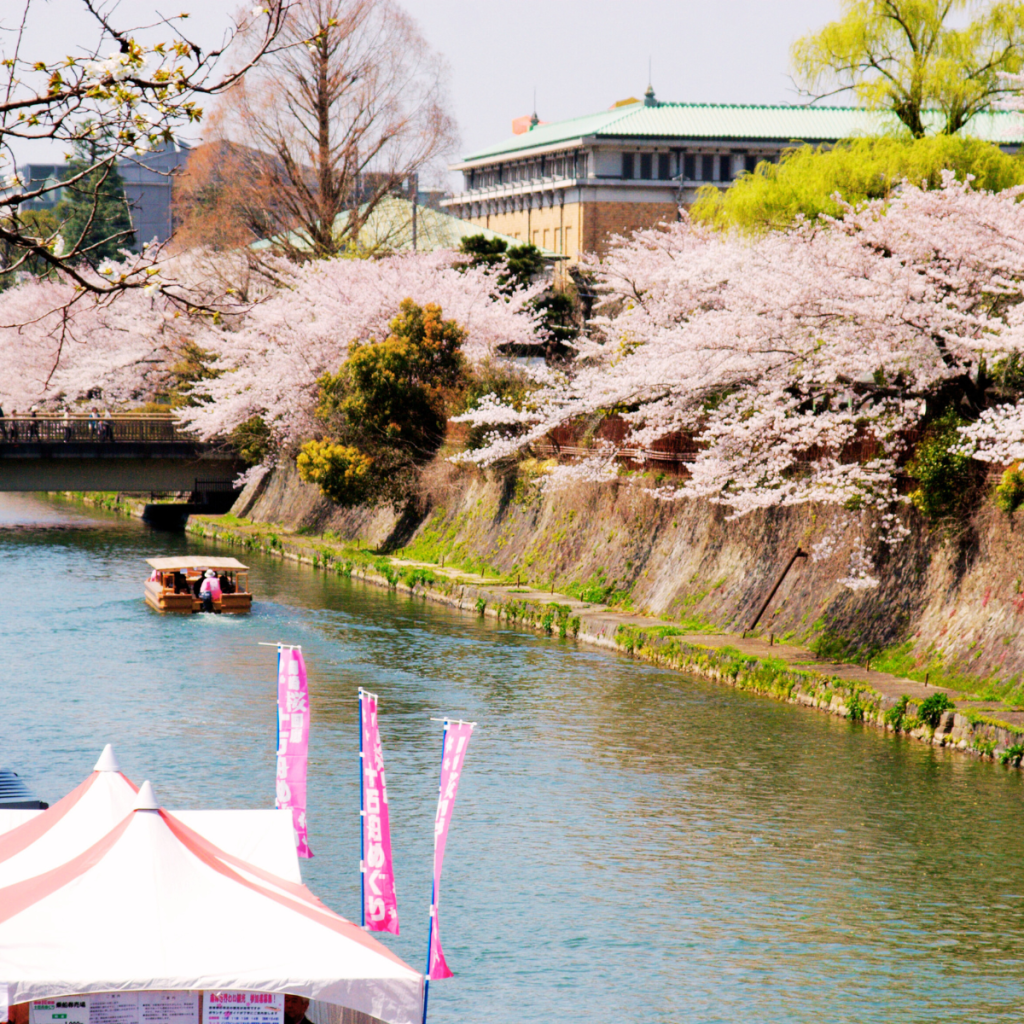 Date: Mid March- Mid April
Celebrate Sakura Season with Daytime and Nighttime Cruises
Kyoto, Japan's ancient capital, is known for its picturesque scenery and rich cultural heritage. One of the favorite ways to celebrate the cherry blossom season, or hanami, is to experience the beautiful Okazaki Canal Boat Rides. During this enchanting time, visitors can enjoy daytime and nighttime cruises aboard traditional-style jikkokubune boats, surrounded by hundreds of sakura trees in full bloom.
Experience a 25-minute Round-Trip Cruise from Nanzenji Boat Pier
Okazaki Canal connects the Kamogawa River with Lake Biwa, located just over the border in Shiga Prefecture. During cherry blossom season, these traditional-style jikkokubune boats depart every 15 minutes from Nanzenji Boat Pier for a 3km (25-minute) round-trip canal cruise.
The daytime boat ride provides a fantastic opportunity for photography enthusiasts, as cherry blossoms blooming along the canal makes for an Instagram-worthy moment. While cruising through Okazaki, you will pass by several of Kyoto's notable landmarks such as Heian Shrine, National Museum of Modern Art, and Kyoto Municipal Museum.
Nighttime Cruises Showcase Illuminated Cherry Blossoms
These special nighttime rides run until 8:30 pm (departure time) and provide an unforgettable experience where passengers can marvel at illuminated cherry blossoms glowing under the night sky.
---
Nijo Castle Sakura Festival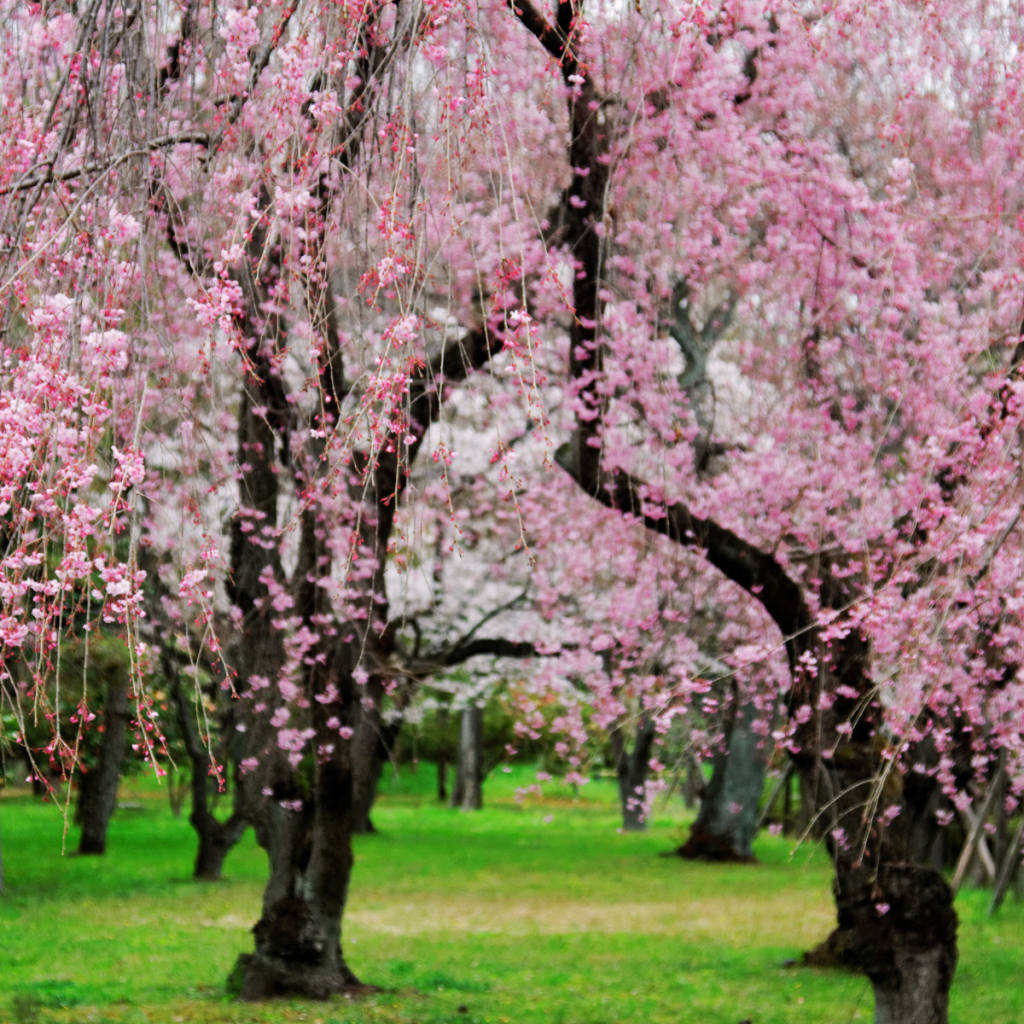 Date: Mid March- Mid April
Tokyo-based Art Collective Naked Transforms the Historical Site
Kyoto's Nijo Castle, a UNESCO World Heritage Site, has become a mesmerizing venue for cherry blossom viewing, thanks to the annual Sakura Festival. The festival brings an enchanting experience with nighttime illuminations by Tokyo-based art collective Naked. With over 300 cherry trees of about 50 species, the event showcases ephemeral beauty and attracts a large number of visitors every year.
The Enchanting Cherry Blossom Viewing Experience
The Nijo Castle Sakura Festival offers a breathtaking sightseeing opportunity for both Japanese and foreign visitors. With the nation opening up to tourism after several years, Kyoto's ancient capital is ready to welcome tourists to enjoy its historic charm during late March or early April when cherry blossoms are in full bloom.
During the Sakura Festival at Nijo Castle, the evening illuminations are a sight to behold. The event takes place nightly between 6 p.m. and 9 p.m., and features interactive displays, colorful projection mapping on the castle's Karamon gate, and even a nighttime cherry blossom tea ceremony.
A Blend of History and Beauty at Nijo Castle
Built in 1603 as the Kyoto residence for Japan's first shogun Tokugawa Ieyasu, Nijo Castle is often overlooked by travelers despite its rich historical legacy. Offering a different perspective than temples and shrines, the Sakura Festival highlights its beautiful gardens with photogenic surroundings that date back to Japan's Heian Period (794-1185).
Aside from admiring illuminated cherry blossoms at night, visitors can explore other areas of Nijo Castle during daytime hours. For instance:
Sakura no Sono (Cherry Tree Garden)
After entering through Karamon (Chinese Gate), visitors will see Sakura no Sono with its numerous Japanese cherry trees standing majestically in the garden.
Seiryuen Garden
Moving further to Seiryuen, a large garden features various cherry trees interspersed between rocks and lawns. The contrasting atmosphere with a blend of wild cherry trees (Yamazakura) and weeping cherry trees (Shidare-zakura) offers a delightful visual treat. The enchanting sakura tunnel is sure to leave an unforgettable impression.
Food, Drinks, and Relaxation amidst Cherry Blossoms
After enjoying long walks among the illuminated cherry trees, visitors can indulge in hot drinks and food at the stalls next to Seiryuen Garden. Surrounded by sakura trees, capturing views of the moon on a chilly evening adds to the charm of Nijo Castle's Sakura Festival experience.
Plan Your Visit
The age of the cherry trees at Nijo Castle ranges between 50 to 60 years old, while their varieties include Somei Yoshino, Yamazakura, and Yaezakura. With flower blooms that last around one month, along with historic buildings lit up alongside the illuminations, this event is undeniably worth waiting for.
As visitors flock to witness this captivating experience during weekends, it may require waiting in long lines for entry. However, the mesmerizing beauty of the Sakura Festival at Nijo Castle is undoubtedly worth every moment spent.
---
Ninnaji Flower Festival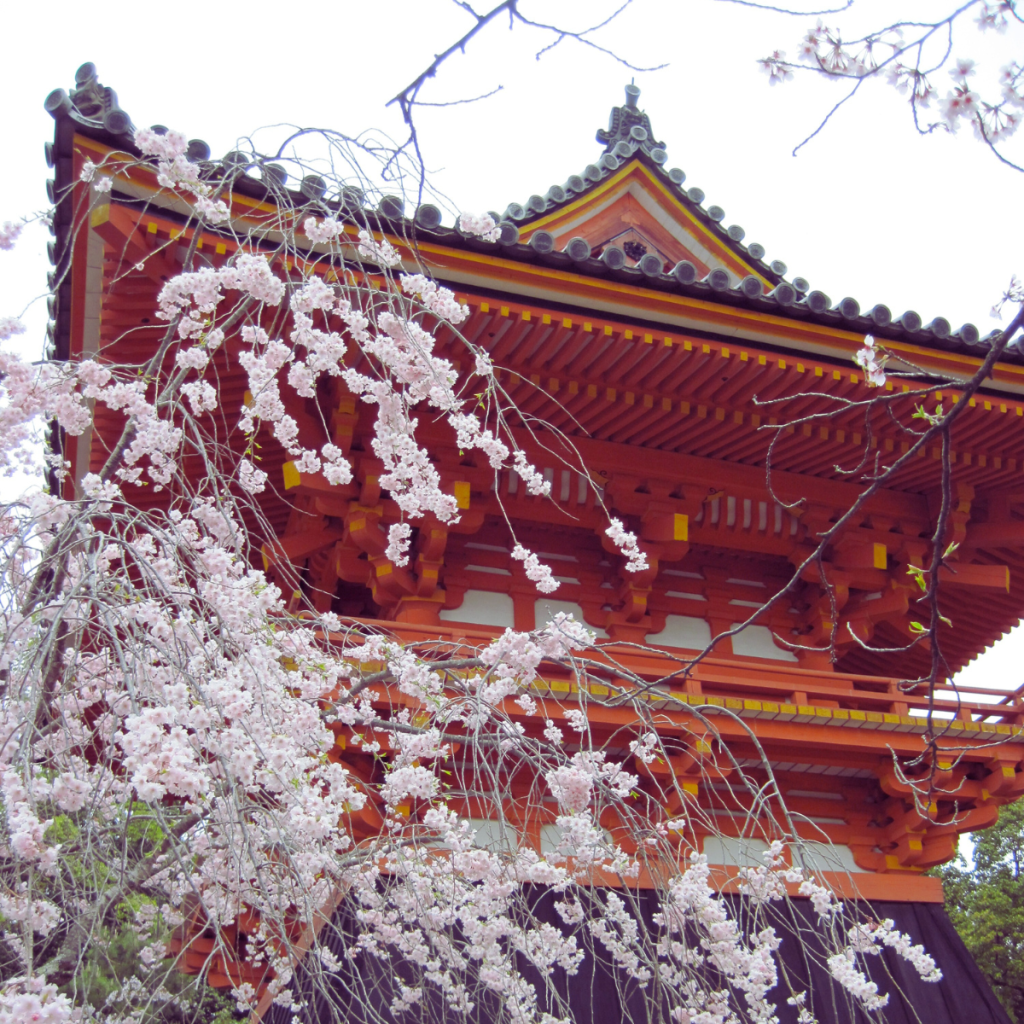 Date: Mid March- Early May 2024
Experience the Unique Omuro-zakura Cherry Trees at Kyoto's Historic Temple
The annual Ninnaji Flower Festival is a much-awaited event that takes place in Kyoto, Japan. This enchanting festival not only provides visitors with an opportunity to enjoy some breathtaking cherry blossoms but also serves as a gateway to experiencing authentic ancient Japanese history and culture.
An Overview of Ninnaji Temple
Ninnaji Temple, which was established by Emperor Uda back in 888, is known historically as "Omuro gosho." This World Heritage Site once served as the head of Monzeki Temples before Meiji Restoration. The magnificent temple suffered severe damage during the Onin War due to fires; however, it was reconstructed about 160 years later thanks to Tokugawa Shogun Iemitsu's assistance.
Today, the five-story pagoda and Nio-mon gate are evidence of its striking restoration efforts. Recognized among the 100 best sakura viewing points in Japan, this iconic landmark offers visitors an unforgettable experience through its stunning landscapes featuring late-blooming, short-statured Omuro-zakura (cherry trees).
Witness the Spellbinding Beauty of Omuro-zakura
One aspect that makes Ninnaji unique is its abundant collection of Omuro-zakura, low-height cherry trees planted in the northwestern area near Chu-mon Gate. These gorgeous cherry trees burst into bloom from early-to-mid-April, marking their blooming period slightly later than other popular varieties like Somei Yoshino.
With over 500 cherry trees onsite – including vivider pink petals of average height around two meters – combining aesthetically pleasing pagodas amid these overflowing natural splendors produces an idyllic environment designated as an official national site for scenic beauty.
Art Exhibitions and Temple Treasures at Ninnaji
The Omuro Hana Matsuri, or the Flower Festival, is about more than just cherry blossoms: it also hosts a lineup of contemporary art exhibitions by Kyoto artists. Visitors will find themselves immersed in beauty inside Reihokan – a treasure trove housing numerous priceless objects ranging from Buddhist statues to paintings, sculptures, books, and ancient documents.
Showcasing 12 National Treasures (88 items) and 47 Important Cultural Properties (1,678 items) among other historical artifacts during spring and autumn themed events, visitors can delve into an extraordinary experience through these impressive exhibits.
Pilgrimage Opportunities and Shukubo Lodging at Ninnaji Temple
Ninnaji Temple's grounds are home to temples enshrining Kobo Daishi on Mt. Joju as part of "Omuro's Eighty-eight Sacred Places." These fudasho allow visitors to follow a three-kilometer trail for two hours alongside alluring landscapes that resemble those surrounding Shikoku's sacred locations. Between May-November, guests are welcome to collect stamp impressions throughout their journey while indulging in unique cultural experiences.
Additionally, temple lodging known as shukubo provides tourists with access to exclusive activities like joining morning devotional exercises held at Kon-do Hall. With accommodations such as traditional Kyo kaiseki dinners featuring seasonal ingredients and shojin cuisine breakfasts, staying overnight in its serene architecture promises captivating moments seldom accessible through typical sightseeing paths.
The Ninnaji Flower Festival presents not only the chance to marvel at Omuro-zakura cherry trees but also provides opportunities to immerse oneself deeper into Japanese history, culture, and traditions amid one of Kyoto's most revered sites – ensuring memories forged upon these hallowed grounds forever enduring within hearts of many.
---
Hanezu Odori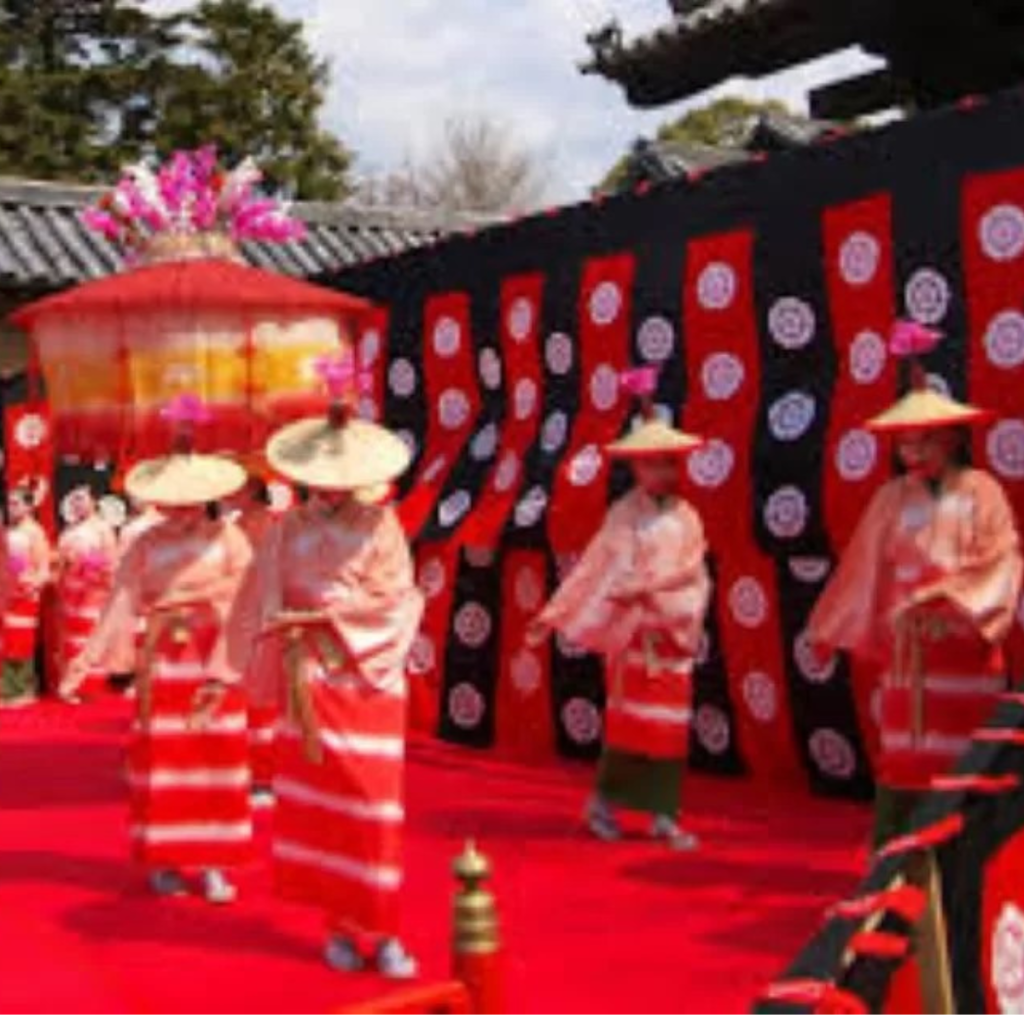 Date: Late March
Celebrate Traditional Dance and Spring Season in Kyoto's Famous Zuishin-in Temple
The Zuishin-in Temple in Kyoto, Japan, is renowned for its stunning plum tree blossoms and deep-seated historical connection with Ono no Komachi, one of the country's most celebrated beauties who was also an accomplished poet. Every year, on the last Sunday of March, a beautiful spectacle unfolds within the temple grounds as a poignant reminder of Ono no Komachi's tragic love with Fukakusa no Shosho. The event, known as the Hanezu Odori, is a showcase of traditional folk dance, music, sweets, and beauty contests that invite both locals and visitors to immerse themselves in Japan's rich culture.
Dazzling Array at Zuishin-in Temple
Located about 20 minutes away from Kyoto Station by train, the Zuishin-in Temple houses 200 plum trees that bloom spectacularly every spring. The temple also serves as the venue for the Hanezu Odori performance.
In old Japanese, "hanezu" translates to "pale pink," which symbolizes the beautiful hue that adorns the dancers' elaborate costumes. These girls wear bamboo hats decorated with plum flowers as they depict the tragic romance between Ono no Komachi and Fukakusa no Shosho. The captivating performance tells their story through a traditional children's song that creates an evocative atmosphere filled with fleeting emotions.
Ono Plum Garden: A Stroll Among Flowering Plum Trees
The Ono Plum Garden is the only great plum viewing location in Kyoto. Known for its late-blooming variety called "Hanezu plums," the garden reaches full bloom in mid-March—just in time for visitors to enjoy its extraordinary display of beauty.
Indulging in Traditional Delicacies: Hanezu Uiro Sweets
Available for purchase at Zuishin-in Temple, Hanezu uiro sweets come in delightful bamboo containers that make for charming souvenirs. Made from brown sugar and agar-agar, these sweets offer a unique natural sweetness difficult to resist. Each bamboo container of Hanezu uiro is priced at 200 yen.
The festive atmosphere of Hanezu Odori includes mochi rice cake pounding sessions throughout the day where visitors can both indulge and take home as well as special uirō candy offered by the winners of the previous year's Zuishin-in Miss Ono no Komachi Beauty Contest.
Journey to Zuishin-in Temple
The Zuishin-in Temple can easily be reached within 30 minutes from either JR Kyoto or Higashiyama. For those traveling from JR Kyoto, take a train to Yamashina Station and then switch to the subway for Ono Station. A leisurely 10-minute walk awaits visitors from Ono Station, leading directly to Zuishin-in Temple.
By capturing the bewitching tale of love and beauty amidst blossoming plum trees, Hanezu Odori lends itself as a tribute that transcends time, captivating the hearts of those who participate in this cherished event.
---
Kiyomizu-dera Spring Illuminations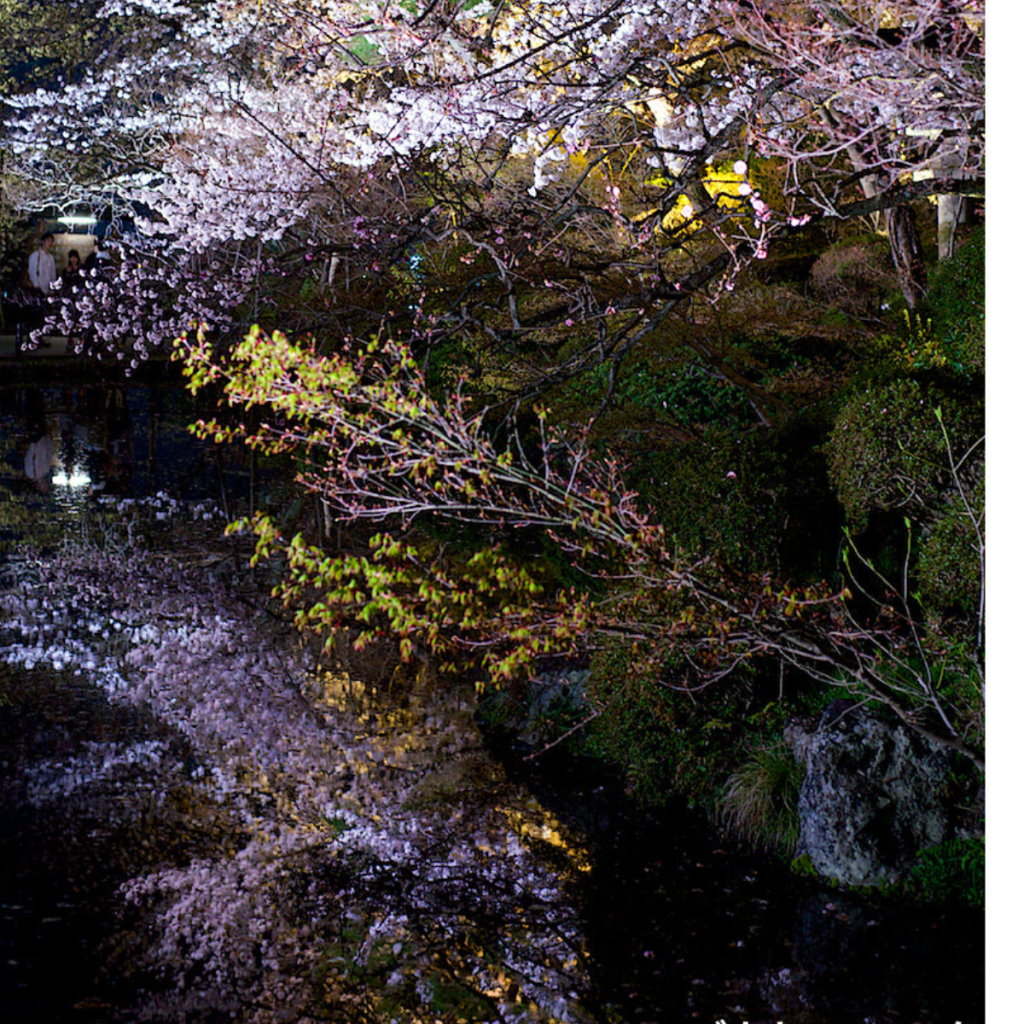 Date: Late March – Early April
Celebrating the Changing of Seasons at Kiyomizu-dera Temple
To welcome the spring season, Kiyomizu-dera hosts an enchanting illumination event. The temple, pagoda, and Jojuin Garden come alive with the beautiful glowing scenery. This spectacular evening event is one of three annual illuminations hosted by Kiyomizu-dera, with others taking place during autumn and summer.
Kyoto's Historic Beauty: Explore the Rich History of Kiyomizudera Temple
Established around 1,200 years ago on Mt. Otowa by a Hosso monk, Kiyomizu-dera has been designated as both a national treasure and a World Heritage Site. The temple derives its name from Otowa Falls' pure spring water, with "Kiyorakana" (pure) "mizu" (water) and "dera" (temple) combining to form "Kiyomizudera."
Visitors from around the world flock to Kiyomizu-dera Temple to experience Japan's breathtaking natural surroundings and enjoy exquisite views of cherry blossoms in spring and autumn foliage.
Main Points of Interest at Kiyomizudera Temple
As you embark on your journey through the temple grounds, take note of these key areas:
Main Temple Building (Hondo): On your way to the main building area from the entrance, admire the striking red Nio-mon Gate and Sanju-no-to three-storied pagoda standing tall in the background.
While exploring this area, pay a visit to Daikokuten – a humorous deity believed to bring good luck in financial matters – and Fureai Kannon – a deity that visitors can directly touch for blessings. Lastly, don't miss the iconic Kiyomizu Stage situated in front of the main building, an architectural marvel built without nails and renowned for its heights.

Jishu Shrine: Known for bringing good luck in matchmaking, Jishu Shrine is a beloved spot located atop the stairs to the left of the main building area. With its gold leaf-decorated main building and designation as an Important Cultural Property and World Heritage Site, this shrine is a highlight in itself.
Otowa Waterfall Area: The temple's namesake attraction, Otowa Falls, pours spring water from three separate spouts. Drinking from any of these spout promises longevity, success in love, or academic achievement. To avoid diluting your luck, only drink from one spout during your visit.
Best Times to Visit Kiyomizudera and Illumination Highlights
Expect a visit to Kiyomizudera Temple to last about an hour; however, plan to allow extra time during peak tourist seasons such as cherry blossom or autumn foliage periods. The evening illuminations during spring, summer, and fall attract many visitors and are perfect opportunities to witness Kiyomizu-dera's beauty under enchanting lights.
Exploring Kyoto's Traditional Sights Around Kiyomizudera Temple
Enhance your visit by wearing a rental kimono and capturing the charming sights of ancient Kyoto along the approach roads near the temple, known as Ninenzaka and Sannenzaka. Along these streets where old Japan-world charm remains intact , explore various artisan shops or dine at traditional Japanese restaurants.
A popular stop en route to the temple is Starbucks Coffee Kyoto Ninenzaka Yasaka Chaya –this world's first Starbucks with tatami seating has been a highly sought-after spot for international visitors.
Don't miss out on the chance to immerse yourself in Kyoto's captivating history and culture during the Kiyomizu-dera Spring Illuminations.
---
Weeping Cherry Tree Illumination at Maruyama Park
Date: Late March
Popular Hanami Spot Maruyama Park
Regarded as one of the most spectacular and visited locations in Kyoto, Maruyama Park has earned its reputation with its grandeur and natural beauty. Especially during the hanami matsuri, or sakura blossom viewing festival, this park turns into a mesmerizing sight due to its illuminated shidarezakura tree.
Attracting both locals and tourists alike, Maruyama Park is known for its vibrant environment during the hanami season rather than being calm and peaceful. Moreover, witnessing the illuminating spectacle of weeping cherry tree, also referred to as shidarezakura in Japanese, should be on everyone's itinerary.
Special Lighting Event of Shidarezakura
Adding to the festive event's attraction is the annual illumination of shidarezakura. This tradition sees the elegant cherry tree lit from 6 p.m. until 10 p.m. Notably, this tree was grown from the seed of a two-century-old predecessor, enhancing its uniqueness and historical significance.
To amplify the captivating ambiance, there will also be a tiny bonfire that is part of the festival's proceedings. While it may not be a grand flame, it contributes significantly to the overall atmosphere during the hanami season in late March until early April.
Accessibility to Maruyama Park
Lastly, reaching Maruyama Park is quite seamless as it's conveniently located close to various public transportation stations including Gion-Shijō Station (Keihan Main Line), Kawaramachi Station (Hankyu Line), and Higashiyama Station (Subway Tōzai Line).
These stations are within walking distances ranging from 10 minutes to 15 minutes, making it feasible for visitors from all parts of Kyoto or anyone coming from other cities.