History and Background of Kiyomizudera Temple
The Kiyomizu-dera Temple, also known as "Pure Water Temple," is one of the most celebrated temples in Japan. This UNESCO World Heritage site is a paramount Buddhist monument established in 778, with its present-day structures dating back to 1633. The temple takes its moniker from the Otowa Waterfall, streaming through the temple grounds, providing sacred water that believers find spiritually refreshing.
Uniqueness of Kiyomizudera Architecture
Kiyomizudera Temple's main hall showcases a unique architectural prowess. The hall is famed for its wooden stage, constructed without nails, supported by giant pillars lending a magnificent perspective over the city of Kyoto. The main hall enshrines the temple's primary deity, Kannon, the God of Mercy. Adjacent to it stands an impressive three-story pagoda, making it an iconic photo spot during autumn leaf sightings and cherry blossom seasons.
Jishu Shrine: Fortune in Love and Longevity
Located on the temple grounds lies Jishu shrine, considered a love shrine because of its deity—a matchmaker and god of love and good marriages. Pilgrims participate in an interesting tradition of walking between two stones representing love bonds with eyes closed—a successful attempt promises success in romance.
Wander through Higashiyama District
Kiyomizu-dera Temple is embedded within Higashiyama, one of Kyoto's most intact traditional districts. Walking to or from the temple, you'll encounter narrow lanes, wooden buildings, tea houses offering matcha tea and sweets, and charming boutiques selling souvenirs and crafts, making Higashiyama an aesthetic panorama.
Otowa Waterfall: Home to Three Separate Streams
At the southern end of the temple's complex flows the Otowa Waterfall—divided into three separate streams. Each has a blessing it bestows upon drinking from it: longevity (long life), success at school (wisdom), and enriching love life (romance). However, it is often considered greedy to drink from all three streams.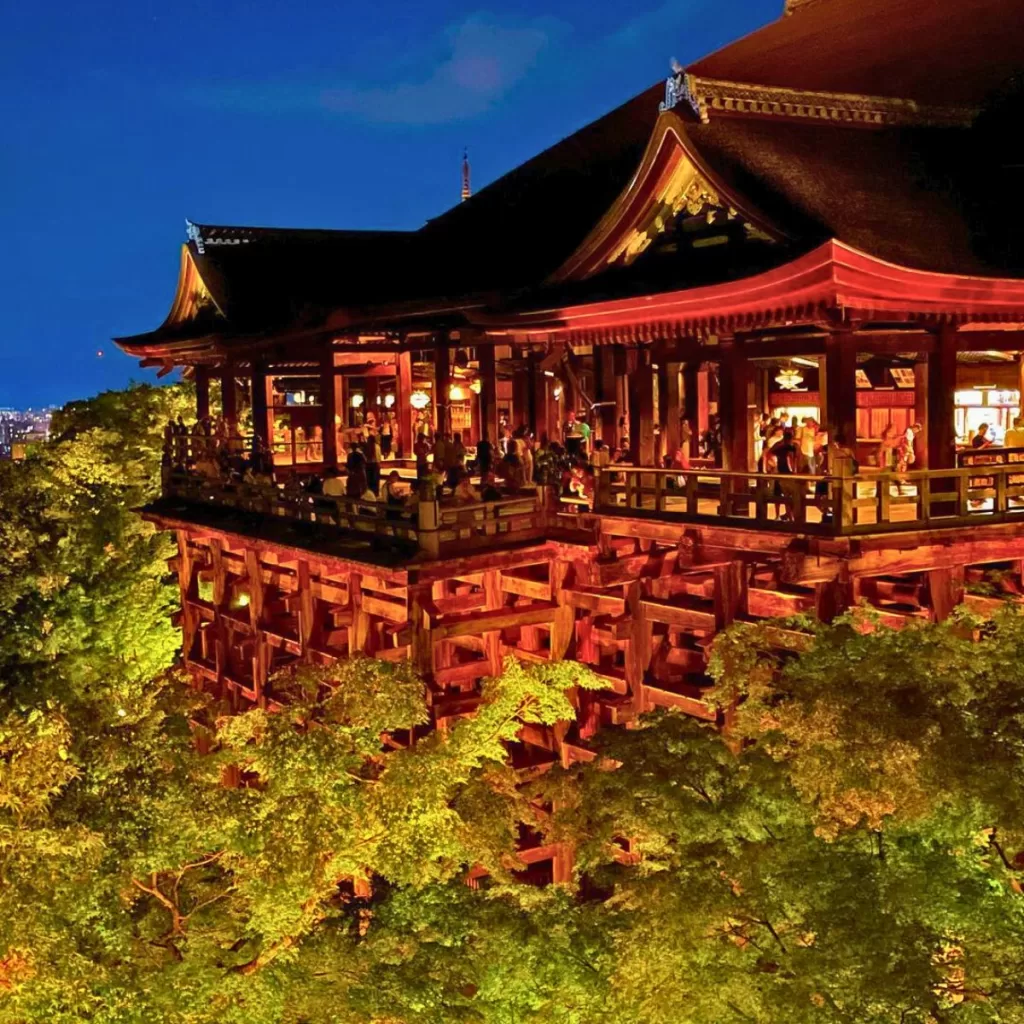 Special Night Illuminations
During specific periods like cherry blossom season in spring or autumn leaf season—special night illuminations are held where Kiyomizu Dera is lit up beautifully, enchanting every viewer's senses. The event offers a unique atmosphere with contrasting shadows and silhouettes, further accentuating the Kyoto travel experience.
How To Reach Kiyomizudera?
Take bus number 100 or 206 from JR Kyoto Station to the 'Kiyomizu-michi' bus stop, followed by a ten-minute uphill walk towards Kiyomizu-dera temple. Alternatively, you can take a scenic twenty-minute walk from Kiyomizu-Gojo Station on the Keihan Railway Line across the picturesque Gion district before reaching your attraction spot.
Best time to Visit Kiyomizu-dera
The vast temple complex offers magical views of Kyoto throughout four seasons, each with its charm—Cherry blossoms floating through sprightly springs; vibrant hues dotting the landscape in autumn; snow draping over every structure painting pure serenity during winters; lush greenery blooming around Pure Water Temple during hot summer. However, visiting late afternoon shelters visitors amidst mesmerizing sunset coloring Kyoto landscapes visible from the vast wooden stage.
Tourists should plan their visit by keeping illumination evenings open wherein they witness transformations amplifying Kiyomi's beauty magically—that indeed ends up becoming the highlight of any visitor's trip to this place!
It's fair enough to say that a visit to Kyoto would be incomplete without paying respect to this immense wooden masterpiece—Kiyomizudera Temple—an architectural marvel that should be on your bucket list when touring around activities in Kyoto.
FAQs
What is Kiyomizudera Temple?
Kiyomizudera Temple, also known as Kiyomizu-dera Temple, is a famous Buddhist temple located in the eastern part of Kyoto city. It is one of the most celebrated temples in Japan and a popular tourist attraction.
What makes Kiyomizudera Temple so special?
Kiyomizudera Temple is renowned for its stunning architecture, particularly its wooden stage that offers panoramic views of Kyoto city. It is also famous for its Otowa Waterfall, where visitors can drink the pure water believed to grant various blessings.
Is Kiyomizudera Temple a UNESCO World Heritage Site?
Yes, Kiyomizudera Temple is listed as a UNESCO World Heritage Site. It is one of the monuments of ancient Kyoto included in the prestigious list of world heritage.
When was Kiyomizudera Temple built?
Kiyomizudera Temple was originally built in 1633 without the use of nails. It has undergone several renovations throughout history but still retains its original architectural splendor.
What can I see at Kiyomizudera Temple?
At Kiyomizudera Temple, you can explore the main hall, pagoda, shrine, and the temple grounds. The temple offers breathtaking views of the city, especially during autumn when the surrounding foliage turns into vibrant hues.
How can I reach Kiyomizudera Temple?
Kiyomizudera Temple is easily accessible from Kyoto Station. You can take a bus from Kyoto Station and get off at the Kiyomizu-michi bus stop, which is just a short walk away from the temple.
Are there any other attractions near Kiyomizudera Temple?
Yes, there are several other attractions near Kiyomizudera Temple. Some nearby places of interest include Jishu Shrine, Gion district, Kodaiji Temple, and Higashiyama area.
Is it possible to visit Kiyomizudera Temple during cherry blossom season?
Yes, visiting Kiyomizudera Temple during cherry blossom season is highly recommended. The temple's surroundings are adorned with cherry blossoms, creating a picturesque and enchanting atmosphere.