Rikugien Garden Autumn Illumination
Marvel at the enchanting Rikugien Autumn Illuminations, one of the mesmerizing Tokyo Events in November, showcasing the season's beauty.
Celebrated for its breathtaking autumn views, Rikugien Garden in Tokyo is set to delight visitors again from late November to early December with its striking nighttime illuminations transforming the vibrant autumn leaves into a spectacular visual feast.
Drawing numerous domestic and international crowds, the fiery hues reflected off the waters of the garden's lake under the illumination create an unforgettable scene. It's not just garden enthusiasts who will find themselves enchanted but also ordinary travelers looking to experience the heart of Japan's nature.
Getting there and Entry Details
Conveniently located just minutes away from JR Yamanote Line's Komagome Station, Rikugien Garden is signposted in English and easily accessible. The entrance fee to this spectacle is only ¥300. However, given its popularity, it may be beneficial to consider visiting on a weeknight when it's less crowded.
During peak times, like Sunday nights, visitors might experience lengthy queues. Nonetheless, once inside, the quiet, tranquil beauty of lit autumn leaves awaits you along with the enchanting garden paths.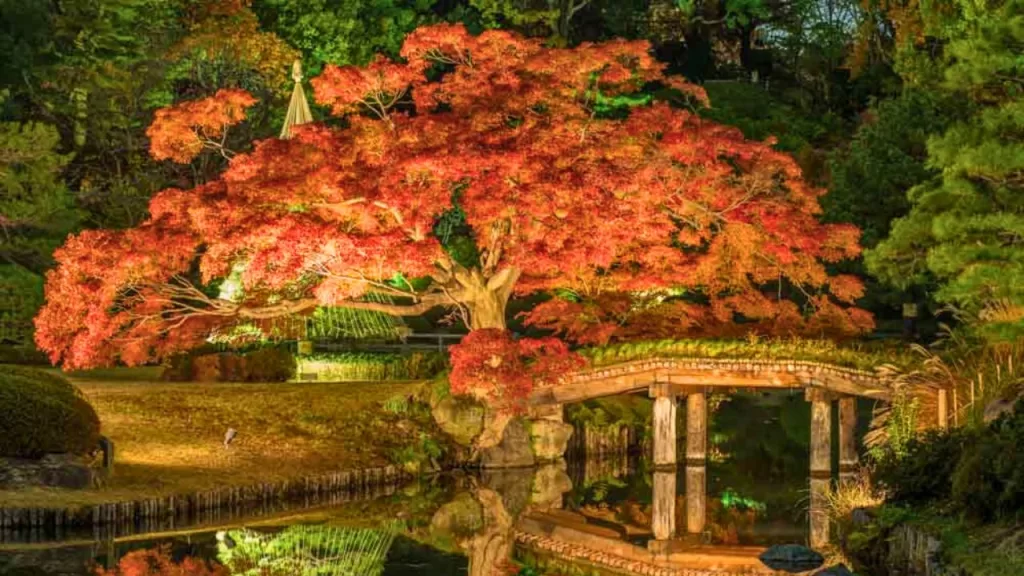 Highlight Features: Central Lake and Illuminated Trees
Central to Rikugien's charm is its vast lake in the middle of the garden. Lit up by strategically placed lights, it magnifies the beauty of autumn leaves that reflect on its calm surface. This mesmerizing spectacle attracts photo enthusiasts who wait and line up for a perfect shot against this scenic backdrop.
Throughout your walk within the garden, stunning mirror images of colored foliage on small ponds and aesthetically symmetrical bridges enhanced by mists cast by machines create an atmosphere that further adds to the allure.
Rikugien's Annual Light-Up Show
Rikugien Garden extends its opening hours until 9 pm from mid-November through early December for its highly anticipated "Light Up" show. Artistically arranged lights throughout the park accentuate the warm shades of autumn leaves.
A fixed route around the park ensures everyone moves together, experiencing all highlights in about 90 minutes. Snacks and drinks can be enjoyed at stalls situated along this trail.
Although photography is encouraged in most areas, some areas, such as paths facing ponds, require you not to linger too long for safety reasons and smooth traffic flow.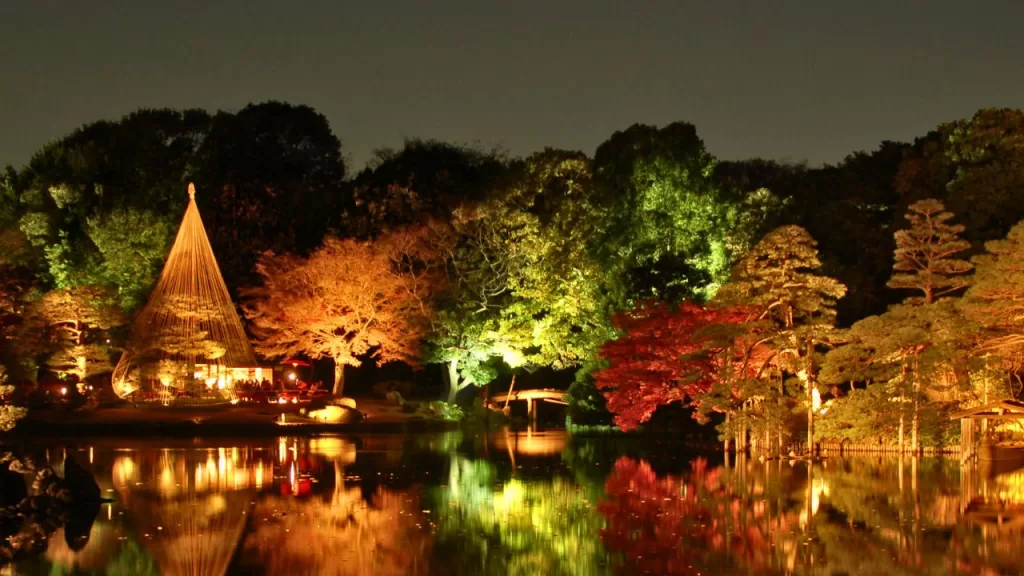 A Journey into Japan's History and Culture
Rikugien Gardens had a rich history of the Edo era when a feudal lord established it. The nationally designated scenic beauty spot presents landscapes crafted around famous scenes from waka poems, invoking an authentic feel of ancient Japan.
This year offers an additional treat — projections on earthen walls of its dozen storehouse running between 6 pm and 8:30 pm alongside provisions for light meals, including authentic matcha and wagashi at their tea houses — adding a cultural angle to your visit.
Pre-purchase of online tickets is mandatory for evening visits with an entry fee of ¥1,000 per person (free for primary school students).
Indulge in a captivating fusion of nature and culture at the Rikugien Autumn Illuminations, coinciding with the Happo-en Tokyo Red Garden Autumn Festival.