The Spectacular Performance
As the curtain rises, the audience gets the first glimpse of eloquently dressed porcelain dolls coming to life. This is not your ordinary theater show but rather, it is a celebration marking the arrival of spring – The Kyo Odori. The stars of the performance are none other than the highly revered geiko (Kyoto geisha) and their apprentices, or maiko.
The host venue for this grand spectacle is none other than the historically rich Miyagawacho theater. Dotted with golden pheasants in its intricate woodwork, this cultural landmark sets an enchanting stage for welcoming enthusiasts from across the globe.
The dance attire of performers, known as susoshiki is a marvel to behold. These long kimonos are padded at the bottom specifically for ease in dancing. They create a stunning contrast against both the alabaster complexion of young maiko aspirants and also against the rich visual tapestry offered by an array of cherry blossoms replacing plum blossoms. It's one of the most fascinating Kyoto events in April.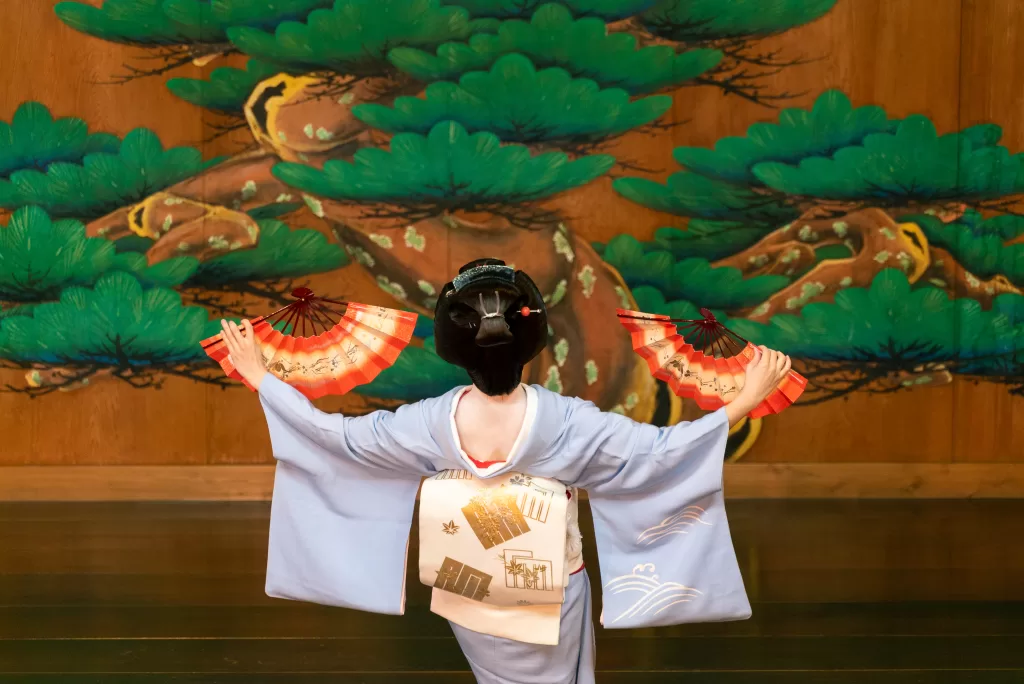 Fashion Infused Performances
Captivating audiences through their fashion-infused performances, these women gracefully dance in peach-pink and lavender-blue kimonos, embodying elements of nature synonymous with spring.
A typical language barrier does not exist here as no prior understanding of Japanese culture or language is needed to attend this mesmerizing cultural performance. In fact, it is posited that an aesthetic journey filled with exquisite melodies and choreographies serves as an effective mechanism to effortlessly erase any existing language barriers.
The Heartbeat and History of Miyagawachō District
The annual Kyo Odori offers a compelling glimpse into what can be described as 'the heartbeat' of Kyoto's Miyagawachō district. Performed by both geiko and maiko residing within this district, they present an original dance piece crafted afresh each year complemented by a shamisen performance. The act culminates in a grand finale known as the Miyagawa Ondo where all dancers appear together showcasing exquisite spring kimonos.
Musical Depiction of Kyoto's Most Famous Places
It's worth noting that Kyo Odori (Kyoto Dances) vividly depict some of Kyoto's most famous places through musical narration accompanied by dance renditions. These performances have been enjoyed greatly since their inception in the 1950s.
Designed as a two-week affair kickstarting at the beginning of April each year, Kyo Odori perfectly coincides with Kyoto's cherry blossom season further enhancing its appeal in attracting both local and international residents alike for a rewarding cultural immersion.
In conclusion, witnessing Kyo Odori presents a unique opportunity to not just enjoy music and dance but also discover Kyoto's vibrant soul blooming amidst its cultural heritage sites showcasing traditional Japanese art forms personified by geikos and maikos.
Experience the rich traditions of Kyoto at the Heian Jingu Reisai Festival. Celebrate the ancient accession ceremony of Emperor Kanmu and immerse yourself in the vibrant atmosphere of this annual event. Take advantage of this unforgettable cultural experience.