In Kyoto, April brings forth a vibrant tapestry of events and festivals that showcase the city's rich cultural heritage and celebrate the arrival of spring.
| Date | Event | Category |
| --- | --- | --- |
| Early- Late April | Miyako Odori | Traditional Dance Performance |
| Mid April | Hirano Shrine Okasai | Cherry Blossom Festival |
| Mid March- Early April | Kitano Odori | Geisha and Maiko Performance |
| Late March- Early April | Kiyomizu-dera Spring Illuminations | Illumination Event |
| Mid April | Heian Jingu Reisai Festival | Traditional Festival |
| Early April | Kyo Odori | Traditional Dance Performance |
| Late March – Early April | Maruyama Park Weeping Cherry Tree Illumination | Illumination Event |
| Mid March- Mid April | Okazaki Canal Boat Rides | Boat Ride Experience |
| Second Sunday of April | Yasurai Festival | Traditional Festival |
| Second Sunday of April | Hotaiko-hanamigyoretsu | Parade |
| April 29 | Kyokusui no Utage | Poetry Event |
Miyako Odori
Date: Early- Late April
A Glimpse into the Rich Cultural Heritage of Japan
The annual Miyako Odori, a captivating traditional dance performance, takes place at the newly reconstructed Minami-za kabuki theatre building in Kyoto each April. Featuring around 60 actors, including renowned geisha and maiko from the historic city, the event beautifully encapsulates Japan's rich cultural heritage.
Established in 1872 during the Exhibition for the Promotion of Domestic Industry, the Miyako Odori performance has continued to gain national recognition. The event was introduced to showcase traditional arts and preserve Kyoto's unique customs amidst rapid modernization.
Celebrating the Beauty of Nature Through Dance and Music
This one-hour performance consists of eight mesmerizing scenes representing all four seasons. Characterized by lavish costumes, breathtaking scenery, and live nagauta (shamisen music) and joruri (narrative music), audience members will surely have an unforgettable experience regardless of their knowledge of the Japanese language.
Coinciding with cherry blossom season, the show is held from April 1st to April 30th, gathering not only local residents but also international visitors who flock to witness these famed spring blooms.
A Legacy of Artistic Excellence
The original choreographer behind the performance, Yachio Inoue III from Kyomai Dance School, continues to inspire today's production under the instruction of Yachio Inoue V – a living national treasure. As with tradition, all performances take place at the beloved Gion Kobu Kaburenjo Theatre that has served as its home since its earliest days.
Ticket Options and Tea Ceremony Experience
To accommodate various preferences and budgets, visitors can select from different seating options within the Gion Kobu Kaburenjo Theatre. Patrons can either opt for more affordable seats on tatami mats or choose reserved seats that come with a delightful tea ceremony experience an hour prior to the performance.
---
Hirano Shrine Okasai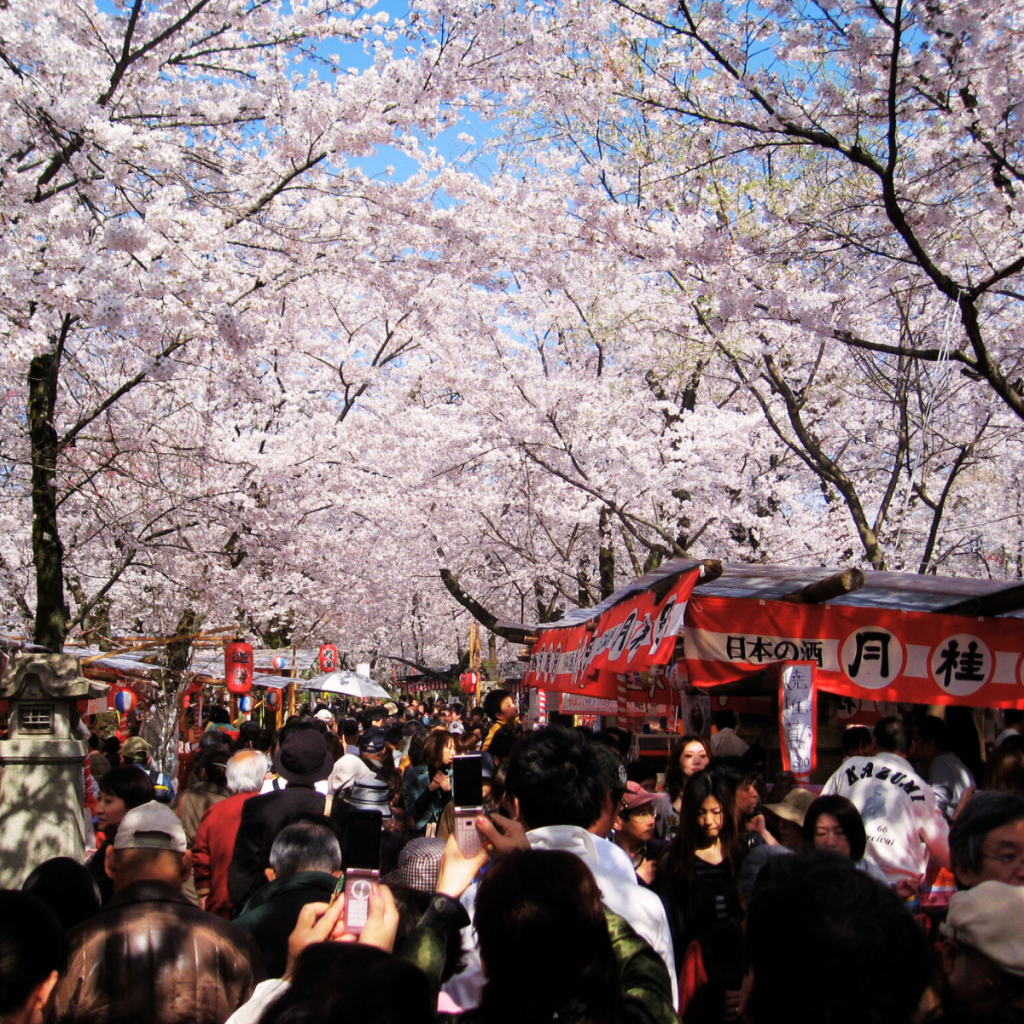 Date: Mid April
Hirano Shrine: A Historical Gem
Hirano Shrine, a historical gem located in the north of Kyoto, is well-known for being one of the top spots for cherry blossoms viewing during the sakura season. Established in 794, the shrine has enjoyed a prosperous relationship with Japan's imperial family and political powers such as the Genji and Heike clans.
With over 400 trees and 60 different species of cherry blossoms, Hirano Shrine offers a colorful spectacle of pink and white flowers that come alive during this special time. Its symbol is a cherry blossom flower, which emphasizes its fame as a prime location for hanami (cherry blossoms viewing).
Oka-sai Cherry Blossom Festival
Each year on April 10th, the Hirano Shrine holds its annual celebration called the Oka-sai Cherry Blossom Festival. This festival dates back to 985 during Emperor Kazan's reign and has been continuously celebrated without interruption ever since.
Emperor Kazan himself visited the shrine and ordered a festival to be held in order to pray for prosperity for both the nation and his descendants. The emperor also ordered cherry trees to be planted in the garden, further solidifying the shrine's connection with these beautiful flowers.
Festival Ceremonies and Activities
The festivities begin with a ceremony at 10:00 am at Hirano Shrine's main sanctuary, followed by a prayer at Emperor Kazan's mausoleum at 11:00 am. At noon, a procession begins, featuring participants dressed in Heian period costumes, Shinto priests in their shrine outfits, men dressed as samurai warriors on horseback carrying mikoshi (portable shrines), women wearing kimono styles from various historical periods, and mounted archers.
The colorful procession travels around the local neighborhood through Imadegawa street in the south, Badai street in the west, Kinkakuji area in the north, and Senbon street in the east. This parade is reminiscent of an ancient era and captivates those who witness it.
Aside from the stunning cherry blossoms and vibrant procession, there are food vendors selling delicacies for visitors to enjoy during their time at Hirano Shrine. As night falls, illuminations showcase the beauty of sakura trees bathed in light throughout the precincts of Hirano shrine from sunset to 9 pm during this season. Visitors are encouraged to partake in festivities and become part of a mostly local crowd.
Getting There
To reach Hirano Shrine, tourists can either opt for Kyoto Bus or train. From Kyoto Station or Shijo Omiya (on Hankyu Line), bus number 205 or 50 can be taken to Kinugasa Komae bus stop. Kitaoji Bus Terminal-bound passengers can take bus no 204, while visitors coming from Sanjo Keihan Station on Keihan Line can board bus no 15 to arrive at the same stop.
Cherry Blossom Festival's Impact
Hirano Shrine's annual cherry blossom festival has a significant impact on both tourism and culture in Kyoto. The shrine is not only a testament to Japanese customs but also showcases deep-rooted historical ties between Japan's imperial family, political powers, and natural beauty.
Visitors travel from all across Japan and other countries to witness this mesmerizing event each year. With its continuous tradition spanning over a millennium, it symbolizes Japan's unyielding perseverance and appreciation for nature.
Nearby Attractions
For those looking to explore more of Kyoto after visiting Hirano Shrine's Cherry Blossom Festival, nearby attractions such as Kinkakuji (Golden Pavilion) and Kitano Tenmangu are within walking distance and are worth a visit. Make sure not to miss the captivating and long-lasting traditions connected to Hirano Shrine and its time-honored celebration of cherry blossoms during your next visit to Kyoto.
---
Kitano Odori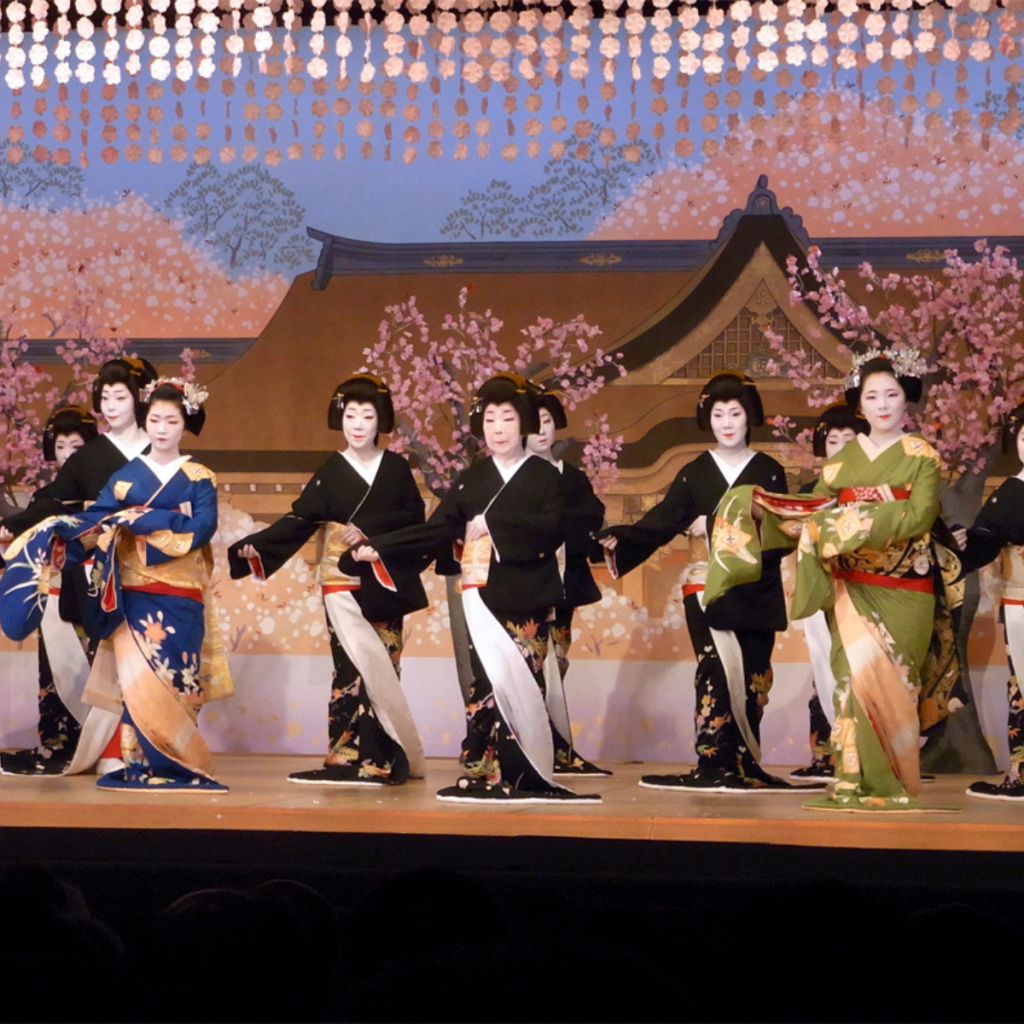 Date: Mid March- Early April
Kyoto's prestigious Kitano Odori festival captivates audiences each spring with stunning performances by the city's renowned geiko (geisha) and maiko (apprentices). As part of Kamishichiken district's age-old traditions, these elegant performers have been delighting spectators since 1952, with the first event held in support of Manto-sai – Myriad Lantern Festival – which commemorated Sugawara Michizane's 1,050th anniversary. Since its inception, Kitano Odori has grown into a 14-day extravaganza that breathe life into one of Japan's most revered art forms.
Performances and Tea Ceremony: A Lesson in Japanese Culture
Kitano Odori features two daily performances during the festival period. In addition to enjoying the mesmerizing dances, guests can also partake in a traditional tea ceremony, either by purchasing tickets with tea ceremony or just buying tickets without it. If they arrive early enough, attendees have the unique opportunity to receive finely brewed tea served by none other than the esteemed maiko and geiko before each show commences.
Celebrating Talent and Skill Through Dance
Each performance during the festival is divided into three distinct programs. The first segment showcases a dance drama featuring Kitano Odori's distinctive stories and captivating dialogue. Maiko performers infuse fresh energy into folk songs in the second program while experienced geiko exhibit their mastery on stage through intricate dances.
The finale is a highly anticipated spectacle known as "Kamishichiken Yakyoku" or Kamishichiken Serenade. Featuring all participating maiko and geiko together on stage, this display combines their talents in a vibrant celebration. Geiko adorn black kimono, while their maiko counterparts exhibit a stunning contrast in colorful attire.
Annual Tradition Honoring The Kitano Tenmangu Shrine
The city of Kyoto is home to five kagai or geisha districts, with each area offering its own large-scale public dance performance once a year. Kamishichiken is no exception, as it continues the annual Kitano Odori tradition from late March to early April. The festival was first held in1952 during the 1,050th anniversary of the founding of Kitano Tenmangu Shrine which is located next to Kamishichiken district. Today, it serves as a symbolic welcome for spring season in the region.
Tickets to this enchanting event can be purchased online for those with Japanese credit cards, through travel agents, or reserved with assistance at Kyoto Station's Tourist Information Center. Each section of the Kitano Odori performance carries its own unique charm and subject matter that changes yearly. This keeps attendees captivated and eager to experience new interpretations of Japan's rich cultural history.
Visitors to Kyoto during this auspicious time shouldn't miss the opportunity to witness such a creatively mesmerizing blend of elegance, artistry and heritage.
---
Kiyomizu-dera Spring Illuminations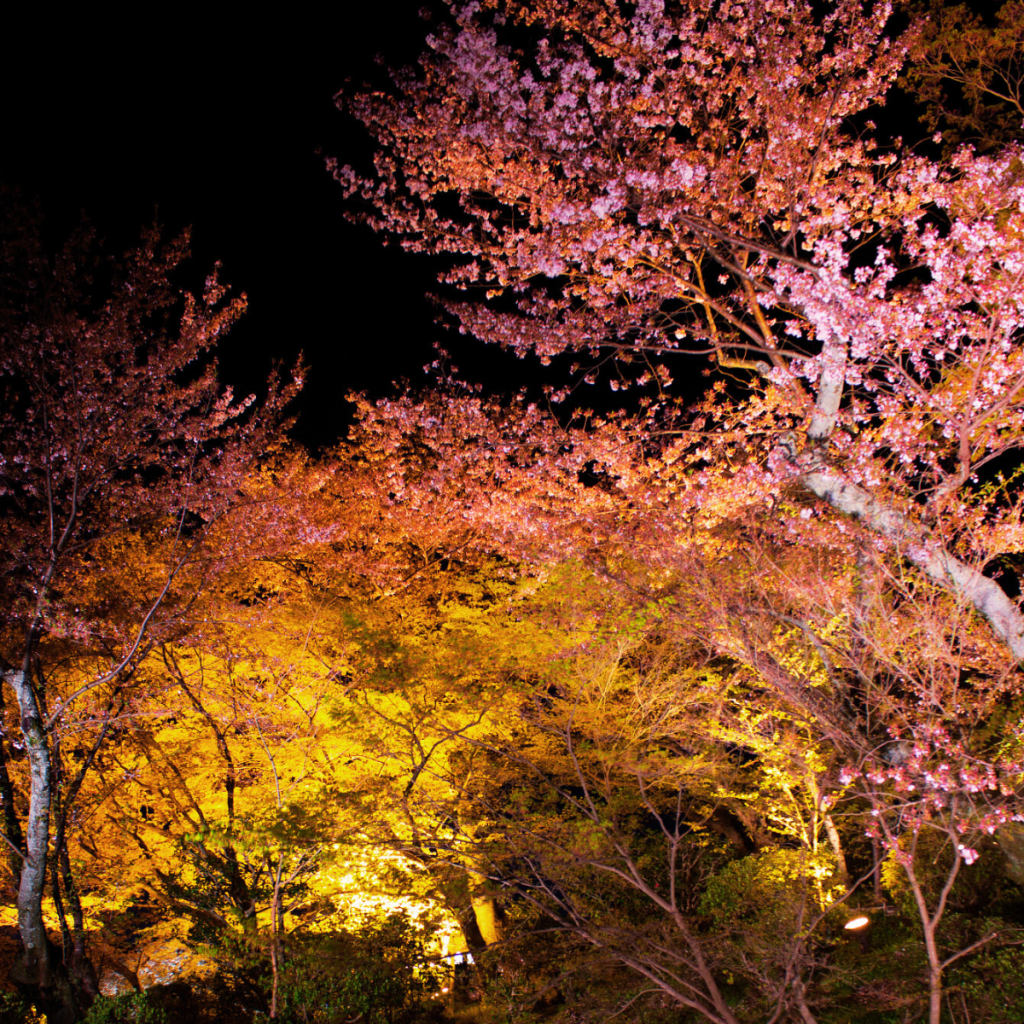 Date: Late March- Early April
A Time-Honored Tradition at Kiyomizu-dera
In honor of the changing seasons, the majestic Kiyomizu-dera Temple opens its doors in the evening three times a year, during spring, summer, and autumn. With an illumination event that showcases the vibrancy of Kyoto's foliage, Kiyomizu-dera has become synonymous with Japanese heritage and beauty.
UNESCO World Heritage Site: A Symbolic Emblem of Japan
Kiyomizu-dera (清水寺), or "Pure Water Temple," is one of the most revered temples in Japan. Founded in 780 on the site of Otowa Waterfall amid the lush hills east of Kyoto, Kiyomizu-dera derived its name from the waters' purity. Originally linked to the Hosso sect—among the oldest schools in Japanese Buddhism—the temple established its own Kita Hosso sect in 1965.
Iconic Wooden Stage: Stunning Views and Architectural Marvel
Visitors to Kiyomizudera are captivated by a wooden stage jutting out 13 meters above the hillside from its main hall. This iconic structure treats guests to magnificent views of cherry trees and maple trees that transform into vivid hues each spring and fall. The panorama extends all the way to the city of Kyoto in the distance. Remarkably constructed without nails, this stage—along with the main hall—houses a small statue of Kannon, featuring eleven faces and a thousand arms.
Jishu Shrine: A Touchstone for Love and Matchmaking
Nestled behind Kiyomizudera's main hall lies Jishu Shrine—a sacred spot devoted to the deity of love and matchmaking. Here, visitors will find two stones placed 18 meters apart. Successfully navigating from one stone to the other with eyes closed is believed to bring luck in finding true love. Alternatively, guidance from another person symbolizes the need for an intermediary in one's love life.
The Otowa Waterfall: A Fountain of Blessings
Beneath Kiyomizudera's main hall flows the Otowa Waterfall, comprising three distinct streams. Using cups affixed to long poles, visitors are encouraged to drink from these waters, each said to bestow a particular benefit: longevity, scholastic success, or a favorable love life. However, drinking from all three streams is considered greedy.
Other Architectural Gems at Kiyomizu-dera
The temple's vast grounds boast additional structures like the smaller-scaled Okunoin Hall that mirrors the main hall's design and also features a stage. In close proximity are halls dedicated to Shaka Buddha and Amida Buddha as well as a small gallery containing nearly 200 stone statues of Jizo—the guardian of children and travelers.
In the southernmost corner of the temple grounds stands the three-story Koyasu Pagoda among verdant trees. Visiting this pagoda is believed to ensure a smooth and safe childbirth.
Near Kiyomizudera's entrance, free-of-charge areas exhibit different temple structures such as a vermilion three-story pagoda, sutra repository, large entrance gates, and Zuigudo Hall—an homage to Buddha's mother where visitors may explore a pitch-black basement symbolizing a mother's womb for an additional fee.
Higashiyama District: A Cultural Hub Surrounding Kiyomizu-dera
Journeying to Kiyomizudera becomes even more enjoyable when passing through Higashiyama District's steep streets lined with bustling shops and restaurants. Established to cater to tourists and pilgrims over the centuries, these local storefronts offer a variety of products—from traditional pottery, sweets, and pickles to a wide array of souvenirs.
---
Heian Jingu Reisai Festival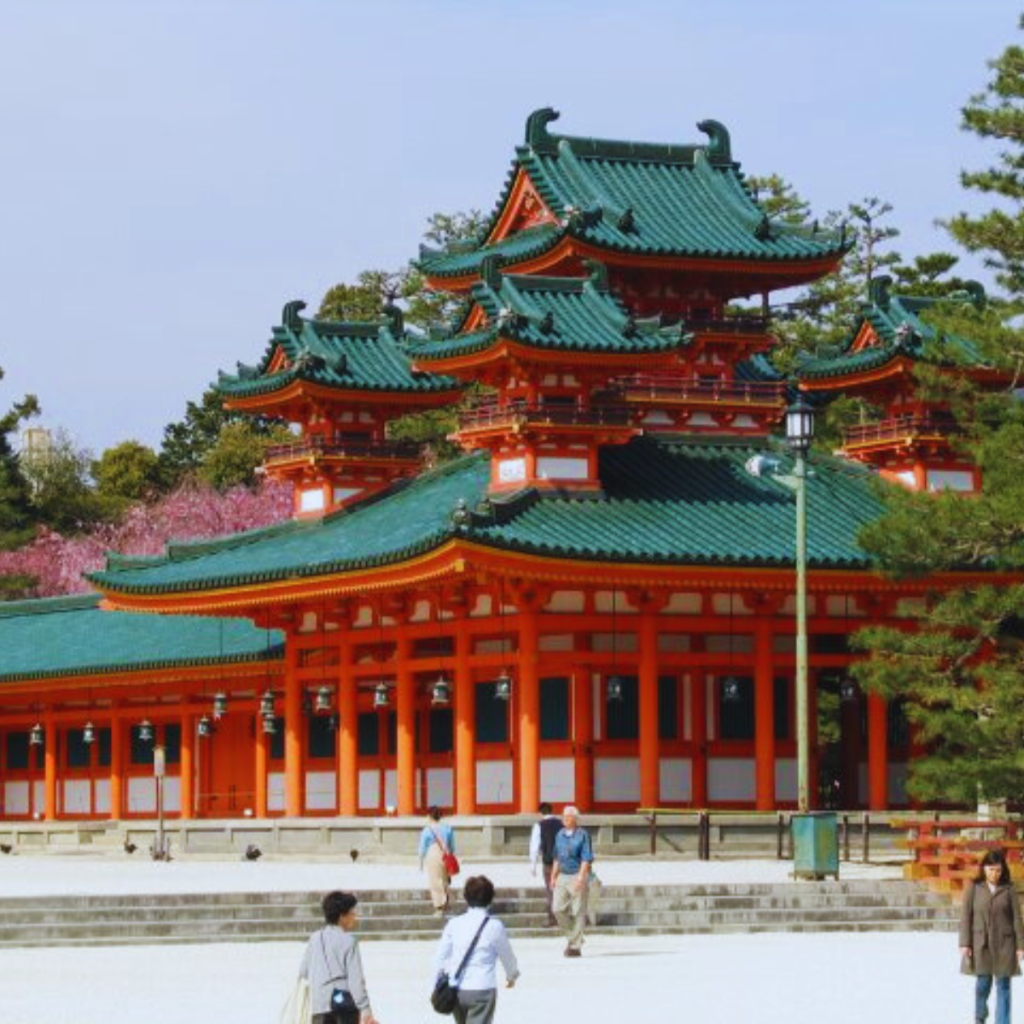 Date: Mid April
Annual Event Marking Emperor Kanmu's Accession Ceremony
The Heian Jingu Reisai Festival, held annually on April 15th and 16th, commemorates the accession ceremony day of the temple's deity – Emperor Kanmu in 781 in Nara. This event offers visitors a rare opportunity to see Geiko (the geisha of Kyoto) and Maiko, their apprentices, perform traditional arts and ceremonies.
Ceremonies and Performances
On April 15th, a prayer ceremony is conducted at the Heian Shrine. The following day, April 16th, marks various festivities, including musical performances, a tea ceremony, and dances performed by Maiko and Geiko from four Kagai or geisha districts. Koto and "Gagaku," the traditional court music, can also be enjoyed during this event.
As this festival tends to draw a large crowd, it is advisable for visitors to arrive early. Presentations typically start at noon, but keen photographers stake out their preferred spots as early as 8 am.
Unique Architecture and Scenic Views
Located in the museum-heavy Okazaki area, Heian Jingu Shrine was built for the city's 1,100th anniversary. It is considered a new shrine as far as Kyoto landmarks go. A replica of a famous Heian Period structure, its architecture showcases a distinctive Chinese influence throughout the site.
Visitors enter through the grand Ōtenmon Gate into the outer sanctuary—a sprawling open space surrounded by look-out towers with a large ritual hall directly ahead. The Torii gate leading up to Heian Shrine is among the largest in Japan, towering overhead at approximately 24 meters high.
Gigantic Torii Gate: A Symbolic Entrance
Measuring an impressive 24.4 meters high, the large torii gate straddling the Heian Shrine's sandō street is a striking landmark. This distinctive gate drew from specialized construction techniques to protect it against earthquakes. Its stout legs are 3.6 meters in diameter, making for a popular photo spot.
Four God-Beasts of Heian Jingu Shrine
Visitors can find representations of the four god-beasts associated with cardinal directions throughout the shrine grounds: Suzaku, the red phoenix (South); Byakko, the white tiger (West); Seiryū, the blue dragon (East); and Genbu, the black snake-turtle (North).
Upon entering the Ōtenmon Gate, one can see stone fountains depicting a tiger and a dragon on either side. In addition, lanterns hung in eaves and walkways also feature these symbolic creatures.
Shin'en Garden: The Essence of Modern Japanese Aesthetics
Heian Jingu Shrine boasts the exquisite Shin'en Garden, which took 20 years to complete. Designed by Ogawa Jihei, a renowned Japanese landscape architect known by his professional name Ueji, this garden melds traditional Japanese gardening customs with Western influences.
Noteworthy for its cherry blossoms in spring and irises in summer, Shin'en Garden offers picturesque pond views from the roofed Taihei-kaku (Bridge of Peace) and consists of four distinct sections.
A Remarkable History that Shaped Kyoto's Cultural Identity
Despite being relatively new compared to other shrines, Heian Jingu Shrine holds great historical significance.
Emperor Kanmu, who established Kyoto as Japan's capital in 794, and Emperor Komei – the last emperor to rule from Kyoto before moving to Tokyo – were enshrined in Heian Jingu Shrine in 1940. While a fire destroyed the main sanctuary in 1976, it was rebuilt three years later and remains well-preserved today.
As the shrine showcases the unique architectural style of the Chōdō-in (Great Hall of State), an important Heian capital administrative building, the diverse cultural influences can be noticed throughout its design.
An Opportunity to Witness Kyoto's Rich Tradition
The Heian Jingu Reisai Festival offers visitors a chance to immerse themselves in Kyoto's rich tradition and history. From stunning architecture to captivating performances by Geiko and Maiko, this event is a must-visit for anyone interested in exploring Japan's cultural heritage.
---
Kyo Odori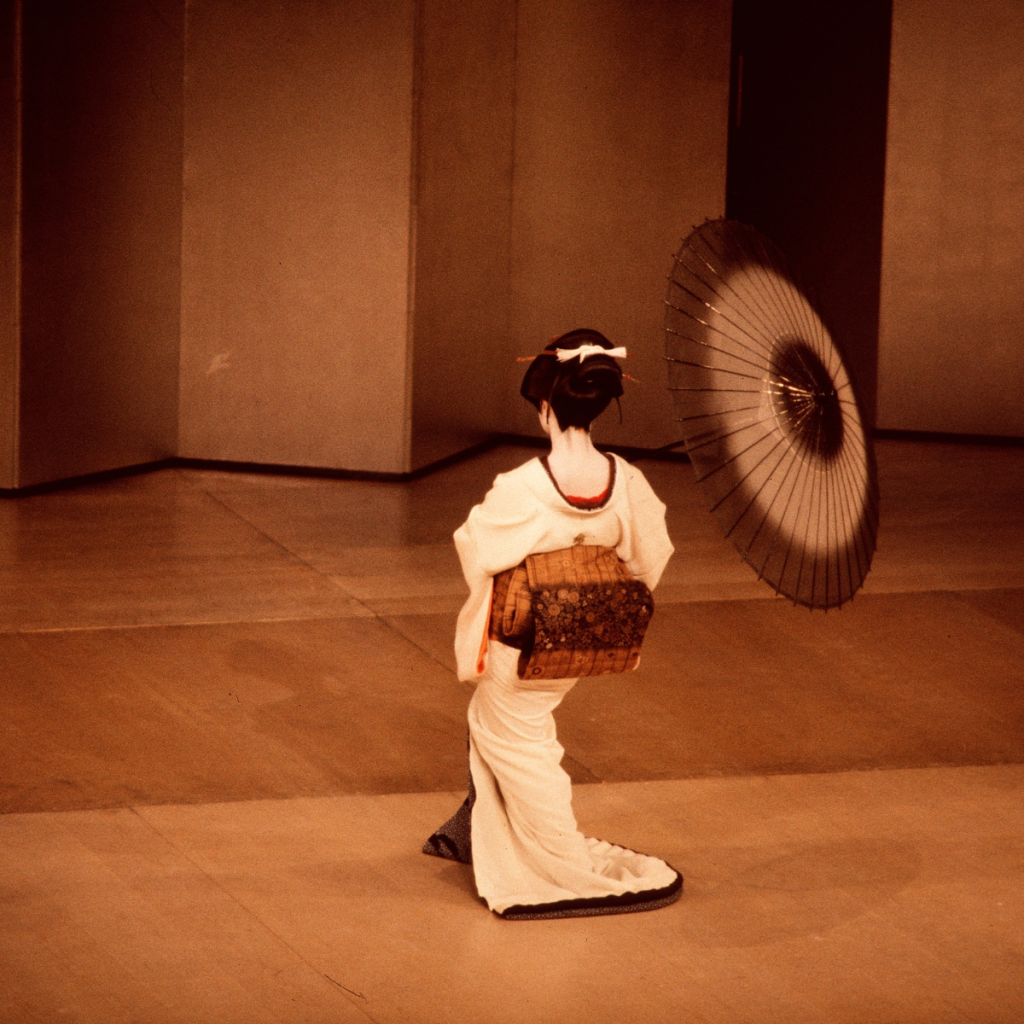 Date: Early April
The annual Kyo Odori is a spring performance held in the Miyagawachō district of Kyoto, showcasing the talents of geiko (geisha) and their apprentices, maiko. This century-old tradition began in 1950 and has since become a highlight of Japanese arts and culture.
A Unique Experience of Japanese Artistry and Aesthetic
As the curtain rises, porcelain dolls welcome attendees to the show that celebrates the arrival of spring with songs, dances, and captivating melodies performed by geiko and maiko. The theater's woodwork, adorned with golden pheasants, sets the stage for an immersive experience that transcends language barriers.
Vibrant Costumes and Choreographies at The Geiko Show
The beauty of the performance is further enhanced by elaborate costumes worn by the performers. The stark contrast between the black susoshiki (long kimonos padded at the bottom for dance) and alabaster complexions of young maiko aspirants leaves a lasting impression on spectators. Cherry blossoms follow plum blossoms as peach-pink kimonos mingle with lavender-blue ones, creating an enchanting visual spectacle.
Gion-District Geisha's Dance Performance Elevates Cultural Experience
The ensemble features a dance performance by Gion-district geisha, providing a glimpse into the prestigious world of Kyoto's geisha neighborhood. With so many geiko and maiko performing in various costumes, watching their synchronized movements on stage offers a unique cultural experience that allows visitors to capture memorable pictures.
Original Dance, Shamisen Performance, and Miyagawa Ondo Finale
Each year, a new original dance is introduced as part of the Kyo Odori performance. Attendees will also enjoy the distinct sounds of a shamisen performance, a traditional Japanese string instrument, played masterfully by the geiko. The show culminates in the grand finale called "Miyagawa Ondo," which brings all performers together on stage, dressed in stunning spring kimono garments.
Experience Kyoto's Vibrant Soul through Kyo Odori
Whether or not one understands Japanese, the Kyo Odori offers an unforgettable journey into the heart of Kyoto's rich cultural heritage. Through beautiful melodies, choreographies, and captivating performances by esteemed geiko and dedicated maiko, attendees will gain a deeper appreciation for the vibrant soul of this historic city.
---
Maruyama Park Weeping Cherry Tree Illumination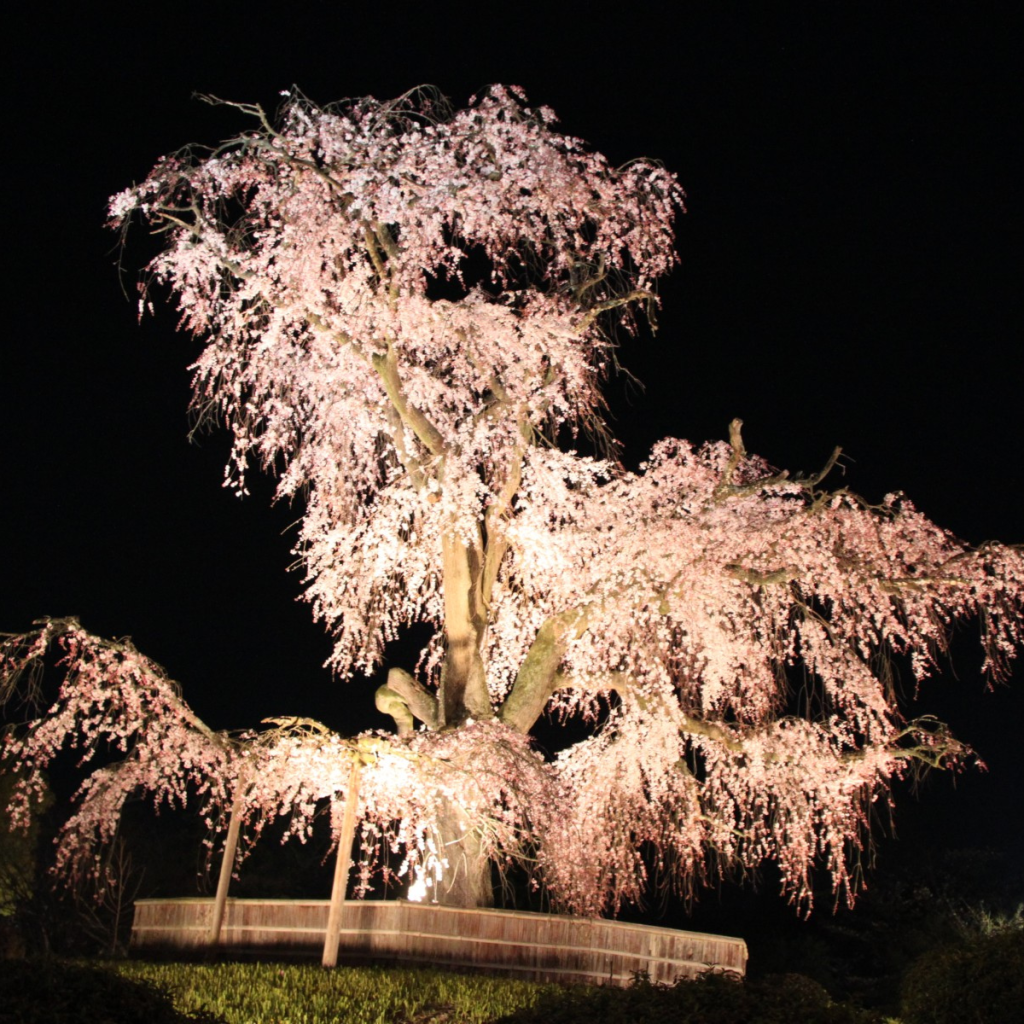 Date: Late March- Early April
The Must-See Shidare-zakura Event
Kyoto's Maruyama Park, famous for its weeping cherry tree (Shidare-zakura), welcomes visitors every year to celebrate the stunning illumination of the famed tree. As Kyoto's most popular hanami (cherry blossom viewing) spot, Maruyama Park also attracts locals looking for a fantastic night flower viewing experience.
The annual light-up event features the weeping cherry tree grown from the seed of its 200-year-old predecessor. The tree will be illuminated between 6 p.m. and 10 p.m., and visitors can also enjoy a small bonfire from March 29 to April 7.
Accessing Maruyama Park
To get to Maruyama Park, you can take a 10-minute walk from Gion-Shijō Station on the Keihan Main Line, a 14-minute walk from Kawaramachi Station on the Hankyu Line, or a 15-minute walk from Higashiyama Station on the Subway Tōzai Line.
A Feast for the Eyes: Night Flower Viewing Highlights
Maruyama Park is renowned for its numerous weeping cherry and Yoshino cherry trees scattered throughout the grounds. The park's most famous attraction is the colossal weeping cherry tree situated in the center of the area. Illuminated by both lights and bonfires, these beautiful trees create a magical and enchanting view for visitors.
Beside its stunning flora, Maruyama Park is conveniently located near famous sightseeing spots such as Yasaka Shrine, Chion-in Temple, and Kodai-ji Temple, allowing tourists to explore historical sites before indulging in nighttime cherry blossom viewing.
The Lofty Weeping Cherry Tree: Admire Kyoto's Oldest Park
Boasting an age of over 80 years, the massive weeping cherry tree in Maruyama Park is the second of its kind, following the original tree, which died at the age of 220. Best viewed at the end of March and early April, this thriving symbol of spring attracts hordes of flower viewing enthusiasts every year.
Much more than just a beautiful sight during daylight hours, the park's trees are illuminated at night, creating a captivating scene that visitors will never forget.
Get Immersed in Kyoto's Rich Culture
Visitors can stroll through Maruyama Park, which is designed in a kaiyushiki-style garden where different sections bloom in different seasons. The enchanting park is particularly lively during hanami season due to bonfires illuminating the cherry blossoms and providing an authentic Kyoto-inspired magical atmosphere.
Delight Your Tastebuds: Food Stalls and Hanami Tea Parlors
Maruyama Park offers more than just natural beauty – it also boasts numerous food stalls and tea parlors for visitors to enjoy throughout the park during hanami season. Those who purchase food from one of these three tea parlors can access exclusive seating areas complete with red benches located right underneath the cherry blossoms.
The festive spirit comes alive as many food stalls and shops remain open in the evening so that visitors can savor mouthwatering treats while marveling at the illuminated cherry blossoms.
The Weeping Cherry in Gion: A Different View by Night
The Gion Shidare-zakura weeping cherry tree, also known as Yozakura or nighttime cherry tree, has reached over 90 years old on Maruyama Park grounds. During daytime hours, its elegant branches bearing light pink flowers sway gently in the breeze. However, at nightfall, these stunning blossoms stand out dramatically against the dark sky, creating an awe-inspiring sight for all visitors.
Enjoy Thousands of Lanterns during the Higashiyama Hanatoro Festival
In addition to its nighttime cherry blossom illumination, Maruyama Park hosts the Higashiyama Hanatoro Festival in March, transforming the park and surrounding areas into an enchanted lantern wonderland. Thousands of lanterns dot the park's landscape, offering a unique and mesmerizing walking experience for both locals and tourists alike.
Celebrate springtime this year by participating in the breathtaking Maruyama Park Weeping Cherry Tree Illumination and immerse yourself in the true magic of Kyoto's stunning natural beauty and rich cultural history.
---
Okazaki Canal Boat Rides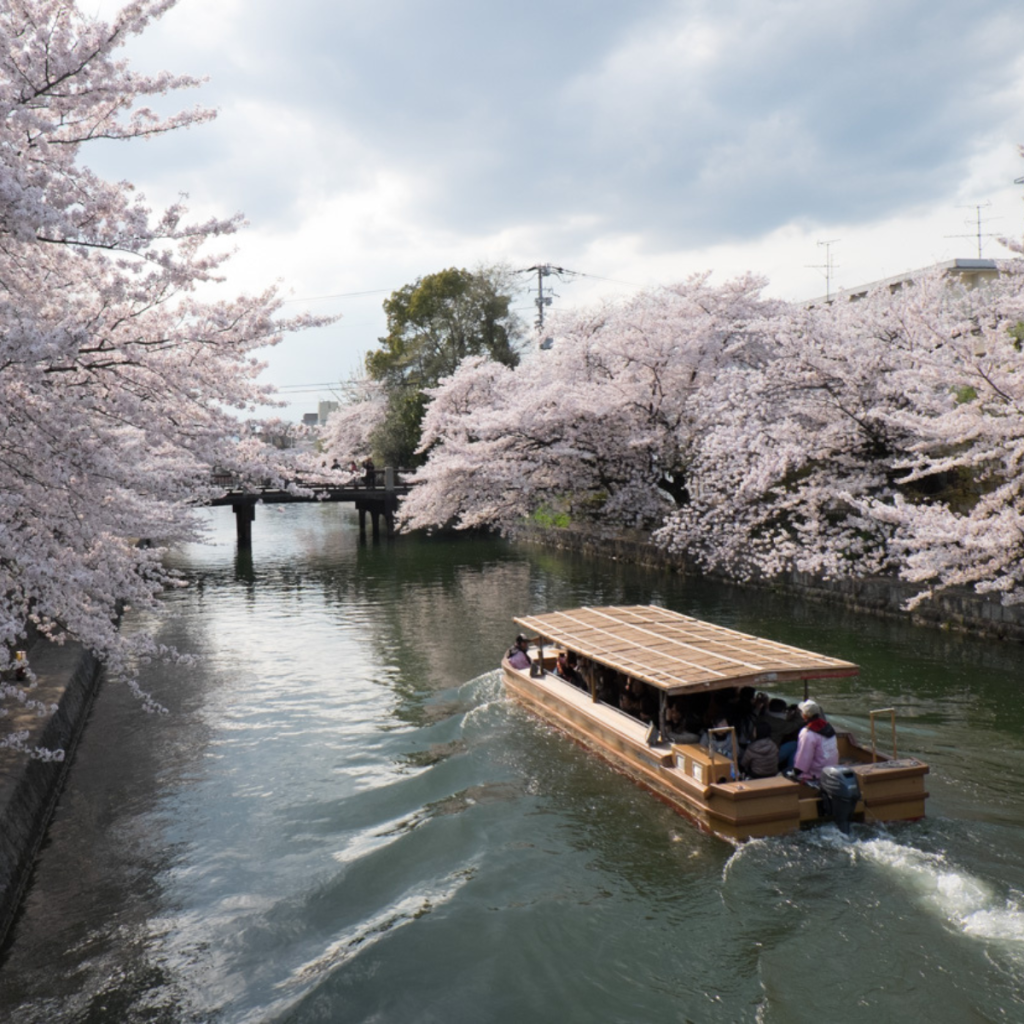 Date: Mid March- Mid April
Okazaki Canal Boat Rides: A Must-Experience Attraction in Kyoto Cherry Blossom Season
Okazaki Canal boat rides are a unique and memorable way to immerse oneself in Kyoto's breathtaking cherry blossom season. This once-in-a-lifetime experience should not be missed during a visit to Japan's ancient capital.
An Ideal Way to Experience Cherry Blossom Season
Kyoto, Japan's ancient capital, offers a myriad of ways to celebrate cherry blossom season, including hanami (blossom viewing) picnics, strolling along the Kamogawa River, and boat rides down the picturesque Okazaki Canal. The canal connects the Kamogawa River with Lake Biei in Shiga Prefecture and is graced by hundreds of lush sakura trees lining its banks.
Traditional Jikkokubune Boat Rides
During cherry blossom season, traditional-style boats called [jikkokubune]offer spectacular views of the blooming sakura trees. These boats depart every 15 minutes from Nanzenji Boat Pier for a 3km (25-minute) round-trip canal cruise. Sailing under magnificent pink-hued cherry blossoms while enjoying the serene atmosphere of the canal is an experience not to be missed.
Daytime Boat Ride: A Picturesque Journey through Kyoto's Cherry Blossoms
Taking a daytime boat ride on the Okazaki Canal allows visitors to view and capture breathtaking photographs of cherry blossoms along its 1.5 km course. Traveling from Nanzen-ji Boat Pier to Ebisu Dam and back provides passengers with awe-inspiring views of Heian Shrine's iconic torii gates.
Apart from enjoying the cruise, visitors can explore numerous interesting places around Okazaki area, such as National Museum of Modern Art, Kyoto Municipal Museum, Heian Shrine itself.
Nighttime Boat Ride: Magical Illuminations under Cherry Blossoms
Typically, nighttime boat rides operate during the blooming period of cherry trees, offering an exquisite experience of illuminated blossoms.
In previous years, the special nighttime cruises would run until 8:30 pm (departure time), allowing passengers to enjoy enchanting views and take unforgettable memories back home.
---
Yasurai Festival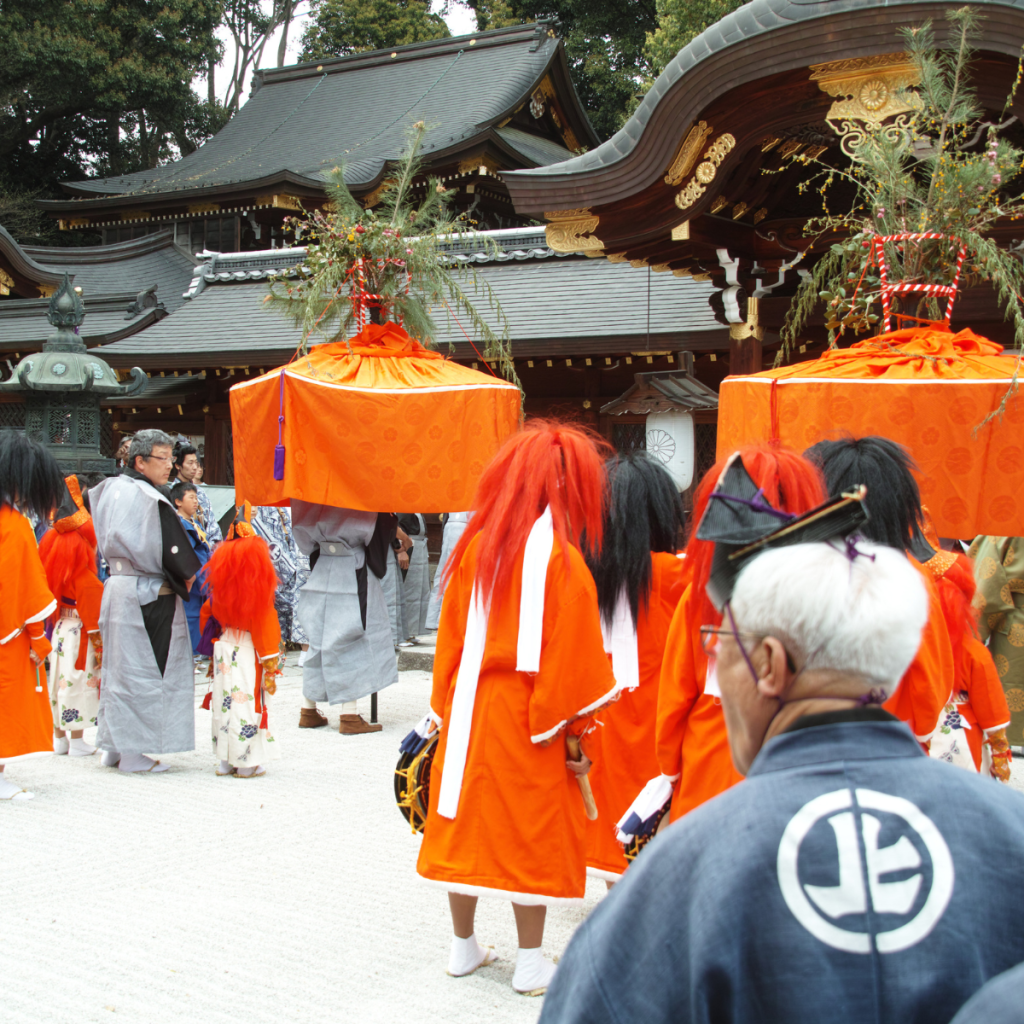 Date: The second Sunday of April, every year
Yasurai Festival is an annual traditional festival that is celebrated on the second Sunday of April at Imamiya Shrine in Kyoto, Japan. The event is designated as an Intangible Cultural Asset of Japan and is widely regarded as one of the three weirdest festivals in Kyoto, along with the Kurama Fire Festival and Uzumasa Bull Festival. The main attraction of the Yasurai Festival is a parade featuring beautifully decorated flower umbrellas, which symbolize good health and happiness.
Origins and Significance
The origins of the Yasurai Festival can be traced back to the Heian period (794-1185), when plague epidemics frequently ravaged the region. People believed that evil spirits caused these extraordinary disasters, leading them to hold ceremonies to appease and calm these malevolent entities. Imamiya Shrine was thus established by an oracle to ward off misfortune, and its annual Yasurai Festival functions as a means to bring health and peace to the attendees.
The name "Yasurai" itself is said to mean "Flower, rest peacefully," derived from ancient rituals performed in the springtime under falling cherry blossoms to ward off illnesses related to their petals.
Flower Umbrella Parade: Health and Protection from Illness
During the Yasurai Festival, participants dressed as demons carrying large flower umbrellas decorated with cherry blossoms, camellias, Yamabuki (Japanese roses), willows, and young pines march through the local area while chanting "Yasuraibana ya," a phrase intended to dispel bad luck and illness. The red-haired and black-haired Oni (demons) shake their hair while dancing energetically to music played by musicians around Imamiya Shrine.
These decorated flower umbrellas hold great significance at the festival: it is believed that walking under them grants a full year of good health. Accordingly, many participants take turns walking in a complete circle under the umbrellas to ensure that they receive this blessing.
Yasurai Dance Performance: Demons and Deities
Two groups, Ueno Yasurai and Kawakami Yasurai (both with different origins), arrive at Imamiya Shrine around 3 p.m. to perform the iconic Yasurai Dance. As demons representing evil spirits, they perform an energetic yet slightly subdued dance in front of cherry blossoms – a sight admired by participants for its unique characteristics.
The deity responsible for illness and good health resides at Imamiya Shrine. When the shrine hosts festivals like Yasurai Festival, this deity brings peace, happiness, and health to the people. However, neglecting such festivals may anger the entity, resulting in illness and misfortune.
Yasurai Doll Souvenir: A Symbolic Token for Good Health
At the shrine during the festival, attendees can purchase a special Yasurai doll for 300 yen. These dolls are said to serve as healing charms for buyers and their families. To request aid from the doll, one must write their name, address, age, and sex on it before leaving it at the shrine to be burned.
A slip carrying calligraphic writing attached to the doll is taken home by those who purchase them. In order to harness its protective properties, participants must hang it near their doorways at a height higher than eye level.
---
Hotaiko-hanamigyoretsu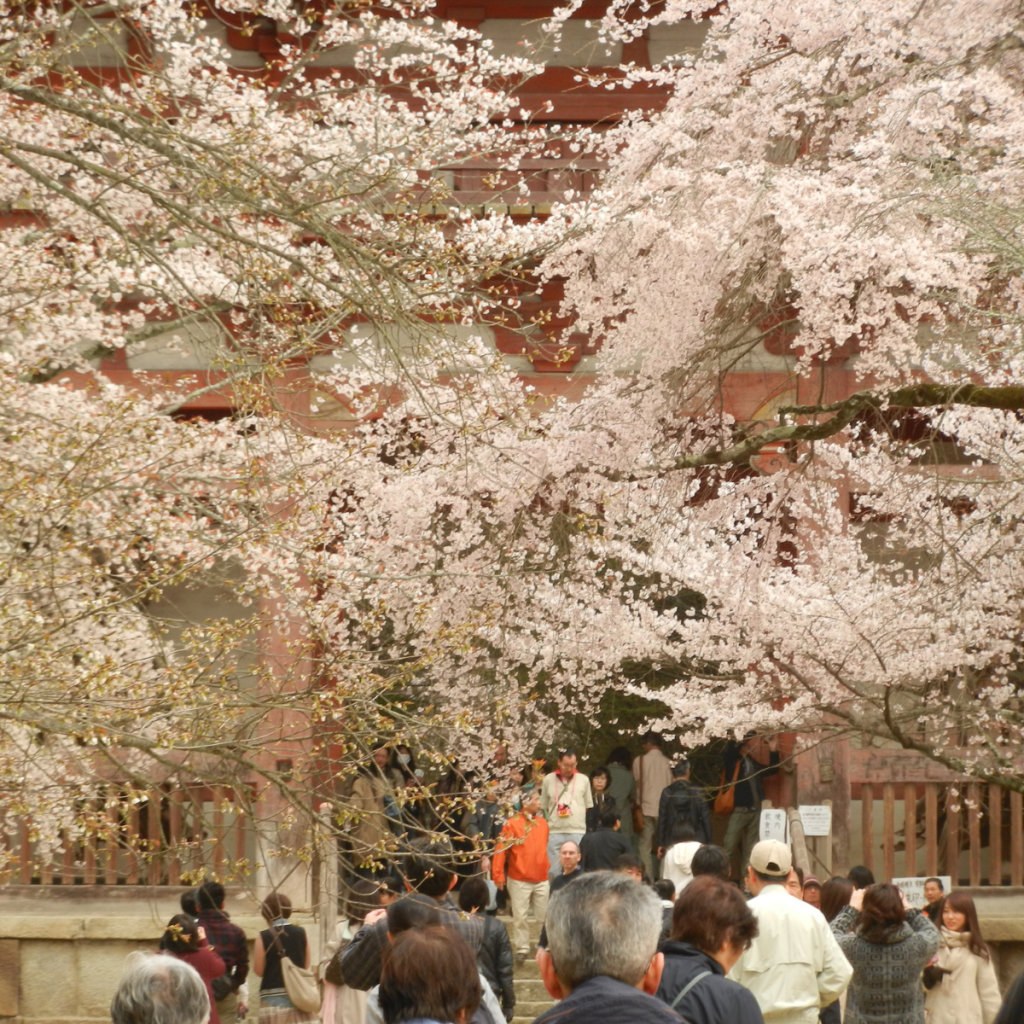 Date: The second Sunday of April, every year
A Glimpse into the Past: Origin of Hotaiko-Hanamigyoretsu
In 1598, Shogun Toyotomi Hideyoshi, the de-facto leader of Japan at that time, hosted a grand cherry blossom viewing party at the historic Daigoji temple in Kyoto. Hideyoshi aimed to create a magnificent event by rebuilding damaged temple buildings and planting 700 cherry blossom trees of various varieties on the temple grounds. The party was attended by 1,300 guests, including his son Hideyori, his wife Nene, and his entourage.
Today, this historic event is commemorated with the annual Hotaiko-Hanamigyoretsu festival held on the second Sunday of April. The festival is a beautiful blend of Kyoto's cherry blossoms and traditional Japanese culture.
Kawazu Cherry Blossoms and More: The Floral Beauty of Daigoji Temple
Daigoji temple is widely known for its stunning cherry blossoms, attracting visitors from all around the world during the blooming season. The temple is famous for its Kawazu cherry blossoms which usually begin to bloom towards the end of March. Other cherry blossom varieties found at Daigoji temple include weeping cherry blossoms in Sanpoin, Ooyama cherry blossoms, and century-old Someiyoshino. These diverse cherry blossoms create a spectacular scene for almost three weeks, with blooming periods subject to changes based on the climate each year.
Hotaiko-Hanamigyoretsu Parade: A Journey Back in Time
The parade is a recreation of Toyotomi Hideyoshi's historic cherry blossom viewing party, featuring around 150 participants dressed in historical costumes representing various roles such as palanquin bearers, guards, palace women, and main characters like Hideyoshi, his wife Nene, his concubine Yodo-gimi, and his son Hideyori.
After the parade reaches the main hall, ancient court music is performed, and then the participants return to Sanpoin.
Tips for Enjoying Hotaiko-Hanamigyoretsu
As the Hotaiko-Hanamigyoretsu festival attracts numerous visitors each year, it is recommended to arrive well in advance to secure a good spot to enjoy the cherry blossoms and festivities. This annual event provides an excellent opportunity for visitors to immerse themselves in Japan's rich history and appreciate the beauty of Kyoto's cherry blossoms.
---
Kamo Kyokusui no En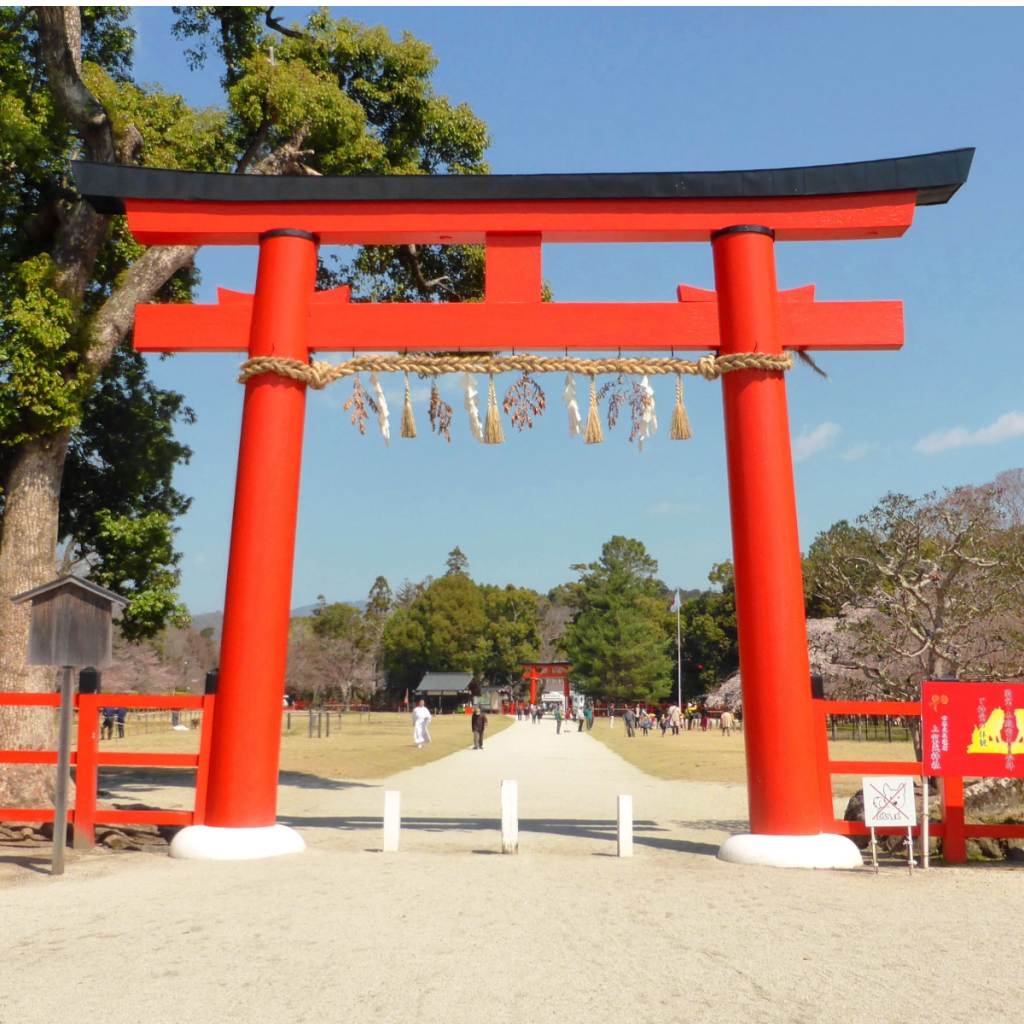 Date: April 9th, 2023
Aiming to rekindle and carry forward the spirit of the Heian period, the annual event Kamo Kyokusui no En will be held on the second Sunday of April. This event, celebrated in Shokei-en Garden, promises an enchanting blend of traditional Japanese poetry, music, costume-display and tea ceremonies.
A Glimpse into the Heian Period Elegance
Kamo Kyokusui no En, held every year, exemplifies the elegance of aristocracy from the Heian period. Aristocrats would sit along a stream in their garden, penning and reciting poetry.
This game of writing and composing poetry, practiced in period costumes is recreated meticulously by participants. Providing a dose of classic Japanese entertainment,
The event also features traditional gagaku music performance and an outdoor tea ceremony under sakura blossoms contributing to its profound cultural significance.
The Setting – Kamigamo Shrine
Taking place in Shokei-en Garden's serene environment, centered around Kamigamo-jinja, a World Heritage listed shrine, provides the ideal setting for this historical event.
---
Kyokusui no Utage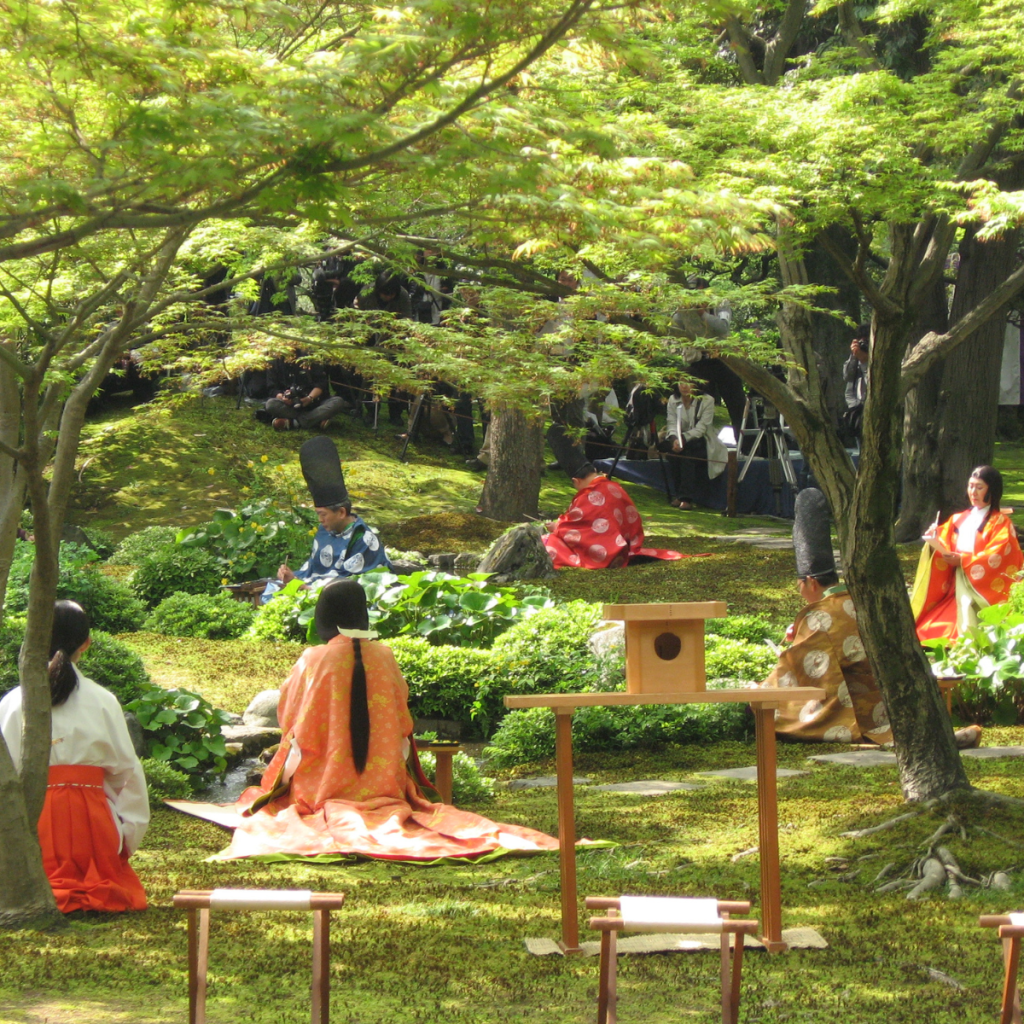 Date: April 29
Kyokusui no Utage is a delightful showcase of poetry, dance performances, and traditional Japanese culture against the backdrop of Kyoto's serene riverside ambiance. Don't miss this opportunity to immerse yourself in Japan's rich heritage during your visit to Kyoto.
Writing Poetry on a Timeless Topic
On the day of Kyokusui no Utage, poets are given a topic to write tanka poems about. Each poet composes their poem on a piece of paper with utmost grace while they wait for a sake cup to float by them on a Mandarin duck-shaped vessel. Once the cup arrives, they drink the sake. This unique process continues until all seven poets have completed their poems.
As per old customs, Shinto priests recite these tanka poems aloud in an intonated voice after the poets finish their compositions. The chosen topic remains undisclosed until the event day, maintaining an element of surprise and spontaneity for both participants and spectators.
Shirabyoshi Dancers Take Center Stage
The Kyokusui no Utage event at Jonangu Shrine is further enhanced by the captivating dance performance of Shirabyoshi female dancers. As poets settle down by the river, the dancers take center stage and enthrall the audience with their precise movements and compelling expressions. These performances are accompanied by traditional Japanese court music, immersing guests into a truly enchanting experience.
The Magnificent Shin'en Gardens
On Kyokusui no Utage day, guests can visit the breathtaking Shin'en Gardens for free – no entrance fee required. The gardens are divided into five areas, each with a distinct appeal and seasonal beauty. In spring, visitors can witness blooming wisterias and azaleas, while autumn offers an enchanting view of foliage colors.
Inside these gardens also resides a tea room managed by Maiko shrine maidens who serve matcha tea and delectable sweets.