Celebrating Academic Excellence and Japanese Tradition
Japan's esteemed Kitano Tenmangū Shrine, renowned for its breathtaking plum grove and prayers for scholarly success, has introduced a traditional festival named Kyokusui no En to its ceremonial calendar. The festival takes place in March and November, expanding the ritual offerings of the shrine.
Kitano Tenmangū venerates Tenjin, the deified kami manifestation of respected scholar, poet, and politician Sugawara no Michizane (845 – 903). The tradition of hosting "winding stream banquets" dates back to Japan's 8th-century Nara period, predating even Michizane's time. For about 500 years until the Heian period's culmination, Japanese nobility frequently held these parties with gardens as their backdrop while enjoying leisurely drinks and classic performances such as shirabyōshi dance.
Kyokusui no En: A Dive into Ancient Japanese Culture
The newly established Kyokusui no En festival occurs in Funade no Niwa, a freshly created neighboring section close to the shrine's Kōbai-dono hall. At around 1:00 pm, poets garbed in plush Heian period-style robes settle down with writing desks flanking a petite garden stream. This is one of the most interesting Kyoto events in November.
Following this set-up is a captivating shirabyōshi dance performance accompanied by sung poetry, adding authenticity to the recreated event inspired by historical Japanese nobility. As the performance concludes, the poets commence crafting verses aligned with assigned themes. Simultaneously, young boys navigate small duck-shaped boats carrying sake cups through the stream as an element of drink service.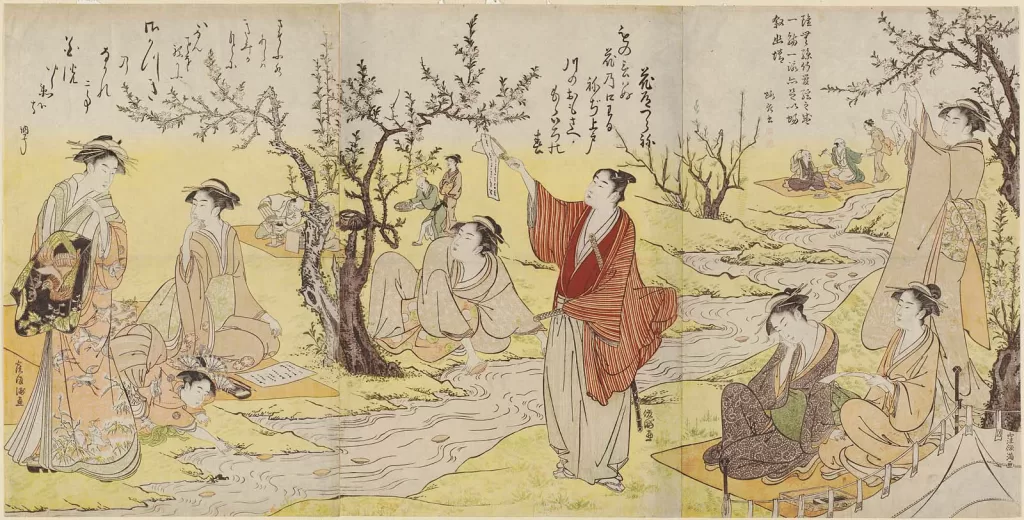 An Opportunity to Experience Kanshi and Waka Poetry
Prominently celebrated is Sugawara no Michizane's legacy manifested through kanshi poetry composed in traditional Chinese style while also acknowledging waka, which stands as a traditional form of Japanese verse. As each poet completes their composition at the Kyokusui no En festival, event hosts read out loud the finished poems for those who understand Japanese language.
Extensive explanations unravel underlying subtler meanings behind these verses and highlight their historical references related to poetic language. Even for non-Japanese speaking attendees, the visually exhilarating recreation of ancient Japanese culture brings intrigue and wonder.
Looking to immerse yourself in the enchanting beauty of Kyoto during autumn? Don't miss out on the Kodai-ji Autumn Illumination, a mesmerizing event at Kodaiji Temple. Experience the magic as the temple grounds come alive with dazzling lights illuminating the stunning fall foliage.