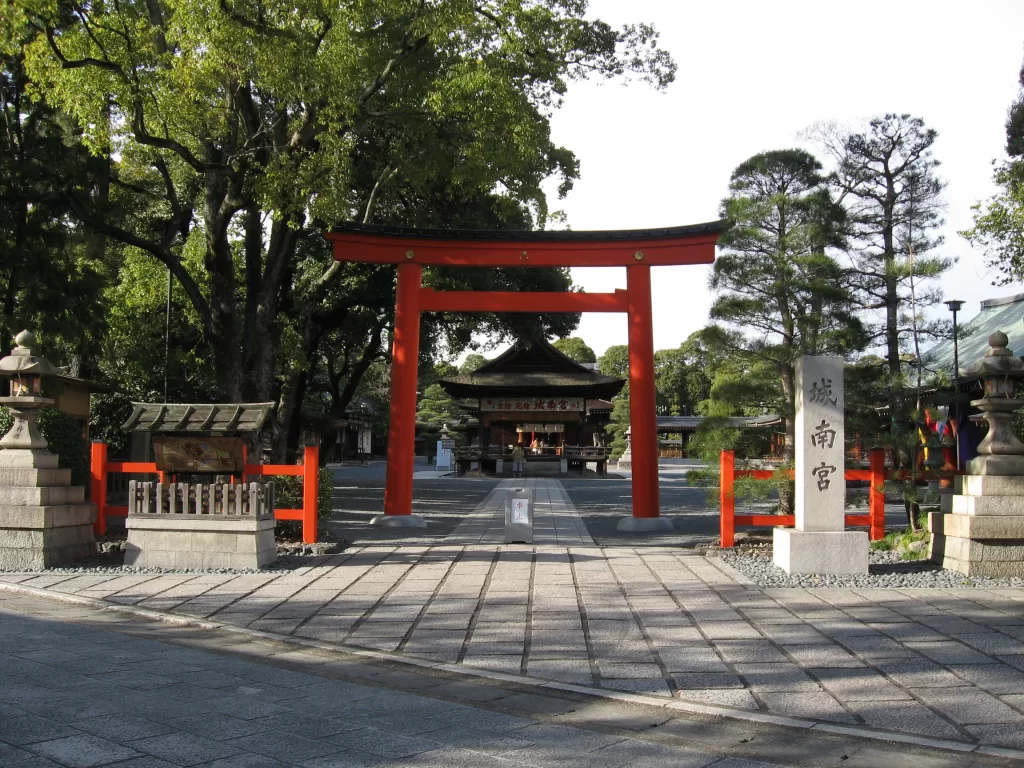 Re-enacting Ancient Poetry Rituals
This April will mark yet another return of the ancient Heian period (794-1185) tradition known as Kyokusui no Utage, hosted at the famed Jōnangū Shrine in southern Kyoto. Closely associated with the Japanese nobility's refined sensibilities, this event revives a form of aristocratic entertainment that dates back to over 1,000 years.
The Artistic and Cultural Extravaganza
Elegance and culture will take center stage as poets dressed as ancient nobles delve deep into Japanese customs marked by a love for poetry and composition. It's one of the most amazing Kyoto events in April.
A Blend of History and Nature
Set amidst an enchanting garden filled with blooming irises, azaleas, and wisterias – these poets try to encapsulate the essence of their selected theme while enjoying sake served in bird-shaped boats sailing along a small stream. This celebration also serves as an invitation to explore nature and history through five different sections that showcase various gardening styles from different epochs of Japan's illustrious past.
Children's Participation in Kyokusui no Utage Ritual
Furthermore, children playing priests hold bamboo poles to nudge these sake-bearing boats along the watercourse while suikan-clad – akin to traditional kimonos sported by Heian-era nobility – adding yet another layer of historical authenticity.
Dance Performances
In addition to poetry composition comes dance performances. Steeped in cultural significance, the shirabyoshi performance adds vibrancy and grace to Kyokusui no Utage. The dance begins even before the start of poetry composition on the central stage.
Wrap up with a Visitor's Experience
This historical event concludes with visitors having the opportunity to float paper cut in human shapes on the river against a fee – a key feature of Japanese ritual practices symbolizing purification. If you are lucky enough to be there in person you can make your way toward Shin'en Garden – usually chargeable but free during this event.
Note: In keeping decorum and respecting the sanctity of these historically significant gardens, restrictions may be imposed if overcrowding happens. Eating, drinking or even smoking within garden precincts is strictly prohibited.
Striking Visual Charm
The Kyokusui no Utage event captures visual aesthetics synonymous with ancient Japan's refinement. From elegant court dancers showcasing their skill to noble Heian-era poets composing verses along picturesque brooks; each aspect is like viewing an exquisite Heian-period picture scroll brought to life right at Jonangu Shrine.
Inviting Climate and Scenery
With the arrival of spring, witnessing blooming azaleas under canopies painted by vibrant wisterias offers eye-catching scenery worth capturing in verse. While basking in nature's glory during Jonangu Shrine's iconic "Kyokusuisai".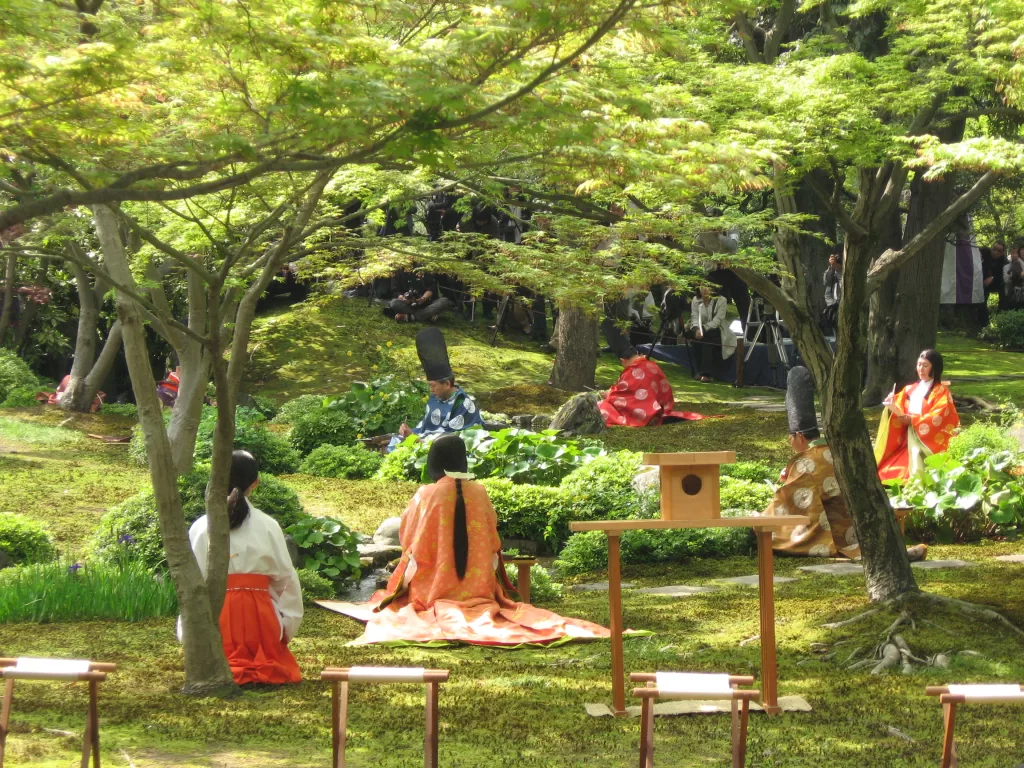 Bridging Centuries Through Poetry
What makes this event even more captivating is its ability to bridge centuries through poignant poetry encapsulating timeless themes like love and nature – reminiscent in scale and depth as that seen during Japan's Nara (710-794) period when such expressions peaked.
Overall, whether you fancy poetry or culture or just an observer curious about Japanese heritage – delighting in spring while watching poets penning their verses attired elegantly in Heian court clothes remains one visual feast not easy to forget – timeless indeed.
Kamo Kyokusui no En is another captivating event that offers a glimpse into the rich cultural heritage of Japan. Originating from ancient China and later embraced by the Japanese imperial court, this event revolves around poetry and serene natural settings.