It has been reported that the Rakuten Group, a Japanese conglomerate known for its internet services and mobile telecommunications, is in the final stages of preparation for a public offering. The company is considering a public offering estimated at ¥300 billion (approximately $2.64 billion) to boost its current financial condition, which has been experiencing challenges due to losses in the smartphone business.
Strengthening Financial Foundation amid Continuous Deficits
Rakuten Group's financial situation has been strained as it continues to report deficits from investment burdens involving its mobile phone business. It is said that the company is eager to strengthen its financial foundation and will hold a board of directors meeting within the week to finalize the decision.
In addition to the public offering, Rakuten's Chairman Hiroshi Mikitani's asset management firm and other companies are expected to provide funds by participating in third-party allotment capital increases.
Market Reactions and Concerns over Dilution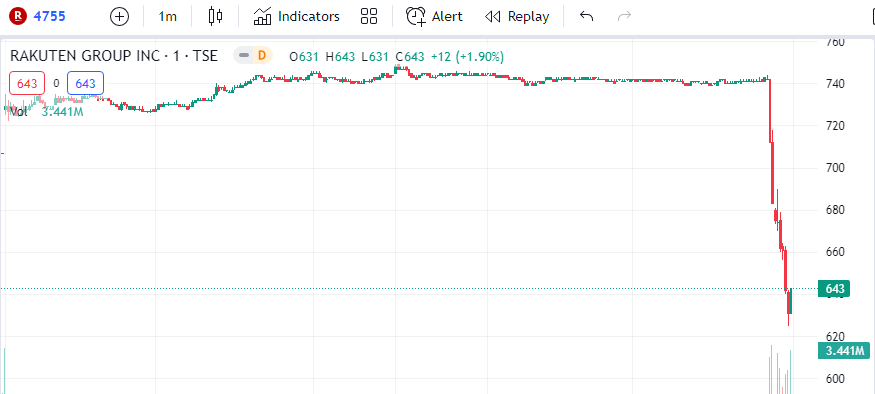 The news of Rakuten Group's potential public offering led to a sharp decline in its stock price on May 15th, with shares dropping by as much as 15%, from 742 yen to 631 yen before closing the day at 643 yen. Market analysts believe that there could be further price drops due to concerns over dilution and the existing market capitalization.
Despite these possible setbacks, Rakuten plans to use the funds raised for purposes such as developing mobile phone base stations and financing debt repayment.
Recent Financial Strategies
The recent rumors about the public offering come after several notable financial strategies made by Rakuten. In April, the company listed its internet banking subsidiary Rakuten Bank on the Tokyo Stock Exchange and generated more than ¥70 billion ($615 million) in profits. Moreover, it announced plans to sell all of its shares in Seiyu Holdings, a retail company, for ¥220 billion ($1.9 billion) to American investment firm KKR.
Rakuten's business strategies and partnerships have been closely watched by market analysts, especially considering the company's alliance with KDDI, which was aimed at reducing infrastructure spending. Although the stock prices had risen to record highs earlier in May, it seems the company must now navigate through supply-demand disparities and potential dilution concerns.
Amidst continuing financial challenges, Rakuten Group is reportedly close to launching a public offering estimated at ¥300 billion to reinforce its financial standing. As the company approaches its final decision-making stages, it will be essential for investors and interested parties to keep a close eye on how this move may affect Rakuten's future performance and stock price.
Source: docomo