Japan's hot and humid summers can leave visitors longing for air conditioning. With temperatures frequently over 30°C (~90 °C) and humidity levels above 80%, just walking outside can have you drenched in sweat within minutes.
Luckily, Reddit users who have experienced Japanese summers firsthand have plenty of tips to share. Here are 12 ways to beat the heat during your trip,according to Redditors:
1. Hydrate with Pocari Sweat
"Pocari Sweat will be your best friend." – user Tacotruckerface
This salty, citrusy sports drink is the gold standard for hydration in Japan. The electrolytes in Pocari Sweat help you replenish what's lost through sweat. Pick up a bottle at any convenience store or vending machine when you need a refreshing boost.
2. Seek Out Air Conditioning
"I always take paths that have AC (i.e. I look at Google maps and delay getting off the subway path and instead choose an exit closer to where I'm going. Also I take as many department store shortcuts if there are any). I always have the AC turned on when I'm getting ready for work. That helps keep me cool until I get to the office." – user stopthej7
Ducking into air conditioned spaces offers temporary relief from the sweltering outdoors. Shopping malls like LaLaport Tokyo Bay are full of stores, restaurants, and entertainment options to keep you busy in the cool indoor air.
3. Wear Lightweight Fabrics
"Get some light cloth in light colors and maybe airism from UNIQLO." – user Jenji05
Light-colored, loose-fitting clothes made of breathable fabrics like cotton or linen will help you stay cooler than form-fitting or dark clothes. Look for moisture-wicking performance fabrics to keep sweat at bay.
4. Visit Indoor Water Parks
"Japan's water parks offer another fun way to splash around and cool off."
At indoor water parks like Tokyo Summerland and Yokohama Hakkeijima Sea Paradise, you can enjoy getting soaked without getting scorched by the sun. Screaming down waterslides into cool pools is a perfect way to spend a hot summer day.
5. Indulge in Kakigori Shaved Ice
"And you can't forget kakigori (shaved ice)! Mango, melon, and ichigo (strawberry) flavors are popular summertime treats."
Fluffy shaved ice doused in sweet fruit-flavored syrups provides a refreshing, Instagrammable treat. Try the giant rainbow kakigori at Rainbow Soft Cream & Food in Harajuku.
6. Carry a Folding Fan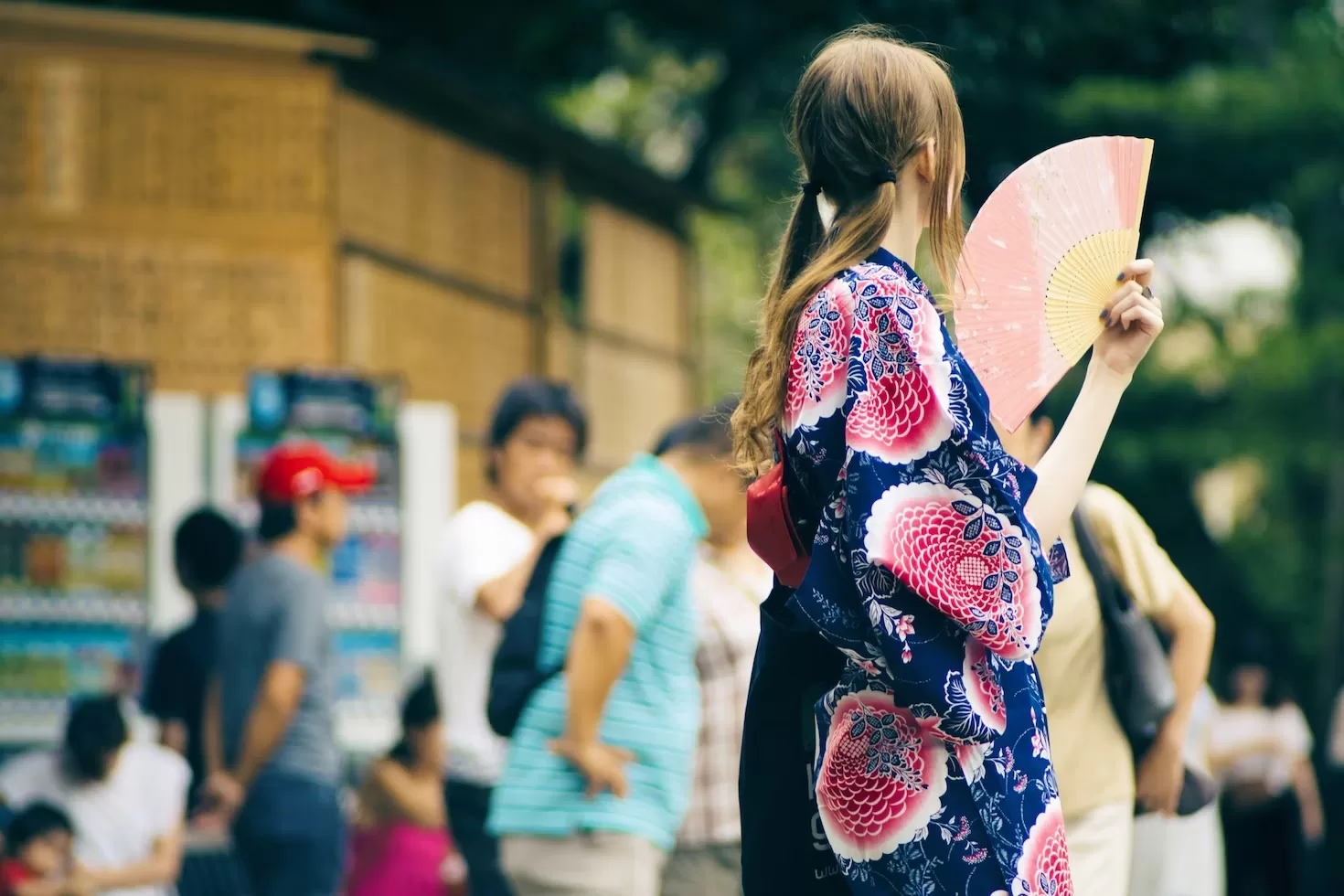 "I bought a folding fan which works much better than I thought it would." – user jp-papa
Portable hand-held folding fans provide a cooling breeze wherever you go. Pick up a cute printed fan at a 100 yen shop or souvenir store to stay cool while sightseeing.
7. Wake Up Early
"Get up early and do things before it gets too hot." – user Himekat
Beat the worst of the heat by getting an early start to your day. In the cooler hours of the morning, you can hike up Fushimi Inari Shrine in Kyoto or stroll through Shinjuku Gyoen park before temperatures peak.
8. Head to Higher Elevations
"I like to think I enjoyed the view more because I had to earn it." – user Briguy52
Above the muggy city streets, hiking trails in Japan's mountains offer cooler temps along with gorgeous nature views. Places like Mount Takao and Mount Mitake make for great summer hikes near Tokyo.
9. Use Cooling Towels
"I carry an extra t-shirt just in case I needed a change since I tend to sweat a lot." – user 7mugetsu
Special towels containing cooling gels or crystals provide a refreshing way to lower your body temperature. Tie one around your neck, drape it over your head, or simply wipe sweat away to stay cool.
10. Eat Cold Soba Noodles
"Other cooling foods like cucumber sunomono salad or cold soba noodles can help you beat the heat."
Chilled buckwheat soba noodles are a classic hot weather food in Japan. For the ultimate refreshing experience, try handmade soba at a restaurant in Tokyo's Kanda district.
11. Drink Mugicha Barley Tea
"As odd as it seems, chillin' with a windchime (being perfectly still) is great on weekends, and also the clink of ice cubes in a cold beverage (I prefer sun tea, lemon balm, cold chai or lemonade with lemon peel syrup, or mint soda) can be a great comfort on a hot day. Mugicha is also a big favorite to beat the heat." – user RedYam2016
The roasted, toasted flavor of mugicha pairs perfectly with ice for a cooling, caffeine-free drink option. Keep a pitcher in the fridge or pick it up cold at convenience stores.
12. Stay Flexible
"Don't force yourself to stick to an ambitious itinerary at the expense of your health and enjoyment."
Don't be afraid to scrap plans and take it easy if the heat becomes overwhelming. Prioritize fun indoor activities, relax in air conditioned spaces, and listen to your body's limits.
With the right preparation and mindset, you can still enjoy your dream trip to Japan, even when sweat is pouring down your back. Follow these tips from Reddit users to beat the heat!