Decades after being separated by war, a Japanese family has been reunited with a cherished memento of their father who was killed in action during World War II.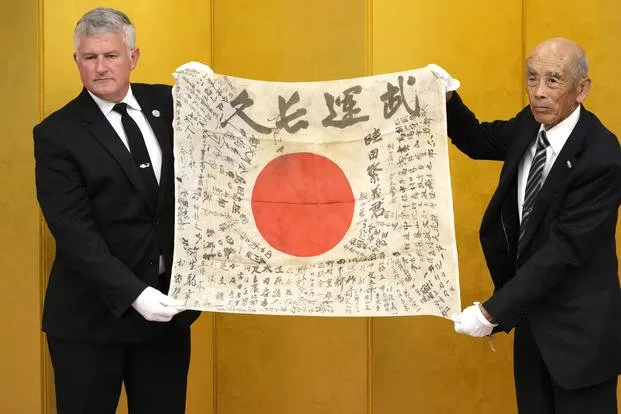 Bittersweet Homecoming for Soldier's Flag
The flag, known as a "Yosegaki Hinomaru" or "Good Luck Flag", belonged to Japanese Imperial Army soldier Shigeyoshi Mutsuda. It contains personal messages from his friends and family wishing him luck before he was drafted and sent off to war in 1943.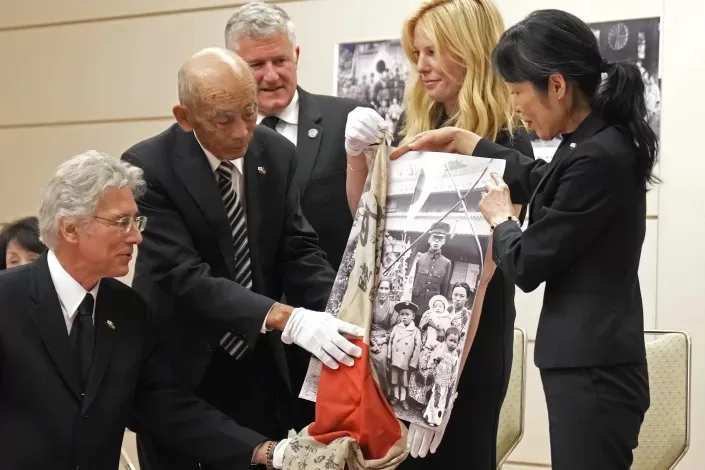 Mutsuda was killed in action during the Battle of Saipan in 1944 at the age of 26. His remains were never recovered. The flag was donated to a museum in Corpus Christi, Texas in 1994 where it remained on display for nearly 30 years.
Thanks to the efforts of a nonprofit group that returns artifacts to Japanese families, Mutsuda's flag has now been reunited with his surviving children – who are all now in their 80s. For them, receiving this deeply personal item decades after their father's death has brought mixed emotions.
Closing Wounds from a Painful History
On one hand, the flag's return represents long-delayed closure for the Mutsuda family after the hardships of war tore their family apart. For over 70 years, they mourned the father and husband they lost without even a grave to visit. This symbolic piece of him finally coming home brings comfort and a sense that his spirit can now rest in peace.
At the same time, the flag is a reminder of the painful history between Japan and the Allied forces who clashed in the Pacific theater. Mutsuda was loyal to the emperor and his country, as many young Japanese men were at that time, but he was also a victim of forces beyond his control. The war brought tremendous suffering on all sides.
While animosity lingers in some circles, there has also been great reconciliation. The humanitarian effort to return personal effects like the Mutsuda flag to their rightful owners shows that former enemies can become friends. Healing the wounds of the past paves the way for a better future.
Honoring the Fallen While Cherishing Peace
When Toshihiro Mutsuda, now 83, accepted the flag on behalf of his family, he expressed hope that such devastating wars would never be fought again. The children of those who lost their lives seek to honor their loved ones, but wish for today's youth to never experience such bloodshed.
Despite controversy over how Japan pays tribute to its war dead, the return of the flag transcends politics. It will now join the family's memorials where Shigeyoshi Mutsuda's spirit has been revered for decades as they fondly remember the father they barely knew.