2022 Asakusa Samba Carnival Postponed, Asakusa Samba Festa Takes Its Place in 2023
One of the most lively and entertaining Tokyo Events in September is the Asakusa Samba Carnival, where hundreds of dancers parade through the streets in colorful, feathered costumes, filling the air with the pulsating beats of samba music for a free outdoor festival that brings the excitement of Rio de Janeiro to the streets of Tokyo for a joyful cultural experience.
In yet another yearly event upset by the ongoing pandemic, the much-anticipated 39th Asakusa Samba Carnival, originally scheduled for August 2020, has been rescheduled a third time in as many years. Tokyo refashions its streets into a vibrant samba showcase every summer, a tradition that has had to be postponed yet again in 2022. Despite the disappointment of another delay, organizers have breathed new life into the festivities with an alternate event—known as the Asakusa Samba Festa.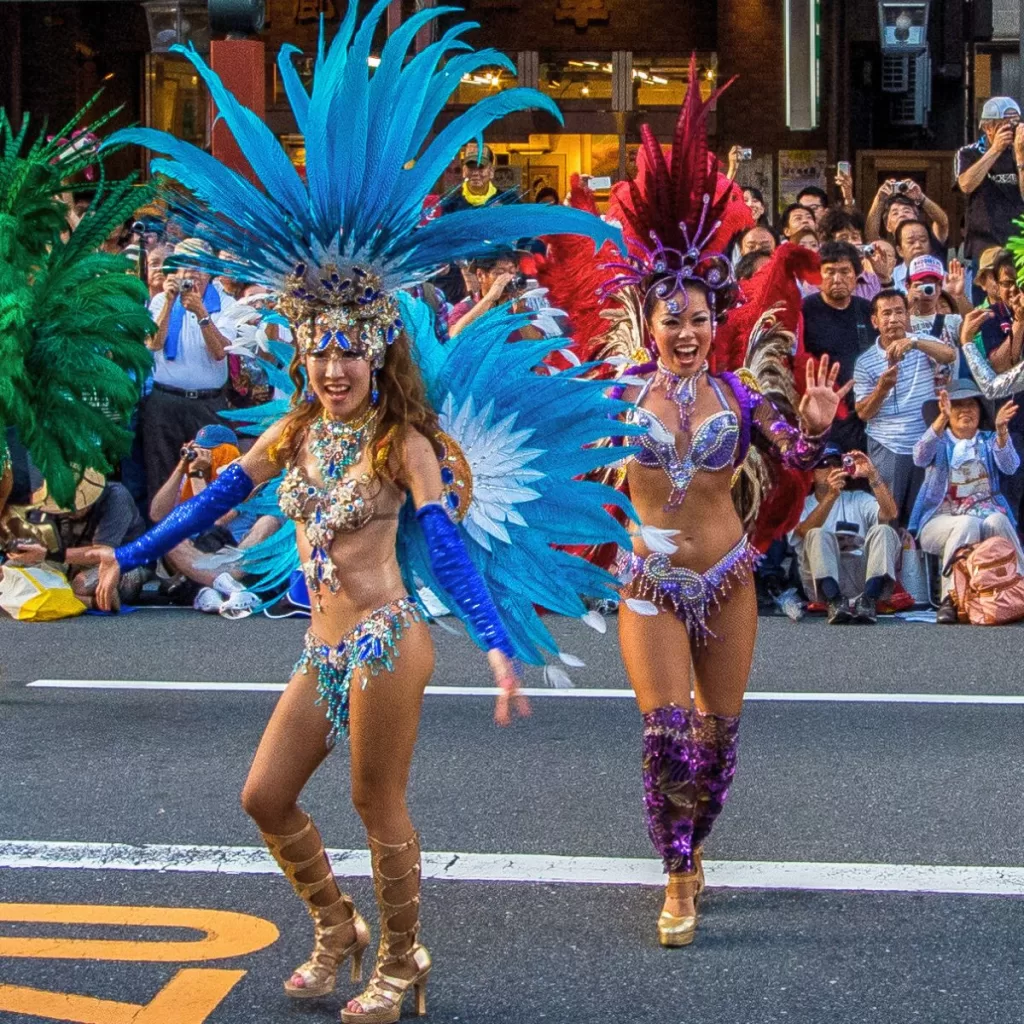 Major Summer Spectacle and Cultural Exchange
Attracting around 500,000 visitors each year, the Asakusa Samba Carnival is renowned for its dazzling array of samba floats, live music, and extraordinary dancers attired in tiny costumes and gigantic feathered headdresses—an homage to Brazil's iconic Rio Carnival. The event encapsulates the robust cultural exchange between Japan and Brazil, home to the world's largest Japanese diaspora.
Approximately 18 teams vie annually for the title in this spirited carnival. This intense and colorful competition transforms Tokyo's cityscape into a thoroughfare of rhythm and movement—a spectacle that has turned this carnival into one of Tokyo's major summer festivals.
The carnival traditionally kicks off at 2:00 pm on Saturday and concludes around 6:00 pm. The parade route traces a dogleg through Asakusa, with Asakusa Station conveniently located at its heart.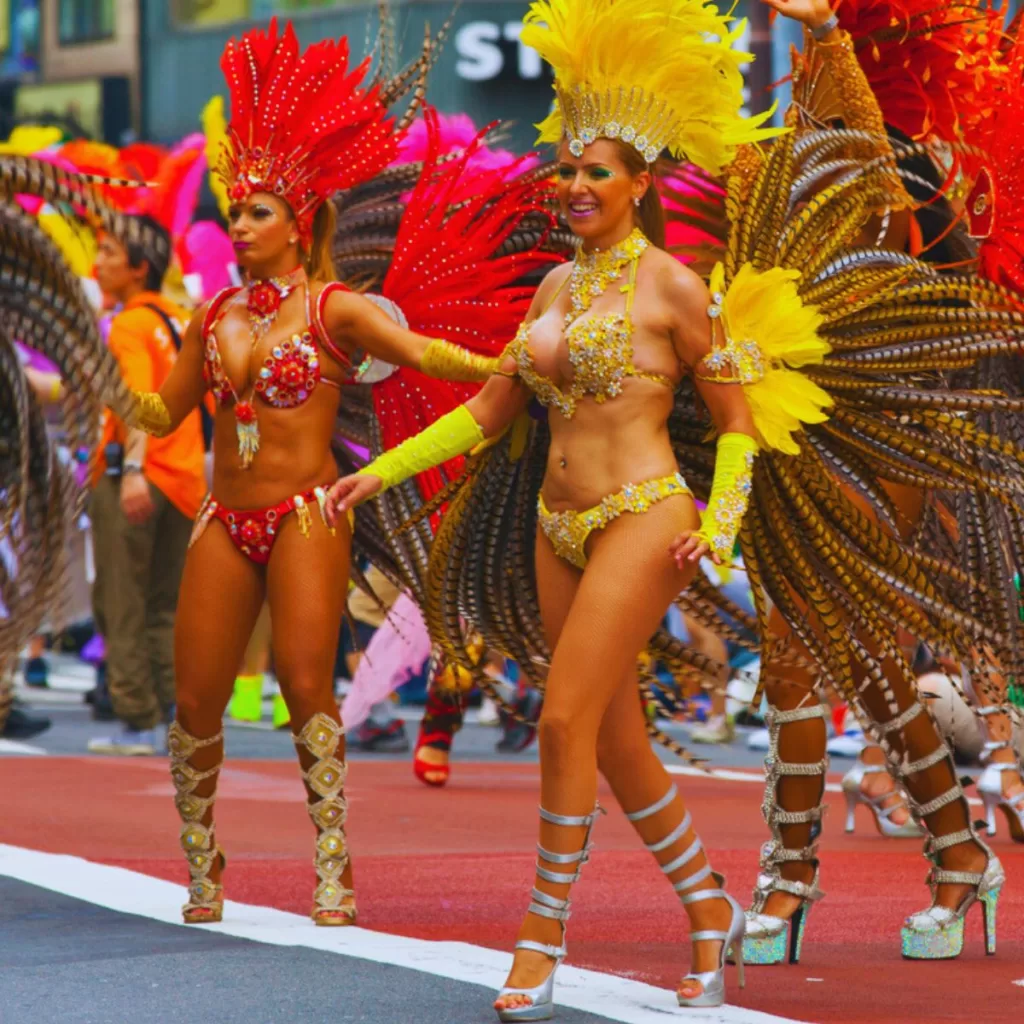 Tips from Asakusa Samba Expert Grigoris
Asakusa native and eternal samba enthusiast Grigoris shared his insights on the event. His tips revolve around securing the best spots along Kaminarimon Dori—the single street where all the magic happens—and where to take photos that capture the unadulterated essence of the festivities.
According to Grigoris, most attendees prefer to set camp near the Kaminarimon—Sensoji Temple's magnificent gateway—to capture images with it as a backdrop. This area on Kaminarimon Dori is popular since performers often save their best moves for this spot due to its proximity to both the judges' seats and the parade finish line by Sushiya Dori.
Grigoris also doles out advice to photography enthusiasts seeking candid shots of dancers. He recommends either Umemichi Dori or Kokusai Dori—the entrances and exits of Kaminarimon Dori—as ideal locations. This way, spectators may miss some actual dancing but gain an opportunity for close-ups and possibly interact with performers.
Given how infectious samba fever is known to be, those who intend on joining in on the dancing should secure standing spots early on.
A Big Deal Since 1981
Held annually since 1981, the Asakusa Samba Carnival morphs Tokyo into an international samba sensation: Proof of Japan's strong cultural ties with Brazil—especially considering Sao Paulo homes nearly 300,000 Japanese people.
A competition extended over approximately 20 participating groups is central to the spirit of this carnival. It culminates with each team parading down Umamichi-dori and Kaminarimon-Dori under their colorful peacock-like sashed Queen of Drums—the Rainha de Bateria.
With Brazilian-Japanese performers currently residing or visiting, especially for this event—where language barriers cease to exist—it highlights how globalized our cultures have become, providing a firsthand experience for spectators into this unique subculture within their city.
Overall verdict? Practice your samba skills (or at least swaying), arrive early if you're keen on securing prime viewing positions, and prepare yourself for an unmatched display of rhythm, color, and culture under Tokyo's skies!
While the Atami Marine Fireworks Festival lights up the night skies over the bay with colorful pyrotechnics, the Asakusa Samba Carnival brings vibrant street performances to daytime Tokyo, as dancers in feathered costumes move to the beat of pulsing samba rhythms, turning the city into a lively carnival celebration straight out of Rio de Janeiro during one of the most popular Tokyo Events in September.