Atami Onsen is a renowned hot spring resort area located in Shizuoka Prefecture, about 50 minutes from Tokyo by shinkansen bullet train. With a long history dating back over 1,000 years, Atami Onsen has been a favorite destination for relaxation and rejuvenation for centuries.
An Overview of Atami Onsen
Atami Onsen refers to the numerous natural hot springs found in and around Atami City on the Izu Peninsula. Records show hot spring bathing in Atami as early as 713 CE, and by the Edo Period it had become a popular getaway for feudal lords seeking therapeutic bathing.
Atami Onsen's location along the coast provides beautiful ocean views in addition to its top-quality mineral waters. The centrally located hotels and ryokans offer easy access to hot spring baths, beaches, and sightseeing. The area is also famous for fireworks displays and other events.
The natural spring water here is clear, odorless, and mildly alkaline. It leaves skin smooth and supple thanks to its mineral content. Atami Onsen has both chloride springs and sulfur springs with different therapeutic benefits.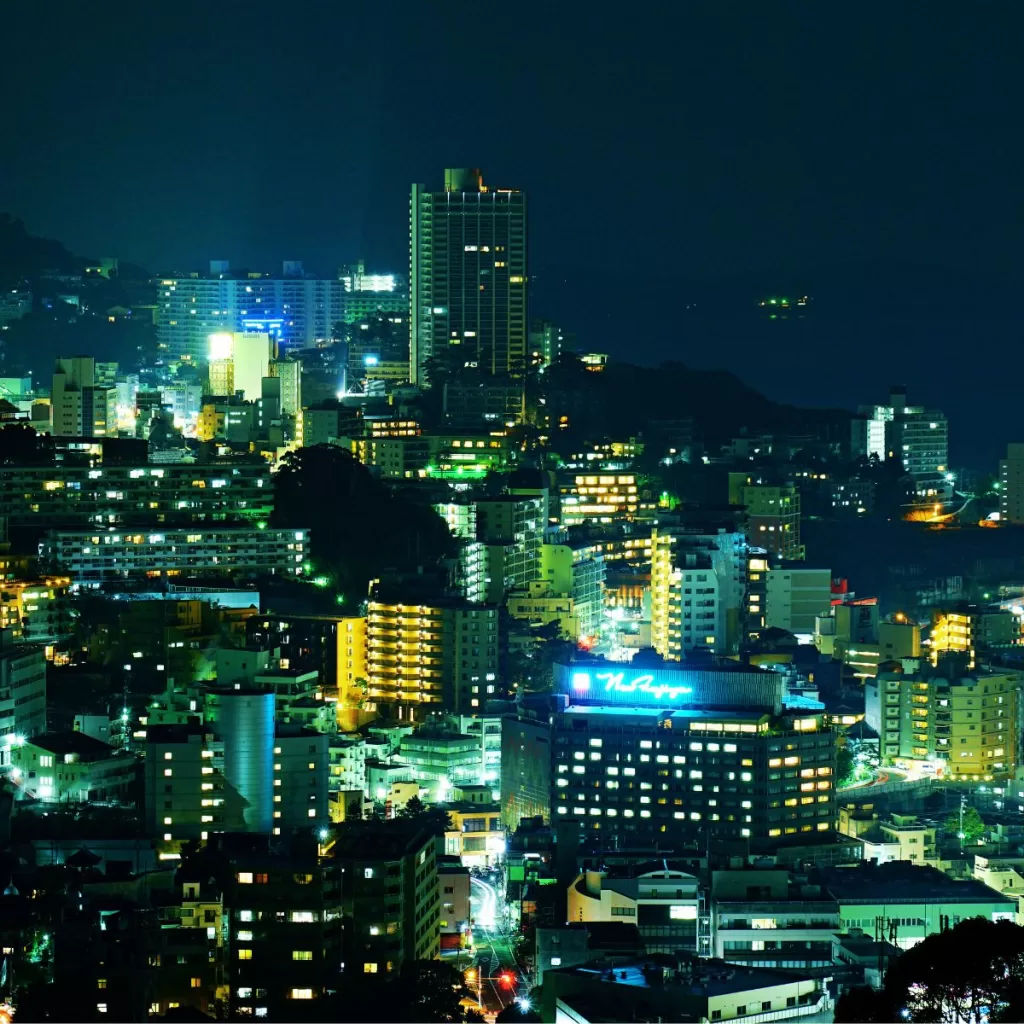 The Seven Famous Springs of Atami
Atami is home to around 100 natural springs, of which seven are particularly famous. Known as the Seven Hot Springs of Atami, these each have their own unique characteristics:
Oyu Geyser – A towering geyser that erupts on the hour. It is illuminated at night.
Kawara-yu – Small springs located near the shoreline. The hot water bubbles up through the sand.
Sajiro-no-yu – A potassium-rich spring located beside the MOA Museum of Art.
Seizaemon-no-yu – A historic bathing spot with very hot waters.
Furo-no-yu – A large public hot spring bath near Atami Station.
Kosawa-no-yu – A sulfur spring high in minerals and salt.
Nonaka-no-yu – A simple open-air bath surrounded by nature.
Top Ryokans and Hotels with Hot Spring Baths
Many excellent ryokans and hotels in Atami have their own private hot spring baths, often available for reserved private use. Some top picks include:
Nagisa-kan Ryokan – Boasts eight different baths, including ocean view and cave-style options.
Mikan no Ki – A traditional ryokan with indoor, outdoor, and foot baths available.
Nikko-tei O-yu – Historic bathhouse and inn visited by feudal lords. Rotates baths between men and women daily.
KKR Hotel Atami – Modern hotel with large public baths and private outdoor pools overlooking the ocean.
Hotel Wafukan – Traditional hotel baths incorporating 300-year-old umbrella pine wood.
Atami Yu-No-Yado Okawa – Huge cypress bath tubs over 2 meters wide.
Yuyado Ichibanchi – Conveniently located near Atami Station with sea view and stone baths.
Heartpia Atami – Hotel with luxurious reclining baths, jet baths, and more available for a bargain price.
Public Foot Baths in Atami
In addition to baths at ryokans and hotels, Atami has numerous free public foot baths for visitors to enjoy. Soak weary feet while taking in views of the ocean or city. Two top picks are:
Ieyasu-no-yu – Located right in front of Atami Station, this foot bath is open daily 9am-4pm with fresh hot spring water.
Atami Castle Foot Bath – 120 meters above sea level on the castle's balcony, offering panoramic ocean views.
Day Trips to Atami Onsen from Tokyo
The shinkansen bullet train makes Atami Onsen an easy day trip from Tokyo. The trip takes only 50 minutes each way from Tokyo Station to Atami Station. Visitors can soak in hot springs, stroll around town, or visit beaches and other area attractions.
Some top things to do in Atami on a day trip include:
Relaxing at a hotel or public bathhouse
Getting an onsen tamago egg boiled in a hot spring
Visiting MOA Museum of Art
Exploring Atami Castle ruins
Walking along Sun Beach
Shopping for souvenirs
Dining on fresh seafood
Enjoying Nearby Hot Springs
In addition to Atami Onsen proper, there are several other excellent hot spring areas nearby worth visiting:
Izusan Onsen – Secluded hot spring along the Amagi Mountain Range known for its waters containing plentiful minerals.
Izu Yugawara Onsen – Historic onsen surrounded by forested mountains, away from the bustle of Atami.
Minami-Atami Onsen – Collection of hotels and ryokans with hot springs in the Taga and Ajiro districts south of Atami.
Each area provides its own unique atmosphere and hot spring benefits to discover.
Soaking in Rejuvenation at Atami Onsen
Just a short trip from Tokyo, Atami Onsen is the ideal place to soak in therapeutic mineral waters, enjoy gorgeous ocean views, and recharge your mind and body. With plentiful public baths and luxurious hotels to choose from, plus historical sites and natural scenery, Atami Onsen has something for every hot spring lover.
If you love soaking in open-air hot spring baths with views of mountain landscapes like those found at Atami Onsen, experience the historic charm and tranquil beauty of Ginzan Onsen in Yamagata.
FAQ
1: What is Atami Onsen?
Atami Onsen is a famous hot spring resort located in Atami, Japan. Known for its therapeutic properties, Atami Onsen attracts numerous visitors seeking relaxation and rejuvenation in its natural hot springs.
2: How can I visit Atami Onsen?
If you are traveling by train, you can take the JR Atami train station, which offers convenient access to Atami Onsen. It is also possible to drive or take a bus to reach the resort.
3: What are the best hot springs in Atami?
Atami is home to several top-quality hot springs, offering different experiences for visitors. Some of the best hot springs include Tokugawa, Ito, and the ones found in the Atami Fufu and Furuya Ryokan.
4: Are there private bath options available in Atami Onsen?
Yes, many hotels and ryokans in Atami Onsen offer private bath options. These baths provide a more intimate and secluded experience, perfect for those who prefer privacy.
5: Can I enjoy open-air hot springs in Atami?
Absolutely! Atami Onsen has plenty of open-air hot springs where visitors can immerse themselves in the soothing water while enjoying stunning views of the Pacific Ocean or the beautiful landscapes of Atami.
6: How far is Atami Onsen from Tokyo?
Atami Onsen is conveniently located near Tokyo, approximately 50 minutes away by JR Shinkansen from Tokyo Station. This makes it a popular choice for a day trip or a short getaway from the bustling city.
7: Which hotels offer the best guest rooms in Atami Onsen?
Several hotels and ryokans in Atami Onsen provide luxurious and spacious guest rooms with breathtaking views of Atami. Some notable options include Hotel Micuras, Atami Fufu, and the selected onsen ryokans in the area.
8: What are some other attractions near Atami Onsen?
Aside from the hot springs, Atami Onsen offers attractions like the Atami Plum Garden, where visitors can admire beautiful plum blossoms, and the Atami Sun Beach, a scenic waterfront perfect for a relaxing day by the sea.
9: Are there any onsen resorts in Atami?
Yes, Atami is home to a variety of onsen resorts where guests can indulge in the ultimate luxury stay experience. These resorts often offer a range of amenities,