Embark on one of the best day trips from Osaka to discover the rich cultural heritage, stunning landscapes, and fascinating attractions of the surrounding region. Whether you're interested in historical sites, picturesque towns, or natural wonders, there are plenty of options to choose from. To help you plan your trip, here are 23 top day trips that will make your journey from Osaka an unforgettable experience.
Kyoto
Kyoto is one of the best day trips from Osaka and the top destination for most travelers. Kyoto, the ancient capital of Japan has over 2,000 temples and shrines, as well as spectacular Japanese gardens. Kyoto is only 30-60 minutes by train from Osaka station, making it an easy day trip. It's one of the country's top destinations to see ancient temples, shrines, and castles. A day trip allows you to experience the highlights of Kyoto from Osaka.
1. Kinkakuji (Golden Pavilion)
Kinkakuji, a UNESCO world heritage site, is one of Kyoto's top attractions. The zen temple is completely covered in gold leaf and overlooks a tranquil pond. It's one of the best examples of Japanese architecture in the city.
It is one of the best places to visit and the most popular buildings in Kyoto, attracting many visitors annually. The temple's top two floors are completely covered in gold leaf, giving it a breathtaking appearance
When planning your itinerary for a trip to Japan, Kinkakuji is a must-visit place due to its unique architecture and historical significance. The temple is surrounded by a stunning garden, which retains its original design and offers a serene atmosphere for visitors to enjoy. The best time to visit Kinkakuji is on sunny days when the golden sunlight reflects off the temple's stunning exterior.
A day tour to Kinkakuji can be easily arranged, allowing you to explore the temple grounds and learn about its rich history. While visiting, you can take a relaxing stroll through the temple's garden, admiring the beautiful landscape and the reflection of the Golden Pavilion on the surface of the pond. Kinkakuji is not only an iconic symbol of Kyoto but also an essential part of any trip to Japan, offering a memorable experience for all who visit.
2. Arashiyama Bamboo Grove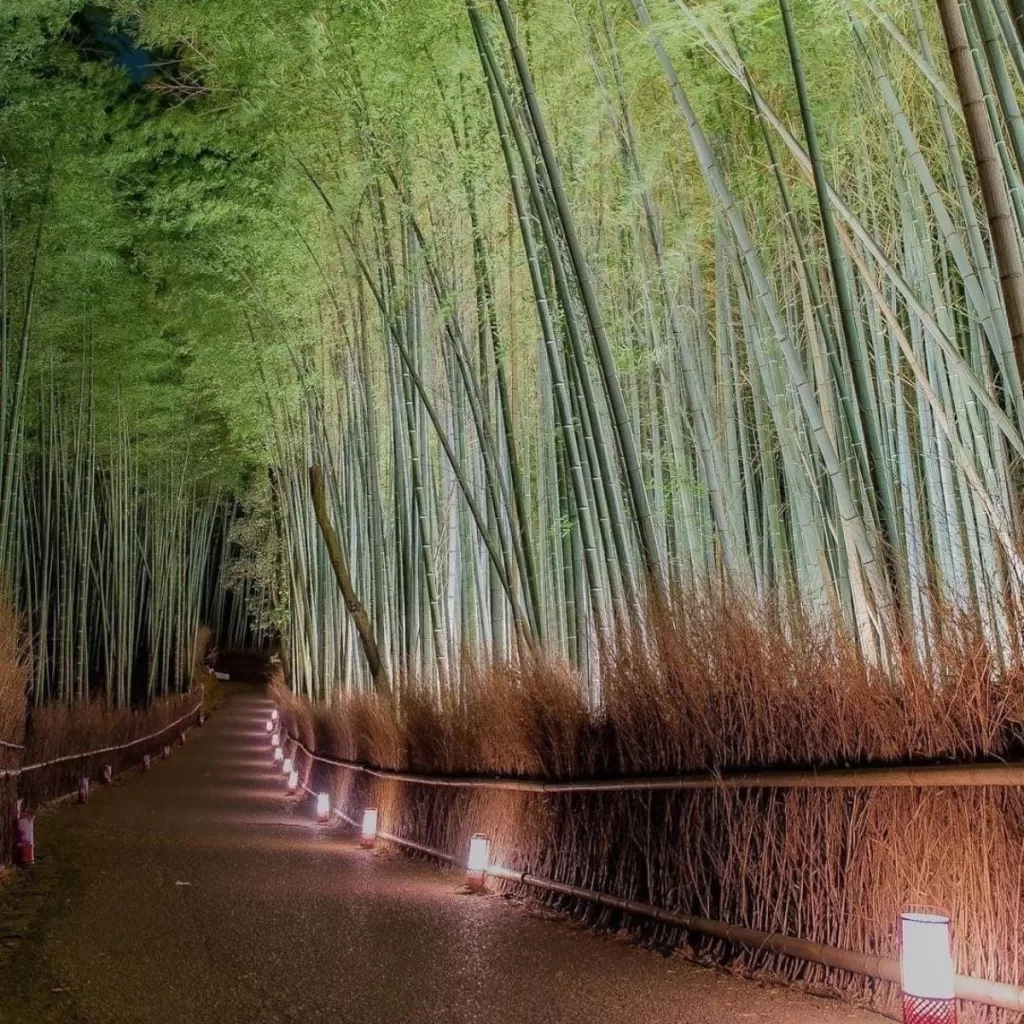 The bamboo grove in Arashiyama on the outskirts of Kyoto is one of the most famous sights in Japan. Walking through the peaceful bamboo forest is an enchanting experience.
The forest is open 24/7, and admission is free, making it an easy addition to any day trip itinerary in Kyoto. The best time to visit the Bamboo Grove is early in the morning or late in the afternoon to avoid the crowds and enjoy a peaceful visit.
Whether you're embarking on a day trip from Osaka or exploring Kyoto, a visit to the Arashiyama Bamboo Grove should be included in your travel plans. Located just a short distance from the city center, it offers a perfect blend of nature and tranquility. Discover the charm of this unique attraction at the best time to visit and create unforgettable memories of your journey through Japan.
3. Fushimi Inari Shrine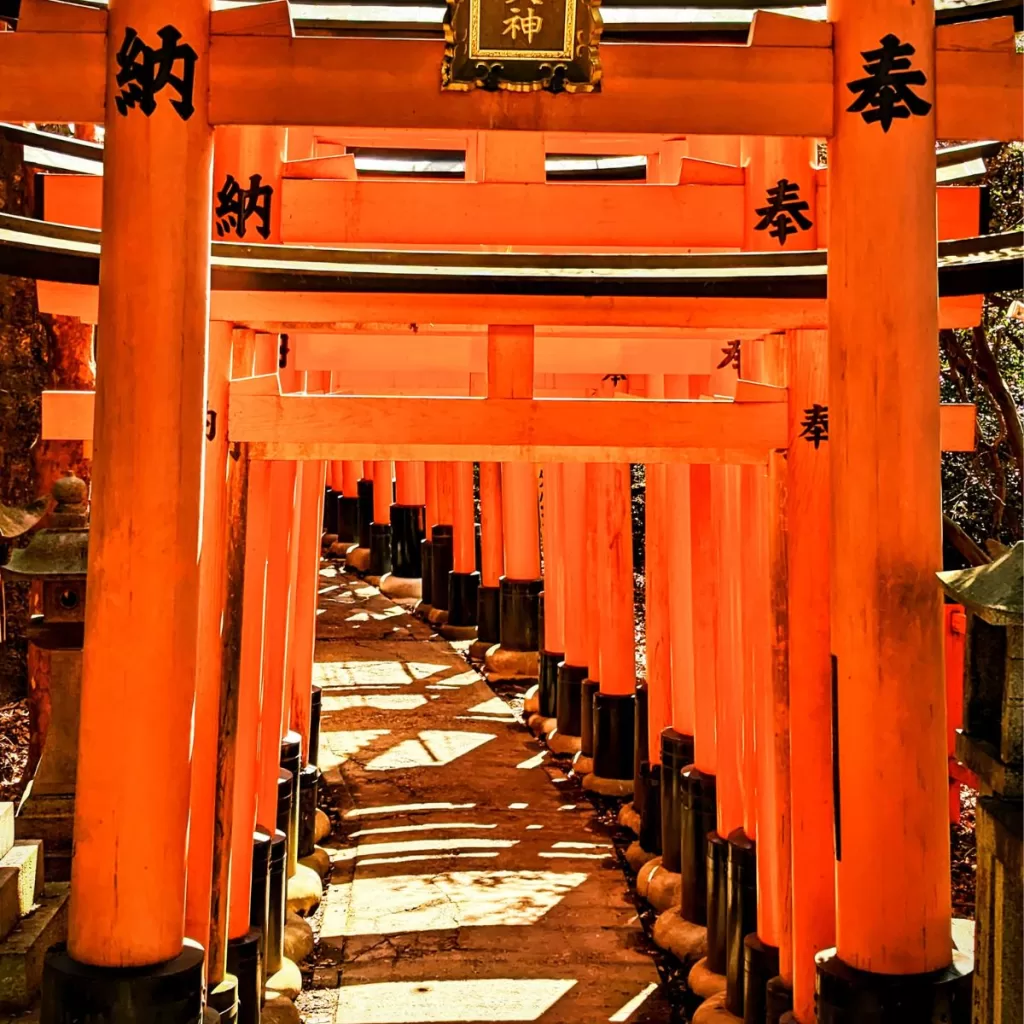 Fushimi Inari Shrine is popular for its thousands of vermilion torii gates that wind through the hills behind the shrine. It's one of Kyoto's most photogenic spots. Fushimi Inari Shrine, also known as Fushimi Inari Taisha, is one of the most famous tourist attractions in Kyoto, Japan. It is known for its thousands of vermilion torii gates that lead to the sacred Mount Inari, which stands at 233 meters and belongs to the shrine grounds.
Fushimi Inari is the most important of several thousands of shrines dedicated to Inari, the Shinto god of rice. The shrine has ancient origins, predating the capital's move to Kyoto in 794.
Fushimi Inari Shrine is a great spot to add to your day trip itinerary from Osaka. It is easily accessible by train from Kyoto Station or Fushimi Inari Station along the Keihan Main Line.
It is also a popular destination for guided day tours, which allow visitors to explore the shrine grounds and learn about its rich history.
4. Nijo Castle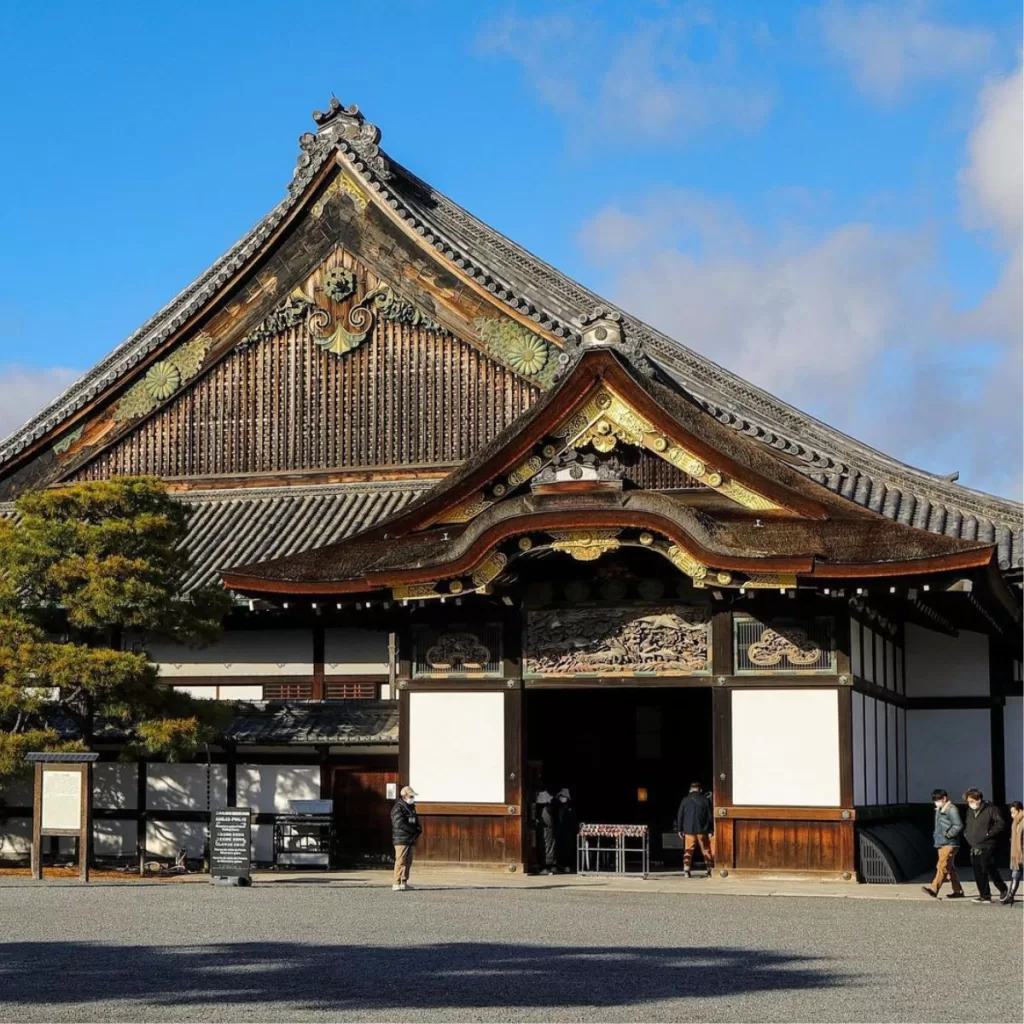 Nijo Castle dates back to 1603 and features ornate interiors and stunning painted screen doors. It offers an insight into Japan's feudal history.
Kyoto has over 2,000 temples and shrines to discover. With its tranquil gardens and temples, Kyoto offers a contrast to the modern city of Osaka. Spending even just a day trip here is highly recommended to experience the best of this historic city.
One of the highlights of Nijo Castle is the "nightingale floors" known as "Uguisu-bari", which produce a gentle chirping sound as you walk on them. These floors were ingeniously designed to serve as a security measure, alerting the occupants to the presence of intruders. Today, visitors can experience the unique auditory pleasure while traversing the castle corridors.
The castle's expansive gardens, featuring meticulously maintained landscapes and serene ponds, are perfect for a leisurely stroll. Take a moment to appreciate the natural beauty and tranquility that surrounds you. Cherry blossoms in spring and vibrant autumn foliage make it an even more enchanting time to visit.
---
Kobe
Kobe makes a great day trip from Osaka Japan to experience a more laidback side of Japan. It's just 30 minutes from Osaka by train.
Kobe has an attractive harbor front, a modern waterfront, and historic foreign settlements that are perfect to explore on foot. It's also known for its top-quality Kobe beef and sake.
5. Kobe Harborland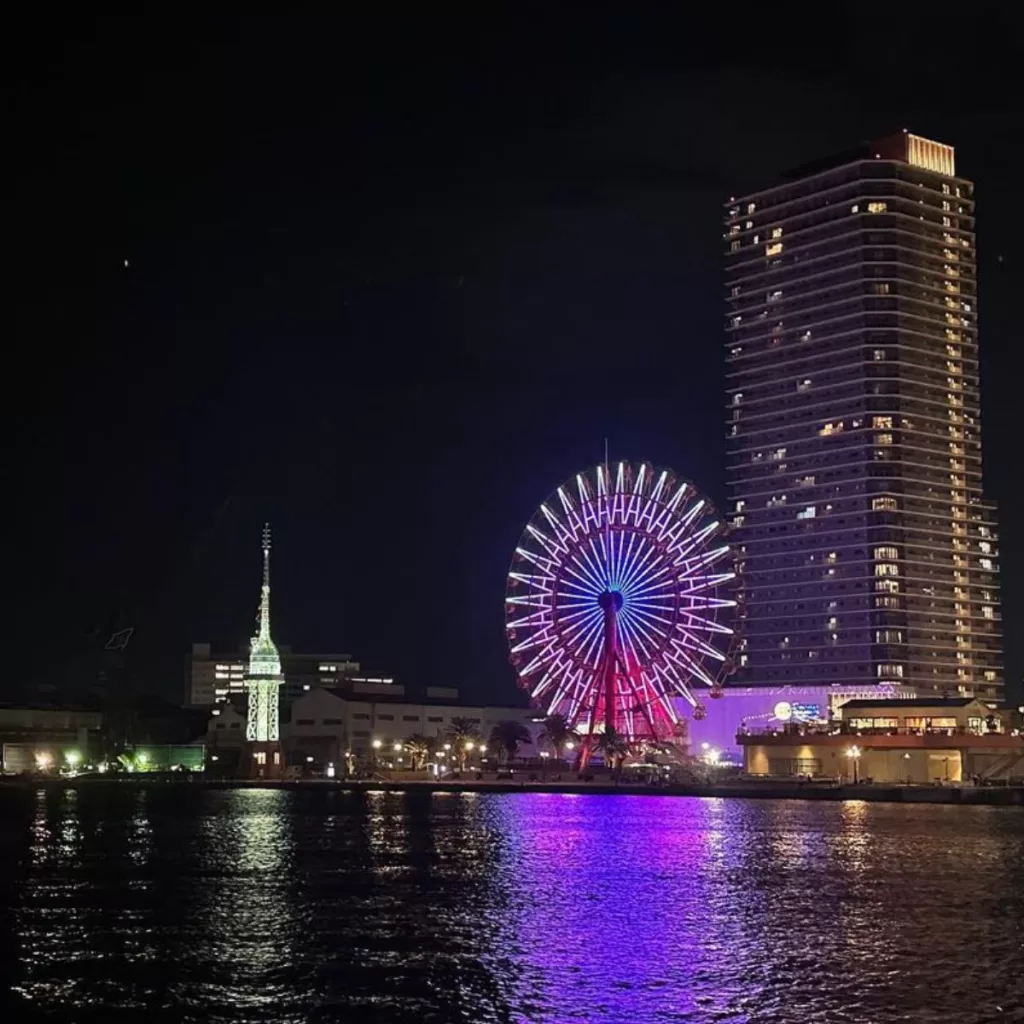 When it comes to popular day trips from Osaka, Kobe Harborland is a destination that should not be overlooked. Best known for its vibrant waterfront promenades and entertainment facilities, it offers a great way to spend a day in Japan's port city of Kobe.
Kobe Harborland is a modern shopping and entertainment district along the waterfront. It offers great views across the bay back to Osaka.
One of the best ways to explore Kobe Harborland is by taking a leisurely stroll along the waterfront promenade. The charming atmosphere, coupled with the panoramic views of the harbor and the iconic Kobe Port Tower, creates a picturesque setting. Enjoy the gentle coastal breeze as you browse through countless shops, boutiques, and restaurants that offer a wide variety of local and international cuisines.
6. Nankinmachi (Chinatown)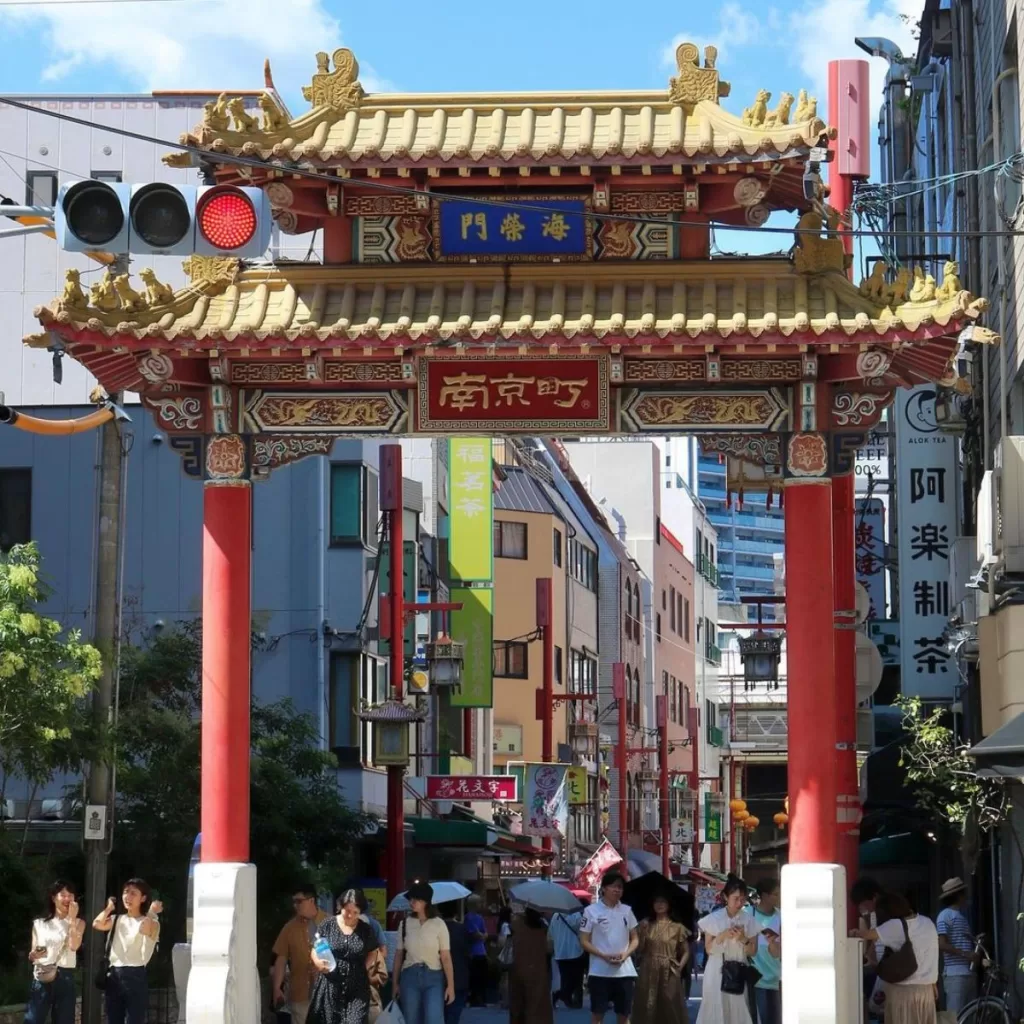 When it comes to exploring the vibrant cultural diversity of travel in Japan, a visit to Nankinmachi (Chinatown) is a must. It's considered one of the three best Chinatowns in Japan, with Chinese restaurants and shops spread over several blocks near the harbor. Located in Kobe, this bustling district offers a tantalizing array of sights, sounds, and flavors that will transport you to the heart of Chinese culture. 
Nankinmachi is renowned for its vibrant streets filled with ornate red lanterns, traditional Chinese architecture, and a lively atmosphere. As you wander through the narrow alleys, you'll encounter a multitude of shops, markets, and restaurants, where you can savor authentic Chinese cuisine and indulge in shopping for unique souvenirs and traditional crafts.
One of the best spots in Nankinmachi is the colorful Good Luck Gate (Eiraku-mon), which serves as an eye-catching entrance to the district. Passing through this gate feels like stepping into a different world, instantly immersing you in the vibrant spirit of Chinatown. The aroma of savory street food and the sound of bustling activity create an ambiance that is both exciting and inviting.
Nankinmachi is easily accessible and can be reached within a short travel time from major cities like Osaka. It's a perfect destination for a half-day or full-day exploration, allowing you to immerse yourself in Chinese culture and culinary delights before returning to your base city. So, make sure to allocate time in your itinerary to visit Nankinmachi and experience the cultural fusion that defines this lively and vibrant district.
7. Kitano-cho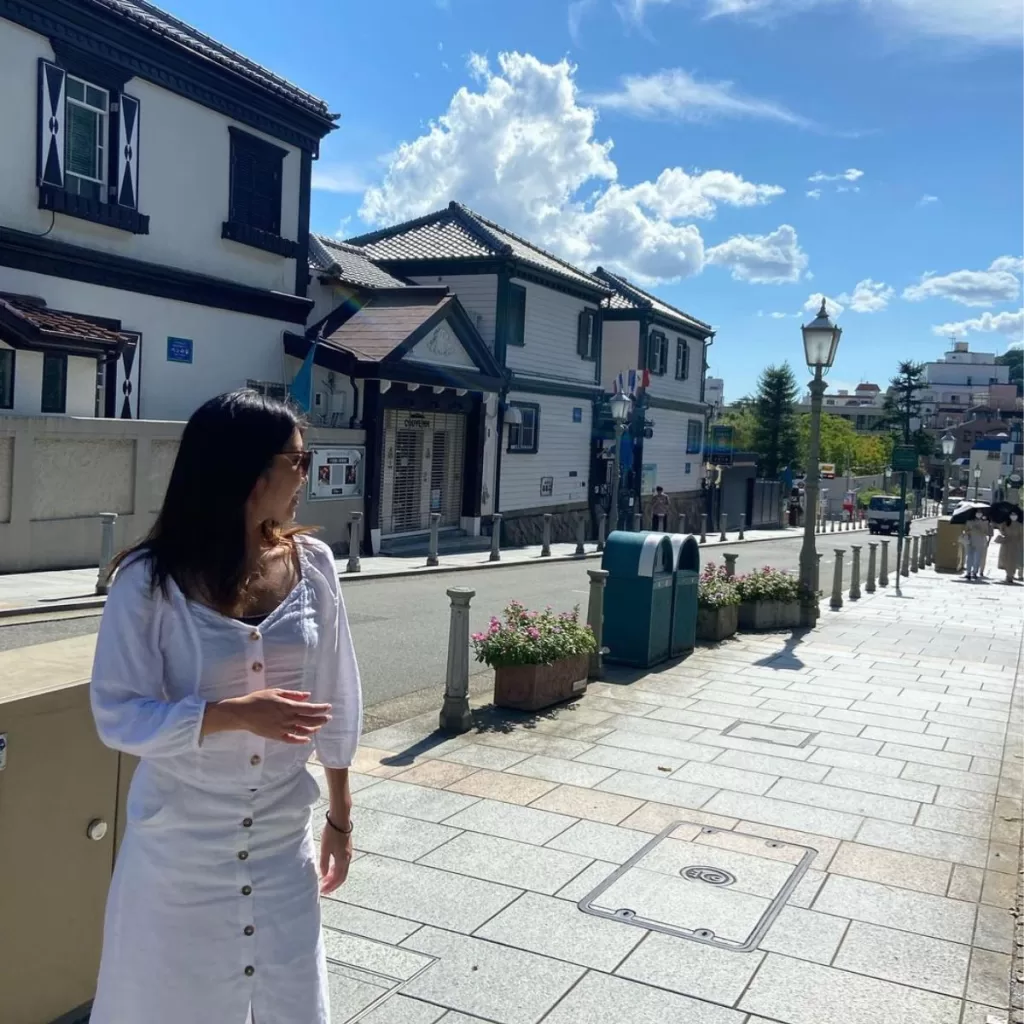 Kitano-cho is where many foreign merchants lived after Kobe port opened to foreign trade in 1868. The area has historic western-style houses and cafes.
Kitano-cho is a preserved neighborhood that showcases the architectural beauty of Western-style mansions. These elegant houses, built in the late 19th to early 20th centuries, were once the residences of foreign merchants and diplomats. Today, many of these buildings have been transformed into museums, art galleries, and cafes, offering visitors a glimpse into the lifestyles of the past.
Spending time in Kitano-cho is like being transported to a different era. The quaint streets, lined with beautiful boutiques and cafes, offer a wonderful opportunity to leisurely explore and admire the well-preserved architecture. Stroll through this charming district, and you'll be captivated by the unique blend of Japanese and Western influences.
8. Hakutsuru Sake Brewery Museum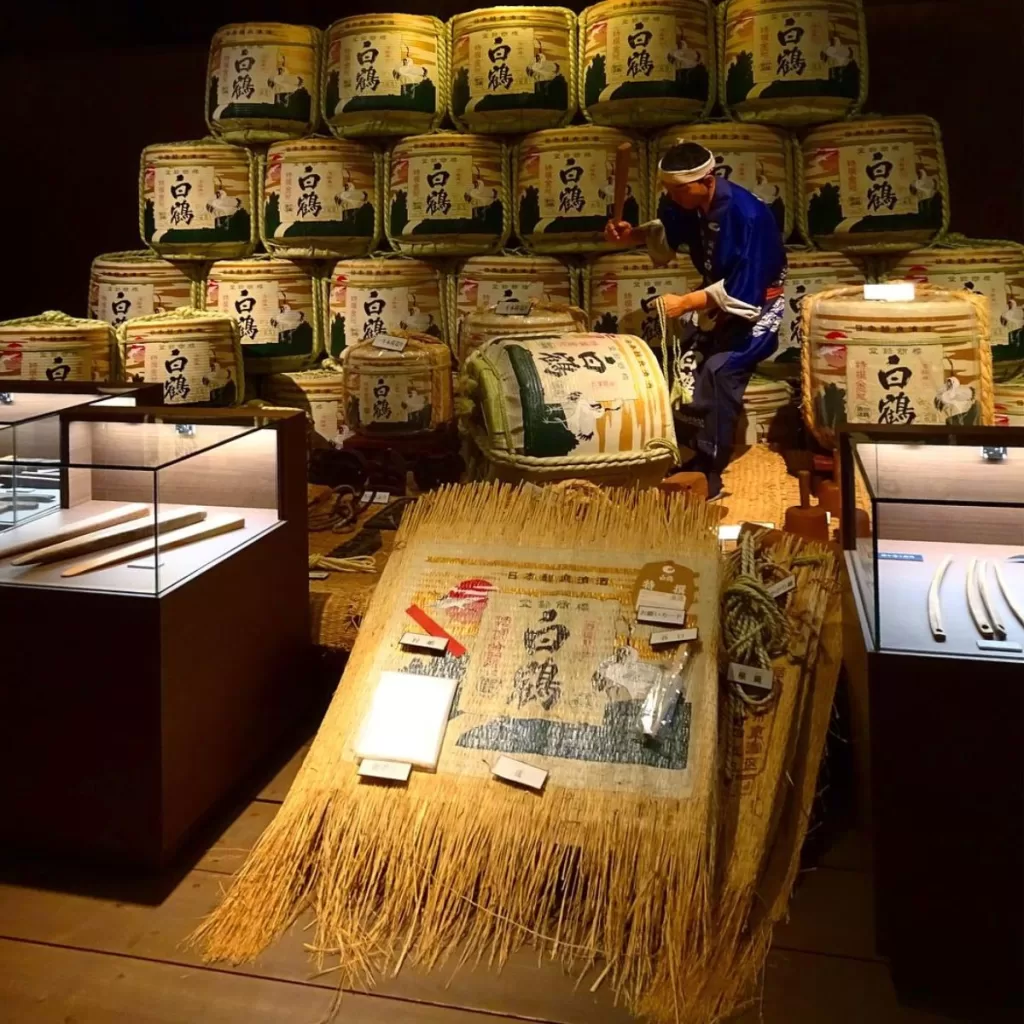 When planning one of the great day trips in Japan, a visit to the Hakutsuru Sake Brewery Museum in Kobe should not be missed. Learn about sake production at the Hakutsuru Museum and taste test different sakes.
This unique museum offers a fascinating insight into the art of sake brewing and allows visitors to discover the rich history and craftsmanship behind this iconic Japanese beverage.
Located in the historical Nada district, known for its renowned sake breweries, the Hakutsuru Sake Brewery Museum provides a captivating experience for sake enthusiasts and curious travelers alike. The museum showcases the traditional sake-making process, from rice polishing to fermentation, through interactive exhibits and informative displays.
During your visit, you'll have the opportunity to learn about the ingredients, techniques, and tools used in sake production, and even witness the sake-making process firsthand. The museum also offers sake tastings, allowing visitors to sample a variety of Hakutsuru sake products and appreciate the distinct flavors and aromas that make each one unique.
---
Nara
The ancient city of Nara also makes an easy day trip from Osaka. It's just 45 minutes by train.
Nara was Japan's first permanent capital over 1,300 years ago. Highlights include Todaiji Temple, home to the Great Buddha, and Nara Park where over 1,000 deer roam free.
9. Todaiji Temple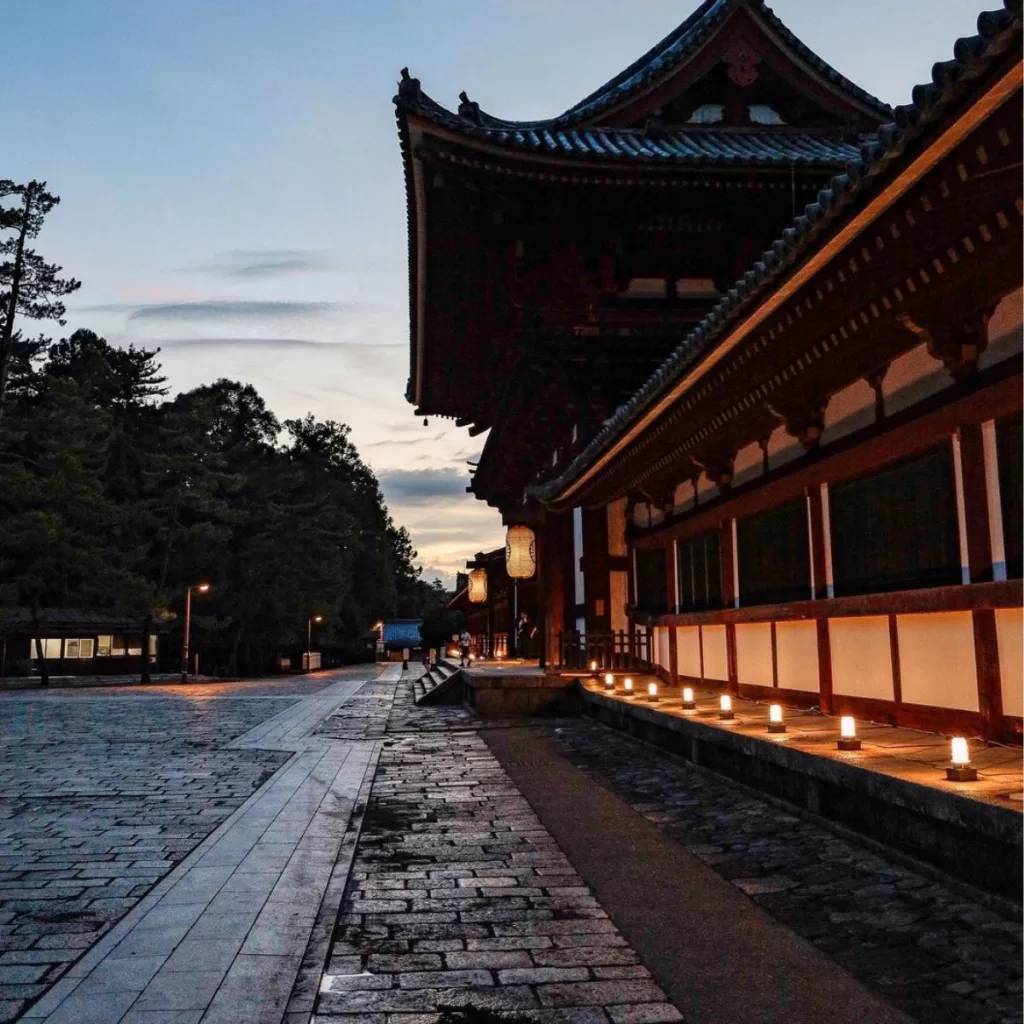 When spending time in Japan, a visit to Todaiji Temple in Nara is essential for those seeking cultural and historical treasures. This architectural marvel, dating back to the 8th century, is one of Japan's most significant Buddhist temples and has earned its place as a UNESCO World Heritage site.
Todaiji Temple is one of the largest wooden buildings in the world. The 15m tall Great Buddha statue inside is truly impressive to see.
For the best views of Todaiji Temple, head to the Nigatsu-do Hall, situated on a hill overlooking the main temple complex. From here, you can admire panoramic vistas of Nara and the temple grounds. The surrounding natural beauty adds to the charm, especially during the cherry blossom season when the temple is adorned with delicate pink blooms.
10. Nara Park
Nara Park, located in the city of Nara, is a captivating destination that offers a unique blend of nature, history, and wildlife. Spanning over 500 hectares, this expansive park is a popular attraction and a testament to Japan's deep-rooted traditions and natural beauty.
Over 1,000 deer roam freely in Nara Park. You can feed and pet the gentle deer who wander the park grounds. Considered messengers of the gods in Japanese culture, these deer roam freely throughout the park and have become a symbol of Nara.
Whether you're seeking cultural exploration, encounters with friendly deer, or simply a tranquil escape into nature, Nara Park offers a well-rounded experience for travelers of all interests. From the iconic landmarks to the enchanting wildlife, it's no wonder that Nara Park is considered a must-visit destination in Japan.
11. Horyuji Temple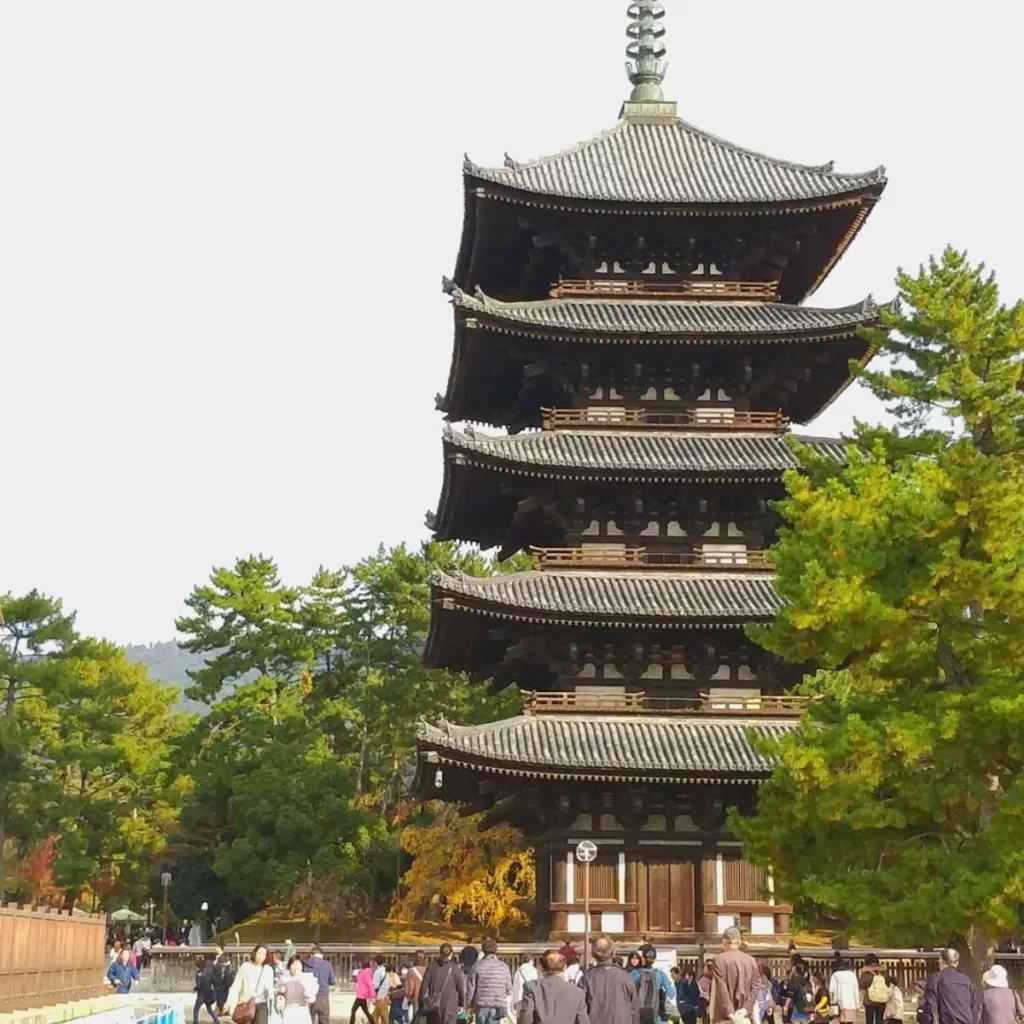 Horyuji Temple is one of the oldest temples in Japan, founded in 607 AD. The wooden temple buildings are original. The temple complex is comprised of multiple buildings, gardens, and pagodas. Known as the treasure house of Buddhist art, Horyuji Temple is home to an exceptional collection of Buddhist statues, scriptures, and artifacts, many of which date back to the 7th century.
One of the main highlights of Horyuji Temple is the five-story pagoda, a national treasure that stands tall and majestic. Its intricate design and exquisite craftsmanship make it a sight to behold and a symbol of Japanese architectural brilliance.
Exploring Horyuji Temple allows visitors to immerse themselves in the rich cultural heritage of Japan. As you wander through the serene temple grounds, you'll have the opportunity to admire the elegant beauty of ancient statues, experience the tranquility of Japanese gardens, and learn about the profound spiritual teachings embedded within the temple's walls.
12. Kasuga Taisha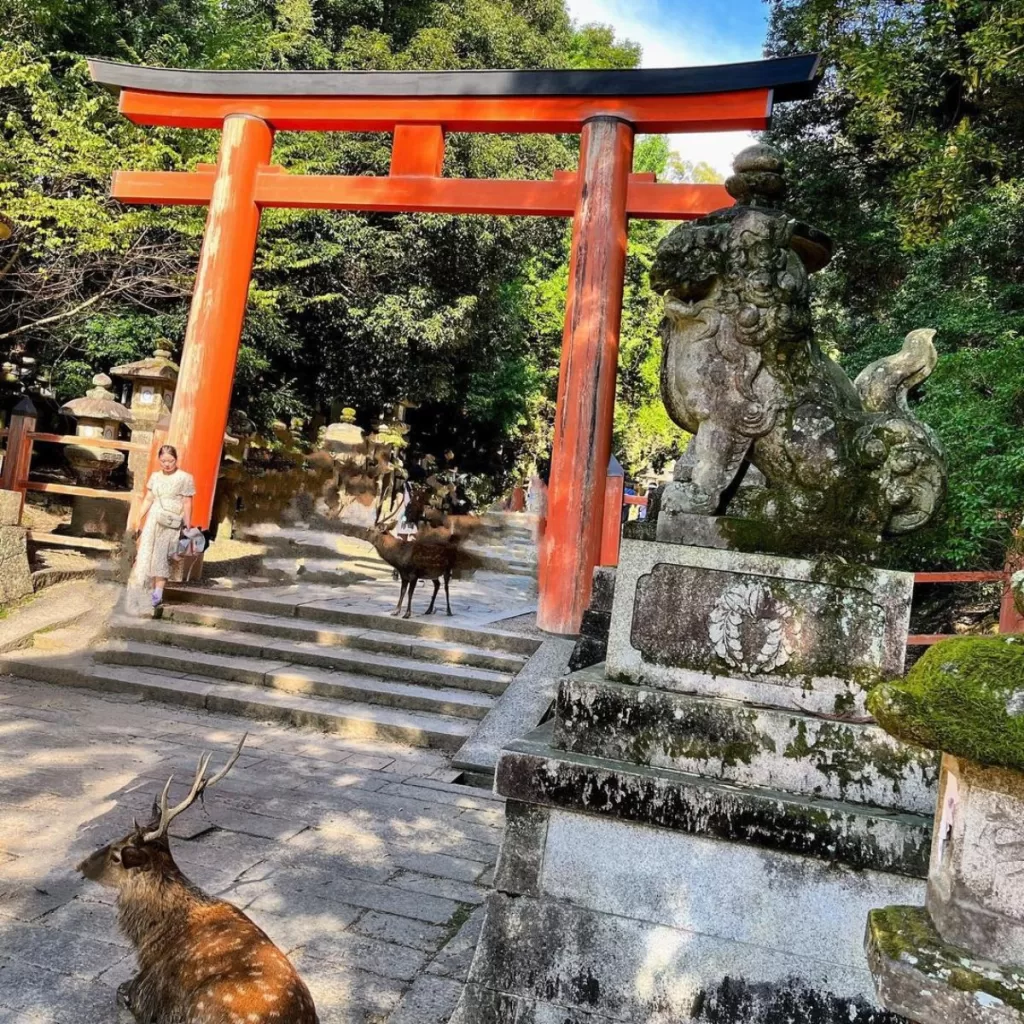 This Nara shrine was established over 1,300 years ago. It's famous for the 3,000 lanterns that line the shrine pathways.
Nara's historic temples and wandering deer offer a unique experience different from Japan's other major cities. It's an easy place to spend a relaxed day trip.
The shrine is dedicated to the deity responsible for protecting the city of Nara and its people. Inside the shrine's main hall, visitors can witness exquisite shrine architecture, take part in religious rituals, and gain a deeper understanding of the profound spiritual beliefs rooted in Shintoism.
---
Himeji
Himeji is just 60-90 minutes from Osaka by train, making it an easy day trip. The magnificent castle is a must-see when visiting the Kansai region.
13. Himeji Castle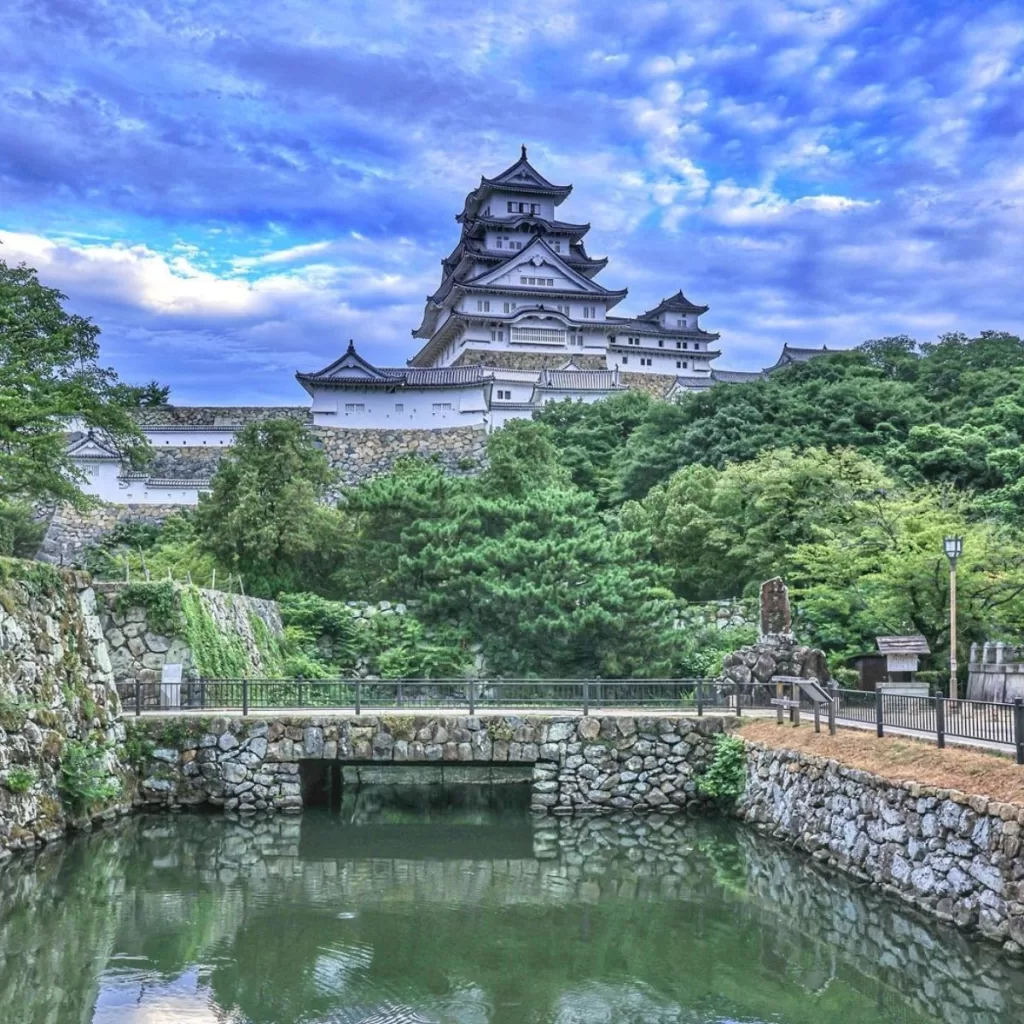 Himeji Castle is known as the White Heron Castle due to its elegant white walls. It's considered Japan's most spectacular castle for its well-preserved complex and hilltop location.
The castle is one of the few remaining original castles in Japan. Most others are modern reconstructions. Himeji Castle dates back to the 14th century.
Climb up through the multiple levels of the castle keep. Each floor has interesting displays of armor and weapons. The views out over Himeji city from the top floor are spectacular. You get a real sense of the castle's scale and design.
The complex has multiple baileys, fortified walls, and gates. Walking through the grounds gives you a sense of a medieval castle layout.
---
Nagoya
Though further from Osaka at 2 hours by train, Nagoya in central Japan makes a worthwhile day trip to see attractions like Nagoya Castle, Toyota Museum, and Atsuta Shrine.
Nagoya is one of Japan's largest cities and has plenty of sights to fill a day trip from Osaka. The combination of historic sites and modern attractions like the Toyota Museum makes for an interesting visit.
14. Nagoya Castle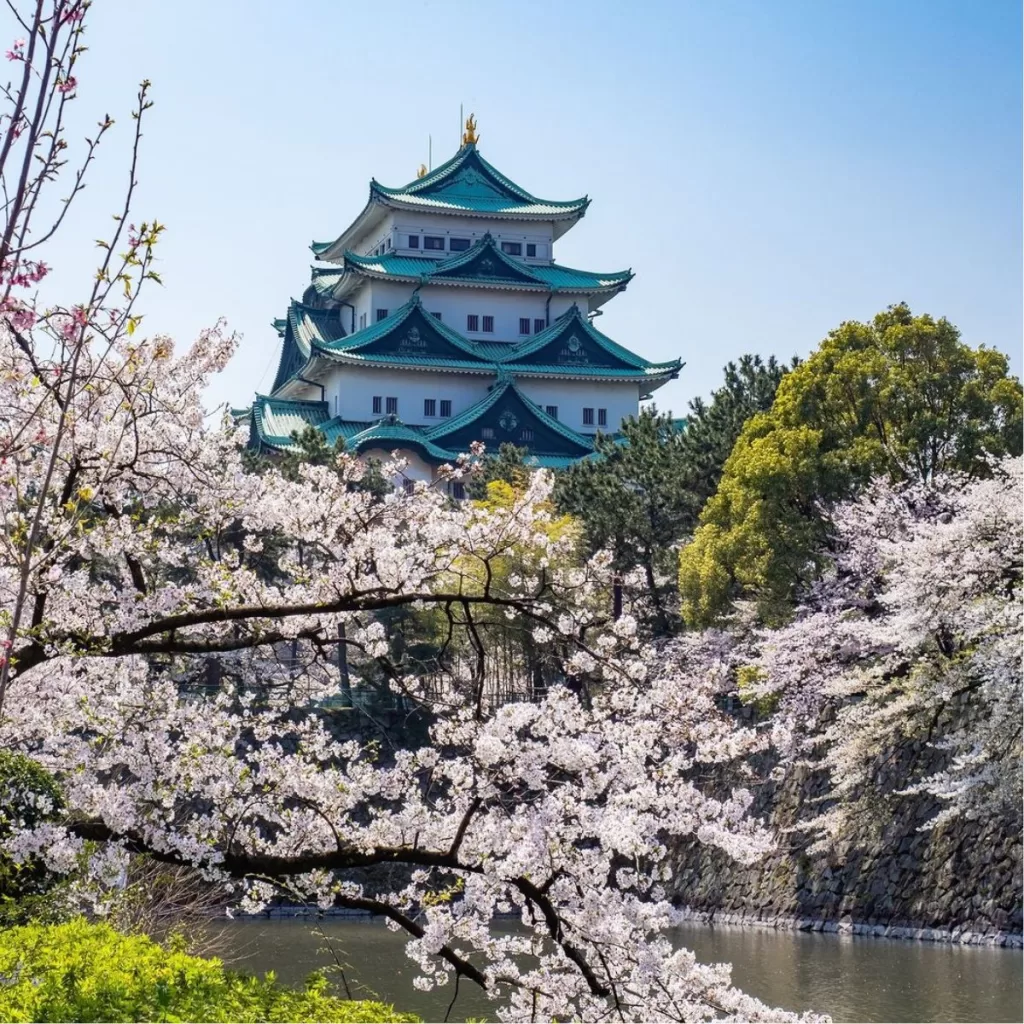 The impressive reconstructed castle has a museum inside detailing Nagoya's history. Walk around the castle grounds and climb up to the observation deck.
The castle's impressive main keep, with its distinctive golden shachi (mythical tiger-fish) ornaments, reflects the grandeur and power of its feudal past. Inside, visitors can explore the museum, which displays a fascinating collection of artifacts and exhibits related to the castle's history, samurai culture, and the Edo period.
Set amidst expansive grounds, Nagoya Castle offers picturesque gardens and serene walking paths, providing a tranquil oasis where visitors can appreciate the beauty of nature and the architectural splendor of the castle. The gardens are particularly stunning during cherry blossom season, when the castle is enveloped in delicate shades of pink.
For panoramic views of Nagoya and the surrounding area, visitors can climb to the top floor of the main keep or take an elevator for convenience. The breathtaking vistas from this vantage point offer a unique perspective on the city and its blend of modernity and tradition.
15. Toyota Museum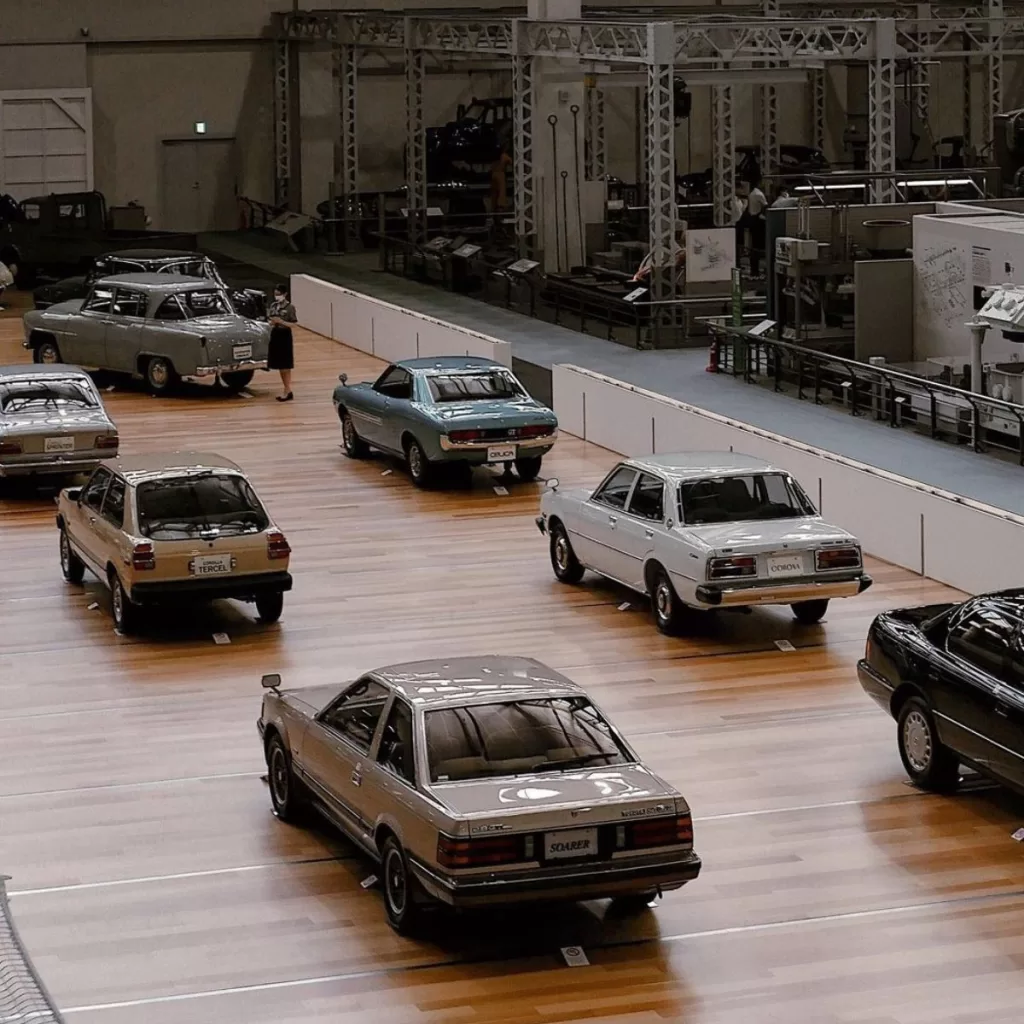 The Toyota Museum in Nagoya is a captivating destination for car enthusiasts and those interested in Japan's automotive industry. Located in the headquarters of Toyota Motor Corporation, this museum showcases the evolution and achievements of one of the world's leading automobile manufacturers.
See a range of vehicles at the Toyota Museum from early model cars to futuristic concept vehicles. Test drive a car on their driving track.
With its modern architecture and immersive displays, the Toyota Museum offers a comprehensive and engaging experience that goes beyond mere car appreciation. It presents a unique opportunity to learn about the history, culture, and technological innovation behind one of Japan's most iconic and influential companies.
16. Atsuta Shrine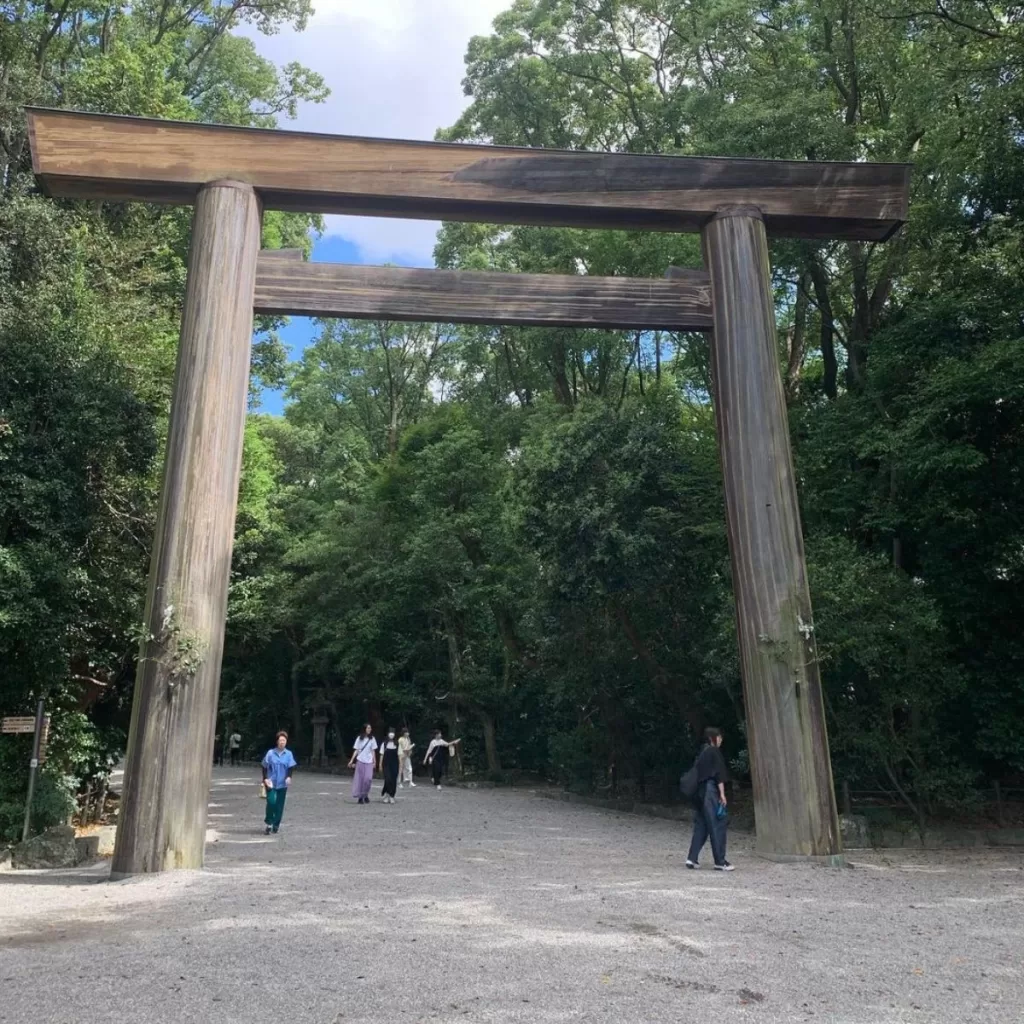 This is one of Japan's most important shrines dating back almost 2,000 years. It houses an important imperial sword.
The shrine is dedicated to the Shinto deity Atsuta-no-Ōkami, who is believed to protect the people of Japan and bless them with good fortune. Its origins date back over 1,900 years, and the shrine has been a symbol of faith and reverence throughout Japanese history.
Upon entering the shrine grounds, visitors are greeted by a serene and sacred atmosphere. The towering Torii gate marks the entrance, leading to a path lined with beautiful trees and stone lanterns. As you delve deeper into the shrine, you'll discover graceful gardens, peaceful courtyards, and ancient structures that exude a sense of tranquility.
One of the main attractions of Atsuta Shrine is the splendid Treasure Hall, which houses a remarkable collection of artifacts and national treasures, including ancient swords and imperial regalia. It provides a fascinating glimpse into Japan's storied past and its rich cultural heritage.
17. Osu Kannon Temple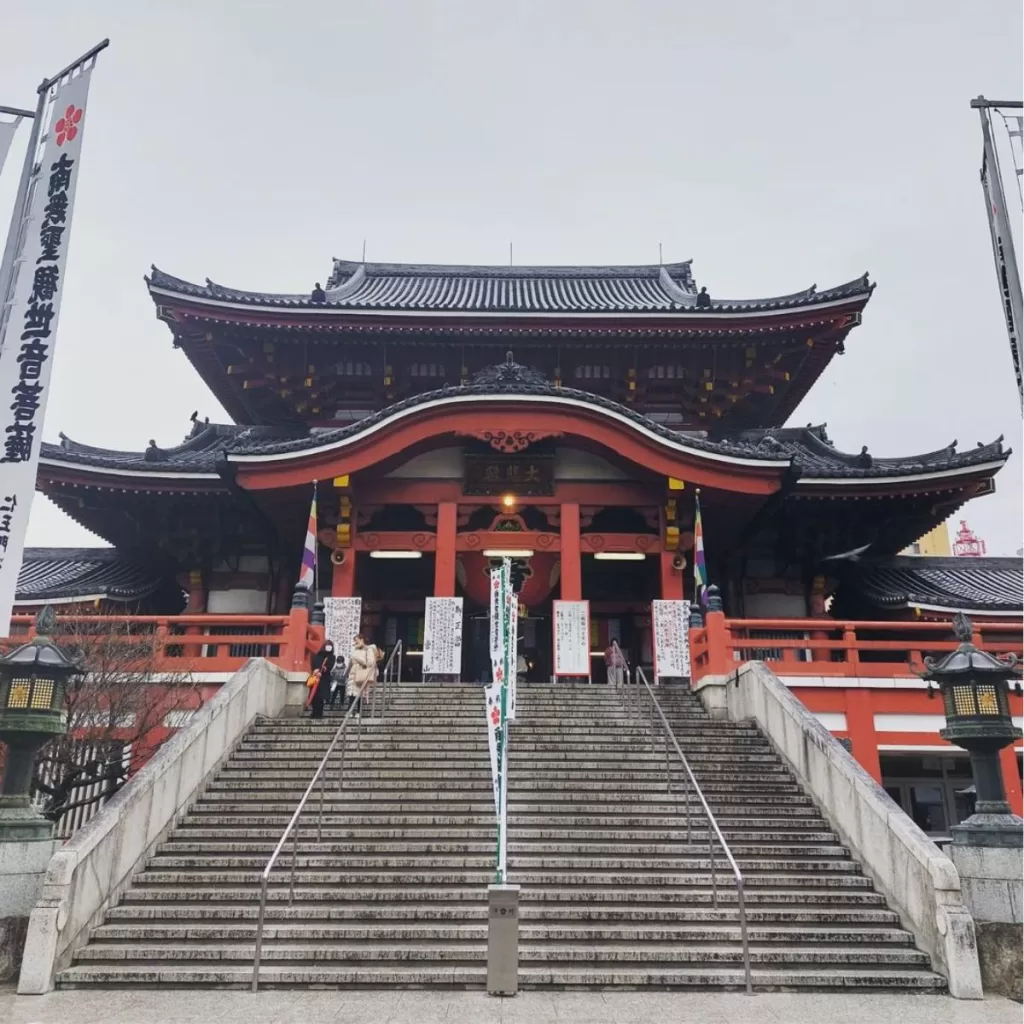 Osu Kannon Temple, located in Nagoya, is a vibrant and historical Buddhist temple that embodies the charm and character of the city. It is a popular destination for locals and visitors alike, offering a unique blend of spiritual devotion, cultural heritage, and lively atmosphere.
The temple, originally established in the 14th century, is dedicated to the Bodhisattva of Mercy, Kannon. Upon arriving at the temple grounds, you are greeted by a majestic red gate adorned with intricate carvings. As you explore further, you'll encounter beautiful gardens, pagodas, and various halls that exude a sense of tranquility and reverence.
One of the highlights of Osu Kannon Temple is its vibrant shopping district, known as Osu Shopping Street or Osu Kannon Arcade. Lined with a multitude of shops, boutiques, and street stalls, it offers a wide range of goods and souvenirs, including traditional crafts, antiques, clothing, and delicious street food. This lively atmosphere adds a unique charm to the temple experience.
Browse through the more than 1,200 shops and stalls at the Osu Shopping Arcade near this downtown temple.
---
Wakayama
For a temple stay experience from Osaka, visit Mt. Koya in Wakayama Prefecture. It's easily accessible by train in just under 2 hours. Mt. Koya is an important center of Shingon Buddhism with over 100 temples.
18. Okunoin Cemetery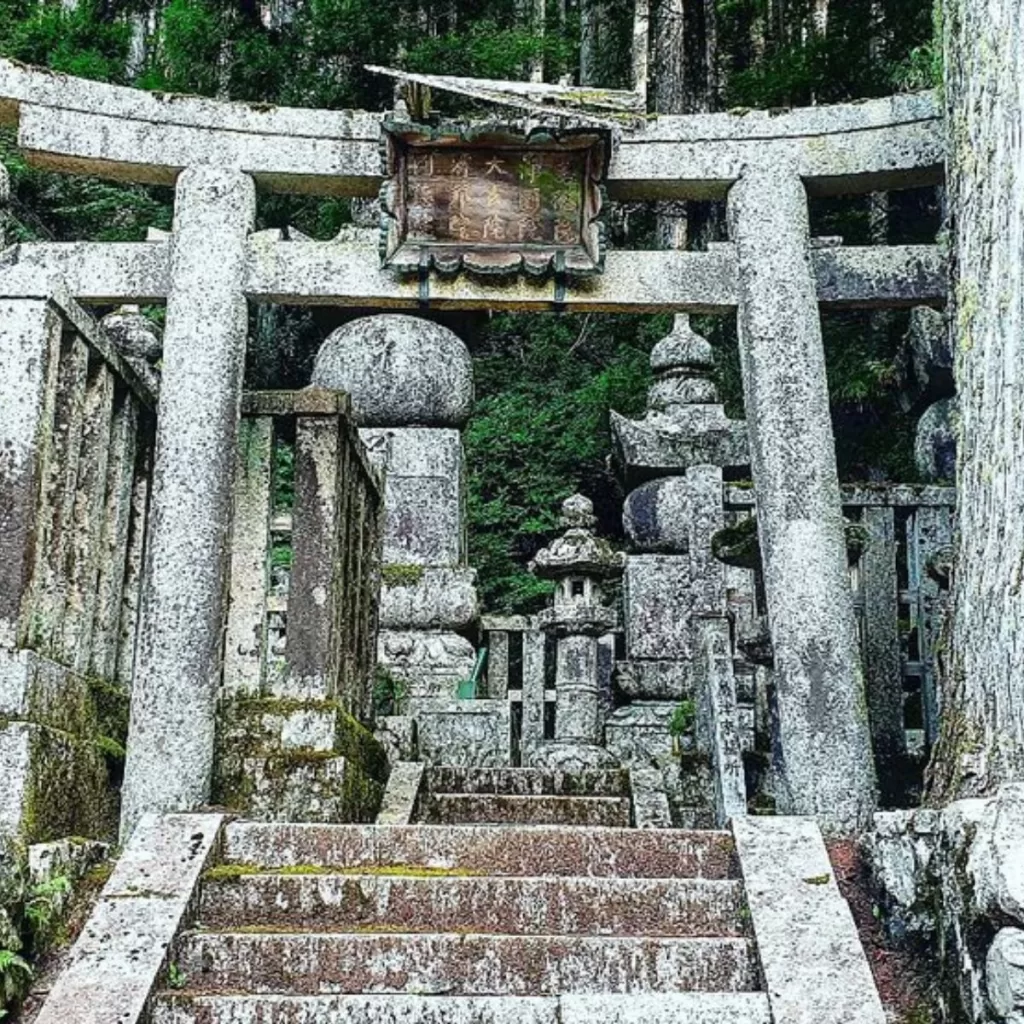 Okunoin Cemetery, located in Wakayama, is a sacred and enchanting final resting place that holds great religious and historical significance. Nestled within the majestic forests of Mount Koya, this cemetery is the largest and most renowned cemetery in Japan, attracting visitors seeking spiritual solace, cultural exploration, and a serene connection with nature.
The cemetery is the eternal home of Kukai, the founder of Shingon Buddhism, and it serves as a place of pilgrimage for Buddhist devotees. As you enter Okunoin, you are greeted by a mystical atmosphere, with towering cedar trees lining the paths and moss-covered stone monuments dotting the landscape.
Walk through Japan's largest cemetery with over 200,000 gravestones covered in moss. Walking through the cemetery, visitors are immersed in a serene and tranquil ambiance as the sounds of the forest and the soft chanting of prayers create a sacred space. Countless gravestones, tombstones, and memorials are scattered throughout the cemetery, some dating back hundreds of years. The craftsmanship and intricate details of these monuments are a testament to the reverence and respect for the deceased.
19. Kongobuji Temple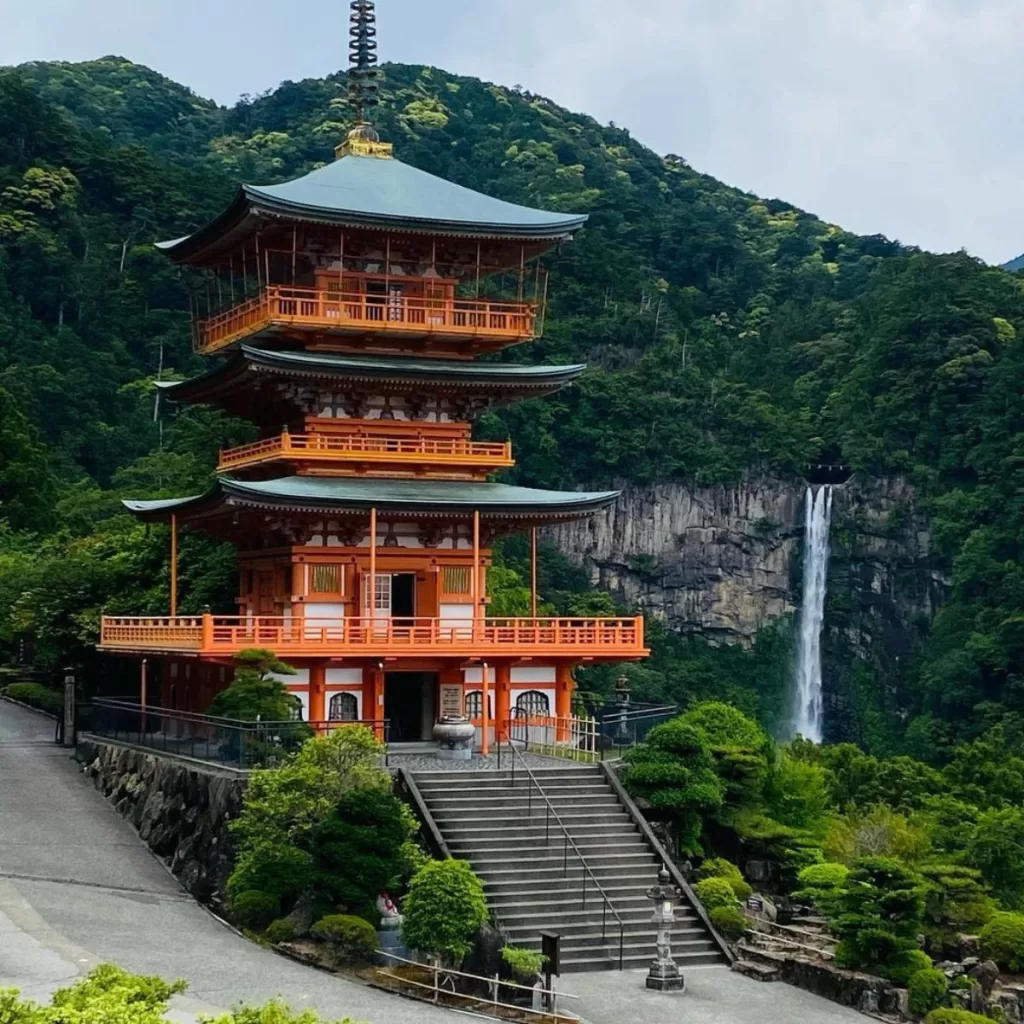 Kongobuji Temple, located in Wakayama, is a serene and significant Buddhist temple that serves as the main temple of the Shingon sect on Mount Koya. With its rich history, stunning architecture, and picturesque surroundings, Kongobuji Temple offers visitors a tranquil retreat and a glimpse into the spiritual traditions of Japan.
This grand temple has ornate screen doors, zen gardens, and a complex made up of multiple temple halls and buildings. Inside the temple, visitors can explore the Peacock Room, adorned with stunning peacock-themed fusuma (sliding doors). This room is a masterpiece of Japanese artistry and craftsmanship, showcasing vibrant colors and intricate designs.
Visitors to Kongobuji Temple can also witness the daily rituals and practices of Shingon Buddhism. The temple serves as a training ground for monks, and if fortunate, visitors may have the opportunity to witness their chanting and rituals, providing a deeper understanding of the spiritual traditions that are cultivated within the temple.
---
Okayama
A day trip to Okayama from Osaka promises a delightful exploration of history, art, and natural beauty. Located approximately one hour away by train ride, Okayama is a charming city known for its iconic landmark, the Okayama Castle, and the beautiful Korakuen Garden.
20. Okayama Castle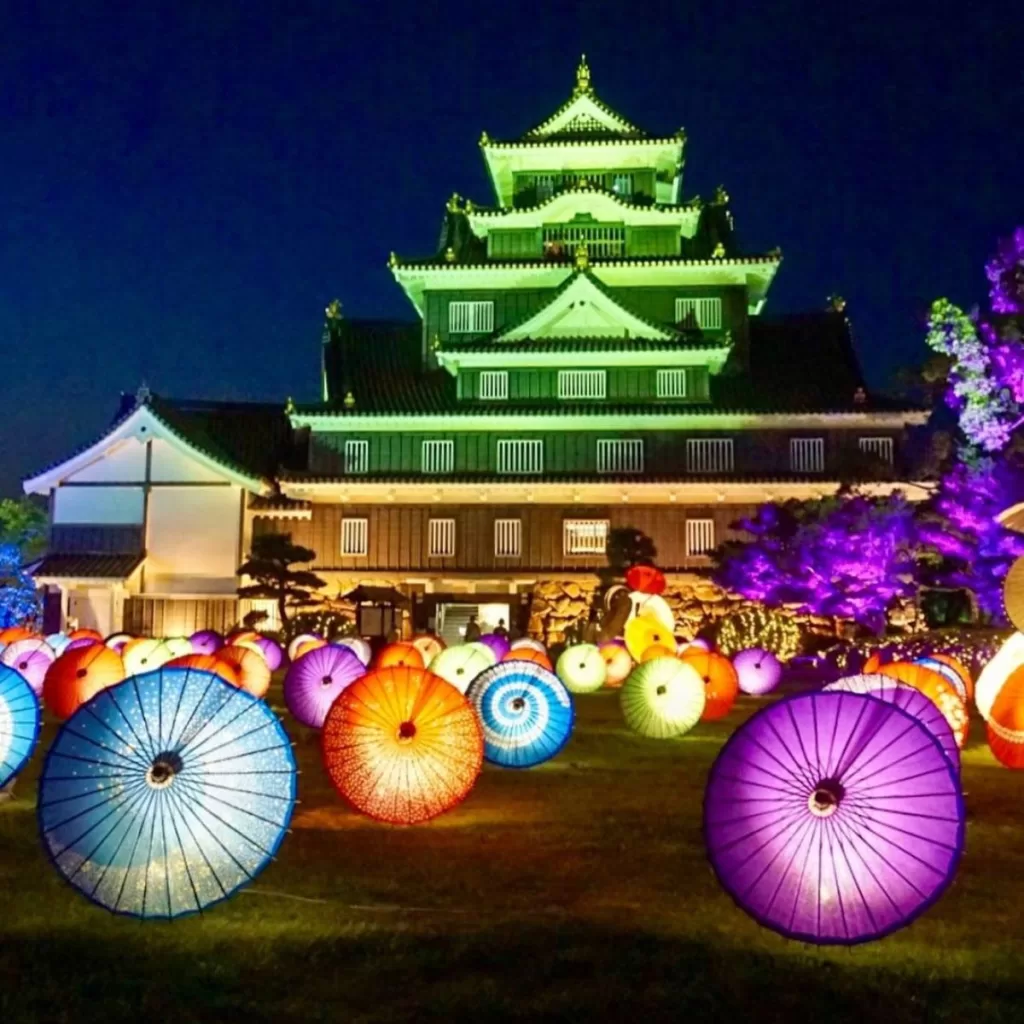 Okayama Castle, also known as "Crow Castle," is an iconic and historic landmark located in Okayama City. Dating back to the 16th century, the castle stands as a testament to Japan's feudal past and serves as a symbol of the city's rich cultural heritage.
The castle's striking black exterior, adorned with white decorative accents, gives it a distinctive appearance and earns its nickname "Crow Castle." It is an impressive sight, drawing visitors with its grandeur and architectural beauty.
Inside Okayama Castle, visitors can explore the well-preserved interior and immerse themselves in the rich history and culture of the region. The castle features multiple floors, each housing exhibits that showcase artifacts and information about the castle's history, including displays of samurai armor, weaponry, and historical artifacts.
21. Okayama Korakuen Garden
Okayama Korakuen Garden is a stunning and immaculately designed landscape garden located in Okayama City, Japan. Regarded as one of Japan's three most beautiful gardens, it is a treasured destination for nature lovers and those seeking tranquility and aesthetic pleasure.
Dating back to the early 18th century, Korakuen Garden is a masterpiece of Japanese gardening, blending natural elements with carefully crafted features. The garden offers a captivating array of meticulously manicured lawns, serene ponds, winding pathways, and exquisite plantations. Every turn presents a picturesque vista, allowing visitors to immerse themselves in the serenity and beauty of the surroundings.
One of the notable features of Korakuen Garden is its expansive central pond, adorned with charming wooden bridges and inhabited by gracefully swimming koi fish. Cherry blossom trees, vibrant with color in spring, paint the garden in a delicate and ephemeral beauty, while maple trees create a breathtaking spectacle of fiery hues in the autumn season.
---
Hiroshima & Miyajima
Visit Hiroshima and the nearby island of Miyajima. You can visit the Peace Memorial Park and Itsukushima Shrine on Miyajima. Hiroshima is 2.5-3 hours from Osaka by shinkansen bullet train.
22. Hiroshima Peace Memorial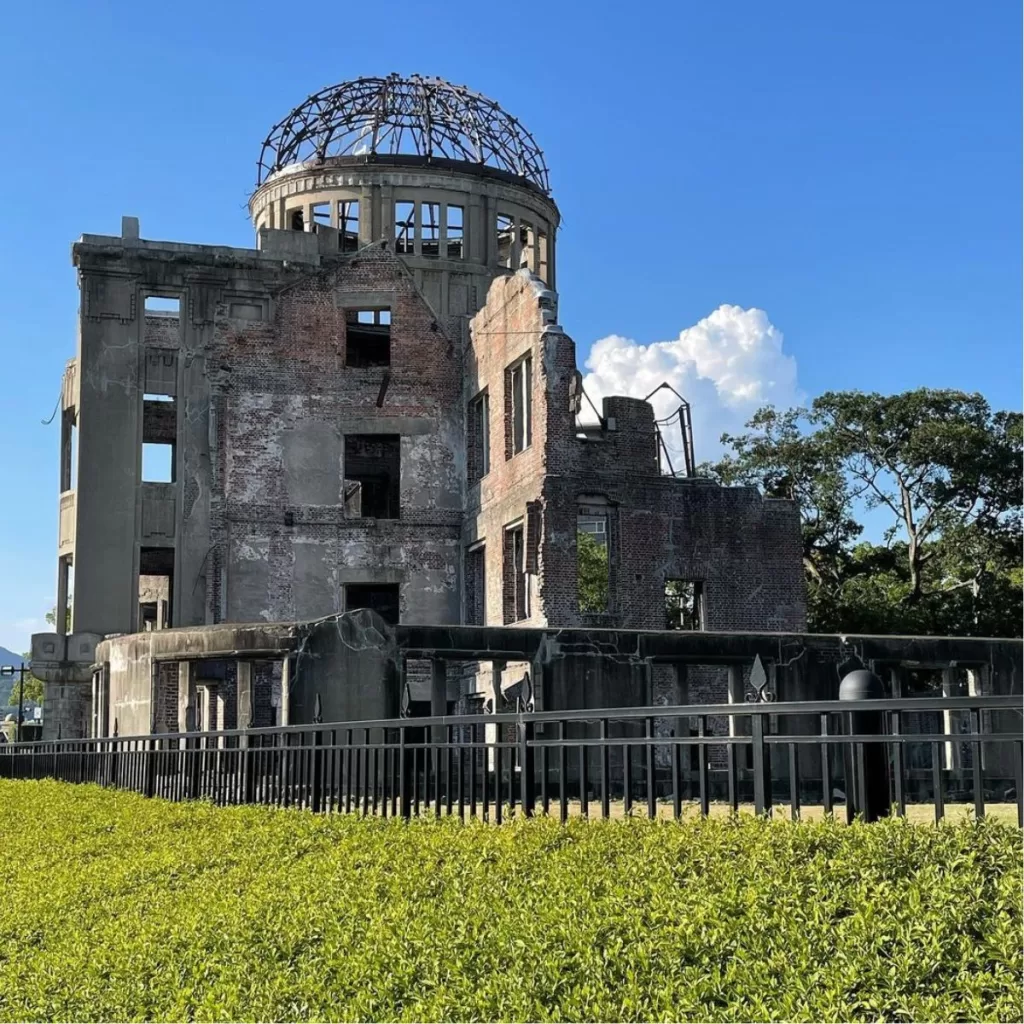 See the ruined A-Bomb Dome, Peace Memorial Museum, and Park to learn about the 1945 atomic bombing.
The Hiroshima Peace Memorial, also known as the Genbaku Dome or the Atomic Bomb Dome, stands as a powerful symbol of peace and a reminder of the devastating impact of nuclear warfare. Located in Hiroshima, Japan, the memorial is a UNESCO World Heritage Site that holds deep historical and cultural significance.
The Peace Memorial is the skeletal remains of the former Hiroshima Prefectural Industrial Promotion Hall, which was destroyed by the atomic bomb on August 6, 1945. While much of the city was obliterated, this building's dome structure miraculously remained standing amid the destruction. As a result, it was preserved as a testament to the horrors of war and as a plea for global peace.
Visitors to the Hiroshima Peace Memorial can observe the dome from both outside and inside. The dome exterior showcases a hauntingly beautiful combination of shattered walls and exposed framework, while the interior provides a somber space for reflection and remembrance.
23. Miyajima Island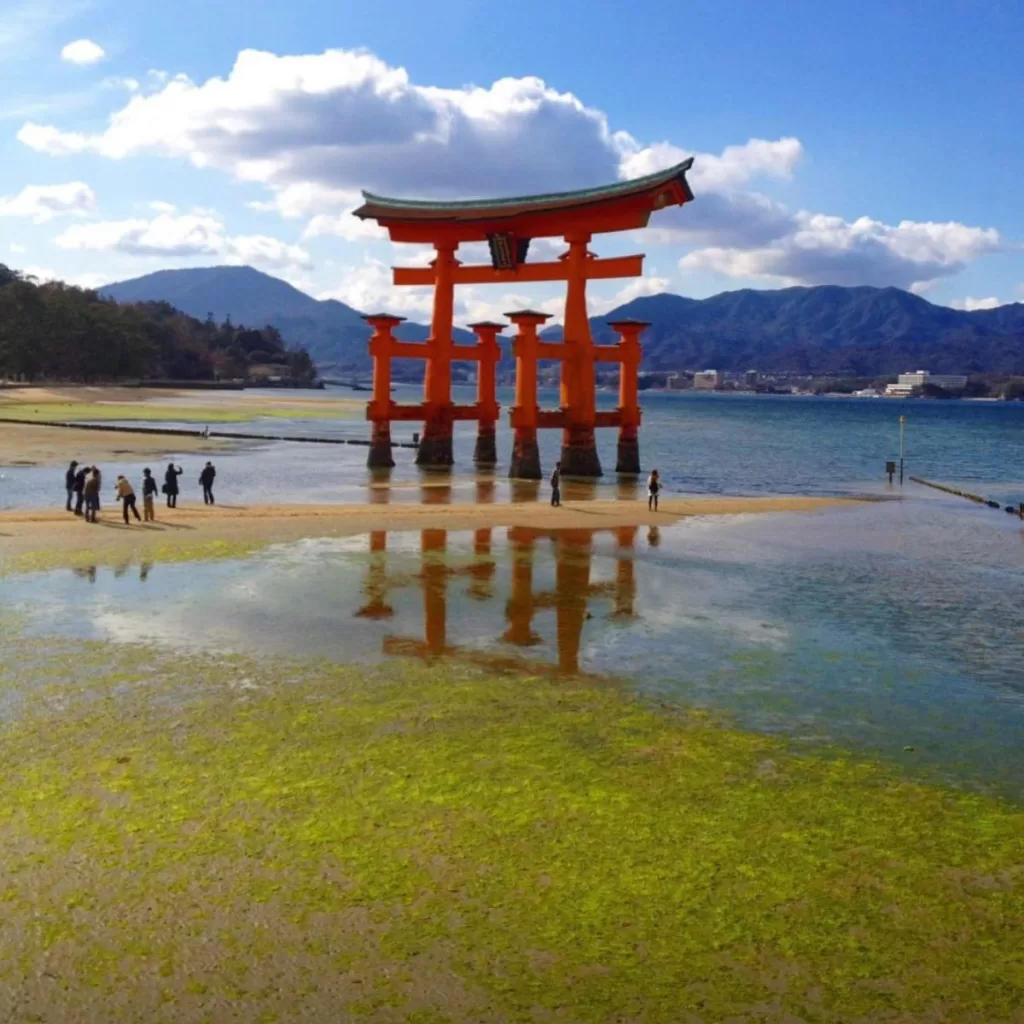 Miyajima is known for its Itsukushima Shrine and torii gate. It is a captivating island located in the Seto Inland Sea of Japan, just a short ferry ride from Hiroshima. Renowned for its iconic floating torii gate and natural beauty, Miyajima is a destination that offers a blend of cultural and natural wonders.
Itsukushima shrine's magnificent torii gate, which appears to float on the water during high tide, is an iconic symbol of Japan. The sight of the vermilion gate against the backdrop of the tranquil sea and scenic mountains is truly awe-inspiring.
Exploring the island, visitors can stroll through the quaint streets of the village, lined with traditional shops and restaurants, offering an opportunity to experience the local culture and cuisine. Sample the island's specialty, "Momiji manju," a sweet maple leaf-shaped cake filled with various flavors, or savor fresh seafood delicacies.