Dogo Onsen is one of Japan's oldest and most famous hot spring resorts, located in Matsuyama, the capital city of Ehime Prefecture on the island of Shikoku. With over 3,000 years of history, Dogo Onsen is renowned as one of the oldest hot springs in Japan.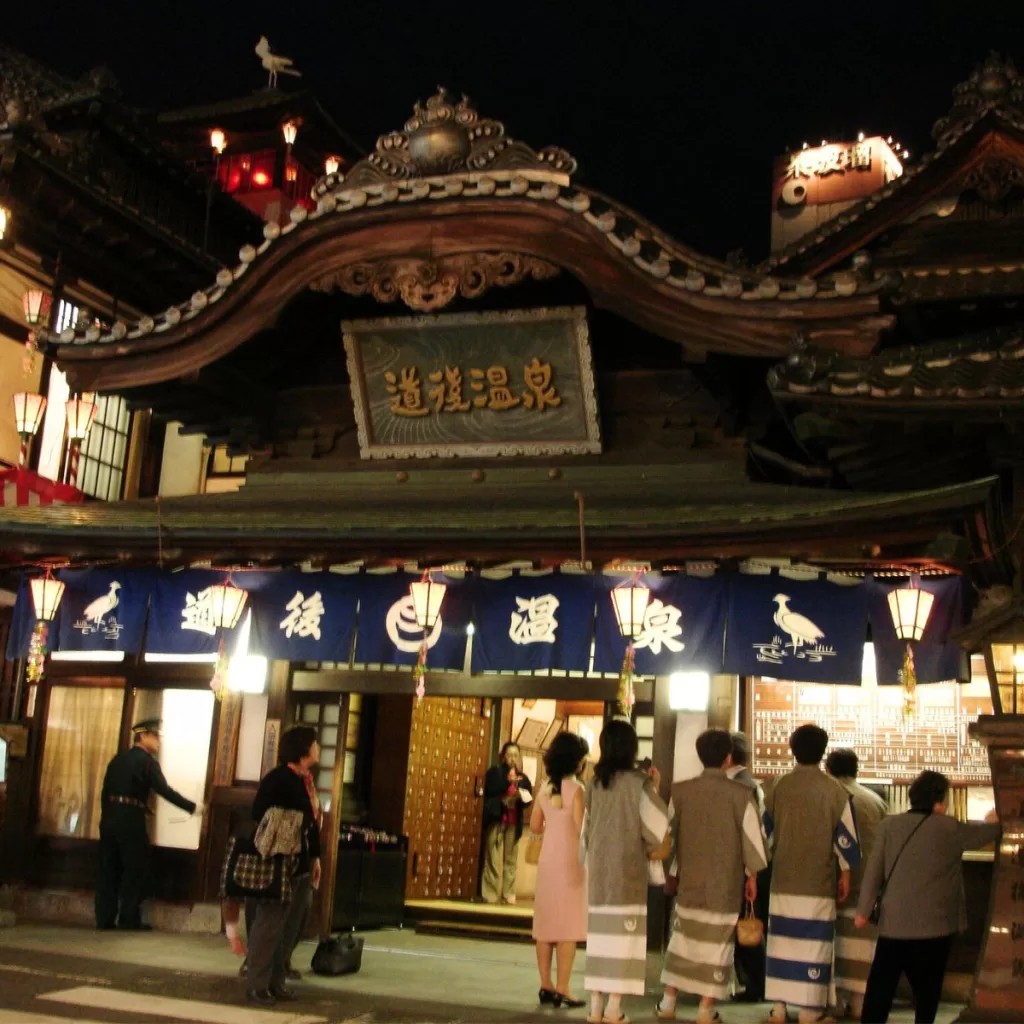 The Dogo Onsen Area
The Dogo Onsen area in central Matsuyama is built around the hot spring itself. At the heart of Dogo Onsen is the Dogo Onsen Honkan, the historic public bathhouse dating back to 1894. The Honkan stands three stories tall, exhibiting traditional wooden architecture and featuring ornate interior design. Beyond the Honkan are dozens of ryokan (traditional Japanese inns), restaurants, and souvenir shops that make up the lively Dogo Onsen shopping arcade.
Nearby attractions include Dogo Park, Matsuyama Castle, and the Botchan Karakuri Clock, all within walking distance of the Honkan. The Dogo Onsen tram station connects the area to Matsuyama's JR train station and downtown shopping districts.
The Dogo Onsen Honkan
The Dogo Onsen Honkan is the main bathhouse building and the most famous landmark in Dogo Onsen. The Honkan was built in 1894 in a grand Meiji Period architectural style, with a distinctive wooden facade and towering castle-like turret.
Stepping inside reveals a maze of stairways, corridors, and bathing rooms spread over three floors. Intricately painted ceilings, beautiful stained glass, and exquisite tiled surfaces create a palatial atmosphere. The Honkan houses the Kami-no-Yu spring bath on the top floor, reserved for the Imperial family. The 3rd floor Yushinden bath is frequented by tourists, and the larger public Tama-no-Yu bath is located on the 2nd floor.
The Honkan bathhouse layout provided inspiration for the bathhouse setting in Studio Ghibli's classic animated film Spirited Away. The building's labyrinth design, crowded bathing rooms, and employees rushing about evoke the hectic, otherworldly atmosphere portrayed in the film.
Bathing at Dogo Onsen
Visitors can experience the rejuvenating mineral waters of Dogo Onsen at any of its three public bathhouses. The Tama-no-Yu bath inside Dogo Honkan has a more traditional, open layout where bathers of all genders bathe nude before entering the mineral water spring.
The nearby Asuka-no-Yu bathhouse built in 2017 provides larger indoor baths in a more private, gender-separated setting. Excellent amenities include face towels, shampoo, conditioner, and even combs. Admission starts around ¥420 for Asuka-no-Yu and ¥840 for Tama-no-Yu, with discounts after 6 pm.
Many ryokan inns in Dogo Onsen also maintain private family baths available exclusively to staying guests. A luxurious ryokan experience in Dogo Onsen often includes elaborate multi-course dinners featuring seasonal seafood and local ingredients from Ehime Prefecture.
The History and Legend of Dogo Onsen
The therapeutic waters of Dogo Onsen have been treasured for thousands of years. The earliest records date back to the Nara Period around 725 CE, mentioning the "Dogo Hot Spring" in Matsuyama. For centuries, the area served pilgrims and aristocrats who traveled great distances to bathe in and drink the mineral waters of Dogo Onsen.
Over the centuries, Dogo Onsen has hosted Japan's highest nobility as well as prominent literary figures. Emperors, shoguns, and princes all journeyed to take the waters at Dogo Onsen Honkan. The Imperial Family continues to visit Dogo Onsen during stays in Shikoku.
In 1906, famous novelist Natsume Soseki penned his classic novel Botchan while staying in Dogo Onsen. The book's protagonist experiences the baths at Dogo Onsen Honkan, vividly described in the novel. Botchan helps immortalize Dogo Onsen as a place of luxury, therapeutic waters, and reflection.
Today, Dogo Onsen retains its status as one of Japan's most historic hot spring resorts. The tradition of relaxation and rejuvenation established over millennia continues to draw bathers from around Japan and the world. For travelers, a visit to soak in the steaming mineral waters provides a uniquely Japanese spa experience as well as the chance to connect with centuries of history.
If you're looking to visit another amazing onsen town in Japan after experiencing the history and tradition of Dogo Onsen, head to Fuji Kawaguchiko Onsen at Yamanashi where you can soak in therapeutic hot springs while taking in majestic views of Mount Fuji.
FAQ
1. What is Dogo Onsen?
Dogo Onsen is a historic hot spring located in Matsuyama City, Ehime Prefecture, Japan. It is the oldest onsen in Japan and has been known for its healing properties for centuries. The onsen town surrounding Dogo Onsen is a popular tourist destination, offering traditional Japanese experiences.
2. How do I get to Dogo Onsen?
You can reach Dogo Onsen by taking a train to Dogo Onsen Station, which is connected to the JR Matsuyama Station. From there, it is a short walk to the onsen town and the main building of Dogo Onsen.
3. What can I expect at Dogo Onsen?
At Dogo Onsen, you can experience a traditional Japanese hot spring bath. The main building of Dogo Onsen is a historical landmark and offers both public baths and private bathing options. Guests are provided with yukata (traditional Japanese robes) to wear during their visit.
4. How long has Dogo Onsen been in operation?
Dogo Onsen has been in operation for over a thousand years and is considered the oldest hot spring in Japan. Its history dates back to the 8th century, and it has been visited by numerous emperors and historical figures throughout the centuries.
5. What are the notable attractions in Matsuyama City?
Matsuyama City, where Dogo Onsen is located, is known for its beautiful cherry blossoms, historic landmarks such as Matsuyama Castle, and the picturesque sea bream-shaped lanterns along the streets. The city offers a unique blend of traditional Japanese culture and modern attractions.
6. Can you explain the bathing experience at Dogo Onsen?
When visiting Dogo Onsen, you will enter the main building and proceed to the public bath area. You will change into a provided yukata and store your belongings at the front desk. Then, you can enjoy the hot spring baths at your leisure. The facilities are well-maintained and offer a relaxing atmosphere.
7. Is Dogo Onsen open in the afternoon?
Yes, Dogo Onsen is open in the afternoon. The opening hours vary depending on the time of year, but generally, the onsen stays open until late evening. It is recommended to check the specific opening hours before your visit.