📍 A lesser-known TeamLabs attraction in Tokyo at the Galaxy store in Harajuku. The installation offers an interactive and immersive experience featuring digital dinosaurs.
🎨 Visitors have the opportunity to engage with the walls and floor, allowing them to interact with the digital creatures. They are also handed a phone to "shoot" at the dinosaurs, creating a dynamic space.
⏱️ Despite no reservations, the lines move quickly with a maximum waiting time of 10 minutes. The whole experience can be completed in 30 minutes, making it an efficient outing.
📌 At the same location, other attractions are offered such as a digital view of Tokyo skyline, crane games, BTS mini-games, and displays.
🎁 Visitors can collect stamps throughout their visit which can be exchanged for attempts at a gachapon machine. These machines offer food prizes and stickers. All these offerings are available at no charge.
| Event Information | Details |
| --- | --- |
| Event Name | Galaxy & teamLab: Catching and Collecting in the Dinosaur Forest |
| Dates | April 08, 2023 – End Date TBD |
| Location | Galaxy Harajuku, 1-8-9, Jingumae, Shibuya-ku, Tokyo, Japan |
| Opening Hours | 11:00 – 19:00 (Last entry at 18:30) |
| Admission Fee | Free. Priority entrance tickets with designated times are available for a shorter wait time. Tickets available from three days in advance. Entry is possible without prior reservation but there may be a waiting time depending on crowdedness |
| Event Description | An experiential center dedicated to engaging people with new discoveries in every visit. This exhibition focuses on dinosaurs and prehistoric animals. Visitors explore the world with their bodies, discovering, catching, and studying various dinosaurs and prehistoric animals, and create their very own collection book |
| Contact | Galaxy Harajuku |
| Website | https://www.teamlab.art/e/collecting_dinosaurforest/ |
| Map | Galaxy Harajuku 1-8-9, Jingumae, Shibuya-ku, Tokyo |
| Address in local language | Galaxy Harajuku 東京都渋谷区神宮前1丁目8-9 |
"Catching and Collecting in the Dinosaur Forest": A Galaxy & teamLab Collaboration
Step Into Digital Wonderland
An exciting new collaboration between tech giant, Samsung Galaxy and world-renowned Japanese art collocation, teamLab, named "Catching and Collecting in the Dinosaur Forest" promises enchantment and engagement to Tokyo's Harajuku district visitors. This digital art exhibition provides a unique opportunity for visitors to interact with various digital creatures in their virtual habitat.
An Interactive Experience
The premise of the exhibition centers around catching and studying digitally-rendered prehistoric animals using an app provided on a Galaxy smartphone. Visitors are encouraged to engage gently with the exhibited creatures, because any perceived threat from touch, might cause them to disappear into their forest habitat.
A successful approach results in captured creatures on-screen for further study. Collaborative efforts are also encouraged; visitors can team up with their friends or other visitors to shepherd these dinosaurs, then deploy the Study Net tool within the app to capture them together.
Exhibition Details
The exhibition is held daily from 11am until 7pm at the Galaxy Harajuku venue. Entry is free but requires advance reservation to regulate visitor numbers and avoid overcrowding. Reservations can be made as early as three days ahead via the event website.
Entering The Realm of Prehistoric Creatures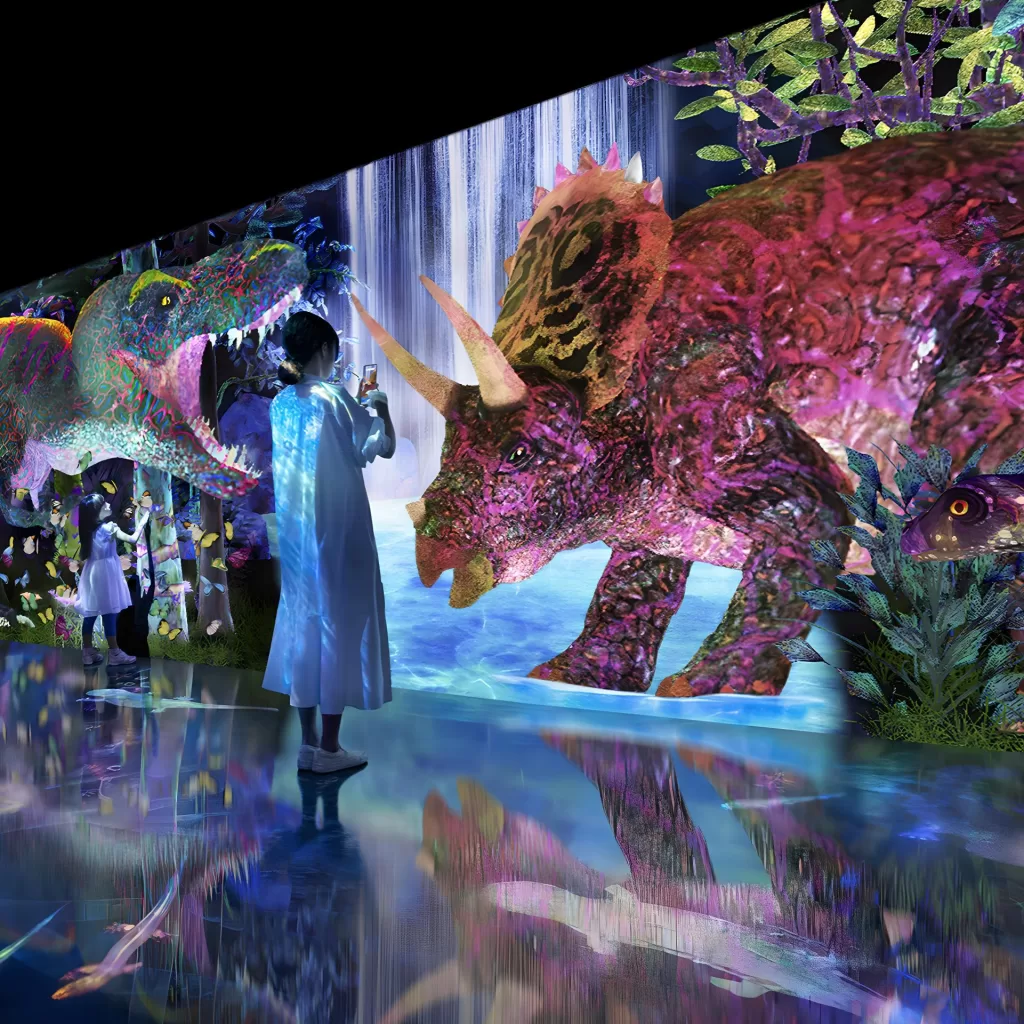 Upon entering the exhibition area, attendees are ushered into an immersive environment where neon-painted landscapes teem with extinct beings. The exhibit provides a unique bridge between reality and fantasy, flooded with rainbow-clad dinosaurs weaving through trees constituting an otherworldly forest.
Visitors are lent a pre-equipped Galaxy smartphone on arrival that hosts the guiding camera app and teamLab app for optimal interaction with the exhibit.
Educational Aspects
While primarily entertaining, Exhibit also incorporates elements that educate visitors about prehistoric life. The apps provide interesting facts related to physical characteristics, ecology (habitat, food source), human-animal interaction etc., upon successfully capturing each creature. Ultimately facilitating collective learning through individual discoveries.
Various dinosaur types including Tyrannosaurus and Triceratops grace the forest landscape at "Galaxy & teamLab: Catching and Collecting Dinosaur Forest" exhibition.
Each successful catch appears in your personal collection book preserving individual exploration-tale while tracking magical adventures within this mesmeric dinosaur kingdom.
Exhibition-goers can enhance the interactive-experience by engaging physically beyond digital interaction. Touching a passing dinosaur or standing against walls triggers unique responses such as rainbow-splatter. Floor-dwelling creatures can be herded with foot movements offering yet another dimension to this magical experience.
teamLab Borderless museum in Tokyo
If you've enjoyed the captivating virtual art experience of Dinosaur Forest by TeamLabs on the Galaxy Store, but are looking for more immersive TeamLabs digital art on a grander scale, then don't miss the reopening of the iconic teamLab Borderless museum in Tokyo! With expansive new interactive installations spanning 30,000 square meters, teamLab Borderless offers an unparalleled opportunity to step inside mesmerizing worlds of light, color, and creativity.