Memorable Nighttime Festival
Every spring, the historic Higashiyama district in Kyoto comes alive with thousands of lanterns for the Higashiyama Hanatouro. An annual after-dark festival that was first introduced back in 2003, this year marks a significant milestone as it celebrates its 20th anniversary. For the occasion, event organizers have planned special nighttime activities.
The festival turns the neighborhood into a captivating spectacle as the 5-kilometer long main path is beautifully illuminated. Some of the area's most renowned landmarks participate in the after-dark events, providing the attendees with mesmerizing views. Among them are the Kodai-ji Temple and Hokan-ji Temple offering seasonal light-ups. It's one of the most exciting Kyoto events in March.
Besides these iconic temples, other participating shrines might require admission fees for nighttime viewings. Regardless, plenty of free installations are available to enjoy throughout the district.
Hanatouro: The Flower and Light Road
Known as Hanatoro (花灯路) which translates to "Flower and Light Road," the festival introduces a 10-day illumination taking place every March in Higashiyama. Starting at around 6:00 PM, lanterns are lit and last until 9:30 PM offering a magical ambience until late evening.
The streets come alive during the Hanatoro parade as they're adorned by over 2,400 lanterns stretching from Shorenin temple all the way to Kiyomizudera. This forms an unforgettable scene where nearly all popular temples and shrines in the district partake in and extend their opening hours.
Live Performances and Shops Galore
During one part of this vibrant celebration, there's a staging area known as Hanabutai that's set up at Kodaiji Temple Park. Here viewers can enjoy live music paired with dance performances held daily.
Adding more charm to these luminous nights are performance areas established before Maruyama Park's tall weeping cherry tree (shidarezakura) and Kiyomizudera for street shows.
Revelers can also take advantage of extended opening hours offered by many shops during Hanatoro. This combination has enlivened traditionally quieter timings of night into a bustling evening atmosphere.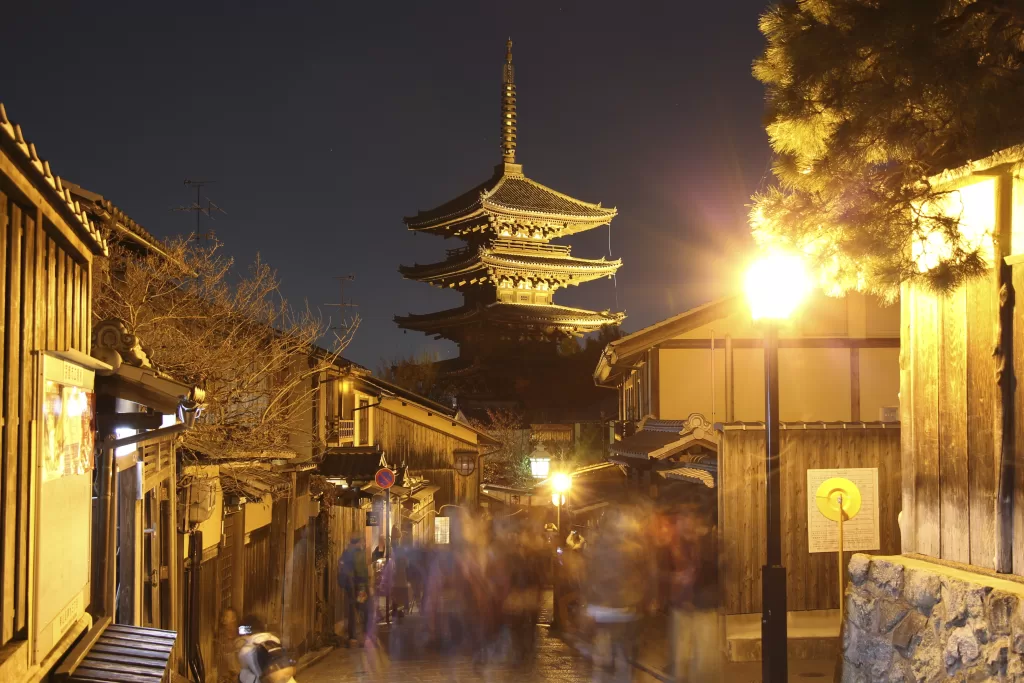 Welcoming Spring with Lanterns, Flowers, and Performances
Observing this spectacle through atmospheric streets softly lit with thousands of lanterns symbolizes Kyoto welcoming spring gracefully. The event concludes just before Kyoto's cherry blossoms bloom rendering a seemingly perfect ending.
Visitors will have the chance to follow a mesmerizing route passing multiple monumental stops like Shorenin Temple, Yasaka Shrine, Entoku-in temple, Hokan-ji Temple among others before finally culminating at Kiyomizu-dera temple.
Complementing this scenic walk are artistic floral arrangements visible at about ten locations along the trail labeled as part of Ikebana Promenade, lending a distinct seasonal touch to this festivity.
Foreshadowing nature-centric festivities like these are nightly dance performances by maiko (apprentice geiko, which is Kyoto's term for Geisha). These captivating dances are staged at Yasaka Shrine's Kagura Hall each evening for half an hour from March 7th till March 11th, adding further allure with traditional culture.
If you're up for another exciting event in Kyoto, immerse yourself in the graceful world of Kyoto's geiko and maiko by attending the captivating Kitano Odori. This annual spring dance performance, presented by the geiko and maiko of the Kamishichiken district, is a true delight for the senses.