Itsukushima Shrine is a prominent Shinto shrine known for its distinctive floating Torii gate. The shrine is on Miyajima Island in Hiroshima prefecture, part of the Seto Inland Sea in western Japan. Recognized as a UNESCO World Heritage Site since 1996 and a national treasure of Japan, the shrine has become one of the most iconic views of Japan.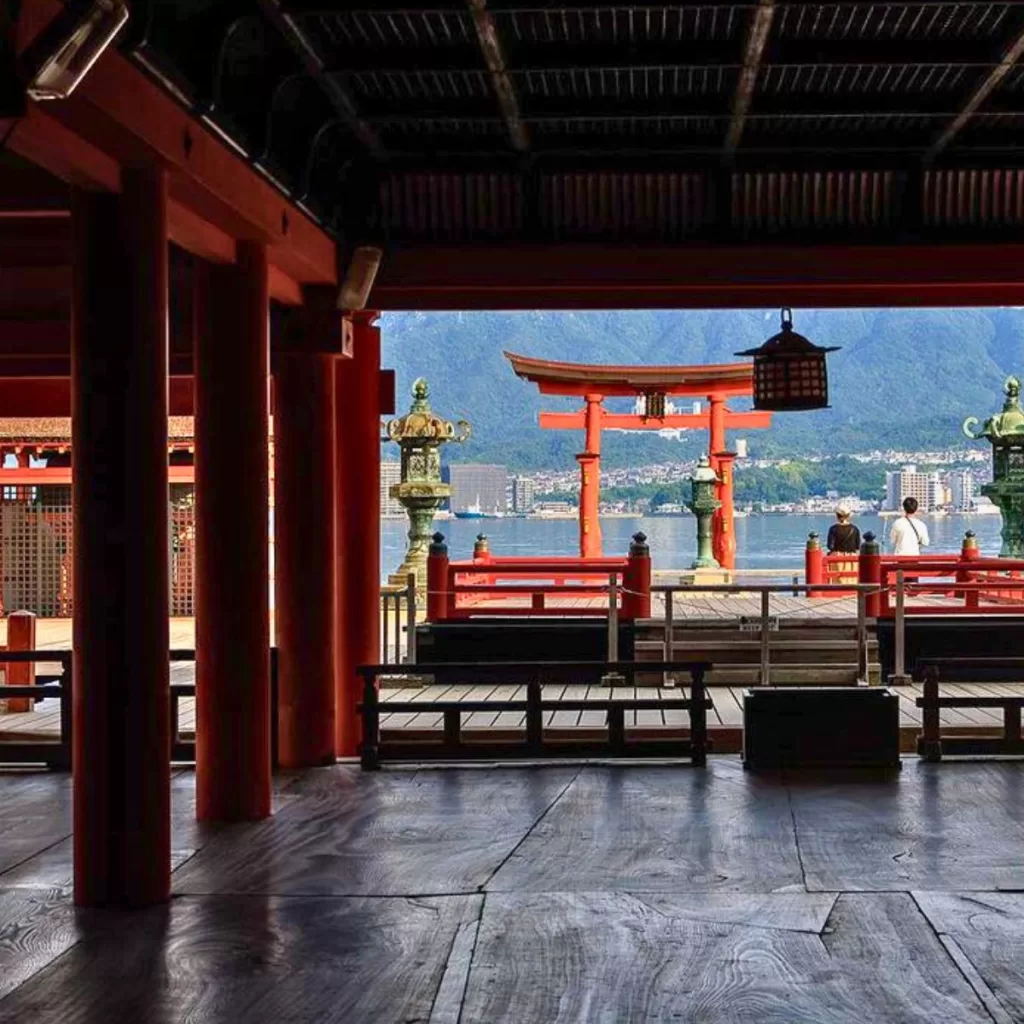 History and Background
Itsukushima Shrine was first built in 1168 under the auspices of Taira-no-Kiyomori, a powerful military leader during the Heian period. However, the shrine complex that exists today was constructed in 1571 and maintained its original design despite several reconstructions due to fires and typhoons.
The name "Itsukushima" comes from one of the three goddesses to whom the shrine is dedicated – Ichikishimahime no Mikoto, Tagorihime no Mikoto, and Tagitsuhime no Mikoto. The island is also commonly known as Miyajima, meaning "shrine island."
Such a Unique Shinto Shrine
The selection of the island for the shrine was deliberate. The island itself is considered sacred in the Shinto religion. Accordingly, to avoid polluting the site, the construction of the Itsukushima Shinto shrine was done on stilts over water rather than on land. Thus, during high tide, it gives the illusion that the entire shrine is floating on water.
The famous Torii gate stands out at sea and serves as an entrance to the sacred domain. Visitors observe an awe-inspiring sight during high tide when water engulfs its base, transforming it into a floating gate against Hiroshima Bay's backdrop.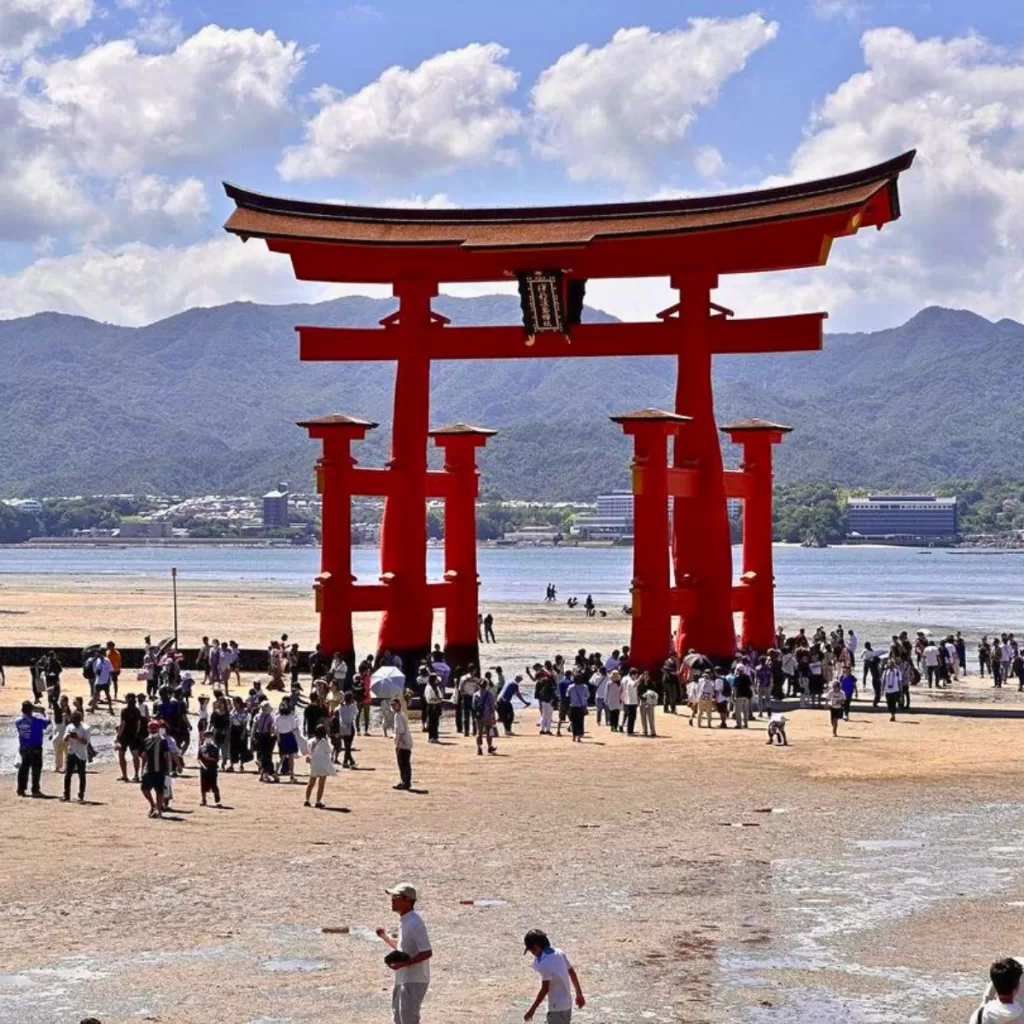 Around Itsukushima Shrine
Itsushima Shrine consists of various buildings, including main halls (main shrine building), a Noh theatre stage (one of oldest stages in Japan), a purification hall, as well as other satellite shrines like Marodo Shrine and Tenjin Shrine. Many tourists find tranquility at this site, taking pictures near these shrines or admiring architectural details from every corner.
The main buildings connected by covered walkways stand offshore, while other secondary buildings extend toward the inland sea shores of Miyajima. The design reflects both the aristocratic architecture style and more rustic design elements, such as cypress bark roofs found at Shinto sanctuaries.

During low tides, visitors can walk towards this majestic Torii gate through tidal flats for a close-up view. It's a great opportunity for anyone to capture some notable snapshots.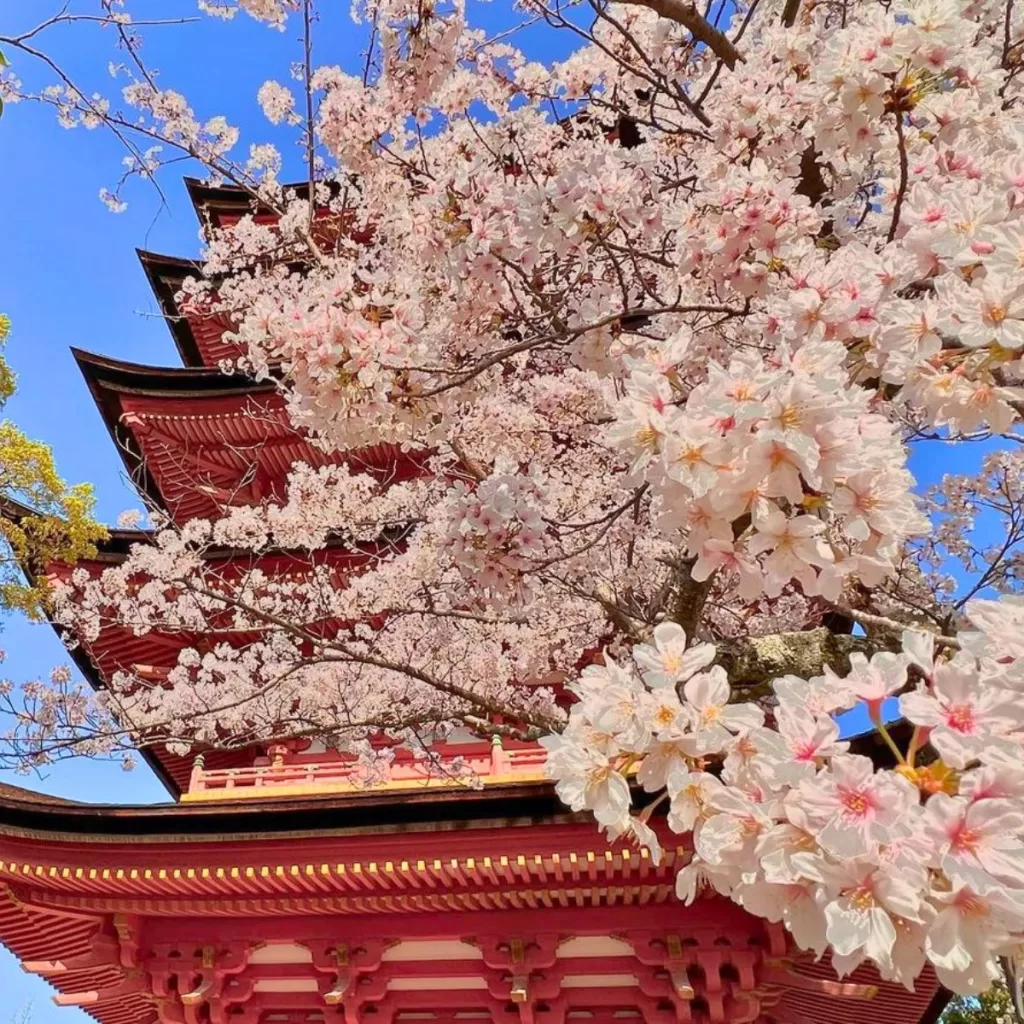 Visit Itsukushima Shrine
Visitors usually reach Miyajima Island by ferry from Hiroshima. These ferries run frequently between Miyajimaguchi Ferry Terminal in Hiroshima Prefecture and Miyajima Ferry Terminal, granting you easy access to this World Heritage Site.
Foreign visitors can take advantage of the Japan Rail Pass for free trips on JR-operated ferries; otherwise, a regular round-trip fee applies.
Upon reaching, there's an admission fee to Itsukushima Shrine; however, wandering around Miyajima Island's town streets is free.


The Glorious Layout
Every aspect of Itsukushima Shrine's design highlights how nature worship blends so beautifully with architectural elegance amidst a serene oceanic landscape.
The front of the main shrine offers breathtaking views, especially during sunsets when orange hues cast magical reflections over tranquil waters.

Behind the main building complex, don't miss visiting Daikoku Shrine, located further towards Mount Misen trailhead.

Other areas encompassing smaller temples like Gojutenmangu and Toshogu are quite worth exploring, too! You'll encounter roaming deer who, according to local beliefs, are heavenly messengers, adding much charm to your extraordinary visit.
Popular Attractions Near Itsukushima
Miyajima Island doesn't limit itself to just honoring spirits at shrines but invites all travelers, offering hiking trails up Mount Misen and providing panoramic views across Seto Inland Sea's islands.

Also, venture through Momijidani Park, well-known for cherishing vibrant autumn colors. Meanwhile, it is time for your trip to witness solemn spiritual festivals like Kangensai, held annually at our discussed attraction since medieval times.

At last, before leaving, pay reverence at Senjokaku (Pavilion Of A Thousand Mats), which remains unfinished due to Mitsuhide Akechi's rebellion against Toyotomi Hideyoshi.

Shopping around Omotesando Street or indulging in local food exquisitely crafted right within restaurants explain why thousands flock towards Itsukushima Shrine, built beyond boundaries, symbolizing profound respect towards spirituality!
In conclusion, Itsukushima Shrine, built with much dedication, manifests picturesque imagery, getting close introspect about the lifestyle followed by communities living here since ages ago, earning admiration worldwide, retaining the tranquil essence that Japanese culture often showcases remarkably!
Your trip to Japan won't remain complete without spending quality time surrounded by tranquil nature at the Shinto Shrine on Itsukushima, known for respecting pure devotion and offering enriching experiences, ensuring everyone leaves with unforgettable memories after relishing glimpses about true Japanese heritage unveiled majestically only here!