The captivating Koenji Street Performer Festival, otherwise known as Koenji Bikkuri Daidougei, is scheduled to take place in early October 2023. Annually held in Koenji, Tokyo, this vibrant and dynamic festival has the unique ability to gather gifted buskers from all corners of the globe.
Experience the awe-inspiring talent and vibrant energy of street performers from around the world at the Koenji Street Performer Festival, an enchanting Tokyo events in October that attracts crowds with its mesmerizing displays of acrobatics, music, and theater, showcasing the diverse artistic expressions that make Tokyo Events in October truly unforgettable.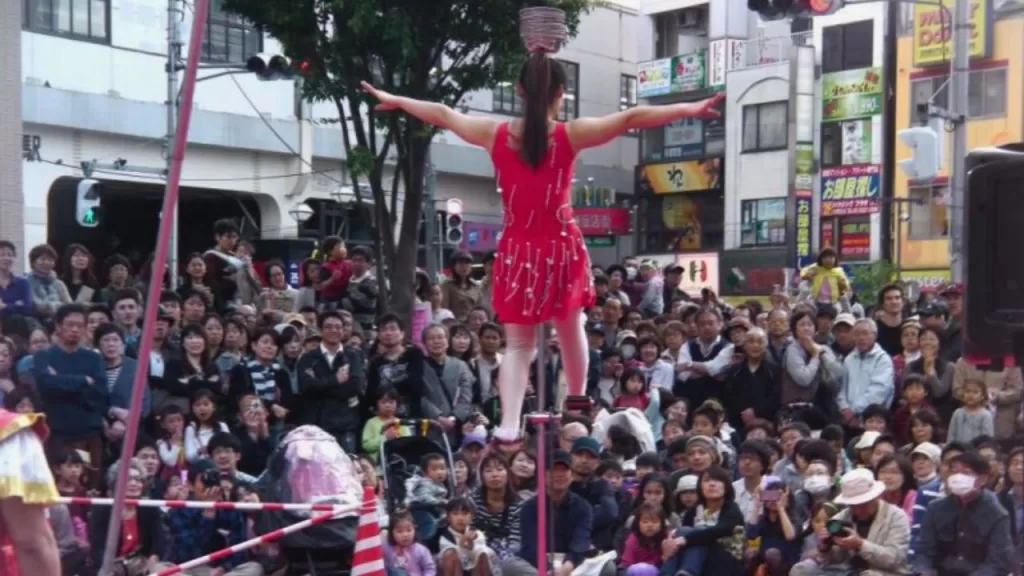 An Array of Talents Scattered Across Koenji
Buskers will indulge attendees with diverse performances, including magic, comedy, acrobatics, music, and art. The festival extends towards multiple sections around Koenji, offering nearly 30 specific locations christened as "stages." Some central stages are strategically positioned near the train station, while others are within a convenient 5- or 10-minute walk.
Visitors are advised to pick up one of the complimentary guidebooks available in the station vicinity. These guidebooks provide essential information, such as a comprehensive map for navigation and a detailed timetable for each act at every stage.
A unique scheduling feature is that each distinctive act is anticipated to be demonstrated approximately thrice daily on shifting stages, allowing visitors plenty of opportunities to witness their preferred performances.
A Jubilation of Street Performances
The Koenji Bikkuri Daidougei Festival promises an assortment of awe-inspiring entertainment acts. Encounter magical performers displaying their artistry by merging opera vocals and xylophone music simultaneously, or marvel at Chinese acrobats showcasing effortless contortionist acts.
Music lovers can appreciate groups performing interpretive dances to well-known tracks like Billy Joel's. Meanwhile, artists will be seen producing chalk masterpieces on the streets or mimes engaging crowds with silent comedy. Furthermore, attendees can interact with vividly costumed actors who amble around thrilling spectators.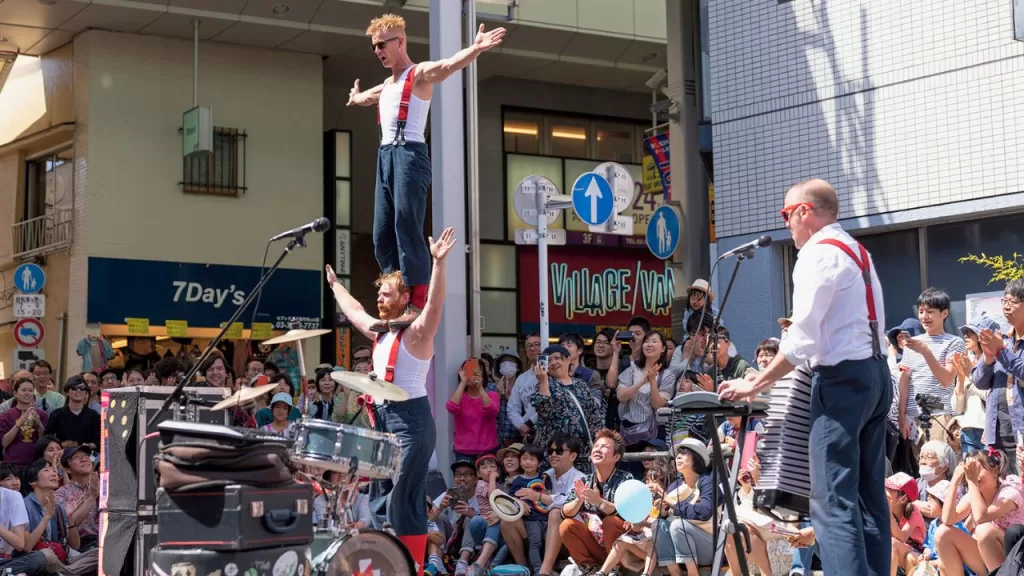 International Flair and Community Involvement
This annual festival encourages local talent and invites international performers, adding a touch of cosmopolitan appeal to the event. Catering to various tastes and preferences, this eclectic mix of local and global talent ensures memorable experiences for individuals of all ages.
Despite being held during the weekend without admission charges, it follows the tradition of street performers worldwide. After their exhibits, buskers pass around hats collecting voluntary donations serving as an appreciation for their craft.
Accessible Location
For curious wanderers eyeing this grand spectacle, it helps to know that Koenji Station—the main festival area—is conveniently accessed via JR Chuo Line. Visitors in proximity during late October's final weekend have an enticing opportunity to participate in a celebration teeming with a community focus, delicious food offerings, and engaging activities for children — making it one of THE BIG 4 festivals in Koenji worth exploring.
Be mesmerized by the breathtaking skills and captivating performances of street performers from across the globe at the Koenji Street Performer Festival, a thrilling Tokyo event in October that attracts performers and spectators alike, creating an atmosphere of wonder and excitement where the dynamic world of street performance meets the electrifying spirit of the renowned Japan Open, resulting in an unforgettable celebration of talent, artistry, and cultural exchange.