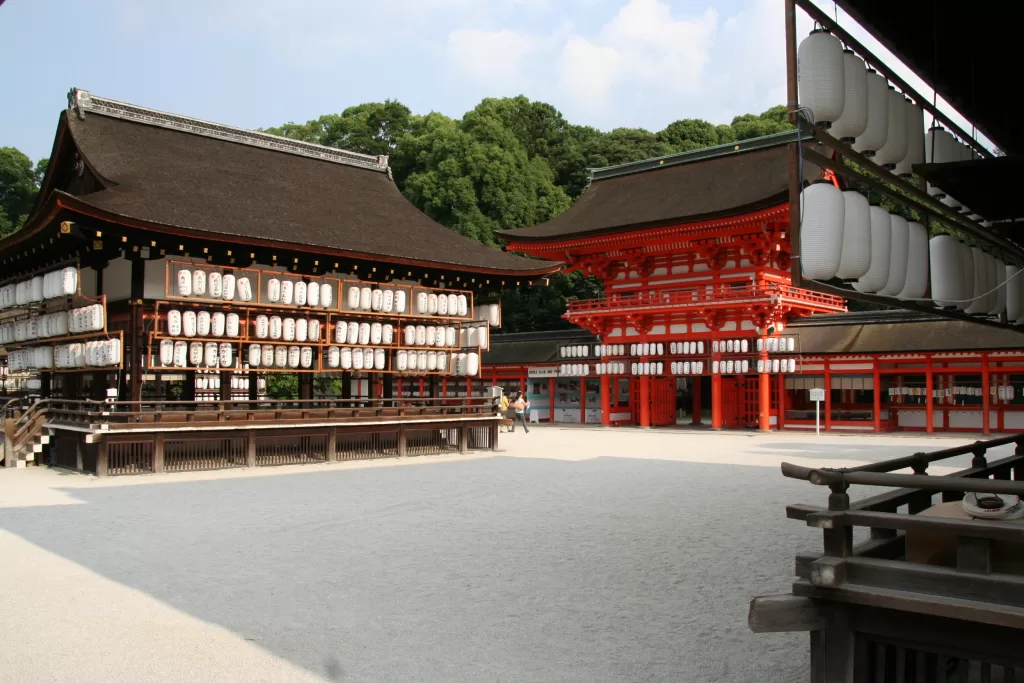 The Meigetsu Kangen-sai, a traditional Japanese festival held at Shimogamo Shrine in Kyoto, honors the beauty of the harvest moon through court dance (bugaku) and music (gagaku). Recognized as a UNESCO World Heritage Site, this ancient shrine dates back to the 6th century, making it one of the oldest in Japan. The festival is thought to have originated from an ancient ritual called 'Mitoshiroe Shinji,' which involved ceremonies held after rice planting to seek divine protection against pests.
Shimogamo Shrine: A Tranquil World Heritage Site
Surrounded by lush trees and emitting fresh air, Shimogamo Shrine is an attractive location for visitors to unwind while absorbing its rich history. The shrine has hosted numerous significant events, such as the Aoi Matsuri Festival – one of Kyoto's main three festivals. Meigetsu Kangen-sai Festival provides a unique opportunity for guests to marvel at the harvest moon while enjoying orchestral performances in the shrine garden.
Court Dance: Preserving Ancient Japanese Culture
During Meigetsu Kangen-sai Festival, visitors are treated to a rare performance of traditional Japanese court dance – bugaku – on stage. This elegant dance offers insight into Japan's ancient culture and is typically available at a cost, making the free performance at Shimogamo Shrine particularly special. Limited seating is available on a first-come-first-serve basis.
Shimogamo Ancient Music Group: Melodies of Yesteryear
The majestic sounds of classical music will permeate through the autumn evening, courtesy of the Shimogamo Ancient Music Group. Alongside captivating bugaku performances, guests can savor soulful renditions on traditional instruments like the koto (Japanese harp), shakuhachi flute, and biwa lute.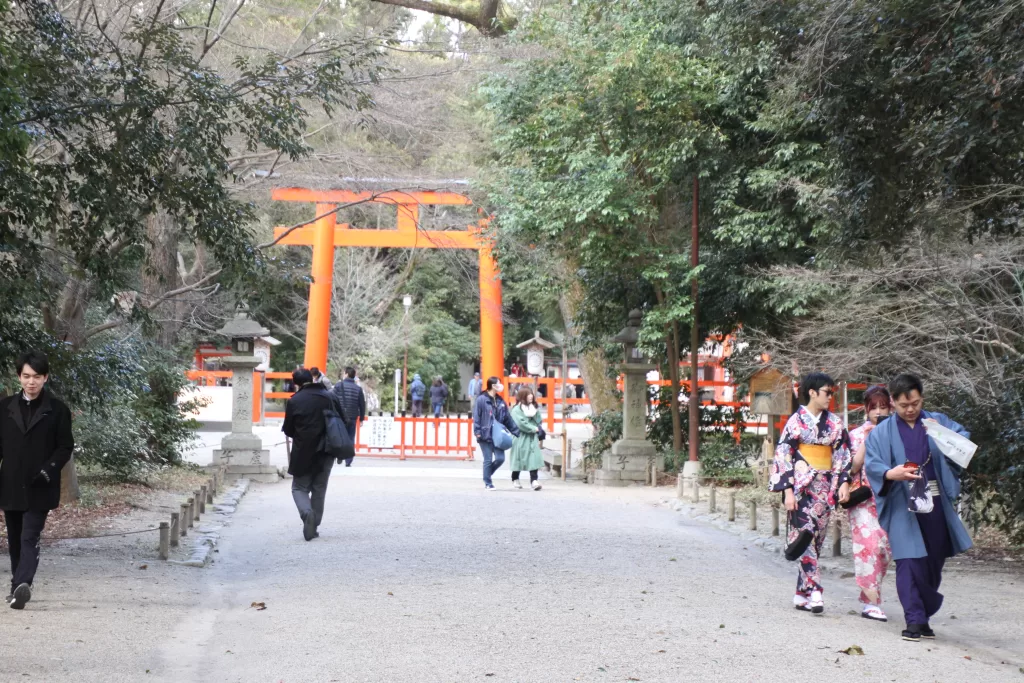 Harvest Moon Beauty and Japanese Desserts
Should the night sky be clear, visitors can revel in the enchanting sight of a full moon on the event night. The luminous orb serves as an ideal accompaniment to the live court dance and music performances. Moreover, on their way to Shimogamo Shrine, festival-goers can indulge in delectable Japanese desserts at several long-established tea shops participating in the "Kagaribi Fair."
Shinto Rituals and Elegant Tea Ceremonies
Before Meigetsu Kangen-sai commences, a traditional Shinto ritual is conducted at the shrine's main hall. This sacred ceremony involves dedicating prayers and offerings to various deities. Following the ritual's completion at around 17:30, events relocate to Hashi-dono hall.
As part of their visit, guests also have an option to participate in an elegant tea ceremony led by experienced tea masters in exquisite kimono attire. Tickets for this experience cost around ¥1,000 (or around ¥800 when purchased in advance).
Conclusion
If visiting Kyoto during harvest moon season, don't miss Shimogamo Shrine's Meigetsu Kangen-sai Festival for a mesmerizing glimpse into Japan's classic moon-viewing culture. It's one of the most fascinating Kyoto events in September. From awe-inspiring performances of ancient court dance and music to the serene atmosphere of one of Kyoto's oldest shrines – Meigetsu Kangen-sai offers an unforgettable experience steeped in tradition.
The Kushi Matsuri is another Kyoto festival you shouldn't miss. The Kushi Matsuri is another Kyoto festival you shouldn't miss. Kushi Matsuri is a festival held in Kyoto on the fourth Monday of September to express gratitude for the daily use of combs.