An Ancient Cultural Asset
Designated as an important intangible folk culture asset, the Mibu Kyogen performances at Kyoto's Mibu-dera Temple have been captivating audiences for over seven centuries. These silent, comedic performances artfully explain Buddhist teachings and are a unique feature of this distinctive temple.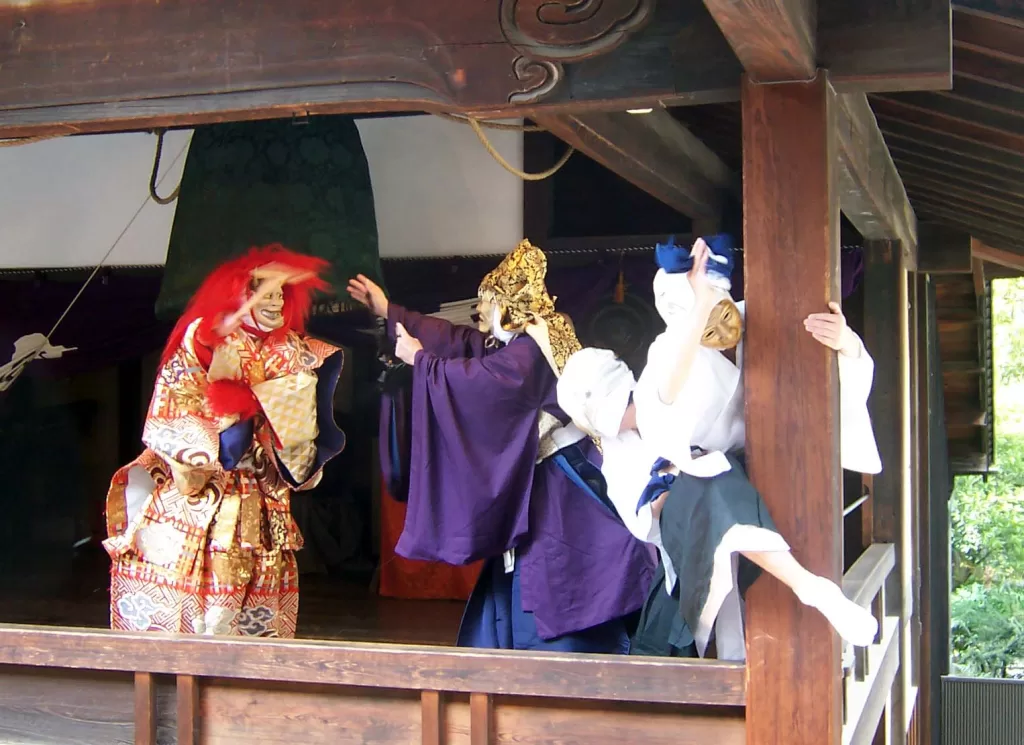 The Origin of Mibu Kyogen
Founded in the early 14th Century, the Mibu Kyogen originated from the unique offerings of Saint Engaku. Seeking to connect more effectively with his masses, Saint Engaku innovatively utilized pantomime to depict Buddhist morality tales. This tradition, originally accompanied by only religious chanting, eventually evolved into the present-day Kyogen. It's one of the most awaited Kyoto events in February.
Performance Variants: From Setsubun Themes to Japanese Folktales
Using classic scenery items like bells, flutes, and drums, along with colorfully-costumed actors donning weathered masks, Mibu Kyogen portrays glimpses from Buddhist parables and beloved Japanese folktales. The performances occur during Setsubun (in early February), as well as during spring and autumn seasons.
Thrilling stage interactions such as a spider demon's explosion of thread or a Nue demon's tightrope act add an element of surprise for the audience. In February, only Setsubun-themed plays are performed free of cost while the opportunity to view five select plays can be availed for just 1,000 yen in April-May and October.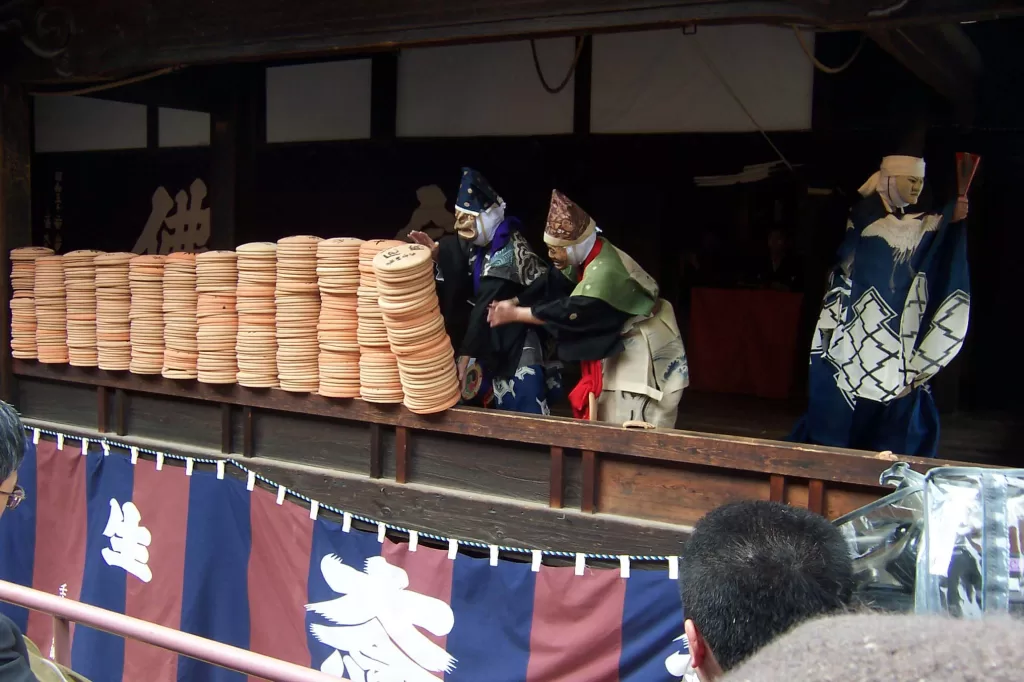 Mibu-Dainenbutsu Kyogen: Cornerstone Of Kyoto Culture
Known popularly as "Mibu-Dainenbutsu Kyogen", these silent performances uses instrumental sounds to communicate Buddha's precepts simply and effectively. These humorous presentations retain their religious essence even when offering recreational programs and still continue to impart teachings on karma, morality, and spiritual verities. Underlining its significance is the "Kechiganshiki" performed on the last event day that echoes the religious connotations.
Several key performances stand out in this iconic spectacle including some like 'Oketori' which is considered highly challenging to perform and tells an intriguing story similarly 'Atagomairi' performance has a unique scene where unglazed earthenware or rice crackers are thrown adding a deep cultural texture to this ancient tradition.
Enriching Community Interaction with Unique Customs
The temple lays down a few fascinating practices for commoners to engage in during the performances, like catching a 'spider's thread' spread across the venue, believed to bring good fortune or purchasing 'Horaku rice crackers', uniquely associated with religious faith over time.
As Mibu Kyōgen continues its uninterrupted run since 1300 as a religious offering to the temple's guardian deity – Jizō Bosatsu, it not only provides entertainment but also thrives as an essential component of Kyoto Prefecture's rich cultural fabric which was recognized in 1976 when it became Kyoto's first designated Important Intangible Folk Cultural Property.
Therefore, if your travels take you through Kyoto during Setsubun, spring, or autumn take advantage of an opportunity to relish this remarkable silent comic theatre that illuminates ancient Buddhist wisdom through timeless folklore.
Supportive Facilities
Given its popularity, Mibu-dera offers facilities enhancing visitor experience, like back seats sheltered by roofs from rain showers or sale of raincoats on premises for those wishing closer proximity with performers even amidst rains.
The panorama of soundless comedy exposed in Mibu-dera certainly offers audiences not just amusement but also insights into local customs reflecting Buddhist teachings making it well worth exploring when touring Kyoto's famed temples.
For an enchanting rendezvous with tradition that remains steeped in cultural heritage while providing wholesome entertainment be sure to visit Mibu-dera during your vacation in historic Kyoto.
If you want to know more about Kyoto's culture and tradition, experience the enchantment of the Ume plum blossom festival, where you can immerse yourself in the beauty of plum blossoms and indulge in an outdoor tea ceremony served by authentic Kyoto geisha.