Shinto spirituality, seasonal plum blossoms, green tea, and the captivating presence of maiko and geiko amalgamate in Baikasai or Ume Plum Blossom Festival at Kitano Tenmangū in Kyoto. Each year, on the 25th of February, this must-see festival commemorates Sugawara no Michizane, a man renowned for his poetry, politics, scholarship, and abiding love for nature.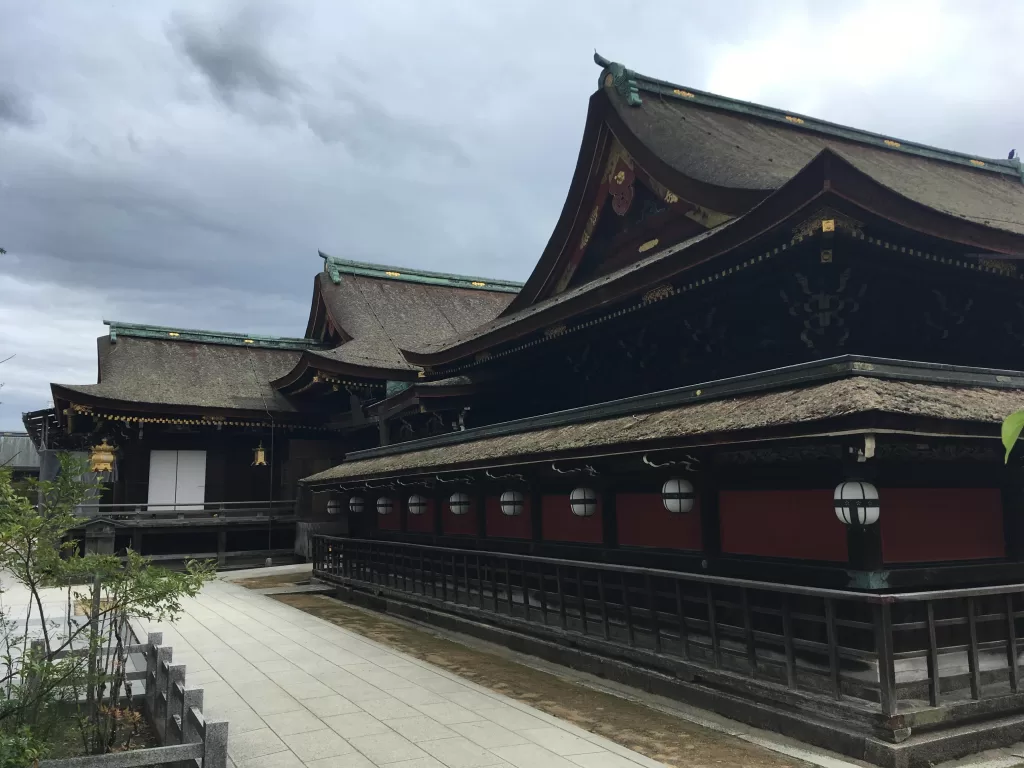 Kitano Tenmangū Shrine – A Historic Abode
Kitano Tenmangū, located in northwestern Kyoto, deifies the god of scholarship known as Tenjin. This eminent shrine heads more than 10,000 Tenmangū shrines dispersed across the country. The origin of Kitano Tenmangu Shrine dates back to 947 AD when it was founded to honor Sugawara no Michizane. In an unprecedented move, Sugawara was enshrined as a deity here – marking this event as the first of its kind in Japan.
Sugawara is synonymous with a historic period in Japanese history – Heian period when he enjoyed a high rank as a politician. However, in 901 AD, his political career ended abruptly, followed by his exile from Kyoto to Dazaifu Kyūshu. Before leaving his cherished city, he penned down a poignant poem that underscored his deep-rooted love for plum trees.
Although exile was harsh on Sugawara, who passed away just two years after moving away from Kyoto, his legacy continued. His posthumous wrath was beheld by many including the emperor who lost two sons to plague allegedly triggered by Sugawara's infuriated spirit. In hope of alleviating his spirit and seeking forgiveness on behalf of the Imperial Court – Kitano Tenmangu Shrine was constructed in Sugawara's memory.
The Baikasai Festival: Significance and Celebrations
In honor of his passing each year on 25th February, Kitano Tenmangū hosts important rites to remember Michizane and placate his deified spirit inside its main hall. After all these years when most of us have forgotten how to slow down and cherish nature's bounty – walks past the garden that houses approximately 2000 plum trees offer a chance to celebrate tranquility amidst blooming plum trees. It's one of the most fascinating Kyoto events in February.
Adding charm to spirituality is geiko (geisha of Kyoto) and maiko (apprentices to geiko) from Kamishichiken District wear colorful kimonos adorned with plum-themed hair accessories serving tea at an outdoor ceremony.
A special attraction during Baikasai is Nodate or outdoor tea ceremony, which allows participants not just to meet a Geisha up close but interact with her over matcha green tea brewing in their hands along with a traditional Japanese sweet. With just around ¥2,000, one can be served by an authentic Kyoto geisha or enjoy the sights of cultural preservers displaying their elegance between 10:00 am to 3:00 pm with only 3000 seats available; getting tickets worth ¥1,500 early enough is advisable.
The Unfolding of Nodate Ohchanoyu
Baikasai is not limited to Baika No Gokuu or religious offerings only; it also pays tribute to Toyotomi Hideyoshi, who unified Japan during late 16th century by organizing Nodate Ohchanoyu – an extravagant outdoor tea ceremony hosted originally by Hideyoshi himself way back in 1587.
Since 1952 Kitano Tenmangu has been successfully hosting Nodate Ohchanoyu every year bringing together maiko, geiko and Okami from Kamishichiken Kaburenjo Theater right next door where they perform age-old practices passed on through generations.
Moreover, this ceremonial congregation isn't restricted to performances; instead they serve tea to invited guests while maintaining high spirits amidst beautifully blooming plum trees creating breathtaking sights.
Do keep in mind that although the festival paints an inviting picture for visitors from around the world – restrictions are observed in some areas inside shrine premises ensuring proper decorum during this respected meet.
There's rarely an occasion when Shinto spirituality amalgamates with beauty and grace served over cups of brewing hot green tea amidst plum flowers gently swaying with cool breeze .
If you want another delightful event to brighten up your February, don't miss out on the Hatsu Uma Daikondaki festival at Sanzen-in Temple in Ōhara village. Join in this ancient Japanese tradition where local women and parishioners gather to make large vats of mouthwatering daikon radish soup. Savor the warm and soft daikon, packed with vitamins and grown organically in the Ōhara area.