In February 2024, Kyoto, Japan, offers a range of exciting events and festivals for visitors to enjoy. One notable event is the Setsubun festival, a traditional celebration held across Kyoto and Japan.
| Date | Event | Category |
| --- | --- | --- |
| February 1-3 | Yasaka Shrine Setsubun Festival | Setsubun |
| Early February | Heian Jingu Setsubun Festival | Setsubun |
| February 3 | Kitano Tenmangū Setsubun Festival | Setsubun |
| February 2nd – February 4th | Mibu-Dera Temple Setsubun Yakuyoke Ceremony | Setsubun |
| February 2nd | Yoshida Shrine Setsubun Festival | Setsubun |
| February 3rd | Setsubun-e at Rozanji-Temple | Setsubun |
| February 10th – 13th | Hatsu Uma Daikondaki | Festival |
| Late Janurary – Early February | Kayabuki no Sato Snow Lantern Festival | Festival |
| February 25th | Baikasai and Nodate Ohchanoyu | Festival |
| February 2nd-3rd | Mibu Kyogen | Festival |
| February 23rd | Godai-Rikison Ninno-e festival | Festival |
Yasaka Shrine Setsubun Festival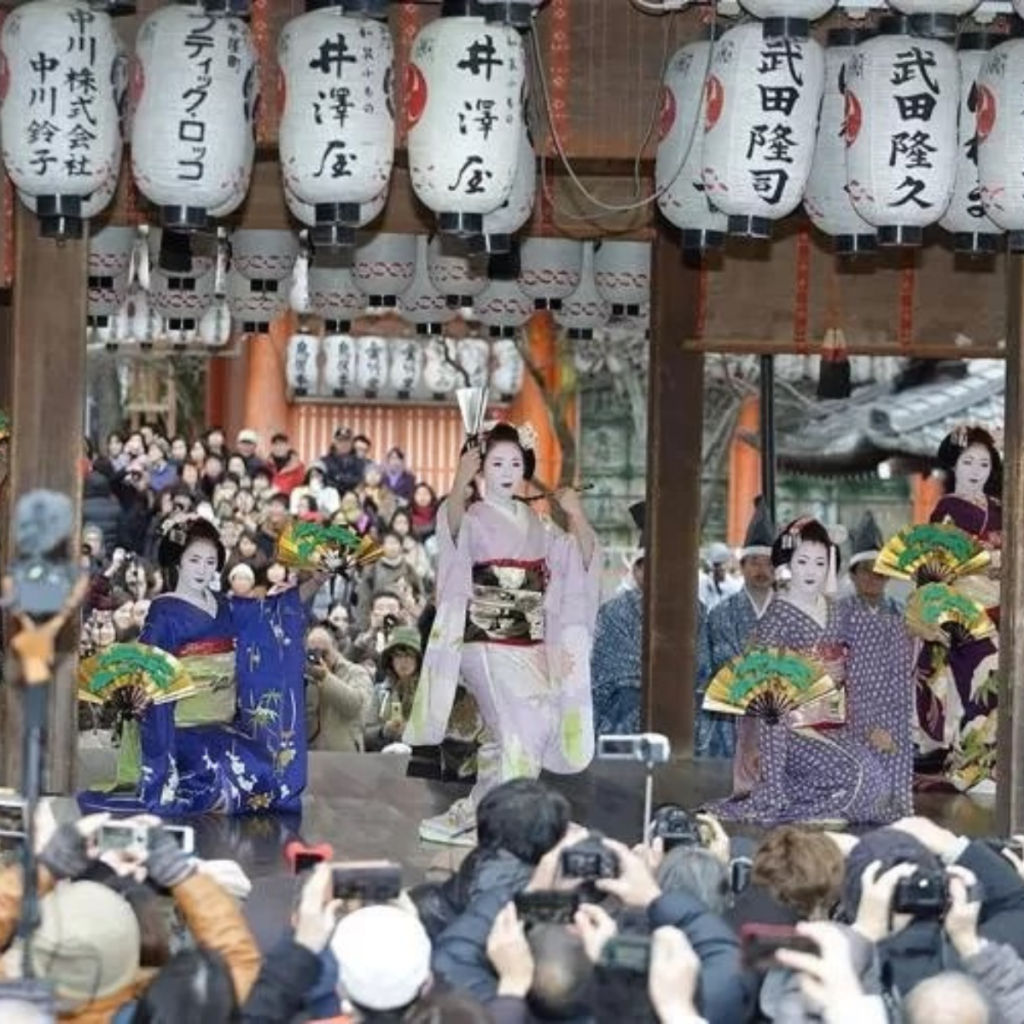 Date: Februrary 1st-3rd
Setsubun, marks the day before the arrival of spring in Japan. Various traditions and rituals are practiced during this time to drive away evil spirits and bad luck, preparing homes and families for the coming year. Many shrines and temples nationwide participate in these celebrations as they hold special festivals that unite the community.
Celebrating Spring and Warding Off Evil Spirits
Setsubun, an annual tradition held on February 3rd in Japan, celebrates the first day of spring (risshun 立春) according to the former Chinese lunar calendar. First introduced by the imperial court of Heian during Japanese antiquity (794-1185), it has since diffused into Japanese society throughout the Edo period (1600-1868). Although a working day for most Japanese people, Setsubun is a pivotal event marking the passage of seasons.
The festival's two main intentions are to chase away the previous year's evil spirits and attract luck for the new year while also welcoming the return of spring. Yasaka Shrine, an ancient shrine in the popular tourist area of Gion, hosts one of the many traditional Setsubun festivals in Kyoto – with its highlight being performances by maiko (apprentice geisha) and geiko (geisha).
Maiko Dance and Bean Throwing at Yasaka Shrine
This unique two-day festival runs from February 2nd to 3rd and showcases maiko from four different geisha districts of Kyoto. Visitors can participate in various activities such as buying lucky beans that come with a lottery ticket, acquiring paper amulets believed to keep evil at bay for a year, and savoring zenzai red bean soup that wards off negativity.
The graceful dance and bean throwing by the maiko at Yasaka Shrine makes it one of the most "Kyoto-like" Setsubun festivals, making it certainly worth a visit.
Dance Performances by Maiko and Geiko from Different Districts
On February 2nd from 1 PM, maiko and geiko from Ponto-cho perform their elegant dance followed by bean throwing. Subtle differences can be observed in the kimonos and dance styles of maiko and geiko from various districts, adding a layer of interest for festival-goers.
On February 3rd, the second day of the festival, maiko and geiko of Gion Higashi Kabukai Geisha House offer their dance performance as well. Maiko and geiko dances are rare spectacles even for Kyoto's residents, making this event an unforgettable experience for visitors. Following each dance, the maiko and geiko also participate in bean throwing ceremonies.
Buy Lucky Beans, Win Prizes
During Setsubun Festival at Yasaka Shrine, lucky beans paired with lottery tickets can be purchased for 300 yen per bag. All tickets guarantee winning prizes, which could include items such as electronics. The lottery is held from 10 AM to 5 PM during the festival, offering a fun opportunity for visitors to try their luck.
Apart from its traditional bean-throwing ceremony, Yasaka Shrine's Setsubun Festival also features the Lion Dance on the second day. Performances take place between 11 AM and 4 PM, providing another chance to witness Kyoto's rich cultural heritage.
Yasaka Shrine's Setsubun Festival presents a unique occasion to immerse oneself into Kyoto's timeless geisha culture while participating in traditional activities integral to Japanese heritage. This enchanting combination of celebrations surrounding spring's arrival and warding off evil spirits attracts not only locals but also tourists from around the world.
---
Heian Jingu Setsubun Festival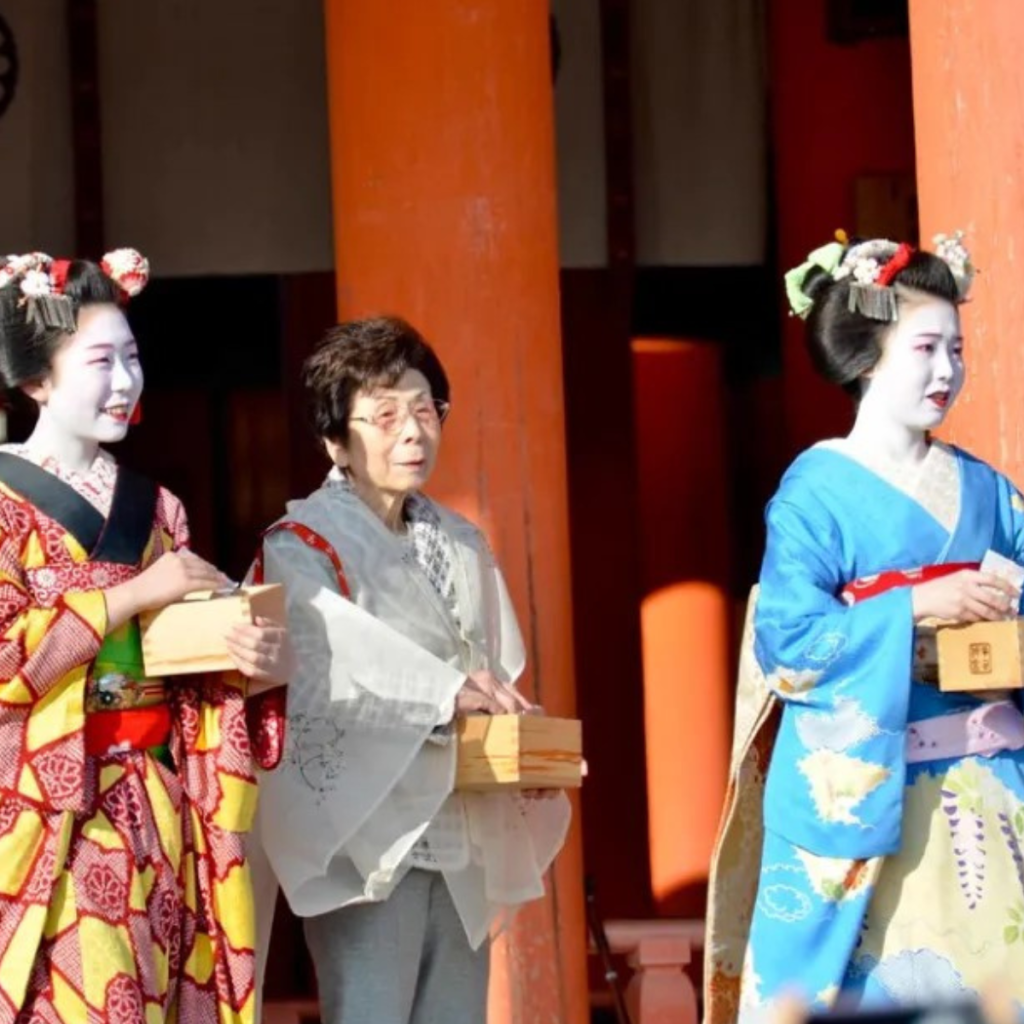 Date: Early February
Celebrating Setsubun in Japan
Kyoto, a city known for its rich cultural heritage, hosts several famous Setsubun events at numerous shrines. Among the most renowned is Heian Jingu's Setsubun-sai, an extravagant celebration that appeals to both locals and tourists alike.
The Rituals of Heian Jingu Setsubun-sai
Heian Shrine's Setsubun-sai offers a unique experience for attendees with a series of ceremonies. The festivities kick off with sacred Shinto rituals performed by priests within the inner sanctuary of the shrine. These rituals involve leaving offerings on the altar for the gods, reciting prayers aloud, and conducting purification rites to cleanse the sacred space.
Daina no Gi: An Exorcism Performance to Remember
The next part of Heian Jingu's celebration takes place at 14:00 with the Daina no Gi, an exorcism ritual dating back to Japan's Heian period. Participants representing warriors and onmyōji diviners join forces with Hōsōshi, demon-quelling spirits dressed as oni (demons in Japanese folklore), to perform this intriguing ancient ceremony.
During this performance, men wearing fearsome ogre masks suddenly appear within the shrinegrounds, "terrorizing" onlookers as they advance toward Heian Shrine's main hall. Atop its veranda, the leader of the oni executes a triumphal dance. Before long, shrine parishioners intervene and drive the horde away using "mamemaki," a lucky bean-throwing tradition.
Mamemaki: Throwing Luck to the Crowd
The mamemaki ritual involves shouting "oni wa soto, fuku wa uchi" (bad luck out, good luck in) while hurling packets of lucky beans in an effort to banish demons and attract fortune. After the oni have been successfully expelled from the shrine gates, spectators eagerly gather around Heian Jingu's main hall in hopes of catching these bean packets. Priests, shrine parishioners, and geiko (Kyoto geisha) as well as maiko (apprentice geisha) energetically disperse these tokens of luck to a lively crowd.
Ōhitaki Shinji: A Grand Finale Fire Ritual
Heian Jingu Setsubun-sai reaches its climax with an impressive fire ritual called ōhitaki shinji. This elaborate ceremony marks the conclusion of the day's events and leaves onlookers in awe as Kyoto's Heian Shrine commemorates Setsubun in a truly unforgettable manner.
Heian Jingu provides visitors with a unique opportunity to witness and participate in traditional Setsubun rituals during its annual Setsubun-sai event. With an enthralling exorcism performance, lucky bean-throwing festivities, and a breathtaking fire ritual finale, this Kyoto celebration has established itself as an essential destination for individuals seeking an immersive cultural experience.
---
Kitano Tenmangū Setsubun Festival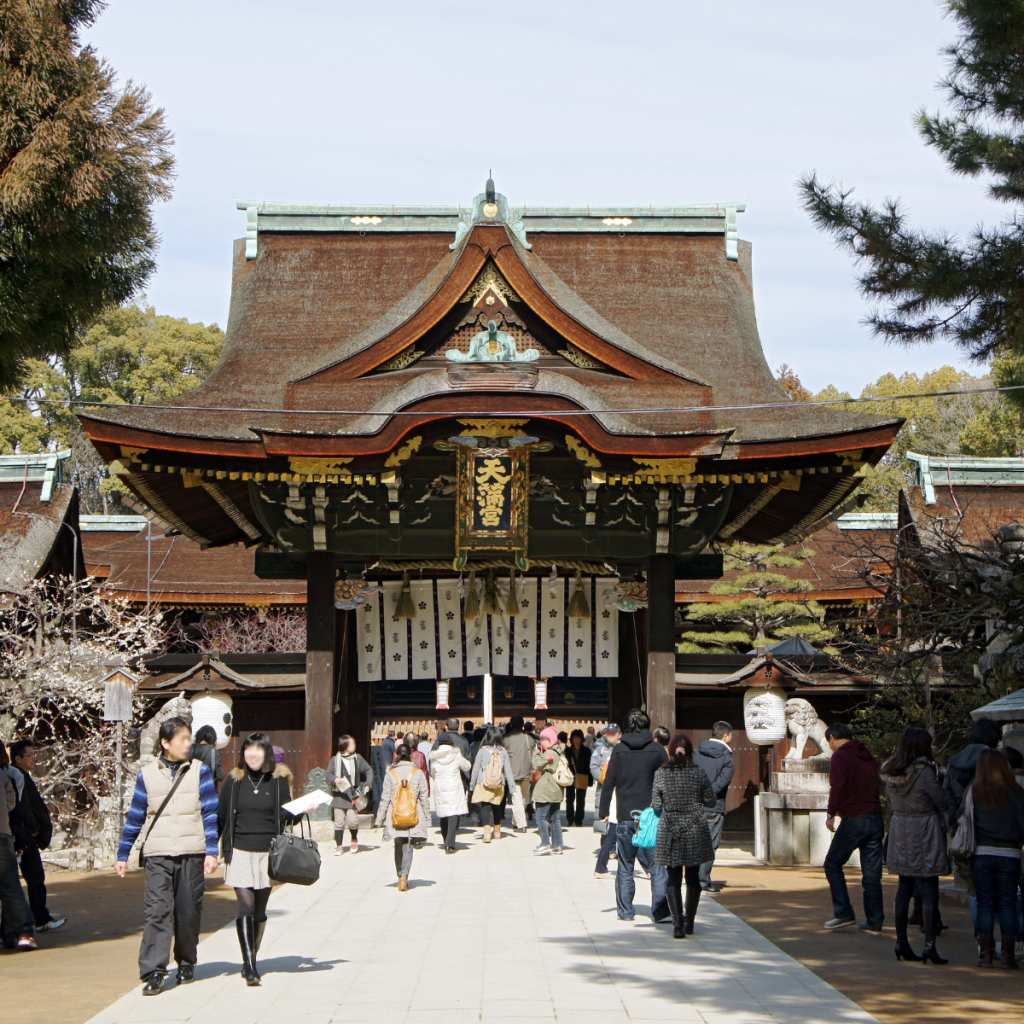 Date: February 3rd, 2023
The Annual Setsubun Festivals in Kyoto
Peer into the heart of Japan's cultural heritage with their annual Setsubun festivals. Held every year around the month of February, these festivals are celebrated in various temples and shrines across Kyoto, each representing its unique features and charm. Among these, the Setsubun festival at Kyoto's Kitano Tenmangu Shrine has captivated both locals and visitors alike as one of the city's most revered events.
The city upholds a special tradition for Setsubun, known as Yomomairi or visiting four shrines guarding the Imperial Palace from four directions. This practice unravels an ancient tale of a demon that appears at Yoshida shrine on Setsubun night and subsequently moves to other shrines including Yasaka shrine, Mibu temple, in a bid to escape pursuit.
Yasaka shrine presents the traditional lanterns while Mibu temple is well-known for Buddhist illumination. However, the final destination and climactic point in this mythical journey is Kitano Tenmangu shrine – where it's said that the demon ultimately meets its demise, confined to remain within its sacred halls forever.
Ritual Dedication in Kitano Tenmangu Shrine
Kitano Tenmangu Shrine takes pride in hosting a diverse range of ritualistic events during the festival. These include sacred performances such as 'Kitano Tuina Kyogen,' a play by Shigeyama Sengoro school (茂山千五郎社中), an authentic clan known for their Noh comedy acts.
But it's not just about Noh theatre; traditional Japanese dancing is also showcased at its finest. Maiko, apprentice geisha, and Geiko, full-fledged geishas, all from Kamishichiken district, grace the festivities with their presence, further enriching this cultural experience. Revellers get a remarkable opportunity to witness an array of artistic performances rooted deeply in Japanese culture.
---
Mibu-Dera Temple Setsubun Yakuyoke Ceremony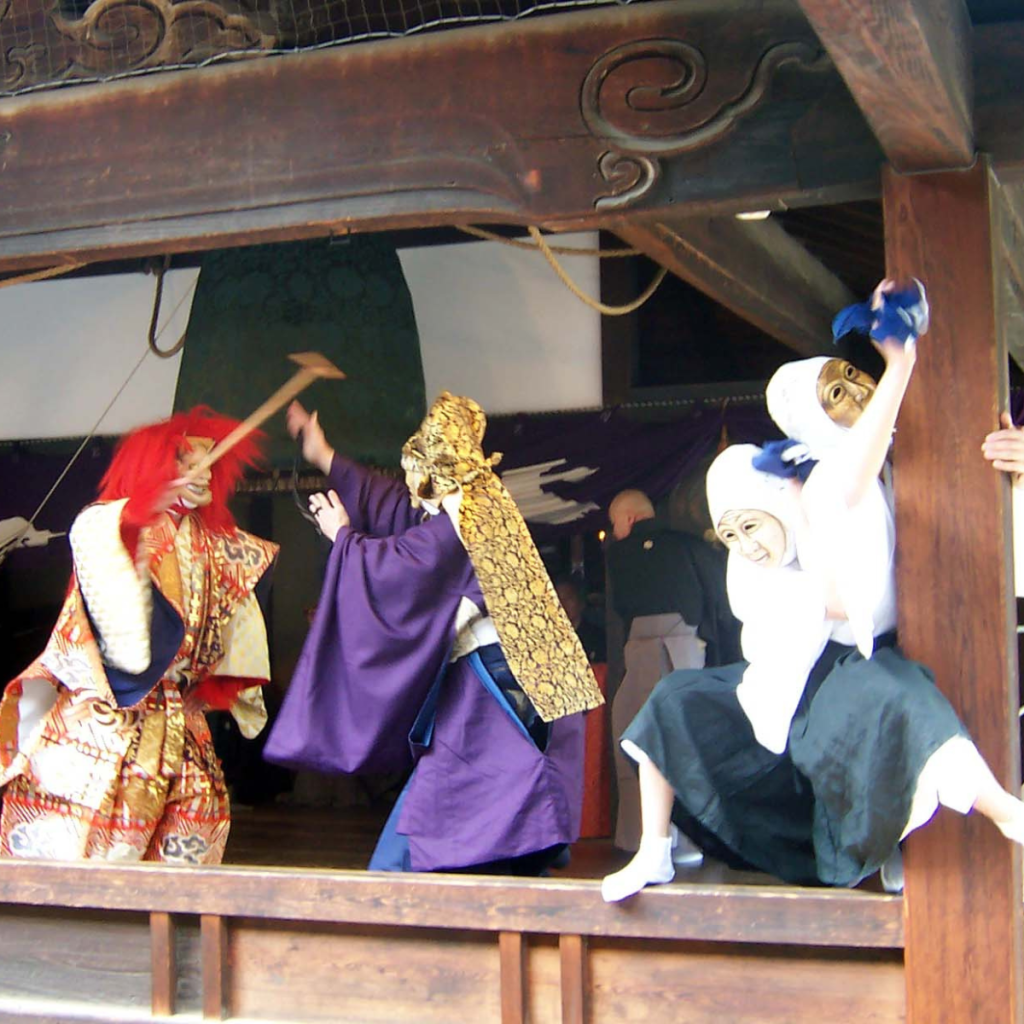 Date: February 2nd – February 4th
The three-day event takes place from February 2nd to 4th annually, attracting men and women of all ages from all over Japan. Located in the south and west area of Kyoto, Mibu temple hosts one of the most-awaited Setsubun festivals. Unlike other Setsubun festivals held across various locations, the main focus of Mibu temple's Setsubun festival is to pray for health and ward off bad spirits.
Kyogen: A Unique Aspect of the Festival
Kyogen, a form of Japanese traditional entertainment which involves humorous plays, sets Mibu Setsubun festival apart. On February 2nd and 3rd, eight consecutive Kyogen performances are held at the Kyogen-hall located north of the precinct. They are held from 1 pm to 9 pm on these two days. The combination of humor from the Kyogen and bean-throwing create a captivating experience for visitors that should not be missed.
Praying for Protection: Kito Ceremony
All through the day during the event days, participants can attend a praying ceremony called "kito" to fend off bad spirits at the main hall. Two kinds of kito prayers are performed using distinct methods. Furthermore, rare amulets in the shape of dharma or jizo can also be purchased by attendees during the Setsubun festival period. These dharma or jizo amulets offer protection against calamity and difficulties.
Join In on the Festivities: Free Zenzai for All
As part of tradition, zenzai – a traditional Japanese sweet – is served to one thousand people on a first-come-first-serve basis. Rice cakes offered at the front of the main hall are also prepared and distributed among visitors. This warm gesture upholds the spirit of community and sharing ingrained in Japanese culture.
Celebrating Setsubun Yakuyoke Daihoue
Setsubun Yakuyoke Daihoue at Mibu temple is a beautiful fusion of history, tradition, humor, and communal spirit. The combination of Kyogen performances, ceremonies like kito, and distribution of zenzai and rice cakes makes it an event worth attending. So mark your calendars for next year's festival and experience this remarkable cultural event firsthand.
---
Yoshida Shrine Setsubun Festival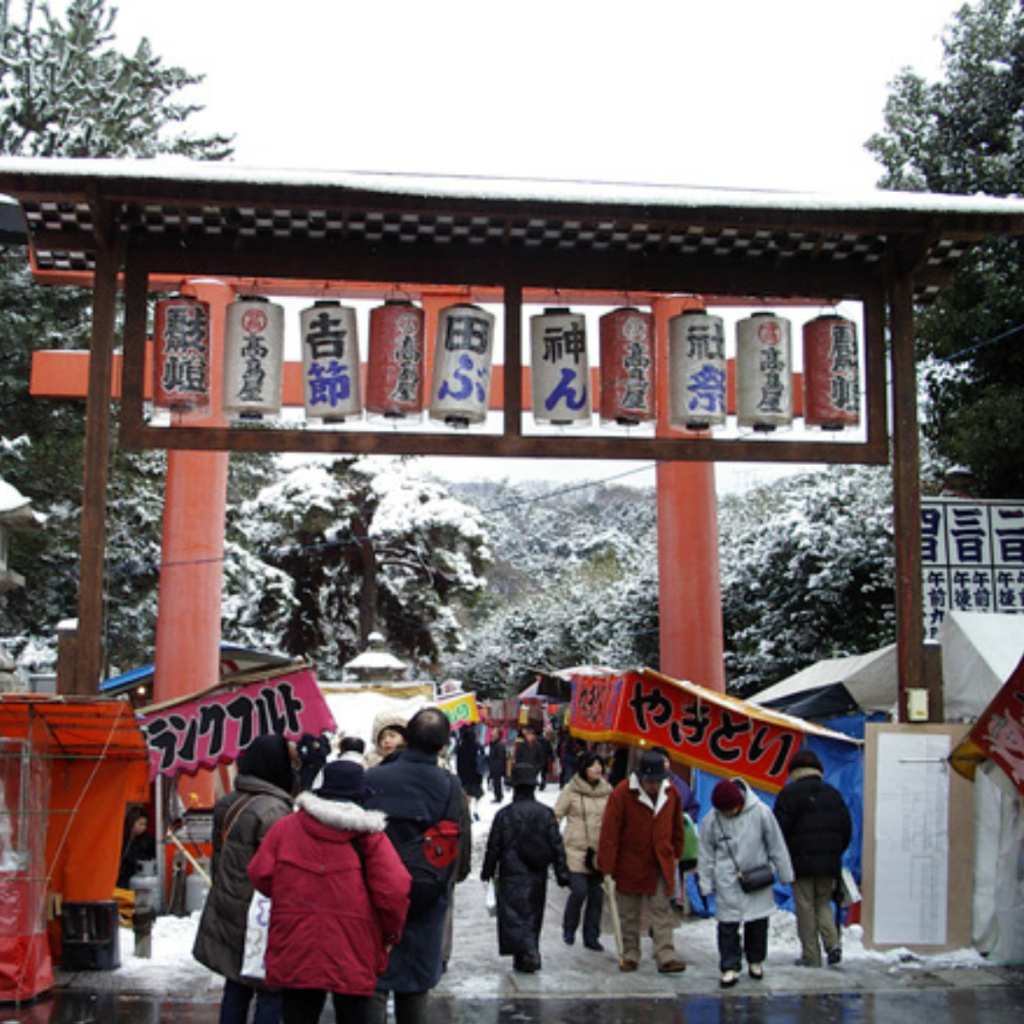 Date: February 2nd
Considered a significant event of faith and tradition in Kyoto, the Setsubun Festival, held annually at the Yoshida Shrine, continues to captivate both locals and tourists. The Yoshida Shrine Setsubun festival's main highlight – the infamous Oniyarai ritual, an enthralling spectacle where costumed demons are ritually driven away from the shrine grounds.
Oniyarai Demon Exorcising Ritual – The Highlight of Setsubun Festival
The Tsuina ceremony held every year on February 2nd is often referred to as Oniyarai. Unlike traditional mamemaki (bean throwing) associated with Setsubun, the drawcard at Yoshida Shrine is Oniyarai.
In this riveting spectacle three Oni or demons colored red, blue, and yellow are chased away by 'Housoshi' – a divine sorcerer with origins from China – who adorns a mask with four golden eyes. Armed with a shield and halberd, Housoshi strides around the shrine striking the ground with his halberd while shouting loudly; a means to drive away malevolent spirits. This terrifying sight often leads to children crying out loudly – seen as a sign they will grow healthy.
Despite their scary exterior during the ceremony, actual oni are known for their gentle demeanor even comforting children who become afraid during this performance. Visitors are encouraged to capture these extraordinary moments on camera.
---
Setsubun-e at Rozanji-Temple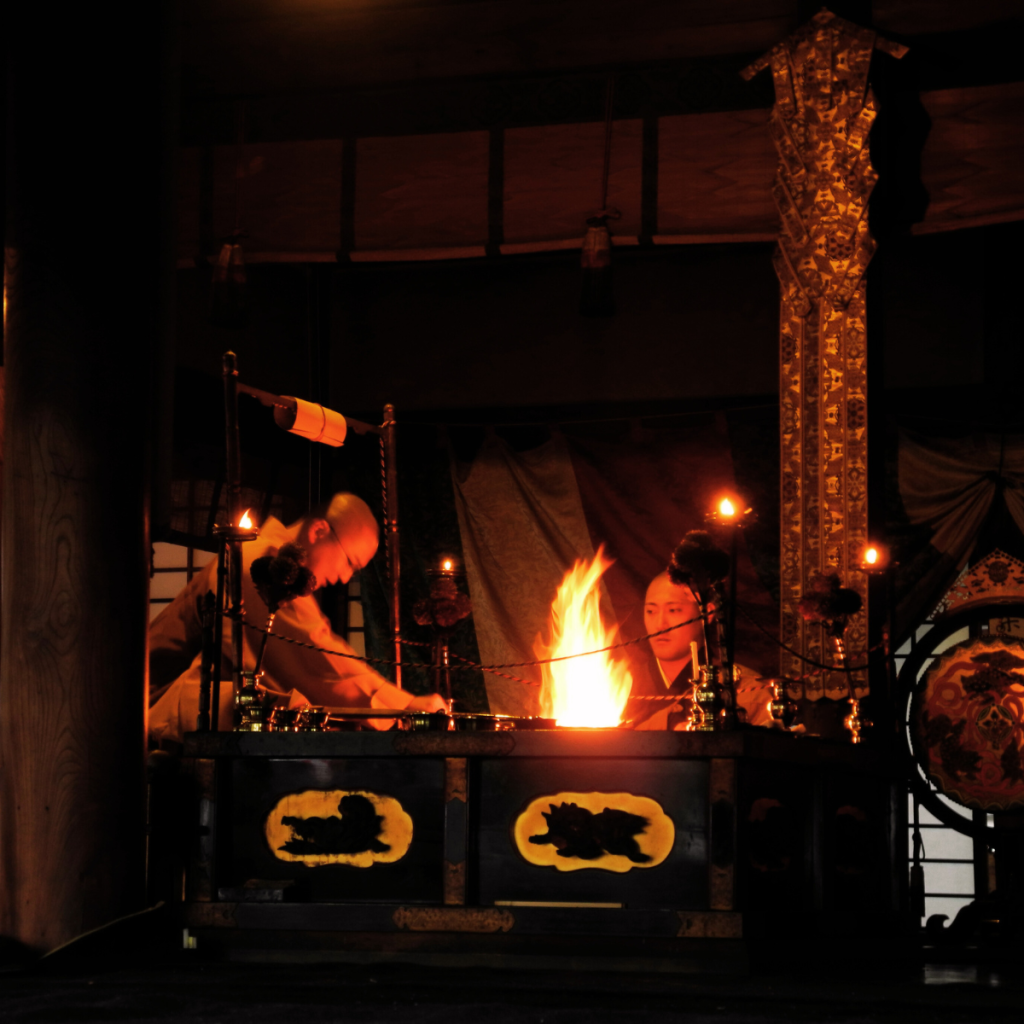 Date: February 3rd
Setsubun-e at Rozanji-Temple offers a unique experience for everyone involved by highlighting the dynamic Oni dance combined with traditional rituals aimed at promoting good fortune, health, and prosperity. With its rich history and captivating performances, it is no wonder that thousands of people continue to flock to this temple each year to celebrate this ancient festival.
The Oni Dance Takes Center Stage
On February 3rd, the Setsubun festival in Kyoto comes to life with vibrant colors, captivating performances, and deep-rooted traditions. At Rozanji-Temple, the highlight of this annual event is the dynamic and humorous Oni dance, which starts at 3 pm. Three demons covered in masks representing different colors – red, blue, and black – perform this traditional dance to entertain the crowd.
The red Oni wields a sword, the blue one an ax, and the black demon carries a hammer. This unique performance combines captivating choreography with storytelling to represent an ancient tale from this revered temple. Approximately 1,000 people visit Rozanji-Temple each year for this spectacular show and to participate in various Setsubun customs.
A Tale of Triumph: The Origin of the Oni Dance
Behind each mesmerizing move lies a rich history that dates back centuries. The Oni Dance at Rozanji-Temple originates from a story involving its founder. This religious leader was said to have single-handedly fought and defeated three Onis who sought to prevent his ascetic practices. Nowadays, this legendary battle is reenacted through the vibrant dance routine during the Setsubun festival.
Rituals for Good Fortune: Repelling Evil Spirits
During the event, rituals are held within the temple's main hall to ward off bad spirits and ensure a long life for worshippers. The three colorful Onis reappear on stage, attempting to disrupt the ceremonies but are eventually repelled by attendees throwing beans at them.
Rozanji-Temple puts its unique spin on this popular Setsubun tradition by offering specially crafted beans for visitors to throw during the ritual. Covered in red or white sugar coating, these unique beans are believed to bring about longevity and good luck.
Oni No Okaji: Prayers for Healing
Before and after the lively dance performance, a sacred ritual called Oni no Okaji takes place. During this ceremony, the Onis who have now rid themselves of their devilish natures lead prayers for healing and well-being. This act symbolizes their transformation from evil to good and offers attendees the opportunity to seek divine blessings.
Kosatsu-yaki: A Fiery Expression of Gratitude
In addition to the main Oni dance, Setsubun-e at Rozanji-Temple features the burning of old amulets called Kosatsu-yaki. This act represents a powerful display of gratitude and offers visitors a chance to express their thankfulness for the protection received throughout the year while also making space for new blessings.
Due to the large crowds attending this event – with numbers often reaching up to 1,000 visitors – it is crucial for participants to exercise caution during the festivities. This includes being mindful of sparks during Kosatsu-yaki and respecting fellow attendees' safety and well-being.
---
Hatsu Uma Daikondaki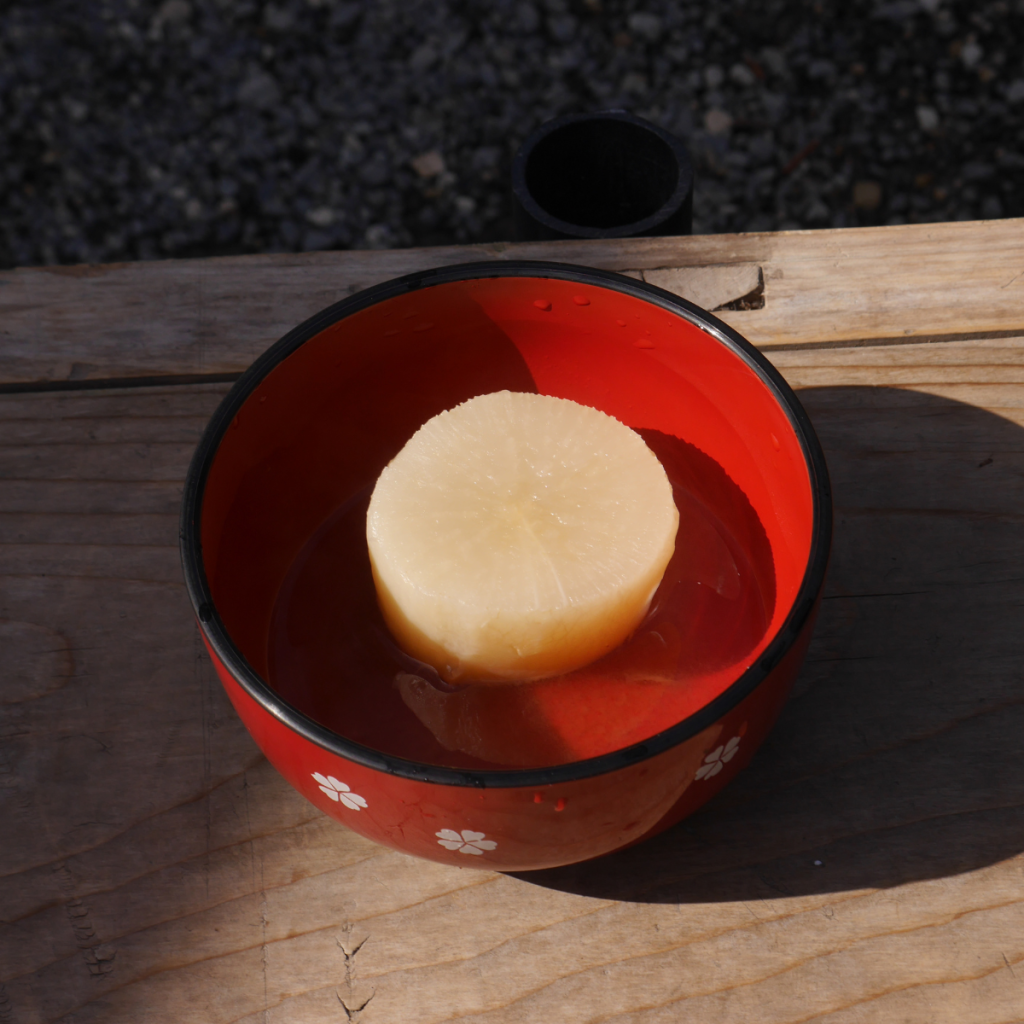 Date: February 10th – 13th
On a mountain slope in the scenic village of Ohara, roughly 30 minutes north of Kyoto, resides the tranquil Sanzen-in Temple. The temple, known for its ethereal beauty, is popular among locals and tourists alike. At this historical edifice, the much-awaited Hatsu Uma Daikondaki festival occurs annually.
Hatsu Uma Daikondaki: A Festival to Brave Winters
In the heart of winter lies an event celebrated with fervor by the people of Japan. An auspicious event beginning each year around February, aims to help individuals ward off sickness and remain healthy during the last stretch of Japanese winter.
---
Kayabuki no Sato Snow Lantern Festival Lights Up Miyama Village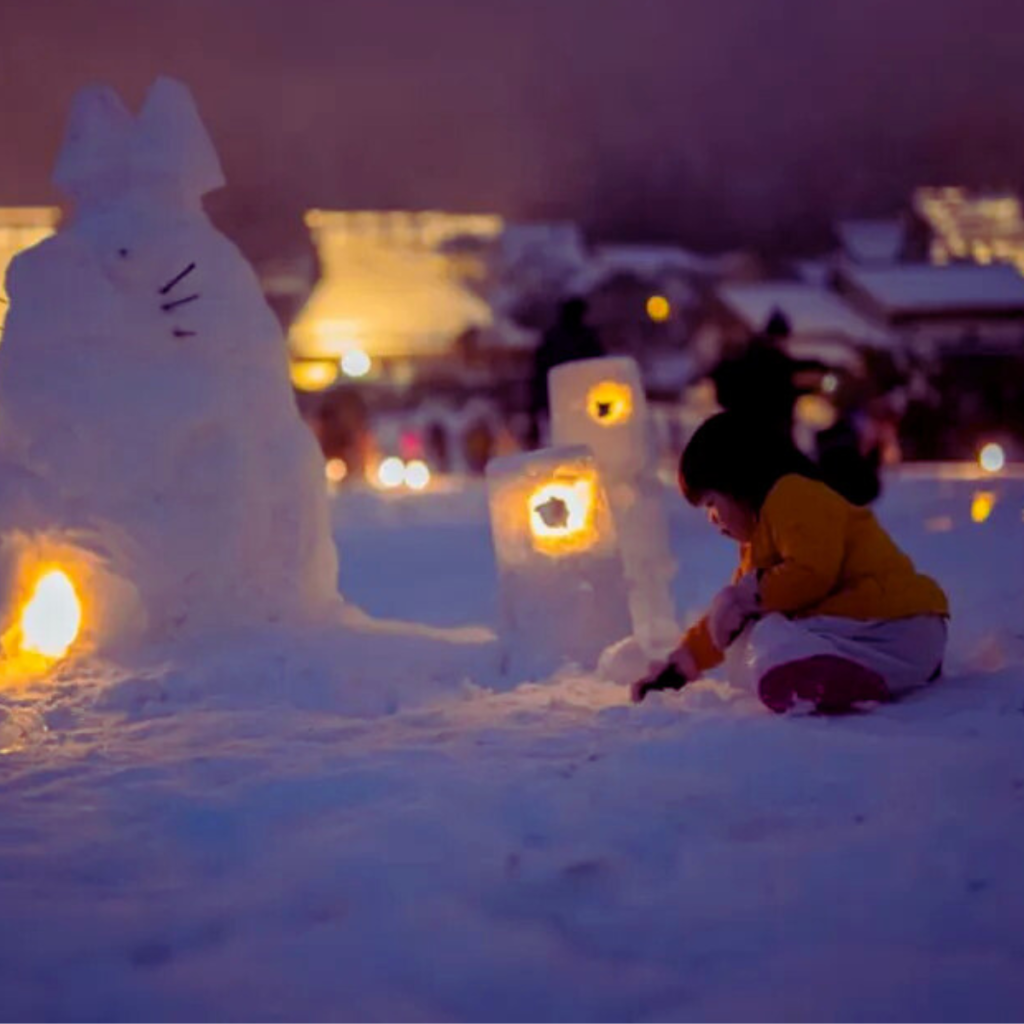 Date: Late Janurary – Early February
Magical Winter Glow Graces Historic Thatched Roofs
The annual Kayabuki no Sato Snow Lantern Festival, held in the picturesque Miyama Village, is set to amaze thousands of visitors with breathtaking scenes of snow-covered thatched roofs illuminated by hundreds of lanterns. This enchanting event features various types of lanterns, including snow lanterns, Japanese lanterns, flower lanterns, and LED lanterns, which are all lit simultaneously to cast a magical winter glow over the quiet town.
A total of 18 traditional thatched houses in the village will participate in this illumination extravaganza, creating mesmerizing visuals and an unforgettable atmosphere for festival attendees.
Navigating Your Way to the Frozen Wonderland
To reach Miyama Village from Kyoto, take the JR line to either Sonobe or Hiyoshi Station. From there, catch the Nantan city bus heading to Kita-village—a journey that takes approximately one hour. Be advised that there are no late return buses available, so visitors should plan their schedules accordingly or arrange for private transport.
Alternatively, a special shuttle bus service will also be available from Sonobe Station for added convenience during the festival dates.
Experience Traditional Japan in Its Winter Splendor
As one of Japan's most well-preserved rural areas, Miyama Village proudly showcases its historical thatched roof houses—an architectural style rarely seen nowadays. The Kayabuki no Sato Snow Lantern Festival celebrates this cultural heritage while adding a touch of winter wonderland charm using traditional decorative elements such as Japanese paper lanterns and handmade snow lanterns.
This unique event allows visitors to immerse themselves in ancient traditions while reveling in an ethereal atmosphere filled with warmth and beauty. Don't miss out on this rare opportunity to witness artful illumination paired with fascinating architectural design at the Kayabuki no Sato Snow Lantern Festival in Miyama Village.
---
Baikasai and Nodate Ohchanoyu (Ume plum blossom festival)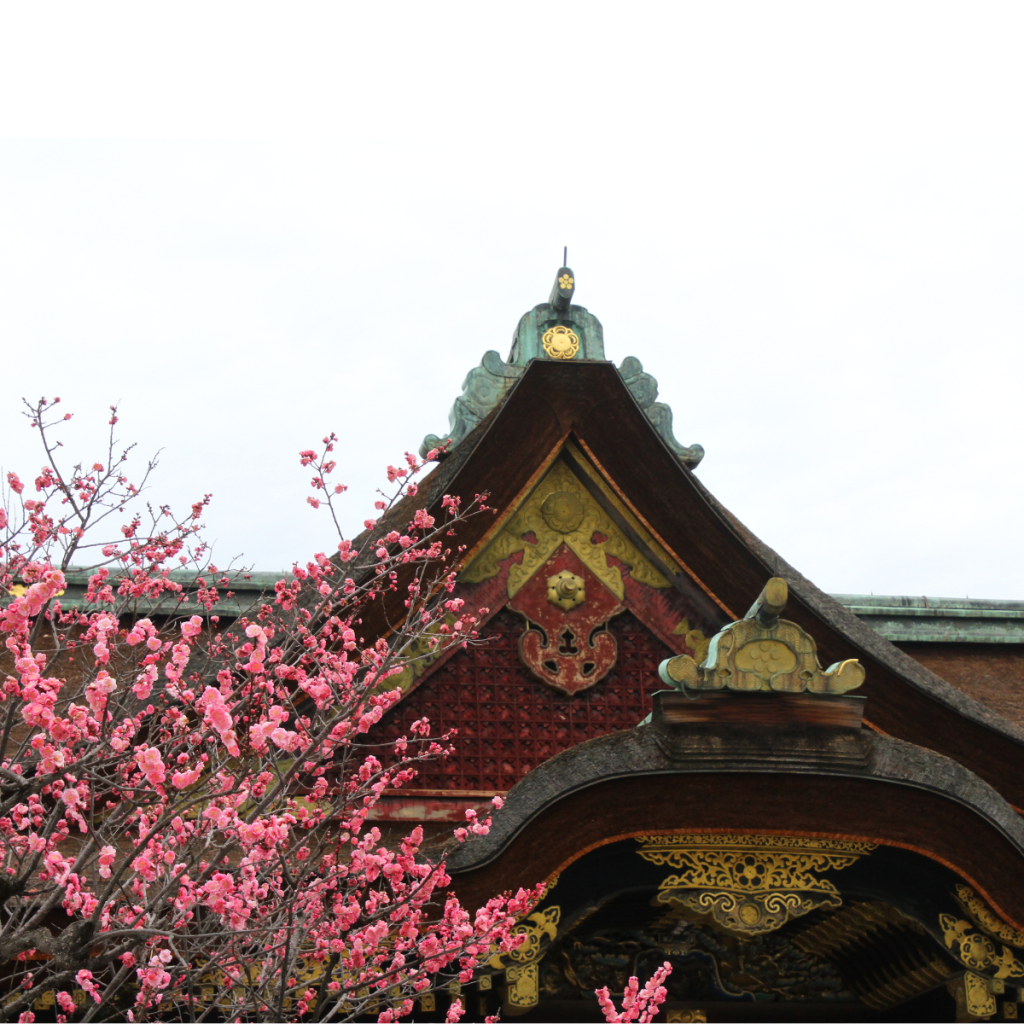 Date: February 25th
Kitano Tenmangu Shrine, established in 947, is known for enshrining Sugawara Michizane, a scholar, writer, and politician from the beginning of the Heian period. As a deity of wisdom, Michizane's birth and death anniversaries are commemorated with various events at the shrine. The most notable of these takes place on February 25th, during the Baikasai, or Ume plum blossom festival. Alongside regular festivities, the shrine also hosts Nodate Ohchanoyu, an event featuring Kamishichiken's Maiko, Geiko, and their Okami masters.
Nodate Ohchanoyu: A Unique Tea Ceremony Experience
The Nodate Ohchanoyu event dates back to 1587 when Toyotomi Hideyoshi, who completed Japan's unification process, hosted a tea ceremony at Kitano Tenmangu Shrine. Since 1952, the annual Baikasai Nodate Ohchanoyu has seen all Maiko, Geiko and Okami from Kamishichiken Kaburenjo Theater serve tea to invited guests. Located next to Kitano Tenmangu Shrine, Kamishichiken Kaburenjo Theater is where they train, perform and serve.
Perfectly complemented by the blooming plum trees during this time of year, attendees can get a glimpse of these performers while sipping on traditional tea. However, it's essential to purchase tickets for this event from Kitano Tenmangu Shrine's office.
Kodate Offering: Honoring Sugawara Michizane
During Baikasai, priests worship Sugawara Michizane and provide "Baika no Gokuu," a holy meal in his honor. Two rice casks are offered alongside Kodate – paper cups containing plum branches. Michizane's spirit is offered 42 white plum branches and 33 pink ones, which represent the critical age "Yakudoshi," based on the Theory of Yin-Yang and the Five Elements. As the age of 42 for men and 33 for women is deemed critical, the equal number of plum branches is presented to his spirit.
Visitors to the festival should refrain from eating within the shrine precincts, as well as be mindful of restricted areas designated by signage.
Plum Blossoms, Maiko, and Geiko: An Unmissable Event
On February 25th, Baikasai combines unique elements such as Shinto spirituality, seasonal plum blossoms, green tea ceremonies, and lovely Maiko and Geiko performances. Kitano Tenmangū Shrine serves as the head shrine of more than 10,000 Tenmangū shrines in Japan. It is dedicated to Tenjin – the god of scholarship.
Poet Sugawara no Michizane wrote a famous poem urging his beloved plum tree to continue blossoming in his absence before leaving Kyoto. This tradition is why Kitano Tenmangū has numerous plum trees planted on its grounds. The anniversary of Michizane's passing sees rituals that celebrate both Michizane's mortal life and his pacification as a deified spirit.
The Nodate outdoor tea ceremony offers a rare opportunity to interact with Geisha up close and personal. As most people don't have connections to spend time with them at teahouses or banquets, this event truly shines as an extraordinary experience during Kyoto's Ume Plum Blossom Festival.
---
Mibu Kyogen (Mibu Dainenbutsu Kyogen)
Date: February 2nd-3rd
Mibu Kyogen Overview
Mibu Kyogen, also known as Mibu Dainenbutsu Kyogen, is a traditional Japanese silent drama that has been performed for over 700 years at Mibu-dera temple in Kyoto. Originating during the Kamakura period around 1300, the performance art was created by Yuzunenbutsu priest Engaku Shonin to spread Buddhist teachings through an easily understandable form, using exaggerated movements and gestures.
Performances and Structure
With a repertoire of thirty pieces, the Mibu Kyogen performances are characterized by their masked performers who have no spoken parts. Instead, they are accompanied by a small instrumental ensemble called "hayashi," which includes a gong, drum, and Japanese flute. The pieces often draw inspiration from sources such as The Tale of the Heike and Otogi Zoshi, focusing on moral tales that serve as vehicles for transmitting traditional teachings.
The Mibu Kyogen performers are members of the Mibu Dainenbutsu Association, comprised of approximately forty individuals spanning various age groups from local elementary school students to senior citizens. These performers balance their everyday roles as students, employees, and business owners with rehearsing and performing this traditional art form.
Three public performances take place each year: one in February during the Setsubun holiday (Bean Throwing Festival), another in spring (April-May), and a third in autumn (October). A special Setsubun-themed play is featured in February, while the spring and autumn performances consist of five selected plays from their extensive repertoire.
A Rich History
According to legend, Engaku Shonin sought to spread Buddhist teachings through pantomime due to the limitations of communication technology in his time, such as the absence of megaphones. By employing silent drama with only the sounds of religious chanting and the hayashi ensemble, Engaku Shonin could release information to large gatherings without straining to be heard.
The role of Mibu Kyogen in spreading Buddhist teachings diminished during the Edo period as it transitioned more toward popular entertainment. New pieces emerged during this time, drawing material from Noh, Kyogen, and old tales. However, despite these changes, Mibu Kyogen continues to be performed annually at Mibu-dera temple without interruption since its inception.
Mibu-dera Temple: A Venue with a Connection to History
Mibu-dera temple in central Kyoto is not only known for its Mibu Kyogen performances but also has connections to the Shinsengumi, enshrining Jizō Bosatsu as the guardian of children. The venue serves as a fitting stage for this centuries-old art form, providing an intimate space to experience a unique aspect of Japanese culture.
Ticketing and Attendance
In February, visitors can enjoy the Setsubun-themed play for free.
Throughout its long history, Mibu Kyogen has consistently attracted audiences through its combination of traditional storytelling and entertaining performance elements. In recognition of its cultural significance, Mibu Kyogen was designated in 1976 as an Important Intangible Folk Cultural Property – the first in Kyoto Prefecture.
Anticipate Interactive Elements
Audiences attending the Mibu Kyogen may also experience interactive elements during certain performances. These moments include senbei rice crackers being tossed into the crowd or a scene involving paper ropes thrown to spectators. Other creative stage interactions involve a spider demon's explosion of thread, tightrope walking by the Nue demon, or smashing unglazed pottery plates for good luck.
The Legacy of Mibu Kyogen and Its Place in Japanese Culture
While Mibu Kyogen has evolved over the centuries from a purely religious practice to a form of popular entertainment, at its core, it remains a devotion offered to the temple's principal object of worship. As an ongoing tradition dating back 700 years, Mibu Kyogen serves as a vibrant expression of Japanese culture, bridging the past with the present while attracting new audiences to experience the art form's unique blend of storytelling, performance, and moral teachings.
---
Godai-Rikison Ninno-e festival (Godairiki san)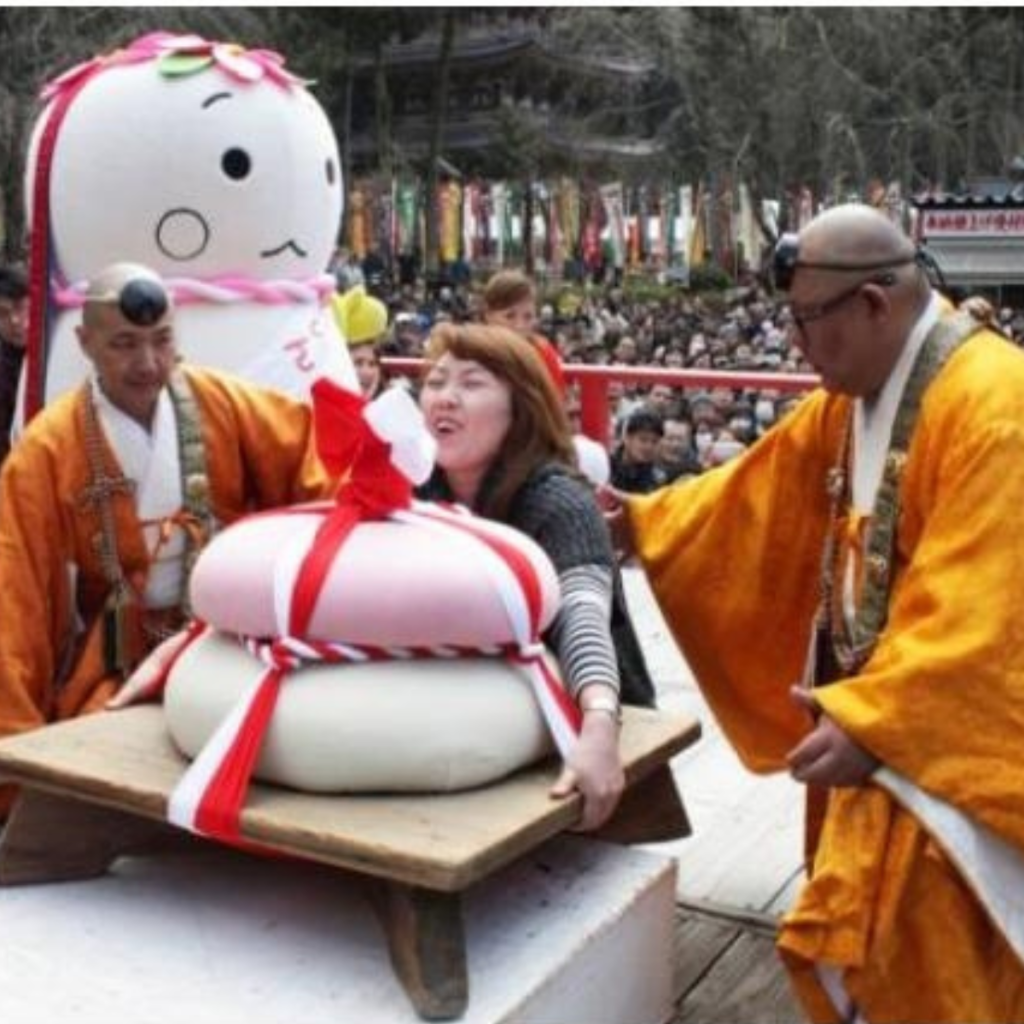 Date: February 23rd
Mochi Age: Rice Cake Lifting Competition
Every year, thousands of visitors flock to Daigoji temple on February 23rd for the annual Godai-Rikison Ninno-e festival, affectionately known as Godairiki-san by locals. This event, which dates back to 874, is primarily known for its rice cake lifting competition called "Mochi Age." Participants compete to lift large mochi cakes, hoping to receive blessings from the Five Wisdom Kings (Godai Myo'o) who are believed to protect people from accidents and other misfortunes.
The rice cake lifting competition is a challenging feat, with the weight of cakes varying between 198 lbs (90 kg) for women and 330 lbs (150 kg) for men. Visitors interested in participating must register in advance between 9 am and 11:30 am on the day of the event and pay an entry fee of 2,000 yen.
Pre-event Ceremony: Prayers and Rituals
Preparations for Godairiki-san begin with a week-long pre-event ceremony organized by over 1,000 monks from all the mountains associated with Daigoji temple. Running from February 15th to February 21st, this ceremony involves impassioned rituals dedicated to the Five Wisdom Kings – such as Fudo Myo'o – praying for peace, good health, and happiness for the country and its people.
Visitors are welcome to partake in this significant event free of charge. Approximately 100 participants can engage at once during the ceremony. Visitors may also enjoy rice porridge served after the prayer sessions as a reward for their involvement. The specific schedule of events can be found on Daigo-ji Temple's official website.
Miei Charms: Guardian against Accidents
During the pre-ceremony, monks pray over Miei charms, considered avatars of the Godai Myo'o. These charms are believed to protect people from accidents throughout the day and night. Uniquely available on the event day, Miei is highly sought after by visitors who arrive at Daigoji temple early in the morning to ensure they can get their hands on these special items.
The Godai-Rikison Ninno-e Festival traces its origins back to 907, during Emperor Daigo's reign. Due to its rich history of more than 1,000 years and a deeply rooted cultural link to Kyoto's local customs and traditions, Godairiki-san remains a prominent and much-loved event in Japan today.
Godairiki-san: A Symbol of Health and Good Fortune
In recent years, Godairiki-san has gained further popularity with its "Mochi age riki hono" event. This dedication involves men attempting to lift a 150 kg rice cake while women attempt to lift a 90 kg cake as an offering for good health and happiness in the coming year.
The top four performers in the lifting competition not only receive accolades but walk away with part of the rice cake and certificates as their prizes. As one of the most significant events held at Daigo-ji temple, Godairiki-san brings together thousands of people each year for celebrations rooted in ancient customs that promise blessings of good health alongside a strong sense of community spirit.