Midtown Blossom: A Unique Hanami Experience
Experience a unique hanami celebration at Midtown Blossom, where the enchanting cherry blossoms and lively Tokyo Events in April create a memorable fusion of nature and culture.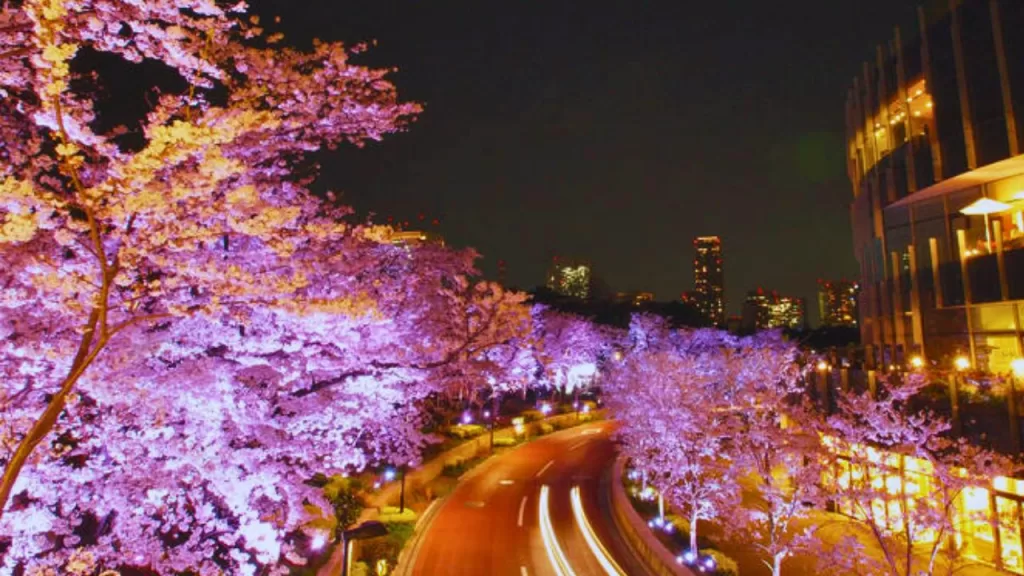 Partake in a unique Hanami that will etch an indelible experience in your heart this spring. Tokyo Midtown, ensconced in Roppongi, plays host to the annual Midtown Blossom event, a grand rendezvous for flower enthusiasts and revelers. Located around the Tokyo Midtown complex and amid the tranquil environs of Hinoki-cho Park, this event is set apart by its blend of outdoor and indoor venues, offering a panoply of enthralling activities.
Cherry Trees at Tokyo Midtown
The jewel in the crown is the 200-meter avenue lined with cherry trees at the Garden Area of Tokyo Midtown, which is unmistakably captivating. Illuminated by pink lights prior to blooming and white lights during full bloom, these trees add to the mesmerizing nightscape.
Merely gazing up at 140 cherry varieties is sure to stir emotions deep within. Delightfully, the Somei Yoshino stands out as an ardent belle among them all. If savoring fine food under a cherry blossom canopy piques your interest, it can be arranged as well. A selection of Tokyo MidTown's restaurants offers epicureans this unique experience.
The Singleton Blossom Lounge
One avenue for optimum Sakura-savouring is at The Singleton Blossom Lounge. Irresistibly alluring is its provision offering delicacies prepared by chefs from the neighboring Ritz-Carlton hotel. Exclusive spring-inspired cocktails imbued with sakura exquisiteness offer an intoxicatingly perfect spring libation (iced or hot, ¥1,000 each; mocktail ¥800).
Panini stuffed with meat and cheese (¥1,200), butter chicken and kidney bean curry (¥1,800), and basil seafood pasta (¥1,500), among other options, span their culinary variety. Sweets lovers are not left behind with dessert choices ranging from dreamy tiramisu accompanied by coffee jelly (¥1,200), cheesecake topped with fresh fruits (¥800) to chocolate-mousse cubes (¥750), and framboise donuts (¥650).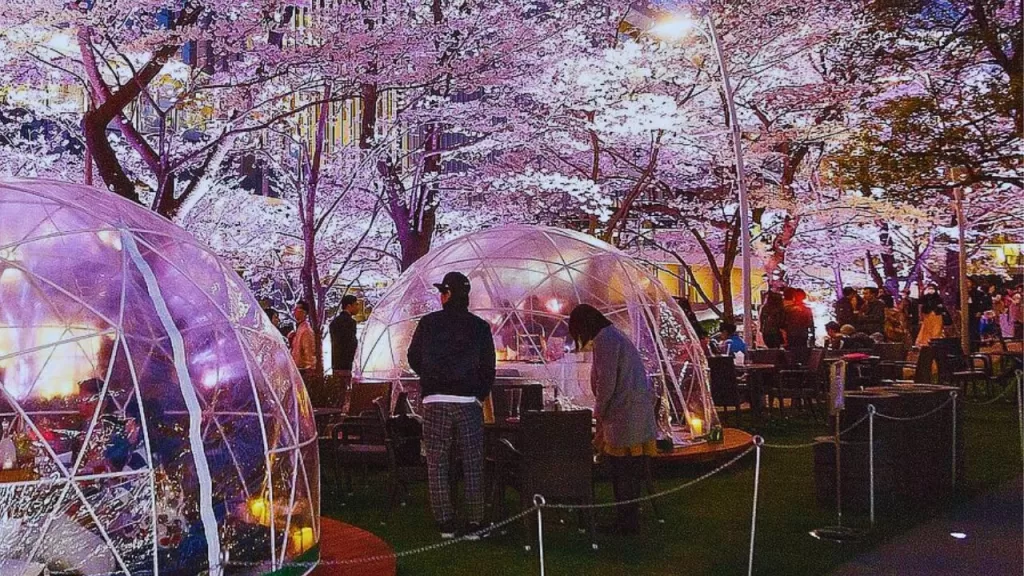 Sakura Viewing in Dome Tents
Amp up your Hanami experience by booking one of two dome tents set up exclusively for this event. Furnished with cozy sofas for comfort during your 90-minute session that needs to be booked on-site, it is priced at ¥7,000 per group. The package includes two drinks of choice alongside a charcuterie plate, truffle-flavored popcorn, and three delectable desserts from their menu.
The lounge opens its doors daily from 12 noon till 8 pm from Sunday through Thursday and extends until 9 pm on Fridays and Saturdays or when Sakura is in full bloom.
Artists' Spring Flower Displays
Lastly, do not miss out on taking a sneak peek at more spring flower displays on the first floor of Tokyo Midtown Galleria made by accomplished flower artists Takayuki Fukazawa and Naoki Mitarai. This event sends out invites from mid-March till mid-April 2024.
Despite what transpires elsewhere in Japan's sakura forecast or best spots' guide for late-night views, such as Yozakura events showings, Roppongi's annual Midtown Blossom event stands unrivaled, keeping abreast of cherry blossom season in classic Tokyo style.
Midtown Blossom offers a unique Hanami experience, where visitors can revel in the beauty of spring flowers at Showa Kinen Park while immersing in the vibrant Tokyo events in April.