Mt. Takao Beer Mount
Raise your glass and savor the breathtaking views of autumn foliage while indulging in a refreshing pint at the Mt. Takao Beer Mount, one of the must-visit Tokyo events in October, where you can enjoy a unique blend of nature's beauty and the lively atmosphere of Tokyo, making it an unforgettable experience that combines scenic splendor with the vibrant spirit of the city.
Located atop the popular hiking destination, Mt. Takao, at an elevation of 500 meters above sea level, is Mt. Takao Beer Mount. Known for its unbeatable combination of food, drinks, and ambiance, it is considered the highest beer garden in Tokyo. Presenting a unique concept of blending the pleasure of drinking and dining amidst nature, this establishment offers a supreme view of urban skyscrapers during the day and stunning stars at night.
An Array of Seating Options
Each seating area at Beer Mount provides a distinct atmosphere to the patrons, with terrace seats that boast expansive views, garden seats set in a woodland backdrop, and hall seats situated indoors for those preferring a less outdoor experience.
All-You-Can-Eat and Drink Buffet
Beer Mount employs an all-you-can-eat, all-you-can-drink system at a fixed price, attracting visitors to relish this gastronomic adventure enveloped by a serene natural setting. The drink menu includes draft beer from Japan's four major breweries—Asahi, Kirin, Suntory, and Sapporo along with wine, sake, shochu, highballs, sours, other cocktails, as well as non-alcoholic Monin cocktails and soft drinks for non-drinkers.
On the food front, the buffet-style setup boasts an assortment of at least 30 items round-the-clock featuring Hachioji ramen along with Hachioji Napolitan ketchup spaghetti mixed salad prepared from fresh Hachioji vegetables served with stone-oven baked pizza, gyoza fruitcake among others satisfying taste buds of every visitor.
Mark Your Calendars: Opening Dates
The Mt. Takao Beer Mount will be open for public visitation from June 15 to October 15, 2023, making it an ideal summer getaway. Visitors can enjoy this unique beer garden experience only during this period.
Easy Accessibility Post-Hiking
Neatly nestled on trail #1 post a ten-minute walk from Yakuo-in shrine, the garden is easily accessible to hikers who wish to rejuvenate their senses after an adventurous trudge on Mt. Takao. Visitors can also opt to reach the destination via a cable car that runs up Mt. Takao or take the chair lift followed by a short walk.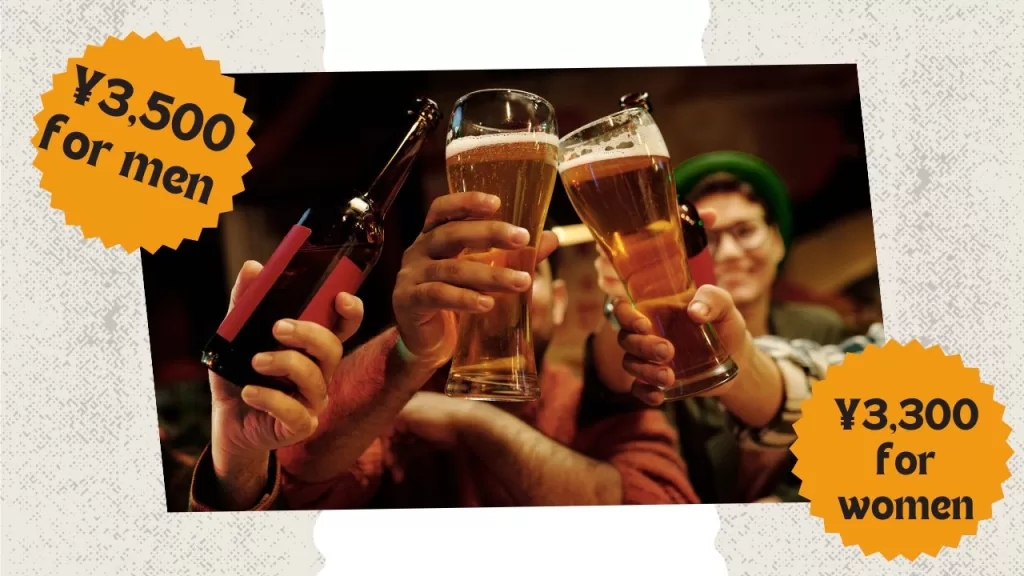 Prices and Timings
The entrance to the beer mount costs ¥3,500 for men and ¥3,300 for women providing them unlimited access to food and drinks for 90 minutes. An additional duration of 30 minutes can be availed by adding an extra ¥500 to their bill. Provisions are made for discounted prices for children while maintaining separate prices on weekdays (¥3,400) versus weekends (¥3,800) or holidays.
Operating in two-time slots: between 13:00-15:00 hours or between 15:00-19:00 hours; patrons are allowed to indulge their senses for 90 minutes inside these windows, enjoying panoramic views of Tokyo and Yokohama on clear days right through Sunset or into star-studded night skies accompanied by exquisite gourmet experiences.
How to Get There
Mt. Takao can be accessed from Takaosanguchi Station, situated on the Keio Takao Line, just an hour away from Central Tokyo; From Takaosanguchi station, trail up or take the cable car to Takaosan Station, which is closely located to The Beer Mount.
With such mesmerizing sights coupled with a delightful culinary journey, Beer Mount adds itself as a must-visit location during summer months, adding more value not only through its bonanza offer but also exposing its visitors to stunning vistas accentuated by lush landscapes amidst chilled craft beers personifying the natural beauty nestled in Japan.
"Elevate your Halloween celebration to new heights at the Mt. Takao Beer Mount, where you can revel in a spooky twist on the traditional beer garden experience, surrounded by the enchanting autumn scenery, while embracing the festive spirit of Shibuya Halloween, creating a thrilling and unforgettable fusion of frights, flavors, and panoramic views.