Unravel the Delights of Kyoto's Oldest Hanamachi at Kamishichiken Beer Garden
In a captivating fusion of tradition and entertainment, the Kamishichiken district opens its doors to the Kamishichiken Beer Garden, providing tourists and locals with a rare opportunity to interact with Kyoto's renowned geiko (geisha) and maiko (apprentice).
From July 1st to September 5th, this bustling beer garden creates an atmosphere buzzing with energy and brimming with cultural experiences. Located 30 minutes from Kyoto Station, the Kamishichiken area is known for having the oldest hanamachi (geisha district) in Kyoto.
Unique Cultural Experience at an Affordable Price
While encountering a geiko or maiko was typically limited to exclusive events or elite social circles, the Kamishichiken Beer Garden facilitates this experience at a fraction of the cost. Visitors can indulge in an open-air beer restaurant that is only operational during the summer season—making it one of Japan's must-visit summertime attractions.
With over 50 years of history as a beer garden and situated within a kaburenjo theater where geiko and maiko practice traditional performances, it's no wonder this establishment stands apart from the rest.
Immerse Yourself in Authentic Japanese Hospitality: Omotenashi
Japanese people are well-known for their outstanding hospitality, referred to as omotenashi. Guests at this unique beer garden are treated to exceptional service provided by approximately six maiko and geiko each night. They entertain visitors with rich stories and intricate cultural traditions while taking orders and serving refreshments.
Although they may not be fluent in English, these skilled artists exhibit delicate omotenashi—a language that transcends words and embodies Japanese culture.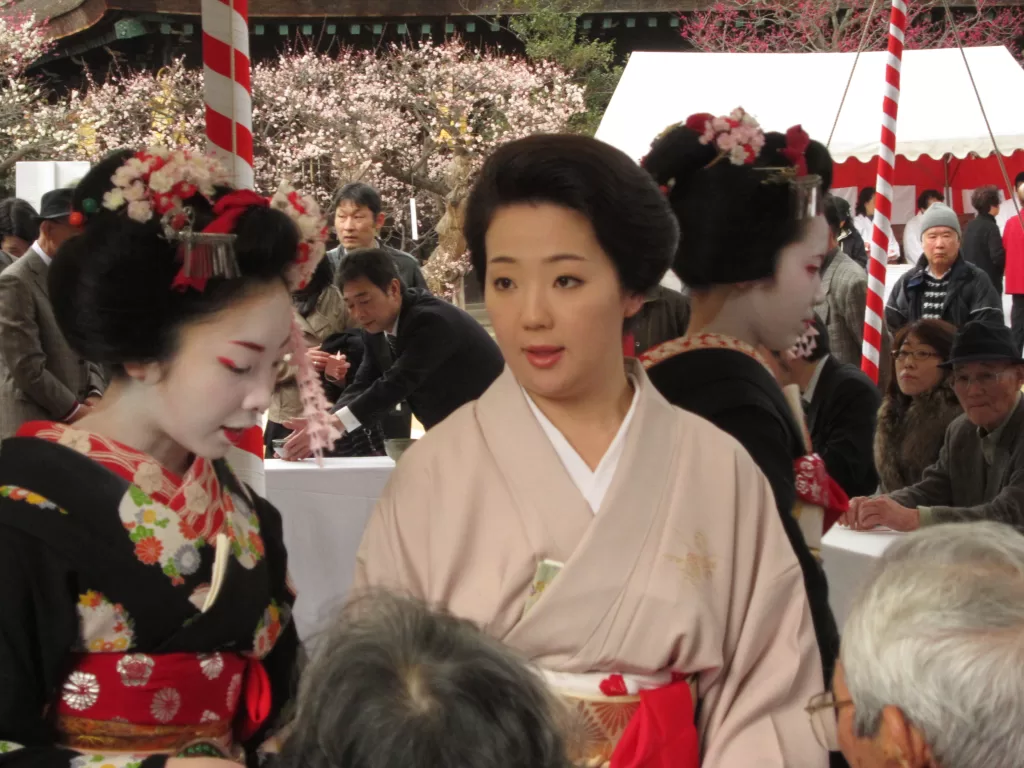 Witness the Unmasked Beauty of Kyoto's Elegant Artisans
The maiko and geiko at Kamishichiken Beer Garden offer a rare glimpse into their world, as they appear without their iconic white-painted faces but remain adorned in their traditional hair and attire. This allows for an intimate exchange between guests and these talented performers.
Pricing, Manner, and Tips for Enjoying Kamishichiken Beer Garden
Reservations can either be made in Japanese through a call to the Kaburenjō or by simply arriving during operating hours (around 5:30 pm to 10:00 pm) to check for free seats. The entrance fee is covered by a "Starter Set" costing around 2,000 yen, which includes a beer, with additional drinks and food available at their respective prices.
To ensure a pleasant experience for all, visitors are kindly reminded not to bring their own drinks or food into the beer garden.
Seize this Rare Opportunity
Don't let your visit to Kyoto slip by without experiencing this one-of-a-kind beer garden. It's definitely one of the best Kyoto events in August. With its inviting atmosphere, vibrant history, and close encounters with revered artists of the hanamachi, Kamishichiken Beer Garden promises an unforgettable summer night in Kyoto for all those who step inside.
If you've attended the enchanting Kyoto Gozan Okuribi, you can immerse yourself in the delightful ambiance of the Kamishichiken Beer Garden, where you can relish a refreshing drink and delectable appetizers while being attended to by geiko, maiko, and the graceful women of Kamishichiken