Nakameguro Sakura Matsuri
Discover the enchantment of Nakameguro Sakura Matsuri, a beloved event that graces the Tokyo Events in March, where the blooming cherry blossoms paint a picturesque landscape along the Nakameguro River.
Tokyo's famed Nakameguro Cherry Blossom Festival, popularly known as 'Sakura Matsuri,' is making a vibrant comeback after four years. Renowned for its breathtaking cherry blossoms, this annual event lies in the city's trendy quarters around the Meguro River. Although the festival dates occasionally change to align with full blooms, you can expect festive spirit from March 18 to April 9 this year.
The Cherry Blossoms' Exquisite Display
The return of Sakura Matsuri offers spectacular sights of almost 800 sakura trees lining both banks along the Meguro River, turning the riverside promenade into shades of white and pink.
The blooming starts around late March in Tokyo, although times vary yearly. The Japanese government releases an annual cherry blossom forecast in anticipation of spring.
Cherry blossom viewing, or 'hanami,' is a time-honored tradition in Japan that involves leisurely admiring beautiful trees. To experience hanami at its best, visit at sunset when lanterns naming local people and businesses make for an enchanting atmosphere.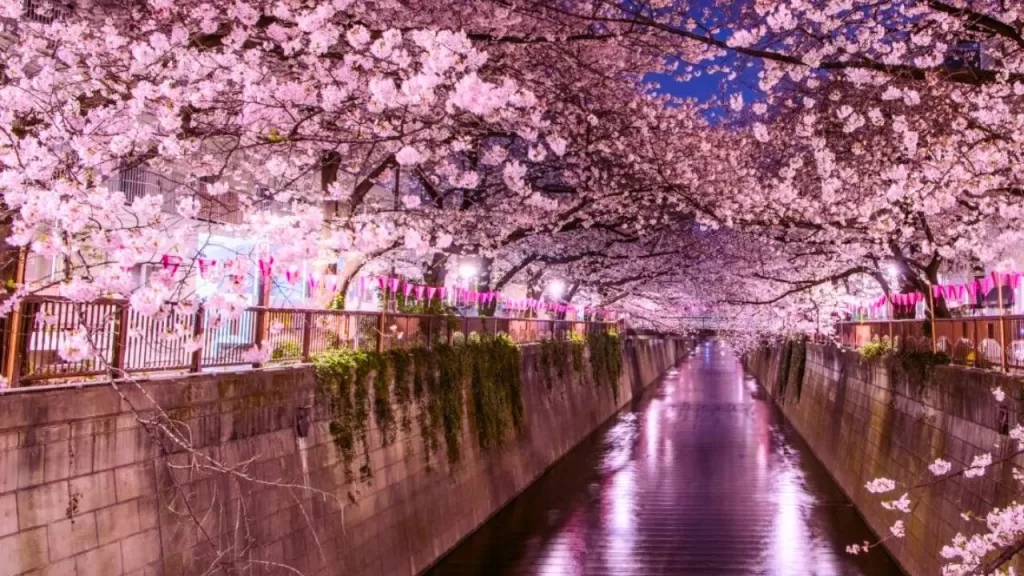 Nighttime Festivities at Nakameguro
After dark, Nakameguro takes on a magical character. Approximately one kilometer of Meguro River's 2.2-kilometer length gets bathed in twinkling lights turned on every evening from 5 pm to 8 pm*. An array of festive food and drinks adds to the night's allure.
Local restaurants and shops set up food stalls offering special treats such as the seasonal tri-colored sweet 'hanami dango.' Other eye-catchy offerings include glasses of sparkling wine paired with strawberries, sticks of candied fruits, and even heart-shaped churros.
Viewing Etiquette and Accessibility
Due to its popularity among locals and tourists alike, Nakameguro becomes highly crowded during cherry blossom season. As such, visitors are advised not to leave litter like food and beverage containers or obstruct traffic. Picnics under the trees and consuming food while walking are also discouraged.
Nakameguro Station on the Toyoko or Hibiya lines provides a convenient gateway to the river right outside. Those preferring more scenic routes along the river path or seeking quieter spots away from larger crowds can head southwest from Meguro Station.
Concurrent Events Not To Miss
This convergence of natural beauty and traditional culture makes for a unique spectacle that captures spring's charm in all its brilliance.
Experience the captivating beauty of Nakameguro Sakura Matsuri, where the delicate cherry blossoms dance alongside the ancient traditions of the Mt. Takao Fire Walking Festival, creating a mesmerizing fusion of nature and culture.