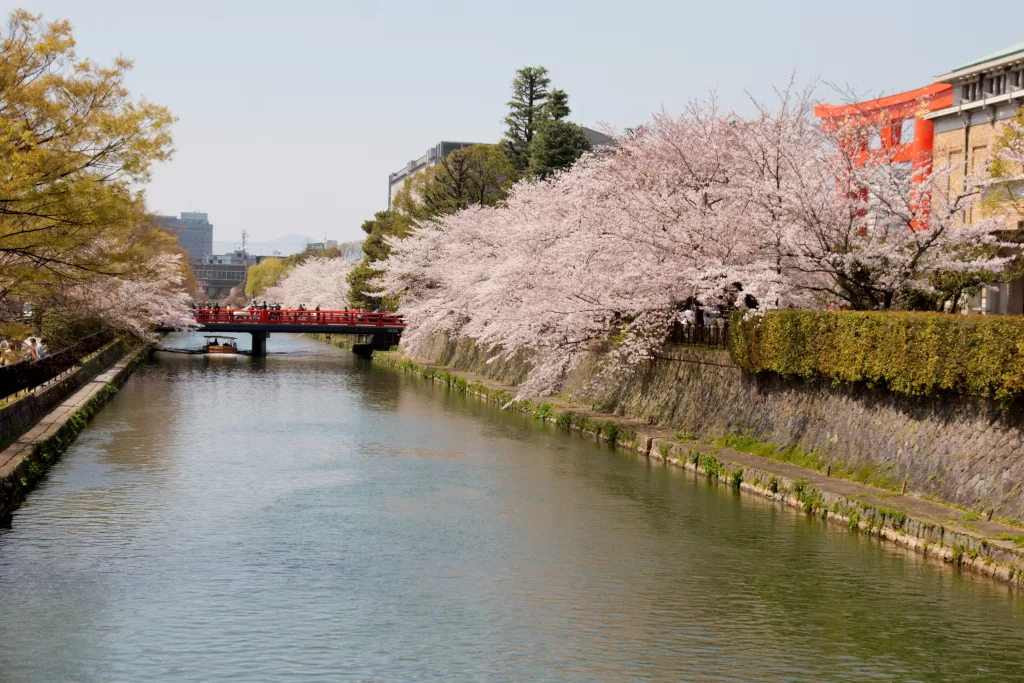 The Splendor of Okazaki Canal
Situated east of Kyoto, the Okazaki Canal is a renowned tourist attraction connecting Kamo River and Lake Biwa. Its enchanting stream runs along the revered Keage Incline and enigmatically forms an artificial border between the areas neighboring Mount Daimonji (to the north) and Higashiyama (to the south), each brimming with their unique attractions.
The canal is gracefully bordered by the resplendent spectacle of cherry trees which burst into bloom each early spring. Their breathtaking beauty offers visitors extremely pleasant walks or cruises that have become synonymous with the Okazaki experience.
Touristic Hotspot
Okazaki Canal has gained popularity among seasoned walkers who often embark on meticulously planned day-hikes from north to south between Mount Daimonji and Higashiyama. These walks include strategic stops around Okazaki, allowing visitors to soak up its tranquil natural beauty. Nevertheless, a majority of visitors prefer visiting both the Okazaki Canal and Heian-jingu shrine, especially drawn to the latter's tremendous torii which proudly gazes over the picturesque scenery of Okazaki Park. It's one of the most awaited Kyoto events in March.
Boat Cruises Along Okazaki Canal
One of the most sought-after experiences on Okazaki Canal is its boat cruises, running a three-kilometer stretch along this magnificent watercourse.
Daytime Boat Ride
Embarking from Nanzen-ji Boat Pier, boat rides traverse through Lake Biwa canal, painting luscious snapshots of sakura trees that line the canal in lively colors. These boat rides provide both locals and tourists an opportunity to re-live an important aspect of everyday life in Kyoto's past as they indulge in relaxing sight-seeing tours. The 1.5 km journey to Ebisu Dam and back culminates into a 25-minute caper packed with awe-inspiring sights including majestic views of Heian Shrine's torii gates.
While these rides were once part of normal life for Kyoto residents, today they operate mainly for tourists' delight during restricted periods annually. We heartily recommend adding this stunning boat ride to your itinerary when visiting Kyoto for a picture-perfect experience.
During daytime cruises, cherry blossoms serve as beautiful frames for your photographs. Alongside incredible views offered by this ride, popular tourist spots such as National Museum of Modern Art, Kyoto Municipal Museum, and Heian Shrine surround the area forming part of Okazaki's captivating allure.
Nighttime Boat Ride
During cherry blossom season or "Ohanami period," special nighttime boat rides offer another enchanting perspective on this impressive spectacle. Illuminated cherry blossoms create an ethereal atmosphere presenting an unforgettable sight until 8:30pm (departure time). However, these unique night cruises operate only when cherry trees are in bloom evoking bewitching scenes for every visitor.
Cherry Blossom Season along Okazaki Canal
Cherry blossom season or hanami arouses countless ways to relish its splendor in Kyoto—from blossom viewing picnics to peaceful strolls along Kamogawa River and enchanting boat rides down the Okazaki canal lined with hundreds of sakura trees.
Furnished with traditional-style boats named jikkokubune during "ohanami," these boats depart every fifteen minutes from Nanzenji Boat Pier for a twenty-five minute round-trip canal cruise. Such is their popularity, they've become one integral way Kyoto celebrates hanami displaying mesmerizing springtime hues beneath a blanket of blooming cherry blossoms.
Regardless if you choose day or night trips, or simply decide to enjoy a peaceful stroll around, experiencing the seasonal beauty around Okazaki should undoubtedly be on every visitor's list when visiting Japan's old capital—Kyoto.
Love to experience the enchanting beauty of Kyoto? Take advantage of the captivating Higashiyama Hanatoro. It's another remarkable event taking place in March.