The Magic of 900,000 Champagne-Coloured LED Lights
Experience the magical atmosphere of Tokyo's festive season with the mesmerizing Omotesando Illumination, one of the enchanting Tokyo Events in December.
The Omotesando illumination, one of Tokyo's most anticipated light-up shows, unveils its array of lights again this year. 900,000 champagne-colored LED lights are set to illuminate the 154 zelkova trees lining the stretch between the Jingumae and Omotesando crossings.
Access Details and Dates
Visitors can easily access the beautifully lit streets just a short walk from Omotesando/Meijijingu/Harajuku Station. Mark your calendars: the display will light up the city from 1 to 29 December 2022, creating the quintessential wintery atmosphere in Tokyo.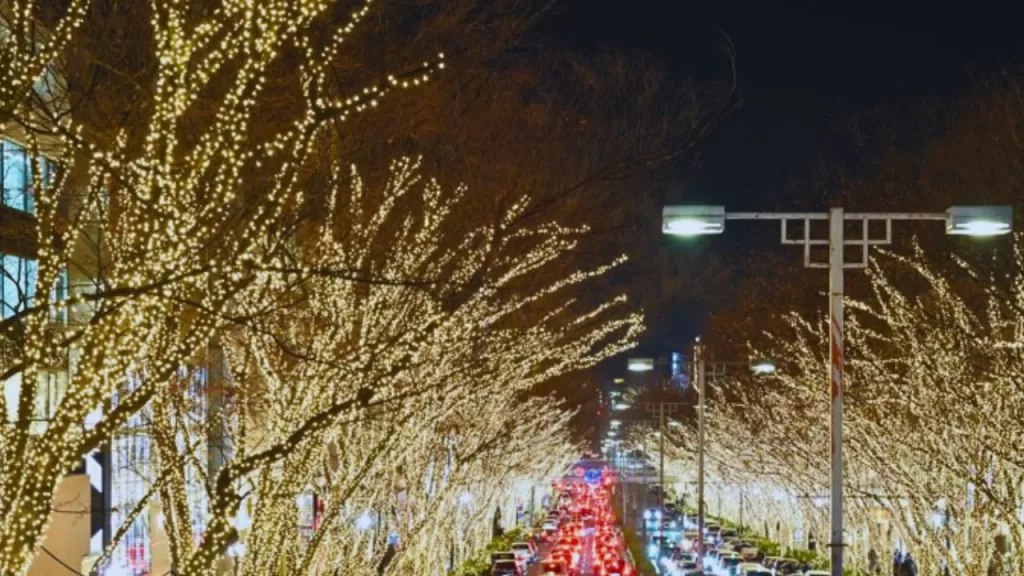 Distinctive Features
Unlike other competing illuminations in Tokyo that incorporate all sorts of bells and whistles each year—most notably at Tokyo Midtown—the Omotesando Illumination prefers to maintain a more restrained approach. This charm and balance add to the distinctive character of this historical area combined with its stylish, quirky backstreets.
The zelkova trees along Omotesando dori are reminiscent of those portrayed in Haruki Murakami's literary works. Full of romance under their gentle glow, these trees line up across wide sidewalks packed with couples and style-savvy individuals keen on fashion.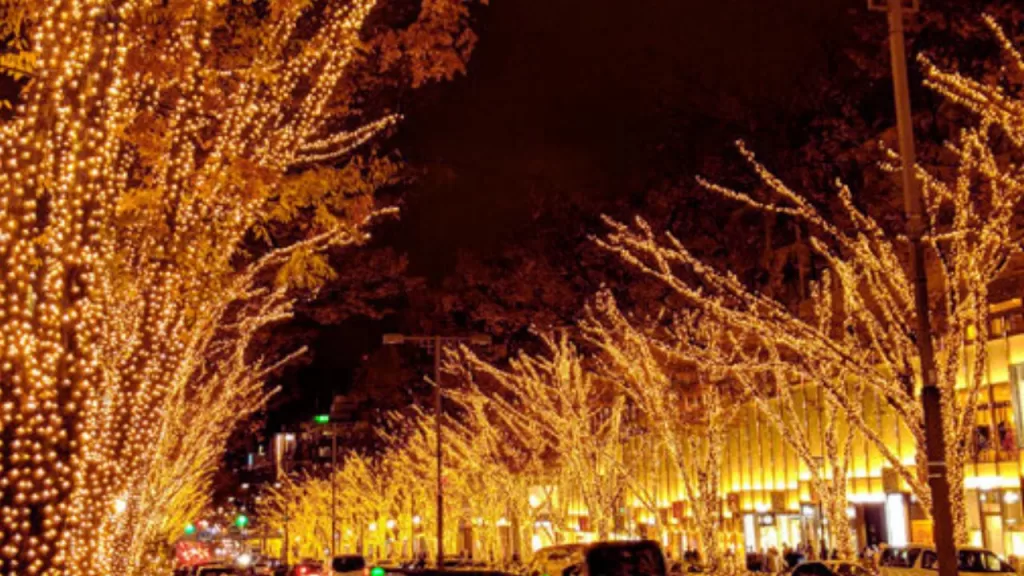 The Omotesando Experience
Omotesando is a renowned three-avenue lane in the central Tokyo district, Harajuku, making it an oasis for high-end fashion. Home to numerous boutique outlets by various mainstream fashion houses, it attracts chic locals and foreign fashion connoisseurs. Among these establishments is "Tokyu Plaza Omotesando Harajuku"—a six-level department store brimming with a collection of luxury brands and contemporary architecture—a true haven for fashion enthusiasts.
Winter Romance at Tokyu Plaza Omotesando Harajuku
Open from early November until late December 2023, Tokyu Plaza is another reason to venture into this fashionable arena. Adding spectacle to blissful wintertime in Japan is a beautiful public terrace known as "Omohara's Forest" residing atop Tokyu Plaza, which provides an idyllic date spot amidst the urban expanse of Tokyo's Harajuku district. An idyllic scene unfolds every winter when the terrace transforms into an enchanting sight featuring unique illumination and hanging light balls that resemble snowballs.
A Fashion Paradise meets Winter Wonderland
According to Michael, a student at Nihon University, "I'll admit that it is pretty. I can understand why there're so many young couples here… However, I don't think I'd bring a girl on a date to the roof." Besides dazzling lights, visitors can find cozy sitting locations for public and semi-private gatherings and even swings scattered across the wooden deck covering the rooftop.
To further your experience, why not buy a cup of freshly brewed coffee from Starbucks on the same floor? Enjoy your hot beverage while soaking in panoramic views from above; there's no better way to embrace Christmas on this exhilarating night.
How To Get There
Strategically located just four minutes from JR Yamanote Line's Harajuku Station by foot and a minute from Exit 5 of Meiji-jingle Station on the Chiyoda/Fukutoshin Line—Tokyu Plaza remains conveniently accessible for keen shoppers. Alternatively, you can take a seven-minute walk from Exit A2 of Omotesando Station on the Chiyoda/Hanzomon/Ginza Line. Be sure not to miss out on this sought-after illumination by visiting from sunset between 8:00 am till 11:00 pm!
Be dazzled by the breathtaking Omotesando Illumination, featuring a stunning display of the Odaiba Rainbow Fireworks.