Embark on a unique family adventure by hopping on a life-sized Thomas the Tank Engine train, running through the scenic Shizuoka prefecture in Japan. This unique experience, known as "Day Out With Thomas," offers an enjoyable and nostalgic atmosphere for children and adults alike. Get ready to learn more about this magical train ride and how you can join Thomas and his friends.
💡Pro Tips:
The train runs on a set schedule, so it is important to check the times before you go.
There are a number of activities available at Senzu Station, including a Thomas the Tank Engine museum and a playground.
The train ride is a popular tourist destination, so it is advisable to book your tickets in advance (use Google translate for English readers)
Tickets are so popular there is actually a lottery system (Google translated here)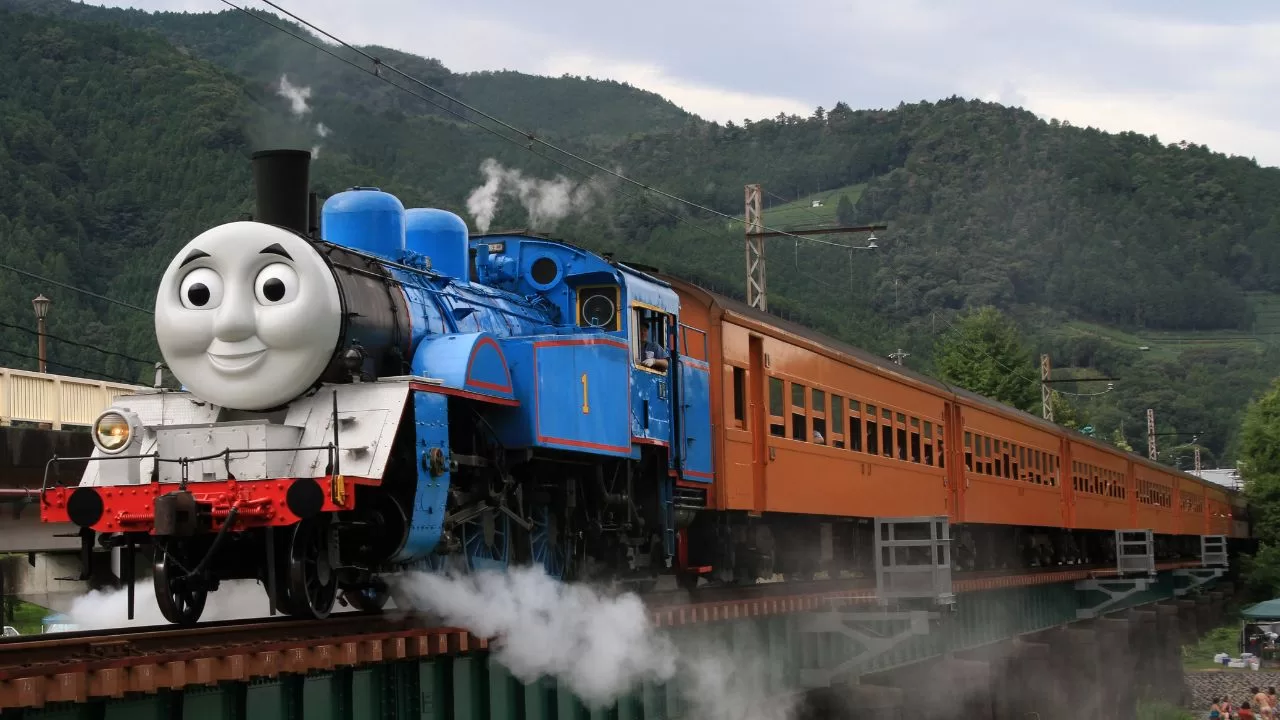 Located Between Tokyo and Kyoto
As you embark on your journey from Tokyo to Osaka or Kyoto, make sure to plan a pit stop at the enchanting Real Thomas the Tank Engine train ride in Shizuoka. This delightful attraction brings the beloved world of Thomas and his friends to life, captivating both children and adults alike.
Step into the nostalgic setting of the original Thomas the Tank Engine stories and board the vibrant blue train, where you'll be greeted by cheerful staff dressed as the beloved characters. The immersive experience takes you on a whimsical ride through picturesque landscapes, allowing you to soak in the stunning views of the Shizuoka region.
How to get to the Real Thomas the Tank Engine Train Ride in Shizuoka from Tokyo
Here are the steps on how to get to the Real Thomas the Tank Engine train ride in Shizuoka from Tokyo:
Take the JR Tokaido Shinkansen from Tokyo Station to Shizuoka Station. The journey takes about 50 minutes.
From Shizuoka Station, take the JR Tokaido Line to Kanaya Station. The journey takes about 20 minutes.
From Kanaya Station, take the Oigawa Railway to Shin-Kanaya Station. The journey takes about 10 minutes.
Thomas the Tank Engine departs from Shin-Kanaya Station and travels to Senzu Station. The journey takes about 70 minutes.
The total travel time from Tokyo to Shin-Kanaya Station is about 1 hour and 40 minutes. The train fare is ¥3,400 for adults and ¥1,710 for children.
The Day Out With Thomas Experience
All Aboard the Friendly Blue Train
As you board the real-life replica of Thomas the Tank Engine, prepare to be welcomed by its friendly whistle. The train operates on the Oigawa Main Line, following a picturesque route between Shin-Kanaya Station and Senzu Station. Along with sightseeing in various beautiful landscapes, riders will also enjoy engaging activities throughout their journey.
Meet Thomas' Locomotive Friends
At Senzu Station, don't miss the Thomas Fair—a chance to meet characters from the beloved TV show, such as Hiro and Percy. They'll be waiting at themed display areas where you can capture memorable moments with your favorite locomotives!
Explore the Maintenance Factory
Your adventure doesn't end when the train stops! At Shin-Kanaya Station, take some time to explore Thomas' Maintenance Factory. Here, learn how these unique trains are cared for and maintained, giving riders a deeper appreciation for this extraordinary experience.
Onboard Dining and Souvenirs
Feast on Exclusive Bento Boxes

What better way to enjoy your train ride than savoring specially designed Thomas-themed bento boxes? These delightful lunch options are available at Shin-Kanaya Station before boarding—just remember to grab one! The bento boxes feature an assortment of delicious treats inspired by your favorite characters.
Souvenirs You Won't Find Elsewhere

Twinkling souvenir carts will tempt you with exclusive merchandise available on the train. From toys to souvenir items, you'll find countless memorable keepsakes to cherish for years!
How to Make Your Reservation
Although the website is primarily in Japanese, tickets for this extraordinary experience can be reserved through the official Lawson ticketing website. Adult fares are priced at ¥6,600 ($61), while children's tickets cost ¥3,060 ($29) round trip.
International Travelers and Residents in Japan
Please note that Day Out With Thomas is primarily marketed towards the Japanese domestic market. Foreign residents living in Japan can still purchase tickets through Lawson Ticket. However, keep in mind that their website is available in Japanese, but some English versions are also availble.