Today's Mailbag question comes from Tina, who asks:
"My husband and I are hoping to visit Japan in 2024. We want to travel around and see some of the stunning nature and more off the beaten track sites. I've seen some of your facebook posts which all look really interesting. I wondered if you might have any rough itineraries that would help get me started with my planning? We haven't decided yet whether to go in April to see the cherry blossoms or October/November to see the fall colours. Either way we hope to stay 4-6 weeks and incorporate some kayaking in the southern islands. Any advice you could offer would be appreciated!"
This is a great question that many travelers struggle with when planning a multi-week trip to Japan. The country has so much to offer across its islands, from bustling cities like Tokyo and Osaka to quiet mountain villages and tropical southern isles. Planning where to go and for how long can be daunting.
In this article, we'll provide sample 4-6 week itineraries for both the cherry blossom season in April and the fall foliage season in October/November. Both itineraries focus on seeing stunning natural landscapes, exploring off-the-beaten-path sites, and incorporating kayaking opportunities in southern Japan.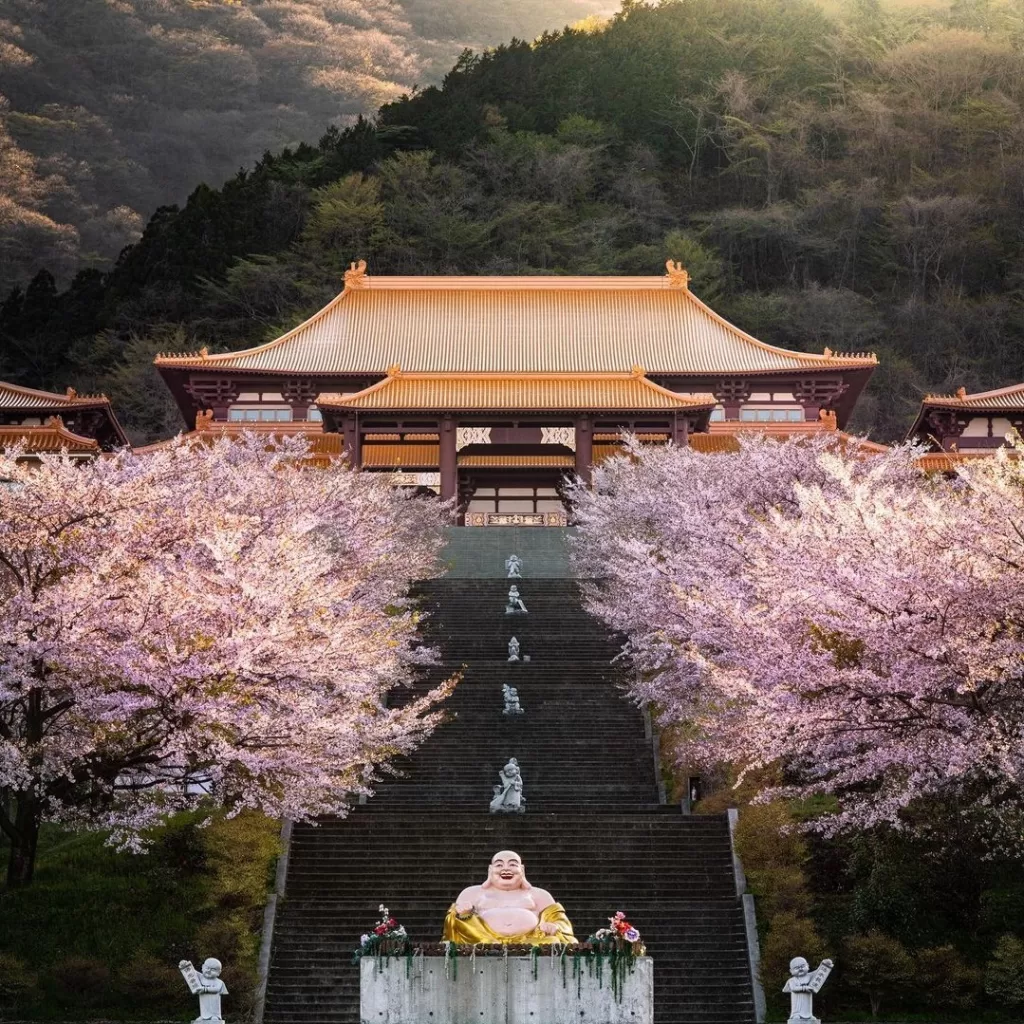 Sample April Itinerary for Cherry Blossom Season
The cherry blossom season in April is one of the most popular times to visit Japan. Here is a sample itinerary to see the sakura blooms and other sights over 4-6 weeks:
Tokyo and Nearby Areas
Spend your first week exploring Tokyo and its surroundings. See the cherry blossoms in parks and gardens around the city. Take a day trip to Kamakura or Nikko to enjoy the pink blooms against ancient temple backdrops.
Head west to the Fuji Five Lakes region to see the cherry blossoms with Mt. Fuji in the backdrop in mid-to-late April. Hire a car or take buses to visit the different lakes dotted with sakura trees.
Northern Japan
Travel up north to Aomori and Akita prefectures during your second week. Visit Hirosaki Park, home to over 2,600 cherry trees with ancient Hirosaki Castle looming above.
In Akita, explore the well-preserved samurai district and historic homes of Kakunodate, lit up beautifully for the cherry blossom festival.
Central Japan
Spend your third week discovering central Japan's sakura spots. Visit Nagoya and surrounding areas like Gifu and Nagano. See the cherry blossoms against the thatched roof houses of Shirakawa-go, a UNESCO World Heritage Site.
Kyoto, Osaka, and Nara
Move on to Kansai region for week four to see temples, shrines, and parks filled with delicate pink sakura. Wander through Kyoto's Philosopher's Path and Maruyama Park, or take a boat under cherry-lined canals in Nara. Don't miss Osaka Castle's thousands of cherry trees.
Southern Japan
Finally, fly south for weeks five and six to enjoy nature and kayaking. Spend several days hiking and paddling around Yakushima Island's lakes and rivers surrounded by ancient cedar forests.
Then island hop to Okinawa and nearby isles like Ishigaki and Iriomote for swimming, snorkeling, and sea kayaking adventures. The subtropical islands offer a perfect end to your cherry blossom adventure.
Sample October/November Itinerary for Fall Foliage
For bright fall colors instead of spring blooms, follow this itinerary across Japan in the autumn:
Tokyo and Nearby Areas
As in spring, begin by exploring Tokyo for the first week. Rather than sakura, see golden ginkgo trees throughout the city and crimson maples in gardens and parks. Take a day trip to Nikko to see Toshogu Shrine with vibrant foliage.
Head to Mt. Fuji and the Five Lakes area again, this time to see blazing fall colors reflected on the calm waters. Hakone and Hakuba Valley are also beautiful places to see in autumn.
Northern Japan
Go north to Aomori and Akita again during week two, but this time for fall. See thousands of maple trees turn vivid red against the ruins of Hirosaki Castle. Kakunodate's samurai district glows with orange lanterns for the autumn festival.
Central Japan
Travel to central Japan in week three to see fall foliage at cities like Nagoya and Matsumoto. Visit historic villages like Shirakawa-go lit up in autumnal hues. Hike trails through bright yellow ginkgo and maple forests.
Kyoto, Osaka, and Nara
Head south again for week four to see ancient temples and forests ablaze with fall colors in Kyoto, Osaka, and Nara. Take walks along nature paths like the Philosopher's Path dressed in red, orange, and yellow.
Southern Japan
Spend weeks five and six enjoying southern island activities again. Hike through Yakushima's mossy forests turned golden and crimson in autumn. Paddle around Okinawa's islands and along Ishigaki's emerald coastline.
The mild weather still allows for swimming and snorkeling amidst the fall colors by the sea. It's a relaxing way to end your fall foliage adventure.
Customizing Your 4-6 Week Japan Itinerary
These two sample itineraries offer just a starting point for planning a 4-6 week cherry blossom or fall foliage trip in Japan. You can customize them based on your own interests and the amount of time you have.
Perhaps spend an extra week in Kansai or Hokkaido's countryside. Add more hiking and outdoor activities like surfing or skiing. Check specific bloom forecasts for sakura and autumn leaves to optimize your dates in each region.
Best Time to Visit Japan for Different Types of People
Japan is a beautiful country with a rich culture and stunning natural landscapes. One of the most popular times to visit is during the cherry blossom season in April or the fall foliage season in October and November. Let's explore the pros and cons of visiting Japan during these seasons and discuss which type of traveler might prefer each season.
Cherry Blossom Season (April)
Pros
Witness the breathtaking cherry blossoms: The main attraction of visiting Japan in April is the chance to see the beautiful cherry blossoms in full bloom.
Pleasant weather: April generally has mild temperatures and low humidity, making it a comfortable time to explore the country.
Festivals and events: Many cherry blossom festivals and events take place during this time, offering unique cultural experiences.
Cons
Crowded tourist spots: Cherry blossom season is a popular time for both domestic and international tourists, which can lead to crowded attractions and accommodations.
Higher prices: Due to the increased demand, flight and accommodation prices may be higher during this season.
Who would love the cherry blossom season?
Nature lovers: Those who appreciate natural beauty and want to experience the iconic cherry blossoms in Japan.
Photographers: The cherry blossoms provide a stunning backdrop for photography enthusiasts.
First-time visitors: If this is your first time visiting Japan, experiencing the cherry blossoms can be a memorable highlight of your trip.
Fall Foliage Season (October/November)
Pros
Vibrant fall colors: The autumn foliage in Japan is a stunning sight, with vibrant reds, oranges, and yellows adorning the trees.
Comfortable weather: October and November offer mild temperatures and lower humidity, making it a pleasant time to explore the country.
Fewer crowds: While still a popular time to visit, the fall season tends to be less crowded than the cherry blossom season.
Cons
Unpredictable weather: October can sometimes be rainy, and the weather can be more unpredictable than in April.
Shorter daylight hours: As the days get shorter, there may be less time to explore outdoor attractions.
Who would love the fall foliage season?
Nature lovers: Those who appreciate the beauty of autumn foliage and enjoy exploring the outdoors during this colorful season.
Hikers: Fall is an excellent time for hiking in Japan, with comfortable temperatures and stunning scenery.
Travelers seeking a more relaxed experience: If you prefer to avoid the crowds and higher prices of the cherry blossom season, the fall foliage season may be a better fit.
Both the cherry blossom and fall foliage seasons offer unique experiences and stunning natural beauty. The best time to visit Japan ultimately depends on your personal preferences and interests. Whether you choose to visit during the cherry blossom season in April or the fall foliage season in October and November, you are sure to have an unforgettable experience in this beautiful country.
Mailbag: Submit Your Questions:
At Japan Insides, we love getting questions from readers planning trips to Japan. Our Mailbag section allows readers to submit questions about their upcoming visits to Japan at [email protected].