The Significance of the Festival
Experience the Heart-Pounding Energy of Tokyo Events in August: Dive into the Exhilarating Yo Fukagawa Hachiman Matsuri, a Dynamic Festival That Showcases the Cultural Essence of Japan.
Yo Fukagawa Hachiman Matsuri, celebrated in mid-August, is one of Tokyo's three biggest Edo festivals. The other major festivals are the Sanja Matsuri and Kanda Matsuri. It is known as mizu-kake matsuri or the "water throwing festival," it features participants and spectators dousing mikoshi(portable shrines) with water. This exciting and unique event occurs at the Tomioka Hachiman-gū shrine located in Monzen-nakacho district, Tokyo.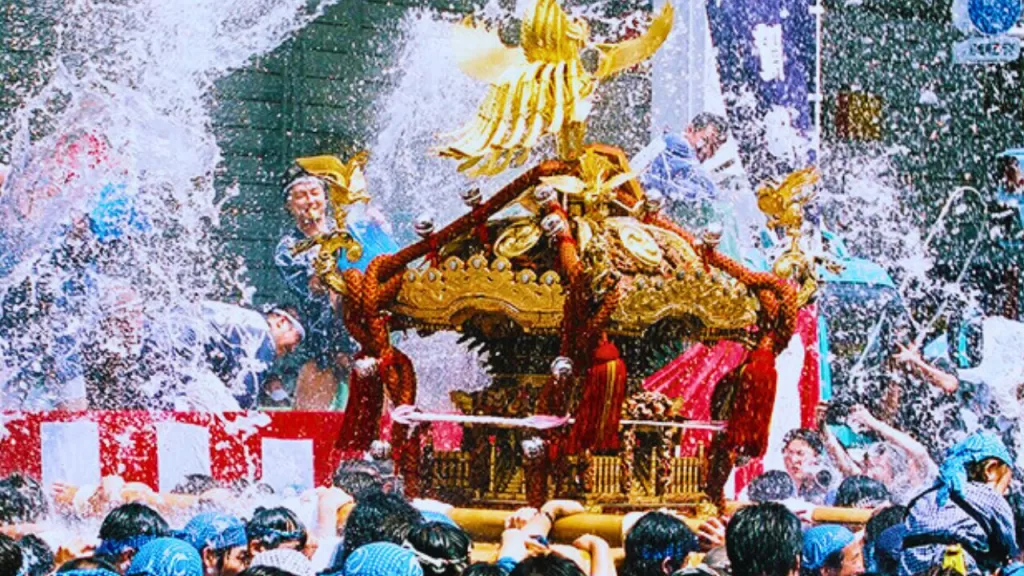 The Celebrations and Parade
The annual festival revolves around a five-day celebration that includes taiko drumming, koto music, and dance performances. While the event is held yearly, a special Hon-matsuri is celebrated every three years (2023, 2026, etc.). During this occasion, over 50 mikoshi are carried through the streets by local shopkeepers, firefighters, children, parents, and older adults.
On Sundays of the festival week, there's a parade of sacred mikoshi portable shrines for people to admire. In addition to the celebration at Tomioka Hachimangu shrine, food stalls are set up nearby at Naritasan Fukagawa Fudodo temple for attendees to enjoy skewers and fresh drinks until nightfall.
The Heaviest Mikoshi in Kanto Region
Tomioka Hachiman-gū shrine hosts an impressive 4.5-ton mikoshi, the heaviest known throughout the Kanto region. Decorated with diamonds, sapphires, and rubies, this incredible sight is worth over a billion yen. Due to its immense weight and value, it remains on display at the shrine instead of being carried in the streets.
Water Throwing Tradition
Yo Fukagawa Hachiman Matsuri is a Mizukake Matsuri in Japan, where spectators drench mikoshi carriers with water to purify them. In doing so, they provide a fun and refreshing experience to everyone in attendance, especially under the scorching August heat. The neighborhood firefighters and local police officers also join the festivities, directing their water hoses toward mikoshi carriers playfully and responsibly.
Getting To The Festival
To witness this spectacular event, visitors must head towards Tomioka Hachiman-gū shrine, accessible by Monzen-nakacho Station, Kayabachō Station, or Kiba Station. It's important to note that due to the significant crowds during this festival, it's best suited for people comfortable in such an environment.
Conclusion
The Yo Fukagawa Hachiman Matsuri mixes tradition and excitement as it gathers people of all ages to celebrate and enjoy its playful atmosphere. This great water-throwing festival creates unforgettable memories while demonstrating Tokyo's colorful heritage and customs.
From Yo Fukagawa Hachiman Matsuri to Azabu Juban Noryo Festival: Celebrate the Essence of Summer with Two Unforgettable Tokyo Events in August.