Biwako Onsen is an area located in Shiga Prefecture, east of Kyoto, that is known for its scenic views of Lake Biwa and numerous hot spring resorts and ryokans. With easy access from Kyoto Station, Biwako Onsen provides the perfect spot for travelers looking to unwind and experience traditional Japanese accommodation.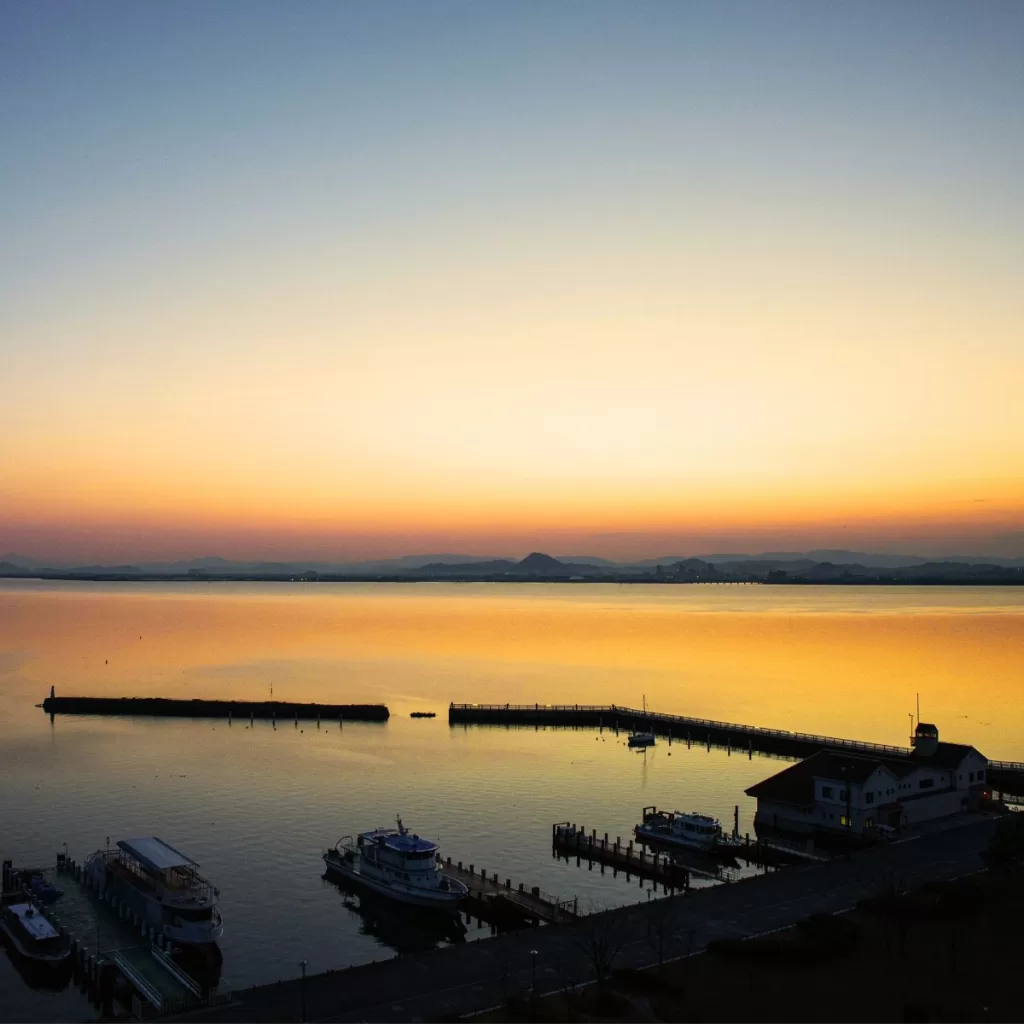 Lake Biwa
Lake Biwa (Biwako) is the largest freshwater lake in Japan and is referred to as the "Mother Lake". It covers an area of 670 km2 and provides water to around 15 million people in the Kansai region. The lake is located near the cities of Otsu, Hikone, Nagahama and Sakamoto in Shiga Prefecture. Biwako offers beautiful scenery with views of surrounding mountains such as Mt. Ibuki and Mt. Hiei.
Popular activities on Lake Biwa include boating, windsurfing, fishing, and visiting islands like Chikubu Island and Takeshima Island by ferry. The lake also has over 50 hot springs, called Biwako Onsen, dotted along the perimeter.
Accessing Biwako Onsen
Biwako Onsen is easily accessible from Kyoto. The JR Tokaido Main Line runs from Kyoto Station to Otsu and Hikone Stations, taking just 15-20 minutes. The Tokaido Shinkansen bullet train also stops at Maibara Station, just north of Otsu.
Once arriving at Otsu or Hikone Stations, visitors can take local trains on the JR Kosei Line to reach Ogoto Onsen Station, a hub station in the Biwako Onsen area. The trip from Kyoto Station to Ogoto Onsen Station takes about 50 minutes one-way.
Top Ryokans in Biwako Onsen
Biwako Onsen is home to many traditional ryokans and hotels with hot spring baths overlooking Lake Biwa. Here are some of the top accommodations in the area:
Biwako Hanakaido
Biwako Hanakaido is a luxurious ryokan with indoor and outdoor baths filled with spring water from Ogoto Onsen. Guest rooms feature tatami flooring and futon bedding, providing a traditional Japanese feel. The ryokan offers multi-course kaiseki meals made with seasonal ingredients like Omi Beef from Shiga Prefecture. Biwako Hanakaido provides relaxing views of Lake Biwa in a tranquil setting.
Biwako Ryokusutei
Overlooking Lake Biwa, Biwako Ryokusutei provides guests with private open-air baths on the balcony of certain guest rooms. There is also a large public bath to enjoy. Known for its excellent cuisine, Biwako Ryokusutei serves French-inspired kaiseki using the freshest local ingredients. The surrounding area offers sightseeing opportunities like Mt. Hieizan Enryakuji Temple.
Yumotokan Hotel
Yumotokan Hotel offers a modern take on a traditional ryokan, with tatami mat rooms equipped with flat-screen TVs and other amenities. Each room has a hinoki cypress tub filled with hot spring water from Ogoto Onsen. Guests can soak in indoor and rooftop baths while admiring views of Lake Biwa and the mountains. The hotel has shuttle buses to sights like Fushimi Inari Shrine.
Hotel Yuzanso
Hotel Yuzanso provides a peaceful retreat with Japanese-style rooms and onsen baths overlooking Lake Biwa. Some rooms have open-air baths on the balcony. There are also gender-separated indoor baths and private family baths available for rental. The surrounding area offers outdoor activities and visits to temples like Hieizan Enryakuji Temple.
Dantoukan Kikunoya
Dantoukan Kikunoya is a pet-friendly ryokan with modern twists on traditional design. Guests can relax in the public baths and enjoy dining featuring seasonal ingredients. The ryokan offers easy access to area highlights like Miidera Temple.
Things to Do in Biwako
In addition to onsen bathing, the Biwako Onsen area offers many things to see and do:
Hike Mount Hiei and visit the UNESCO World Heritage Site Enryakuji Temple
Walk through the temples and gardens of Miidera Temple
Explore Hikone Castle, an original castle complex
See Lake Biwa sights like Sakamoto Castle Ruins by cruise or water bus
Try activities like fishing, cycling, golfing and paragliding around the lake
Sample local cuisine like Omi Beef, Hikone Cha (tea), and funazushi (fermented crucian carp)
Relax in open-air baths while admiring Lake Biwa views
With scenic lake views, rejuvenating hot springs, and cultural sights, Biwako Onsen provides the ideal location to experience the natural beauty of Shiga Prefecture and the traditional side of Japan. Its proximity to Kyoto makes it an easy day trip or weekend getaway for travelers looking to unwind surrounded by nature.
If you enjoy soaking in the open-air baths, you may want to experience the steaming multi-colored hot springs surrounded by nature in Yufuin Onsen, Oita.
FAQ
1: What is Biwako Ryokusuitei?
Biwako Ryokusuitei is an onsen ryokan located on the west bank of Lake Biwa in Shiga Prefecture, Japan. It offers a tranquil and relaxing environment with beautiful lake views.
2: What is an onsen ryokan?
An onsen ryokan is a traditional Japanese inn that has hot spring baths. These inns offer a unique experience where guests can enjoy the healing properties of thermal waters while experiencing Japanese hospitality.
3: How far is Biwako Ryokusuitei from Otsu City?
Biwako Ryokusuitei is located in Otsu City, Shiga Prefecture. It is situated on the bank of Lake Biwa, approximately a 20-minute train ride from Ogoto-Onsen Station.
4: Does Biwako Ryokusuitei have open-air hot springs?
Yes, Biwako Ryokusuitei has open-air hot spring baths where guests can enjoy a relaxing soak while taking in the beautiful views of Lake Biwa.
5: What are the amenities provided by Biwako Ryokusuitei?
Biwako Ryokusuitei offers various amenities, including spacious rooms with open-air baths, yukatas (Japanese robes), a sauna, and a front desk that provides assistance to guests.
6: Is there a restaurant at Biwako Ryokusuitei?
Yes, Biwako Ryokusuitei offers a dining experience where guests can enjoy delicious dinner and breakfast prepared using local ingredients.
7: Does Biwako Ryokusuitei provide a free shuttle service?
Yes, Biwako Ryokusuitei provides a free shuttle service for the convenient transportation of its guests.
8: Can I see Lake Biwa from Biwako Ryokusuitei?
Yes, Biwako Ryokusuitei offers stunning views of Lake Biwa, allowing guests to enjoy the beauty of the lake throughout their stay.
9: What attractions are there near Biwako Ryokusuitei?
Near Biwako Ryokusuitei, guests can explore the Bank of Lake Biwa, take a train ride to Otsu City, and visit other nearby attractions