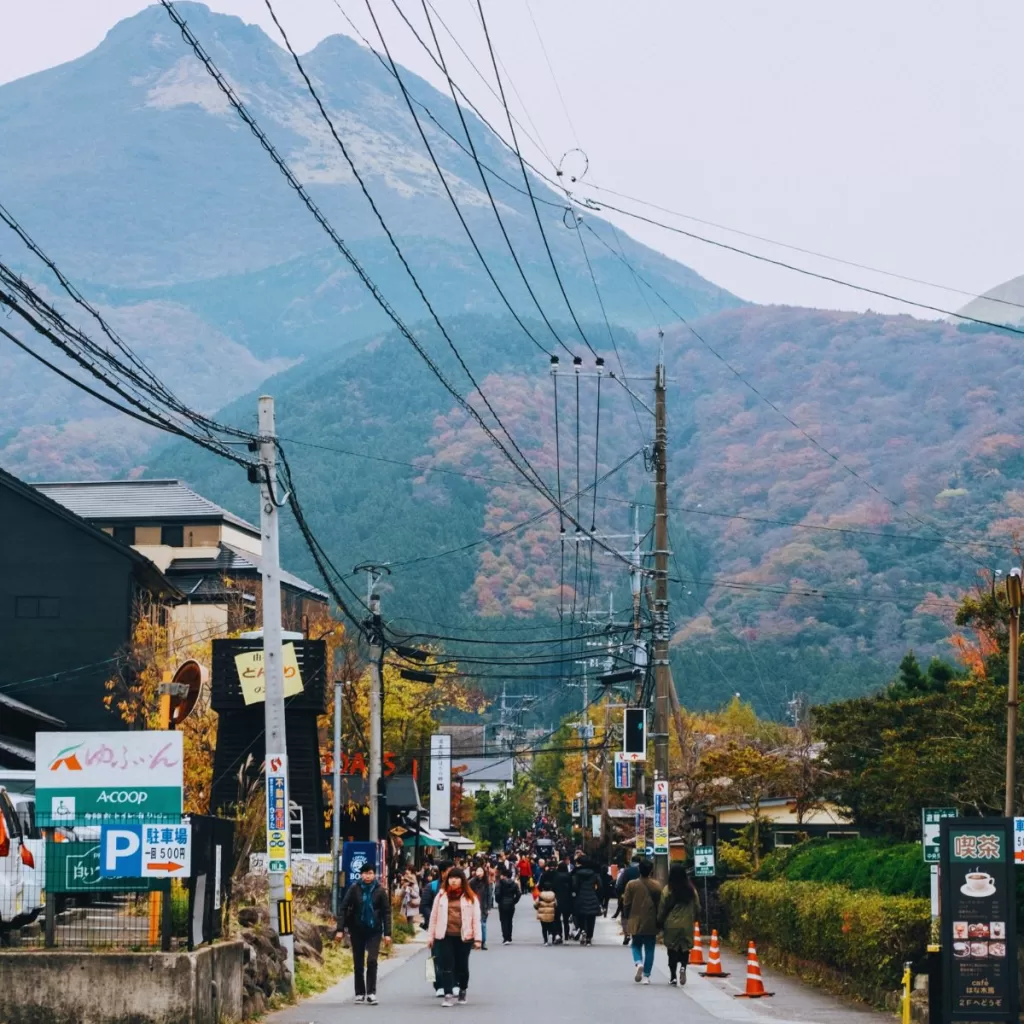 Nestled in the mountains of Oita Prefecture on the island of Kyushu, Yufuin Onsen is one of Japan's most charming and relaxing hot spring towns. Known for its therapeutic waters, traditional ryokan inns, quaint cafes, boutique shopping, and breathtaking natural scenery, Yufuin attracts visitors looking to escape the hustle and bustle of Japan's major cities.
With its cobblestone streets, small museums, galleries, and teahouses, Yufuin has an old-world aesthetic that sets it apart from other busy hot spring resorts like Beppu. Tranquility permeates the town, inviting visitors to slow down and appreciate the healing powers of its mineral-rich waters.
Yufuin Onsen History
Yufuin's geothermal waters have been treasured for centuries for their therapeutic and beautifying properties. Its simple springs contain metabolic acid, sulfur, and sodium bicarbonate, while some springs exhibit a unique blue tint derived from the medicinal benefits of cobalt.
The area around Yufuin Onsen has been inhabited since the Jomon period (14,000 – 300 BCE), and its waters used for bathing since the Heian period (794-1185 CE). However, Yufuin did not flourish as a hot spring destination until the late 1960s when rail connections brought more domestic tourists.
Today, Yufuin welcomes over 2.5 million visitors per year, drawn by the reputed healing powers of its springs. In addition to sore muscle relief, the mineral-dense waters are said to treat nerve pain, chronic skin conditions, and women's health issues. With over a dozen public baths in hotels, ryokan, and bathhouses, Yufuin offers ample opportunities to soak in its therapeutic waters.
Getting to Yufuin
Yufuin is located about 10 kilometers inland from the city of Beppu in Oita Prefecture, Kyushu. It can be reached in just under an hour from Oita Airport by the Kamenoi Ltd. Express Bus. Major airports in Fukuoka and Kumamoto connect to Oita by about an hour flight.
From Tokyo, the journey takes just over five hours by bullet train and local rail. The quickest route is to take the Shinkansen to Hakata Station, then transfer to the Limited Express Yufuin no Mori train to Yufuin Station. Using a Japan Rail Pass can significantly lower fares.
Ryokan Retreats
One of the top reasons to visit Yufuin is its traditional ryokan inns, where guests can soak in therapeutic hot springs and experience Japanese hospitality. Most ryokan offer open-air baths with views of Mount Yufudake and incorporate hot spring water into their bathing facilities. Staying overnight allows visitors to fully relax into the slower rhythm of this rustic town.
Some recommended ryokan include:
Yufuin Sansuikan – Founded in 1911, this ryokan offers open-air baths with vistas of Mount Yufu. It's just an 8-minute walk from the train station.
Kamenoi Bessou – Dating back to 1921, all guest rooms have access to free-flowing hot spring water. The sprawling, lush grounds provide serene backdrops for open-air bathing.
Hinoharu – Only a 5-minute walk from the station, Hinoharu pampers guests with Japanese sweets upon arrival. Its intimate open-air baths can be privately reserved.
Onsen Hopping
While overnighting in a ryokan is ideal, day trippers can still soak up Yufuin's therapeutic waters. Most hotels allow non-guests to use their public baths for a small fee from around 600 to 1500 yen. Recommended spots include:
Yufuin Nanairo no Kaze – This hotel's open-air bath sits atop a hill overlooking the town and Mount Yufu. The large indoor bath also provides mountain views.
Musouen – Featuring separate huge men's and women's open-air baths, Musouen is located just a short walk from Lake Kinrinko.
Shitan-yu – Right on the main street, Shitan-yu is Yufuin's oldest public bathhouse, open since 1827. The wooden building retains a vintage charm.
Natural Wonders
In addition to hot spring hopping, Yufuin offers picturesque natural attractions that contribute to its laidback vibe.
Lake Kinrinko – Located at the end of Yufuin's main commercial area about 1.5 kilometers from the train station, this serene lake can be encircled via walking paths. Visitors will find restaurants, cafes, and small inns along its shores.
Mount Yufu – Towering over Yufuin at 1,583 meters, Mount Yufu provides a scenic backdrop to soak in from many open-air baths. Hiking trails ranging from moderate to advanced cater to those wishing to experience its beauty up close.
Yunotsubo Kaido – Lined with souvenir shops, cafes, and restaurants beneath a canopy of trees, "Hot Water Pot Street" connects the train station to the foot of Mount Yufu. Visitors should stroll its length to experience old-world Japan.
Cultural Attractions
In addition to natural beauty, cultural sites round out Yufuin's sightseeing appeal. From museums to music boxes, these spots offer insight into the area's local heritage.
Bungo Yufuin Glass – This workshop-gallery produces glassware like tumblers and ornaments, while visitors can watch artisans at work. The adjoining European-style cafe sells delicious pastries.
Yufuin Yumebotokei – Over 3,000 miniature music boxes, some over 100 years old, are on display at this museum. Listening to nostalgic tunes transports visitors to bygone eras.
Shirakaba-no-Sato – An open-air museum where artist couples lived in the 1950s-70s. Their homes remain intact, providing glimpses of Japanese domestic architecture and art.
KigenSaryo – Enjoy green tea and traditional Japanese sweets on tatami mats at this teahouse built in an old private home. Its intimate rooms overflow with antique ceramics.
Local Flavors
Yufuin is regarded as a foodie town known for seasonal Kyushu cuisine. Local specialties include Yufuin no Sato Chicken roasted whole, smoked Bungo pork, and wild vegetables like Bamboo shoots and Fuki sprouts. Sweet yet hearty teas like Hojicha pair perfectly with Yufuin pastries.
Some favorite restaurants include:
Tokiwa so – Specializing in regional chicken dishes, Tokiwa so serves free-range local chicken prepared in creative ways from sashimi to tempura.
Yurari – Set in a renovated schoolhouse, Yurari infuses Western sensibilities into regional Japanese cuisine. Their tasting menus focus on local ingredients.
Man Tour – Located at the foot of Mount Yufu, it incorporates wild vegetables and mushrooms harvested from the mountain's slopes into their vegetable-centric tasting menus.
Whether staying overnight in a ryokan or just passing through, Yufuin Onsen offers the chance to experience Japan at an unhurried pace. Its hot spring waters, verdant natural landscapes, traditional crafts, and culinary delights combine to provide the quintessential Japanese retreat.
Yufuin Onsen in Oita Prefecture may be a lovely hot spring town, but Hakone Onsen in Kanagawa Prefecture is equally beautiful with its mountain views, hot springs, and traditional ryokans that provide a serene retreat from busy city life.
FAQ
What is Lake Kinrin and where is it located?Lake Kinrin is a small scenic lake located in Yufuin. It is known for its beautiful views and is often surrounded by mist. Visitors can enjoy a leisurely stroll around the lake and take in the serene atmosphere.
How do I get to Yufuin Onsen from JR Yufuin?
To get to Yufuin Onsen from JR Yufuin, you can take a taxi or walk for about 15 minutes. The town is easily accessible and well-signposted.
What is Baien and what can I expect there?
Baien is a Japanese-style garden located in Yufuin. It is known for its beautiful seasonal flowers and tranquil atmosphere. Visitors can take a leisurely walk through the garden and enjoy the peaceful surroundings.
What are some popular hot spring baths in Yufuin?
Yufuin is famous for its hot spring baths. Some popular options include Hinoharu Ryokan, Yufuin Bettei Itsuki, and many more. These baths offer a relaxing and rejuvenating experience.
Can I book a private hot spring or private onsen?
Yes, many ryokans in Yufuin offer private hot spring baths or onsen for guests to enjoy. These can be booked for a more intimate and exclusive experience.
What are some recommended ryokans in Yufuin?
Some recommended ryokans in Yufuin include Hinoharu Ryokan, Yufuin Bettei Itsuki, and many more. These ryokans offer traditional Japanese-style accommodations and excellent service.
Is Yufuin Onsen a popular onsen resort?
Yes, Yufuin Onsen is a popular onsen resort town in Japan. It attracts many visitors who come to experience its natural hot springs and tranquil atmosphere.